How To Create The Best Product Management LinkedIn Profile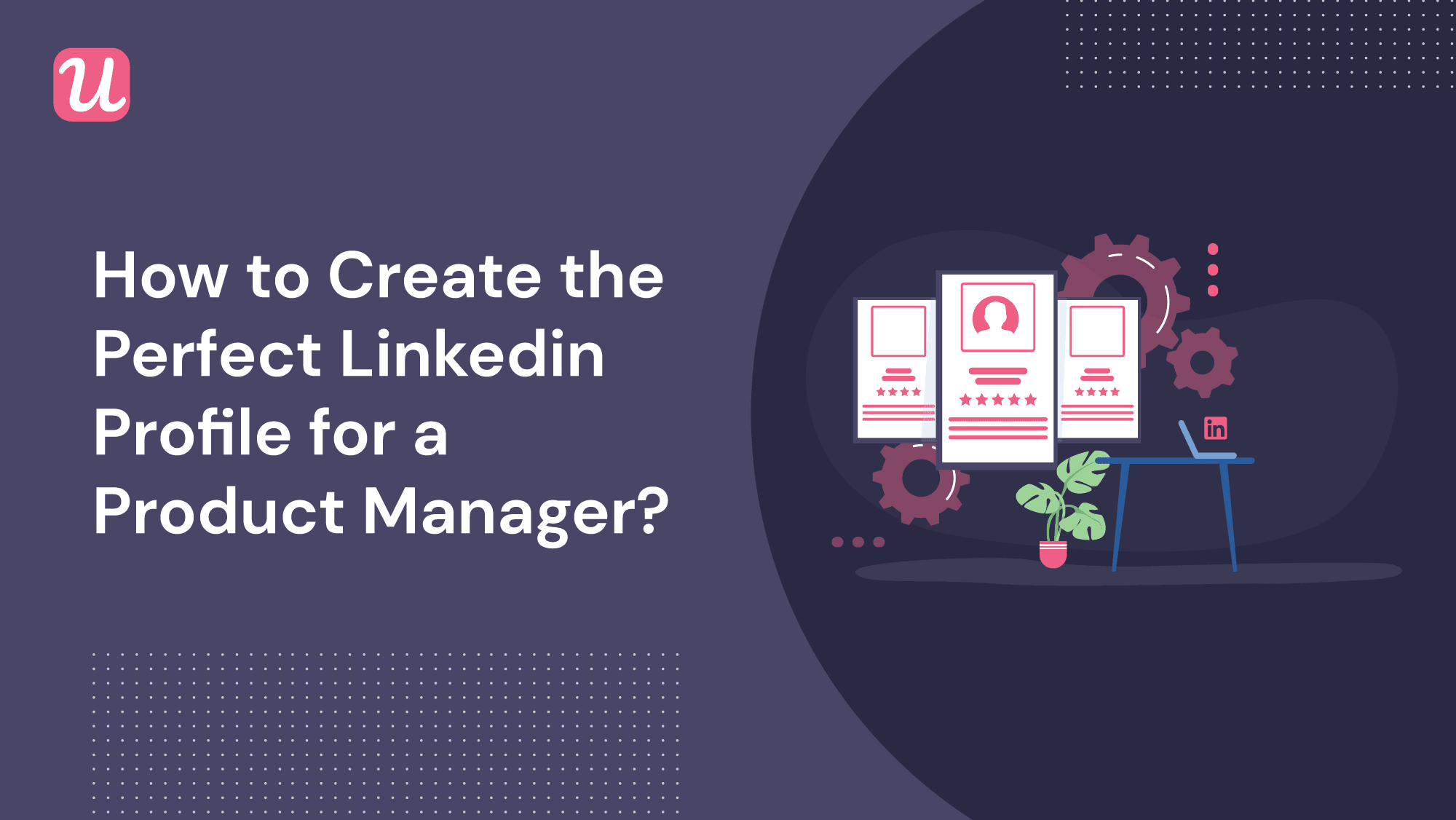 Crafting the perfect product management Linkedin Profile can make a world of difference when looking for a new role.
But like any other social network, Linkedin can be a bit tricky to navigate. If you're not quite sure where to get started, we've outlined the top tips to make the most out of your Linkedin profile and get your foot through the door!
TLDR
If you're in a rush, here's the TLDR for you:
Use the headline to your advantage and introduce yourself.
Use Linkedin's Feature Content to show off your best work, soft skills and hard skills.
Add details of what you've done in previous roles, with a focus on outcomes.
Don't be shy and expand your network, use insights to build on your knowledge.
Post often and join discussions – people do want to hear from you.
Make Use of the Linkedin Headline + Background Related to Product Management
The best way to introduce yourself, what you do, and who you are is by making use of the Linkedin Headline. This is your conversation starter!
Like many other social sites, this tells your existing and potential followers what they can expect if they connect with you. Whether you want to have a catchy headline or provide a quick peek at what you do, make sure it is informative.
Another way of making sure you're introducing yourself properly is with a background image. This can include your company's branding, the cover of a book, or a picture of you at a conference, for example. Use this to show off something you are good at or passionate about.
Personally, I don't think this is a deal breaker. It's eye-catching, but not a must have.
Use Linkedin's Featured Content to Showcase Your Soft & Hard Skills as a Product Manager
Now that you've got someone's attention it's time to showcase yourself, and most importantly, some of your soft and hard skills as a product manager.
Product Management Soft Skills
Soft skills are interpersonal skills, such as communication, networking and leadership. A Product Manager needs to work with a lot of stakeholders, and the job is stressful – so having the right interpersonal skills is a must for a PM candidate.
Which ones should you show off as a Product Manager on LinkedIn?
The thing that will really set you apart on Linkedin as a PM are your leadership skills. Product managers lead by influence, so highlight work that shows that off. Be opinionated in what you showcase and write, and use your storytelling skills to captivate people.
One way to showcase this is using Linkedin's "Featured" section to highlight your best work.
Be it a blog post, a podcast, or a presentation, take this opportunity to show that you are a good communicator, writer, and storyteller (all things you will need as a product person – talking to customer, writing user stories, and conveying their needs into product requirements!)
Maarten Dalmijn's profile showcases his top posts and conversations – lots of likes and comments show off their extension network and connections!
Hard Skills
Hard skills include things like being able to develop a product strategy, technical skills, and research skills.
According to Moshe Mikanovsky, the most important technical skills for a Product Manager include:
SQL
HTML + CSS
JSON
Technical Stack and Product Architecture
Specialty Technologies
How to show your technical skills off on your Product Manager's Linkedin profile?
What matters here is that you can present your thought process when talking about a subject, like let's say, why it's important to be customer-centric.
Or if – you are writing a technical post, how you used SQL to work with certain data and solve a specific problem.
The same with your work experience. Instead of saying:
"Junior Product Manager at company XYZ between 2015 and 2017"
say:
"Junior Product Manager at company XYZ. As a Junior Product Manager at company XYZ, I used my knowledge of SQL to solve problem Y for users X in such and such way."
You need to position yourself the same way as you position your…product. You need to show not only your skills, but also the benefits of you having those skills for your potential future employers:
"Think of your LinkedIn profile as a product itself. In the same way we care about what job our customers are hiring our product for, we should literally be positioning our profiles to say why companies should hire us. The more you can share tangible results of what you've done, things you've written, or products you've built, the more credibility you'll gain. Marketing skills are highly valuable for PMs in our day jobs, and learning how to market yourself, your skills, and your work is a skill worth honing to get where you want to go in your career"
– John Fontenot, Growth PM @ Lendio | Founder @ Path2Product | Host of Lessons in Product Management
Detail Your Linkedin Profile Experience
You've now introduced yourself and your best work, now it's time to talk about your previous experiences.
The best product management Linkedin profiles have details about what you accomplished as part of your roles.
I particularly like Adam Thomas' experience profile, as it provides specifics on the roles and responsibilities they've held in the past.
Most importantly, Adam makes sure not just to highlight output (what he did,) but the outcome of those outputs. A good product manager is always thinking about how and why their work is being done, so add that thought process here.
What did you do and why?
How did this help the company achieve success?
What success did you find? What impact did it have?
It's a fantastic way of applying product thinking to your product manager Linkedin profile. As any good PM would say, think outcomes, not outputs!
This section also gives you the opportunity to talk about some of the other soft and hard skills that are crucial to a product management Linkedin profile (and a product manager in general) such as:
Using empathy to coordinate multiple stakeholders
Ownership and responsibilities
Creative solutions to problems
Expand Your Network
What I like the most about Linkedin is that it allows you to make connections with other like-minded people and product leaders. It is truly a learning hub, with lots of discussions and blogs being posted about best practices and the future of product.
In fact, in our survey about where Product Managers hang out to learn about trends in product management, most PMs said they go to LinkedIn for inspiration.
Use this not just to expand your knowledge about product, but how people write, what they write about, and how to start discussions with others. This will give you actionable insights to apply to your day to day, while giving you the opportunity to connect with others.
At the end of the day, Linkedin is there to help you find your next great job, so expand your network and give yourself the opportunies you are looking for.
In my experience, people are more than happy to add you as a connection, provided that:
You at least make an effort to introduce yourself. If we're going to connect, tell me who you are!
You don't try to sell them something.
Honestly though, nobody wants unwanted sales connections.
I really appreciated this connection request from Lisa Mo Wagner. It is the perfect example of how to reach out to someone in a friendly manner, no fuss, and with no sales pitches 🙄
Post Often
You've crafted out a great profile, you've got your product management Linkedin profile highlights and you've made connections – now what?
Well now you start making the most of it!
The best way to get noticed is to post often. Share your thoughts, share your favorite blog posts, and jump into conversations. Linkedin is a open forum, so if there's an interesting thread you want to be a part of don't be shy and join discussions!
A few topics you might want to touch upon:
How to manage stakeholder relationships
The importance of psychology in product
How you solved a particular problem
How you guided your team to success
The most important thing here – talk about your experience.
Give actionable insights about what you have achieved. Product is a way of thinking, so show how you and your team have applied that thinking to achieve something positive (or even if you failed at something, what you learned from that failure!)
To find topics of interest and join product conversations, make sure you're using relevant hashtags. This will also make your content easier to find (I use #productmanagement and #prodmgmt to keep track of conversations.)
So start writing today, and see you on the #prodmgmt topic feed!