Product Drive 2022 – Navigating SaaS Growth in the Times of Recession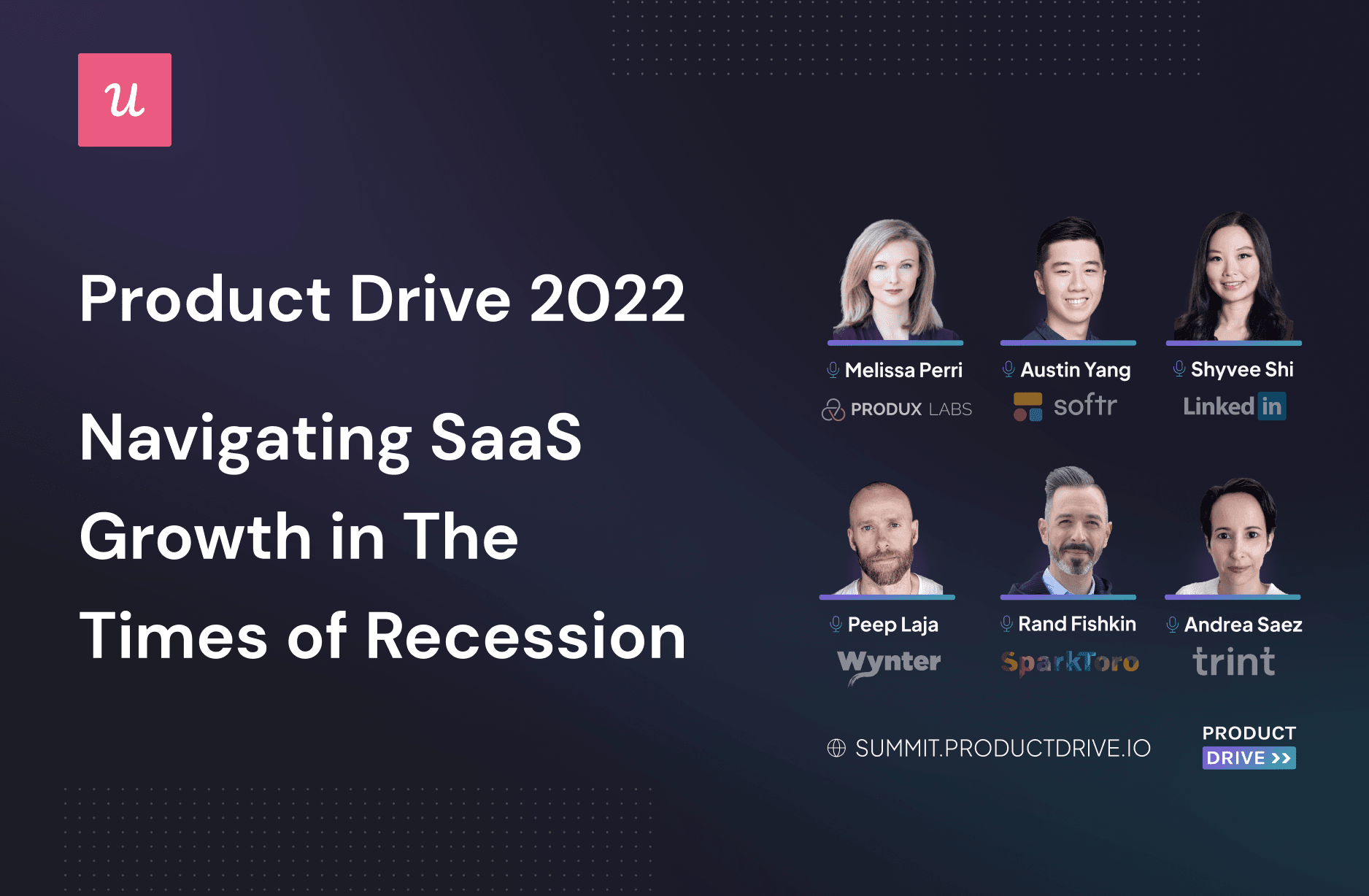 As I'm writing this post, 76,942 employees in tech startups have been laid off due to the recession in 2022 alone (according to Layoffs.fyi Tracker). After some epic tech startup fails in the recent months, the VCs clearly stopped believing in the 'unicorn dreams'. The market crash didn't help. As the inflated valuations bubble is bursting, how can SaaS companies navigate growth despite the budget cuts? What are VCs looking for in SaaS companies in 2022? Which metrics are the most important? How to achieve growth more sustainably despite funding squeezes? What led to this situation?
Join us on the "SaaS Growth and Funding in the Times of Downturn – VC Perspective" live panel at this year's Product Drive and find out! We'll be asking these (and other) questions to seasoned investors from top VCs on 5th October 2022. It will Product Drive's first live panel – but we also have plenty of other talks that will help you build more resilient products and weather the challenging conditions in 2022.
Let me guide you through this year's menu of inspiring presentations by top speakers below.
TL;DR – Product Drive 2022 in a nutshell
Product Drive talks to help you save money in the funding squeeze
If you need to extend your runway – there's nothing you can do. You need to take make some spending cuts. But which saving are going to give you more time without stunting your growth?
The talks below are helping you make better budget decisions by prioritizing projects using data insights, or helo you learn from…the speakers' mistakes.
The key question every startup founder is asking themselves (especially now!) is how to prioritize things with a small team and limited budget to achieve maximum growth. Przemek Glosny, CEO and co-founder of Useme – has been through it all.
In his talk, he will be sharing:
stats about average startup seed and other funds
funds and average growth of teams after fundraising
the average increase/decrease in employment in following years
the story of the growth of the Useme team during the first few years and how they managed to grow with 4 people on the team
how they manage to think globally with 40 people on the team and why they don't want to increase the team size rapidly.
Sign up for Przemek's talk here.
Data and insights are king, but only if you're not drowning in them and can use them to build more profitable companies and achieve higher ROI on your engineering and marketing efforts.
This session with InnerTrends CEO Claudiu Murariu, will help you do exactly this. Join us and you'll learn how to:
Align your team around the customer journey metrics that matter;
Ask the right questions to get the insights you need;
Present findings and build convincing stories around them;
Help your team prioritize the projects with the most significant impact.
Sign up for Claudiu's talk here.
Overspending on features nobody needs is so 2021. In 2022, smart product companies TEST before they build.
Join this session by Susan Stavitzski to see real-life examples of how incorporating customer discovery* prevented my team from making costly development mistakes and losing customers.
*Customer Discovery is a valuable tool in every Product Manager's toolbox but it's sometimes only leveraged early in the development process. Using discovery prior to building anything is valuable when testing assumptions, but teams should also use it throughout product growth to uncover new and exciting customer opportunities.
In a similar vein to Suzan's talk on using continuous discovery to reduce engineering costs, Melissa Perri will help you take a broader look on how to conserve your development and product resources by 'escaping the build trap.'
When successful companies first started out, they had to constantly deliver value to understand what their users wanted. This grew their business. Many large companies that have been around for decades, or even newer startups that have found some stability, fall into a dangerous place called "The Build Trap". They continue building feature after feature, without stopping to validate what customers truly want and need.
This is due in part to a poor understanding of Product Strategy, Product Management, and how to manage teams. In order to get out of "The Build Trap", businesses need to restructure their thinking to focus on finding value for the user through experimentation to achieve business goals.
So…are you building what your customers want, or are you just building?
Product Drive talks to help you drive more Product-Led Growth in 2022
There are lots of ways how you can drive more growth and (expansion) revenue without increasing your spending. Hello Product Led Growth! 😎 You can open the signup floodgates by creating a freemium offering, or leverage feedback loops.
Which Product drive talks will help you most if Product Led Growth is your focus?
Dogs or cats? Coffee or tea? Vanilla or chocolate ice cream? These are the key defining questions. When it comes to product-led, the question is: freemium or free trial or both?
There are several factors you need to consider when choosing freemium vs. free trial:
1. User segment
2. Learning curve
3. Affordability
4. Willingness to pay
5. Are your buyers the Decision makers or end users?
6. TAM
– Freemium will give you more signups, but free trial will give you a higher conversion rate. Where is your sweet spot, considering your signup velocity (related to TAM) and price point?
– Are your users underserved, or overserved by the market? I.e. how crowded is it for you?
Jana Frejova from Spendesk will make you think about all these questions and might just as well change your SaaS in just 20 minutes. DON'T miss this talk.
Sign up for Jana's talk here.
User feedback can be a great driver of UX improvements and product-led growth, but collecting the right feedback from the right people can be a sloooooow process.
Learn how to speed up your feedback loops from the CEO of Wynter and CXL – Peep Laja.
Product Drive talks to help you build more resilient and sustainable companies & products
It all starts with the product. Making cuts and stripping features off is a natural part of building an MVP on a budget, but if you strip off too much and build something that is simply *not* viable – all your effort will simply go to waste.
Andrea Saez from Trint wants you to stop.
Learn to balance the art of iteration and creating products people love.
In this talk you'll learn why the MVP model failed, and how a new generation of lovability helps us focus on solving real-world problems.
For today's SaaS products, competing on features is no longer enough. That's why top companies like Miro, Notion, Airtable, and Shopify invest heavily into building ecosystems to drive product growth.
In this talk, Austin will share why ecosystems win, how to create growth loops based on templates, advocates, and user-generated content, as well as his own ecosystem-building experience at Softr and Landbot.
Why learn from your own mistakes if you can learn from…Rand Fishkin's?
After leaving MOZ in 2018, he went on to start SparkToro – an innovative audience research tool that allows you to see the influencers and trends your target audience follows – but did he do it differently this time? How did the experience with MOZ help him start his second company (with the eponymous 'benefit of hindsight)?
Sign up for the upcoming Rand's talk and find out!
But this is not everything – check out Product Drive's full program to discover more inspiring talks to help you weather the recession!
See you there.