Customer Feedback Analysis: How To Analyze Feedback Data and Act on It?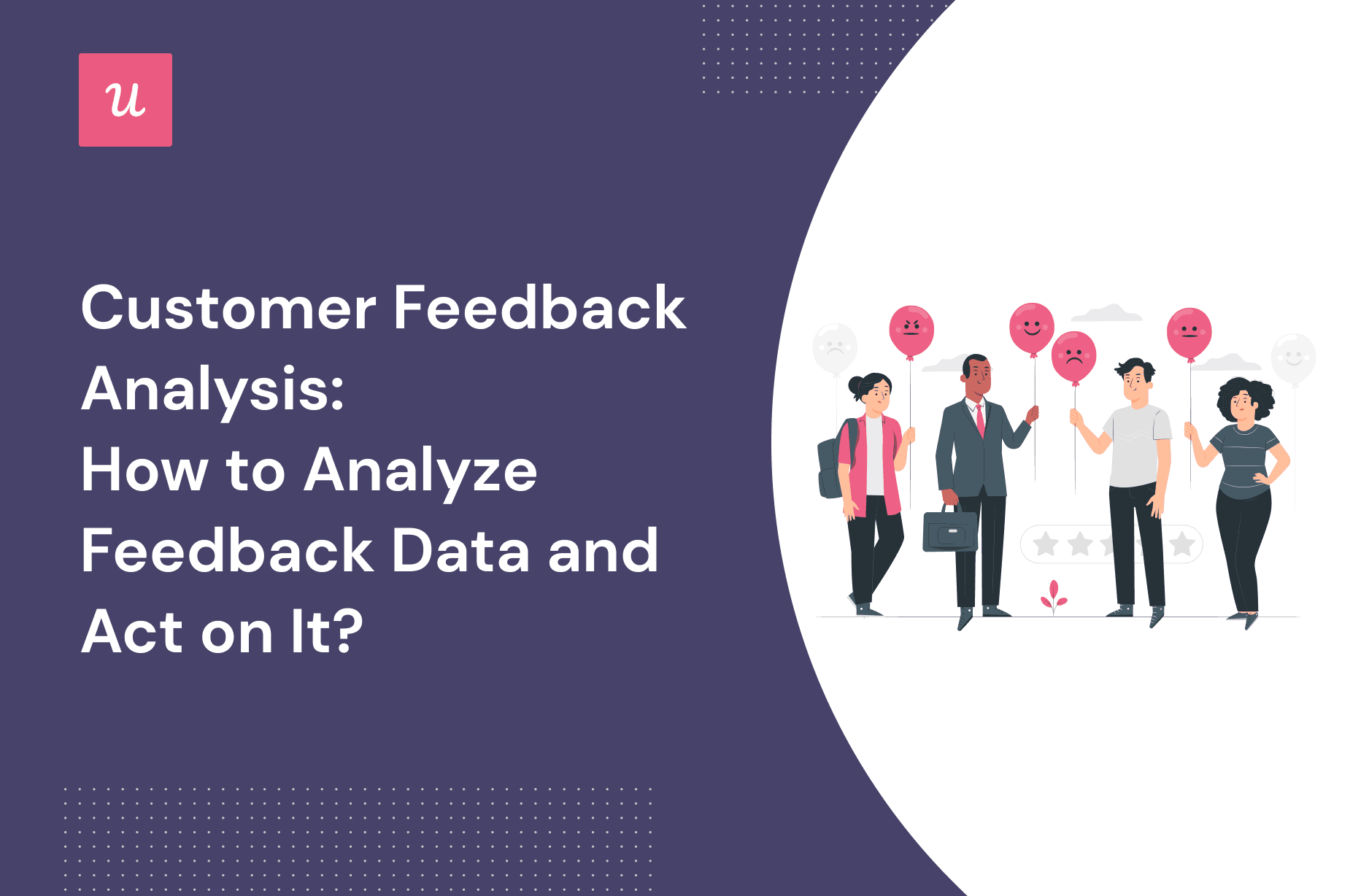 Have you ever wondered how customer feedback analysis can help you improve your product and reduce churn?
The amount of feedback you get from customers is meaningless if you do not analyze the data. A thorough analysis of user feedback ensures customer success in a wide range of ways, from informing the product team what improvements are needed to optimizing marketing campaigns.
So let's see how you can analyze user sentiment and drive repeated value for your customers.
TL;DR
Customer feedback analysis is the process of understanding user sentiment and their needs to boost customer satisfaction and decrease churn.
Feedback analysis helps you understand customers better, remove friction points, improve user experience, and boost loyalty.
Common feedback sources are onboarding surveys, user interviews, NPS surveys, CSAT surveys, public reviews, and social media mentions.
Tag NPS responses to assess the reasons behind customers' scores.
Segment customers based on NPS feedback and personalize their onboarding.
Use a brand monitoring tool to analyze feedback via brand mentions across all relevant touchpoints and channels.
Use an NLP tool to analyze qualitative data and identify specific customer concerns.
Close the feedback loop by solving customer issues and improving user experiences.
Userpilot, Usersnap, and Qualaroo are the 3 best customer feedback analysis tools.
What is a customer feedback analysis?
Customer feedback analysis is the process of understanding user sentiment and their needs to boost customer satisfaction and decrease churn.
What are the benefits of customer feedback analysis?
According to a Forrester study, 74% of businesses believe they are data-driven but only 29% are good at acting on the insights.
Here are 4 benefits of a well-done customer feedback analysis.
Understand your customers on a deeper level
How are customers feeling about your product? Does it meet their requirements or do they have complaints? Is your customer service addressing the concerns of customers timely?
Feedback analysis enables you to understand user sentiment about various aspects of your business. Understanding your customers on a deeper level can help you identify users at risk of churn and proactively reach out to them.
Find friction points in the customer journey
Your product may have issues that make customers confused or stuck. These friction points can be frustrating and disengage customers from your app. Feedback analysis can reveal friction points at different touchpoints in the customer journey.
No matter what stage of the funnel your customer is in, you can take action to reduce friction and boost user engagement.
Enhance customer experience
Once again, identifying customer pain points allows you to fix their issues and improve the customer experience. The better their onboarding experiences, the more value they'll get from your product. It makes your product sticky and boosts retention.
Improve customer loyalty
When you act on feedback and make customers feel that their voice matters, it increases customer loyalty. Loyal users are a huge asset to your business since they can be converted to power users and brand advocates. They are more likely to leave positive reviews and spread positive word-of-mouth.
Most common ways to collect customer feedback
Whether it's emails, interviews, or in-app microsurveys, there are multiple sources for gathering customer feedback. Here are some of them.
Onboarding surveys
User interviews
CSAT surveys
NPS surveys
Public reviews
Social media mentions.
Onboarding surveys
An onboarding survey lets you assess the effectiveness of your onboarding process.
Ask customers to rate the onboarding experience. Are they satisfied with it, or are they still unable to get what your software does and how to use its features?
For example, your onboarding flow may use a product tour that introduces users to a plethora of features that they may not even need. Your customers may be unable to retain all the information and hence, lose out on features they need.
Therefore, onboarding surveys, like the one shown below, can help you optimize the onboarding experience.
User interviews
Invite customers for user interviews and listen to their feedback. When you have one-to-one meetings, customers are more likely to talk about their problems and suggestions transparently.
Interviews add a more human element to your company's interactions with customers and allow you to empathize with them openly.
Here you can see how Postfity offers vouchers to attract users to these interviews.
CSAT surveys
Use customer satisfaction (CSAT) surveys across different stages of the customer journey to measure customer satisfaction. CSAT surveys can help you find areas of improvement to maximize satisfaction and engagement.
Usually, a questionnaire is used to gather feedback on:
your brand
your product or service, and
customer experience in areas such as feature usage, customer service, and tech support.
NPS surveys
The Net Promoter Score (NPS) is a popular metric for gauging both customer satisfaction and loyalty. Run NPS surveys to measure loyalty and understand what percentage of customers are more likely to recommend your product.
The NPS metric lets you divide customers into 3 groups:
Promoters: who give you a score of 9 or 10
Passives: who give you a score of 7 or 8
Detractors: who give you a score of 6 or below.
We recommend adding a qualitative follow-up question to the survey to identify the reasons behind each score. This allows you to capitalize on the strengths that retain promoters and address any issues faced by detractors. A significant improvement in customer experience can also convert detractors into promoters.
Public reviews
What are your customers saying about your product on popular product review sites?
G2, Trustpilot, Capterra, and Trustradius are some of the most notable sites you should regularly visit to check your customer's status on public platforms. In case of particularly bad reviews, you can personally reach out to dissatisfied customers and take measures to solve their problems.
Social media mentions
Do social media listening to monitor what customers talk about your product or brand.
Positive feedback can draw in more new users and generate more reviews by encouraging upgrades. On the other hand, negative reviews can place a dent in your brand reputation, making it critical to keep track of them.
How to analyze customer feedback and act on it?
Now that you know what feedback sources you should use, let's look at the ways you can analyze all the customer feedback data and act accordingly.
Tag NPS responses to analyze feedback data
How can you get qualitative data and analyze feedback with NPS response tagging?
Userpilot enables you to use response tagging to get qualitative data. The example below shows how tagging NPS responses work.
The left side has a list of the characteristics customers have scored you on, while the right side shows the NPS score for each of them. This breakdown highlights the areas that need your attention more than others.
With Userpilot, you can also get an overview of detractors, passives, and promoters, as you can see below. This helps you see the bigger picture and get an overview of your customer loyalty.
Additionally, don't forget that you should also compare your overall NPS score with industry benchmarks to see your position in the market. For instance, if your NPS score is well below the SaaS industry average, you need to identify the gaps in your business and mitigate them.
Segment customers by NPS scores and feedback
Organize the customer feedback data by grouping customers into segments based on their feedback and responses.
You can categorize feedback based on the scores they provided and the specific tags you've applied to answers. This lets you create automated responses for every group to increase customer engagement.
Here's an example of the different criteria you can choose to create an NPS cohort with Userpilot.
Use a brand monitoring tool to analyze feedback through brand mentions
Brand monitoring works by collecting and measuring brand mentions across all relevant touchpoints and channels.
With a brand monitoring tool, you can simply type in your product or brand name, and it will showcase all posts on social media channels that contain these words.
The tool will also break down the mentions based on which channel they came from and the overall sentiment of the messages.
Moreover, brand monitoring can also give actionable insights into the success of your marketing campaign and how your target market feels about your product.
Use an NLP tool to conduct a qualitative feedback data analysis
While quantitative data tells product managers what they should do, qualitative data shows them how they should do it. If you reduce your efforts to only quantifiable metrics, you might miss out on the subtleties present in unstructured data.
How can you analyze feedback that usually comes in the form of texts? This is where an NLP tool comes in.
For opinion learning and user sentiment analysis, you need a low-node natural language processing (NLP) tool such as MonkeyLearn and IBM Watson.
NLP converts human language into a form that computers can interpret. It can detect customers' emotions about certain topics that have been repeatedly mentioned by users. It can even draw out specific keywords to identify themes about your product.
Qualitative feedback is at the heart of customer-led growth. Through this data, users can guide you towards what they want and what you can improve. For instance, it enables you to build a realistic roadmap for potential feature rollouts according to individual responses.
Furthermore, an NLP tool prevents biases from creeping in. You may end up phrasing questions and interpreting answers in a way that skews the data in your brand's favor. So the NLP removes biases from the picture to give accurate insights.
Act on feedback and implement solutions
Data is nothing if you don't act on it.
You should analyze the customer surveys, and then try to close the feedback loop. If you need to make improvements but want to acknowledge to the customer that you've received feedback and currently working on the solution, you can send them a follow-up message
Here's an example of a follow-up email that's personally contacting a customer, thereby letting them know how valuable their feedback is.
Another way to close the feedback loop. Are you currently developing a feature that customers have been requesting? Let them know that you heard them. This can be very effective in retaining customers on the verge of churning.
3 Best tools for analyzing customer feedback
Hunting for the best customer feedback tool can be exhausting. So here are the top 3 such tools out there.
Userpilot
Usersnap
Qualaroo
Userpilot
Userpilot is a versatile product growth and customer feedback tool that has a wide range of features to help you collect user sentiment and analyze it. Here is a summary of what you can do with Userpilot:
Surveys like NPS and CSAT tend to be recurring, hence Userpilot doesn't put a limit to the number of surveys you can launch.
Userpilot's NPS widget allows you to start collecting data quickly. You can set it up and add to your product easily within a matter of minutes.
Behavioral triggers and audience segmentation lets you show an NPS survey to only selected customers. You get full control over the survey's frequency and timing.
Moreover, you can customize the branding, without any code, to match your product and release personalized surveys for each customer segment.
Tag NPS responses to organize them into different themes, making it easier to separate the high-value-adding features from the underperforming ones. You can also take note of feature requests from the follow-up question.
Userpilot's annual subscription plan starts from $249 a month for 2,500 monthly active users (MAUs). The monthly subscription price is $299 a month.
Usersnap
Usersnap is a feedback management and bug tracking platform.
It allows you to collect feedback from both customers and team members in a single window. You can also get feedback via annotations, comments, and screenshots. The tool can screen unique data sets and track errors easily. It also provides multi-language support.
Usersnap offers a free trial for 14 days. The Basic plan starts at $19 a month and charges $9 a month for the annual subscription.
Qualaroo
Qualaroo is a feature-rich survey platform for optimizing feedback analysis.
It lets you build several kinds of microsurveys like NPS, CES, SUS, and CSAT with different questions such as ratings, close-ended, open-ended, dichotomous, etc. You can customize these surveys or choose from its big collection of 100+ templates. Its advanced targeting feature lets you segment feedback and respondents.
Qualaroo offers a 15-day free trial with the pricing starting at $80 a month for the annual plan.
Summing it up
Customer feedback analysis is the key to customer success and sustainable business growth.
Customer-centric SaaS businesses depend on user feedback to take a data-driven approach to product improvement. This, in turn, helps build a strong relationship with customers and increases retention.
Want to create NPS surveys code-free and collect data to conduct customer feedback analysis? Get a Userpilot demo and get started right away.