The 5 Customer Feedback Tools Every SaaS Company Should Be Using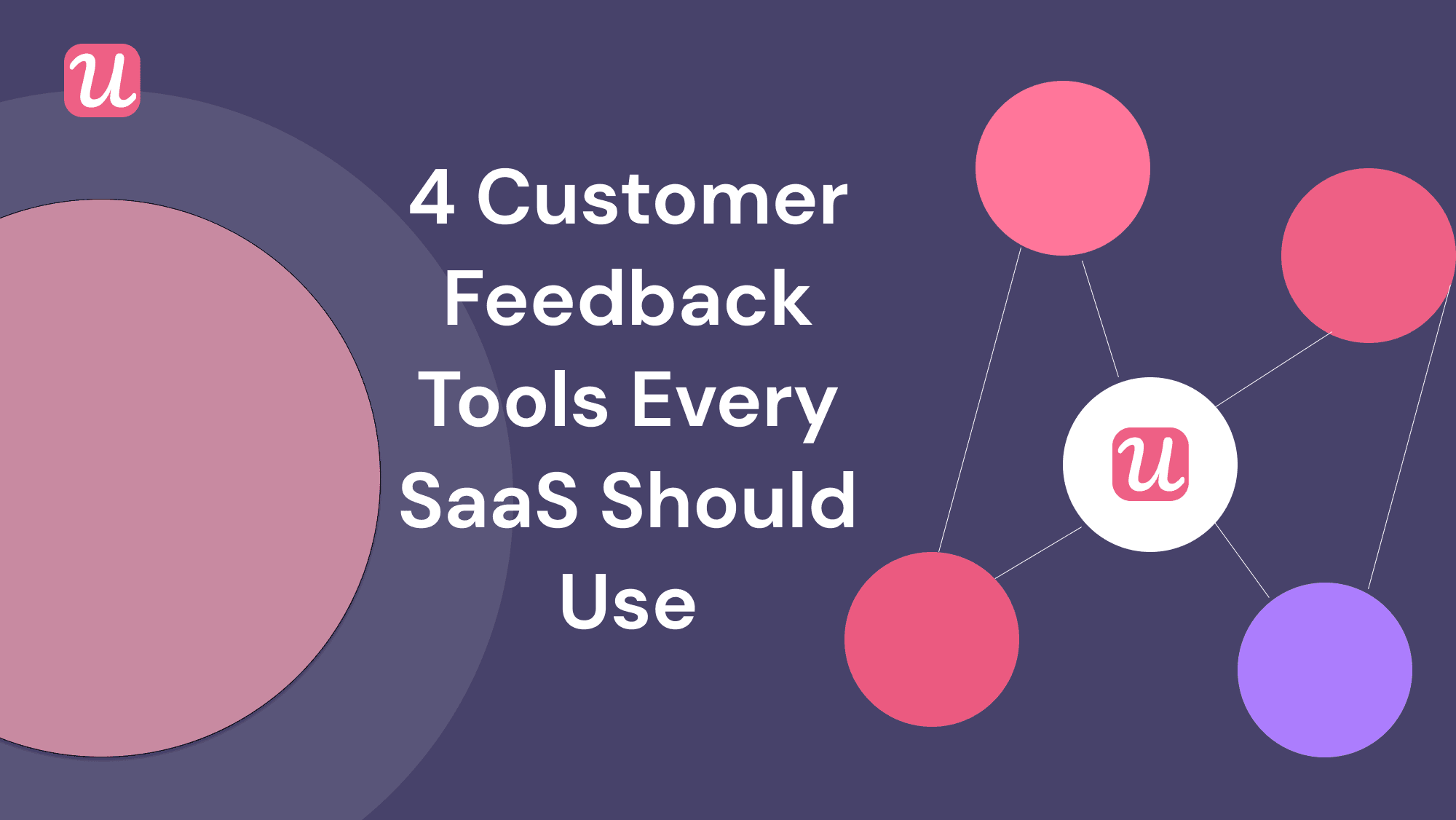 Customer feedback tools that make the most of user feedback are probably the most important weapon SaaS teams have at their disposal for building their products. After all, you are building your product for your customer, right?
The million-dollar question is: which tools do you use and to what end? In our previous post, we examined 12 different tools that all have value in different use cases. If you don't have time to test all of these and build your own custom set of tools, this post is for you.
There are 5 main areas in which your SaaS business absolutely needs customer feedback tools right now. Read on to discover what they are, and the best tool in each case.
TL;DR
The 4 types of customer feedback tool each SaaS business needs are explicit in-app tools, implicit in-app tools, feature request tools and email feedback tools.
Explicit in-app tools pop up in-app and are visible for users to fill out, like microsurveys or NPS surveys. The best tool of this kind is Userpilot.
Implicit in-app tools are ways to measure user sentiment based on in-app behavior, without the user filling anything out explicitly. The best tool of this kind is Hotjar.
Feature request tools allow businesses to see which features customers are requesting, and which of those requests are the most popular. The best tool of this kind is Canny.
Email feedback tools are used to directly solicit user feedback by email, employing a wide variety of survey types, both long and short. The best tool of this kind is Typeform.
Which 4 types of Customer Feedback Tool does every SaaS need?
The most useful customer feedback tools on the market right now can be divided into four main categories:
Explicit in-app
These are the customer feedback tools that pop up for users in-app. They are explicit because they are directly visible to the user. For example:
Microsurveys are short customer surveys that customers can fill out in-app. They are valuable because they are quick and easy to fill out, without distracting the user too much from getting value out of your product. Since they appear in-app, they also keep users on the app more consistently as compared to a tool that requests feedback via email.
NPS surveys are short, one-question surveys that ask customers how likely they would be to recommend your product on a scale from 1-10. Like microsurveys, they are quick and easy to complete in-app. Users can give a 5-second, gut feeling response before getting back to what they were doing.
Implicit in-app
These are ways for SaaS companies to measure user sentiment based on in-app user behavior. The key difference with the previous category is that these methods are implicit. In other words, the user isn't giving their feedback directly, but instead is being observed without their knowledge.
A good example of what I mean by this is session recording. Session recording is when companies use software to record the browsing sessions of website visitors on their product, as a way of deriving behavioral insights. It's an incredibly powerful tool, granular enough to view each click and mouse movement a user makes.
The insights from session recording can help product managers identify areas of friction in the product adoption journey, as well as bugs or areas where the UX is broken. By fixing the problems they discover, SaaS companies can reduce Time to Value and improve retention.
Feature Requests
When building any type of product, you're never going to know all the features you need at the outset. Instead, you'll need to release a Minimally Viable Product (MVP) and solicit feedback from your users. Those users will request features that can subsequently be added to your product.
New features can be discovered in business in two ways. Firstly there's the direct feature request, whereby a proportion of users directly requests a new feature. Then there's the indirect request, in which case users aren't specifically aware they want new feature XYZ, but the product owner sees an opportunity to develop it based on the patterns of feedback they're hearing from customers. Often, consumers don't know what features they want until they see them.
Customer feedback tools that manage feature requests mostly fall into the first category. That is to say, they are a repository of feature ideas suggested directly by users, in which the most requested features are upvoted to the top of the list so that the product team can implement them.
Email Feedback
These are the tools that you can use to directly solicit user feedback by email. Typically, SaaS companies send surveys out in various formats:
NPS – learn whether users would recommend your product
CSAT – learn how satisfied users are with your product
CES – learn to what extent users find your product easy to use
Five Stars
Emojis
Thumbs-Up
Multiple Choice
Such customer feedback tools are at their most sophisticated when they involve logic jumps based on how the user responds. Put another way, it's possible to create a survey that automatically changes the questions based on the user's previous answers. Pretty neat, huh?
The advantage of soliciting feedback by email is that you don't intrude at all on the customer's product experience. The downside is that you're competing for their attention with all the other email they receive, and the customer will have to check out of your product for a bit to respond.
Which feedback tool is the best in each category?
Now that you know what types of tools you need, here is our recommendation for which tool to use in each of the four categories.
Best Customer Feedback Tool for in-app surveys: Userpilot
Yes, Userpilot is our own tool, but let me make an objective case for why it's such a great tool for collecting and managing explicit in-app feedback.
Userpilot combines an intuitive product experience builder with a comprehensive analytics suite. In terms of collecting explicit in-app feedback, it does two things incredibly well: NPS surveys and microsurveys.
NPS surveys that include follow-up qualitative data
Numerous customer feedback tools on the market allow you to get NPS score data from your users: Wootric, Satismeter or Delighted, just to name a few. What these other platforms often lack is the ability to send the user a subsequent qualitative survey, and then take action on their feedback.
In the absence of additional qualitative data and following up on that data, NPS score is really just a vanity metric. It tells you nothing more than how likely a given user is to recommend your product. It doesn't say why, or how that sentiment could be improved, or what action the user needs you to take.
If you use most NPS tools and want that all-important qualitative follow-up data, you'll have to send customers an email manually, which doesn't exactly scale well. With Userpilot, you can add qualitative follow-up questions to your in-app microsurveys, so that the user fills out the NPS and then the qualitative survey all in one flow.
To ensure that user feedback is actually followed up and acted on, Userpilot allows you to tag survey responses by theme or keyword. This is what tagging looks like:
Compared to the other solutions on the market, this makes it straightforward for SaaS product managers to notice patterns in their customer feedback and tackle them accordingly.
Let's look at a practical example.
In most NPS tools, a score of 4 is just a score of 4. It doesn't tell you anything useful as a product manager in terms of how to help your user have a better product experience.
With Userpilot, a score of 4 might lead you to automatically send a follow-up qualitative survey, immediately after the user has filled out the NPS survey. That looks like this:
In that qualitative survey, the user records their frustration at not having Instagram publishing available as a feature in your app.
This is tagged as a feature request and reaches you as the product manager. You know your product does in fact have Instagram publishing available, so it seems that this feature is not obvious to users. You then use Userpilot to create an experience flow that points the user to how to use the Instagram feature.
That same user who previously gave you a 4 now gives you an 8 🙂 Nice job!
If you used most NPS products, your user would still be unhappy, and you would still be confused as to why. If you use Userpilot, you know why and you can fix the problem.
Microsurveys
Userpilot's in-app microsurveys can give you a ton of data that can improve the product experience for your users. Let's consider the example of a welcome screen to show you what I mean.
If you used a SaaS tool that didn't have a welcome screen or any other type of interactive onboarding flow, you'd probably be very confused at the outset. You might even rage-quit before you have a chance to become an active user.
Compare that to SaaS products that use Userpilot to build a welcome screen at the beginning of a product experience. A great question to ask a new user in a welcome flow is what their job is. This allows you to segment your users and deliver them experience flows according to the responses they give you.
Here's an example of one such welcome screen from responsive design tool Webflow:
Now that Webflow knows that you're a marketer, they can use Userpilot to highlight features of their product that are beneficial to marketers. By quickly highlighting the features that you're interested in and creating interactive walkthroughs that teach you how to use them, they can reduce Time to Value and maximize the chances of you becoming an active user.
Both the NPS and microsurvey features of Userpilot can be used to solicit user feedback in-app, meaning your user can give you all of this useful data while staying on your platform. We think that's incredibly powerful.
Would you like to learn more about Userpilot? Click here to book a free demo today!
Best Customer Feedback Tool for Session Recordings: Hotjar
For implicit in-app feedback, you need look no further than Hotjar, a behavioral analytics tool that has become well known for its heatmapping feature.
SaaS companies can use Hotjar to record the browser actions of their users when on their website, such as clicks, scrolls and mouse movements. Watching these session recordings from Hotjar can lead to a whole range of useful behavioral insights for businesses. Here are some examples:
Identifying areas of friction in your customer adoption journey. Fixing these will reduce Time to Value and increase retention, both of which have an effect on the bottom line.
Working out where your UX is broken or buggy, which will improve users' experience with your product.
Figuring out where your users are bouncing, which will allow you to optimize your marketing funnels more effectively.
By putting these insights together, you can effectively map out the entirety of your user life cycle, from the moment they come to your website to the moment they become a power user. You can revisit your session recordings multiple times to deepen your level of analysis.
What's more, this analysis is based not on intuition, but on hard, quantifiable data. Importantly, the data you get from Hotjar is qualitative, which makes it a nice complement to the quantitative data you'll receive from NPS surveys.
But the session recordings are not even all you get with Hotjar! It also includes excellent in-app surveys in formats like NPS and multiple choice that slide in by widget.
We especially like their form analysis feature that identifies fields that users are taking too long to fill. This is an intelligent way to reduce friction in the customer adoption journey.
All of these powerful in-app customer feedback tools are available for very reasonable prices starting at $39 per month. There's even a generous free plan that gives you a lot of features for no cost at all. We think this is a must-have for SaaS teams.
Best Customer Feedback Tool for Feedback Management: Canny
If you're looking for a tool to manage feature requests, Canny has got you covered. They've put together a really intuitive platform for collecting user feedback and integrating it into your product roadmap.
Canny was created to prevent SaaS teams from losing track of all the feature requests they receive from customers, and allow them to prioritize based on which features are most popular. Their main interface is a Reddit-style board in which the most popular feature requests get voted to the top of the page.
This Feature Request board includes not only the features that users have suggested in-app, but also those from third-party platforms such as Salesforce or Intercom.
By looking at the Feature Requests board on Canny, product development teams know which features to work on, and can add them to their product roadmap. It just so happens that this product roadmap is another board on Canny!
If you need to discuss a particular feature without wanting users to see you discussion, Canny also allows you to keep those conversations private to your team while keeping the chats on Canny.
Canny really excels at allowing SaaS companies to analyze customer feedback by user segment. You can structure feedback by type (bug, integrations, MRR etc) and prioritize feature rollout accordingly. (Read this article to learn more about why categorizing feedback is important.)
If, for example, you wanted to roll out a feature that had only been requested by enterprise customers, you could use Canny to collect that feedback, discuss it with your team, and add it to your product roadmap. All that work can take place on one platform!
Overall, this is a powerful tool with a UI that is incredibly easy to use. Pricing starts from $50 per month, which is a bargain.
Best Customer Feedback Tool for Email: Typeform
If you need a tool that will help you solicit customer feedback by email, Typeform is the best product on the market right now for creating long-form customer surveys.
Typeform's logic jumps set it apart from the other tools we looked at in this category. These logic jumps mean that you can ask your users different questions later on in the survey depending on how they answered questions earlier in the survey. This effectively takes users down different paths according to how they answer questions.
Logic jumps like this give SaaS businesses an unparalleled amount of flexibility when segmenting users. For example, your first question could be "How many employees do you have?" If the person responds with 50 or more, you could send them down the enterprise pathway and ask them specific questions that are targeted at enterprise users of your product. These questions would be a complete waste of time for a company with, say, 4 employees.
Typeform comes ready-made with tons of useful survey templates that will save you the time it would take to create them yourself. No coding is needed to use any of these templates. We particularly liked their templates for the following use cases:
NPS
Client Satisfaction
Product Feedback Survey
Customer Success Story Questionnaire
Voice of the Customer Survey
Typeform also integrates with all the other tools you use already. Mailchimp integration is probably one of the most essential ones, since there's a good chance you'll be using Mailchimp to send the surveys out to your email subscribers.
Just $35 per month allows you to create an unlimited amount of Typeforms. This is a really solid investment for any SaaS company.
Best Customer Feedback Tool for collecting real-time feedback: ProProfs Survey Maker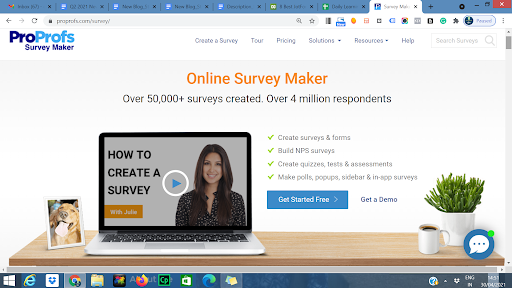 Being lazy in capturing feedback can have far-reaching negative effects on your business. For this reason, collecting real-time feedback right after a customer has used your product or service is crucial. 
ProProfs survey maker helps you align a real-time feedback system to improve customer satisfaction and retention while minimizing negative word-of-mouth. These real-time feedback surveys can be easily added to your company's website, blog,  Facebook page, or shared via email, mobile app to collect customers' valuable feedback. Here are other features that ProProfs survey maker offers: 
Beautiful Surveys:

Create beautiful and engaging surveys that capture customer attention and help you get their valuable suggestions and reviews.

Ready-made templates:

You can create real-time feedback surveys in minutes with hundreds of ready-made templates.

Quick Customization:

To match the survey with your brand persona, customize them using your company's colors and logo.

Thoughtfully-asked Questions:

Asking the wrong question or asking the right question in the wrong way can hamper your feedback efforts. Choose from 1,000,000+ ready-to-use questions to create surveys faster and strengthen your brand image.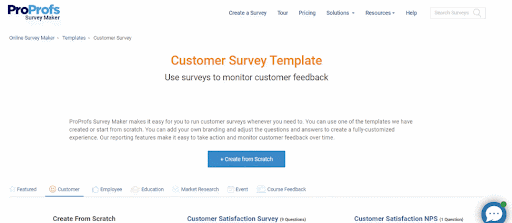 Conclusion: The Best Customer Feedback Tools
So there you have it! These are the four best tools on the market right now, depending on which use case you need them for.
We recommend you use all of them. If you want to give Userpilot a whirl, consider signing up for a demo. It's free, so you've got nothing to lose by having a look!