Customer Satisfaction (CSAT) Survey Template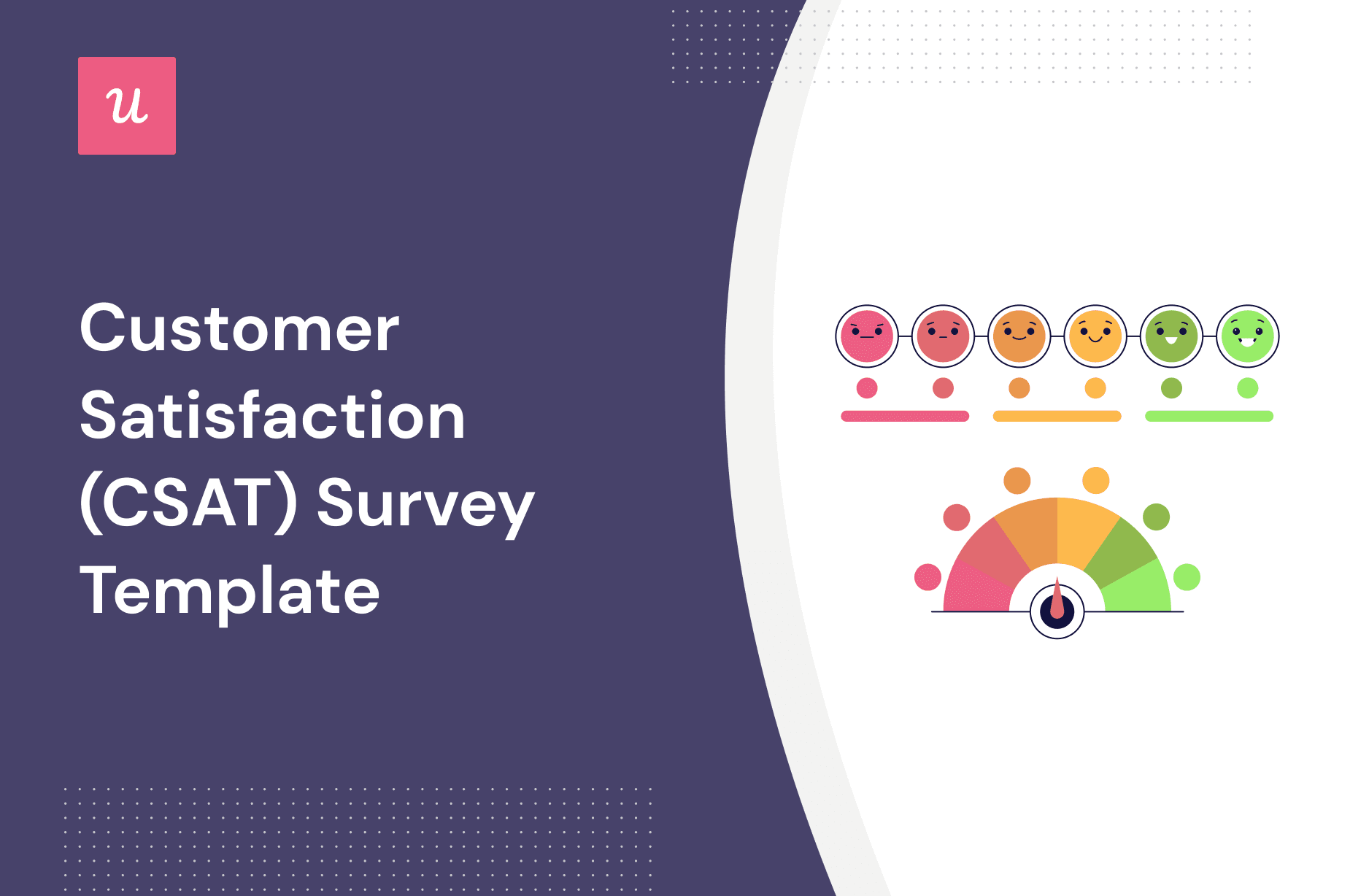 Looking for a ready-to-use CSAT survey template?
Collecting user feedback is a key element of any product growth strategy. After all, you can't improve your product if you don't even know how people feel about it.
In this guide, we'll show you how to use a CSAT survey template for all your feedback collection goals!
TL;DR
The customer satisfaction (CSAT) score is a metric that measures how customers feel about your product and how many satisfied customers you have across your total user pool.
Measuring customer satisfaction comes down to dividing the number of happy customers by the total number of customers surveyed. If 80 survey responses rate their satisfaction at an eight or higher and you surveyed 100 customers then your CSAT score is 80%.
Finding the right customer satisfaction survey template for your needs can help you regularly gather actionable feedback from customers and get a more accurate view of each customer's experience with your product.
Best practices like contextual survey triggers, keeping surveys short, and using the right tool to collect/analyze survey results can streamline the process of gathering customer feedback.
Avoid asking more than two survey questions in a single customer satisfaction survey to maximize response rates and improve the accuracy of any actionable feedback you manage to collect.
You should give customers the chance to share their satisfaction level and thoughts across the entire customer journey.
A customer feedback survey should be upfront about how many questions users will need to answer and approximately how long it will take them. Transparency builds trust and trust nurtures loyalty.
Want to start building right away? Try Userpilot to get access to ready-to-use CSAT survey templates and more.
What are CSAT surveys?
Customer satisfaction (CSAT) scores are a customer experience metric that measures how happy users are with a product, service, or support agent.
The survey is usually formatted as "How satisfied were you with X product/service/agent?" that might include a follow-up question for more insights.
How to measure customer satisfaction?
To calculate your CSAT score, divide the number of happy customers (those who gave a rating of eight or nine out of 10) by the total number of customers surveyed.
If 80 respondents from a pool of 100 gave a rating of eight or higher, then your CSAT score would be 80%.
When should you use a CSAT survey?
CSAT surveys are best used when you want to monitor the response of your customers to a specific product change.
For instance, you could send out CSAT surveys after adding new features, tweaking functionality, or adjusting your pricing model.
Customer satisfaction survey templates
While CSAT surveys could be done through email, in-app surveys are most effective because they let you collect customer data in real time. It's important to realize that there are different types of CSAT surveys.
Which template type will be right for you depends on how you segment customers, how often you collect feedback, what the product or service provided is, and other essential factors that could impact your decision.
To help you find the best customer satisfaction template, let's go over seven distinct customer feedback survey types:
Likert scale customer satisfaction survey template
The Likert scale can be used to measure customer satisfaction on a scale from one to five.
This type of psychometric scale is often used in research questionnaires even outside the SaaS space as it helps you monitor the attitudes or opinions of customers regularly.
Smiley faces customer satisfaction survey template
The issue with Likert scale questions is that the same customers may have different views of what constitutes a four out of five rating.
Smiley face surveys make it easier for your customer base to rate their customer sentiment on a scale from very unhappy to very happy.
For instance, smiley face surveys can tell you if a customer feels neutral, somewhat satisfied, or very dissatisfied with the latest product update.
It would be best to send a follow-up inquiry promptly to hear from each individual customer in their own words as well.
Open-ended customer satisfaction survey template
If you're looking for actionable customer feedback then allowing for more open-ended survey results could help you identify specific pain points that your loyal customers are unhappy about.
Open-ended questions are ideal when launching new features as this can give you an in-depth look at the satisfaction levels of both new and returning customers.
As a result, you'll be able to improve product quality and provide a better service overall.
Net Promoter Score NPS survey template
Most SaaS marketers agree that in-app NPS surveys are one of the best ways to measure how loyal your customers are. It stands to reason that customers who are prepared to recommend your product or service to others are both satisfied and loyal to the brand.
This quick feedback may not be as in-depth as open-ended summaries of customer opinions but NPS surveys still serve as a good real-time metric for how loyal the user base is to the product or service being provided.
Note: the Net Promoter Score should always be on a scale of zero to 10 with a response of eight or higher counting as a happy customer.
Customer effort score survey template
Where open-ended surveys provide actionable feedback and NPS surveys measure customer loyalty, customer effort score (CES) surveys can provide valuable information on how easy your product or service is to use.
A CES survey could be used to measure the perceived amount of effort it takes to use the product as a whole or narrowly focus on a specific feature. If you see a particular user segment with concerning CES scores then you should consider reaching out for additional comments.
Remember, lower scores mean that the product/feature is harder to use.
Product usage customer satisfaction template
This type of survey can be used to see how satisfied customers are with a feature they're currently interacting with. Userpilot lets you set up these types of surveys without writing a single line of code.
You'll also be able to select the icons (e.g. smileys or hearts), set the number range, and label high/low scores. If you notice a feature that yields high satisfaction scores in these surveys but isn't used by most users then you could ramp up your feature discovery efforts for it.
Customer satisfaction survey template for the customer service team
While knowing how customers feel about your product and its ability to solve their pain points, knowing how a customer feels about the level of support they're receiving can be equally important.
After all, 96% of customers said they'd be willing to switch brands if competitors offered superior customer service. While you could use email surveys to follow up on support interactions, an in-app survey will provide fresher data and higher response rates.
Survey questions could include:
How quickly were you connected to an agent?
How helpful was the agent?
Was your issue resolved?
The third fall into a category of survey questions known as FCR or first-chat resolution which will help you track the percentage of tickets that are resolved within a single interaction.
This metric will help you track how well your team answered support tickets.
Customer satisfaction survey (CSAT) best practices
There are four best practices that you should follow if you want to get the most out of your CSAT surveys. These are:
Contextual triggers
Concise surveys
Avoiding bias
Using the right tool(s)
Let's take a closer look at each best practice below!
Trigger customer satisfaction surveys contextually
Contextual triggers help collect fresher (and therefore more accurate) data from your users. For instance, you could ask a user how a support engagement went right after they finish speaking to one of your agents.
Response rates also tend to increase after implementing contextual triggers as users are more likely to respond when the experience they had is still on their minds. For bonus points, use different contextual triggers for each user segment.
Keep your surveys short
The shorter your CSAT surveys are, the higher the response rates will be. One-question surveys are the gold standard when collecting CSAT data but you could include a follow-up question if you're trying to gather insights on a specific feature.
If you need more than two data points, it'd be best to spread your questions across multiple surveys throughout different touchpoints.
Having more than one or two questions per survey could tank your response rates, so avoid going overboard.
Avoid bias and double-barreled questions
Asking double-barreled questions could lower response rates and reduce the accuracy of the responses that you do manage to gather. This is known as survey bias.
For instance, this CSAT survey from Google Meets asks about both the audio and video quality in a single question:
This could leave respondents unsure of how to respond. What if the audio was crystal clear but the video was blurry or kept buffering?
In addition to confusing users, double-barreled questions will also lead to plenty of inaccurate data tainting your response pool.
Use the right tool to collect customer feedback
Last but not least, it's important to have the right tool for the job.
While you could consider hiring a programmer to write native surveys, that'll take a lot of time and money to deploy which means you won't be able to collect user feedback anytime soon.
On the other hand, tools like Userpilot make it possible to build CSAT surveys without needing to write a single line of code.
Userpilot also lets you try out different triggers to see which triggers yield the highest response rates and most accurate insights.
Finally, you'll be able to analyze all responses and metrics inside the app itself meaning you don't need to set up a complicated spreadsheet to review your customer satisfaction data. Here's a look at the various survey templates available on Userpilot:
Best customer satisfaction survey examples
Creating customer satisfaction surveys is as much an art as it is a science.
Fortunately, plenty of successful SaaS brands have mastered the craft over the past couple of decades. Let's have a look at a few customer satisfaction survey examples to give you some inspiration:
Slack uses explicit answer choices
Instead of asking their customers to rate their satisfaction on a scale, Slack provides pre-written answer choices while also giving customers the option to delve deeper into their pain points with the text box.
Jira uses smile emoticons
Jira collects feedback on a specific feature using smiley surveys.
The in-app survey also has a dropdown that lets users choose what they'd like to give feedback on — ensuring that no facet of the customer experience is ever ignored.
Miro uses contextual in-app customer experience surveys
Miro has integrated passive feedback widgets into their UI, making it possible for users to provide customer feedback at any time throughout the customer lifecycle. Giving customers a voice to comment on any feature or their experience helps you monitor the overall experience.
Slack personalized the intro to their NPS survey
Instead of choosing to simply create a multiple-choice online survey, Slack crafts a personalized intro that prepares customers for the survey questions ahead of time. This lets customers know how many questions they'll need to answer and how long it will take them.
Being upfront about these details with your target audience will build trust, garner higher response rates, and encourage customers to put more effort in when writing up their responses to an open-ended question on your CSAT survey.
Conclusion
As you can see, gathering customer feedback doesn't have to be rocket science as long as you ask the right customer satisfaction survey questions. We hope that the customer satisfaction survey templates in this article help you gain insights from your existing customers.
If you're ready to start learning more about how your customers feel and want to implement a few best practices from this article then it's time to get your free Userpilot demo today!