How to Wow a Customer and Win Their Loyalty [With Examples]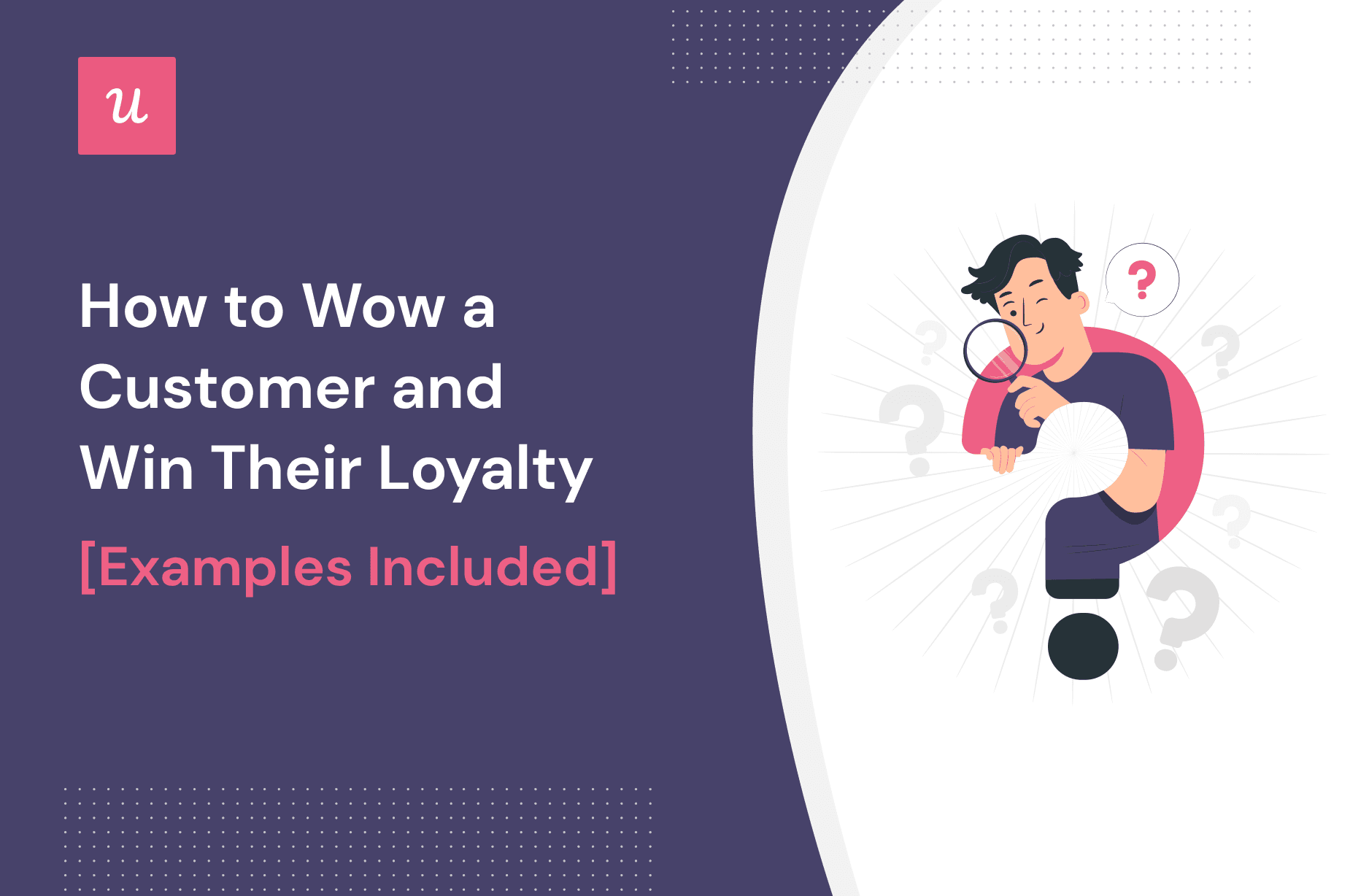 When it comes to customer retention, figuring out how to wow a customer is crucial. After all, how can you expect to keep existing customers if you're not able to meet (or exceed) customer expectations?
In this article, we're going to show you how optimizing the customer experience can create a more personal connection that leads to repeat customers!
TL;DR
"Wowed" customers are more likely to be loyal to your brand and make additional purchases in the future.
Fast support, personalized experiences, and feedback collection are all core strategies that can help you wow your customers.
You should pay just as much attention to your freemium users since they can turn into paying customers when you optimize their customer experience.
What is a "wow" experience in customer service?
WOW experiences occur when the customer experience exceeds user expectations. WOW experiences are often associated with exceptional customer service but can also apply to the customer experience in other contexts. When you wow your customers with the right strategies, you create a happier user base and increase the odds of long-term customer success.
Why go the extra mile to wow customers
There are a few reasons why you should put in extra effort to wow your customers. First of all, it strengthens the relationship between your brand and its customers. It makes customers feel like they're engaging with small business owners that actually care about their success.
In fact, excellent customer service is one of the best ways to increase customer loyalty and retention. This type of reciprocity works because more customers will feel like spending money on your product or service if they're satisfied with what you offered them.
This rapport not only keeps customers happy but also provides a competitive advantage against other businesses that may be looking for ways to wow your customers. Efforts that wow your customers tend to have a large ROI since they can optimize your conversion rate and generate revenue.
How to wow a customer in SaaS
There are 10 tried-and-tested ways to wow your customers and increase customer satisfaction. Let's take a closer look at each of these strategies and how they make customers feel in the sections below!
1. Build rapport
Customer loyalty is just as emotional as it is transactional. When users see that you care about their problems, provide complete transparency around bug fixes, and are constantly over-delivering on their expectations, then they'll begin to trust you.
This trust and rapport can yield many benefits for your business whether it's amazing stories shared on social media accounts, a positive review on your website, or word-of-mouth marketing that brings more people into your rewards program.
To reap any of these benefits, you'll need to dive deep to get a clear understanding of your customer's motivations, needs, jobs-to-be-done, and pain points with the product. Once you have a clearer understanding, you'll be better able to tailor customer experiences.
Here are the four main types of customer pain points that your customer experiences should address:
2. Resolve queries quickly
Nothing can put a bigger damper on the customer experience than slow support. A business that is able to respond quickly to customers will be able to keep the customer happy and prove that they intend to over-deliver on all fronts of the customer journey.
This makes sense since fast (or even instant) responses to support queries make customers feel valued. You should also strive to offer support on holidays and after business hours so customers have a positive experience regardless of what day it is.
Having an agent pick up the phone on a Saturday at midnight will also serve as a pleasant surprise for customers who were half-expecting for no one to be available. Remember that good customer service isn't just about the response time but having the right answer.
Answering quickly won't do you much good if it takes your customer service team days to actually resolve the issue that the user is facing. Whether you're a small business or a SaaS enterprise, be sure to streamline your support process and offer self-service options.
3. Be proactive
To further optimize the customer experience, you should anticipate issues and resolve them before they even arise. This is the difference between reactive versus proactive (patching existing issues before customers encounter them) support.
Other approaches to proactive support include adding in-app guidance to your product, creating educational resources for help centers, monitoring mentions on social media, and collecting data on features with the lowest adoption rates.
You may be hesitant to spend business capital on issues that customers aren't facing yet, but these efforts will eventually bring rewards in the form of higher customer satisfaction, lower churn rates, and larger LTVs.
4. Make the first experience count
Long-term customer satisfaction trends are often set with some of the earliest interactions that a customer has with your business. Users are fast to form opinions on brands and slow to change them.
That's why you should make sure that your business's first interaction with a customer starts off on the right foot. Bear in mind that a first impression doesn't end at the sign-up page; it extends well into the onboarding process when they actually start using your SaaS product.
Optimize the onboarding experience with relevant messaging and interactive elements that pop up at the right moment. The easier it is for users to extract value from your product or service, the better their customer perception will be in the long run.
5. Personalize the right elements
Even a little research will show you that there's a disconnect between how personalized business owners claim their customer experience is versus how their customers actually feel. In fact, Twilio's State of Personalization 2021 report found that 85% of brands believe they offer personalized customer experience while only 60% of consumers agree.
It's impractical to personalize every touchpoint that a customer has with your business throughout the user journey, so you need to strategically focus on the elements that matter the most.
These include key details like the user's name, in-app behavior, preferred communication channel, level of product/industry knowledge, and job-to-be-done. Addressing users by name and creating different flows for each behavioral segment will give your product a personal touch.
6. Gather feedback and act on it
Gathering, analyzing, and applying feedback is one of the best growth hacks whether you're operating small businesses or expanding your SaaS empire worldwide. At a minimum, give your customers a means to express their opinions, concerns, or appreciation for the product.
Even something as simple as a customer satisfaction survey can show users that their success is your top priority, thus making them feel heard. You won't be able to act on every piece of feedback from customers but make sure you at least address all concerns that come in.
In a SaaS environment, in-app microsurveys tend to be the most efficient feedback collection method since they capture user insights as they occur (through the use of contextual triggers).
There are more ways to gather feedback for your business though. You could leverage your social media following through polls, blast email surveys on the most important dates of each year (e.g., annual renewal periods), create feedback forms on your website, or even register on dedicated customer feedback forums.
Here's an example of a simple in-app feedback survey from Miro:
7. Offer the unexpected
Since the best way to wow customers is to exceed their expectations, offering unexpected value with your product or service is one of the easiest ways to do that.
You could introduce a new feature that they didn't know they needed, release an industry eBook, create video tutorials on how to best use the product, or even give a free gift like a coupon code for their next renewal.
Whenever you surprise customers, be on the lookout for upsell opportunities. For instance, you might want to offer a coupon that provides an upgrade discount rather than a discount on their existing subscription tier.
In another vein, you could request their email when sending the newly-released eBook so you're able to reach them with your company newsletter. You could also tie in the previous strategy by adding feedback collection forms to your feature announcement pop-ups.
8. Thank your users
In addition to providing a better service than all the competing businesses out there, it's also important to thank customers for choosing your company as their service provider.
There's an ever-growing number of SaaS tools out there so you should always express gratitude when consumers select your company specifically.
A few ways to express your gratitude include:
Sending a birthday card (or handwritten note) to users once a year
Celebrating product milestones and anniversaries like you would a first date
Congratulating them whenever they use a core feature for the first time
Launching a thank you email sequence for new customers
…and more!
Trello uses thank-you emails to celebrate milestones alongside their user and improve the customer experience in the process.
9. Freemium or paid, treat users the same
One mistake that SaaS companies tend to make is to neglect their freemium users and only pay attention to paying customers. In reality, freemium users should get the same level of support as your other customers to ensure that they convert into a paid subscription in the future.
By providing fast support, limited-time sales, and a quick follow-up email from your customer success team, you'll be surprised how many freemium users turn into revenue-driving customers.
Thanking them for their business, sharing customer education resources, and offering to hop on a live call during the product trial onboarding process are all great ways to increase your trial-to-paid conversion rate.
10. Regularly check back in
Last but not least, be sure to check in with customers from time to time to see how they're progressing with the product. Some users may not immediately reach out when they need help or run into a roadblock, so you should be proactively touching base.
81% of customers try to solve problems themselves before contacting a live representative, so show some customer love by messaging users to see how they're doing!
Examples from brands that know how to wow a customer
Now that you're familiar with the 10 strategies that can help you wow your customers, it's time to draw inspiration from companies who have already mastered the art.
Here are five real-world examples of how brands manage to wow their customers!
1. Surprise t-shirt — Userpilot
During a support call, a customer jokingly asked for a t-shirt. Our team ran with the joke and actually sent a personalized gift to the user. Our customer was so excited about the surprise that he decided to share his positive experience on LinkedIn!
2. eBook for Christmas — Userpilot
For the holiday season, Userpilot sent eBooks to customers as a Christmas gift. The eBook is not only a highly effective customer education resource that contains industry insights but it also shares information on how to get value out of our product.
Sounds interesting? Grab your free e-book here!
3. Weekly writing updates — Grammarly
Grammarly is known for sending weekly writing updates to its users with personalized analytics on how many words they wrote, how accurate they were, and the most common mistakes they made.
By celebrating writing achievements and displaying streaks, Grammarly is able to wow its customers with smart gamification elements!
4. Unmatched responsiveness — Semrush
Semrush is extremely responsive to all user inquiries through social media— whether that's a paying customer that's been with them for years or a new follower sharing a meme. Semrush also integrates humor and personalization into its customer communication strategy, making it that much more effective.
5. Spotify Wrapped — Spotify
Spotify Wrapped generates buzz every year because it's an extremely personalized way to help customers recap their year. In fact, the Spotify team goes the extra mile by analyzing data for every user so the recap feels 100% tailored to them.
The result? Users are wowed year after year and always look forward to the next one, thus staying loyal to the brand.
And that's a wrap
Whether you're selling a physical product or Software as a Service, it's clear that the same core principles of customer support, feedback, and experience optimization apply to wowing a customer.
It comes down to understanding what your customers expect from the product and exceeding those expectations to the best of your ability. If you need an in-app communication tool to truly wow customers, then it's time to get your free Userpilot demo today!