Proactive Support in SaaS: How to Offer Next-Level Customer Service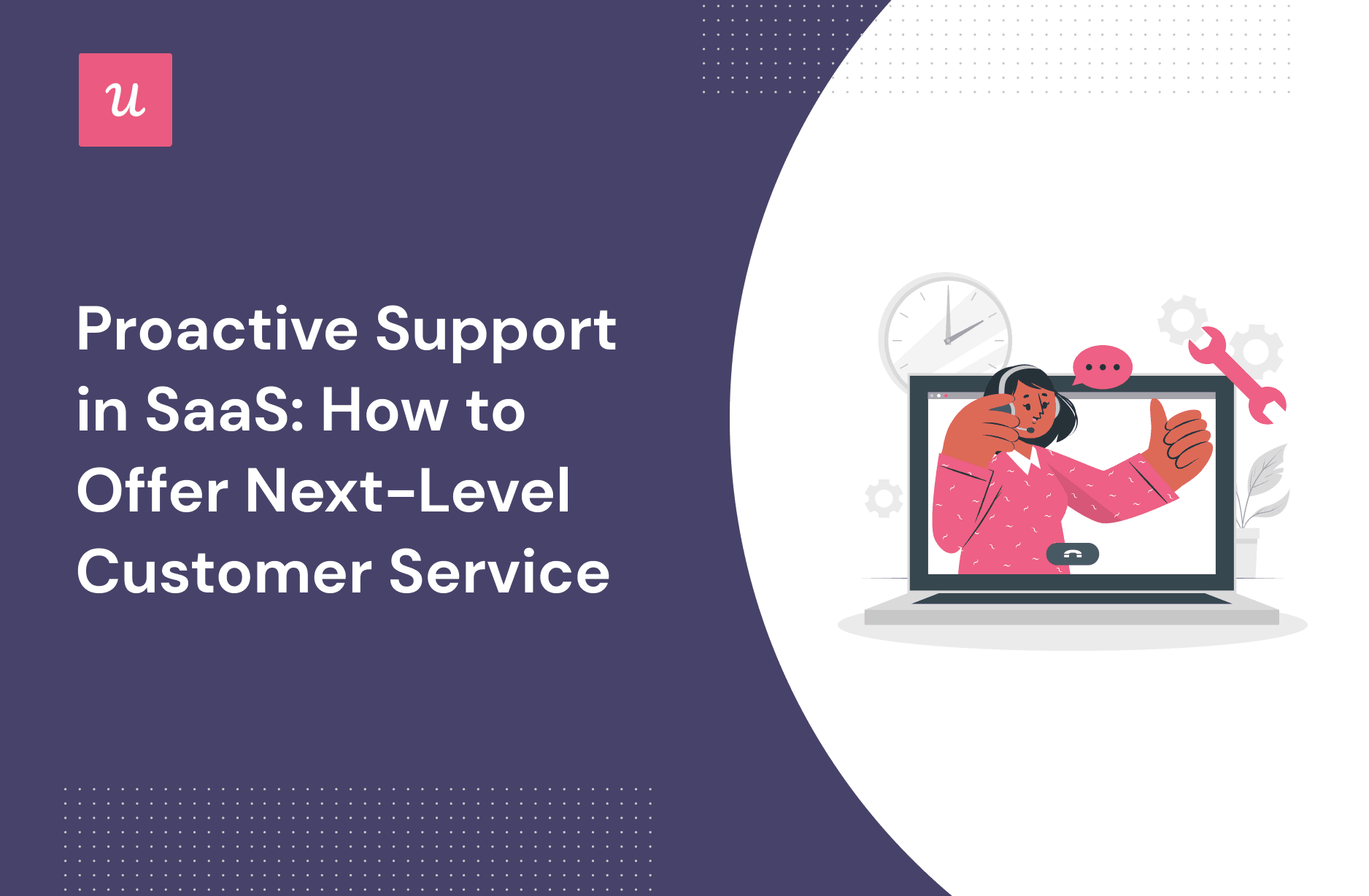 Companies that provide proactive support will have more delighted customers who want to continue doing business with them.
Why?
Because SaaS customers are savvy. They deal with numerous tools every day, so they subconsciously expect exceptional customer service.
Proactive support is what they crave. Proactive support eliminates friction throughout the user journey and provides the assistance they need to accomplish their goals without a hitch. This article takes a deep dive into proactive support, showing you how it's different from the traditional approach and how you can implement it at your SaaS company.
TL;DR
Proactive support means anticipating customer issues and addressing them before the user experiences them.
The main difference between reactive and proactive support is that the former waits for customers to reach out with an issue for you to resolve, but the latter identifies potential problems before they happen and suggests solutions to customers, saving time and resources.
The benefits of proactive customer service include fewer support tickets, increased customer satisfaction, and better customer loyalty.
A support portal where customers can only chat with you and submit tickets is not proactive. You can, however, make your support portal proactive by adding multiple formats of resources such as video tutorials, interactive walkthroughs, checklists, etc., that customers can learn from on their own without having to reach out to a customer support agent.
Use intuitive tooltips and interactive walkthroughs to show each feature's function. This will reduce confusion when the customer begins using your app.
Provide better customer service by creating a comprehensive knowledge base that guides users through common issues.
In-app surveys are awesome for continuously collecting user feedback and acting on it. You can use NPS and CSAT surveys to collect both qualitative and quantitative customer feedback and optimize customer service. Later in this article, we will discuss how Slack and Jira do this.
What is proactive customer support?
Proactive customer support is a customer service approach in which the company anticipates customer problems before they happen. This allows the company to design self-service resources so that when the question does arise, the customer is presented with the answer without needing to contact them.
Proactive customer service vs. reactive customer service
The traditional approach is listening to customers when they describe their problems and then figuring out how to solve them.
In the past, reactive customer service worked well, however, customers are becoming increasingly impatient. In today's world, the average SaaS company faces high customer expectations due to the explosion of communications technologies.
This is where proactive customer support comes in. Here, you go ahead of your customers to anticipate what they could struggle with and quickly make solutions available.
As you'll see later on, it's not hard to be proactive. It only requires a little intentionality since in many cases, you already have the resources you need. For example, you can start by analyzing customer behavior trends and common issues, and then create the relevant resources to help your customers.
Why should SaaS switch to proactive customer support
If you haven't considered implementing proactive customer service, you should because the benefits are enormous. Making that move will reduce the strain on your customer service teams, help you increase customer satisfaction, and enhance customer loyalty.
Let's see how exactly this happens.
Decrease customer support requests
Proactive support means using every method at your disposal to ensure customers have what they need.
The result is that customers will have fewer reasons to contact the support team. It also means you can afford to have fewer support agents, saving costs.
Improve customer satisfaction
The truth is that no matter how patient a customer is as a person, there's always an element of impatience when they encounter problems using your app.
Many problems will frustrate the customer, and fewer people are willing to stay in queue to resolve their issues with human agents. This means you're increasing customer satisfaction levels when you ensure your users don't have to encounter friction or wait for hours before their problems are resolved.
The Hiver Survey Report in the image below highlights four things consumers consider a good experience. And gladly, all these can be met if you prevent common customer service issues from coming up or proactively create self-service support solutions.
Increase customer loyalty
You stand a better chance of retaining users when they're engaged and satisfied with your customer service. They will have no reason to lag or stop using your SaaS, provided other aspects of your product work well too. In fact, they will gladly share your tool with the people in their community.
This is a win-win for both company and customers. From the company side, increased retention means a high LTV for your users. And on the customer end, they get to use your product to solve their needs without dealing with friction.
How to be proactive to your customers in a support portal?
Most SaaS companies have a support portal or resource center. But many of them are not proactive with it.
Your support portal is reactive if it's just about chatting with users or providing them with the ability to submit a ticket.
To be proactive, you need to build a resource center that includes multiple types of resources the user can use and avoid the need for in-personal support altogether. Some resources to include are microvideo guides, checklists, interactive walkthroughs, a search functionality to find information quickly, and pretty much any other resource you think might be useful.
Proactive support goes beyond your resource center, though. Here are other things you could do too:
Offer in-app guidance to remove friction and decrease the need for support.
Monitor customer conversations on social media and respond appropriately.
Constantly collect feedback from your users to anticipate the need for help.
Inform customers and keep them updated when issues happen.
Offer users multiple ways to reach you and make it obvious.
Proactive customer support examples
The previous section showed you how to turn your support portal into a proactive support tool. It also showed you other proactive things you can do outside a support portal.
But those were theories. Now, let's consider practical examples from top SaaS companies. Seeing how they did it will inspire you to get started with yours.
Loom adds guidance videos to its empty state to proactively eliminate the need for support
Adding short, 2-4 mins videos for different use cases was a nice move. The only thing confused customers have to do is hover over the video that describes the problem they're struggling with and learn quickly.
Video tutorials work best because texts may take more time to consume, plus many users will prefer to learn by seeing someone perform the action.
Slack provides proactive support with intuitive tooltips
The proactive move here is that users get information on how to use the feature before even starting to use it. This will prevent them from wasting time figuring it out all by themselves.
This tactic is useful when onboarding new customers.
Kommunicate's interactive walkthrough helps users learn by doing
Remember we mentioned interactive walkthroughs as part of the elements to have in your resource center?
You can also use them during your primary or secondary onboarding. This will help customers learn to use your features by performing key actions recommended by the walkthrough.
In using this method, Kommunicate aims to guide the user through its features, avoiding any form of friction along the way.
Asana's in-app microvideo guides
This is similar to what Loom did in the example above. Notice how Asana's help center includes more than just videos. There are also help articles and the option to search the help center for quick results.
You too can do this for your SaaS. Create microvideo guides for users, and include short help articles that are easily searchable. The videos should focus on introductory stuff that can only be understood with a short video, and the proactive support articles should cover extra guides your user might need as they go deeper in the customer journey.
Slack collects NPS feedback to anticipate the need for help
After using the product for some time, your users will have thoughts and feelings they may want to share. A good move is to ask them what they think before they even express it to friends and colleagues. This will enable you to find areas for improvement ahead of time.
Slack does this. They send NPS surveys like the one below to users that have had some experience with the app.
Calendly offers a 3-format survey to proactively collect customer feedback and act on it
The first thing to notice here is that Calendly offers customers enough flexibility in providing feedback. Customers could choose to give feedback about the page they just visited or share what they think about the product as a whole.
Providing a third option for contacting support might seem reactive, but it's not since it wasn't the customer who reached out. Your customers may not always have a reason to contact you, but giving them this option lets them know they can reach out at any time and be heard.
Jira anticipates issues with continuous feedback collection
In the previous example, I mentioned the importance of letting your customers know they can contact you anytime. Jira takes this to another level. They have an always-on feedback widget that the user can click at any point in the app.
The widget opens different surveys based on where the user is on the app.
Clicking it will open a survey like this:
Always-on feedback widgets are less intrusive. It's like telling the customer, "Go ahead and do what brought you to the app today, provide feedback when you have more time on your hands."
Userpilot offers different types of on-demand in-app help resources
While self-service is good, a human touch is still needed in some situations. So, in addition to your resource center content, make it obvious to customers that they can contact human support when they need it.
This is a proactive move as users don't need to go back and forth and get frustrated.
Miro keeps an updated knowledge base for self-service
If you're looking for an example of a good knowledge base, Miro has one of the best.
Their knowledge base content is divided into different sections to provide an aesthetic appeal and ensure customers easily get the information they need. Also notice the feedback button at the top right corner, inviting users to share their thoughts.
Loom offers troubleshooting and guidance before help
We mentioned Loom earlier for their guidance videos to get customers started with the app.
They also have proactive solutions to help more experienced customers deal with issues.
The other examples on this list have most of these proactive resources, but the troubleshooting feature stands out. Giving customers the option to troubleshoot means fewer support tickets for even sophisticated problems.
Tools to implement proactive customer service
You've seen practical examples, and some ideas have started kicking in for how to provide thoughtful support to your users. The next natural question is, what proactive customer support tool should you use?
The following SaaS products come in handy:
Userpilot: All you need for in-app proactive support
Userpilot is an easy-to-use, no-code software that helps customer success teams deliver proactive support.
Our software enables you to create a self-serve resource center consisting of multiple resources such as interactive walkthroughs, tooltips, in-app surveys, chat options, etc.
Zendesk: For chatbot and support ticket automation
Zendesk's customer service solutions are mostly reactive, but its chatbot feature is proactive.
The platform allows you to create highly personalized chatbots for your end-users. The chatbots are AI-powered, can answer common user questions, and know how to contact the next available human agent when a query needs human intervention.
Zendesk's chatbots are fantastic but still can't provide extensive help like self-service resource centers. Go ahead, if you want to have an intelligent chatbot, but also create other help center resources for your users.
Conclusion
And that's a wrap! Before you go, it's essential to keep in mind that customer service is constantly changing. What is considered a proactive measure today will be the standard a few years down the line as communications technologies get smarter and customers become more demanding.
As a result, the best thing you can do is keep an open mind and always be that company that aims to provide exceptional customer service. This mindset will keep you ahead of the market and allow you to stay in your customers' good books.
We've discussed how Userpilot can help you provide proactive support that wows and retains your users. Are you ready to get started? Book a demo call with our team today!