7 Strategies on How to Improve Customer Satisfaction in SaaS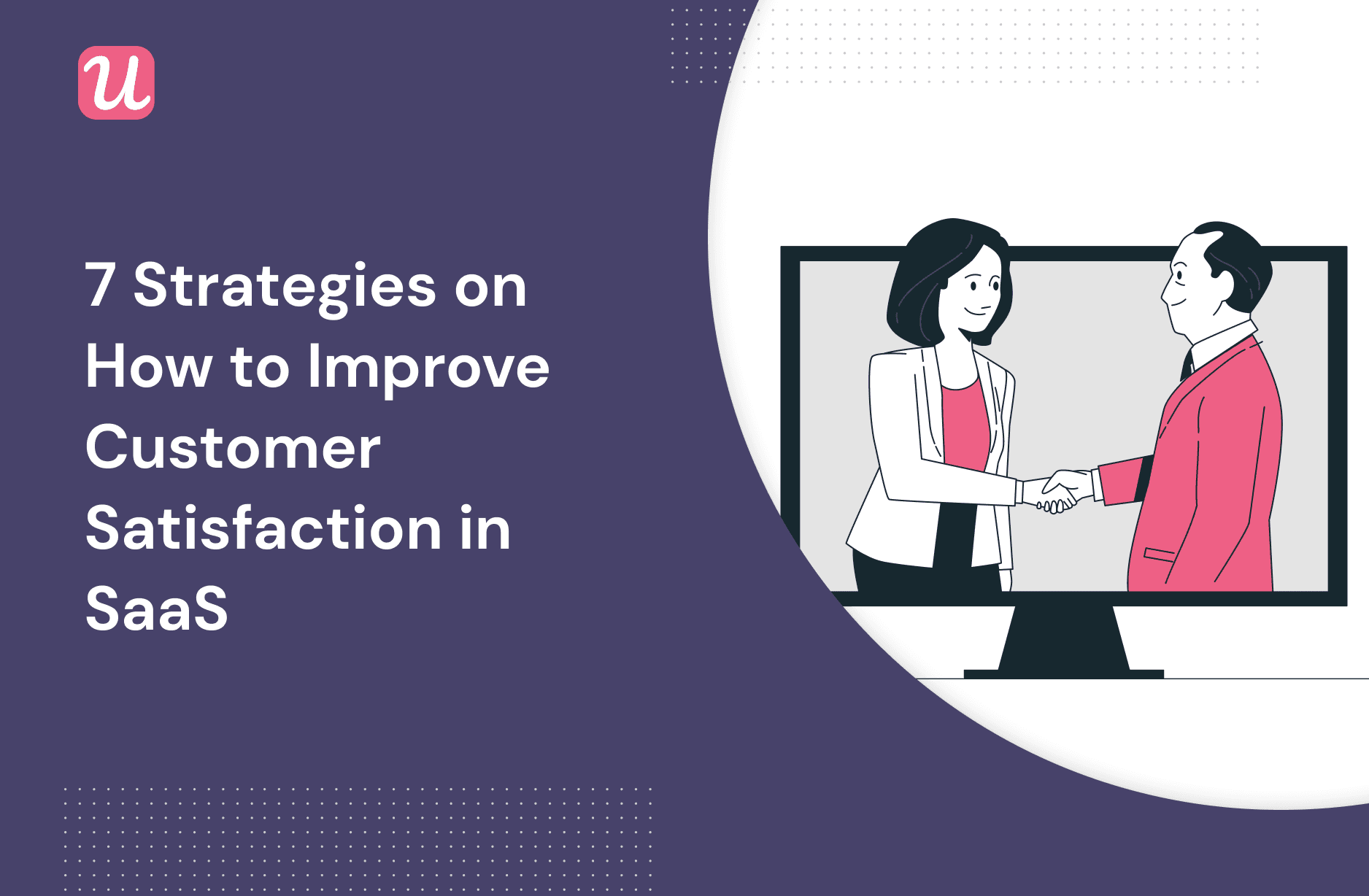 Having an informed understanding of how to improve customer satisfaction in SaaS can help you stand out in the fast-growing software industry, but also build an unfair advantage among competitors.
By simply listening to your customers, one can optimize user onboarding and engagement by acting on user sentiment and feedback data.
In this article, you will find ready to use tactics that will help you increase customer satisfaction.
TL;DR
Customer satisfaction is a measure of how much a company's products meet or exceed their customers' expectations.
Measuring customer satisfaction provides an invaluable foresight to course-correct potential product failures and discover new business opportunities.
Use Net Promoter Score (NPS) to measure customer loyalty and predict community-led growth, customer satisfaction (CSAT) surveys to find user friction in product workflows, and customer effort score (CES) surveys to understand the efforts taken by a customer to complete a task.
Use onboarding checklists, interactive walkthroughs, and self-service support to help customers familiarize themselves with your SaaS product and improve satisfaction.
Ensure you close the feedback loop by taking action on customer complaints or suggestions.
Collect in-app feedback and improve customer satisfaction with Userpilot.
What is customer satisfaction?
Customer satisfaction directly correlates with how happy your customers are with your products or services.
Generally, customer satisfaction is defined as the percentage of total customers who are satisfied with your product or service over and above a certain threshold.
Measuring the customer experience through user feedback is becoming increasingly important, as more businesses embrace customer-centricity.
Why is customer satisfaction important in SaaS?
An angry customer's tweet or short video can make or break a brand. Taking control of the product narrative is therefore more relevant than ever.
Customer satisfaction levels also affect your SaaS business metrics, including retention, recurring revenue, and customer churn. Here's how it impacts your SaaS.
Customer satisfaction increases the customer lifetime value
If potential customers are willing to use your SaaS product for longer, you can tell whether they are receiving value from it. Simply put, if your customers are satisfied, they will continue to pay for your services for a longer period.
Your Customer Lifetime Value (CLV) will be higher for a single customer on average. This further translates to nurturing a goldmine of customers who generate repeat business and recurring revenues for your SaaS.
Having a stronghold in CLV defines your business profitability, potential runway, and how much value it brings to the customer. That's why investors use CLV to judge how healthy and investable a SaaS business is.
Customer satisfaction drives word of mouth
A customer is four times more likely to purchase a product endorsed by someone they know. Yet, only 33% of businesses are focusing on documenting customer feedback and figuring out how to improve customer satisfaction with the insights.
Despite not being able to influence how word of mouth spreads, a business's ability to understand its customers is what really matters. This will allow it to deliver the customer experience that customers desire.
Leaving a positive lasting impression on a customer will lead to them becoming brand ambassadors on their own volition.
For SaaS applications this is particularly important because most customers check software review websites like G2 or Capterra before they decide to purchase or trial a product.
Customer satisfaction improves retention
The cost of retaining an existing customer is five times lower than acquiring a new one. Thus, a SaaS business can divert the savings to focus on other key business verticals like customer support.
Understanding how to boost customer satisfaction levels can help you predict if you're making the right business decisions to retain customers and strategize to build customer loyalty.
This reduces existing customer churn – a crucial metric for improving customer retention.
Customer satisfaction helps increase expansion revenue
A loyal customer base with a high degree of satisfaction makes it easy to upsell, cross-sell, or offer add-ons. 
In this way, you can further increase the lifetime value of your customers.
How to improve customer satisfaction?
Customer feedback plays a crucial role in shaping your customer satisfaction strategy.
Here is how it works:
Collect customer feedback
Act on the insights from customer feedback
We will understand each step and the various ways to execute them.
Collect customer feedback with multiple satisfaction surveys
Surveys capture user sentiments and quantify them for analysis. There are multiple ways Surveys allow you to quantify user sentiment and analyze it. Many different types of surveys are available. It makes sense to use each of these to measure customer satisfaction at specific points in the customer journey because each has certain characteristics.
Here are several types of surveys that can be used.
Gauge customer loyalty with NPS surveys
Based on a 0-10 scale, NPS measures customer loyalty.
You can use the Net Promoter Score to gain insights into your customer onboarding process and the value your customers derive from your product. In addition, it is a valuable indicator of where you stand on the path toward community-led growth.
To get actionable insights, always include a follow-up question in your Net Promoter Score survey and collect qualitative feedback as well.
In the end, NPS shows that a user is happy to be associated with your product, and joining a community around that product follows from here. The qualitative data, on the other hand, provides you with valuable insights into what makes customers happy or unhappy.
Measure customer satisfaction with CSAT surveys
You can collect feedback via a CSAT survey after an in-app experience or a team interaction.
For example, you might ask if the customer found your customer success and customer service representatives helpful. Or, you might need feedback on a recent product release.
It generates specific data that enables you to understand where your product is creating obstacles for your customers. In addition, a user's engagement with a product changes based on their journey, so you'll want to include additional CSAT surveys at different milestones throughout the journey to track the progress.
To improve your product, your product team should have continuous feedback from customers who are using specific features in addition to conducting user interviews.
Track customer effort score at different touchpoints
It's no secret that you know how to use your product easily and effectively. What about your customers?
CES surveys collect feedback on how much effort a user spent performing a specific task. The CES also provides a good glimpse into customer experience, since a difficult-to-use product is probably not very user-friendly and therefore produces a poor customer experience.
You may have a great product, but if users find it hard to use they are more likely to look for alternatives.
Utilize the user's rating to ask follow-up questions to better understand where the friction points are and how to improve them.
Assess product-market fit and improve
A Product-Market Fit survey asks customers how disappointed they would be if your product was no longer available. The purpose of this survey is to measure customer loyalty for startups that have not yet received a PMF, in other words, no customer loyalty to measure.
PMF scores are calculated by asking users "How would you feel if you could no longer use this product?" and measuring the percentage of users who answer "very disappointed".
You want at least 40% of your customers to respond that they would be "very disappointed". This is a signal that your product is meeting customer needs effectively.
If you have a sizeable number of people who won't be disappointed, they can give you some valuable insights on how to pivot your product into something users want to buy. This can help you improve your product.
Act on customer feedback collected to improve satisfaction and your product
After collecting feedback at various touchpoints of the customer journey, you can extract actionable insights from the surveys. In this section, we will learn how to use the collected data.
Reduce time to value and friction with onboarding checklists
Create checklists to help drive customers from one milestone to another and reduce time-to-value.
As a first step in the customer journey, use customer onboarding checklists to guide them to the activation point where they can experience first-time value. Providing value as quickly as possible increases satisfaction.
Create multiple checklists for each point in the journey in which you want to direct the user.
Here's an example of a Postfity onboarding checklist that drives users to the activation point.
Shorten the learning curve with interactive walkthroughs
Make sure you don't just list tasks for them to complete, but also show them what they should do
Interactive walkthroughs are a series of tips that guide a user through using a feature for the first time. By shortening the learning curve, they deliver more value and increase satisfaction.
We all like it when things are easy to do.
Your interactive walkthrough should be paired with your checklist. Here's an example of a short interactive walkthrough from Kommunicate, guiding their users through customizing their chat widget.
Offer in-app self-service support for on-demand help
Provide contextual self-service support so users can get help when they need it. As a result, users are more satisfied with the service since there is less friction, a shorter learning curve, and help when needed.
Include links to your in-app guides, provide a 1-click chat launcher, etc.
An example Postfity includes a guide that uses tooltips to explain how to use their new feature, "Posting on Instagram.". Users can access this from inside the app's resource centre.
Follow up with NPS detractors before they churn
By asking a follow-up qualitative question to the NPS survey, you can uncover critical insights.
Then, you can use a product adoption tool like Userpilot to categorize responses and analyze insights. You can then act to fix the problem and get in touch with users to close the feedback loop.
Ask for more in-depth feedback from NPS promoters and reward them
Customers who are loyal are satisfied customers. If you pick their brain, you can identify what's making them happy, so you can replicate it for everyone else.
A loyal customer is also likely to provide detailed feedback and wants to help.
However, you should still reward their loyalty and time.
Use an in-app slideout to ask for feedback after they've engaged with your NPS survey, increasing the odds of receiving a response.
Close the feedback loop
It's not just about gathering information about why people leave, you need to understand what makes loyal customers stay as well. To do this, take customer satisfaction surveys such as NPS, CSAT, and CES and replicate what's working while improving what's not.
Taking action and communicating with the customer to close the feedback loop will show them that their voice is valued and matters.
You should act if you notice recurring complaints in your survey responses. Let those users know how you fixed or plan to fix the problem. Sometimes the problem is not that they are missing a feature, but that they cannot locate it.
Tagging responses will help you see how specific issues impact the NPS score. And continuously acting on it will help build stronger customer relationships.
Build a community for your customers
Businesses are leveraging the concept of communities to engage customers by creating shared spaces for individuals with similar interests.
Having a community can help you:
share knowledge and interact directly with users
be proactive (understand what brings friction into your product and remove it before it becomes a problem).
drive business success
A community is not just for your active users, it can be for everyone. Take for example, Userpilot's Facebook group where we share our insights on product marketing and growth for both existing and potential customers.
How Userpilot can help you improve customer satisfaction
This may seem like a lot, but with the right tool, you can automate your feedback collection and actions based on insights so you easily improve customer satisfaction.
It started as a user onboarding platform, but over the years Userpilot has developed a wide range of features, including microsurveys that can be integrated into your product.
Userpilot gives you several options for collecting customer feedback, including during onboarding.
Collect feedback with customer satisfaction surveys
Userpilot allows you to build multiple types of micro surveys and customize automated responses based on the user's answer. Using the NPS feature, you can track and analyze customer feedback via NPS responses.
Coming soon: an easy yet powerful way to collect and analyze product feedback with predefined, ready-to-use templates and more in-depth analytics. Get in touch for a demo!
Analyze data and act on feedback
We have made it easy to track milestones in the journey by using goals. This will help you trigger the right type of customer surveys contextually to ensure maximum feedback collection.
You can use user segmentation to trigger in-app flows and reach the user cohort you want.
Guide users with in-app guidance
Increase customer satisfaction by implementing in-app guidance with checklists, modals, tooltips, and other UI patterns to the users who require assistance.
Offer in-app self-service support
Improve customer satisfaction with in-app help on demand. Add documentation links, short educational videos, trigger in-app guidance, and much more. Increasing customer satisfaction how to improve customer satisfaction
Conclusion
Having a clear understanding of improving customer satisfaction and executing the strategies mentioned can send your SaaS product's trajectory towards reduced churn, word of mouth, and increased revenues.
Ready to get started? Get a Userpilot Demo today and start collecting feedback and improving customer satisfaction.