16 Brilliant Microsurvey Templates For SaaS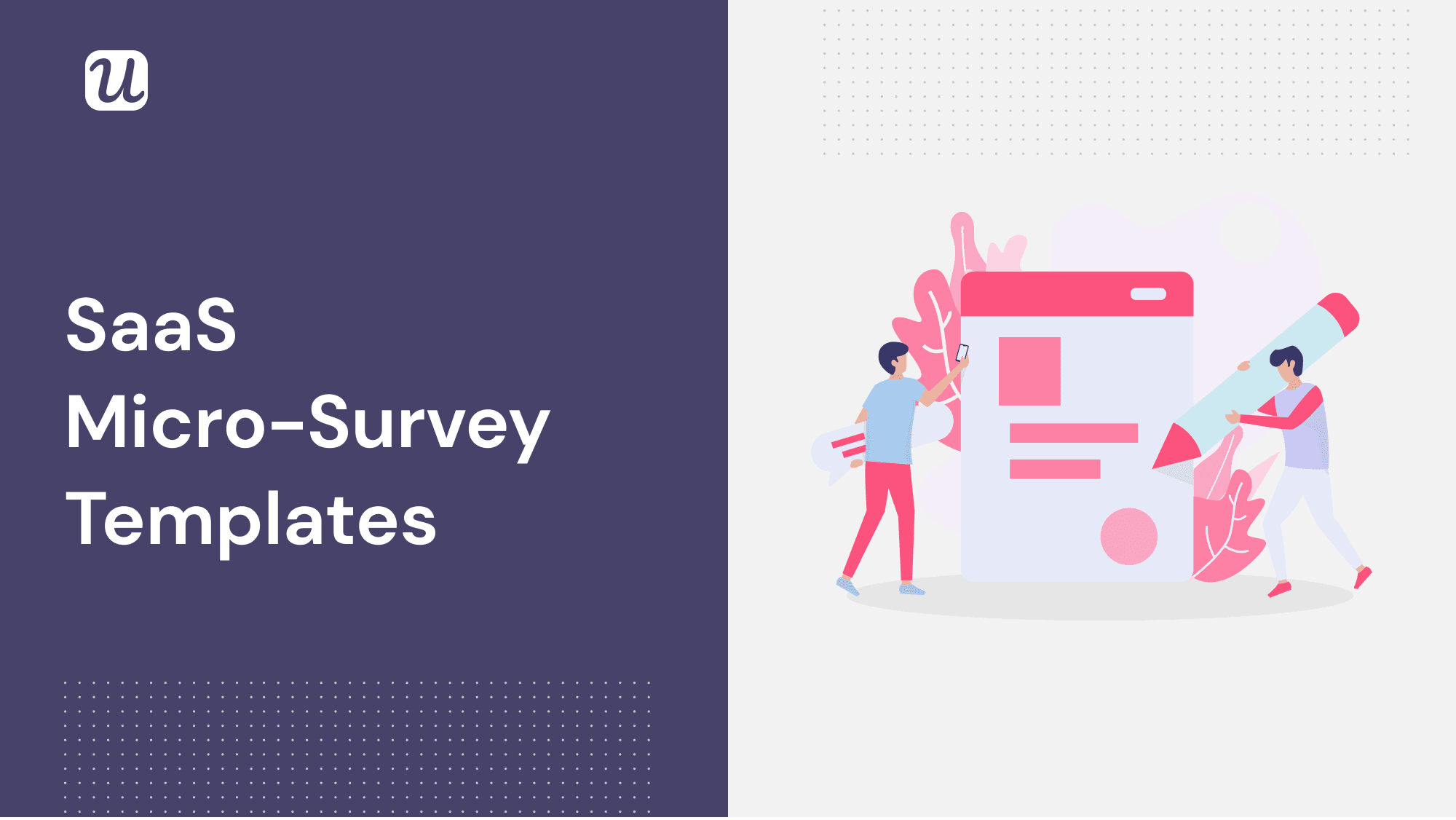 Microsurveys make for a fast and easy way of collecting user sentiment and acting on it to improve your product.
In this article, I have collected 16 of the best microsurvey templates for SaaS you can use for inspiration and for implementation in your SaaS business.
TL;DR
A micro-survey or microsurvey is a short, fast survey to get specific information from your users. They are contextual and ask for specific feedback compared to long product surveys.

Types of survey questions included in micro-surveys include: yes/no, multiple-choice, rating scale.

You can use a multiple-choice micro-survey on your Welcome screen to get more information on your user persona and increase activation by personalizing onboarding.

Use a micro-survey to let users choose their path when they start out (opt-in for in-app guiding or self-serve).

Using multi-screen micro-surveys can help avoid overwhelming users and increase engagement with your survey.

Trial-expiration micro-surveys can improve trial to paid conversion rates by proactively understanding what's stopping users from converting.

Using milestones in the user journey will help you pick the right questions and make micro-surveys contextual and relevant for the user.

To measure user satisfaction, use the following types of micro-surveys: NPS (Net Promoter Score), CSAT (Customer Satisfaction, CES (Customer Effort Score) and PMF (Product-Market Fit).

Product feedback tools you can use: Userpilot for multiple types of in-app micro-surveys and NPS, Typerform for longer surveys that can be embedded, Hotjar for multiple types of micro-surveys.
What is a microsurvey?
A microsurvey or micro-survey, compared to the traditional surveys, is a much faster way of collecting user feedback in a bite-size form.
They are typically shown in-app or on a website and are focused on collecting granular, user-specific, and context-specific feedback from users.
To make microsurveys engaging, you should usually have one primary question and a follow-up question, to collect both quantitative and qualitative feedback.
Using questions with yes/no, multiple-choice, or a rating scale answers is what makes it easier for the user to interact with you micro-survey.
What questions to ask in your SaaS microsurveys
Before thinking of what questions to include in your micro-survey, outline what is the purpose of the survey. Understanding the problem you are trying to solve will help you get the right questions.
Don't forget to give specific answers for users to choose from. For example, if you ask them – What's your role?- list the roles of your user persona, as your purpose is for them to self-identify, making it easier for you to personalize the in-app experience and improve user activation, based on their answers.
Survey question examples to identify user persona
Use yes/no or single choice/multiple choice type of question, depending on your question.
What is your role in your company?
What 'job' are you primarily 'hiring' our product to do for you?
What do you hope to accomplish by introducing our tool to your process?
What is the main outcome you wish to see with our product?
Do you currently use [insert product context- e.g email marketing tool] in your business?
Question examples to get product feedback
Use a scale of 1-5, 1-10, or happy-sad, extremely easy – very difficult, etc.
How satisfied are you with the performance of our product?
How would you rate the usefulness of our product?
How easy was to [perform an action-insert action here]?
How has your experience with our tool been so far?
Microsurvey question examples to measure user satisfaction
Use yes/no questions or scale questions for:
Did you find what you were looking for?
How satisfied were you with our service?
Were you able to reach the desired outcome with our product/feature? Why or why not?
How would you rate our service?
How has your experience with our product been in the last x months?
Here's the full list of in-app survey question examples.
Now that you've got your questions ready, let's explore some common use cases and go over some micro-survey templates you can use.
Microsurvey templates for SaaS companies that aim to increase activation
The activation point in the user journey is when a user gets to understand and experience the value your product brings to them and how it helps get the job done.
Let's explore how you can use micro-surveys to increase user activation.
1. Multiple choice welcome screen microsurvey template
What better way to use an in-app Welcome Screen than to collect information on your user persona? By building an in-app micro-survey you can identify the role, job-to-be-done, and other relevant user persona details.
Let users tell you who they are and what they are trying to achieve and use that information to help them get the most out of your product by personalizing their onboarding journey to cater to each use case.
Here's a welcome screen example from Postfity, a social media scheduling tool.
Once you have the user information, build segments and guide users towards the activation point in each specific journey with personalized in-app onboarding experiences.
2. Choose your journey welcome screen microsurvey template
Some people need help, some people just need you to get out of the way.
This Welcome Screen micro-survey lets your users choose their path.
Let users tell you what they want and adapt the onboarding journey to their activation point based on each preference:
3. Complex welcome screen microsurvey template for SaaS
Maybe one question isn't enough to get all the relevant details about your users.
No worries.
If you keep your micro-survey specific, you can ask multiple questions and still keep users engaged.
See how Kontentino does it.
Sometimes, multiple questions on one screen can overwhelm the user. So what can you do to overcome that? That's right, split your questions and use a multi-step approach.
4. Multi-step account setup microsurvey template for SaaS
Remember your purpose and don't include more than 3-4 steps in your micro-survey as you risk the chance of your users not finishing setting up their account.
Always use predefined answers so that users only have to click, not compose. Here's a great example from Monday tool.
This survey from Monday has their users complete a statement about themselves. First, they choose what they want to use the product for.
Then they choose what role they perform at work, home, or school. Each set of options will be different, whether they choose work, home, or school – but users only need to see what's relevant to them.
And the last one is about the company.
With just four screens, Monday manages to collect all the relevant information to identify its user persona and build highly customized onboarding.
Microsurvey templates for SaaS companies aiming to improve product
You can use micro-surveys to collect user feedback on specific parts of your product.
Pair the insights with product usage analytics and you should have a pretty good idea of how users use your product, what's important for them and what areas in your product need improvement.
5. New feature feedback micro-survey template
As you launch additional features, micro-surveys will help you gather feedback fast and understand the impact the changes in your product have from the user's point of view.
Trigger micro-surveys to appear after users try the feature a certain number of times or some days after they try it for the first time? It all depends on the complexity of the feature, who your user is, and where they are in their journey.
Timing and context are important when collecting feedback as a user will be most likely to give an honest opinion right after engaging with a feature compared to months after using it when they might not even remember their experience.
This is why in-app micro-surveys are a better alternative to long-form surveys conducted using mail or phone.
6. Microsurveys to pre-qualify users for a more in-depth survey template
When you are looking to run a more in-depth survey, you can use segmentation to select users based on their product behavior – for example, users who added addresses to an e-mail list more than ten times per month (if your product is an email automation tool).
Use micro-surveys to incentivize users to offer feedback. Depending on the data you want to collect, you can use a tool like Typeform to build and collect survey data or set up an interview with a member of your team.
Micro-survey templates for SaaS companies to improve trial to paid conversion rate
Your trial conversion rate is the percentage of users that upgrade to paid accounts after a trial period.
If your activation rate is high, you probably don't have a problem converting trial signups to paid accounts.
You can use milestone micro-surveys to understand what made people convert (we'll cover this in a bit). For everyone else (churning users), use a micro-survey when their trial expires.
7. Trial expiration microsurveys template
Be proactive and reach out before the trial ends. Triggering a micro-survey a few days before trial expiration, will give you time to act on the insights you collected and improve your trial to paid conversion rate.
Focus the survey on common objections to upgrading – too expensive, need manager approval, still evaluating the product, etc.
Prepare automated responses and offer help. Automated responses can serve up exactly the right answer to an FAQ. If the automated response wasn't enough, then your user is primed for meaningful contact with a support agent.
Micro-survey templates for SaaS companies aiming to increase retention
Retention means keeping a user for more than one subscription billing cycle.
Use micro-surveys to continuously take the pulse of your customers so you can offer help when they need it.
8. Milestones micro-surveys template
Milestones micro-surveys are a great way to collect insight and improve retention.
Based on where the user is in the user journey you can tailor your survey to identify friction points in the user journey that might affect your retention rates negatively.
Milestones you could use are:
time-based micro-surveys– 90 days after the first payment, 30 days after feature adoption
experience-based micro-surveys – when onboarding is complete after they use a feature for the first time
Don't forget about the qualitative question. It's not enough to understand if the user had a positive experience or not. If you want to improve retention, you need to understand the why too.
Here's an example from Hotjar on how you can adjust your qualitative question based on context.
9. Support feedback micro-survey template
Micro-surveys are a good way of understanding user sentiment right after they interacted with your support team.
Good support can be a major differentiator for your SaaS business, so understanding how well you are doing and what you need to fix should be a priority.
You can do this by triggering micro-surveys:
after ending a chat with a user
when support closes a help ticket
Depending on where your customer support interaction took place, you can send micro-surveys in-app or using email. The main thing is to keep them engaging, like in the example below.
Microsurvey templates for SaaS companies to reduce churn
The best strategy to reduce churn is to improve your onboarding and make sure users get to experience value in your product. I'm not talking only about primary onboarding to activate users, don't forget about secondary and tertiary onboarding that helps users get additional value.
Some users will still churn though, but micro-surveys can help you learn and improve.
Here's how.
10. Cancellation micro-surveys template
When users cancel their accounts, there's not a lot you can do. Micro-surveys can help you understand why they are leaving so you can improve the experience for other users and reduce churn.
Including the most common reasons users churn in your micro-survey will allow you to not only understand what part of your product needs improvement but also automate responses and try to turn their decision around.
Micro-survey to measure customer satisfaction and user sentiment
There are several ways to measure customer satisfaction:
NPS (Net Promoter Score) –measure customer loyalty and how likely they are to recommend your product.
CSAT (Customer Satisfaction) –measures user satisfaction with your product.
CES (Customer Effort Score) – measures how easy it is for customers to use your products or services.
PMF (Product-Market Fit) – measures whether you've achieved product-market fit or not.
Let's go over some examples.
11. Two-question NPS micro-survey template
Net Promoter Score (NPS) surveys were first devised in 2003. Since then, they have become a popular way to measure customer satisfaction.
A 0-10 rating is at the center of the NPS survey, but make sure to add a qualitative question – why? what? how?
While the user is thinking about a number to give you, they are mentally bringing up all the specifics that you want to know.
Further, you can respond to users to say thanks or offer help. Showing that you are paying attention will take you a long way with your users.
12. Pop-up simple NPS survey template
The shape and place of an NPS survey can vary. To make it more meaningful and contextual to where the user is in the journey, use the two-question NPS survey as shown above.
Users might click randomly on a number just to make a popup NPS survey like the one below, go away.
13. Contextual e-mail NPS survey template
If you want to collect feedback right after a user completed action in your product but they've logged out, you can send your NPS survey using e-mail automation.
Look how Wise, a tool for sending money abroad does it.
14. CSAT (Customer Satisfaction Score) survey template
A Customer Satisfaction Score (CSAT) is a CX metric that measures customer satisfaction levels at various points in the user journey.
Trigger CSAT surveys when users complete various actions or interact with your business.
15. CES (Customer Effort Score) micro-survey template
CES surveys measure how easy or difficult it for users to do something in your product:
Asking a follow-up question can give you more details and help remove friction if there is any. Was there a glitch in your product, or is the problematic feature blocked in the user's country?
16. PMF (Product-Market Fit) micro-survey template for SaaS
PMF surveys are used in SaaS to measure whether you've achieved product-market fit or not. It makes no sense to ask the user if they would recommend you or not before you know that your product achieved a market fit and it's relevant to users.
Devised by entrepreneur and startup advisor Sean Ellis, a PMF survey can get right to actionable information with this question: "How would you feel if you could no longer use our product?"
If fewer than 40% of respondents answered "very disappointed," a company would struggle in their market. Companies with strong traction always did better than 40%.
Tools to build microsurveys for SaaS and to gather feedback fast
Product and user feedback tools help you quantify user experience and customer satisfaction, making them essential for any business out there.
Micro-surveys, heatmaps, or session recordings are ways of collecting feedback.
As you've already seen from the examples included so far, you can use Userpilot to build multiple types of in-app micro-surveys, including NPS, and use the data to build personalized in-app onboarding experiences.
Other tools you can use include:
Hotjar – behavior analytics and feedback tool, known for heatmaps and session recordings
Typeform – highly customizable surveys and feedback forms for non-technical people
Qualaroo – granular analytics, with advanced user targeting
Read more on our 12 best product feedback tools article.
And That's A Wrap!
At the end of the day, you need to know if your product is doing what your users need it to do. Micro-surveys help you reach your users where their problems (or successes!) are happening.
I hope the templates included here will help you get more insights from your users so you can continue to improve your product!
Want to get started with creating quick, contextual micro-surveys to measure user satisfaction? Get a free Userpilot Demo today!