The 8 Best User Feedback Tools for your SaaS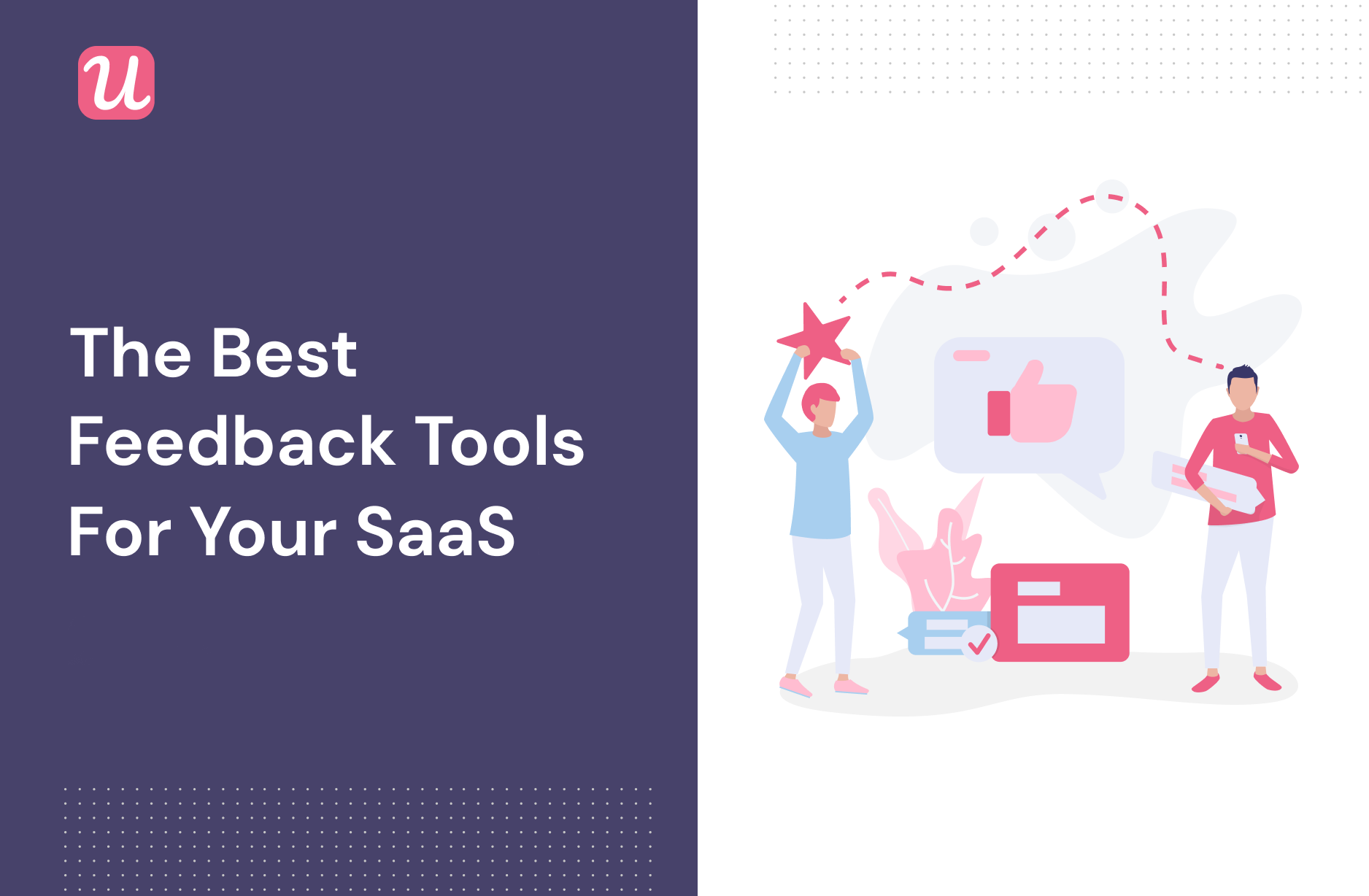 Customer feedback tools have come a long way since the days of manually reaching out with a long, boring user feedback survey.
You can now choose from a wide range of tools, designed to help you capture customer feedback you need to take your SaaS in the right direction.
In the Product-Led era, listening to your customers has never been more important.
I'm going to explain exactly why you should be listening to your customers if you aren't already.
Then, I'll run through the types of customer feedback surveys – microsurvey and long-form – explaining the pros, cons, and use cases for each.
Finally, I'll show you 8 of the best customer feedback tools for your SaaS.
What is customer feedback?
Customer feedback in SaaS refers to collecting actionable feedback and customer insights on customer experience and sentiment through a survey feedback widget placed inside your app.
Survey data collected is crucial for product improvements and improving customer satisfaction high, and it's usually collected using online software.
Why do you NEED to collect user feedback?
In recent years, SaaS has seen a huge shift towards bringing the voice of the customer into any major product decisions.
There are a few reasons for this:
You're building your product for your customers – you need consumer feedback to build a better product
It strengthens relationships with customers – gathers feedback and closing the feedback loop improves your communication with your customers
Customers demand to be heard- they want to feel heard and have a say in the direction of the product
Use user feedback tools to build better products
This might sound obvious, but a lot of SaaS companies seem to forget it. You aren't building a product for you, you're building it for your customers.
It's important that you understand that, and use customer feedback tools-saas focused- to create customized surveys and gather potential feature requests and stay on the same page with what your customers need.
Your product is designed to solve a problem (or maybe multiple problems) for your customers. The better your product is at solving that problem, the happier your customers, and the more successful your SaaS.
There are plenty of ways you can figure out what to build next. You can brainstorm internally, you could analyze other products in the market, or you could conduct detailed research.
But one of the most effective (and easiest) ways of learning which direction your SaaS should head is by listening to your customers.
These are the people who use your product every day.
Some of them will know your product better than you do. But more importantly, they understand their problem in far more detail than you ever will. It's their problem, after all.
And that means that they're in the best position to think about how your SaaS can help them solve it.
Sure, you don't want to blindly obey every bit of customer feedback you collect, but you should definitely make sure you listen out.
That's what a customer feedback tool is for.
Use user feedback tools to strengthen relationships with customers
SaaS companies are built on relationships. The connection between your SaaS and your customers is paramount to success.
One way to develop those connections is to listen to your customers' feedback.
Why? Because it shows you trust them. It shows them that you truly value their opinions and inputs. As a result, they're more likely to trust you. That's how relationships work.
Not only that, but it also helps form a community around your SaaS. Your customers will feel like they're part of the team as if they've played a part in the development of your product.
What this then does is give customers a better sense of ownership with your SaaS. This strengthens relationships, leading to advocates who spread the word about your product and stick around for the long term.
Use a user feedback tools to listen to your customers
It's safe to say we live in a consumer-driven economy. Customers have more power, more sway, than ever before and every business strives to become customer-centric.
It's all about them, the customers.
And that means that nowadays customers don't just want to be heard, don't just expect to be heard, they demand it.
If you don't use a customer feedback tool to listen to your customers, then you're in trouble. Your customers will start to question whether they want to do business with a company that doesn't seem to value their opinions.
Chances are, they'll start to head elsewhere, to a SaaS that respects them and listens to what they have to say.
Listening to customer feedback is now just a part of business life. If you aren't doing it, then you're alienating your customers.
Types of surveys that capture customer feedback
Before I launch into the best customer feedback tools, I just want to explain the two different types.
You have microsurveys, and you have long-form surveys. Let's explore each in turn.
Microsurveys
Microsurveys are, as the name suggests, short surveys used for collecting user feedback inside the app.
They typically appear within a SaaS product and take no more than a minute or two to fill in.
Some common examples of microsurveys include:
Churn surveys
Customer effort score (CES)
Customer satisfaction score (CSAT)
Product-market fit score (PMF)
Net Promoter Score
Microsurveys are a great way of collecting more responses. They don't ask as much from your customers as long-form surveys, and you can place them in-app so that your customers definitely see them.
Churn surveys
Churn surveys are a customer feedback tool to gather insights into why users are churning so you can improve your product and customer experience to reduce it.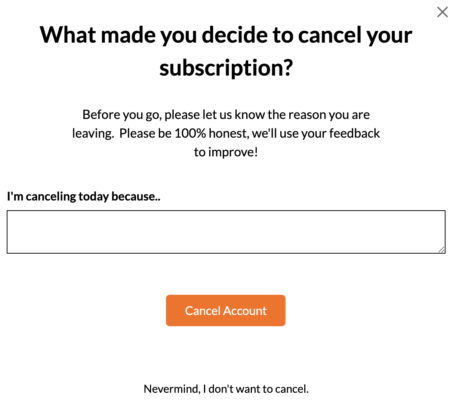 Churn survey built with Userpilot. Get a demo now and see how easy you can build one without coding!
These surveys (also called loss surveys, exit surveys, or cancellation surveys) are a type of microsurveys that consists of short questions sent when a user decides to cancel or downgrade their account.
For SaaS products, churn surveys are best to be kept short and triggered in-app compared to long surveys sent via email that might be missed or lack the right incentive for the user to actually engage with them- leading to a decrease in your response rates.
In-app churn surveys are contextual, meaning they are displayed right after the user clicks the cancelation button which can increase:
completion rate- users are more likely to engage with your survey when this shows in front of them
chances of users changing their mind- by showing them what they will be missing if they cancel or by offering them an alternative to cancelation (pausing their account for example)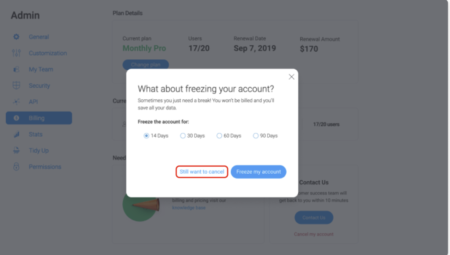 Source: Monday tool
Customer effort score (CES)
The CES survey is used to measure user feedback on the perceived effort of using a product feature or performing an action (upgrading their account, contacting support, etc).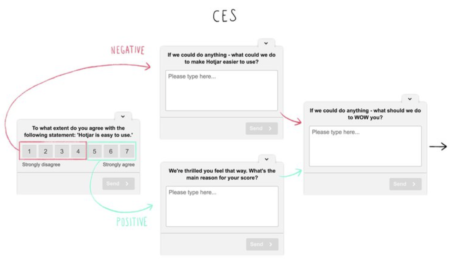 Source: Hotjar
Measuring user feedback with a CES survey will help you identify friction points in the customer journey that you need to address in order to improve the customer experience.
Getting back to customers and closing the customer feedback loop will not only improve the customer experience but will have a high impact on user satisfaction that ultimately leads to increased retention.
Customer satisfaction score (CSAT)
The customer satisfaction score CSAT is a one-question survey used for measuring customer satisfaction and user experience levels with a feature, product, or interaction with your teams.
The CSAT survey is a customer feedback tool that should be used at different touchpoints in the customer journey in order to gather customer feedback on the overall satisfaction users have with your product.
Product-market fit score (PMF)
The Product Market Fit (PMF) is a great customer feedback tool used to give you an indication of whether your product has achieved product-market fit or not.
To calculate your PMF score you need to ask your customers "How would you feel if you could no longer use the product?" and measure the percentage of users who answer "very disappointed".
This customer data is especially relevant for startup products for which an NPS survey would be too much to ask from your users.
The PMF customer feedback tool was invented by Sean Ellis, entrepreneur and startup advisor, and says that you achieve product-market fit when your score is 40% or above.
Net Promoter Score (NPS)
Net Promoter Score measures customer loyalty by asking a simple question:
On a scale of 0 to 10 how likely are you to recommend [SaaS name] to a friend?

Being short means customers can quickly fill it in and then carry on using your product.
To collect more meaningful insights using NPS surveys, you need to collect feedback both qualitative and quantitative. The question above is the quantitative feedback that will measure customer loyalty.
To gather qualitative feedback you need to use a follow-up question and get more actionable user feedback on why they choose the score.
To calculate your NPS score you need to group responses into three categories based on the feedback score:
users who answered 0-6 will be your detractors
users who answered 7-8 will be your passives
users who answered 9-10 will be your promoters
Then use this formula:
(% of Promoter scores) – (% of Detractor scores) = Overall NPS score
You usually use a customer feedback tool to build and track your NPS surveys but if you have your responses and need a fast way to calculate your NPS score, check out our free NPS calculator here.
Long-form surveys
Long-form surveys are the more traditional way of collecting feedback.
They often take place outside of your product, are sent via email, or even *shudder* in paper form.
This customer feedback tool enables your customers to go into far more detail than they can with microsurveys.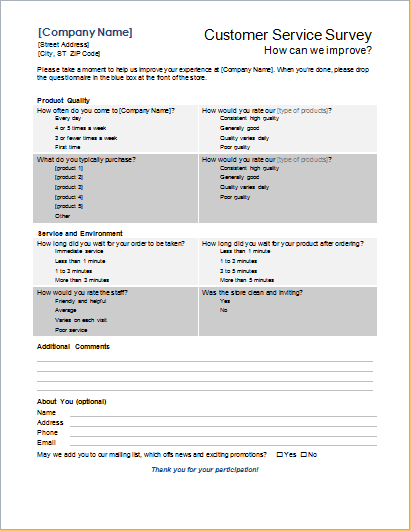 They're great if you want to collect higher-quality information, but you will end up with fewer user research data as the barrier to entry is higher.
Long-form surveys are typically used to conduct in-depth market research or detailed product feedback.
For SaaS products, you can also consider replacing them with user testing sessions that will give you better response rates and more qualitative feedback, as survey responses for long forms tend to be less accurate when you ask too many questions.
Armed with all the information of which surveys you can use for feedback collection you might be wondering "What customer feedback tool" will actually do the job of capturing feedback across the customer lifecycle?
Let's look at which is the right customer feedback tool for building in-app microsurvey.
Microsurvey user feedback tools
The Most Versatile of The User feedback Tools – Userpilot
First up is our own product, Userpilot- a product onboarding and adoption tool.
Though it started life as a user onboarding platform, Userpilot has developed into a wide range of features, one of which is the ability to place microsurveys into your product.
As far as customer feedback tools go, Userpilot gives you a couple of different options, including collecting feedback during onboarding.
Track NPS in-app
Firstly, you can use Userpilot's NPS widget to start collecting your NPS data in a matter of minutes. It's quick and easy to set up and add to your product, making it a must-have customer feedback tool for your customer experience management stack.
You can then customize the branding (no code required!) to match the rest of your product and launch customized surveys for different user type segments.
For recurring surveys such as NPS is best to use a tool like Userpilot that doesn't limit the number of surveys you can put out there. You can build unlimited surveys and your customers can interact with them multiple times without you being charged by the number of survey interactions.
Analyze NPS
Finally, a handy dashboard shows you all the responses you collect and calculates your score automatically.
With a user-friendly interface, you can organize feedback into different themes by tagging NPS responses. This way it's easy to understand which are all the features that are making your users happy and which are causing frustration.
It's also a great way to capture potential feature requests that you can follow up on.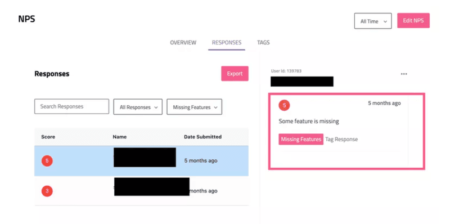 Advanced triggering conditions
You can also use audience segmentation and behavioral triggers so that you only show your NPS survey to the most relevant users.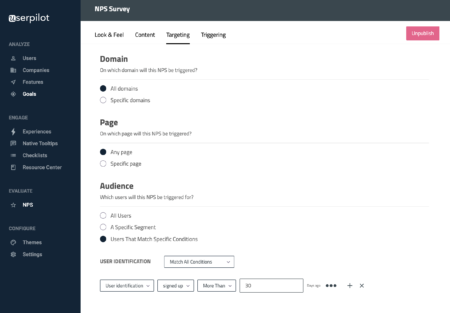 Product feedback tool
The other type of micro survey is more flexible, in that you can create a feedback collection form to collect the kind of information you need. You can add text fields, radio buttons, and more to build your in-app surveys and gather actionable insights.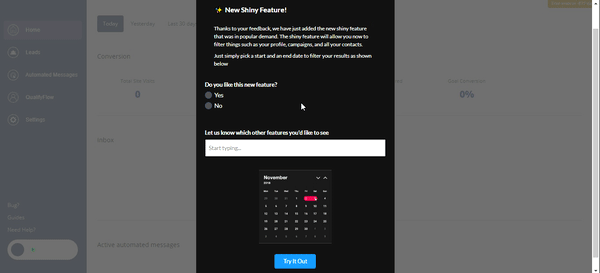 Again, you can segment and trigger based on behavior. This is an effective way to gather feedback on specific parts of your SaaS.
Overall, Userpilot is one of the best customer feedback tools out there. Pricing starts at $199 per month for up to 2,500 monthly active users and has no features limitations. You can build multiple types of feedback polls to collect relevant user data
Don't forget that as well as getting a customer feedback tool, you're also getting an amazing user onboarding platform. You can kill two birds with one stone, collecting customer feedback and improving product adoption.
User feedback tool #2 – Feedier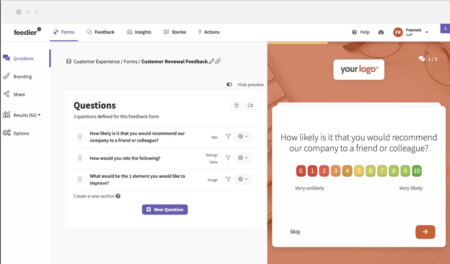 The second of our customer feedback tools is Feedier, a tool that allows you to listen to all your customers through different channels and unify all your feedback from any source, in one place. 
You'll collect real-time direct and indirect feedback through gamified forms, and then analyze your data with an intuitive and visual dashboard via features such as analysis of the most used keywords in your responses, correlation matrix, User Stories, NPS and others.
With a wide range of question types, and the ability to customize branding, Feedier is a visual feedback tool with which you can create highly engaging long-form surveys to help achieve your company goals.
As for pricing, Feedier does have a limited free plan but most small-mid size SaaS companies will need at least the next plan up which costs $180 per month.
User feedback tools #3 – Refiner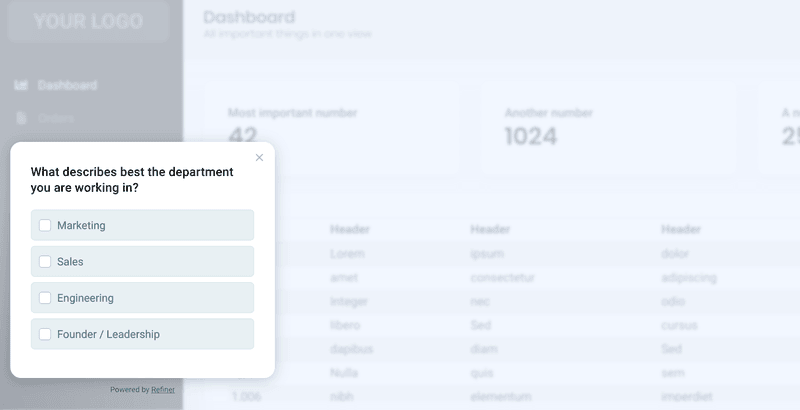 Refiner is designed to help you use microsurveys to boost user engagement.
Like most of the customer feedback tools on this list, you can add in-app microsurveys to collect the data you need. You can choose from NPS, simple ratings, open-ended questions, and much more.
Where Refiner differs is that you can then add CTAs to your microsurveys based on customer responses. You might, for example, want to direct users to leave a review if they give you a high NPS.
You can also set customer triggers based on in-app behavior, and segment to specific groups of users. The microsurveys are fully customizable in terms of appearance.
Refiner falls a little short when it comes to analytics, especially compared to some of the other customer feedback tools.
As for pricing, Refiner offers a free plan which gives you up to 100 survey responses. The next plan up is $29 per month, making Refiner one of the cheaper customer feedback tools out there.
.
User feedback tools #4 – Survicate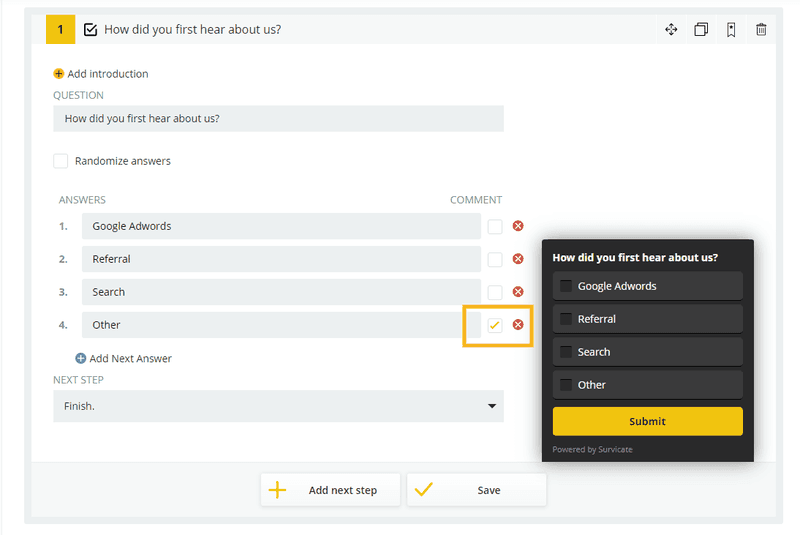 Survicate is one of the more well-rounded customer feedback tools, offering a range of different microsurveys as well as some limited long-form surveys too.
In terms of microsurveys, you can add NPS surveys to your app (or send via email) and collect customer feedback with a pop-out widget.
It's worth mentioning the long-form capabilities too.
You're able to create longer surveys with multiple questions and branching pathways, and then send customers to it via a link or by embedding it into an email.
Survicate also offers detailed analytics so you can better understand your data.
Branding customization is limited (requires CSS knowledge), and the product can sometimes be difficult to navigate around, but overall it's a good customer feedback tool.
It starts with a free plan which gives you 100 responses each month. The next plan is $49 per month, boosting you up to 1000 responses a month.
Long-form user feedback tools
Let's look at the long-form customer feedback tools now…
User feedback tools #5 – Hotjar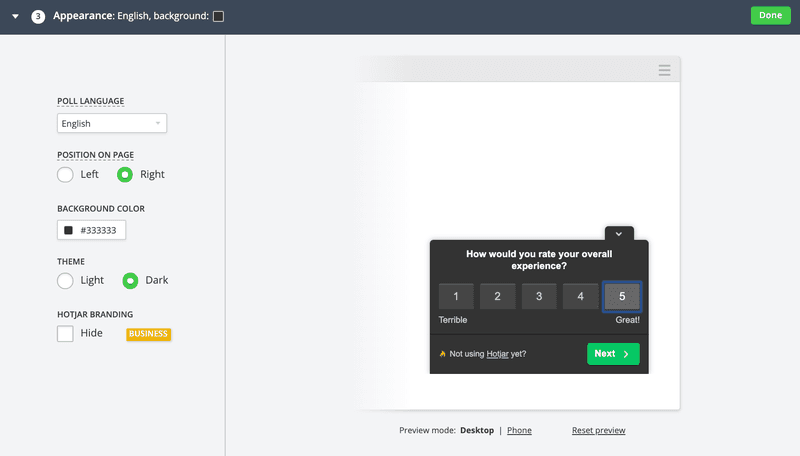 While Hotjar is primarily known for its heatmapping feature, it also offers long-form surveys and microsurveys to place in-app or in front of your website visitors. That's why I've included it in this list of the best customer feedback tools.
The long-form surveys enable you to ask multiple questions, including text inputs, multiple-choice, and NPS. You can then send your customers to the form with a link.
As for microsurveys, you can add a slide-in widget that asks your customers a specific question about the page they're on. Segmenting and behavioral targeting, however, are limited compared to other customer feedback tools I've covered as Hotjar is mostly for web surveys that trigger when a user lands on a URL page.
This doesn't mean you can't use it as a survey platform.
Hotjar's analytics can help you visualize the responses you receive. It's also worth remembering that you'll also get access to Hotjar's behavior-tracking features, including heat maps and scroll tracking, getter some great visual feedback too.
Hotjar starts at $29 per month if you're a really early-stage startup. It then increases to $89 per month when you start to scale and want to measure more traffic.
User feedback tool #6 – Typeform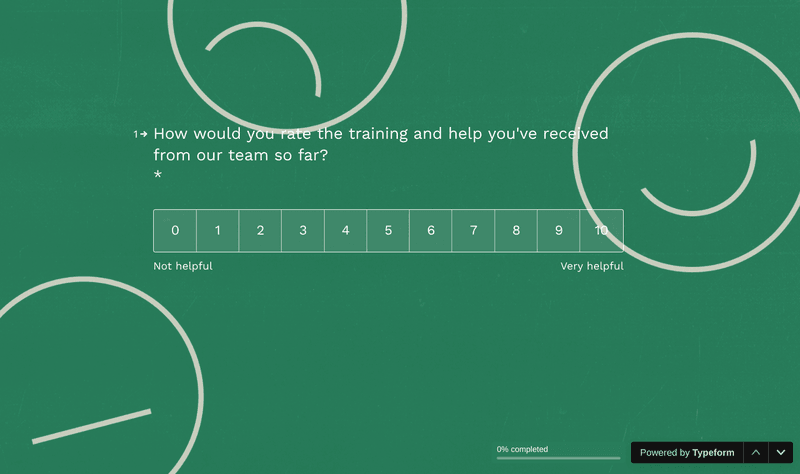 Typeform earns its place on our list of the best customer feedback tools simply by being a dedicated survey platform making it easy to create beautiful long-form surveys.
The idea is that you make your survey conversational. This increases engagement and improves the quality of data you collect.
Creating a survey is as simple as typing your questions.
Typeform will do the rest.
You can also add logic jumps and branching pathways to personalize the survey based on previous responses, and embed your surveys on multiple channels.
Embed anywhere but comes with limitations
Typeform does fall a little short when it comes to exporting your data. Currently, you can only export your responses as a spreadsheet, which can feel a little cumbersome.
It's also limited in terms of branding and custom designs, which may be important for consistency with your SaaS.
It starts at $35 per month if you want all of the functionality, though there is a much more limited free plan if you want to try it out first.
User feedback tool #7 – Survey Anyplace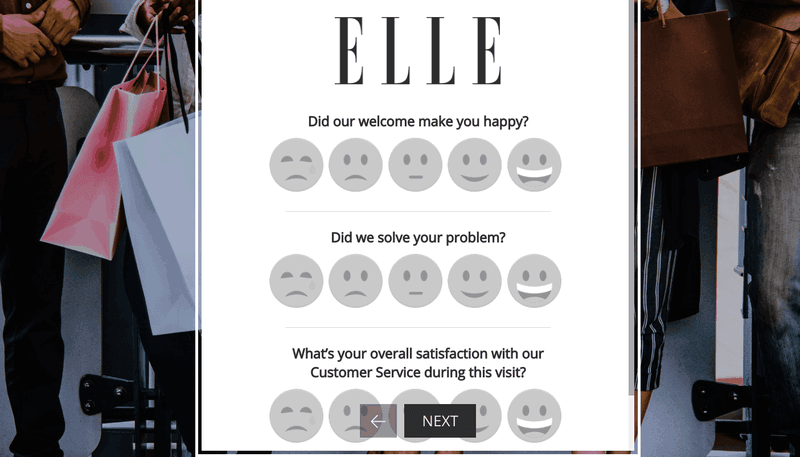 Survey Anyplace is a little different from the other customer feedback tools on this list.
It's designed to help you create interactive questionnaires that feel a little more playful and are a more visual feedback collecting form. You're able to add images, gifs, and videos to make your survey more engaging, making Survey Anyplace a great visual customer feedback tool.
You can launch your survey campaigns and embed your survey pretty much anywhere you want, including a web page, online forums, in your product, or even as a tab on your Facebook page.
It's also easy to analyze the data you collect with detailed graphics to help you visualize the responses.
The downside is that you don't have many options in terms of how your surveys look, and to change the design you'll need CSS knowledge. Also, the UI feels dated and can be tricky to use.
Survey Anyplace starts at £39 per month, but only gives you 400 responses and limited logic jumps.
User feedback tool #8 – Qualaroo
Qualaroo had to make it on our best customer feedback tools list as it's a feature-rich survey tool that allows you to target users efficiently and optimize feedback data analysis. 
You can create multiple types of surveys with Qualaroo such as NPS, CSAT, CES, UES, SUS with various question types like Likert, ratings, dichotomous, open-ended, closed-ended, and more. You can either use its impressive collection of 100+ templates or create customized surveys from scratch.
One of this tool's most outstanding features is its pop-up survey known as NudgeTM, which lets you deploy micro surveys on your website or mobile app without interrupting the user experience.    
Its advanced targeting feature works excellent for segmenting respondents and feedback. You can also collect context for open-ended responses via branching or skip logic. Qualaroo also helps you visualize survey responses for quick and effective analysis.
It also allows you to add CTAs to your surveys and target particular customers based on behavioral triggers or certain actions. Its pricing starts at $80/month (yearly plan) with a 15-day free trial.
Key takeaways: Choosing The Right User Feedback Tool For You
Customer-centric companies rely on user-generated content and feedback to improve their product.
Customer feedback tools enable you to truly listen to your customers and to add a data-driven approach to your product development.
This, in turn, helps you build the best product, strengthens relationships with your users, and ensures they stick around for the long term.