The 8 Best Customer Feedback Tools for Your SaaS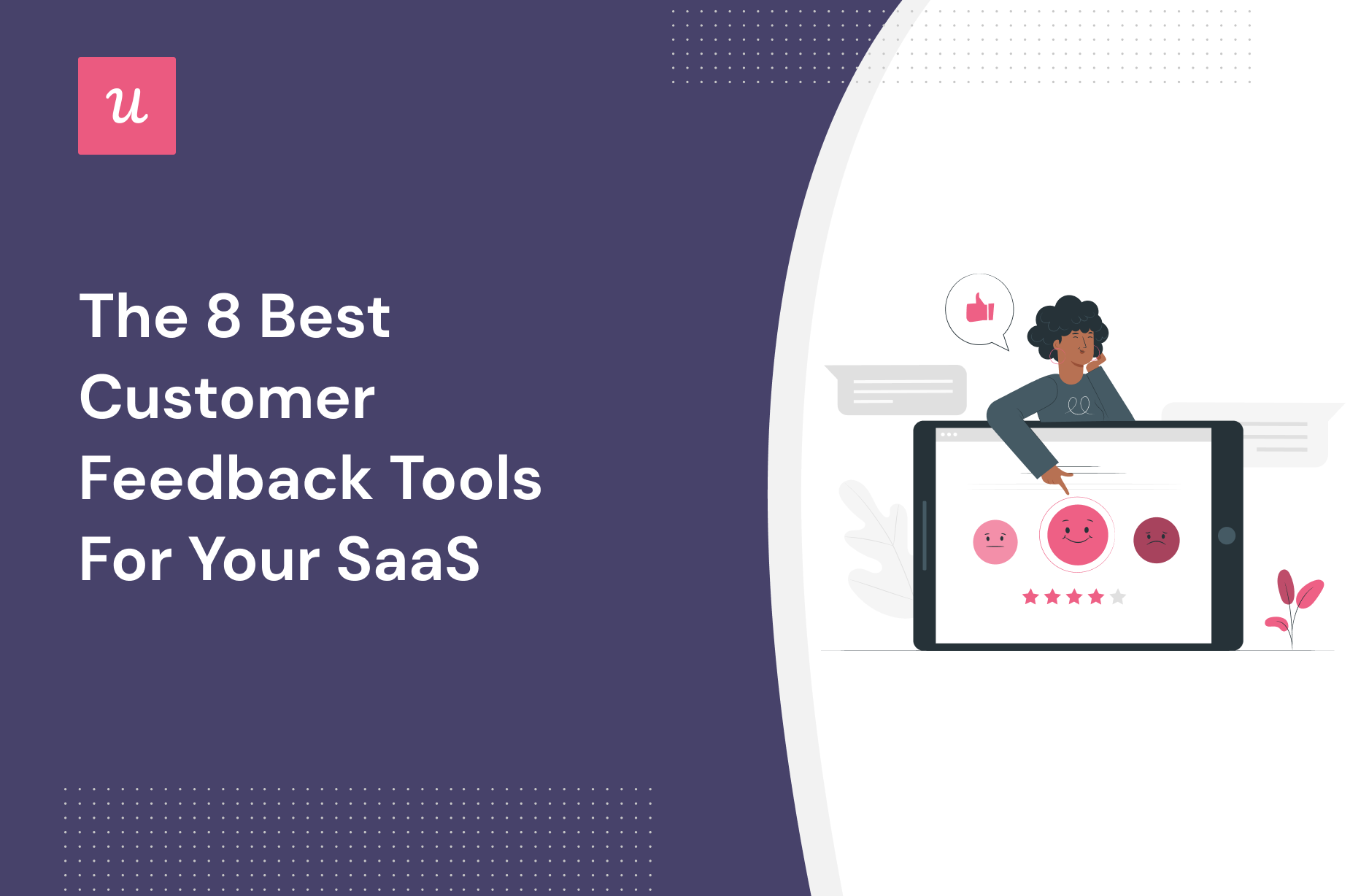 Customer feedback tools have come a long way since the days of manually reaching out with a long, boring user feedback survey.
You can now choose from a wide range of tools, designed to help you capture the customer feedback you need to take your SaaS in the right direction.
In the product-led era, listening to your customers has never been more important.
In this article, we will discuss the importance of collecting customer feedback and the different feedback tools suitable for your business.
TL;DR
Customer feedback refers to the information and opinions that customers provide about their experience with a product, service, or business.
The purpose of customer feedback is to help businesses understand their customers' needs, preferences, and pain points, so they can improve their products, services, and customer experience.
You can capture customer feedback with micro surveys and long-form surveys.
Micro surveys are, as the name suggests, short customer feedback surveys used for collecting feedback inside the app. They typically appear within a SaaS product and take no more than a minute or two to fill in.
Long-form surveys are the traditional feedback method, usually conducted outside of your product and sent via email. They allow customers to provide detailed feedback, making them ideal for collecting high-quality information.
Some of the best customer feedback tools are Userpilot, Feedier, Refiner, Survicate, Hotjar, Typeform, Survey Anyplace, and Qualaroo.
If you're looking for a great tool that will help you build in-app surveys without using code, we hope you'll consider Userpilot.

Collect customer feedback with Userpilot!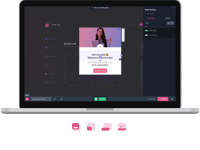 What is customer feedback?
Customer feedback in SaaS refers to collecting actionable feedback and customer insights on customer experience and sentiment through a survey feedback widget placed inside your app.
Survey data collected is crucial for product improvements and improving customer satisfaction high, and it's usually collected using a customer feedback platform.
Why do you need to gather customer feedback?
In recent years, SaaS has seen a huge shift towards bringing the voice of the customer into any major product decisions.
There are a few reasons for this:
You're building your product for your customers – you need consumer feedback to build a better product that will ultimately improve customer satisfaction.
It strengthens relationships with customers – collecting customer feedback and closing the feedback loop improves your communication with your customers and proves that you care about them.
Customers demand to be heard– nowadays, customers want to feel heard and have a say in the direction of the product.
Types of surveys that capture customer feedback
Before I launch into the best customer feedback tools, I just want to explain the two different types.
You have micro surveys, and you have long-form surveys. Let's explore each in turn.
Micro surveys
As their name implies, micro surveys are brief feedback questionnaires utilized to gather customer feedback within an application. Typically integrated within SaaS products, these surveys require no more than a few minutes to complete.
Some common examples of micro-surveys include:
Micro surveys are a great way of increasing the response rate for in-app surveys. They don't ask as much from your customers as long-form surveys, and you can place them in-app so that your customers definitely see them.
Long-form surveys
Long-form surveys are the more traditional way of collecting feedback. They often take place outside of your product and are sent via email.
This customer feedback tool enables your customers to go into far more detail than they can with micro surveys. They're great if you want to collect higher-quality information, but you will end up with fewer user research data as the barrier to entry is higher.
Long-form surveys are typically used to conduct in-depth market research or detailed product feedback.
For SaaS products, you can also consider replacing them with user interview sessions that will give you better response rates and more qualitative feedback, as survey responses for long forms tend to be less accurate when you ask too many questions.
Armed with all the information on which surveys you can use for feedback collection you might be wondering "What customer feedback software" will actually help you collect feedback across the customer lifecycle?
Let's look at which is the right customer feedback tool to build in-app surveys and analyze customer feedback.
SaaS feedback tools for creating micro surveys
In today's fast-paced and highly competitive business environment, it's more important than ever to gather timely and accurate feedback from your customers.
This is where customer feedback software comes in – they allow you to create quick and easy surveys that can help you gather valuable insights and make data-driven decisions.
Let's explore some of the top SaaS feedback platforms available for creating micro surveys, and how they can help you improve your customer experience and drive business success.
Best customer feedback tool – Userpilot
First up is our own product, Userpilot– a product onboarding and adoption tool.
As far as customer feedback tools go, Userpilot gives you a couple of different options you can use to collect feedback throughout the customer journey.
Track Net Promoter Score in-app
Firstly, you can use Userpilot's net promoter score widget to start collecting your NPS data and measure customer satisfaction in a matter of minutes.
It's quick and easy to set up and add to your product, making it a must-have customer feedback tool for your customer experience management stack.
You can then customize the branding (no code required!) to match the rest of your product and launch customized surveys for different user segments.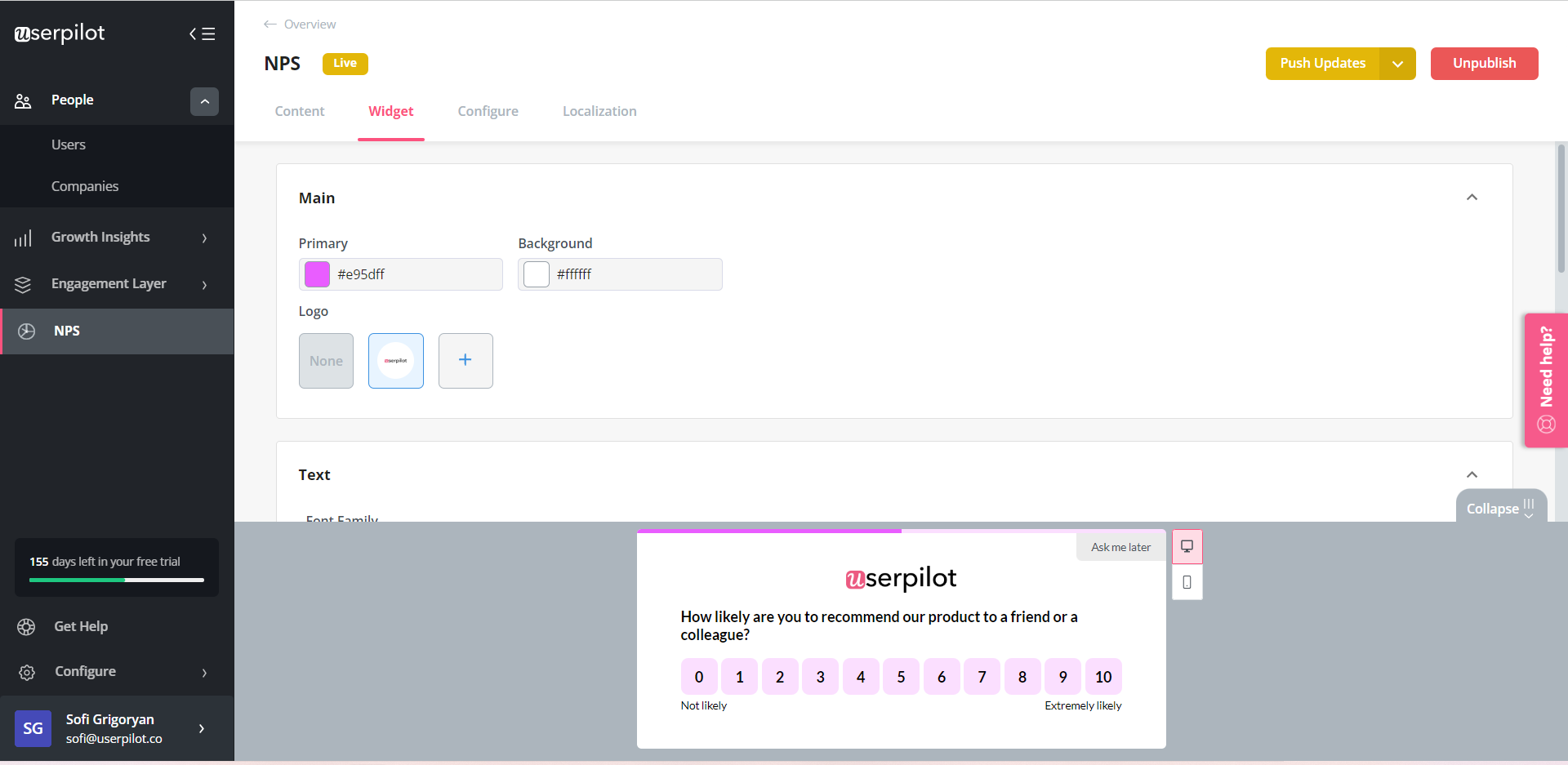 For recurring surveys such as NPS is best to use a tool like Userpilot that doesn't limit the number of surveys you can put out there.
You can build unlimited surveys and your customers can interact with them multiple times without you being charged for the number of survey interactions.
Analyze NPS responses
Finally, a handy dashboard shows you all the responses you collect and calculates your score automatically.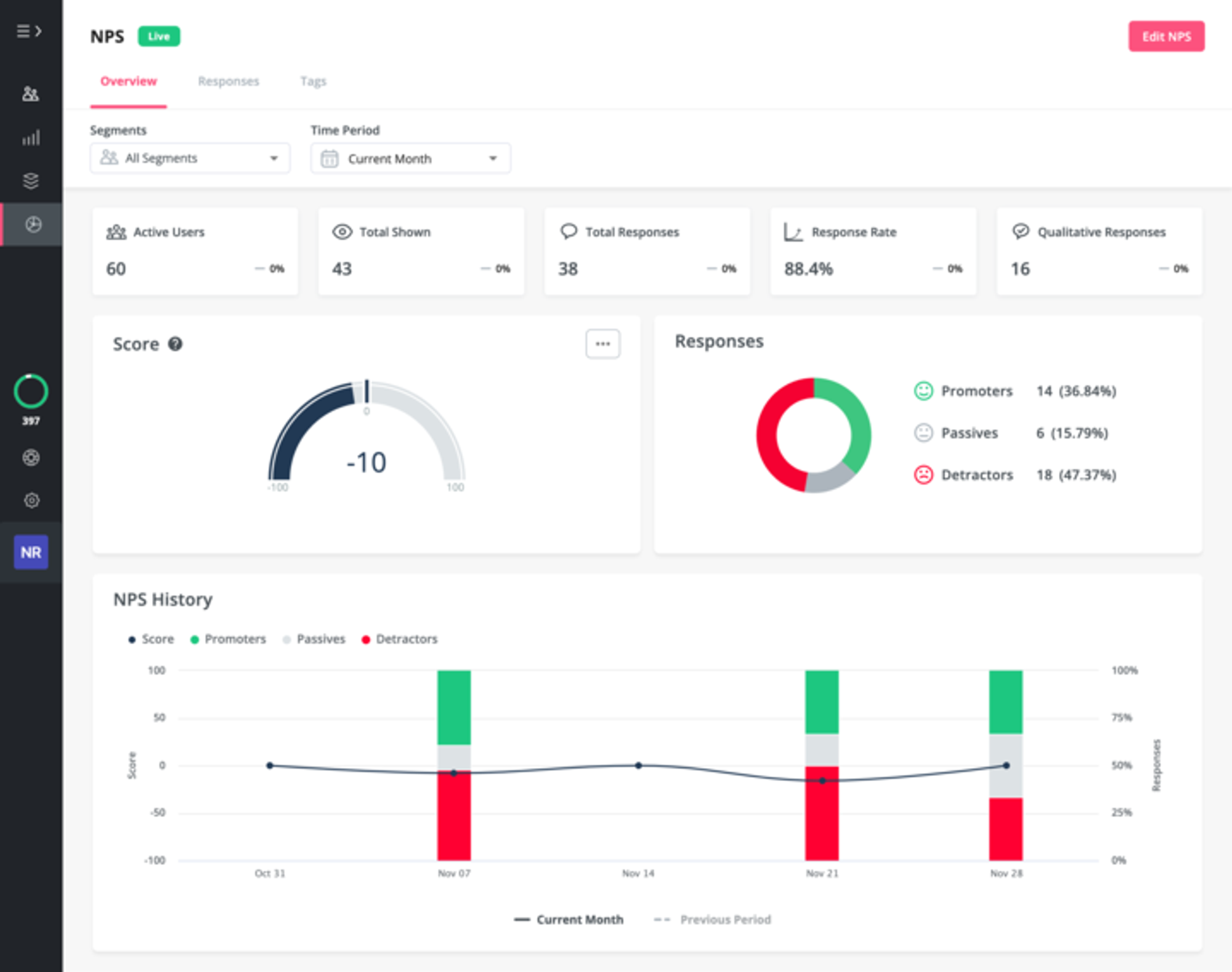 Want to start tracking customer feedback with NPS surveys? Get a Userpilot Demo and get started!
With a user-friendly interface, you can organize feedback into different themes by tagging NPS responses. This way it's easy to understand which are all the features that are making your users happy and which are causing frustration.
It's also a great way to capture potential feature requests that you can follow up on.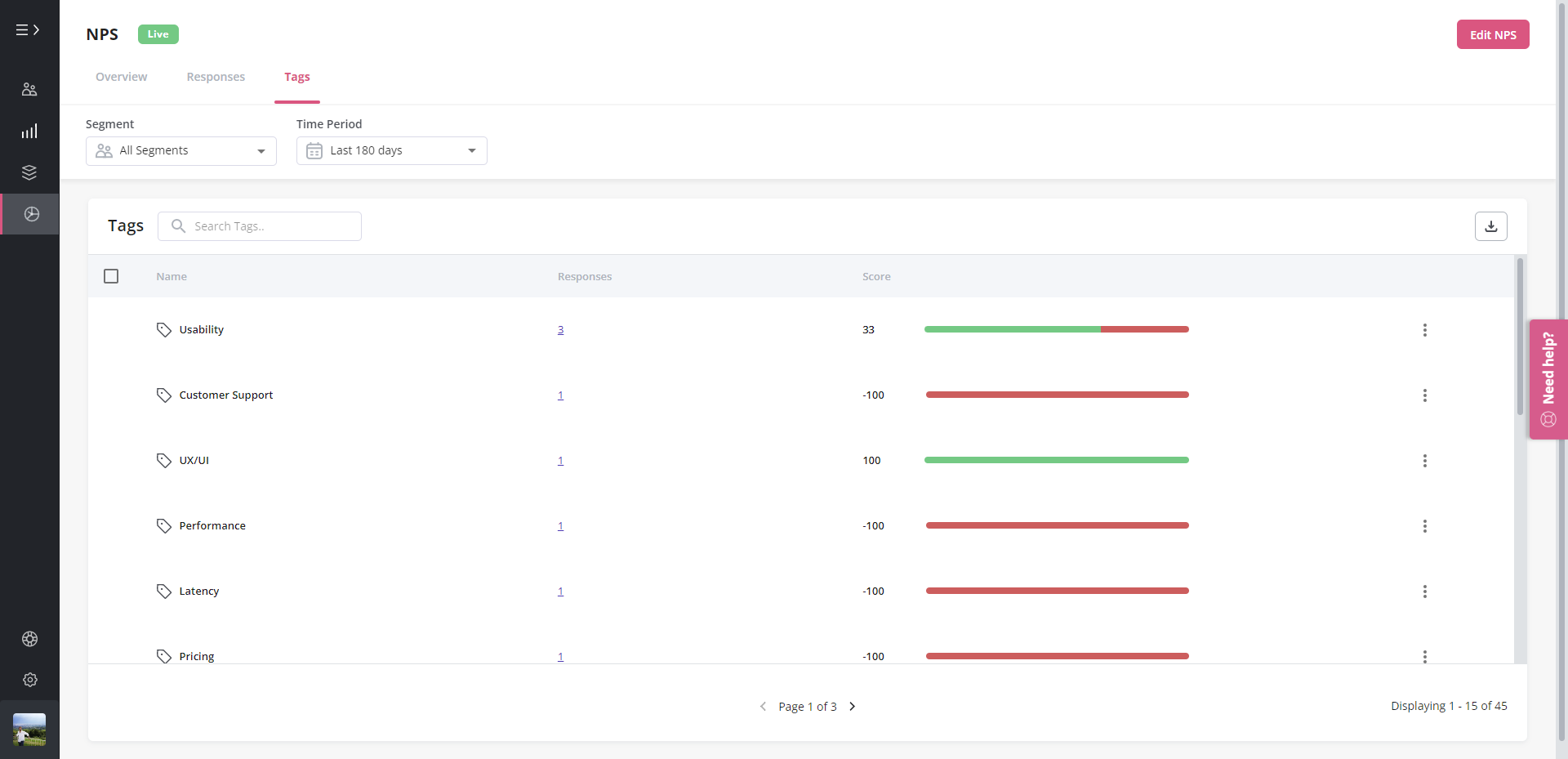 Advanced triggering conditions
You can also use audience segmentation and behavioral triggers so that you only show your NPS survey to the most relevant users.
Just set custom events and add the interactions you want to happen before triggering your NPS surveys.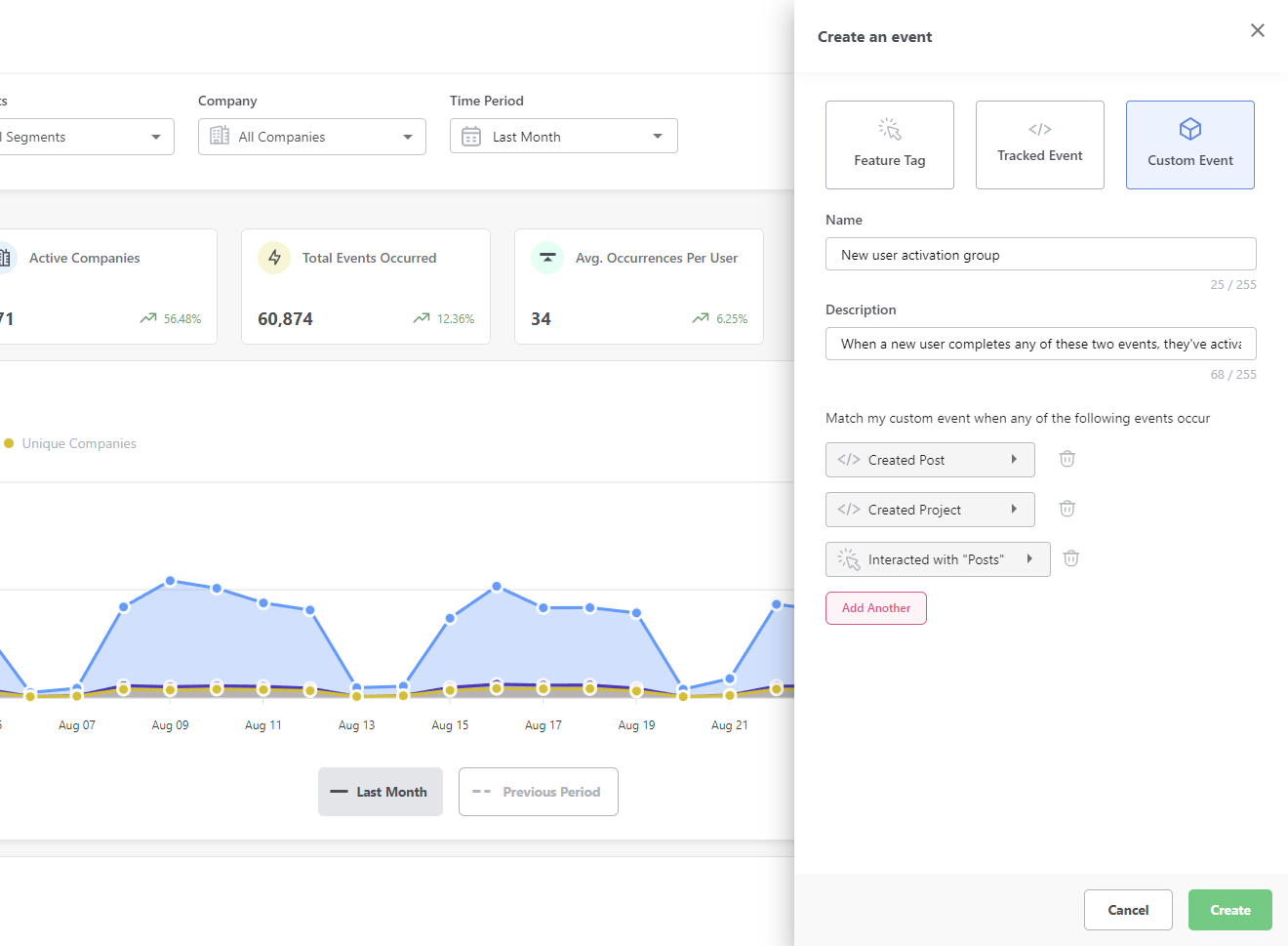 Different in-app surveys
The other types of micro surveys are more flexible, in that you can create a feedback collection form to collect the kind of information you need.
You can add text fields, radio buttons, and more to build your in-app surveys and gather actionable insights.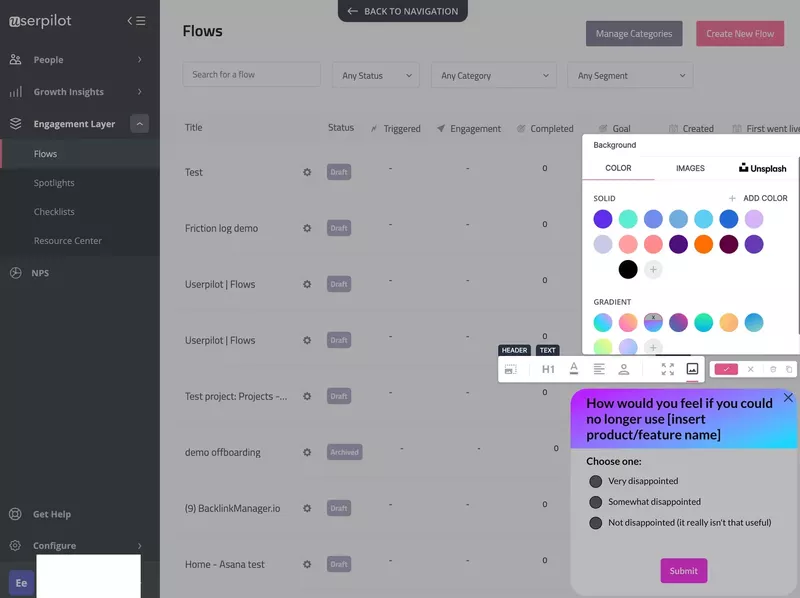 Again, you can segment and trigger based on custom events. This is an effective way to gather feedback on specific parts of your SaaS.
Overall, Userpilot is a great customer feedback tool with pricing starting from $249/month. You can create multiple types of customer surveys and polls to collect relevant user data.
Don't forget that as well as getting a customer feedback tool, you're also getting an amazing user onboarding platform. You can kill two birds with one stone, collecting relevant feedback and improving product adoption.

Collect customer feedback with Userpilot!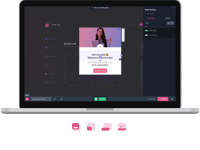 Visual customer feedback tool – Feedier
The second of our customer feedback tools is Feedier, a tool that allows you to listen to all your customers through different channels and unify all your feedback from any source, in one place.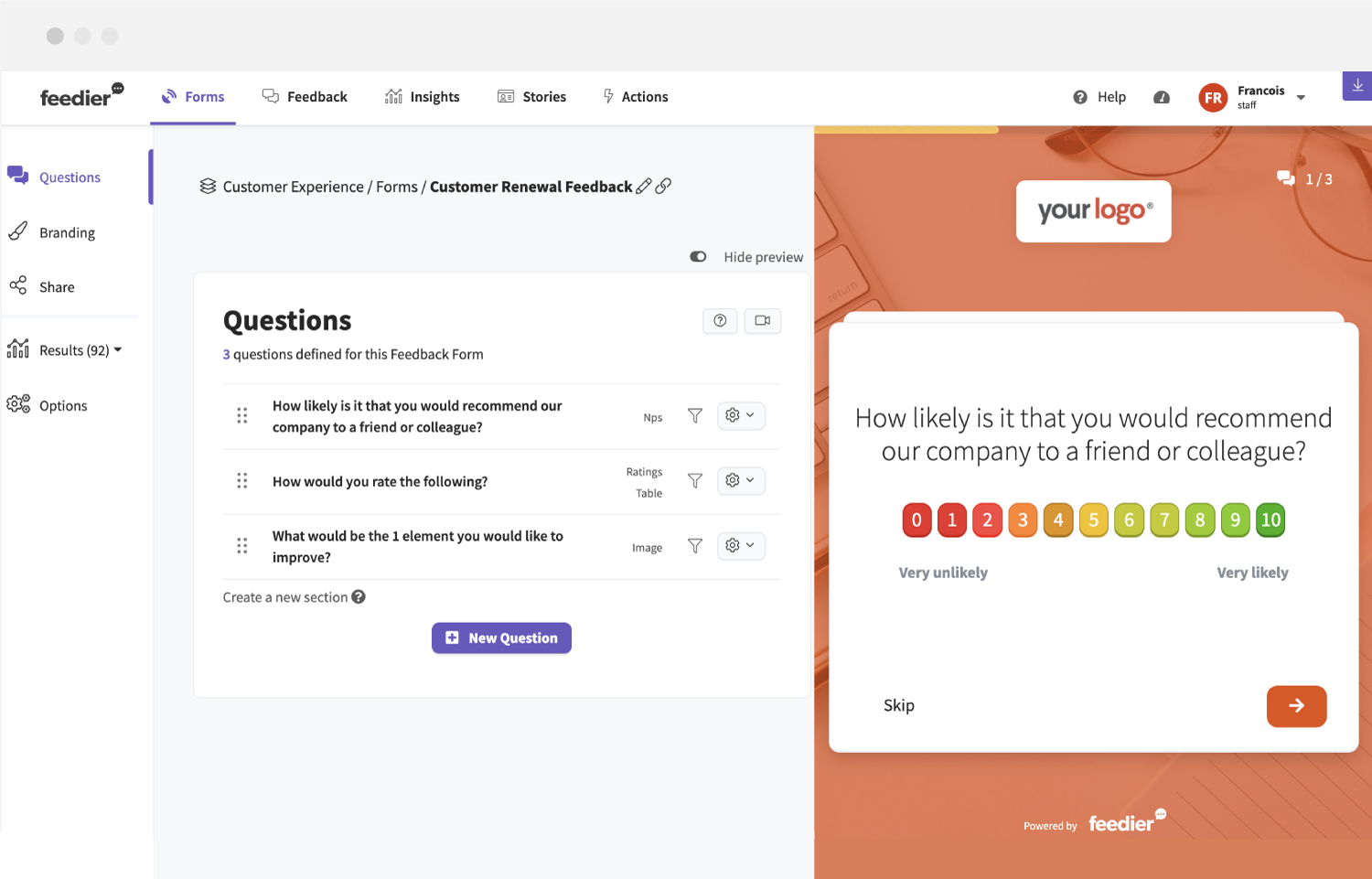 You'll collect real-time direct and indirect feedback through gamified forms, and then analyze your data with an intuitive and visual dashboard via features such as analysis of the most used keywords in your responses, correlation matrix, User Stories, NPS, and others.
With a wide range of question types, and the ability to customize branding, Feedier is a visual customer feedback tool with which you can create highly engaging long-form surveys to help achieve your company goals.

There is a better customer feedback tool!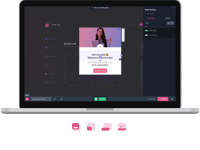 Customer feedback tool – Refiner
Refiner is designed to help you use micro surveys to boost user engagement.
Like most of the feedback tools on this list, you can add in-app micro surveys to collect the data you need to improve your customer satisfaction score. You can choose from NPS, simple ratings, open-ended surveys, customer effort score surveys, and much more.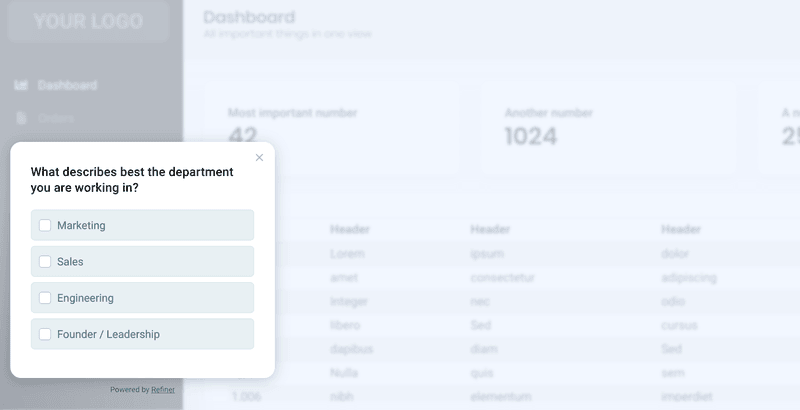 Where Refiner differs is that you can then add CTAs to your micro surveys based on customer responses. You might, for example, want to direct users to leave a review if they give you a high NPS.
You can also set customer triggers based on in-app behavior, and segment to specific groups of users. The micro surveys are fully customizable in terms of appearance.
Refiner falls a little short when it comes to analytics, especially compared to some of the other customer feedback tools.

There is a better customer feedback tool!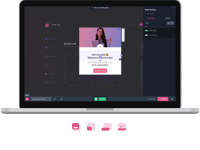 Customer feedback tool – Survicate
Survicate is one of the more well-rounded customer feedback platforms, offering a range of different micro surveys as well as some limited long-form surveys too.
In terms of micro surveys, you can add NPS surveys to your app (or even send feedback surveys via email) and collect customer feedback with a pop-out widget.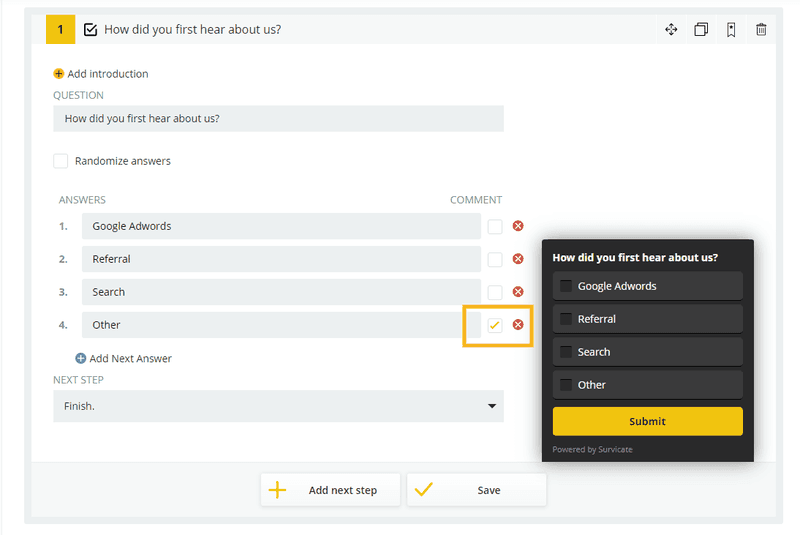 It's worth mentioning the long-form capabilities too.
You're able to create longer surveys with multiple questions and branching pathways, and then send them to customers via a link or by embedding them into an email.
Survicate also offers detailed analytics so you can better understand your data.
Branding customization is limited (requires CSS knowledge), and the product can sometimes be difficult to navigate around, but overall it's a good customer feedback tool.

There is a better customer feedback tool!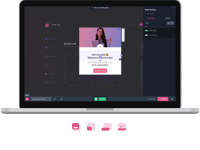 Long-form user feedback tools
If you're looking for more in-depth insights from your customers, long-form user feedback tools may be the answer.
Unlike micro surveys, which are designed to capture quick responses to specific questions, long-form feedback tools allow customers to share their thoughts and experiences in greater detail.
Let's take a closer look at some of the best long-form user feedback tools available today, and how they can help you gain a more comprehensive understanding of your customers.
Customer feedback tool – Hotjar
While Hotjar is primarily known for its heatmapping feature, it also offers long-form surveys and micro surveys to place in-app or in front of your website visitors. That's why I've included it in this list of the best customer feedback tools.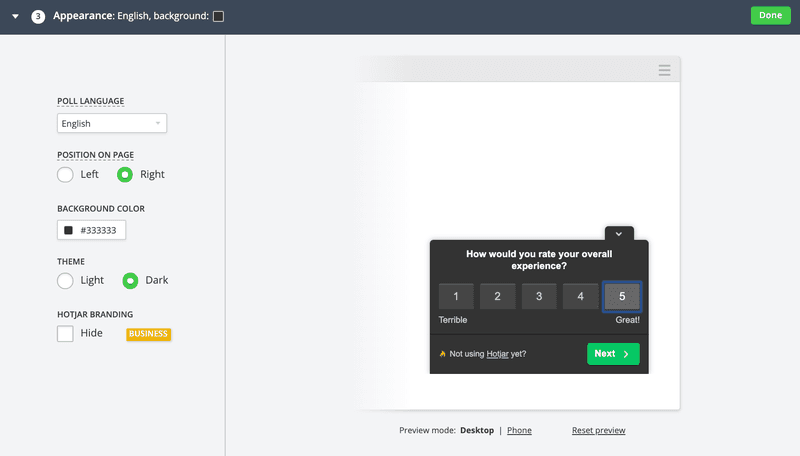 The long-form surveys enable you to ask multiple questions, including text inputs, multiple-choice, and NPS. You can then send your customers to the form with a link.
As for micro surveys, you can add a slide-in widget that asks your customers a specific question about the page they're on.
Segmenting and behavioral targeting, however, are limited compared to other customer feedback tools I've covered as Hotjar is mostly for web surveys that trigger when a user lands on a URL page.
This doesn't mean you can't use it as a survey platform.
Hotjar's analytics can help you visualize the responses you receive. It's also worth remembering that you'll also get access to Hotjar's behavior-tracking features, including heat maps and scroll tracking, and get some great visual feedback too.

There is a better customer feedback tool!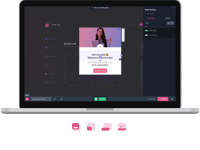 Customer feedback tool – Typeform
Typeform earns its place on our list of the best customer feedback tools simply by being a dedicated survey platform making it easy to create beautiful long-form surveys.
The idea is that you make your survey conversational. This increases engagement and improves the quality of the data you collect.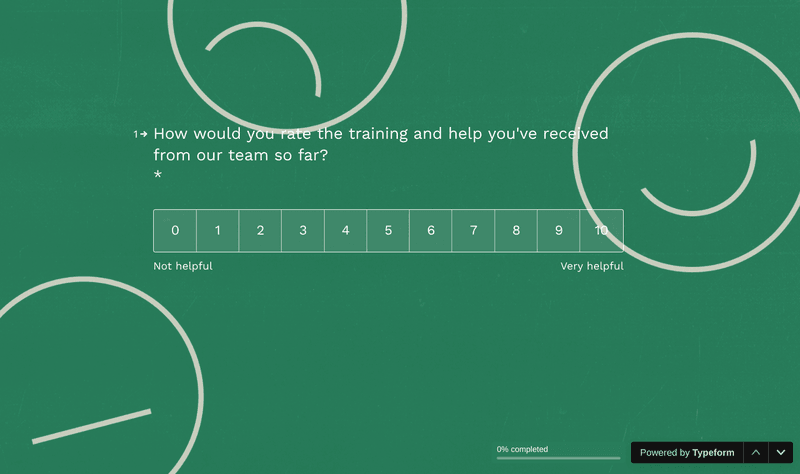 Creating a survey is as simple as typing your questions. Typeform will do the rest.
You can also add logic jumps and branching pathways to personalize the survey based on previous responses and embed your surveys on multiple channels.
Limited embedding options
Typeform does fall a little short when it comes to exporting your data. Currently, you can only export your responses as a spreadsheet, which can feel a little cumbersome.
It's also limited in terms of branding and custom designs, which may be important for consistency with your SaaS.

There is a better customer feedback tool!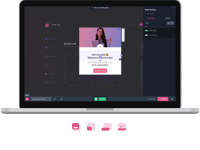 Customer feedback tool – Survey Anyplace
Survey Anyplace is a little different from the other customer feedback tools on this list.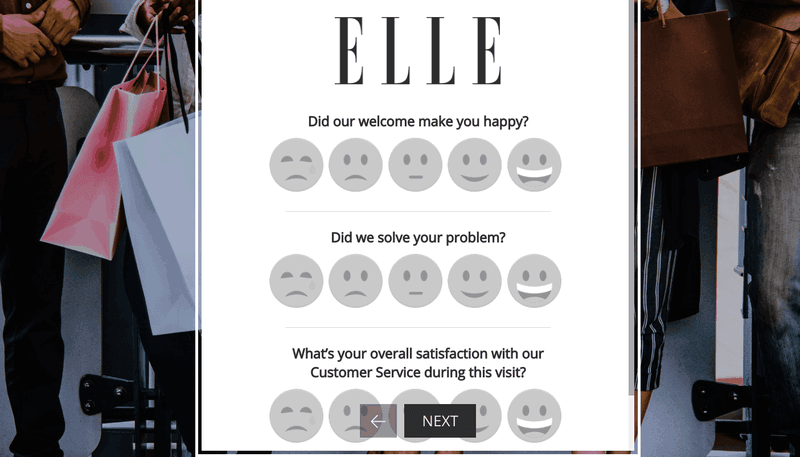 It's designed to help you create interactive questionnaires that feel a little more playful and are more visual feedback collecting form.
You're able to create customer feedback surveys with images, gifs, and videos to make your survey more engaging, making Survey Anyplace a great visual customer feedback collection tool.
You can launch your survey campaigns and embed your survey pretty much anywhere you want, including a web page, online forums, in your product, or even as a tab on your Facebook page.
It's also easy to analyze the data you collect with detailed graphics to help you visualize the responses.
The downside is that you don't have many options in terms of how your surveys look, and to change the design you'll need CSS knowledge. Also, the UI feels dated and can be tricky to use.

There is a better customer feedback tool!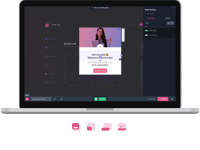 Customer feedback tool – Qualaroo
Qualaroo had to make it on our best customer feedback tools list as it's a feature-rich survey tool that allows you to target users efficiently and optimize feedback data analysis.
You can create multiple types of surveys with Qualaroo such as NPS, CSAT, and CES with various question types like Likert, ratings, dichotomous, open-ended, closed-ended, and more. You can either use its impressive collection of 100+ templates or create customized surveys from scratch.
One of this tool's most outstanding features is its pop-up surveys which are known as NudgeTM, which let you deploy micro surveys on your website or mobile app without interrupting the user experience.
Its advanced targeting feature works excellently for segmenting respondents and feedback. You can also collect context for open-ended responses via branching or skip logic. Qualaroo also helps you visualize survey responses for quick and effective analysis.
It also allows you to add CTAs to your surveys and target particular customers based on behavioral triggers or certain actions.

There is a better customer feedback tool!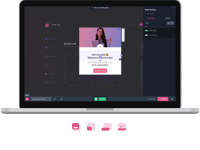 Conclusion
Customer-centric companies rely on user-generated content and feedback to improve their product. Customer feedback tools enable you to truly listen to your customers and add a data-driven approach to your product development.
This, in turn, helps you build the best product, strengthens relationships with your users, and ensures they stick around for the long term. If you're looking for a great tool that will help you build in-app surveys without using code, we hope you'll consider Userpilot.

Try the best customer feedback tool for your SaaS now!