How to Build a Great SaaS User Onboarding Experience in 2021 [+ 8 Examples]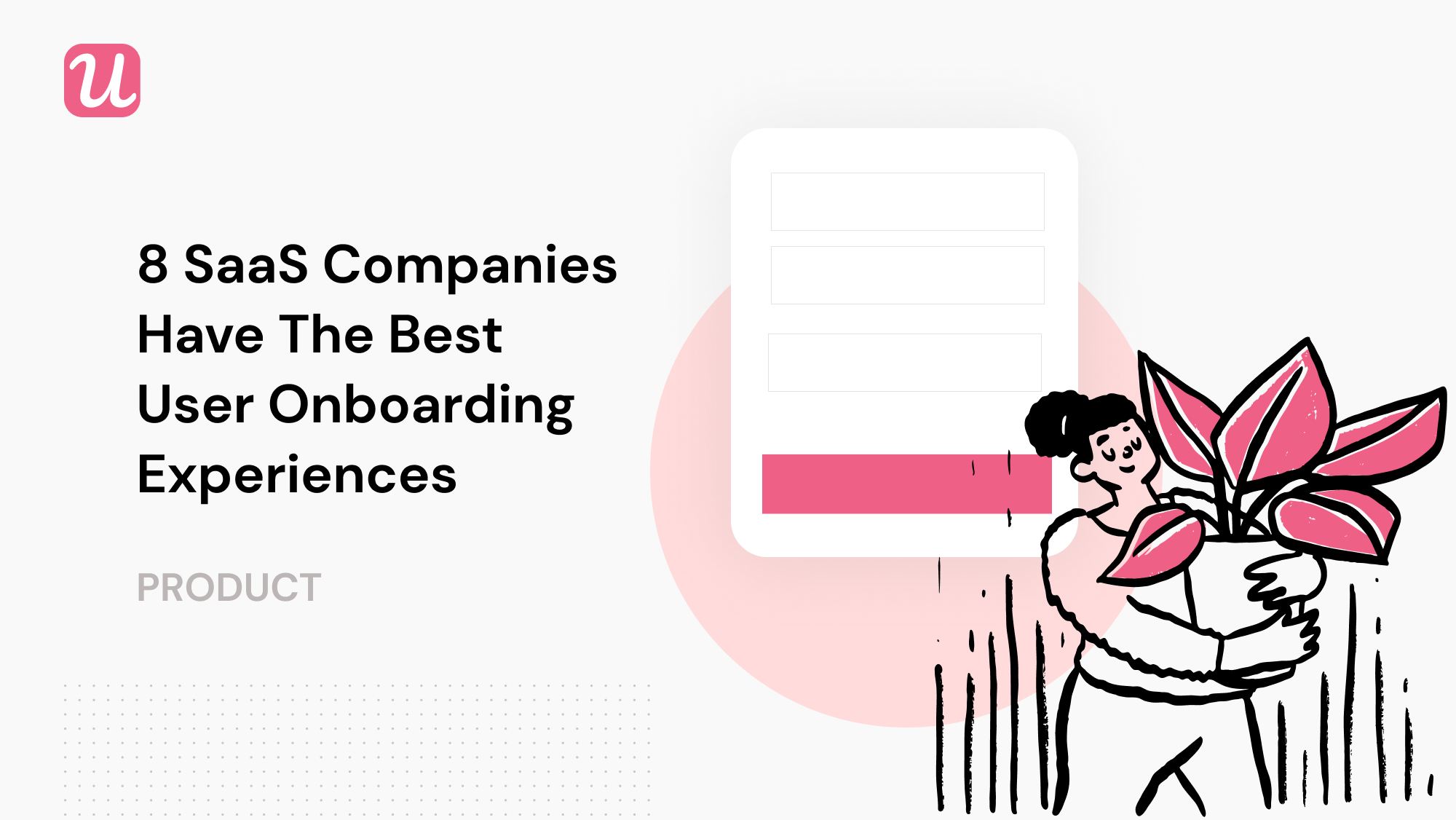 Wondering how to improve your SaaS user onboarding experience? 
The answer isn't always so straightforward.
When it comes to onboarding a new user, the onboarding experience must be obsessively aligned with providing that first moment of value. 
The problem is that every SaaS is unique, each with their own Aha! Moment. As a result each SaaS user onboarding flow has to be unique.
So what is a good onboarding experience? How do you create one? What are the best practices for user onboarding in SaaS in 2021, and what to avoid? And finally – what user onboarding tools should you choose to craft your perfect experiences? 
In this post, we will answer all of these questions. We are also going to discuss the best onboarding experiences in 8 popular SaaS products. Hopefully this will give you the inspiration you need to nail that vital initial user onboarding experience. 
What is user onboarding experience? 
User onboarding experience is all the interactions that a user has with your product onboarding at the beginning of their user journey (but also later on, if we consider
secondary onboarding
!) 
Starting from the signup flow, through the welcome screen to the product tour and interactions with your Customer Success team – your user can either have a great experience that will lead them to the Aha! moment (the moment when they realize the value of your product) and activation, or they can have a terrible experience and decide to end their adventure with your product before it has really started. 
What tells the two apart? 
What makes a good user onboarding experience? 
There are a few hallmarks of a good user onboarding experience in SaaS: it's short and sweet, frictionless, and personalized. The user only sees what they need to see, at the right time. The messages and experiences they get are perfectly geared towards their use case. Here are a few aspects that make your onboarding flows good:
Low friction: 
Even though in some situations (e.g. highly complex enterprise platforms that require a lot of technical setup and human help) friction-based onboarding may be beneficial, as a rule of thumb – the less
friction
your user encounters in their onboarding process, the better. 
Remove any unnecessary steps or fields from your signup flow (even we could do a better job with that!) 
Make sure you don't show your users more features than they need to see to activate. There's nothing more frustrating than being walked through 10 features of a product when you only need to use two.
Short time to value: 
The purpose of good user onboarding in SaaS is to take the user on the shortest path to value. You. need to know what the user wants to achieve (you can ask them e.g. in a microsurvey in a welcome screen!) and then show them the fastest route to achieving this goal/result. 
Good user onboarding flow in SaaS is self-serve
Ideally, your user should be able to go through your user onboarding process without having to wait for a Customer Success manager to find time for that. Self-serve, product-led SaaS should be accessible to its users 24/7.
A Resource Center available in-app which allows the user to search all your help and onboarding on demand by keyword can improve the user onboarding experience immensely:  
Good SaaS user onboarding is interactive
 A good user onboarding experience in SaaS should be interactive – aka account for the actions of the user and react to them accordingly, rather than just walking them through the product. 
Although there is a place and time for proactive onboarding in SaaS – the type where you take the user by the hand and lead them step-by-step to the desired outcome – you should still be mindful of what the user is doing and how fast they are progressing. Your in-app onboarding experiences should react to what the user does inside your product.
That brings us to the next point: that good user onboarding in SaaS should be contextual.
Good user onboarding in SaaS is contextual
In the good old days before code-free product adoption platforms became popular, most of the user onboarding happened via email. While onboarding emails can still support a good user onboarding in SaaS, they cannot replace in-app guidance. 
Your onboarding experiences should appear in the context of what your user is currently doing inside your product – or what they are not doing. 
Imagine you're a user of a social media scheduling tool. You are supposed to schedule some posts for next week, but inspiration eludes you. You are typing a few words into the editor, deleting them, typing again, and again deleting them. You don't have any posts in your queue. 
Wouldn't a helping hand pointing you to the ready-made post calendar with pre-defined content templates be great at that point? A tooltip like the one below can work wonders in such situation: it's perfectly timed, reactive and appears in the right context: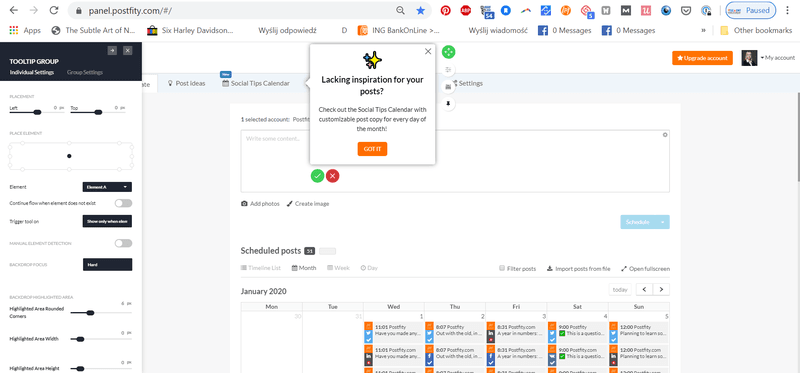 Contextual user onboarding in SaaS outperforms traditional linear onboarding any day of the week. 
Just look at this sad product tour: because the steps happen out of context, and the experience doesn't wait for the user to actually complete them – the whole experience is just ineffective and overwhelming: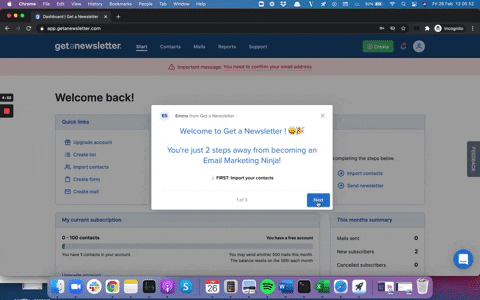 Good SaaS user onboarding uses personalization
Unless your SaaS is a one-trick pony, you will have different user persona with different user cases and needs. These different personas will often need completely different user onboarding: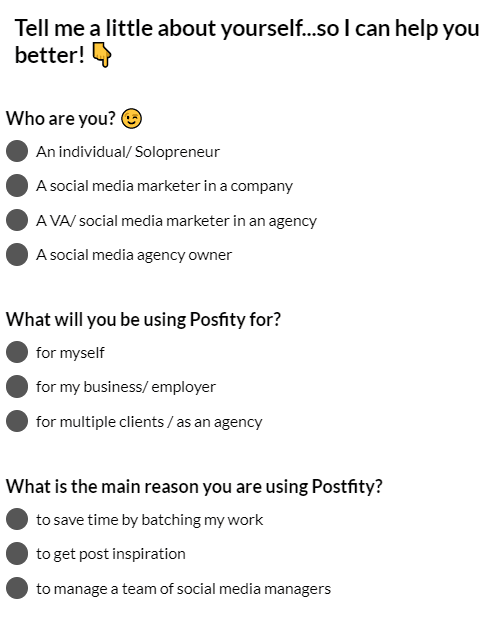 Personalizing your SaaS user onboaring to user's specific persona, role, goals and use case will make your onboarding more relevant and thus more effective.
Your users should be able to choose their own journey. 
Constant evolution and growth 
Now – this is a common issue we see in SaaS – that the product managers/ marketers responsible for onboarding see it as a one-off 'set it and forget it' activity. 
This mindset can be really disastrous for your user onboaridng results. Your product evolves all the time, your positioning, market and user personas change, and so should your user onboarding. 
Best practices for user onboarding experiences in SaaS in 2021
1. Reduce friction in your signup flow 
As we've written above – unless you have a good reason (e.g. you actually want to qualify the signups before a sales call) – remove all the unnecessary fields from your signup flow, and reduce the friction in new user onboarding. 
2. Start from a welcome screen 
Once your user signs up for your tool, the first thing they see in your app. Make it worth their time – tell them what they can expect next in their new user onboarding + ask 1-3 critical questions that will help you segment them and tailor the further experiences to their needs.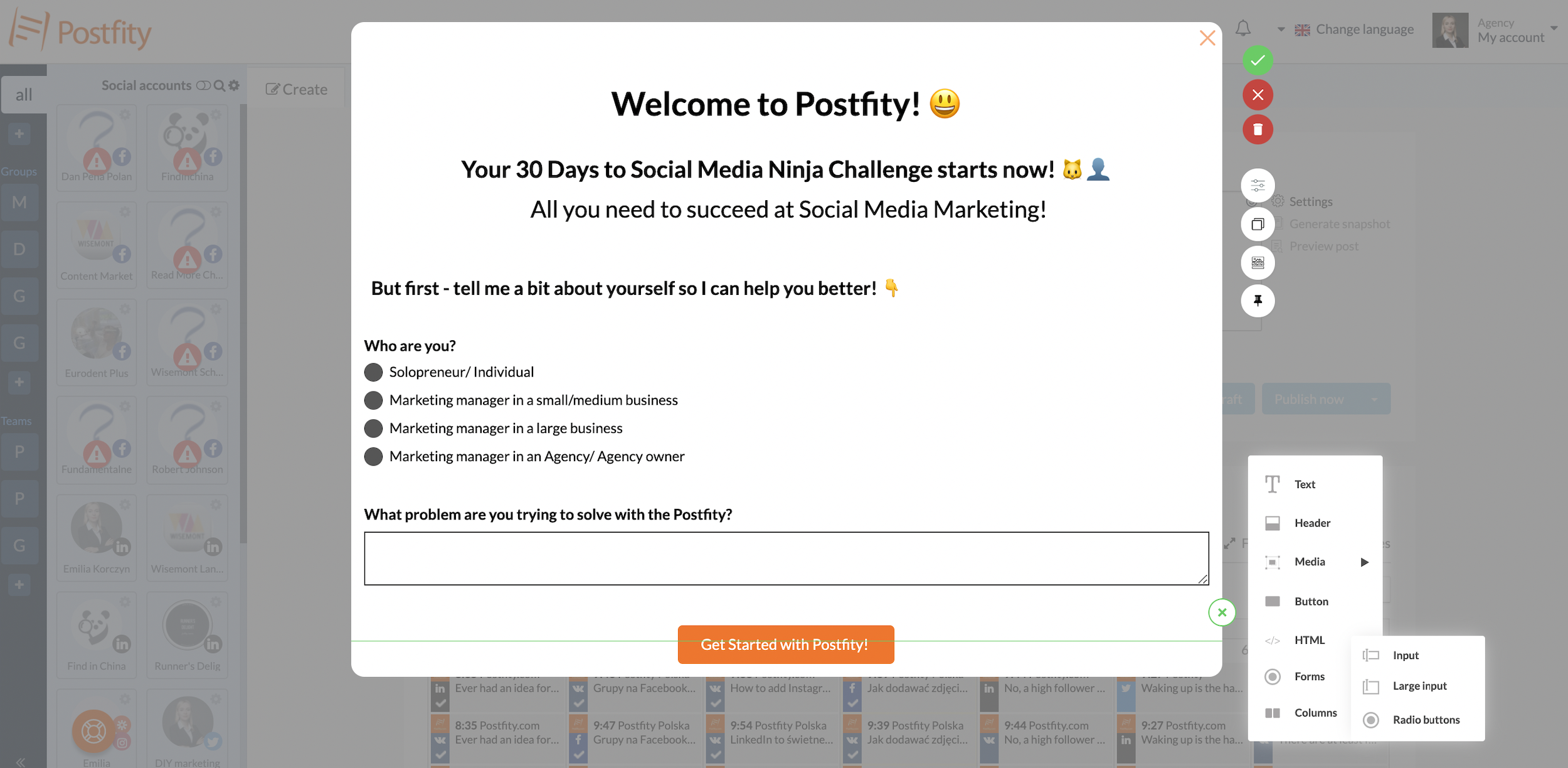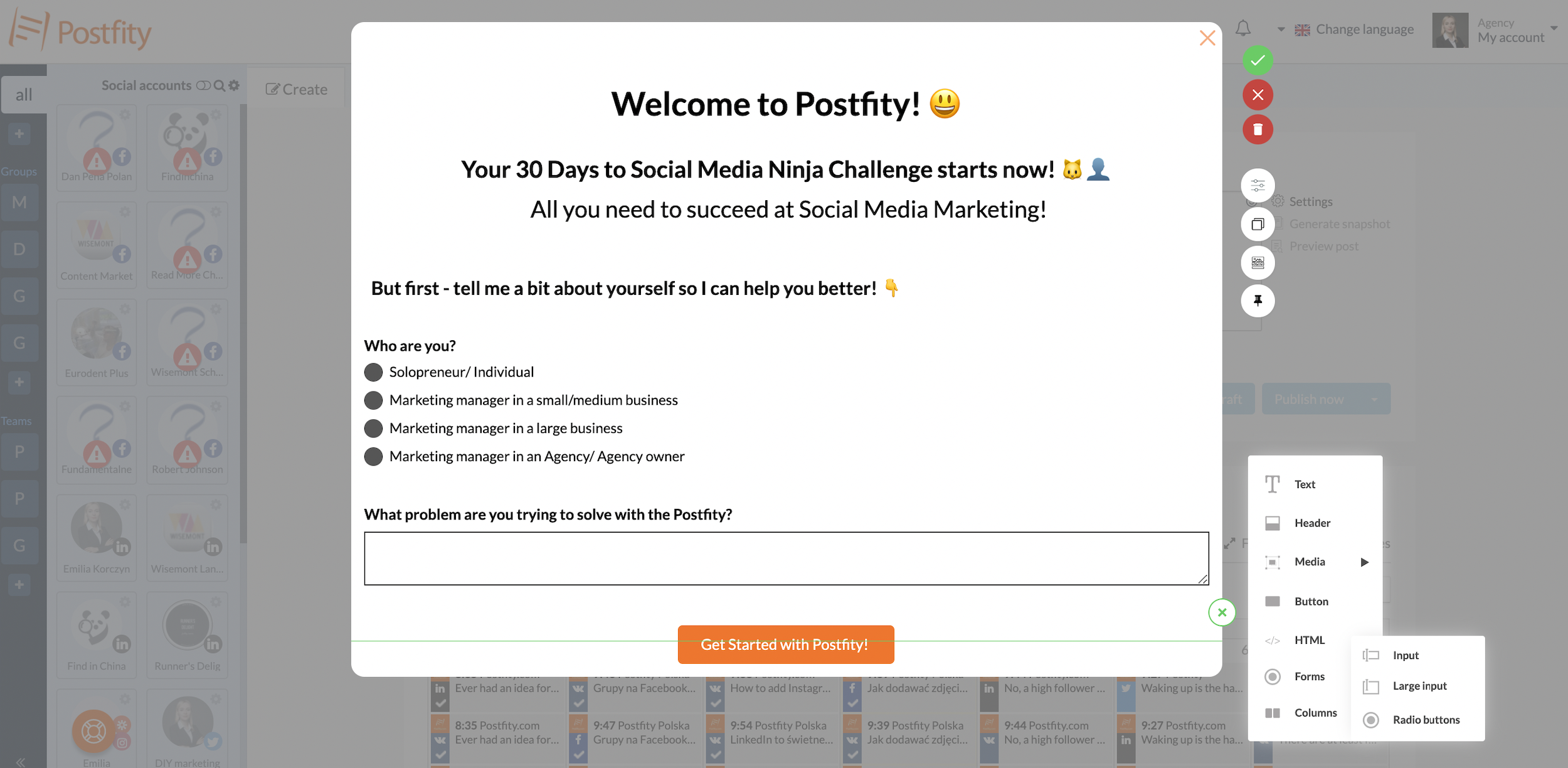 Wanna create welcome screens like that without any coding? Sign up for a Userpilot account!  
3. Segment your users
This brings us to another important aspect of user onboarding in SaaS – it allows you to segment your users early (based on their responses in the welcome screen, or their user attributes). On the other hand – you can then use data from the new user onboarding to create segments based on user behaviour and engagement with your in-app experiences.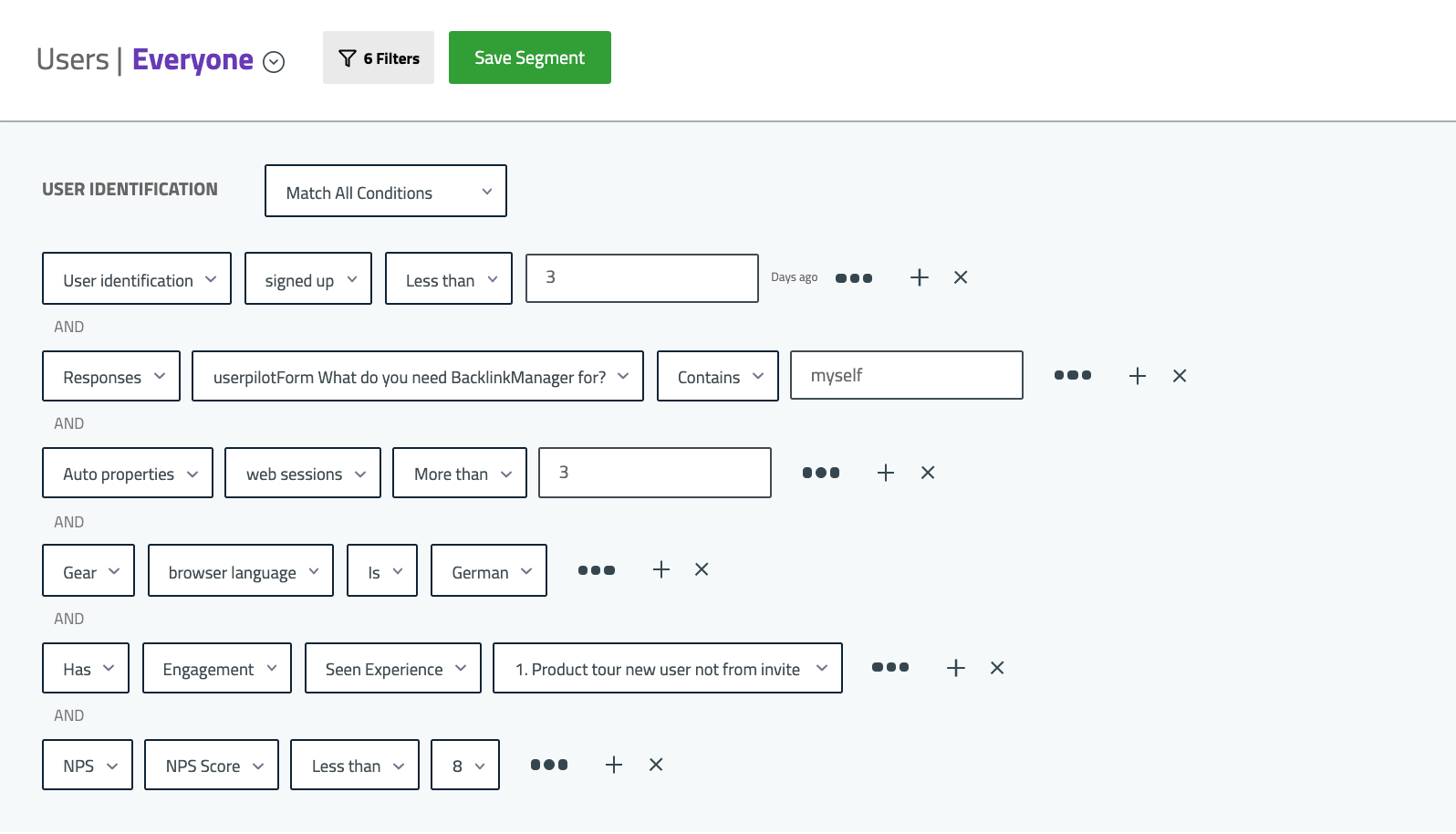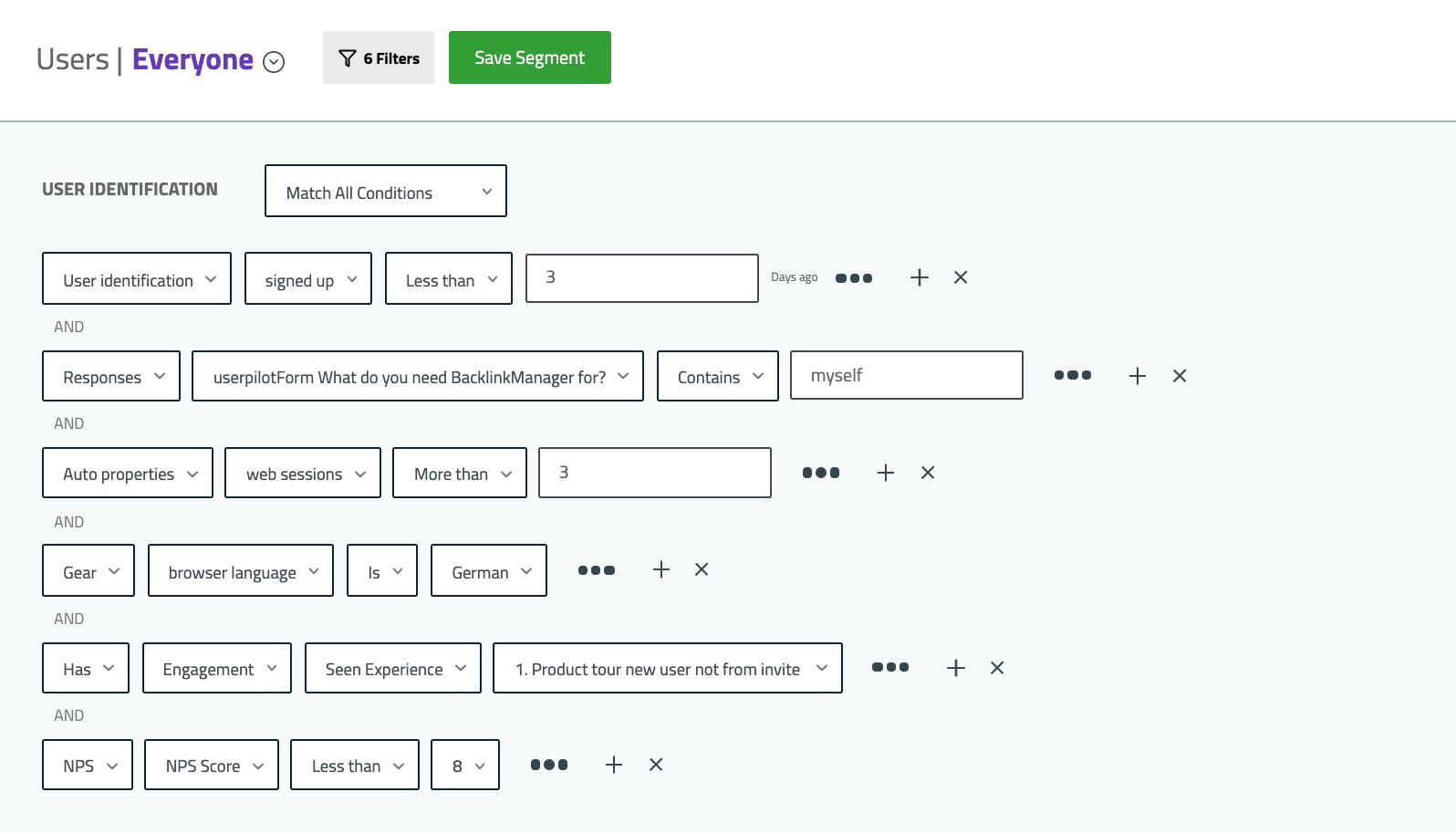 4. Use interactive walkthroughs instead of linear product tours
As we've mentioned before – linear product tours do not provide the best user onboarding experience as they are not contextual or interactive. To help the user makes most out of their user onboarding, make sure each step in their onboarding flow (or walkthrough) is triggered by the required action from the previous step – not by pressing the "next" button.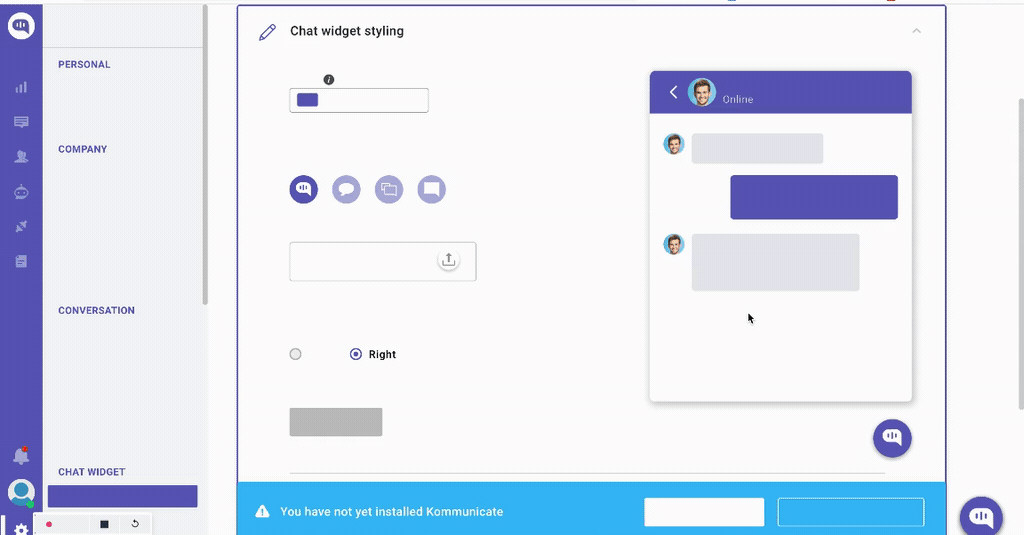 That way, you can effectively lead the user to the key activation points in your app – and make sure they actually activate. 
 5. Use an onboarding checklist with a progress bar and incentives
A great way to organize your user onboarding is to pull all the steps your new users need to go through into a checklist with a progress bar. Checklists naturally trigger our need to "close the open loop" and push the users to adopt the key activation points. Throw in an incentive at the end and you're golden.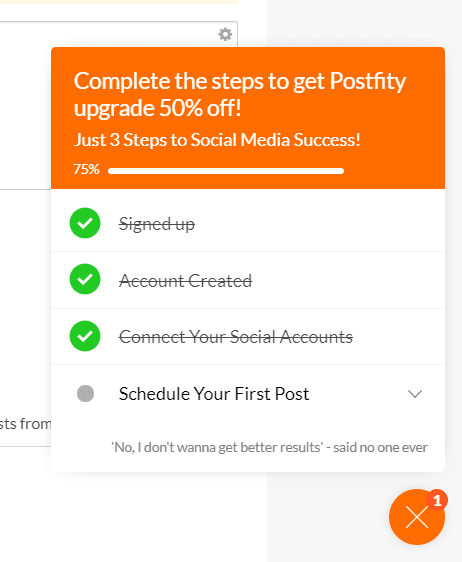 6. Make all experiences contextual 
It should be self-evident by now – if you want your SaaS' user onboarding to be effective, you need to place your onboarding experiences in the context where the user can actually perform the actions you prompt them to do. 
7. Don't stop at activation – use secondary onboarding 
Now, the common issue in SaaS user onboarding is that it stops at new user activation. But what about secondary features? And how about new features? A feature release note will not be enough for your users to adopt them. You need to think how to implement them into your evergreen onboarding flow. 
8. Use Native Tooltips
Last but not least – a good practice for your new user onboarding in SaaS is to use the more subtle native tooltips, especially at later stages in the user journey. Native tooltips are tooltips apended to your native UI that only unfurl when the user hovers over them. They are less disruptive than onboarding walkthroughs and can help especially with secondary feature adoption that the users can discover on their own. 

4. How to improve your user onboarding experience? 
You've already built your SaaS user onboarding and just want to improve it, without tearing the whole onboarding experience apart? Here are a few ways to troubleshoot and improve your onboarding: 
Look at your user behavior analytics tools and see where users are dropping out or getting stuck – a session recording may be best for uncovering qualitative issues. 
Come up with some hypotheses how to improve your onboarding experiences.
Implement the improvements to your onboarding flows.
A/B test your new onboarding flows 
Compare feature adoption goals for each experience variant (A – before, and B- after):
You can set feature adoption goals, tag features, and do product experiments (A/B tests) without any code in Userpilot. 
5. How to build a successful onboarding experience? 
Building onboarding experiences is easy if you have a code-free tool that allows your product team to build, A/B test and launch product experiences without any coding. 
Here are some of the features offered by the best user onboarding flow tools for SaaS – check out our previous post about it for more details.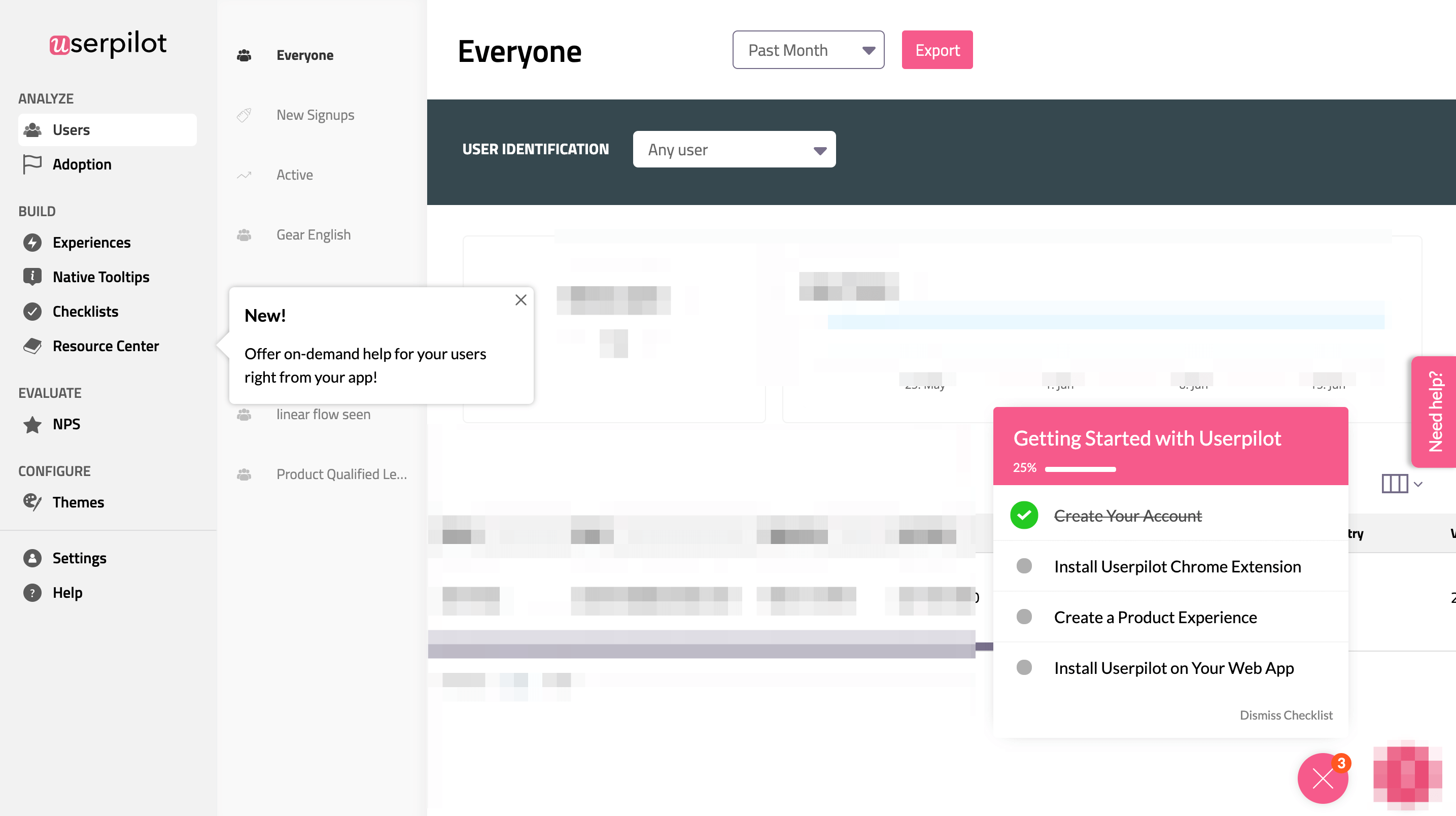 Userpilot was designed for SaaS companies to help them build great user onboarding experiences without coding. On top of user onboarding flows, Userpilot offers behaviour analytics, microsurveys and NPS.
Userpilot features include: 
contextual user onboarding – you can build interactive walkthroughs and product tours that are personalized and triggered based on user behavior: 
This means you can tailor your onboarding to each individual user, triggering onboarding elements as and when they need them – based on user behaviour in-app: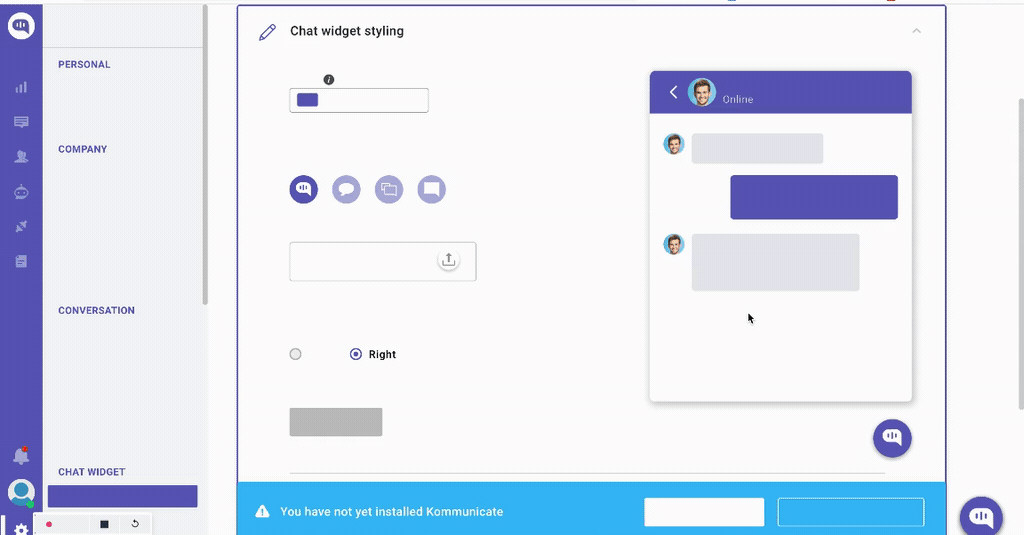 complete control over user onboarding flow styling to match your app's UI – also without coding
onboarding checklists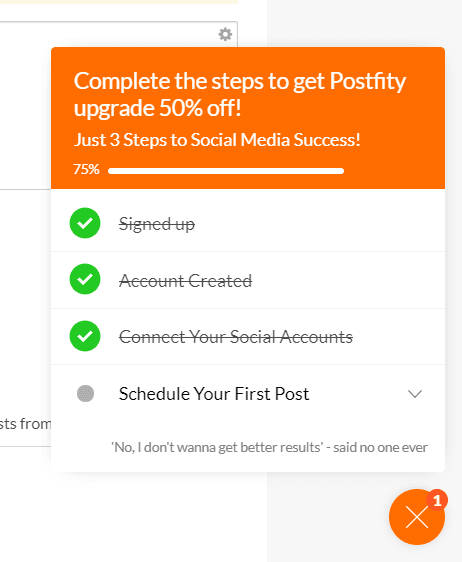 goals based product adoption analytics: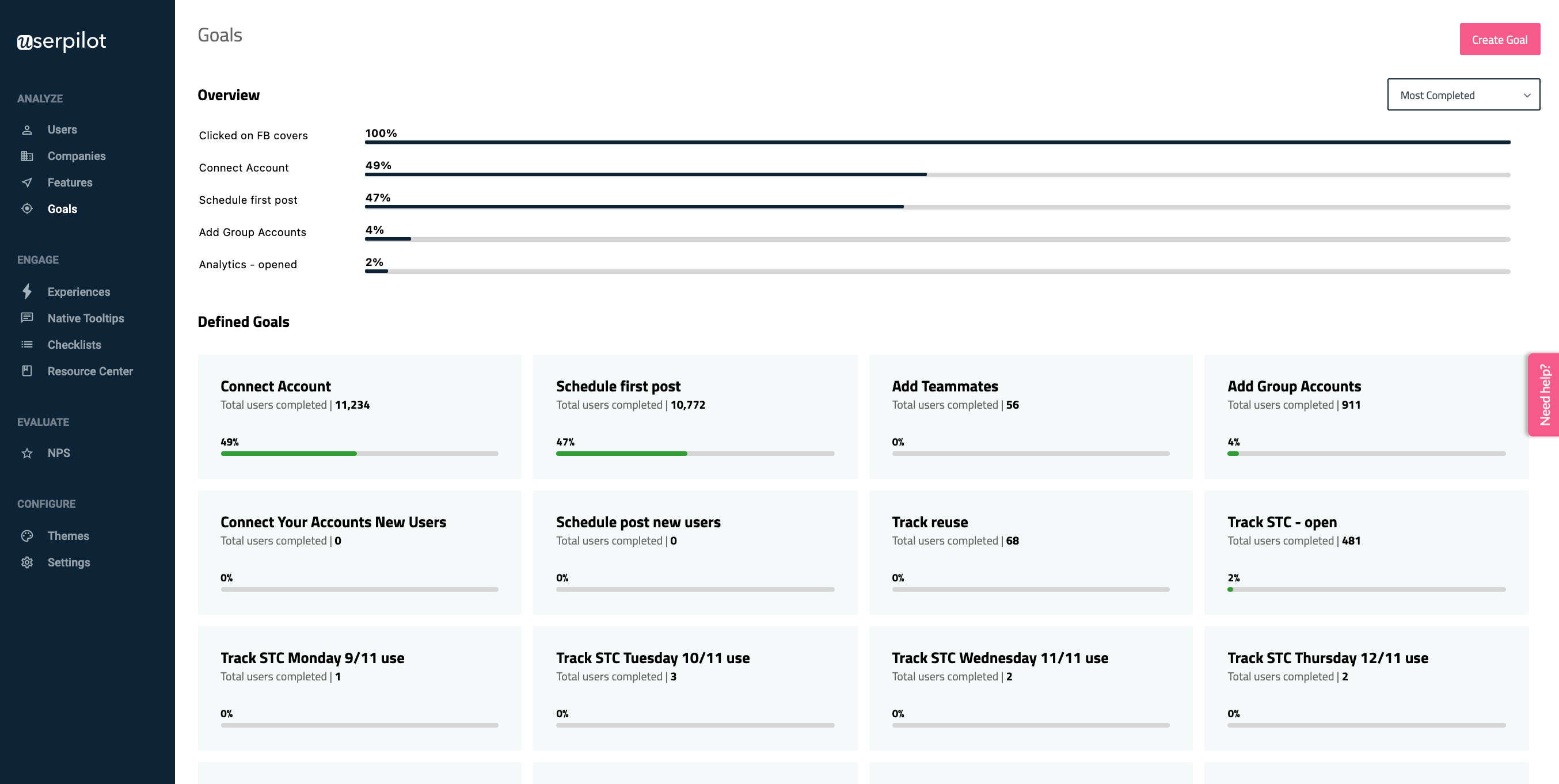 code-free feature tagging: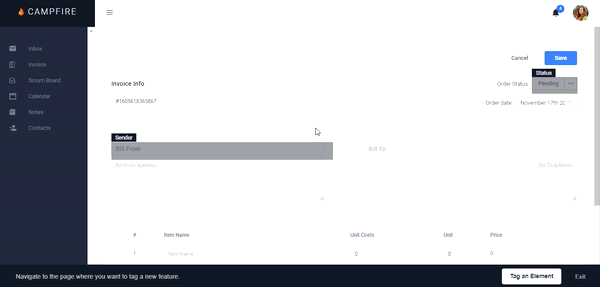 and embeddable microsurveys: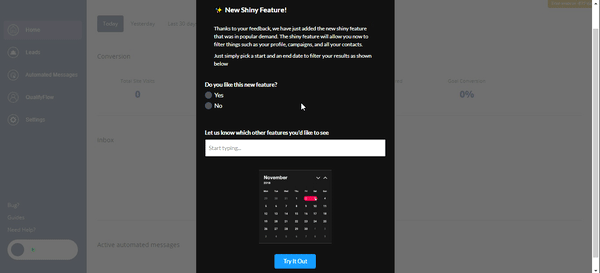 – A Resource Center – a self-serve help hub where the user can search in-app experiences, onboarding videos, help docs and knowledge base articles in-app, on demand: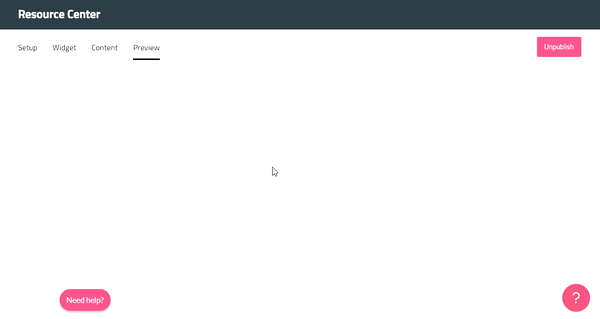 Do you like what you've seen so far? Jump on a free consultation with us!
Userpilot pricing 
Userpilot costs $249 per month for 2,500 MAUs (monthly active users), all features included. 
All Userpilot pricing plans include: 
– all features without any limitations
– free on demand live chat support (average response time: 8 minutes!) 
– 3 onboarding calls with Customer Success team 
– Access to user Live Webinars 
Best user onboarding experience examples – 8 SaaS companies with the best user onboarding experience
Best User Onboarding Experience #1: Box
Box offers a secure platform for content management, workflows, and collaboration.
Here's how it onboards new users…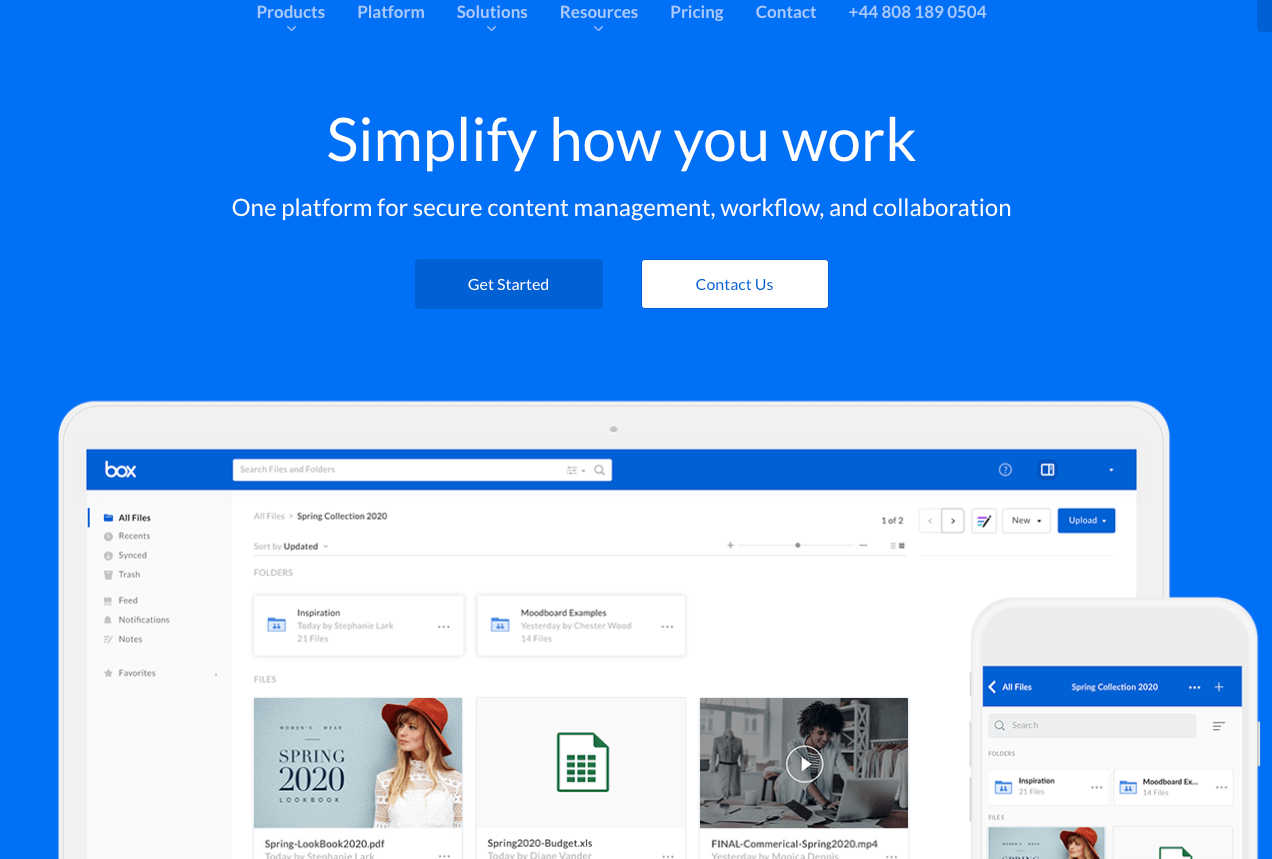 Box has a fairly simple home page layout, with a prominent CTA, enabling new users to get up and running as soon as possible.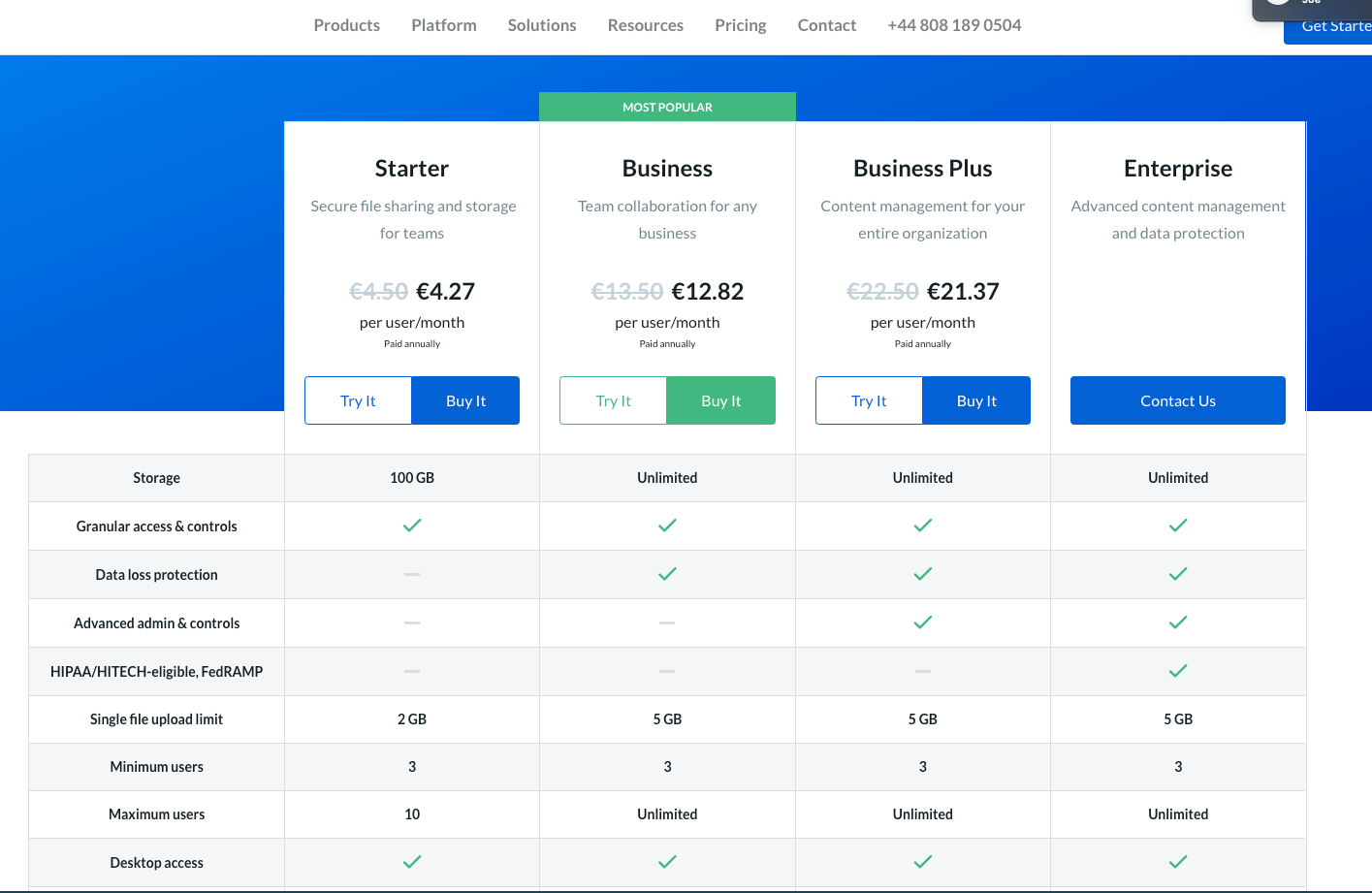 Clicking the CTA takes users to the pricing page, where they can see a breakdown of each price plan. This means users can immediately choose the most relevant plan for them. It also highlights the value proposition of Box.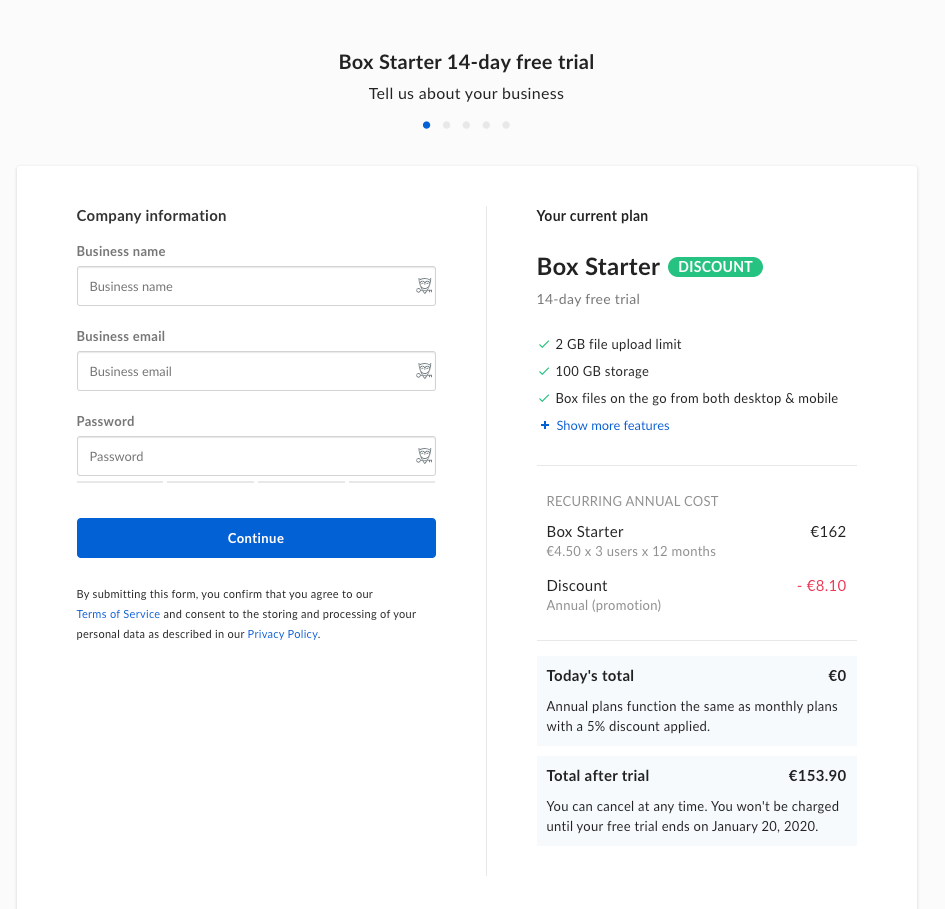 Box then provides a fairly simple sign-up form, only asking for a few key details. It also repeats the main benefits of the product, so that they're fresh in the user's mind.

Once users access Box, they're shown a brief tour of the product, with tooltips explaining how the product works. Note that the tooltips also explain the benefits of the feature, not simply how it works.
Box also makes use of empty states, by providing sample content in the form of a welcome pdf. This shows users how the product will work for them.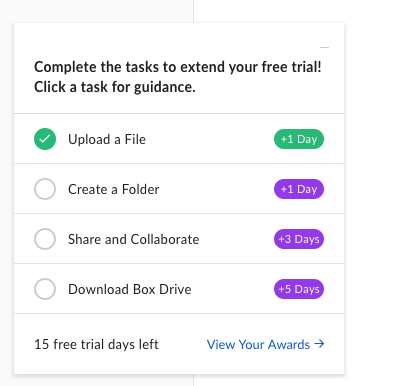 Here's where Box's onboarding gets really clever. When a user starts their free trial with Box, they're given 14 days to use the product.
However, Box provides a checklist of onboarding tasks. Completing these tasks will extend the trial. It's a great way of rewarding positive interactions with the product, and means new users are likely to reach the eventual Aha! Moment.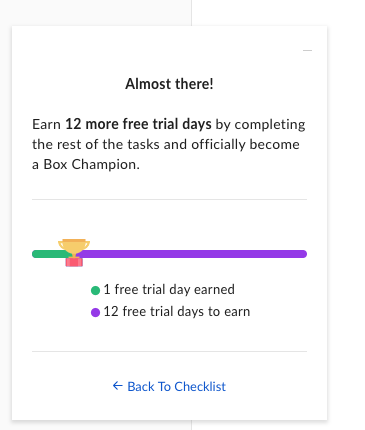 Box's checklist also provides a progress line, so users can see how close they are to completion.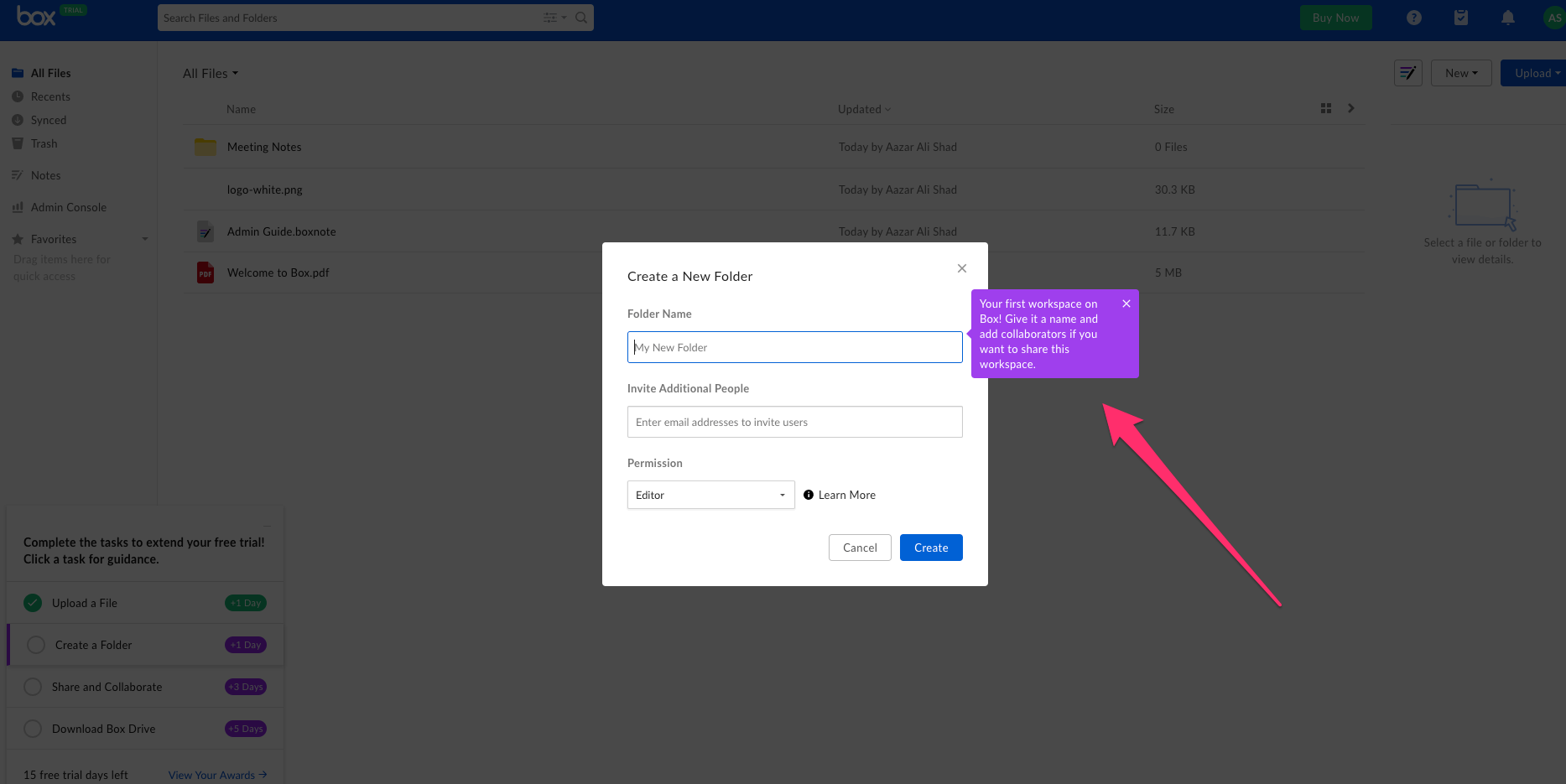 Every time a user starts one of the checklist tasks, Box ensures they know exactly what to do with useful and clear tooltips.
What we love about Box's onboarding experience:
Guides new users through every aspect from sign-up to first using the product.

Gamifies the checklist by offering an extension to the free trial.

Clear and compelling tooltips that not only show users how to do something, but why it's so great.
RELATED:  6 Tips to Create the Perfect Onboarding Checklist
Best Onboarding Experience #2: Productboard
Productboard is a product management tool, designed to help you gather feedback and then act on it.
Here's what Productboard's onboarding flow looks like…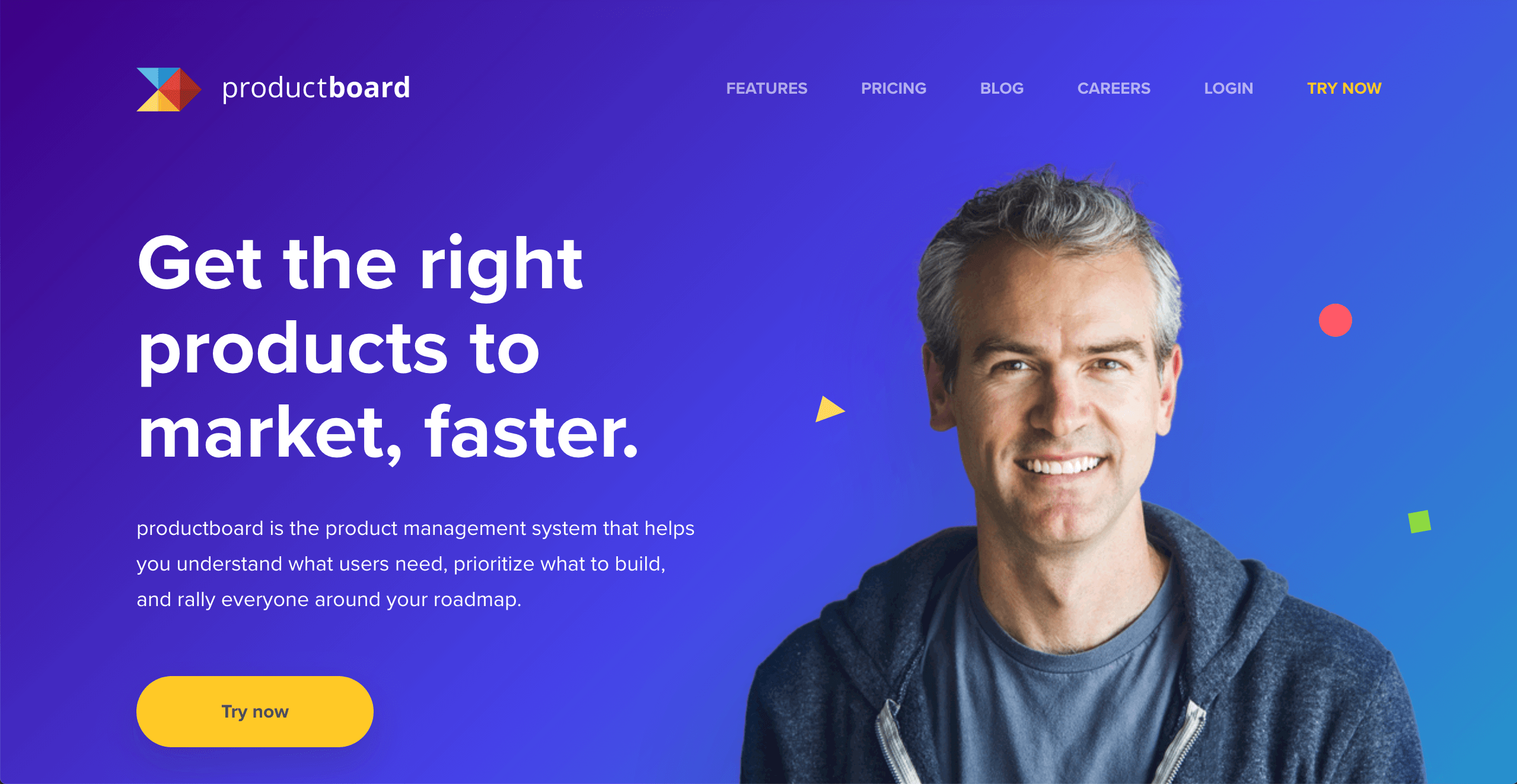 The home page features a large "Try now" CTA that stands out thanks to the vivid color.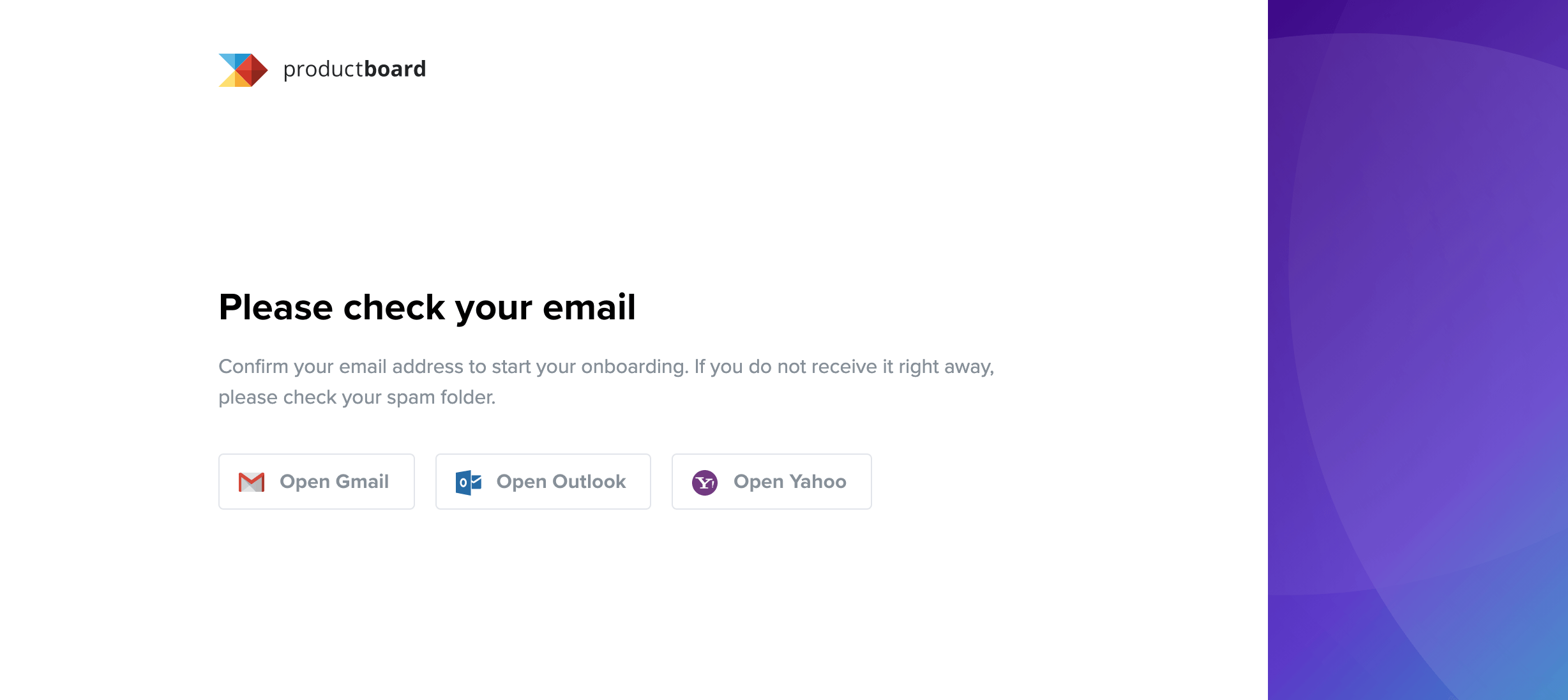 Once you enter your email address, Productboard asks you to validate it. Note how they provide links to the most popular email clients, reducing the friction as much as possible.
After clicking the link in the email, you're presented with this screen. It uses a clever fill-in-the-blanks method of finding out more about you and your specific use case.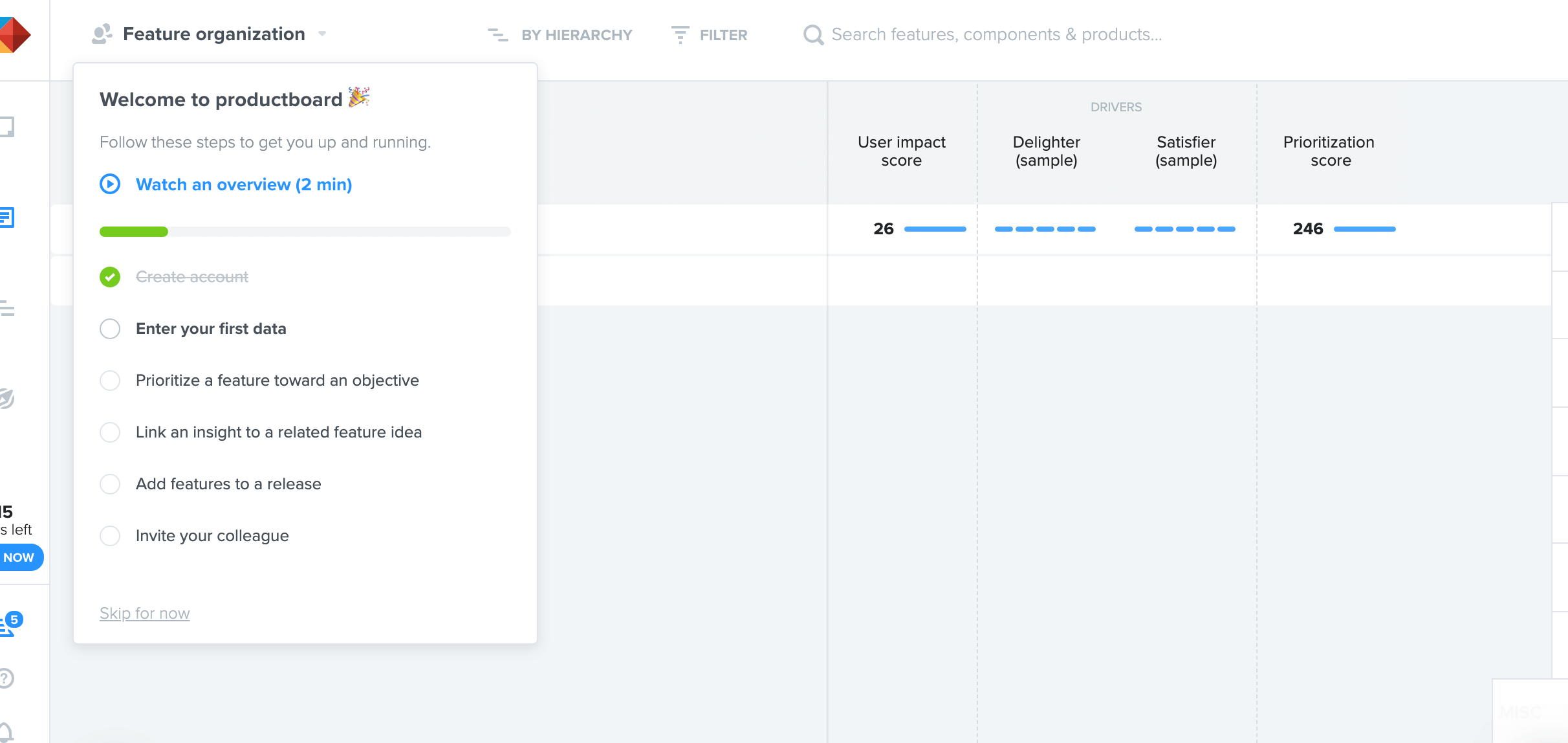 Finally, you're taken inside the app and are immediately presented with a checklist. The items are designed to show you the key features that Productboard provides, enabling you to reach the Aha! Moment.
What we love about Productboard's onboarding flow:
Tries to reduce friction as much as possible, especially when validating your email address.

Interesting and unique way of understanding your use case.

Uses a checklist to drive user action.
Best SaaS Onboarding Example #3: FullStory
FullStory records and reproduces real user experiences on your site, helping you support customers, boost conversions, and debug faster.
Here are a few things we'd like you to take note of from Fullstory's user onboarding experience:
The landing page has a strong value proposition, with a clear CTA to signup for free. The highlighted 'sign up free' CTA pushes users in a subtle way to dive quickly into FullStory and initiate that first contact with the product.
As it waits for you to validate your email, FullStory takes a chance to gather feedback with a beautiful 'How did you hear about us' modal.   
FullStory welcomes you back once you finish validating your email. It's a friendly, personal touch that helps develop your relationship with your product.
The signup flow continues with persona-based questions. This helps FullStory enhance your experience as they continue learning about your use cases.
FullStory instantly pushes for activation. You will get almost no value if you don't install the script, therefore they include this step in the signup onboarding experience.
What we love about FullStory's onboarding experience:
As a product with many use cases and various user personas, FullStory excels in learning about each user. This helps it personalize the onboarding for each persona and provide the most value for each specific use case.

It pushes for activation (installing the JS code) early on during the signup process. This helps FullStory show value the minute the user lands on the main product UI, as they instantly start seeing real-time sessions playbacks.

Beautiful trustworthy UI.
Best Onboarding Experience

#4: Airtable
Airtable works like a spreadsheet but gives you the power of a database to organize anything. It's a productivity and workflow alternative to spreadsheets.
Here are a couple of screenshots from their signup flow.
It's easy to get started with Airtable, thanks to the clear CTA on the homepage.
Airtable's onboarding flow starts with a video to reiterate value and make you excited for that first-run product experience.
Just like the FullStory example, Airtable tries to understand a new user's persona and any relevant use cases. 
Empty states where there's currently no data are a great opportunity to drive action. Airtable make the most of these empty states with a clear CTA.
What we love about Airtable's onboarding experience:
Gets you into the UI without email verification — less friction, faster time-to-value.

Takes advantage of empty states to push user action to create a new base.

User persona questionnaire to learn more about use cases. 

Resource and Learning tab to help users ease into the UI.

Simple and easy to use UI.
Best Onboarding Experience #5: Userpilot
Userpilot is a SaaS onboarding tool, designed to enable product teams to improve their product's onboarding without any coding knowledge required.
It's also our own product, and we're pretty pleased with how we onboard our users…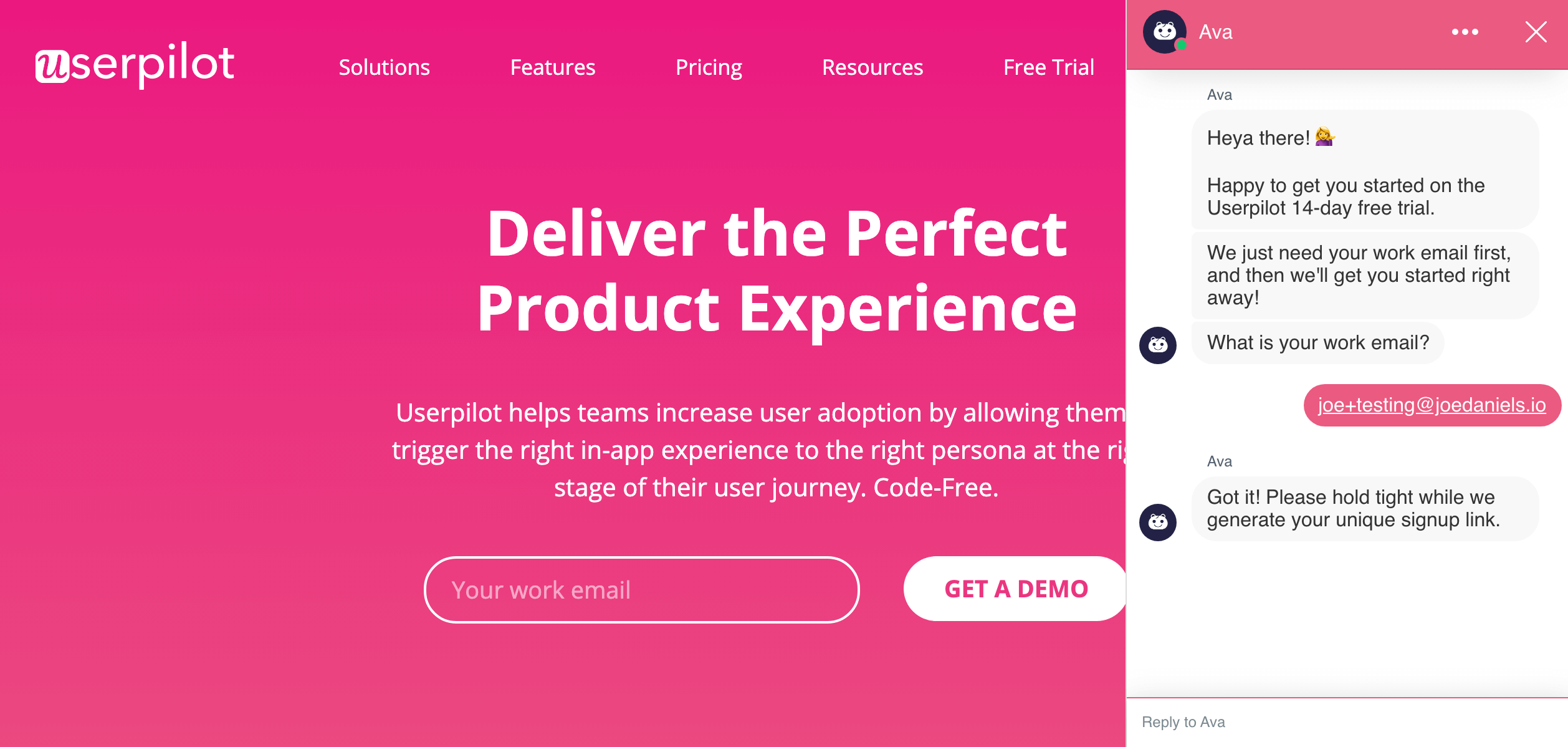 Firstly, when a user clicks to get a free trial, it opens a conversation with our bot, Ava. Ava then asks for the user's email. It's a simple and straight-forward way of letting new users sign up. It's also more conversational, which helps to develop a stronger relationship with the user.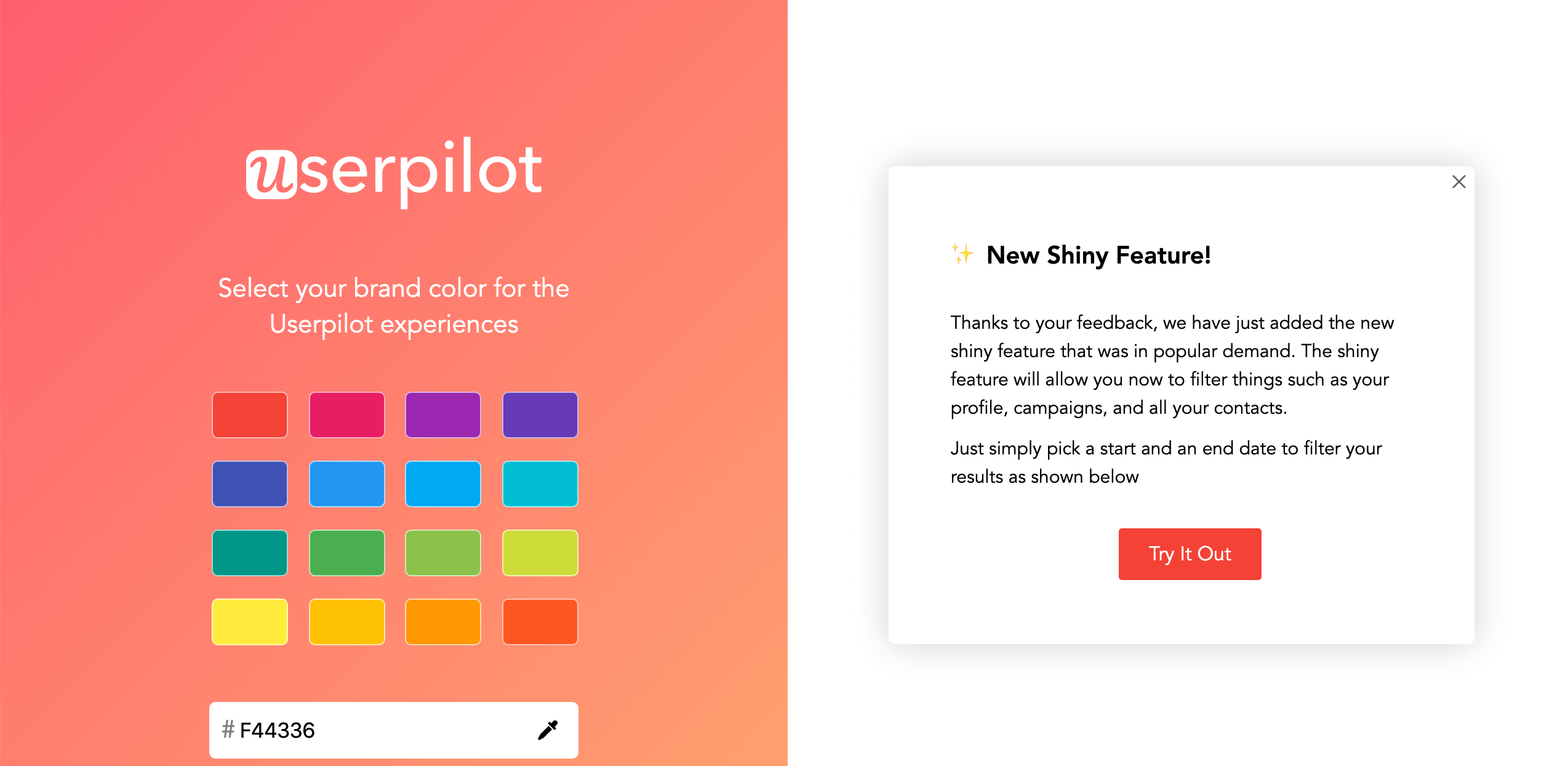 Once the user has signed up with their trial link, Userpilot asks them for one key detail — the primary brand color they want to use. This one simple question means that users can start personalizing Userpilot to them, but without the friction of long forms.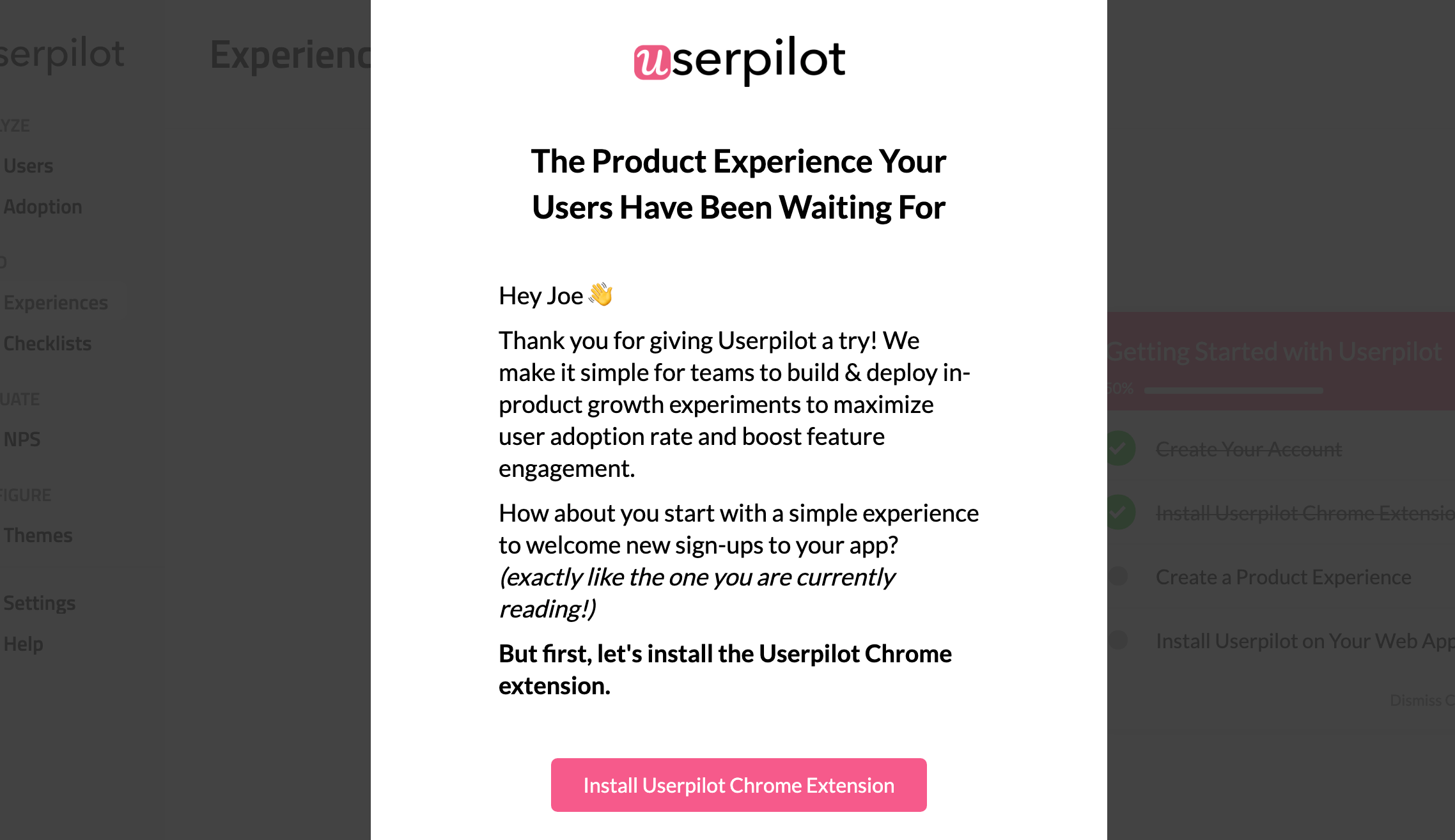 Before users get started with Userpilot, we use this modal to explain the key benefits of our product. We then ask users to install the Chrome extension.
This is key to the success of our product, and so by asking users to install it upfront, we're increasingly the likelihood of activation further down the line.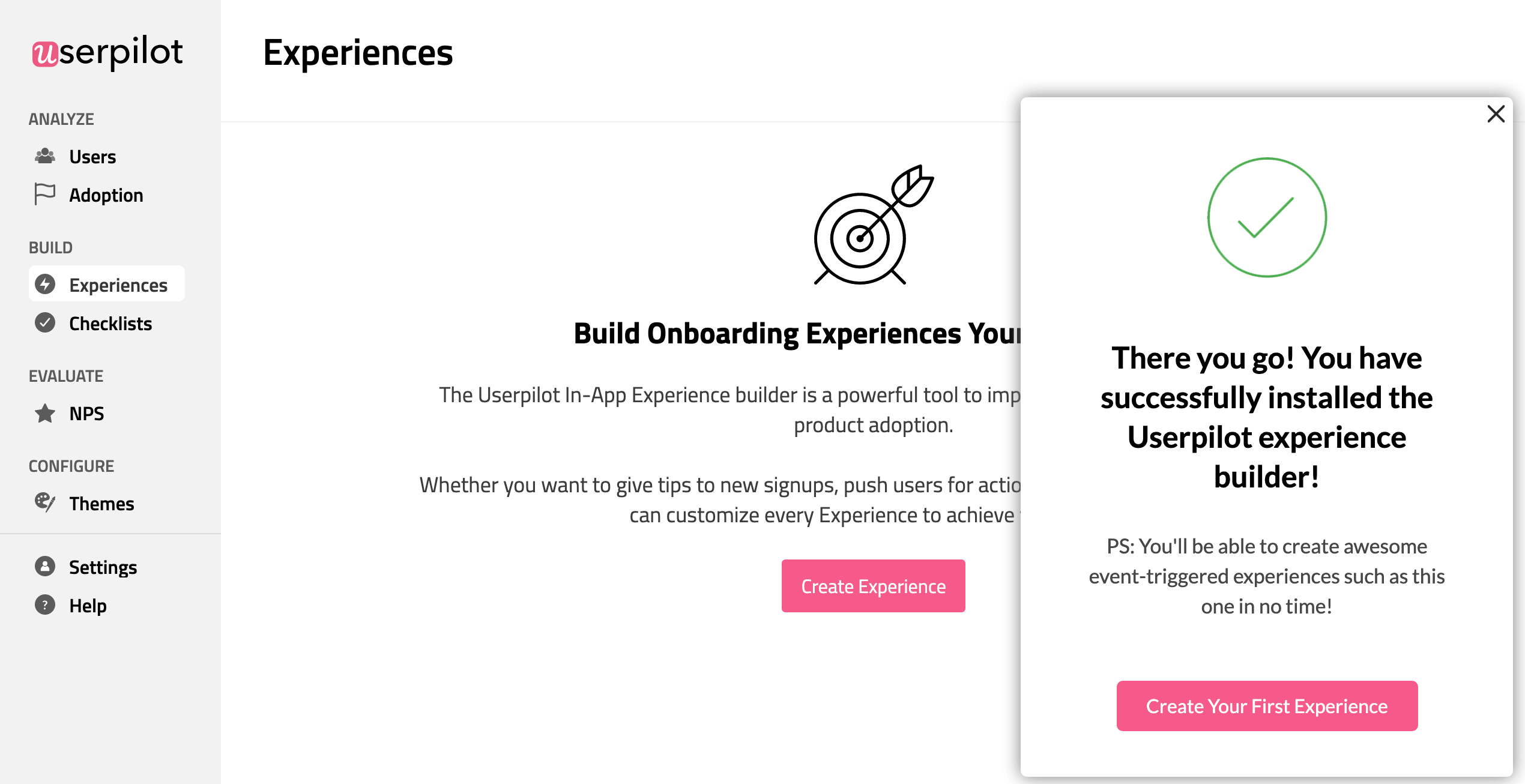 Once they've installed the Chrome extension, it's time for the user to get started with Userpilot. We prompt them to create their first experience with a simple slideout. Note that the CTA stands out with its bold color.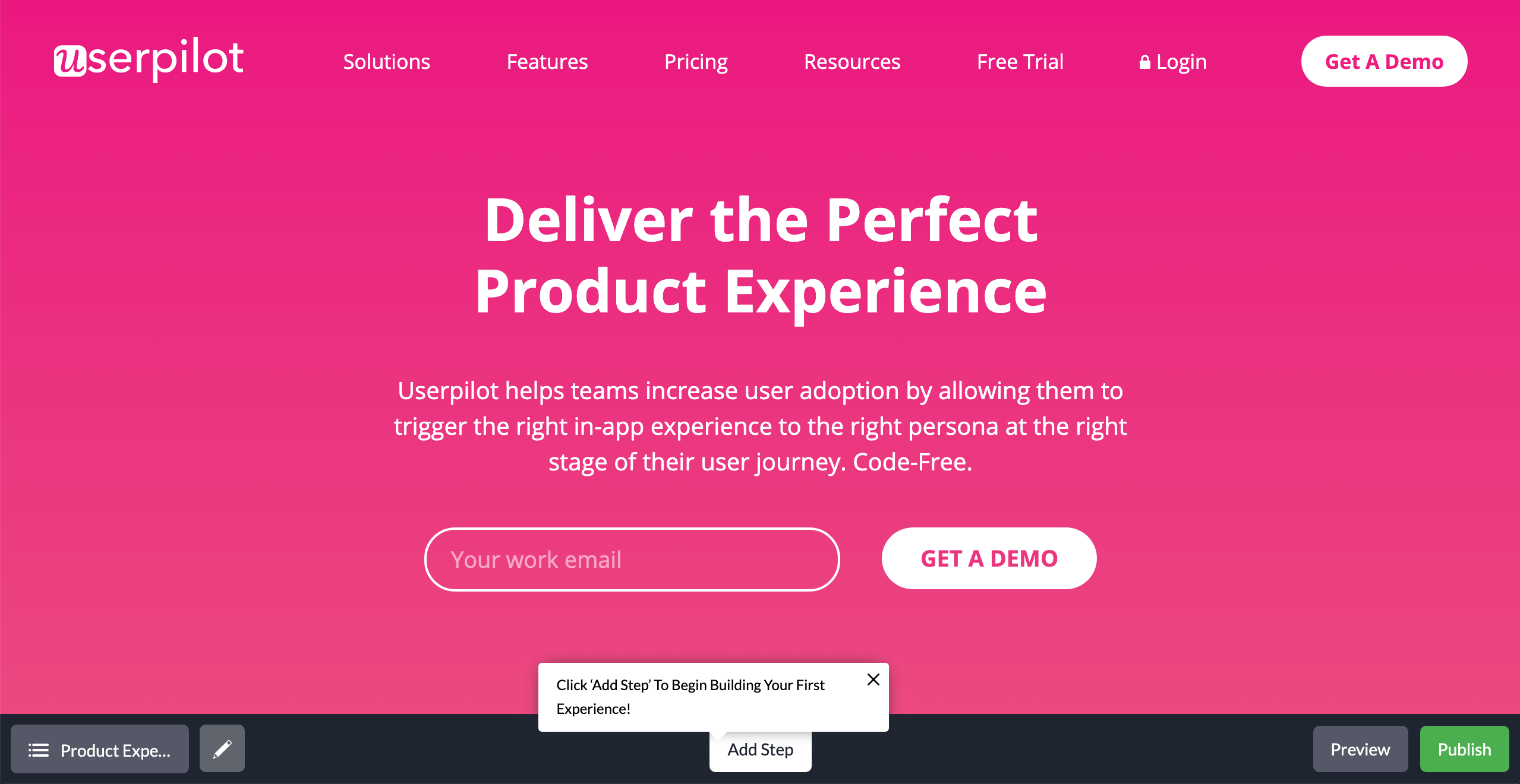 Users can then get started with our product right away, thanks to the interactive tour. It explains what the user needs to do, but ultimately they're the ones that do it. This way they learn by doing, and can start seeing value right away.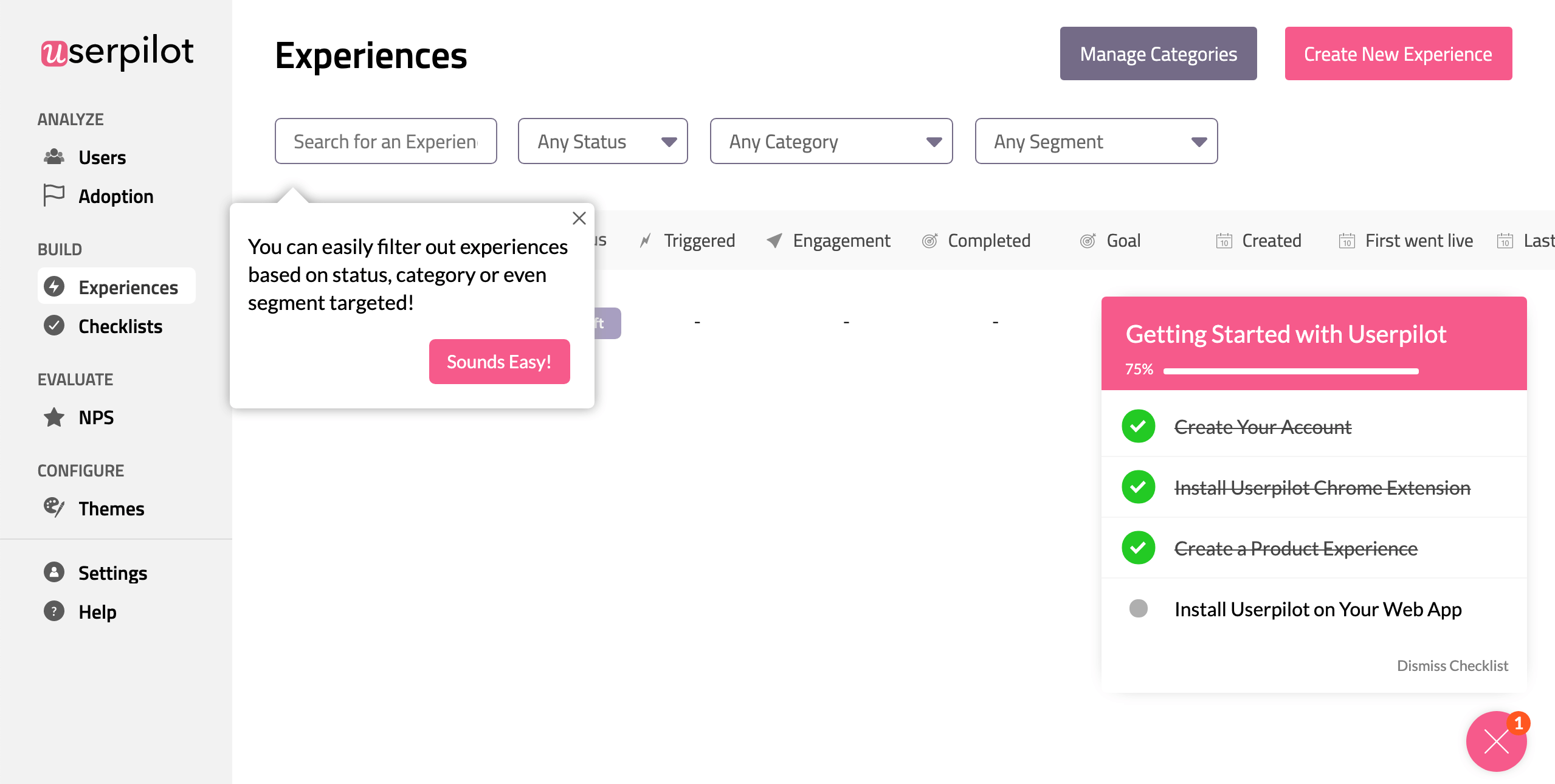 After users have worked through the initial interactive tour, they're shown a checklist. If they've installed the extension and worked through the tour, then they'll actually have completed all but one of the tasks. This means they can now focus on the final task, which is to install Userpilot on their app. 
What we love about Userpilot's onboarding:
Reduces onboarding friction as much as possible.

Focuses on the few key tasks required to reach the Aha! Moment.

Uses an interactive tour so new users can experience how Userpilot works for themselves.
RELATED:
5 Inspiring Interactive Walkthroughs to Reduce Time to Value
SaaS Onboarding Experience Example #6: StoryChief
StoryChief is a content marketing tool for startups, SEO marketers and editorial teams.
Here's a quick breakdown of their user onboarding flow:
Storychief includes a customer testimonial in the signup flow to demonstrate trust. This reassures new users that they've made the right choice.
The onboarding experience starts with a welcome modal. It includes a brief video that introduces you to the product.
StoryChief then provides you with a checklist that drives users to take a linear path towards activation.
What we love about StoryChief's onboarding experience:
Efficient use of testimonials in the signup process.

A beautiful and brief product tour to get you started with their UI.

Takes advantage of onboarding checklists to accelerate user activation.
SaaS Onboarding Experience #7: Salesflare
Salesflare is a popular CRM, designed to automate most of the work.
It employs an interactive walkthrough to help drive users towards the Aha! Moment.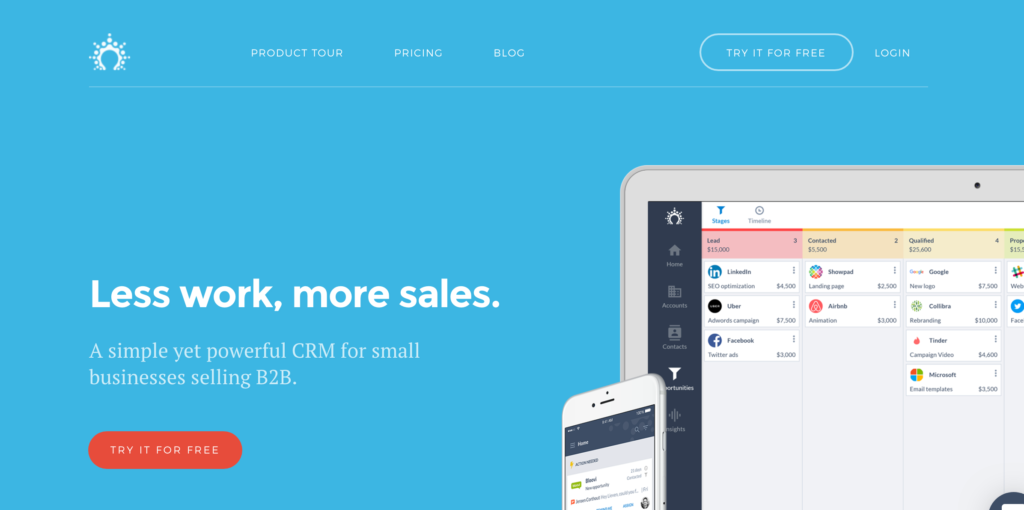 Salesflare's home page features a striking CTA button. The red button contrasts with the blue background, making it stand out further.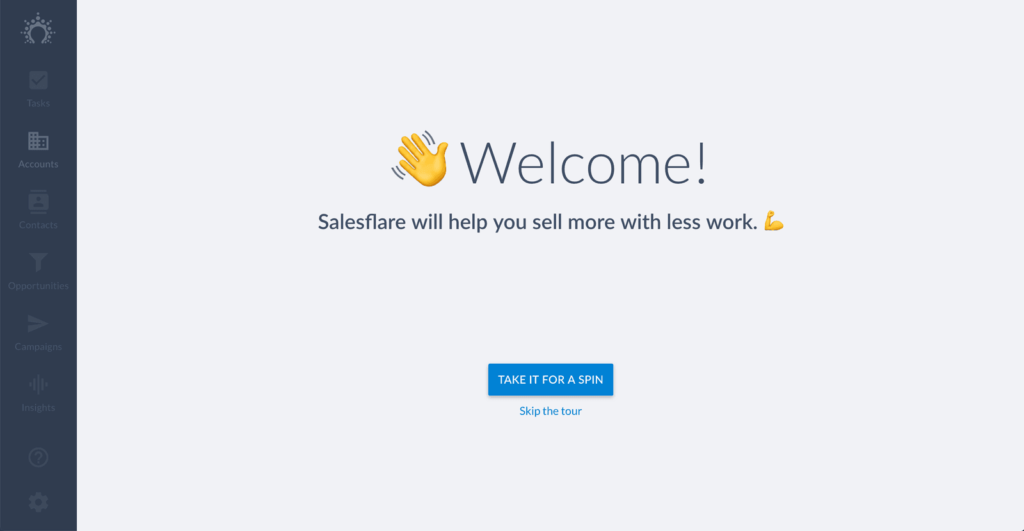 The welcome screen introduces you to Salesflare, and asks you to take the interactive tour.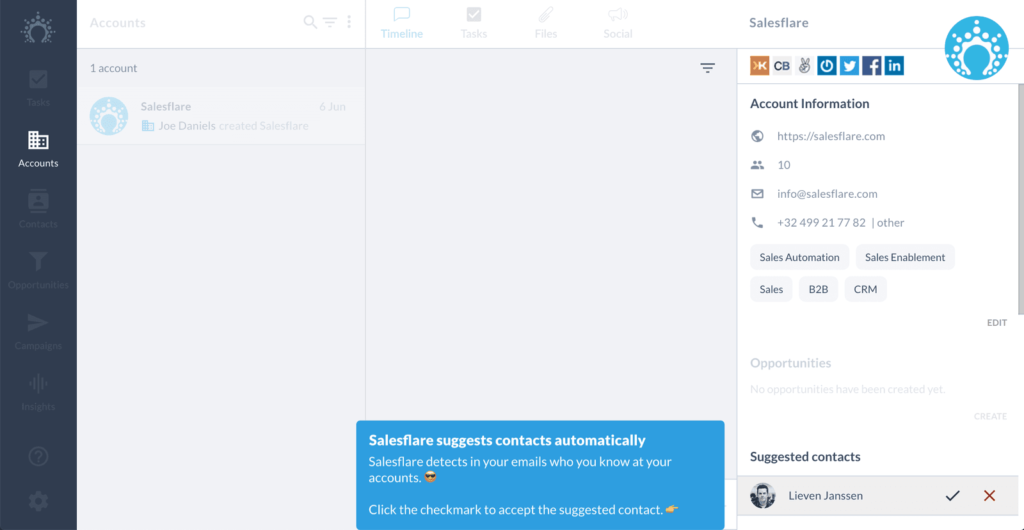 The tour then shows you some of the key features that Salesflare provides. The key part, however, is that you have to complete actions as you go along. This helps you to learn by doing.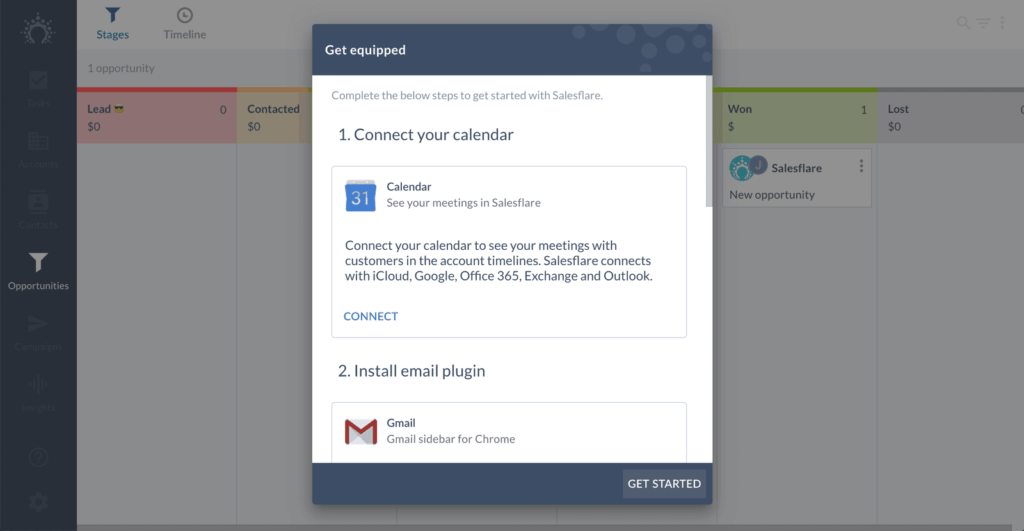 They've also added a checklist + help widget to educate the user.
They've everything to set up as a self-serve customer. 
Instead of an academy, they have a video library. 
At the end of the tour, right as you experience the Aha! Moment, Salesflare prompts you to connect with a range of different services. This is how they activate new users.
What we love about Salesflare's onboarding:
Uses an interactive tour so that new users learn by doing.

Prompts activation right as users experience the Aha! Moment.

A conversational approach to onboarding.
Best Onboarding Experience #8: Feedier
Feedier lets you collect valuable feedback by easily rewarding your customers.
Here are a couple of screenshots from their onboarding flow:
We love checklists, especially native ones. This one makes onboarding so much easier. You're even given a video for each step to provide more information if you need it.
A beautiful modal welcomes new signups and enables you to opt-in the product tour. Note how it reassures you that it won't take long (two minutes) to get started.