21 Best Customer Onboarding Videos For SaaS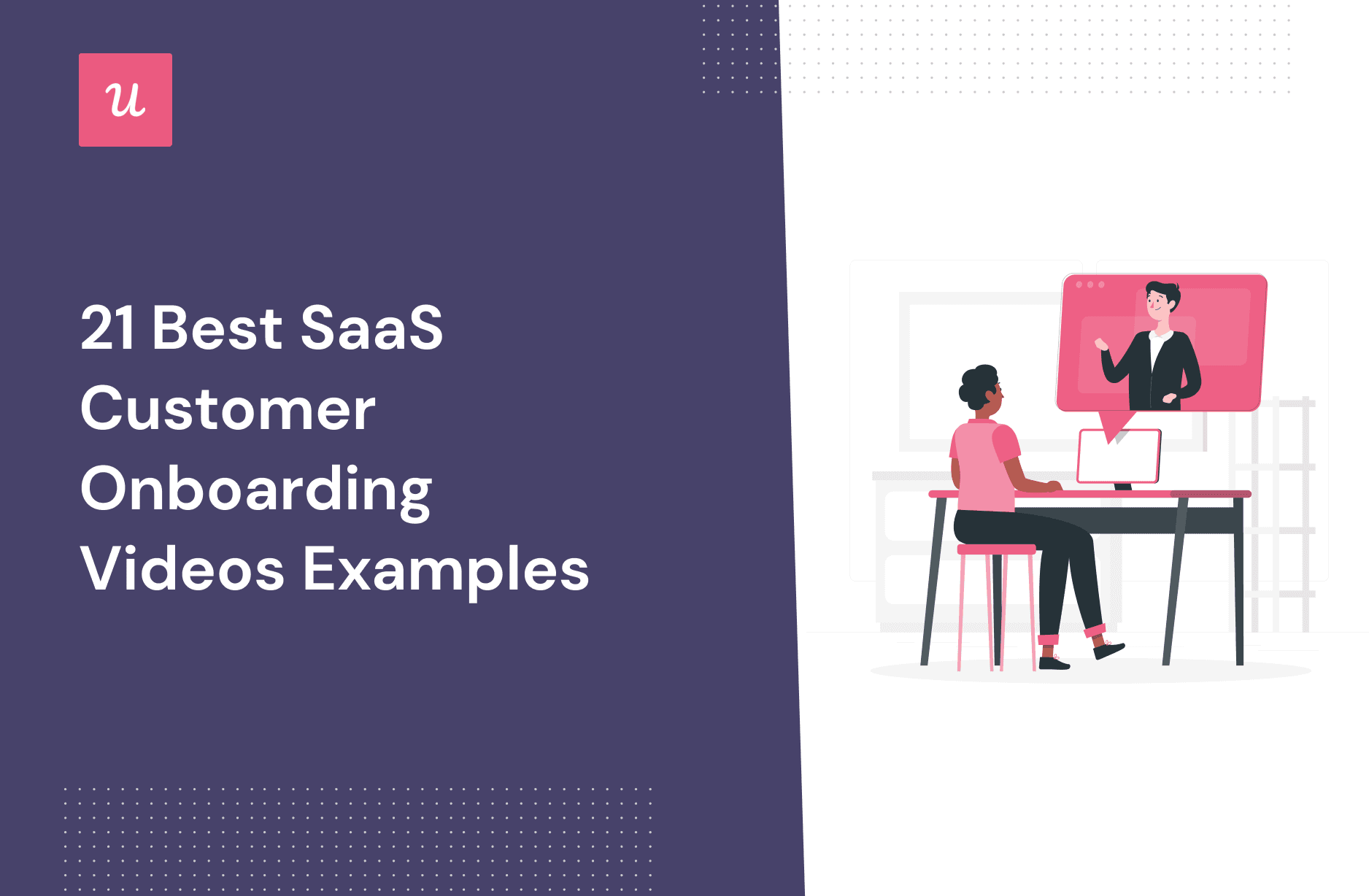 Looking for examples of best customer onboarding videos for your SaaS?
To capture user attention, SaaS companies are incorporating video as part of the customer onboarding process.
This is because people watch videos more than they read text. It's an effective way to educate new users and enhance the user experience.
In this article, we've compiled the 21 best SaaS customer onboarding video examples. Read on to see what makes each one great.
TL;DR
Customer onboarding is the process of welcoming new customers to your product and guiding them to successfully use it and get their job done.
An onboarding video is a great way to showcase your product and get them excited about using it.
The best customer onboarding videos do more than explain how to use your product. It can also help build trust, reduce churn, and increase customer satisfaction.
Use video to welcome new users and walk them through your product. Don't be afraid to show the benefits of your product.
Videos are an effective way to educate users across their journey. Use it to break down complex ideas that can't be conveyed clearly with text.
Announce new features with microvideos. Combine this with a persuasive microcopy, vibrant graphics, and a CTA to grab the attention of users.
Replace long product tours with short product demos like getting started videos.
Want to start embedding customer onboarding videos and engage users in-app? Book a Userpilot demo call with our team and get started!
What is customer onboarding?
Customer onboarding is the process of welcoming new customers to your product and guiding them to successfully use it and get their job done.
It's an important part of the customer life cycle, where users learn about a product, determine its value, and decide whether to use it or churn.
Why use customer onboarding videos?
Compared to text, videos convey more information in less time. It is a great way to share information in an engaging, visual manner.
Video can help explain complex concepts, show a product in action, and engage users without boring them with long text tutorials. Even better, videos tell stories that aren't possible with written words alone.
Customer onboarding videos also help to:
Make onboarding more engaging: it eliminates the need for long product tours and allows product teams to come up with creative ways to keep users excited.
Humanize the onboarding process: using a human face in an onboarding video is the fastest way to gain customer trust and communicate with them in a very personal way.
Easily absorb new info at their own pace: videos are great for independent learning and allow users to learn at their own pace without feeling rushed.
Reduce customer support costs due: onboarding videos double as self-serve support that users can refer back to when stuck.
Increase user retention: adding onboarding videos provides faster help. The sooner a user can find value in your product, the higher the chances of converting them.
When should you use videos across the customer onboarding process?
The answer is: as soon as possible. An onboarding video creates great first impressions. It is helpful when showcasing the value of a product to users on their first interaction, but also at different touchpoints in the user journey.
Here are the most common use cases for using videos during customer onboarding:
Welcome a new user: When people sign up for free trials, video onboarding is a great way to walk them through your product. You can demonstrate the many benefits of your products and help new customers understand what they're getting into right away.
Educate users across the journey and self-serve support: use videos to explain how features work or how to complete specific tasks, especially if they involve complex steps that can't be conveyed clearly with text.
Introduce new features: Using videos to introduce new product features is a great way to show their benefits. Combine this with a persuasive microcopy, vibrant graphics, and a CTA to grab the attention of users.
Offering short product demos: onboarding videos are a great alternative to long product tours. For example, getting started videos can be used as short product demos.
Best customer onboarding videos we've seen in SaaS
To help you create awesome onboarding videos, we've compiled 21 examples of great customer onboarding videos from SaaS companies to serve as inspiration for you.
Userpilot onboarding video guides example
Userpilot user onboarding videos as short guides that play in-app.
The videos work as tutorials for training users on how to interact with the features in the UI. They can be launched on-demand by the user from the integrated resource center.
Userpilot feature onboarding video example
This Userpilot video was created to showcase a feature, how to use the Synthesia integration.
The nice thing about this video is that it was actually built with Synthesia, an AI video creation tool.
The point was to showcase you can embed custom videos made with Synthesia in any UI pattern in Userpilot: modals, tooltips, or slideouts with a simple click.
Tolstoy recommendation onboarding video example
Tolstoy humanizes their onboarding experience by adding a personal touch and a friendly face. Rather than bombard a user's screen with videos, Tolstoy takes a more approachable route by providing video recommendations.
What else would you expect from a video creation tool?
Although they have a main help center, it can be easily replaced with these videos because they're more friendly. Each video starts with someone greeting you and inviting you to check out the recommended videos.
When you engage with the video, the full library of videos opens up. Each video has a friendly face, and a captivating microcopy, divided into sections for easy navigation.
Tolstoy getting started onboarding video example
Tolstoy spices up their onboarding process with different types of onboarding videos on every page inside the app. As you move through the app, you're greeted with short and sweet messages from real people.
Using human faces makes the brand more likable and reinforces its culture. It also supports the main purpose of the tool, which is to create videos. So, what better way to showcase the product than with different types of videos?
Tolstoy interactive onboarding video example
Use videos? Yes! Interactive video? Even better!
In the same way you can choose your journey path when you play games, and in movies too, "choose your path" is now the new thing during onboarding videos.
You can onboard and engage users at the same time with small videos too, just like this example from Tolstoy.
Rather than having a sequence of tooltips, why not use a sequence of interactive videos and let the user choose what they want to see next? This will work wonders in retaining new users.
Miro getting started onboarding video example
Miro onboards new users with getting started videos in their learning center.
However, they take a brilliant approach to engaging the user by including colorful graphics and great microcopy.
If you're thinking videos won't work for you, think again.
Miro adopts short gifs instead of videos. This works because their product is easy to use and doesn't have a steep learning curve.
Mural onboarding video example
Mural takes full advantage of its onboarding video to showcase its product, fill the empty state, and offer guidance.
Another great idea was adding a direct link to getting started in their resource center too, so that new users can easily find their way through the interface.
Loom contextual onboarding video example
Loom uses a modal with a short tutorial video to explain a premium feature and prompt users to take action and try it out.
The video is short, straight to the point, and has a human face, which gives it a personal touch. A great example of how you can use video to drive upgrades.
Loom getting started onboarding video example
Loom uses onboarding videos to fill the empty state with a comprehensive library of video guides. Users are welcomed with vibrant colors, stunning graphics, persuasive microcopy, and a friendly human face.
With videos like this, Loom keeps its users engaged and helps them get started smoothly.
Asana onboarding video tutorial example
Asana uses short video tutorials to help users understand the product and how to use it. These are embedded in their help center for easy access. Each video is short, sweet, and easy to find using the search bar.
Asana feature onboarding video example
Looking for a creative feature onboarding video?
The Asana feature onboarding video is a great example. It shows real-life interaction with the feature in a fun way to sustain user engagement.
The short video is embedded into a modal so it can be displayed in a contextual way.
Starting to see a pattern here? This is not the first example of using video inside modals.
If you want to add videos like Asana or Loom and drive new feature adoption (or even upgrades) give Userpilot a try. We can help!
Notion onboarding video example
Notion uses onboarding videos both as a welcome message and self-help videos.
All videos are uploaded to Youtube but embedded on the help page in Notion.
They use their product to build a comprehensible resource center with a lot of video and written tutorials so that the users can access them without leaving the app.
Having videos play inside the app (in this case Notion) is a great way to keep users engaged with the product even after they watched the video.
Slack onboarding gif example
Using videos to onboard users is great, but sometimes a short gif can easily get the job done. We've already showcased Miro doing this.
This is what Slack has done too, in this onboarding gif. The point is to have something more interactive and visual compared to simple text.
So if a video is not really needed, always prioritize short gifs over text.
BacklinkManager onboarding video example
BacklinkManager welcomes new users with a welcome screen video to help them get started.
They pair this short intro video with a microsurvey to better understand what the new customer is looking for. This gives them the right data to personalize their experience moving forward.
Basecamp onboarding video example
Basecamp introduces a bold, welcome screen modal to give users a quick intro to the tool and list the main things they can achieve with it.
Basecamp further humanizes the onboarding experience by including a video of a person to hold the attention of new users.
Google Drive onboarding video example
The Google Drive onboarding video is short, sweet, and covers everything needed when getting started with Google Drive.
It is great for someone who has zero clue as to what Google Drive is all about.
If a tech giant is using it, maybe it's time you consider video no matter how simple or complex your tool is.
Monday.com onboarding video example
Monday uses tooltips with short videos inside that showcase features on the product's UI.
Yes, that's right! Onboarding videos inside tooltips.
They bring life to their onboarding by showing the user how to use the feature instead of just telling them.
However, this approach might not work if your video has a lot of details that can't be seen on a small screen.
ClickUp onboarding video example
ClickUp combines a modal and an embedded video to nail its new feature introduction.
Although the video is great, it's a bit too long for a modal (using 6.59 min to introduce a feature is quite long).
What they could've done instead was shorten it and invite the user to read more, instead of displaying the entire thing at once.
Happyscribe onboarding video example
With Happyscribe, users can transcribe video content into text within seconds.
When using the tool for the first time, or waiting for a video to process, you get a personal welcome and intro from the founder, telling you about the tool and setting the right expectations.
The message is really genuine and keeps you engaged while waiting. This way, you can learn more about the tool and, at the same time, not get annoyed.
Convertkit welcome onboarding video example
The Convertkit welcome video is the perfect example of an onboarding video done right. It is a personal, human, and short welcome message for new users.
They added the video content to a beautifully designed UI to give it a human touch and enhance the customer experience.
Poptin onboarding launch video example
With the competition for users' attention on the Product Hunt website, Potpin's video is a nice way to stand out.
This new feature announcement video helps users discover product benefits before trying them out.
Compared to other onboarding videos, Potpin adopts a fun, colorful approach to help users discover the value of a feature and reach their "aha" moment without getting bored.
Conclusion
There are different onboarding techniques, but video onboarding is getting more traction than ever.
With video, it's easy to onboard users while explaining certain features in an interactive way that also brings a human touch to the experience.
Now you have some great resources for inspiration.
Want to start embedding customer onboarding videos in-app? Book a Userpilot demo call with our team and get started!