[CASE STUDY] How Sked Social Tripled Conversions with a Checklist

One of the most popular onboarding elements that Userpilot customers use is the checklist.
Checklists provide users with a series of tasks they must complete if they want to make the most of your product.
It's a very effective way of guiding users through your product and towards activation.
Sked Social found that when their customers completed the checklist, they converted 3x more than customers who did not complete the checklist.
Let's take a look…
How Sked Social onboards new users
When you first sign in to Sked Social, you're presented with a pop-up modal. This introduces you to the first task which is to add your first account.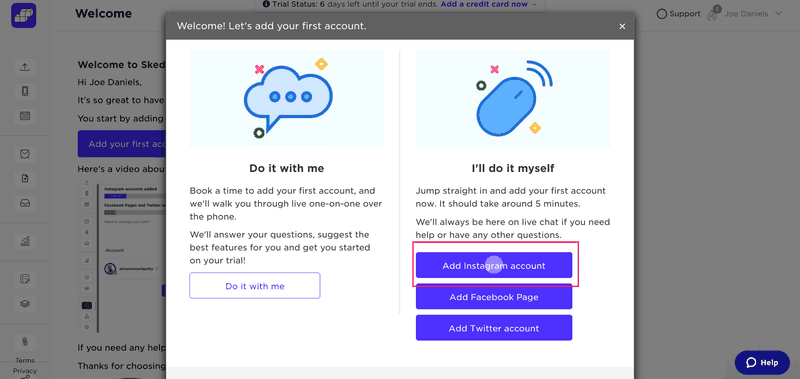 You have two choices here. Either you can arrange for a one-on-one call to walk you through it or you can follow the onboarding sequence.
Once you've connected your first social account, you're redirected to the main dashboard.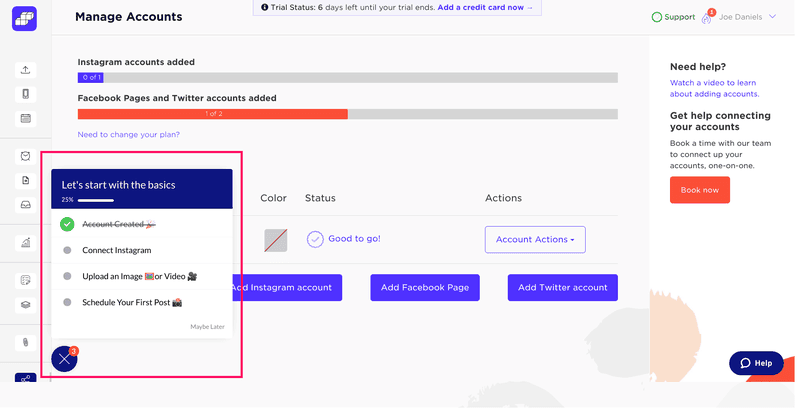 The onboarding checklist opens up automatically to grab your attention. There are several things worth noticing about the checklist.
Firstly, it only contains four tasks. It's important to keep tasks to a minimum, or else you risk scaring users away and over-complicating your product. You should think about the key tasks a user must perform in order to start getting value.
Secondly, it uses a couple of psychological tricks to increase the chances of a user completing the checklist.
It includes a progress bar, enabling users to see how much more they have left to do. It's nice to see a progress bar fill up as you go along.
The other little trick is called "endowed progress". This is where a task has already been checked off the list. In this case, the first task, "Account created" was the first thing you did after signing in.
By checking off the first task, you feel like you've already made good progress.
Clicking on a checklist task directs you to the relevant page. If, for example, you click on "Upload an image or video", you're transported to the "Upload" page.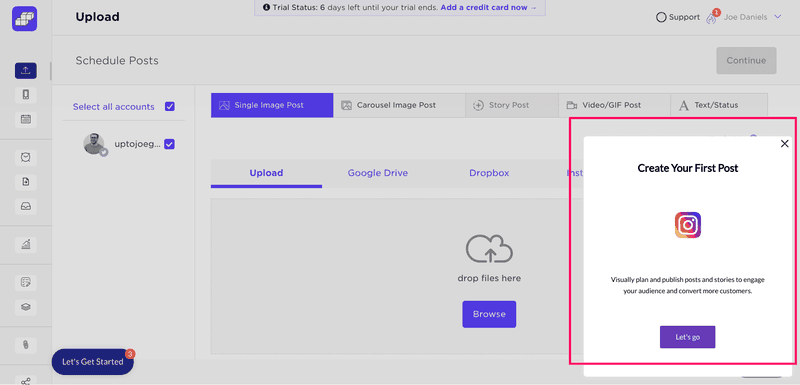 Here, you're shown a slideout that asks you to "Create your first post". You can then follow the steps to add your first image and complete the task.
It's important that you don't just list tasks and expect users to know how to complete them. By linking checklist tasks to other onboarding elements, such as product tours, you can better educate your users.
Once you've completed all the items on the checklist, you're shown a congratulatory message.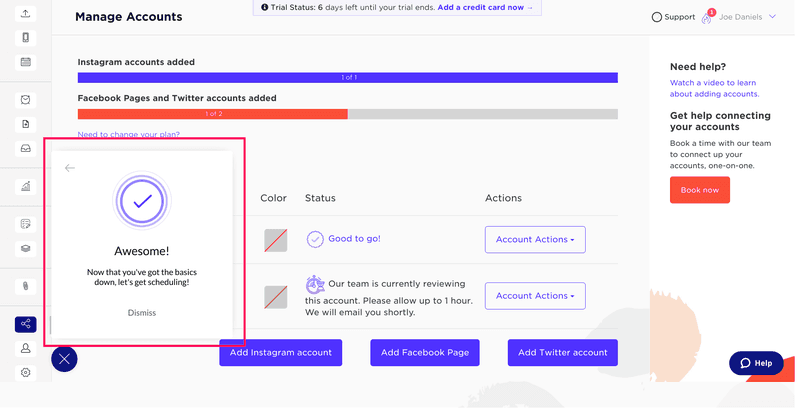 It's nice to give your users a pat on the back and celebrate their success. It helps establish the relationship between your users and your product.
With a simple checklist, Sked Social are able to quickly onboard new users and offer instant value.
So how well did it work?
What do the numbers say?
Sked Social saw 3x higher conversions when users completed their checklist.
In other words, a user who completed the checklist was over 3x more likely to become a paying customer.
Clearly adding the checklist was worth the investment.
Get started with a checklist today
If you want to improve your product's conversion rate as soon as possible, there are two things you need to do.
One: Grab your free trial of Userpilot and get set up.
Two: Use Userpilot's code-free onboarding platform to create your checklist.
Easy.
Oh, and if you want to learn more about how to make the perfect checklist, then here are some tips and tricks.