The 16 Best Product Management Tools Ever [In-Depth Guide]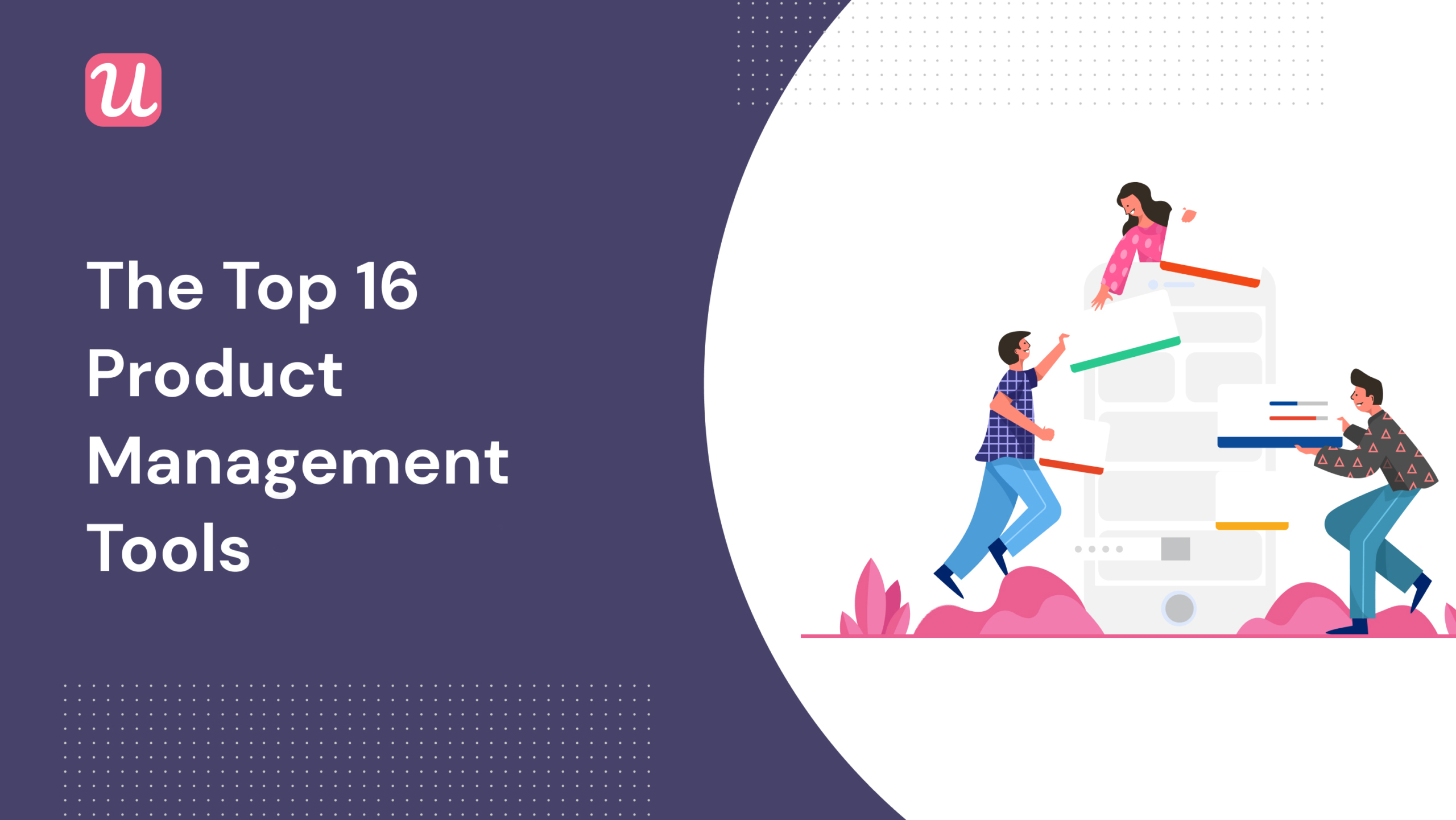 The SaaS industry continues to grow at an exponential rate. The good news: You can tap into that growth. Hopefully, the management tools we're covering will help you build better products!

We've split the tools into different categories, so feel free to jump ahead to whichever kind of product you need!
Best product management tools for prototyping and UX
Product management tool #1 – Userpilot: the all-in-one tool
We're a little biased, but Userpilot deserves a place on this list. It has tons of great functionality. You can customize your onboarding flows, analyze user behavior, and use in-app messaging to drive engagement and optimize the user experience. 
The best part about Userpilot is that it's code-free. For product managers who are a little less technical, this is a great feature to have. It means that you can hop in and make changes to your onboarding UX without having to mess around with code. This is way more efficient than relying on your already busy dev team.
Userpilot also prides itself on contextual onboarding. This is where your onboarding meets the individual needs of your users. You show the right message to the right users at the right time. This is far more effective than boring product tours or forcing users down a certain path.
On top of the great UX functionality, Userpilot offers product analytics. You can see how your users are progressing with your product and identify where your onboarding is falling short. Product managers can also collect additional user feedback in the form of an NPS survey. Userpilot makes it easy for you to find all your project management and collaboration tools needs. 
Contextual onboarding is one of the most effective ways of improving product adoption and customer retention. Userpilot is the only tool that can help you do that.
Want to learn more? Book a demo today!
Product management tool #2 –
InVision
While a pen and paper are great for those initial wireframing sketches, eventually you need something a bit more detailed. That's where InVision comes in.
InVision is a product design platform that makes it easy to create incredibly detailed prototypes. You can add interactions so that other team members can see the functionality. This is also useful for testing your product before committing to a specific design.
Product managers can also use InVision to gather user feedback from other team members, and collaborate with them on your designs. A particularly useful feature is the "Digital Whiteboard". This is essentially a large virtual space where you can discuss ideas and make notes on your designs. It's like having everyone in the room at the same time, which creates a better user experience and makes it easier in terms of project management.
Once your design is done, you can hand it over to your dev team. InVision will give them everything they need to add your design to your product. InVision helps teams by making their lives a whole lot easier.
InVision was built by designers for designers, making it the perfect tool to prototype your product with. You can get started with a free trial today. 
Product management tool #3 –
iRise
UX design often requires input from a lot of different people. It isn't just you product managers; it's also designers, writers, researchers, and devs. iRise helps you manage all of the inputs that these people will have.
You can start by consolidating all of your user stories and flows in one place. As you develop these and transform them into actual product designs, you can start to build your product strategy from idea to finished product. This is really useful for justifying your decisions as product manager.
Where iRise shines is with its collaborative features. Anyone with access (stakeholders, team members, etc.) can look at your designs and provide feedback. It's a great collaboration tool that helps teams with data management and team communication. They can also give you detailed requirements so you can start figuring out how to implement their needs into your product and product roadmaps.
It's always hard to keep track of different inputs when it comes to your UX design. iRise makes it much easier.
One of the hardest things about prototyping and product design is that the tools have a difficult learning curve. iRise, however, prides itself on its ease-of-use, making it a great tool for those new to product design. You can get started with a free trial today.
Product management tool #4 –
Typeform
Typeform is our go-to when it comes to simple customer surveys. The minimal UI, and the way it presents questions one at a time make filling them out a breeze. The easier a form is to use, and the nicer it looks, the more likely you are to get a useful set of answers from your users. Customer support has never been easier to implement! 
But don't let the simple UI fool you. Typeform has a lot of useful tricks up its sleeve. You can implement logic jumps, and personalize your survey with your user's name and other details. Typeform's integrations allow you to connect with the likes of Hubspot or Mailchimp so that you can carry on the conversation. You can also integrate with Google Tag Manager or Facebook's pixel, enabling you to remarket to users who fill out your survey.
The simple UI makes Typeform stand out from other survey tools, and that's why it deserves a place on this list of product management tools. You can get started with a free trial today.
Product management tool #5 –
Feedier
One of the most common issues with collecting user feedback is that people won't always do it for free. If you're willing to pay for feedback, Feedier makes it a pain-free process.
Feedier enables you to add an element of gamification to your user feedback surveys. The more feedback your customers give, the more points they earn. Those points can then be traded for prizes, including discount codes, exclusive events, or even actual cash.
All of this gamification will mean you collect a lot more feedback. Feedier then helps you manage the feedback. You can segment customers into groups depending on their responses (which is helpful for your customer support team too). For example, one segment might contain users who gave poor feedback. You can then easily follow up to see how you can help them. Your help teams will thank you for it! 
You can also download the responses as custom reports, so you can dig into the data you collect.
Feedier gamifies customer feedback, increasing both the quantity and quality of the feedback you receive. That's why it's a great tool for product managers who struggle to capture enough feedback.
Best product management tools for user testing
Product management software #6 –
UserTesting
UserTesting is a valuable tool for any product manager who wants to understand how people actually interact with their product.
You start off by finding your ideal users. UserTesting has a vast panel of people from around the world. You'll be able to find someone who matches your user persona as closely as possible and build better user stories.
You can then choose from pre-formatted tests, or create one of your own. Your chosen users will then use your product, completing the tests and questions you provided. You can even follow up with a 1-to-1 video call in less than 24 hours. This gives you the opportunity to ask further questions and really dig into the answers they provided to help refine your product strategy. 
If you don't have much research experience, then UserTesting's research experts are on hand to help you with any queries. By the end of the process, you'll have some incredibly useful data which you can use to improve your product further.
UserTesting offers a very comprehensive way of testing your product, making it the perfect product manager tool for Enterprise companies.
Product management tools #7 –
Userfeel
One of the best ways to test your product would be to get inside the mind of your users as they interact with it. While that's not quite possible just yet, Userfeel provides the next best thing.
It enables you to watch videos of people trying out your product, speaking their thoughts aloud as they go. This gives you an amazing insight into what users think.
The video can then be easily shared with any other team members who need to see it. If people don't have time to watch a load of videos, then you can share a transcription with them instead. Share it with your management team to improve team communication. 
You can even create a "highlights" package that takes all of the key learnings and puts them into one digestible video — perfect for busy stakeholders.
Userfeel's insights into your product are extremely useful, and will help you make the improvements you may have otherwise missed out on.
Userfeel is a little more basic in terms of feature set, but what it does do it does well. This makes it a great entry-level tool for startups and SMBs.
Best product management tools for session recording
Product management tools #8 –
Hotjar
Tried and tested by loads of top SaaS companies, Hotjar is a must-use product for product managers. It provides you with some important insights into how people use your product.
One of the best features is the ability to see heatmaps. There are a few different types, including scroll, movement, and clicking. This enables you to see how your users behave, giving you a good understanding of where your product might need improvement. You can also watch screen recordings of your users interacting with your product.
Hotjar also offers several ways of collecting feedback. You can integrate a number of different surveys, including NPS, into your product and start collecting valuable customer feedback to refine your product roadmaps.
Alongside the feedback capabilities, there are some powerful analytics. You can visualize your product's funnel, and watch how many people activate, adopt, and convert. This shows you where the big gaps are that you need to fill.
Hotjar has a free plan, so startups and SMBs can start recording sessions right away, with none of the costs that other product management tools have.
Product management tools #9 –
LiveSession
LiveSession is similar to Hotjar in that it enables you to see exactly how your users interact with your product. LiveSession's focus is on screen recording. You can watch your users' sessions back, and see their interactions.
LiveSession also calculates an engagement score, based on how much a user interacts with your product. This is generated for you automatically and can provide a good barometer for how engaging your product is.
Another useful feature is the ability to detect "rage clicks", where a user clicks multiple times on the same button or element. There's a good chance that you need to address something on this part of your product.
LiveSession provides you with a lot of data, but fortunately, you're able to segment it and dive down according to your current priorities.
Livesession provides excellent customer service, and the easy integration is what separates it from the other tools on the list.
Product management tool #10 –
FullStory
FullStory, as the name suggests, enables product managers to see the full story. It provides a bigger picture view of how people are using your product.
FullStory's session replays are extremely clear. Rather than providing a video, it recreates your actual product, so you see it exactly how your users saw it. It also pulls in user data from your product, so you can see any relevant information as you watch their session.
While FullStory (and the other session replay tools) primarily focus on websites, FullStory does claim that it can work with a wide variety of set-ups, including React and Angular. Chances are it'll work with your product too.
A final feature worth mentioning is FullStory's integration with Slack. This enables you to share sessions with other team members with a click of a button. This makes collaboration even easier.
The key difference between FullStory and other session recording tools is that FullStory offers a pixel-perfect view of what your users see. This is far more accurate and enables you to better assess what went right or wrong.
Best product management tools for feedback management
Product management tool #11 –
Canny
One of the biggest difficulties with customer feedback is that you have nowhere to consolidate it all. Canny aims to solve that.
Firstly, you can use Canny to collect feature requests and ideas. Any feedback is linked to your existing users. Other users can then vote for those ideas. You and your team members can also comment privately to add your thoughts. Any feedback boards can be made private or public depending on who you want to view them.
You can then create a simple roadmap using the ideas generated by your users. Any users interested in a feature request will be kept updated on its progress.
Finally, Canny offers you a simple changelog. You can communicate any new feature releases or updates to your users, closing the feedback loop.
Canny is aimed at SMBs, and the transparent nature of the product manager tool means it will be a hit with your users.
Product management tool #12 –
Airfocus
A key part of product management and project management is prioritization. For some reason, there isn't a great deal of choice out there when it comes to prioritization tools. That's what makes Airfocus so useful.
Airfocus offers a wide range of prioritization templates, enabling you to get started right away. You can customize it with your own cost and value drivers, and Airfocus's algorithms will calculate your priorities.
Once Airfocus has calculated your priorities, you can create your roadmap within minutes. It offers a simple drag and drop interface, and you can also attach team members to different features or jobs. You can also share your roadmaps with relevant team members or stakeholders so that everyone is kept in the loop.
Airfocus is a product roadmap tool perfect for SMBs, and for less experienced product managers or team members. The built-in templates make getting started as easy as possible.
Product management tool #13 –
ProdPad
ProdPad claims to offer everything a product manager needs. It starts with collecting feedback. You can connect a wide variety of other tools like Intercom or Zendesk to ProdPad, collating all your customer feedback in one place. You can also collect feedback using ProdPad's in-app widget.
You can then use ProdPad to uncover what your customers want the most. ProdPad generates a handy chart showing priorities. You can filter down by desire, freshness, internal voting, or create your own custom filters.
Finally, you can publish a roadmap using the priorities you uncovered with ProdPad. It's a lean roadmap that gives a good overall view of where your product is heading, without committing to hard deadlines. You can also close the feedback loop by creating a list of interested users, reaching out to them once a feature is released.
ProdPad is better suited to larger Enterprise companies. The flexibility and customization means you can easily adapt it into your existing workflows.
Best product management software for roadmaps
Product management software #14 –
Productplan
Productplan helps you to build a roadmap as quickly and easily as possible. That's because it simply pulls in all of your items from JIRA or spreadsheets. You can then drag and drop them into position.
Of course, Productplan also enables you to go into more detail. You can add connections to show how different items on your roadmap are related. This helps you keep the bigger picture of your product in mind.
It's also important that you can share your roadmap with different people. Productplan allows you to share different versions of your roadmaps. You could, for example, share a detailed version with stakeholders, and a simplified version with customers.
ProductPlan is perfect for Enterprise companies. You can see the bigger picture, but also dive deep into details. It gives everyone on your product team the information they need.
Product management software #15 –
Casual
Casual isn't like other product management tools. In fact, it's more of a project management tool. Having said that, it offers a useful way of managing aspects of your product.
Instead of dealing with confusing Gantt charts or Kanban boards, Casual enables you to create simple workflows. These look more like a mindmap than a spreadsheet.
You can separate your product into different workflows, and assign each team member to their respective tasks. Any progress that your team makes is updated, enabling you to track your progress at a glance.
Casual is the perfect management system for startups or SMBs who don't want to tie themselves down to Gantt charts or Kanban. Casual can adapt to any project management needs or workflow.
Product management software #16 –
Roadmunk
Roadmunk is a powerful product roadmap tool for product managers who want greater control. Firstly, you can switch between different views. You have the standard "timeline view", a "swim lane view" for more agile teams, and a "master view" for the bigger picture. You can sync Roadmunk with JIRA to pull in your data.
You can then add any dependencies and connect items on your roadmap. As a product manager, you can also create hierarchies of epics and stories. A useful feature is the ability to see a progress percentage for each item on your roadmap, enabling you to quickly assess how things are going. This is great for your project management needs. 
Individual teams can also construct their own product roadmaps, which are then merged into the master view for you to oversee. Roadmunk also makes it easy to share your product roadmaps. You can create different views for different people, export them as deck-ready PNGs, and even add deadline dates for further granularity.
Roadmunk is a management system that is extremely easy to use. That, combined with the relatively low price point, makes it a perfect tool for startups and SMBs.
Hopefully, you now have a better idea of the best product management tools out there to help you build better products. It's worth keeping in mind that the majority offer free trials or plans, so you should try them out and see which feels right for you!
If there are any great management tools that we've missed off our list, be sure to let us know.
Oh, and if you want to give Userpilot a try, we'd love to show you around! Book a free demo by clicking the banner below!