The new trend of product-led growth in the SaaS world flips the old marketing and sales rulebooks on their heads.
Product marketing is a large part of this shift. With software development becoming cheaper and more and more democratized, the competition in the SaaS market has become fierce. And so – the purchasing decisions are now made by the end-user – not execs.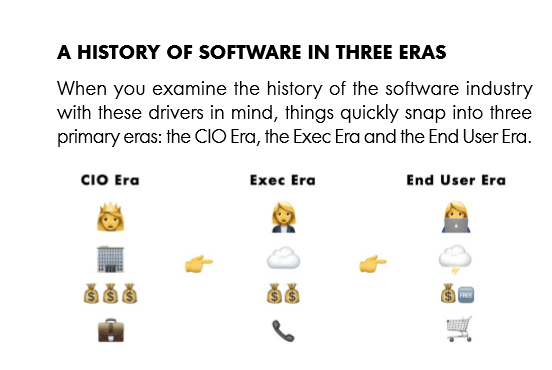 In recent years, product marketing has become a standalone sub-team of SaaS marketing departments. As you can see from the Google Trends graph below, the number of searches for "product marketing manager" has steadily increased over the past five years.

So what does this mean for you and your SaaS? Mostly it means that if you haven't yet sat up and started figuring out your product marketing strategy, then you really should.
In this article, I'm going to show you:
Let's dive in…
What is product marketing?
First of all…how is product marketing different from traditional marketing?
In the words of Dave Gerhardt of Drift:
Traditional marketing focuses on acquiring and converting customers. … They also promote a company, its brand and ensure the consistency of the marketing message. Product marketing on the other hand focuses on marketing to customers, driving demand and adoption, all with the goal of creating happy, successful customers.
As you can see from Drift's definition – product marketing focuses on promoting your product by delivering an excellent user experience to your existing customers, rather than building brand awareness through content or paid advertising. In the product marketing paradigm – happy customers drive new customer acquisition through the word of mouth. Hence – it is crucial to keep 'marketing' your product to your existing customers – and ensure they keep using your product and discovering its secondary features: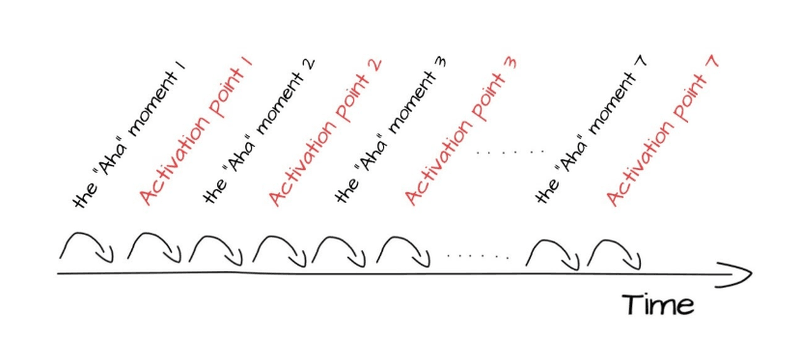 Higher adoption means your customers derive more value from your product.
This, in turn, leads to higher satisfaction levels in the existing customers.
RELATED: Customer Lifecycle Marketing Guide: How SaaS Companies Can Optimize for Each Stage
In addition, according to Hubspot, "Product marketing is the process of bringing a product to market, promoting it, and selling it to a customer."
In other words, product marketing is laser-focused on your product.
That means it doesn't include brand awareness. It also means product marketing focuses on improving the product, customer experience, adoption, and retention – rather than strategies and specific tactics for customer acquisition.
The three pillars of product marketing
Hubspot's definition can be broken down into three distinct parts.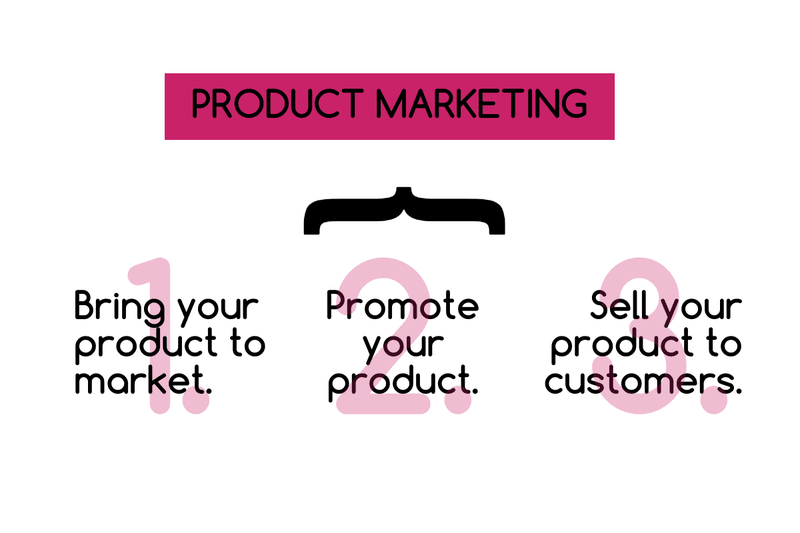 Firstly, the process of bringing a product to market.
The process of bringing your product to market involves making sure you know the market that your product inhabits, and knowing who your ideal customers are. It also involves positioning your product. You need to figure out your USP and focus your product marketing strategy around it.
RELATED: 6 Product Positioning Strategy Misconceptions in a SaaS Business (and What You Can Do About Them)
Secondly, the process of promoting your product. If you simply launch your product without telling anyone it exists, then you probably aren't going to sell very much.
Finally, the process of selling your product to a customer. If you launch your product and promote it well, you still need the final push that gets the customer over the line.
To do this, you need to have a great sales process in place, and your product needs to be amazing. You need to make sure you onboard your users effectively.
These three pillars of product marketing explain the process from start to finish.
Where does product marketing fit in?
When you consider the definition of product marketing, you realize something a little strange.
While most of the processes involved are clearly related to marketing, there are some parts that touch on other areas of a SaaS company.
Product positioning, and the overall quality of the product, don't strictly fall under the umbrella of marketing. Likewise, the final push to purchase isn't really down to marketing either.
It turns out that product marketing actually encompasses parts of different departments. Namely, it's a mixture of marketing, sales, and product.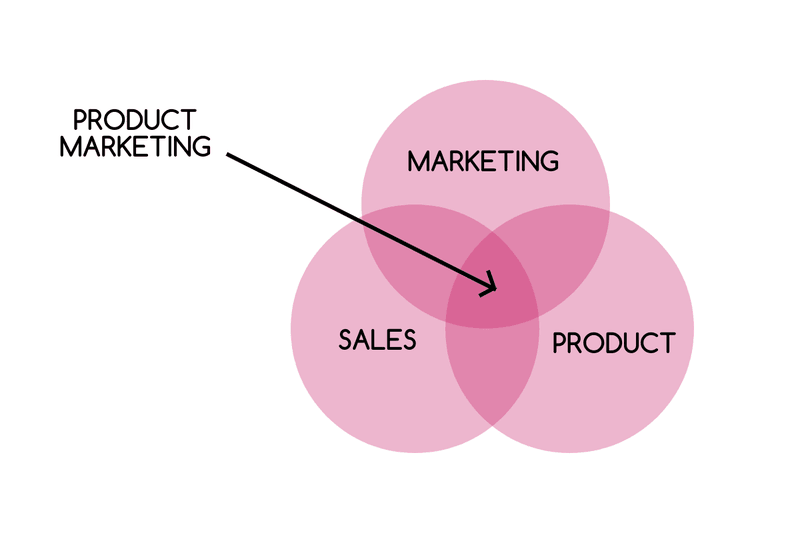 As you can see from the diagram above, each of these three departments combines their skills.
The cross-departmental nature of product marketing is what makes it so crucial to SaaS success.
So let's look at exactly why product marketing is important…
Why is product marketing important for SaaS companies?
In B2B, purchasing decisions are a lot more rational and less impulsive than in B2C. People don't buy software products on a whim, they buy software to solve some of their pain-points effectively. That's why SaaS marketing focuses on the benefits of using the product.
Product marketing, when done well, forces you to think about your marketing more strategically – how the different features of your product solve the pain points of your target customers. Also – who your target customer is, and how your product stacks up against the competitors in terms of meeting the needs of your target customer.
Doing this not only helps you sell more, but gives you a better idea of how your product fits in the landscape and how it stands out from your competitors. In other words: it allows you to position your product better.
Let's look at some of the benefits you get from product marketing…
Increased sales
When you focus on your product – and making sure its features really provide value to your target audience – it's much harder to overpromise and underdeliver than in the case of traditional marketing.
Also, great product and constantly attending to the satisfaction of your customers drive Word of Mouth Marketing (WOMM) – which according to a study conducted by Nielsen is a lot more effective than traditional advertising – 92% of consumers believe the recommendations of people they know more than advertising.
All this translates into more sales, and higher customer retention.
Better cohesion and cooperation
A common problem, and not just in SaaS companies, is that when sales are down, teams blame each other. Sales teams say that Marketing teams aren't giving them enough leads. Marketing teams say that Sales teams aren't closing enough deals. But this doesn't really help anyone.
Product marketing brings teams together with a shared goal, and a shared roadmap of how to get there. Everyone will know how much product they need to sell, and how they can all help reach that target.
By removing the barriers between teams, product marketing enables better cooperation.
Improved customer understanding
Part of a successful product marketing strategy involves having a detailed understanding of your customers. You need to know who they are, what they want, and why they want it.
Usually, this information is a little spread out around the company. The Product team will have their research and insights, the Sales team will have spoken to existing customers and prospects, and Marketing will have their own ideas.
Product marketing brings these insights together to provide a comprehensive view of your product's customers. This knowledge will prove to be extremely valuable.
Those are the three main benefits of product marketing, and hopefully you now realize that product marketing is absolutely crucial to any SaaS company.
But if product marketing is a cross-departmental effort, who is ultimately responsible for it.
Let's find out…
Who is responsible for product marketing?
As I've mentioned already, product marketing often crosses different teams, especially Product, Marketing, and Sales teams.
Of course, it's hard for three different teams to work together with the efficiency needed for product marketing to truly work. That's why you need someone to own it.
That's where the humble product marketer comes in.
What is a product marketer?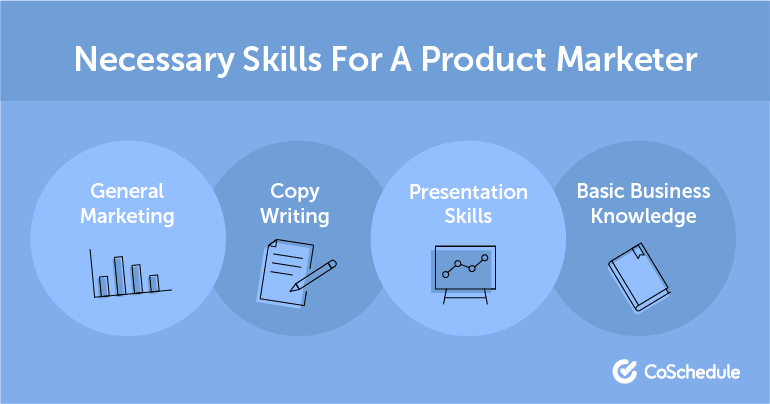 A product marketer is someone who is ultimately responsible for creating and implementing the product marketing strategy.
They have several responsibilities and tasks across the three teams I've mentioned: Product, Marketing, and Sales.
Having a dedicated product marketer helps remove the inevitable friction that occurs when multiple teams have to work together. It means you have someone who knows the product marketing strategy inside-out and can make sure everything runs smoothly.
Since product marketing is quite 'inter-disciplinary', a product marketer needs to have a range of skills across these different areas.
Since product marketing happens mostly within the product – product marketers need to be able to understand what key activation points the users need to hit to see the value of the product – experience the so-called 'AHA moment'.
Hence, product marketers need to be able to use and implement tools that help increase product adoption and retention through onboarding and in-app experiences, as well as gather customer feedback and analyze it.
RELATED: Net Promoter Score (NPS): The Complete Guide for SaaS
What does a product marketer do?
The short answer to this is: A lot!
In fact, I could probably write a whole article listing all of the different jobs that product marketers are tasked with.
Here are just some of them:
Gathering and understanding customer feedback

Analyzing competitors and the market

Deciding on product positioning

Creating and maintaining the product marketing strategy

Providing sales enablement to help close more deals

Creating and organizing launch content (landing pages, ads, etc.)

Overseeing product launches
I don't know about you, but I feel exhausted just looking at that list. It's safe to say product marketers have a lot on their plate.
But far and away the biggest thing that a product marketer needs to do is create a product marketing strategy.
Let's look at what that is…
What is a product marketing strategy?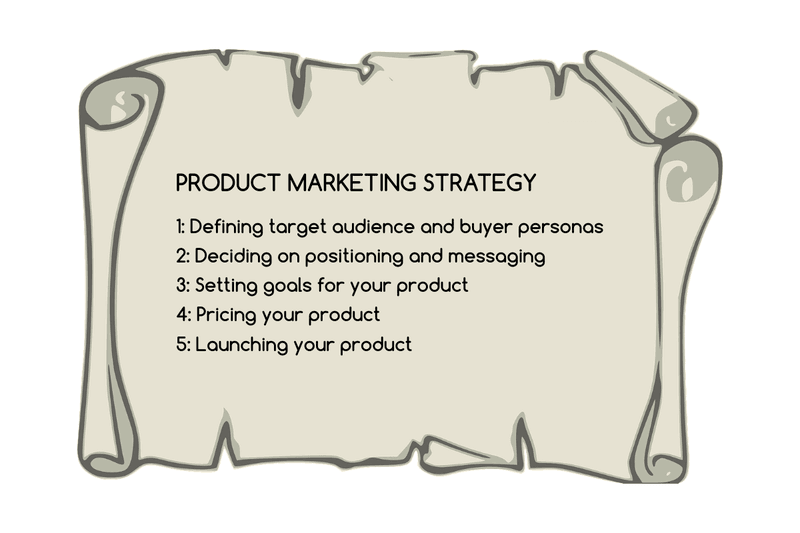 The cornerstone of any product marketing is the product marketing strategy.
This is the go-to document for anyone involved with product marketing. It details what needs to be done, who needs to do it, and how you're going to measure success.
A general product marketing strategy will follow the outline below:
Defining target audience and buyer personas

Deciding on positioning and messaging

Setting goals for your product

Pricing your product

Launching your product
Let's look at each of those steps in more detail…
1: Defining target audience and buyer personas
When it comes to selling a SaaS product, there's one golden rule:
"Be specific."
What do I mean by that?
I mean you need to hone in on why your SaaS specifically is the right product for the people you're selling to.
Different people have different needs. If someone doesn't quite need your product, then you face an uphill battle. If, however, you market and sell your product to the exact people who need it, then you're in for a much easier ride.
That's why this first step is so important for your product marketing strategy.
So, you need to define your target audience and then create some buyer personas based on that audience.
At Userpilot, our product helps companies to improve their onboarding. That's generally the responsibility of product managers. So it stands to reason that our ideal buyer will be a product manager.
Once we know that, we can start digging in deeper. What size company is Userpilot best suited to? Perhaps there's a certain industry or vertical we should target?
This stage is all about asking questions until you settle on the perfect buyer persona (or personas) for your product. This will set the stage for the rest of your product marketing strategy.
2: Deciding on positioning and messaging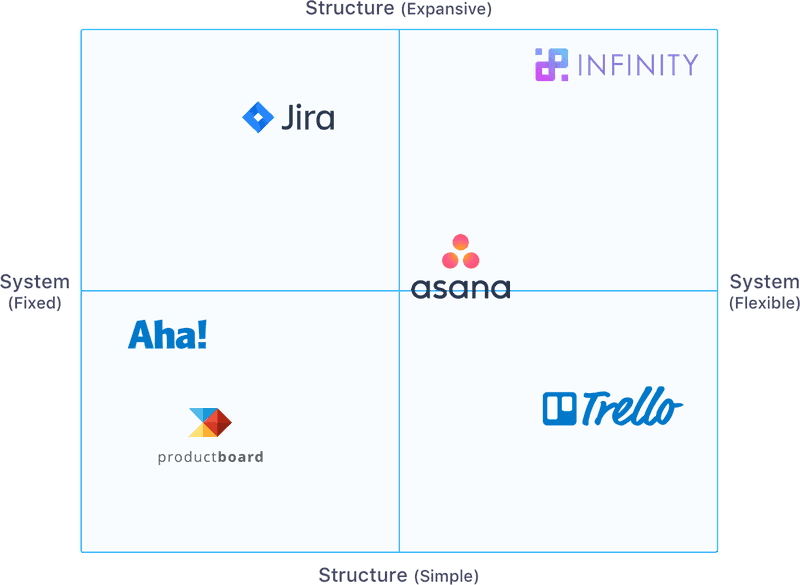 The logical next step after creating your buyer persona is to determine how you position your product.
There are three key questions you need to answer with your product's positioning:
Who is your product for?

What does your product do?

What makes your product unique?
The first question is answered by the previous step. You have a buyer in mind for your product. That's who your product is for.
As for the second question, it's not as simple as listing out all the features. Sure, that's part of it, but you need to think a bit deeper than that.
What problem does your product solve? That's the key to your positioning.
To return to Userpilot's example, our product solves the problem of users churning before they experience value. It does this by helping you improve your onboarding and providing a better product experience. If you'd like to see how Userpilot helps product marketers and managers achieve that – book a demo with us here.
Finally, what makes your product unique? In some cases, your product might be the only solution to the problem. That's a great place to be, but it's also unlikely.
Instead, you need to find your USP. There needs to be a reason as to why people would choose your product over a competitor's. It could be better customer service, it could be a better UI. Basically anything that gives your product the edge.
For Userpilot, it's that the platform is entirely code-free. That means people can create and customize their onboarding flows to be exactly how they want them without having to mess around with code. It makes it easier. That's one of our primary USPs.
Once you've answered those questions, your messaging comes naturally. In fact, you can put it into one clear sentence:
"[PRODUCT] solves [PROBLEM] for [BUYER] by [SOLUTION] and [USP]."
For Userpilot, this would be:
"Userpilot reduces churn by helping product managers improve their onboarding without using any code."
RELATED: How to Improve Product Experience and Scale your SaaS
3: Setting goals for your product
The only way of knowing whether your product marketing is working is by having something to measure success against.
What are the best KSIs for your product in the product marketing paradigm?
Your user goals.
And how to find them?
Well, as a product marketer, you need to:
a) ask your users what they want to achieve with your product (preferably directly in the welcome screen)
b) observe your user behavior (if they are really doing what they said they would – and using the app as intended)
Again – tools like Userpilot allow you to do both.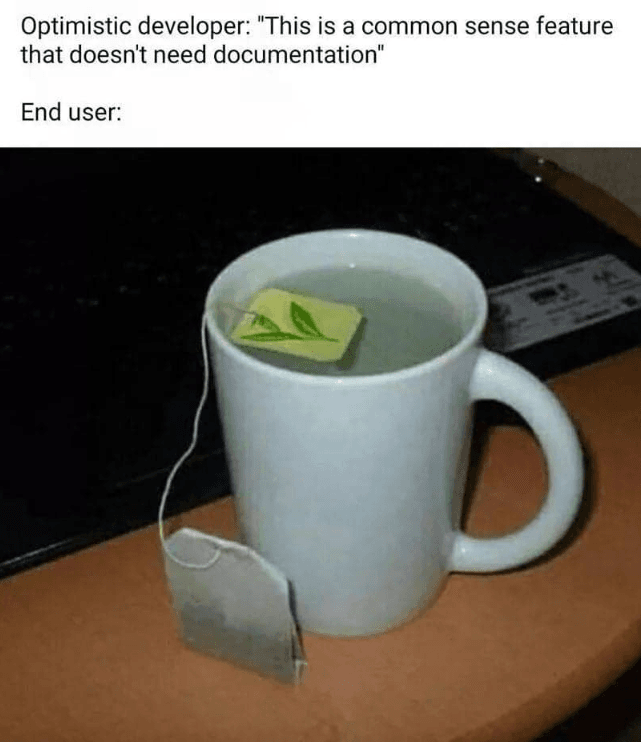 4: Pricing your product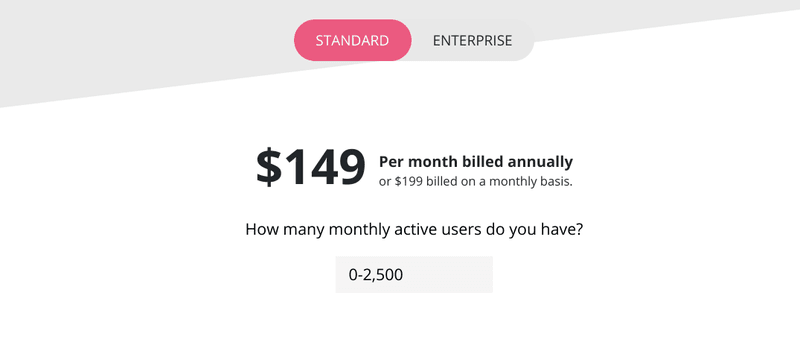 Pricing SaaS products can be a bit of a minefield. Your pricing is influenced by the market, buyer persona, industry, location, and so much more.
For that reason, it's hard to give you advice specific to your product. It's also worth pointing out that this isn't a decision for just the product marketers to make. This is an all-hands-on-deck situation.
If you want more help with pricing your product, then our good friends at Profitwell have plenty of resources to steer you in the right direction.
5: Launching your product
This is what your whole product marketing strategy boils down to. How are you going to launch your product?
When it comes to product launch – product marketing differs from traditional marketing as well.
Unlike in traditional marketing – the marketing activities around the launch of the product focus on driving user adoption of the product, rather than brand awareness again.
This includes i.a. :
ensuring the signup flow is frictionless and users don't drop off before they actually get to see your product
making sure the onboarding helps the new user navigate your product and get to the 'aha' moment as fast as possible – this is best-done through contextual onboarding, i.e. delivering the righ message, to the right user, at the right time;
use in-app experiences such as checklists and progress bars that guide the user through the main actions they need to perform to make the product useful for them – aka key activation points. A simple onboarding checklist can triple conversions – as one of our users, SkedSocial – found recently (read more about it here).

Celebrating the adoption milestones with the users to create goodwill and brand loyalty

Communicating with the user outside the app – e.g. through emails trigerred by in-app events.
All this, again – overlaps with product management and customer success.
RELATED: How your User Adoption Strategy Will Improve LTV and Reduce Churn
Real-world examples of SaaS product marketing
Before we wrap things up, I'd like to show you two example of SaaS product marketing. That way you can see what product marketing actually looks like, and maybe get some inspiration for your own strategy.
Product marketing example #1: Mint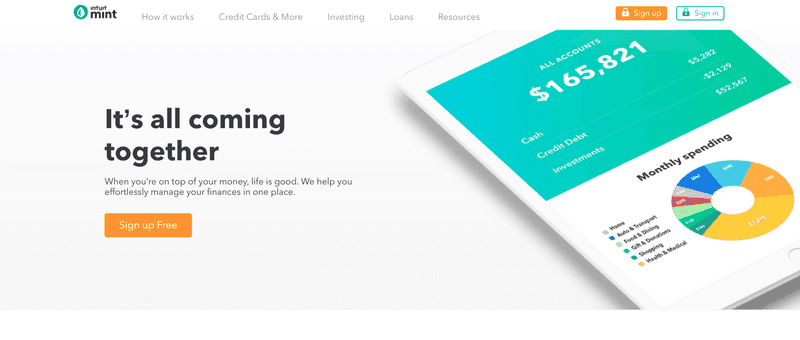 Mint, an Intuit product, is an app that helps people manage their finances.
The app is aimed at younger people who may not have as much experience at managing their money. There's their buyer persona.
The product is incredibly easy to set up and start using. That ease of use is what makes it stand apart from more fiddly budgeting software. It also improves upon the standard solution of using a spreadsheet.
As they say themselves on the website: "We help you effortlessly manage your finances in one place."
That's Mint's positioning and messaging in a nutshell.
As for their launch, Mint was extremely active on social media, as that's where their target audience tend to hang out.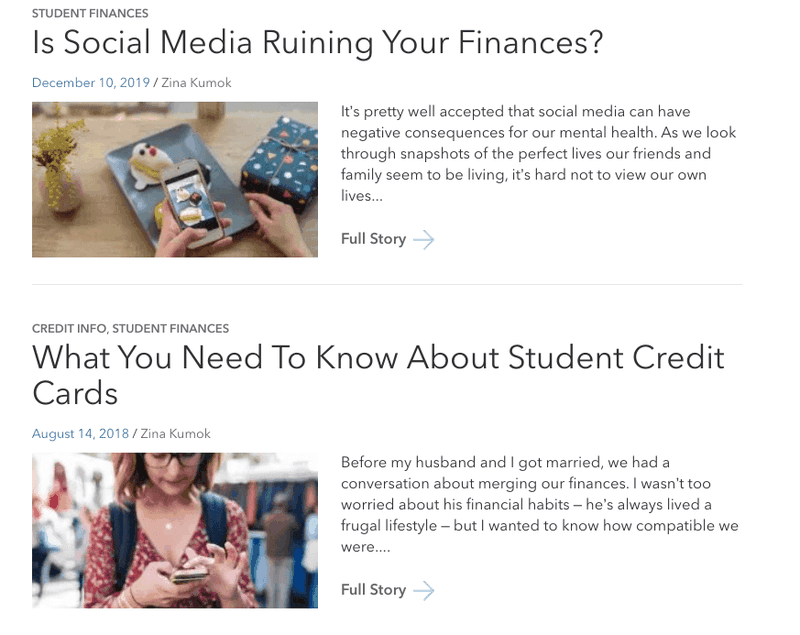 They were also on hand to answer pressing concerns and questions, providing advice tailored to their target audience.
The team were able to position Mint as a financial advisor for young people who struggle with their budgets. They then used social media and content to launch the product.
This is a great example of how establishing your positioning early on helps make marketing a product so much easier.
Product marketing example #2: Airtable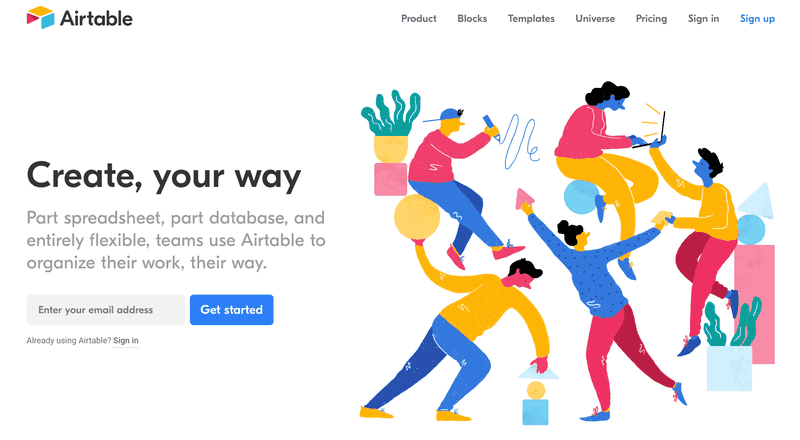 Airtable is a difficult product to describe. On the site, it says it's "Part spreadsheet, part database, and entirely flexible."
That sounds great, but it made positioning Airtable very difficult. Was it a CRM, or a project management tool, or something else entirely?
The truth was, it could be anything. So how do you position that?
Well, the folks at Airtable realized that they would have to target a wide range of different personas, each with different problems.
This is often an issue that more complex products face.
So what they did was make the product as flexible as possible, while still guiding new users towards the solution they needed.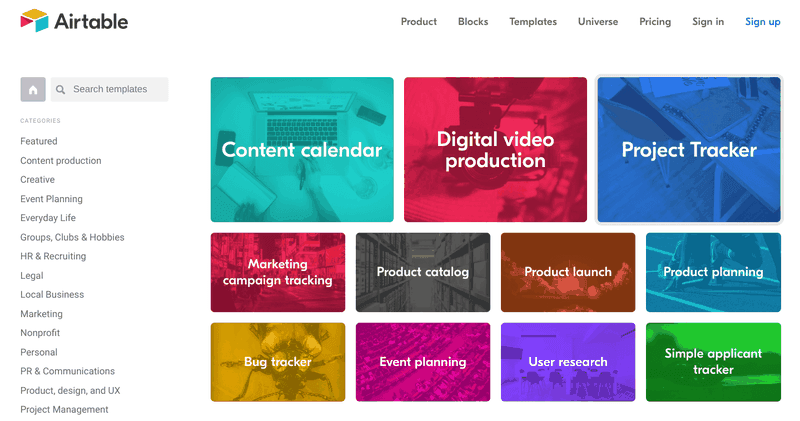 They created hundreds of templates, across all manner of different categories. This meant prospects could see that their problem could be solved with Airtable. Not only that, but templates made it easier for people to get up and running.
This was a clever product marketing approach for a product that was almost too complex to market effectively.
Summing up product marketing:
Product marketing is a subcategory of marketing. It involves positioning a product, promoting it, and enabling sales.

It's important for SaaS companies to have a product marketing strategy. It increases sales, improves cohesion between teams, and improves customer understanding.

Product marketers will often own your product marketing efforts. They're responsible for producing the product marketing strategy and then sharing it with the rest of the company.

A product marketing strategy will lay out your product's positioning and messaging, your buyer personas, goals, and a launch plan.
About the author: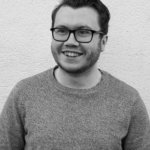 Joe is a content writer, with several years of experience working with SaaS startups. He's also the founder of Turing, a conversation design agency, making chatbots more human.