What Is Product Marketing and Why You Should I Care?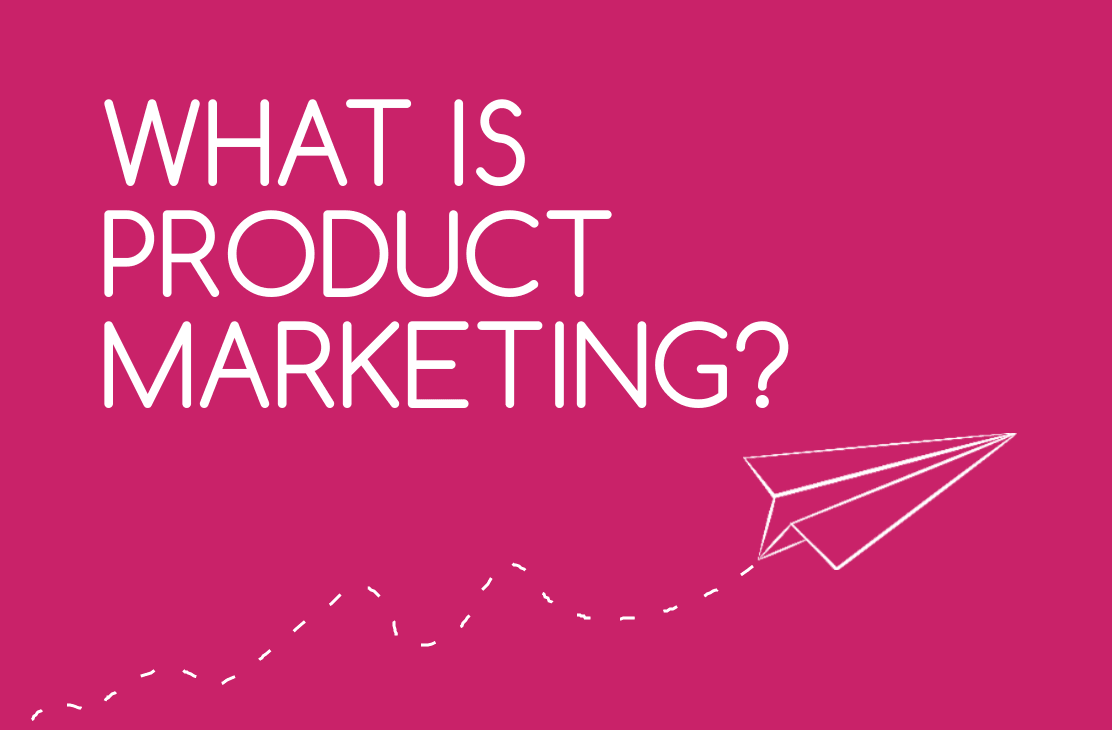 Can your business afford not to have product marketing? The short answer is: no.
The new trend of product-led growth in the SaaS world flips the old marketing and sales rulebooks on their heads.
Product marketing is a large part of this shift. So what does this mean for you?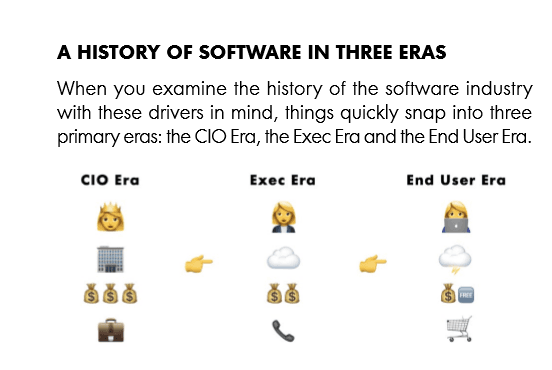 In this guide, I'll cover everything you need to know about:
what product marketing is
what are the responsibilities of a product marketing manager
the product marketing manager role
marketing department structure
how to build a go-to-market strategy.
I've also included some of the best product marketing examples.
So let's dive in…
What is product marketing?
When you google 'product marketing', two popular definitions pop up. The first is frustratingly vague: the process of bringing a product to market. The second stresses that it has two distinct roles: before the product launch and after the product launch.
So how should you define product marketing?
A more accurate definition is – product marketing is a strategic marketing function that sits at the intersection of product, marketing, sales, and customer success. Product marketers are responsible for translating the Voice of the Customer, positioning a product, and communicating its value to the end-user to enable sales and accelerate product adoption and retention.
According to Hubspot, "Product marketing is the process of bringing a product to market, promoting it, and selling it to a customer."
In other words, product marketing is laser-focused on your product. Rather than focusing on brand awareness, product marketing is all about improving the product, customer experience, adoption, and retention – rather than strategies and specific tactics for customer acquisition only.
Product marketing should play an integral role in the entire product lifecycle. After all, the product marketing team is the one who understands the demands and/or needs of the market, the one who uses this information to inform the shaping of the product, and the one who communicates its value to the market.
A product marketing team's job is not done once the product enters the market – they have to get the product to market and keep it there.
The three pillars of product marketing
Hubspot's definition can be broken down into three distinct parts.
The process of bringing a product to market
The process of bringing your product to market involves making sure you know the market that your product inhabits, and knowing who your ideal customers are. It also involves positioning your product. You need to figure out your USP and focus your product go-to-market strategy around it.
The process of promoting your product
If you simply launch your product without telling anyone it exists, then you probably aren't going to sell very much.
The process of selling your product to a customer
If you launch your product and promote it well, you still need the final push that gets the customer over the line.
To do this, you need to have a great sales process in place, and your product needs to be amazing. You need to make sure you onboard your users effectively.
These three pillars of product marketing explain the process from start to finish.
Where does product marketing fit in?
When you consider the definition of product marketing, you realize something a little strange.
While most of the processes involved are clearly related to marketing, there are some parts that touch on other areas of a SaaS company.
It turns out that product marketing actually encompasses parts of different departments. Namely, it's a mixture of marketing, sales, product, and customer success.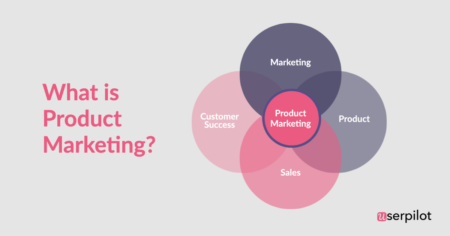 The cross-departmental nature of product marketing is what makes it so crucial to SaaS success.
What does product marketing do?
Product marketing is still relatively new.
Last year, the State of the Product Marketing- Product Marketing Alliance report showed that just 5% of product marketers were 100% sure that the role of product marketing is fully understood.
The product marketing manager role has evolved dramatically since the Covid-19 pandemic. Product marketing marketers had to adjust quickly and think on their feet. You would think that the role of product marketer would be better understood by now – unfortunately, that's not the case.
The 2021 State of Product Marketing- Product Marketing Alliance report revealed that not only is it still misunderstood, but only 4% of product marketers believe other teams and stakeholders within their organizations know what product marketers do.
We've asked some product marketing managers what they do and here is what we got:
"As a product marketer in a product-led company, I was responsible for the whole funnel from the signup, though PQL, through customer acquisition to retention." – Parth from Kommunicate.io
"My day shuffles between checking where the user is coming from, checking if they are coming back to the app; then circling back to the product team to report a bug or feature feedback; then I'm busy defining the user journey on the website and other collaterals, and fixing the positioning and content across all platforms – on the website, on the blog, on the FAQ…Being a product marketer, you cannot leave out any form of content." – Surya from Animaker
"My day shuffles between checking where the user is coming from, checking if they are coming back to the app; then circling back to the product team to report a bug or feature feedback; then I'm busy defining the user journey on the website and other collaterals, and fixing the positioning and content across all platforms – on the website, on the blog, on the FAQ…Being a product marketer, you cannot leave out any form of content." – Surya from Animaker

"You need to associate your product and what you are doing to your prospects. You need to make sure that you tie in your products as the solution to their pain and challenges." – Natalie Luneva, SaaS Boss Community Founder
As you can see, what product marketing does varies based on the company's needs and size. But we can safely say that product marketing:
Gathers and translates the Voice of the Customer across each stage of the user journey
Defines the product positioning and delivers its value through constant messaging that resonates with the market and the end-user persona
Driving product adoption, retention, and advocacy
I've mentioned that product marketing sits at the intersection of product, marketing, sales, and customer success.
Let's go over the main differences between them and see where they actually overlap:
Product marketing vs product management
While product marketing and product management overlap, they do not have the same responsibilities.
Product managers focus mostly on building the product to respond to the needs of the target market, achieving product-market fit, while product marketers focus more on driving demand and product usage.
We'll cover what the product marketer's responsibilities are in a bit so let's go over what a product manager does so you can easily understand the differences:
conduct competitive research and collect customer feedback for a deep understanding of the market needs
create specifications for developers
strategic planning of the product roadmap
develop new features
manage the product release process and the product life-cycle
collaborate with the product marketer and coordinate product launch activities
Check out Userpilot's extensive guide on product marketing vs product management here.
Product marketing vs marketing
How is product marketing different from traditional marketing?
In the words of Dave Gerhardt of Drift:
"Traditional marketing focuses on acquiring and converting customers. … They also promote a company, its brand and ensure the consistency of the marketing message. Product marketing on the other hand focuses on marketing to customers, driving demand and adoption, all intending to create happy, successful customers."
As you can see from Drift's definition – product marketing focuses on promoting your product by delivering an excellent user experience to your existing customers, rather than building brand awareness through content or paid advertising.
Essentially, it supports the traditional marketing team to position the company. They do this by creating narratives to engage customers and increase demand, connect with key thought leaders, and develop thought leadership messaging.
In the product marketing paradigm – happy customers and confident users drive new customer acquisition through the word of mouth. Hence – it is crucial to keep 'marketing' your product to your existing customers – and ensure they keep using your product and discovering its secondary features:
Higher adoption means your customers derive more value from your product.
This, in turn, leads to higher satisfaction levels in the existing customers.
Product marketing vs sales enablement
According to Product Marketing Alliance, sales enablement is "a strategic, cross-functional discipline designed to increase sales results and productivity by providing integrated content, training and coaching services for salespeople and front-line sales managers along the entire customer's buying journey, powered by technology."
Product marketers support the salespeople by making sure there are plenty of sales materials to use during the buying cycle and they ensure their reps utilize these resources to succeed.
By aligning their goals and collaborating with each other, the product marketers and the sales teams will secure more deals and effectively grow revenue.
Product marketing vs customer success
Product marketing and customer success have the same end goal-achieving customer success. The customer success teams focus on retention and advocacy, which they do by maintaining a smooth and cohesive customer experience throughout the buyer journey.
There are some key differences between what product marketers and customer success people do:
Product marketers need to focus on positioning and messaging
Customer success focuses on guiding customers and removing friction on their path to adoption through a more 1-on-1 approach
Product marketers focus on driving activation, adoption, and retention mostly through increasing product usage with marketing automation tactics.
But in the end, they want the same thing.
Collaboration enables product marketers to drive business growth and improve brand positioning. How can they do this?
Bring customer information together to inform a product strategy
Exchange customer stories
Expand customer accounts and create advocates
Be customer-centric at every stage
What is product marketing actually responsible for? What is the role of product marketing managers?
The short answer to this is a lot!
I could probably write a whole article listing all of the different jobs that product marketers are tasked with.
Here's a brief overview of the product marketing role:
Gathering and understanding customer feedback
Analyzing competitors and the market through marketing research
Developing the product's positioning
Creating and maintaining the marketing strategy
Providing sales enablement to help close more deals
Creating and organizing launch content (landing pages, ads, etc.)
Building the go-to-market strategy
Overseeing the product launch and generate demand and more business through marketing campaigns
Onboarding new customers through in-app experiences and email marketing
Drive new features adoption and product growth
Work closely with the product management team for product launches and customer feedback sharing
It's safe to say product marketers have a lot on their plate.
We've looked a how the product marketing role is different compared to other roles. Now let's look at some specific product marketer's responsibilities.
Product messaging and positioning
Two of the most important pre-launch activities product marketing managers are responsible for are product messaging and positioning across different marketing channels.
Positioning statements set the context and the tone for how you want your customers to feel and think about your product. It establishes what your product is, who it's for, what customers should expect from it, and how much it will cost. It should demonstrate a clear understanding of your market, your target audience, your product's value, awareness of competitive alternatives, and USPs.
What problem does your product solve? That's the key point product marketers need to nail through positioning.
Userpilot solves the problem of user churning before they experience value – by helping you improve your onboarding and providing a better product experience. If you'd like to see how Userpilot helps product marketing managers achieve that – book a demo with us here.
Product messaging is the next step – this is all about conveying your product's value. Using a User Persona (more on that below), product messaging should show how your product is the solution to your customer's job-to-be-done and/or pain-point.
Messaging is how you express your positioning – you can't have one without the other.
Managing the product launch (go-to-market strategy)
Product marketers are in charge of creating and executing the GTM (go-to-market) strategy for product launches.
A go-to-market strategy is a short-term, product-driven strategy focused on bringing new products to market through various marketing campaigns. Great GTMs are customer-centric and will enable product marketers to generate product demand, adoption, retention, and account expansion.
Check out Userpilot's 7 step guide on how to create a successful marketing strategy here.
Creating sales collateral
It's the product marketer's job to work with the sales enablement team to create sales collateral – resources that help support the sales process and guide the prospect through the sales funnel.
Sales collateral can be printed or digital and are usually informative and/or visual media-based. Examples include white papers, product documents, persona documents, buyers guides, datasheets, case studies, newsletters, and podcasts.
Customer and market research
This is all about building user personas and continuously gathering feedback to improve the product.
User personas are a data-informed representation of your target buyer, the user who will benefit the most from your product. A user persona is not a fictional idea – it's created using real quantitative and qualitative data from user surveys and interviews. User personas help product marketers understand how the product solves the customer's job-to-be-done and provides in-depth knowledge of buyer behavior.
Gathering feedback from users is vital for product growth and demand. The better you understand what your user needs, the better the product will be. The best ways of collecting feedback are through qualitative data-focused interviews and quantitative data-focused in-app micro surveys.
Content marketing
Content marketing is, you guessed it, all about creating content. Specially created and curated SEO content aimed at your target audience is a fantastic way of increasing brand awareness, driving sales, and engaging with both current and prospective users. It's also a great way of building relationships and encouraging loyalty and advocacy.
Content marketing can include social media, blogs, podcasts, infographics (perfect for visual platforms like Instagram), and videos.
In-app messaging is also part of the product marketer's job. This is when you communicate with your users inside the app. It can help product marketers engage with current users, onboard new users, collect feedback that can be used to improve the product, drive account expansion and feature adoption, share news, and make announcements.
Onboarding customers
Speaking of onboarding customers, that is another thing product marketing is responsible for. As we stated in our blog post, user onboarding is the difference between a successful SaaS company and a failing one.
Yes, it's that important.
A great onboarding experience introduces users in a frictionless way by quickly demonstrating your product's value. This will practically guarantee adoption and retention.
Onboarding has three stages (it doesn't stop after the primary!):
Primary onboarding- demonstrating the value of your product to your users by getting them to their Aha! moment
Secondary onboarding– getting users to stick around by showing them beneficial secondary features. Getting users is one thing, keeping them is another!
Tertiary onboarding– renewing well-versed users' fondness for your product and encouraging account expansion
Why is product marketing important? Benefits of product marketing
In B2B, purchasing decisions are a lot more rational and less impulsive than in B2C. People don't buy software products on a whim – they buy software to solve some of their pain points effectively. That's why product marketers need to focus on highlighting the benefits of using the product.
The problem with the competitive SaaS market is that many products are strikingly similar – your buyers could get lost in a sea of indistinguishable products! This is where product marketing becomes important.
When done well, it forces you to think about your marketing more strategically – how the different features of your product solve the pain points of your given market. Also – who your target customer is, and how your product stacks up against the competitors in terms of meeting the needs of your target customer.
Doing this not only helps you sell more but gives you a better idea of how your product fits in the landscape and how it stands out from your competitors.
In other words: it allows you to position your product better.
So what are some of the benefits you get from product marketing?
Increased sales
When you focus on your product – and making sure its features provide value to your target audience – it's much harder to overpromise and underdeliver than in the case of traditional marketing.
Also, great products and constantly attending to the satisfaction of your customers drive Word of Mouth Marketing (WOMM) – which according to a study conducted by Nielsen is a lot more effective than traditional advertising – 92% of consumers believe the recommendations of people they know more than advertising.
All this translates into more sales and higher customer retention.
Better cohesion and cooperation
A common problem, and not just in SaaS companies, is that when sales are down, teams blame each other. Sales teams say that product marketers aren't giving them enough leads. Product marketers say that Sales teams aren't closing enough deals. But this doesn't really help anyone. Sometimes they both blame support teams for not being efficient.
Product marketing brings teams together with a shared goal, and a shared roadmap of how to get there. Everyone will know how much they need to sell, and how they can all help reach that target.
By removing the barriers between teams, product marketing enables better cooperation.
Improved customer understanding
Part of a successful strategy involves having a detailed understanding of your customers. You need to know who they are, what they want, and why they want it.
Usually, this information is a little spread out around the company. The Product team will have their research and insights, the Sales team will have spoken to many customers and prospects, and Marketing will have their own data.
Product marketing brings these insights together to provide a comprehensive view of your product's customers. This knowledge will prove to be extremely valuable.
Those are the three main benefits of product marketing, and hopefully, you now realize that product marketing is crucial to any SaaS company.
So how do you stand out in such a competitive market? A great marketing strategy.
What is a product marketing strategy?
The cornerstone of any product marketing is the product marketing strategy.
This is the go-to document for anyone involved with product marketing. It details what needs to be done ( marketing campaigns and tactics), who needs to do it, and how you're going to measure success.
Here are the four steps of a marketing strategy.
1-Define the user persona you are targeting
When it comes to selling a SaaS product, there's one golden rule:
"Be specific."
What do I mean by that?
I mean you need to hone in on why your SaaS specifically is the right product for the people you're selling to.
Different people have different needs. If someone doesn't quite need your product, then you face an uphill battle. If, however, you market and sell your product to the exact people who need it, then you're in for a much easier ride.
That's why this first step – creating a user persona – is so important.
User personas help product marketers understand how the product solves the target user's job-to-be-done, thus making the product more appealing to them, and provides an in-depth knowledge of buyer behavior.
2-Map the journey
User personas only get you so far – the next logical step is to map the user journey. This is a visual representation of how your user interacts with your product – steps, touchpoints, pain points, and how they feel while using the product.
It's useful because it helps you see the product through the user's eyes. This will help you understand how the user interacts with the product, enable personalization of their onboarding experience, and help you identify activation points.
3-Set objectives and KPIs
Objectives are primary goals for the product and KPIs (key performance indicators) are measurable key metrics used to track the progress towards the objective.
Easy enough, right?
Objectives should be measurable, precise, and realistic – you can outline individual tasks you have to achieve to reach your objectives and then use KPIs to track the performance of your marketing activities within your strategy.
4- Define tactics based on objectives
Once you establish your objectives, you need to define tactics.
This is what your whole product marketing strategy boils down to. How are you going to launch your product?
When it comes to product launch – product marketing differs from traditional marketing as well.
Unlike in traditional marketing – the marketing activities around the launch of the product focus on driving user adoption of the product, rather than brand awareness again.
This includes i.a. :
ensuring the signup flow is frictionless and users don't drop off before they actually get to see your product
making sure the onboarding helps the new user navigate your product and get to the 'aha' moment as fast as possible – this is best done through contextual onboarding, i.e. delivering the right message, to the right user, at the right time;
use in-app experiences such as checklists and progress bars that guide the user through the main actions they need to perform to make the product useful for them – aka key activation points. A simple onboarding checklist can triple conversions – as one of our users, SkedSocial – found recently (read more about it here).

Celebrating the adoption milestones with the users to create goodwill and brand loyalty
Communicating with the user outside the app – e.g. through emails triggered by in-app events.
All this, again – overlaps with product management and customer success.
RELATED: How your User Adoption Strategy Will Improve LTV and Reduce Churn
Tools for product marketers
Numerous software tools can aid you in executing a successful strategy. What's important to understand is that the product marketer's job requires using tools for automating a lot of the customer's interactions. Based on what you are trying to automate here are a few tools you should consider.
Email automation – ActiveCampaign, Mailchimp, Drip, Customer.io
Social media marketing – Kontentino, Buffer, Hootsuite
Paid channels– AdExpresso, Adzooma, AdRoll
User onboarding– Userpilot (that's us!), Appcues, Pendo
User analytics– Userpilot (hello again!), Hotjar, Mixpanel, Amplitude Analytics
Self-serve support – Userpilot (hello again…again!), Intercom, Zendeak
In-app user engagement – Userpilot (fancy that!), Typeform, Zendesk, Heap
Product adoption and customer success– Userpilot (we're just boasting now, aren't we?), Canny, Pendo, WalkMe
Product/user feedback – Userpilot (we're good at what we do), Typeform, Hotjar, Feedier, Qualaroo
What does a product marketing team look like
What product marketing teams look like varies from company to company – it depends on how large the company is, how sales-driven they are, and the type of products it makes. There is no cookie-cutter for product marketing – each one is unique!
There are some key roles that most product marketing teams should have:
Head of product marketing (Product Marketing Manager)
Growth product marketer (Focuses on in-app)
Content marketing manager
Customer success manager
SEO specialist
Chief marketing officer
The structure will vary depending on how established your business is– startups are likely to get better results by streamlining the user journey to make the onboarding process smooth and well-established companies could focus on market research to increase retention.
The structure can also vary depending on how many products your business makes – for example, if your product marketer only has one product to focus on should concentrate on utilizing product messaging so new users understand how the product solves their job-to-be-done.
The head of the product marketing team, the product marketing manager, is a diverse role with a lot of responsibilities.
Let's look at what the role involves, how to get into product marketing, and which skills you need to become a product manager…
Product marketing manager role
Product marketing managers are at the intersection of product, marketing, customer success and sales, so the responsibilities of these roles get easily mixed up with marketing managers or product managers.
The product marketer sets clear objectives/goals and uses KPIs to track their tactics' performance.
PMMs are responsible for a variety of activities that span over three stages:
Pre-onboarding– this is before a user signs up. Activities include planning product launches, creating product and feature pages, and creating sales enablement sources.
Onboarding – this is all about driving user activation. Activities include in-app user communication and user journey maps to ensure smooth onboarding experiences.
Account expansion –retaining users and encouraging account upgrades is the focus here. Activities include feature announcements and engagement.
How do you get into product marketing? What skills do you need to become a product marketing manager?
Product marketing is still a relatively new area but some key skills and experiences will aid you in becoming a product marketer.
Most PMMs enter the field through general marketing and once you join a SaaS business, it is a good idea to take some tailored courses to help you refine your specialist area – product analytics, UX writing, and feature adoption are just some of the options available.
While various skills are beneficial for a PMM to have, there are three that are essential:
Research – PMMs must be able to gain valuable insight into the needs and experience of their product users by gathering and analyzing data, customer interview transcripts, and surveys
Communication– PMMs tell products' stories so being able to write and speak clearly is a must
Collaborative– PMMs work with numerous teams – engineering, product management, press, PR, sales, marketing – so they must be up for collaborating with them! It's not an option in this kind of career…if you don't like teamwork, maybe this career isn't for you
How and when should you hire a product marketing manager?
Since product marketing is still fairly new, hiring a product marketing manager is usually not the highest thing on a company's to-do list.
But there are two indications that you're ready to hire one:
when your acquisition team is in place
if and/or when your product manager is preoccupied with the product roadmap and is letting things like in-app experiences and improvement of user onboarding, feature engagement, or product adoption slide
Product managers and your product team have enough on their plate – it's time to hire a product marketing manager.
Product marketing managers not only ease a product manager's stress by taking on responsibilities, but they are significantly cheaper and can save a lot of time (including development time) by using code-free tools like Userpilot and independently creating their own product adoption experiments.
How do you measure product marketing success?
Product marketing success is measured by setting up key performance indicators. These are metrics that track performance in things like stages in the user journeys and marketing strategies and/or tactics.
They allow you to easily follow product and user behavior analytics to see how the user engages with both your product and your marketing tactics. Product analytics are especially useful – they are the tools and methods you use to understand user behavior within your app.
KPIs are the best way of measuring if you're meeting your goals or not.
Here are some metrics to track during different stages of the funnel:
Best product marketing examples
There's no denying that some product marketing is better than others. How good the results of your product marketing is will depend on the product and you, the product marketer.
Before we wrap things up, I'd like to show you some examples of SaaS product marketing. That way you can see what product marketing actually looks like, and maybe get some inspiration for your own strategy.
Product marketing positioning example: Airtable
Airtable is a difficult product to describe. On the site, it says it's "Part spreadsheet, part database, and entirely flexible."
That sounds great, but it made positioning Airtable very difficult. Was it a CRM, or a project management tool, or something else entirely?
The truth was, it could be anything. So how do you position that?
Well, the folks at Airtable realized that they would have to target a wide range of different personas, each with different problems.
This is often an issue that more complex products face.
So what they did was make the product as flexible as possible, while still guiding new users towards the solution they needed.
They created hundreds of templates, across all manner of different categories. This meant prospects could see that their problem could be solved with Airtable. Not only that, but templates made it easier for people to get up and running.
This was a clever product marketing approach for a product that was almost too complex to market effectively.
Content marketing example: Userpilot
Content marketing is a tactic used mostly in the acquisition stage by most product marketing teams. The product marketer's goal is to attract visitors with a content strategy and drive product trials and demos.
You need to drive traffic with an SEO content strategy that optimizes your website landing pages to cater to multiple search interests your audience has.
Take our website for example. It's designed in a way that works for all our user personas and use cases, making our content relevant for our readers and improving conversions on-page.
Email marketing automation example: ActiveCampaign
ActiveCampaign is a terrific example of great email automation.
ActiveCampaign uses email to welcome, educate, and nurture users through the trial stage.
Here's how their welcome email looks like. It gives users all the necessary resources to get started.
Then they focus on bringing users inside the app and engaging with the parts of the product that bring value. They do this by highlighting benefits using an email series campaign.
As we explain in our blog post, contextual emails marketing is more than simply segmenting your list of users based on demographics, job roles, or location. It's about really trying to understand the user's needs and create the best possible experience for them.
ActiveCampaign demonstrates all three qualities of great product marketing – they're customer-focused, use specific and targeted messages, and their tactics are contextual and timely.
In-app onboarding product marketing example
In-app onboarding is really important because it's where your user gets their first impression of your product – if it's a bad one, they aren't going to want to continue and your churn will increase!
Let's check out FullStory product's onboarding experience as it's a great example of in-app onboarding.
Once you click on the "Sign up free" CTA on their website, Fullstory asks for feedback as it waits for you to validate your email. Instead of seeing a blank screen, they take the opportunity to gather insights.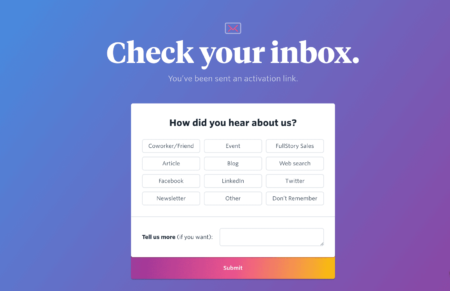 They remove signup friction by allowing you to log in with your email.
Then they gather persona-related data by asking you to self-identify during the signup flow using persona-based questions and a friendly UI to prompt engagement.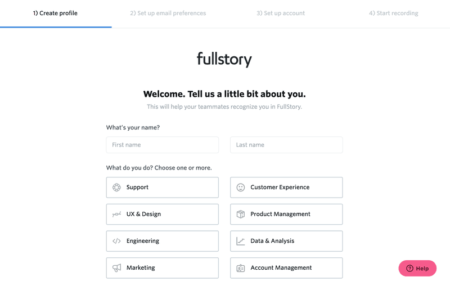 You will get almost no value if you don't install the script, therefore they include included this activation step in the signup onboarding experience.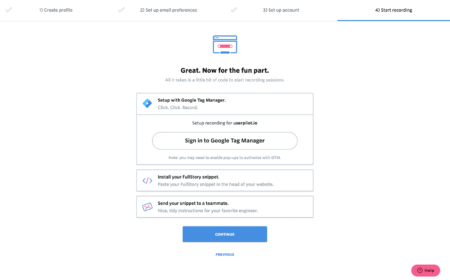 Key Takeaways
Product marketing is a subcategory of marketing. It involves positioning a product, promoting it, and enabling sales
SaaS companies need to have a strategy. It increases sales, improves cohesion between teams, and improves customer understanding
Product marketers will often own your product marketing efforts. They're responsible for producing the marketing strategy and then sharing it with the rest of the company
A marketing strategy will lay out your product's positioning and messaging, your buyer personas, goals, and a launch plan
Want to build product experiences code-free? Book a demo call with our team and get started!
About the author: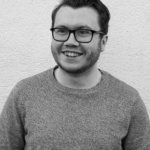 Joe is a content writer, with several years of experience working with SaaS startups. He's also the founder of Turing, a conversation design agency, making chatbots more human.