The Only 3 Product Analytics Software You Need To Know About in 2022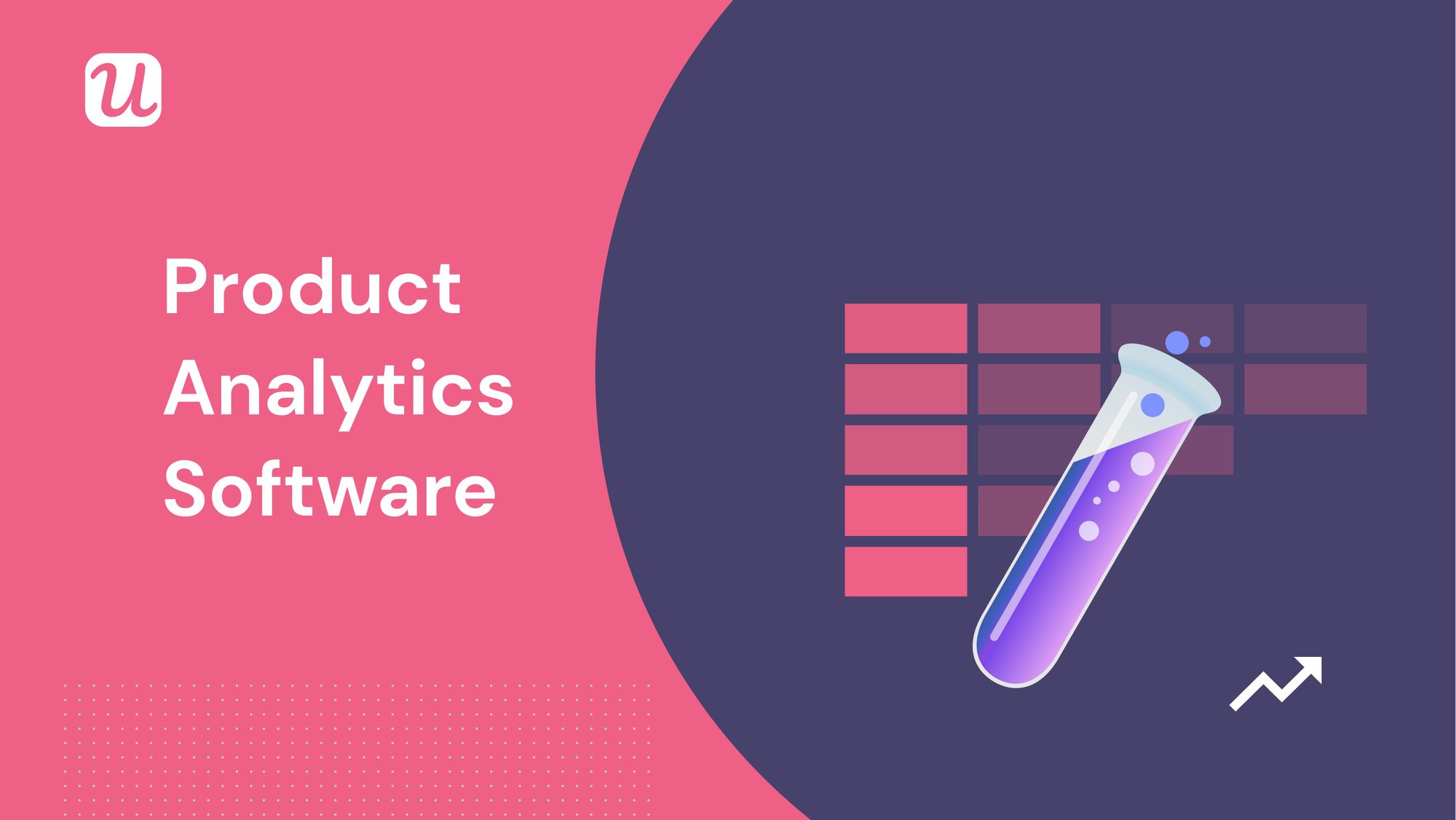 Product managers take product feedback seriously, but can customers always identify their issues correctly?
Product analytics allows you to track and analyze user activity and understand what users actually do rather than what users say they do. These analytics are fueled by behavior-based data that you can use to gain actionable insights.
In this article, we'll go over the basics of product analytics, along with the best collection of product analytics software to serve your product needs.
TL;DR
Product analytics is the process of collecting, inspecting, and analyzing data generated from user interactions with your product.
There are three levels of product analytics for SaaS businesses that can be summed up by answering three questions – "What", "Who", and "Why."
McKinsey's CMO survey found that more than 85% of companies reporting extensive use of customer analytics claimed to achieve a significant value contribution from it.
Heap allows you to get a 'bird's eye view' on user interactions with your product to help you understand what is happening.
Userpilot makes tracking user behavior easier to interpret and track using predefined goals, allowing you to see who is doing what.
FullStory tracks user interactions. It allows you to create funnels, observe how users behave in each funnel and understand why they are doing it.
What is product analytics?
Product analytics is the process of collecting, inspecting, and analyzing data generated from user interactions with your product. The interactions can range from navigation to feature usage frequency.
Such user activity data can help you understand the value users are receiving from your product and identify issues that require your attention.
For SaaS business, there are three levels of product analytics that you need to consider, which can be summed up by answering three questions – "What", "Who", and "Why".
These follow a top-down approach focusing on the following questions related to your product:
What is happening?
Who is doing it?
Why are they doing it?
Breaking down the overall scope of product analytics into these 3 types of questions allows you to get a better sense of what kind of analytics software you'll need.
Why is product analytics important?
The primary goal of product analytics is to help you understand your users. But surveys and interviews are prone to human error and bias since they rely on a lot of self-reporting. This can cause product managers to derive inaccurate conclusions, which can prove to be costly.
Product analytics, on the other hand, generates insights directly from usage data.
McKinsey's CMO survey found that more than 85% of companies reporting extensive use of customer analytics claimed to achieve a significant value contribution from it.
This includes outperforming their competitors on key performance metrics, including profit, sales, sales growth, or return on investment (ROI). Moreover, companies using customer analytics comprehensively report outperforming their competition in terms of profit almost twice as often as companies that do not.
This shouldn't come as a surprise.
Using product analytics, you can identify where users stand in their user journey. You can then segment them and track customer health scores based on that segmentation. Most importantly, you can identify disengaged users and craft a re-engagement strategy to bring them back.
You can better understand the significance of using product analytics when you consider that 51% of people won't continue doing business with a company that they've had a bad experience with.
When it comes to SaaS, this becomes even more impactful as the majority of user interactions occur through the product.
So, understanding your users not only helps you retaining your existing users but also encourages referrals, helping you expand your customer base.
Who uses product analytics?
It's a no-brainer that product managers are the ones who can find the most value from product analytics. It helps them understand their users better and make more informed decisions.
But the value of product analytics isn't limited to product management. Engineers, marketers, and designers can also use this information to work more efficiently.
For instance, product analytics can prove to be valuable for engineers while debugging and improving features.
On the flip side, marketers can track the impact of their campaigns and use the insights from product analytics to create appropriate segments of target groups.
Moreover, designers can use product analytics to identify bottlenecks and streamline the user experience to make the product more appealing to users.
Product analytics software #1- Heap: for high-level insights
Heap is a comprehensive product analytics suite that helps you track everything your users do in your app. It allows you to get a 'bird's eye view' on user interactions with your product to help you understand what is happening.
The best part about Heap is that you get everything you need to track user activity from day one. You don't need to configure or define "events" to start tracking.
Once you've started using Heap, you can then create custom events to use in funnels and cohorts. Another brilliant feature is the ability to define events and conversions retroactively, allowing you to keep up with changing scenarios.
Heap provides analysis along multiple axes and behavioral segments, along with real-time reporting features. In case you're wondering, it comes optimized for web and mobile applications.
If you are looking for a less technical analytics solution, Heap is a great option for you. However, because of its extensive functionalities, Heap requires a sharp learning curve in product analytics knowledge. You might find the data quite difficult to interpret during the initial stages.
Heap isn't quite cheap either. The free package is fairly restricted, with up to 10k sessions per month. Although it has unlimited user licenses, you can only create up to 1 project. It offers a free trial of 14 days for its paid plans, and pricing starts from $1,000 per month.
Product analytics software #2 – Userpilot: for detailed user data
Userpilot is a unique code-free onboarding platform that comes with brilliant product analytics features. Since the software tracks using predefined goals, it makes tracking user behavior easier to interpret, allowing you to see who is doing what.
Userpilot generates analytics based on what users are doing in your app. This can be based on custom events or "feature tags". You can also "tag" a feature on the front end of your web app.
To add to it, you can build user segments and funnels based on your user activity and custom filters.
For example, you might be looking for users who signed up less than 3 days ago, are using your product for themselves, have more than 3 web sessions, and have seen the first onboarding experience. Narrowing down the user base based on such filters allows you to see what each segment of your users are doing.
Using the in-depth analytics generated by Userpilot, you can identify scopes of improving your product. For instance, you can optimize in-app experiences to help struggling or hesitant users proceed further down the user journey.
Userpilot's unique value lies in creating secondary onboarding experiences that can help users unlock greater value along their user journey.
One issue that often arises is that basic users don't discover certain features themselves after they have activated their accounts. In this case, if they don't find the feature they need, it may cause them to churn. Kommunicate, a chatbot tool, had the same issue.
After starting their onboarding experiments on Userpilot, the Kommunicate team realized there are 5-7 key features paying customers are adopting. So, they plugged all of them into the product adoption feature.
Once they released small product adoption cues, 28% of users reached those features. Later, the adoption rate increased to 41%.
Another important cue for them was their chat widget customization. Since its introduction, 86% of people have completed the chat widget customization goal, which led to a 3% increase in the feature's usage. This resulted in a 2-3% increase in revenue that substantially impacted Kommunicate's MRR.
Wanna start creating amazing experiences without a line of code? Book a demo for Userpilot today and start increasing your product usage today!
Product analytics software #3 – FullStory: for drilling down to qualitative data
Quantitative data like clicks, scroll, usage duration helps you answer the question "what", but it doesn't exactly tell you "why".
The best way of understanding why users do what they do is by witnessing it firsthand. This is where session recording makes your life a lot easier.
When it comes to session tracking platforms, FullStory is one of the best solutions out there. It tracks user interactions, lets you create funnels, and observe how users behave in each funnel.
FullStory's combination of session recording and product analytics allows you to have unique and valuable insights and understand the reason behind specific actions of your users.
FullStory also allows you to capture page views and clicks visitors make on your site. While recreating user sessions, it incorporates user data to give you the most accurate representation possible.
A brilliant feature of FullStory is its ability to track and measure "rage clicks". In case you are wondering what that is, it's when a frustrated user vents their frustration on their mouse. Pretty neat, right?
Compared to standalone data analysis, a combination of quantitative and qualitative data from real users makes it easier for you to understand why things happen the way they do.
To make it even better, FullStory also comes with AI and machine learning features to help you extract insights from your data. You can also calculate and track KPIs like conversion rates and visualize data using dashboards.
Another feature that might prove handy is FullStory's integration with Slack. You can share user sessions with your team easily while collaborating on a project.
So what's the damage?
FullStory doesn't disclose their pricing information publicly and offers quite a limited free plan which restricts your access to three seats and 1,000 sessions per month. But it does give you the option of a 14-day free trial for its paid plans.
Choosing the right product analytics tool for you
Product analytics help you understand how users are engaging with your product and it gives SaaS product teams the ability to track user footprints at every step of the user journey.
Incorporating insights from product analytics helps you gauge how much value users are gaining from your product. Ultimately providing the opportunity to identify improvements that enhance their experience even more. Did you find the kind of tool you may be looking for today?
Let us know in the comments below what you're currently measuring in your product analytics!