User Activation SaaS: The Ultimate Guide For Measuring and Improving Activation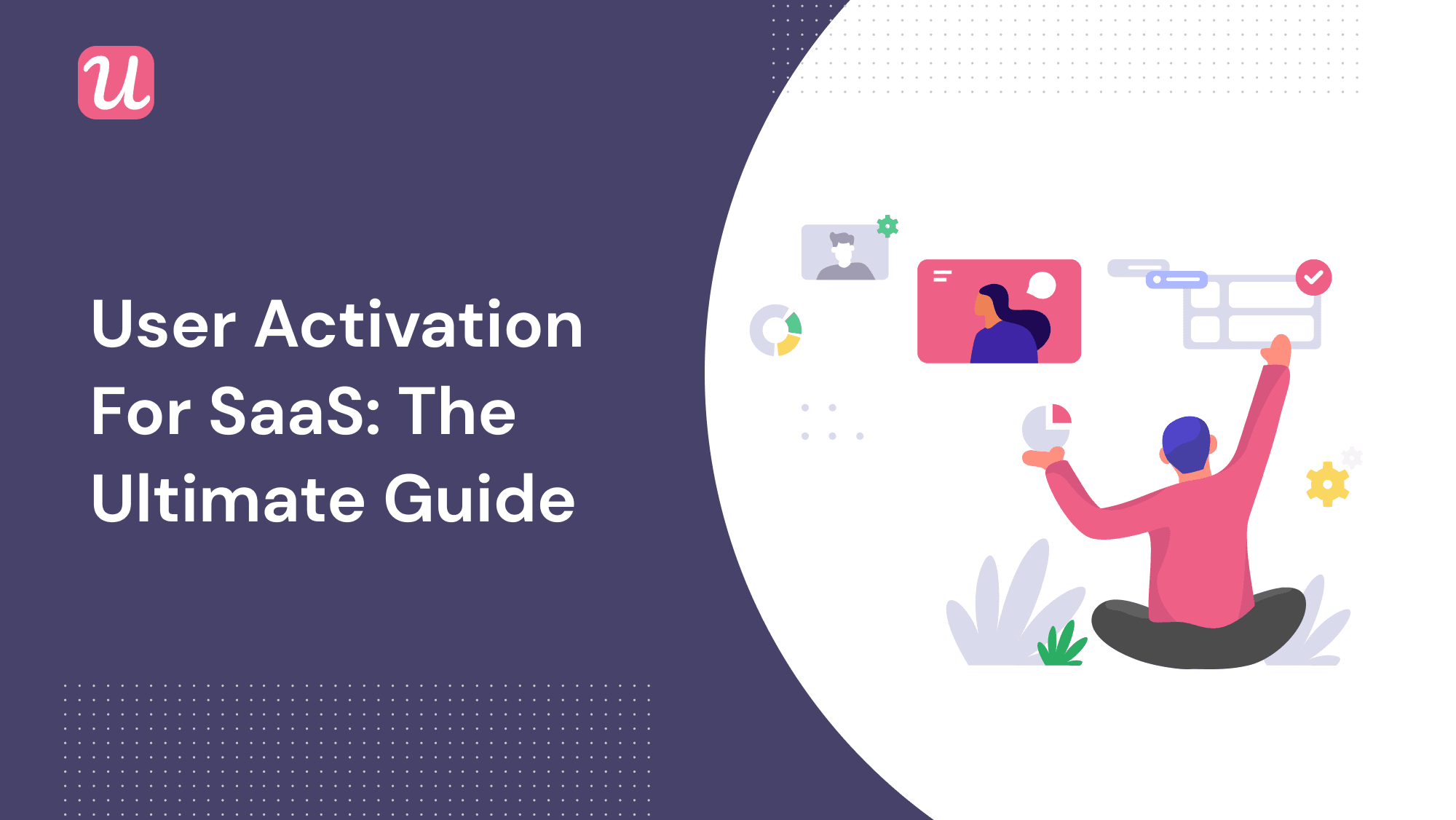 Wondering how you can optimize user activation for your SaaS to increase your trial to paid conversion rates? Then you're at the right place.
User activation is one of the most important SaaS metrics for determining long-term revenue and success. In fact, a 25% increase in user activation brings about a 34% increase in MRR over a year.
Let's dive into what user activation is and how you can effectively measure and improve it.
TL;DR
User activation is a crucial milestone in the customer journey, where new users get to experience your product's value.
AHA moment is when users realize your product's value but haven't experienced the value yet.
To define the user activation point, you have to determine the user activation events based on each user persona and their job to be done.
Activation rates determine how many users from the ones who started a trial also activate.
New users who reach the activation milestone and perform all the activation events are known as activated users.
Setting industry benchmarks for activation rates is like comparing apples with oranges because of the versatility of user personas. Therefore, you should always compare your activation rate to your past results.
To boost activation, you need to create personalized in-app onboarding experiences and drive new users to engage with your product
What is user activation in SaaS?
The next stage after user acquisition, the user activation process in SaaS occurs when your free trial users discover and experience the value of your product. It's an important milestone in the user journey and is concerned with the first experience of your users with your product by going through certain user activation steps.
To reach the activation stage in SaaS, users must engage in a series of key activation points, which generally include the core features of your product.
User activation vs. the AHA moment in SaaS
Many people confuse the AHA Moment with the activation moment.
Similar to the user journey stages, product adoption journey stages reflect the steps a user goes through on their path to adopting your product. We call this the user adoption flywheel, which has seven stages (yes, we like to focus on details).
Notice how the 'AHA! Moment' and 'Activated' are two separate stages in the journey?
For users, the AHA! Moment is the point where your users realize the value of your product. On the flip side, user activation occurs when they also experience that value.
For example, a business owner, Julian, wants to track and analyze the success of his social media marketing efforts. He searches for the best social media analytics tools on Google and comes across an article containing product reviews. He finds a tool that provides all the features he needs, including custom reports tailored to his company's KPIs.
Julian now experiences an AHA! Moment. He signs up for a free trial and derives the required benefits from the tool. He then becomes an activated user.
User activation operates differently not only for different products but also within the same product for different personas and use-cases.
What is user activation point in SaaS? How do you define user activation point?
After the user signup during the user acquisition stage, you want to quickly provide value and make sure the user completes key events and enters the customer lifecycle.
Once your users activate, they experience the value of your product, which leads to key feature adoption.
Activation in one key metric of the Pirate Metrics framework for SaaS companies. If users don't activate, well… they won't have anything else to do with your product other than simply abandon it.
To reach the user activation milestone, users must perform a series of key actions that will let them experience your product in a relevant and useful way.
Consider a social media scheduling tool, for instance, the key features/actions might be the following:
Connect social media accounts
Create a post
Schedule the post
Publish the post
Define activation point and key actions
When you're just starting:
Begin with each user persona and highlight the job to be done
List each key feature that users must use to get the job done
Track performance and remove the unnecessary steps
You should build each persona by determining exactly what the job-to-be-done (JTBD) for each is first. JTBD helps clarify the user's end goals – the reason they're purchasing your product and the outcome they are seeking.
It's vital because it will help you develop empathy for the user so you can find out the pain points that are preventing them from achieving their goal.
When you have the data you need:
How do you measure user activation in SaaS? SaaS user activation metrics
After identifying the activation event or events for each of your user types, you can now measure activation using the activation rate.
What is the user activation rate in SaaS?
User activation rate, also called product activation, determines how many users from the ones that started a trial actually reach the activation point.
You can calculate it by dividing the number of users who reached the activation point or milestone by the number of users who signed up and multiply it by 100.
To know whether your activation rate is up to the mark, you need activation benchmarks.
What are the SaaS user activation benchmarks?
Each product is different, even more so with different user personas. Products can have multiple activation points.
Moreover, not every SaaS company defines the activation point properly, so saying "activation rate is 30%" may hold no meaning for you.
Since the steps users must perform are different for every business, it's almost always impossible to come up with an 'industry standard'.
So, you should always use your own activation rates for activation benchmarks and compare your current performance to those.
Comparing your own user activation rates over time can help you learn which persona needs more help through user onboarding.
How to improve your activation
Product experiences are the most efficient way to improve your activation rate.
Here are some of the best strategies to improve user activation. However, bear in mind these are not the only tactics, but simply the most recommended ones.
Use welcome screens to personalize onboarding
Contextual and personalized user onboarding means building branched user experiences designed for specific user needs.
Contextual onboarding ensures that you give users real-time information on product features when it's most relevant to them.
A welcome screen is a perfect way to welcome users plus find relevant information about your user persona such as role and job to be done.
This will enable you to identify the persona segment they are in and personalize the in-app onboarding journey accordingly.
Check out how Postfity uses a welcome screen modal for this.
Use in-app checklists to drive users to the activation point
Checklists are a form of in-app messaging. They're a great way to steer users to the activation point milestone.
Once you are aware of the key actions a user must take, you can include them in an in-app checklist to prompt them to take action.
Let's look at Postfity again and their key actions:
Create an account.
Connect a social media account.
Schedule the first social media post.
As mentioned earlier, each product is different, so keep that in mind while defining the key actions required.
It is imperative to make sure that your activated users remain loyal. In-app marketing will allow you to attract, acquire, and retain more users.
Below is another example from Loom to get an idea of how activation points vary from one product to another.
Bonus tip: Onboarding gamification
Onboarding gamification means introducing fun elements to encourage users to complete different tasks. It usually includes a reward as an incentive, like discount coupons, badges, points, and leaderboards.
Investing in gamification can be worthwhile when you want to enhance adoption metrics and activation rate.
Use interactive walkthrough to help users perform key actions
Activation plays a big part in whether new trial users become paying customers. Most SaaS companies greet their users with a product tour meant to provide in-app guidance. The problem with these is that they are long, boring, and not tailored for different use cases.
On the other hand, interactive product walkthroughs can help users complete each step in the activation funnel by guiding them step by step through every step of engaging with specific product features.
Interactive walkthroughs encourage users to interact with your product not only sit while you present every single feature to them,
Here's how Kommunicate walks its users through customizing the chat widget, step by step.
Use the signup flow to showcase what the product does
Signup flow involves the steps a user must go through before they get into your product.
By using the signup flow to showcase what your product does (and collect user activity data), you achieve two things:
Set expectations of what your product does
Remove empty states from your product
The signup flow ensures you don't present a blank canvas to customers and instead use personalized, engaging templates to reduce time to value and double activation.
Here's an example of how Trello does it.
They break down the signup flow into multiple screens asking you to perform simple actions through which you learn what the product does in a fun, engaging way. All unnecessary form fields are removed to prevent friction.
First, name your board
2 . Learn what lists are
3 . Interact with cards
The steps above guide you through creating your first board and help you understand how a Trello board works simultaneously.
Finally, the drag-and-drop interface gives you the last tip. It's one of Trello's main selling points in terms of ease of use. The CTA takes you to the board you just made, and you can start working on it straight away.
Offer in-app support to help users reach the activation point effortlessly
An in-app resource center is more than just a knowledge base that sits on your website.
It's the one place where users go for help and it's right there, in your product.
Want to build an in-app help center? Get a Userpilot demo and see how you can do it without having to code it.
An in-app resource center acts as a help center. You can add a variety of resources to educate the users, launch in-app experiences, add micro-videos, open chat, etc.
Some help centers even automatically exhibit relevant help documents based on the pages users are on.
A help center helps your SaaS business by improving activation through self-service support.
Below is a great example from Miro (they call this the Learn & Inspire).
Use email to bring users back and increase activation
In-app engagement won't work if users are not inside the app. Hence, you require a strategy to engage with users outside the app and bring them back. This is where an email marketing tool comes in handy.
And a contextual email marketing strategy is all you need.
It works parallel to your in-app engagement efforts mentioned above by educating and nurturing the user throughout the trial.
Here's how ActiveCampaign, an email marketing automation tool, uses email to bring users back into the app.
They start by welcoming users to their app and ''showing'' them around by highlighting the main actions they can take to get started.
Then, they follow with extra guidance and benefits through a series of emails meant to highlight the value of the product and give you a reason to start using the product.
Best user activation tools for SaaS
Userpilot
If you're looking for a tool for improving your pirate metrics through personalized in-app experiences you should check Userpilot.
Userpilot is a product growth platform that lets you create attractive user adoption experiences without coding. Just install the JS code and Userpilot will do the rest (the only coding you need to do is if you want to track a specific custom event).
It's relatively easy to set up. You'll get easy-to-use tools to build in-app experiences, like modals, checklists, slideouts, among others, and improve the activation rate.
You can specify which user segment you want the product experiences to be for and perform A/B testing to optimize each towards specific goals.
Of course, you can check out other user adoption tools and pick the one that best suits your needs.
Get a Userpilot demo today and check how you can boost user activation without having to code.
Key takeaways
I hope that by now you understand a few user activation SaaS concepts:
What it is and how to measure it using the pirate metrics framework
How to define activation points and key actions
Distinguish between AHA moment and activation
Know a few tips on improving activation using window screens, checklists, walkthroughs, signup flow, in-app support, and contextual emails
The role user onboarding plays in removing visual friction
Get a Userpilot demo to see how you can apply all this and improve your activation rate!