How Kontentino Increased New User Activation by 10% in the First Month of Using Userpilot [CASE STUDY]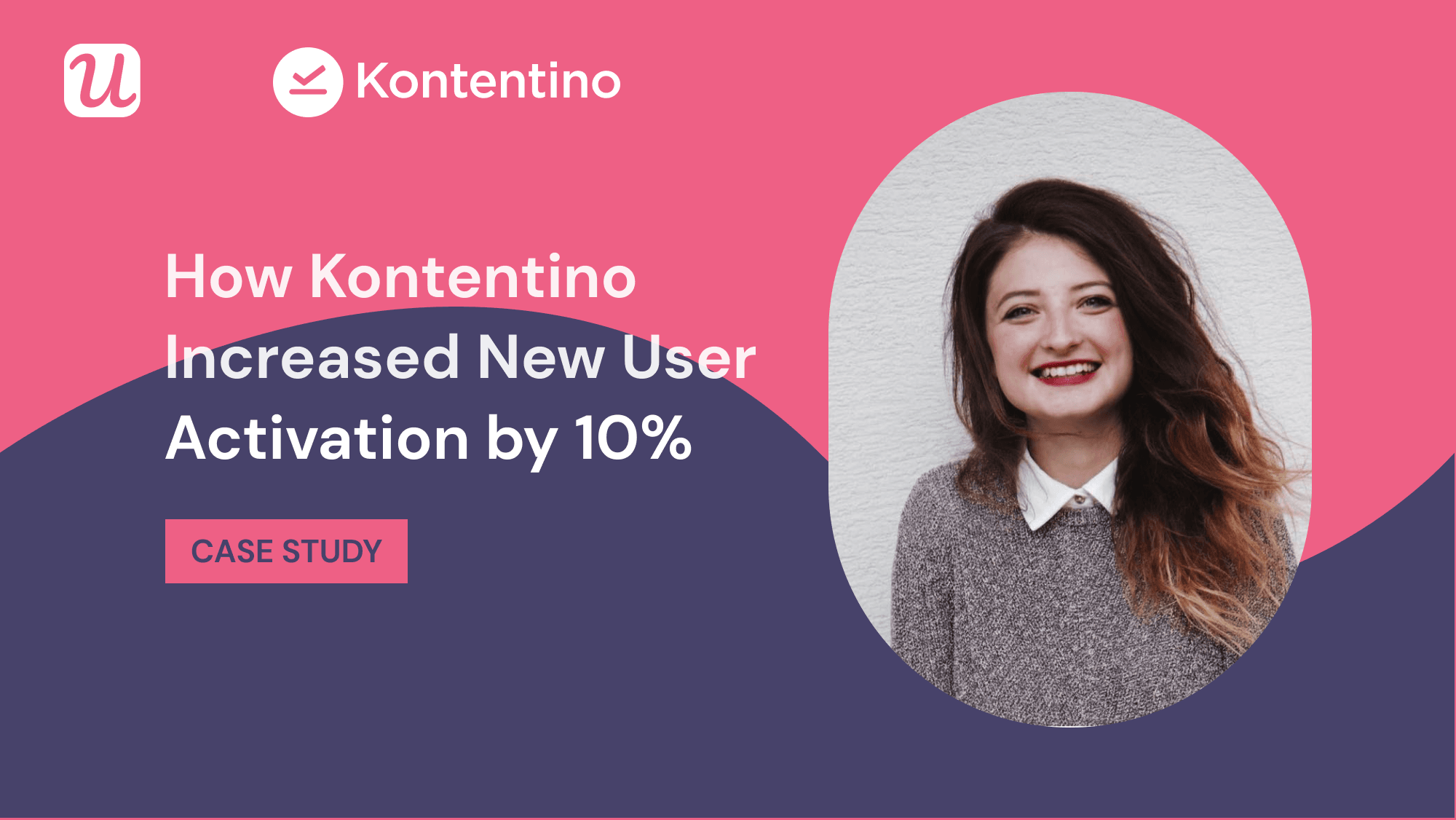 Natália Kimličková, a product marketer at Kontentino, a social media management tool for collaboration, content approval, and scheduling, came to Userpilot with a few main goals in mind – increase product adoption, boost new feature adoption, communicate new feature releases in-app, and creating their very first user onboarding. What she didn't see coming though is the impact installing Userpilot would have on…how sticky Kontentino was.
In this post, we're going to dissect what exactly Kontentino did to achieve a 10% boost in user activation in the first month of installing Userpilot!
Quick Returns
As one would expect with a social media management tool, the two main activation points for Kontentino users are 1) linking social media accounts and 2) scheduling the first posts.
To Natalia's surprise – thanks to the onboarding flow set up in Userpilot – an interactive walkthrough and a checklist – both metrics increased by nearly 10% in the first month already.
"Easy to Set Up" and Good Value for Money
"The whole product is really easy to use, and the product walkthroughs are really easy to set up"- said Natalia. Choosing Userpilot was a pretty straightforward decision after the personalized demo. Natalia decided that Userpilot provides a much better value for money and wants to focus more on creating experiments to boost feature adoption, after successfully creating and optimizing new user onboarding and activation.
By the way – if you're interested in increasing user adoption, grab our free Product Adoption School:
Interactive Walkthroughs – The Key to Success
The key to the 10% activation rate increase?
Kontentino used Userpilot to create an interactive walkthrough rather than a (boring and ineffective) product tour.
Much as I'm fussy about lengthy signup flows, I breezed through Kontentino's signup flow with excitement and anticipation. Every element seemed to be well-thought through, and the copy was really personable, engaging, and well-written, with a clear brand voice shining through it. Let's have a look at what Kontentino did right:
1. Welcome screen with a microsurvey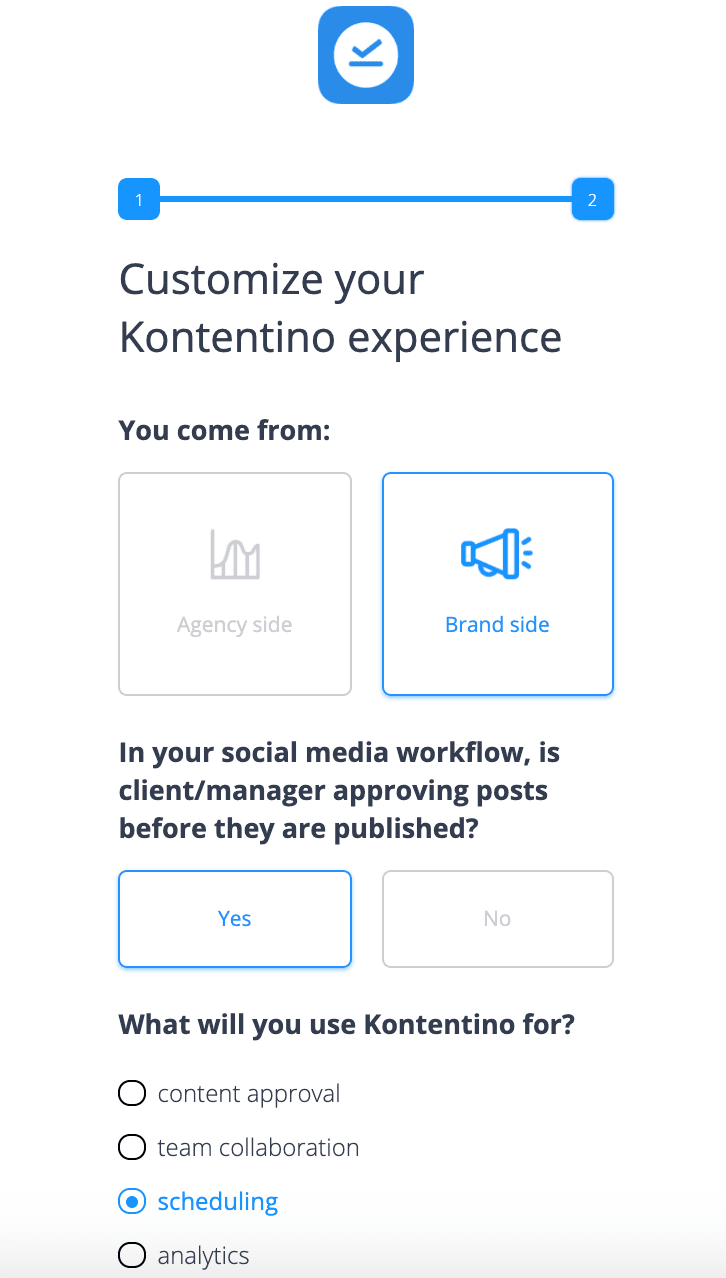 This, as the title suggests – allows Kontentino to segment its users and personalize their user journey. And – as we know from our State of SaaS Onboarding research – is the key to a high engagement rate (who wouldn't want their journey to be relevant, after all?).
DISCLAIMER: Right now, you cannot create this pretty welcome screen in Userpilot without coding. But you will be able to create it in 2.0. version!
Next, Hana from Kontentino gives me a personal welcome in a modal inside the app: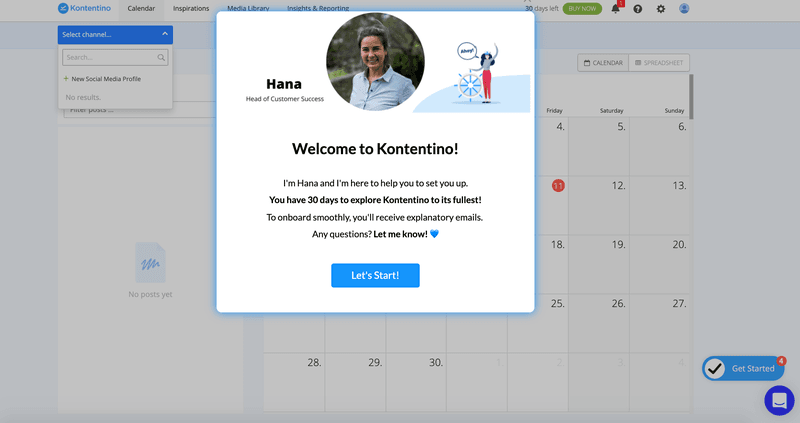 After pressing 'Let's start – I'm gently guided towards the two key activation points for a social media scheduler – 1) linking my accounts; and 2) scheduling my first post.
Not less, not more – these two steps are enough for me to experience the AHA! moment (see the initial value in the product), but not enough to overwhelm me.
Kontentino guides me through a skillful combination of tooltips and driven actions (meaning – pointing my cursor to the right element in their UI):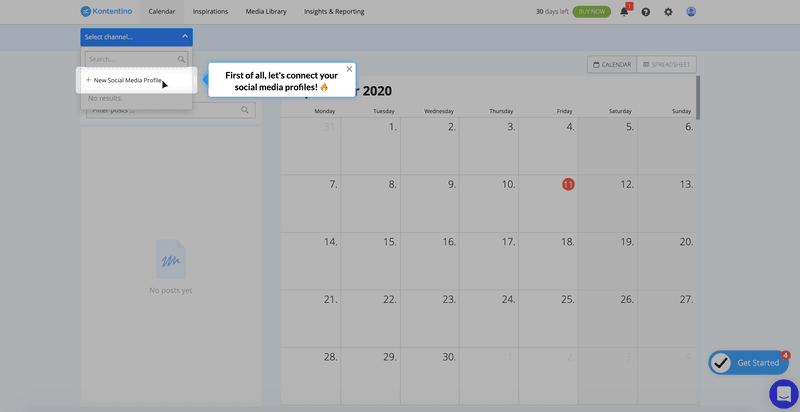 After linking my first account, Hana – the Kontentino teammate from the welcome screen – celebrates my success with a funny GIF: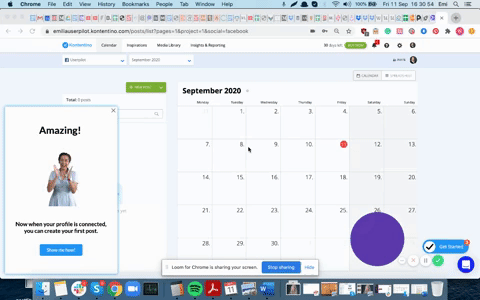 This, of course, gamifies the experience and motivates me to press on.
The next step – scheduling the first post – is equally easy: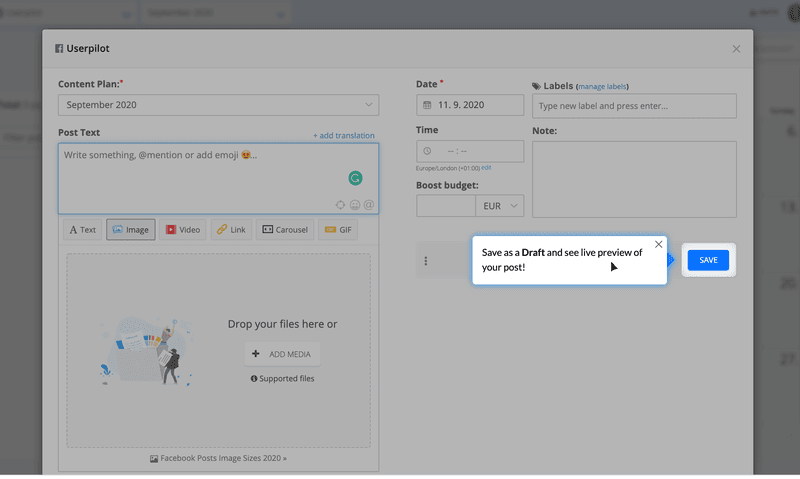 And I'm almost done with my onboarding!
Conclusions
The whole product onboarding experience felt like something between taking a fun psycho test, and playing a game. An excellent way to engage agencies and brands!! This is exactly how Kontentino managed to achieve a 10% boost in user activation in the first month of setting up their new onboarding experience!
Want to read more case studies like this? Sign up for our email course!