8 Customer Activation Examples to Ensure User Growth in SaaS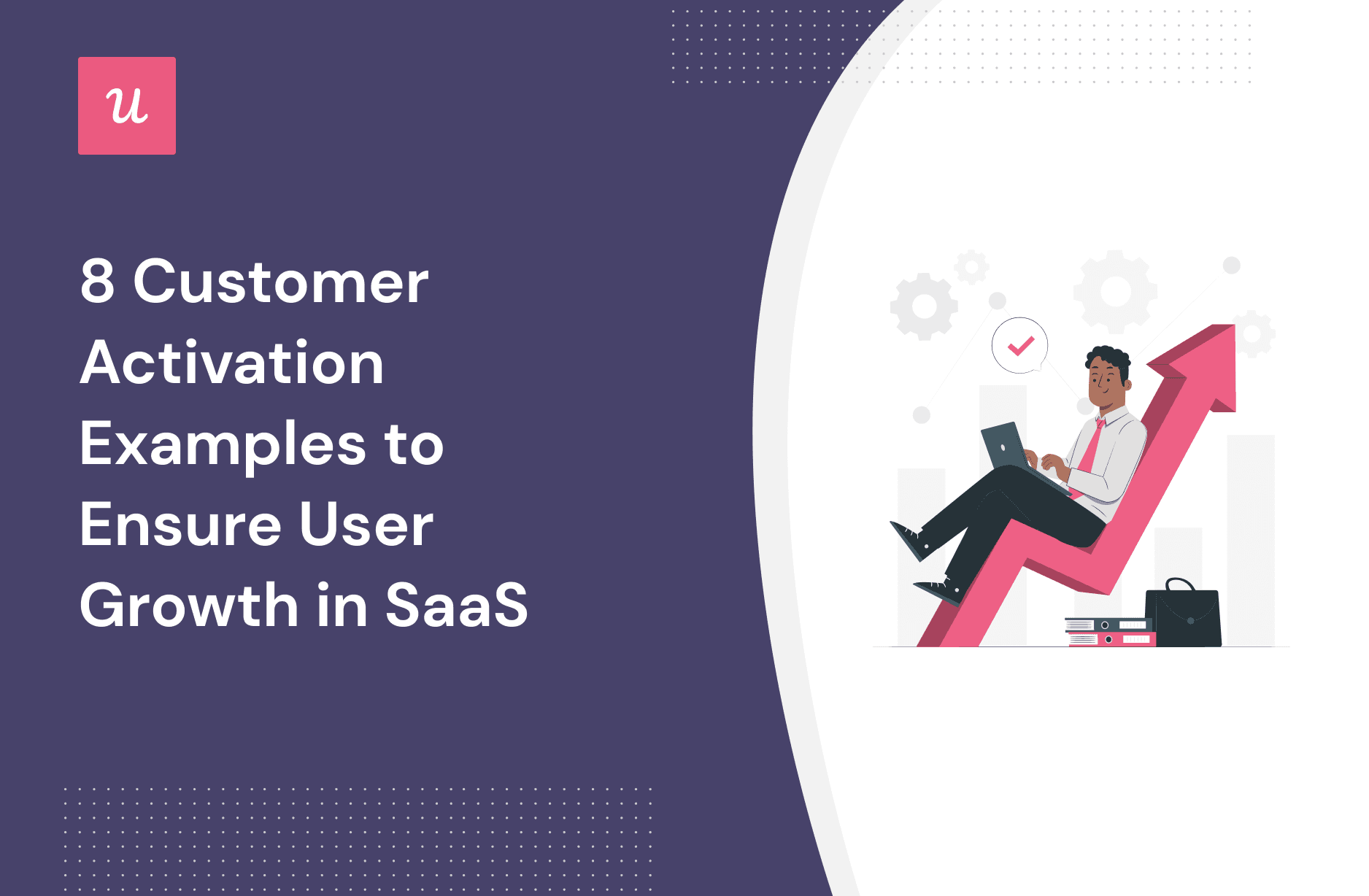 Let me guess: your product adoption needs a boost, so you're looking up customer activation examples from SaaS businesses like yours.
We've got you covered.
This article shows your examples from top SaaS companies. You'll see what's working for them and how you can implement them for your business to drive growth in your company.
TL;DR
Customer activation is the second stage in the user journey—after customer acquisition. It involves guiding new and existing users to experience multiple Aha moments in your tool.
An effective customer activation strategy helps to:
Streamline the customer lifecycle.
Create more loyal customers.
Sustain a better relationship with customers.
Examples of customer activation strategies to implement in your SaaS:
Kontentino increased new customer activation by 10% because they used interactive walkthroughs and checklists to provide seamless onboarding.
Similar to Kontentino, Sked Social uses gamified checklists to give users a great onboarding experience.
Asana collects user data with a quick welcome survey. It uses that insight to give customers personalized experiences.
Loom uses video tutorials as an engagement strategy.
Rocketbots uses interactive walkthroughs to introduce features and help customers learn by taking action.
SurferSEO has a robust academy where it provides regular live classes, self-serve guides, and live chat support.
Miro uses feature announcements to engage existing users.
Mark Copy uses gamification to collect user data early in the onboarding process.
As a product adoption tool, Userpilot helps you to:
What is customer activation?
Customer activation is the second stage in the user journey—after customer acquisition. It involves guiding new and existing customers to experience multiple Aha moments in your tool. This process helps them see how valuable your product can be if they engage regularly.
Think of customer activation as an ongoing process rather than a single event during your primary onboarding. A good way to track activation is to set different milestones in your product.
E.g., if you're a team communication app, your initial milestone can be when the buyer adds their team members to your platform. Another one can be when they cross 1,000 messages. You can also set re-activation goals for lagging users.
Why is customer activation strategy important?
SaaS companies put so much effort into customer acquisition and treat activation as an afterthought. The sentiment is understandable—every business needs customers. But your business will be in bad shape if you don't give user activation the attention it deserves.
A solid customer activation strategy is important because it helps to:
Streamline the customer lifecycle
The easier users engage with your site or product, the more smoothly they'll move through the customer lifecycle. Your activation strategy should leave nothing to chance. Carefully examine the customer journey map and provide contextual guidance and prompts at every point the user might need it.
Create more loyal customers
By guiding customers and nudging them to take the right actions, your users will begin to love your tool and what it helps them achieve. They're now getting value for their time and money, so they'd stick around, and many will become loyal customers.
Sustain better customer relationships
Customer activation strategies focus on building customer trust by removing friction and ensuring their needs are met. These positive experiences result in improved customer relationships over time.
A quality relationship with your customers leads to increased loyalty, retention, and better word of mouth. Not to mention that customers will be more open to participating in surveys where they offer ideas on how to better their experience.
Examples of customer activation strategies to implement in your SaaS businesses
Sometimes, the best way to learn is by example. We've handpicked some of the best SaaS user activation examples to inspire you to nail yours:
How Kontentino increased new user activation by 10%
Kontentino is a social media planner with robust analytics to help agencies and marketing teams thrive on social media. The platform has two important activation points: 1) linking social media accounts and 2) scheduling initial posts.
By the time users cross the two points, they'd have experienced the tool enough to begin experiencing value from it. But Kontentino had to find a way to make that happen.
Their solution was to use Userpilot to build an interactive walkthrough and a checklist for smooth and contextual guidance. They personalized the onboarding flow by collecting customer data upfront and using the information to determine what the user sees. And the strategy worked. Both activation metrics increased by almost 10% in the first month.
How Sked Social tripled conversion with a checklist
User conversion is integral to SaaS growth, especially for PLG companies.
You'll struggle to stay afloat if your free or trial users aren't converting to paid customers. So, how did Sked Social solve this problem?
Like Kontentino, they used onboarding checklists to guide users through the onboarding process. The checklist also has a progress bar to give users a sense of achievement, motivating them to complete the process.
How Asana used personalization and segmentation to boost activation
To provide personalized onboarding, Asana sets up a quick survey for new customers. The company collects information on user roles and how they intend to use the product.
Asana then segments users based on the information provided. This helps to streamline the onboarding process and ensure users first interact with aspects of the product that are more relevant to their JTBDs.
How Loom used video tutorials as an engagement strategy
Video tutorials are becoming increasingly popular because they're easy to consume. A 2-minute video can walk you through a concept that would have required reading several articles.
Loom uses this strategy to educate customers and drive activation at key points in the customer journey. If you want to implement video tutorials, digging into your support tickets is a good place to start. Categorize the most common queries and create videos that answer them.
The good thing about video tutorials is that you can distribute them through different channels and attract new customers while educating existing ones.
A few ideas:
Host them on your resource center (in-app or on your website).
Have them on YouTube so prospects can discover them when searching for something on the topic. Also, being on YouTube makes them easily shareable.
Use video tutorials in your product marketing campaigns.
Use them to answer support tickets.
How Rocketbots used interactive walkthroughs to introduce product features
Chat automation platform Rocketbots uses interactive walkthroughs to educate new and existing customers.
The good thing about this user education medium is that it helps users learn about your product by taking action. The experience will stick more with them that way.
Plus, they're already familiarizing themselves with your product by taking action and will feel ready to begin using the platform when the onboarding is over.
How SurferSEO created Surfer Academy to teach customers how to use their product
It's not very common for SaaS companies to have an ongoing academy for user education. The reason is simple: it takes work to keep up.
However, SurferSEO is one of those few companies that do it—and they're reaping the benefits! Surfer Academy consists of weekly live classes, a live chat option, and several guides for self-service.
The company also has an active Facebook group with over 15,000 members. Of course, not every member of the group is a customer.
Some only joined to network and learn. But in the process, Surfer is building a positive brand image in the eyes of prospects. When community members need SEO automation, SurferSEO will be the first to pop into their heads.
Similar to Surfer Academy, Userpilot created Product Adoption School to educate customers about onboarding. It's a series of emails delivered to your inbox weekly. Check it out to learn more about growing your customer base and ensuring product success.
How Miro used feature announcements to engage existing customers
Picture this: you spend weeks building a feature you know your users will love. It's finally ready, and you rolled it out, confident that customers will find it useful.
Two weeks later, you check the page analytics to see how the engagement is going. To your bewilderment, only about 15% of the target audience has engaged with the resource.
Now you're sad. Did they not like it? Was there something you should have added…or removed?
You kept wondering.
But in the real sense, engagement was low because you didn't announce the new release. Not to say every poor engagement stems from the above reason, but in-app announcement is a big deal.
Your customers don't spend all day on your app. They usually just log in to get work done and get out immediately—no time to check for what's new. It's your duty to communicate changes.
And that's exactly what Miro did with the modal below.
Take a look:
How Mark Copy used gamification to collect customer data
Gamification helps users learn how to use the product and encourages them to stay in the app, complete particular tasks and achieve defined goals. It works because you're adding fun to something that may otherwise feel like a chore.
Mark Copy is a good example of onboarding gamification. The platform uses fun elements and cheeky write-ups to collect customer data without boring new users.
How to streamline the customer activation process with Userpilot
Userpilot is a no-code product adoption tool that enables you to build compelling experiences for new and existing customers.
Here's how to use our platform to increase your activation rates:
Collect customer data with in-app surveys
Choose when and where in your application it makes sense to launch surveys: that might mean embedding a modal on the welcome screen, a slideout just after an existing user engages with a new feature, or anywhere else that makes sense.
Userpilot allows you to embed different elements to your surveys with Loom, Typeform, SurveyMonkey, etc. You can also add gamification to keep the survey interesting.
Personalize the customer journey with segmentation
Userpilot offers in-depth segmentation to give you a granular understanding of your users.
You can segment customers based on the following:
User data (sign-up date, name, role, device, etc.)
Company data
User feedback (that way, you can track users that complained about an aspect of your tool and get back to them when the issue is resolved)
Feature usage
Pre-existing segments
Engagement profile
After segmenting your users, you can use our platform to provide personalized experiences based on what's best for each segment.
Measure and improve customer experience among existing customers
You can monitor customer behaviors and track customer interactions with feature tags and heatmaps. This will let you identify friction points and know which features lack customer engagement. With this vital information, you can improve the customer experience by removing the friction point.
Conclusion
You might find that it takes time to see significant changes in your customer activation rate, despite being intentional about it.
That's completely normal. Improving your activation rate is an ongoing process, and you'll keep making changes based on customer insights. Just stay consistent, and be bold to test new ideas.
Want a no-code tool to build product experiences that drive user activation and retention? Book a demo call with our team and get started!