Best Gamification Examples In SaaS [A Curated Collection]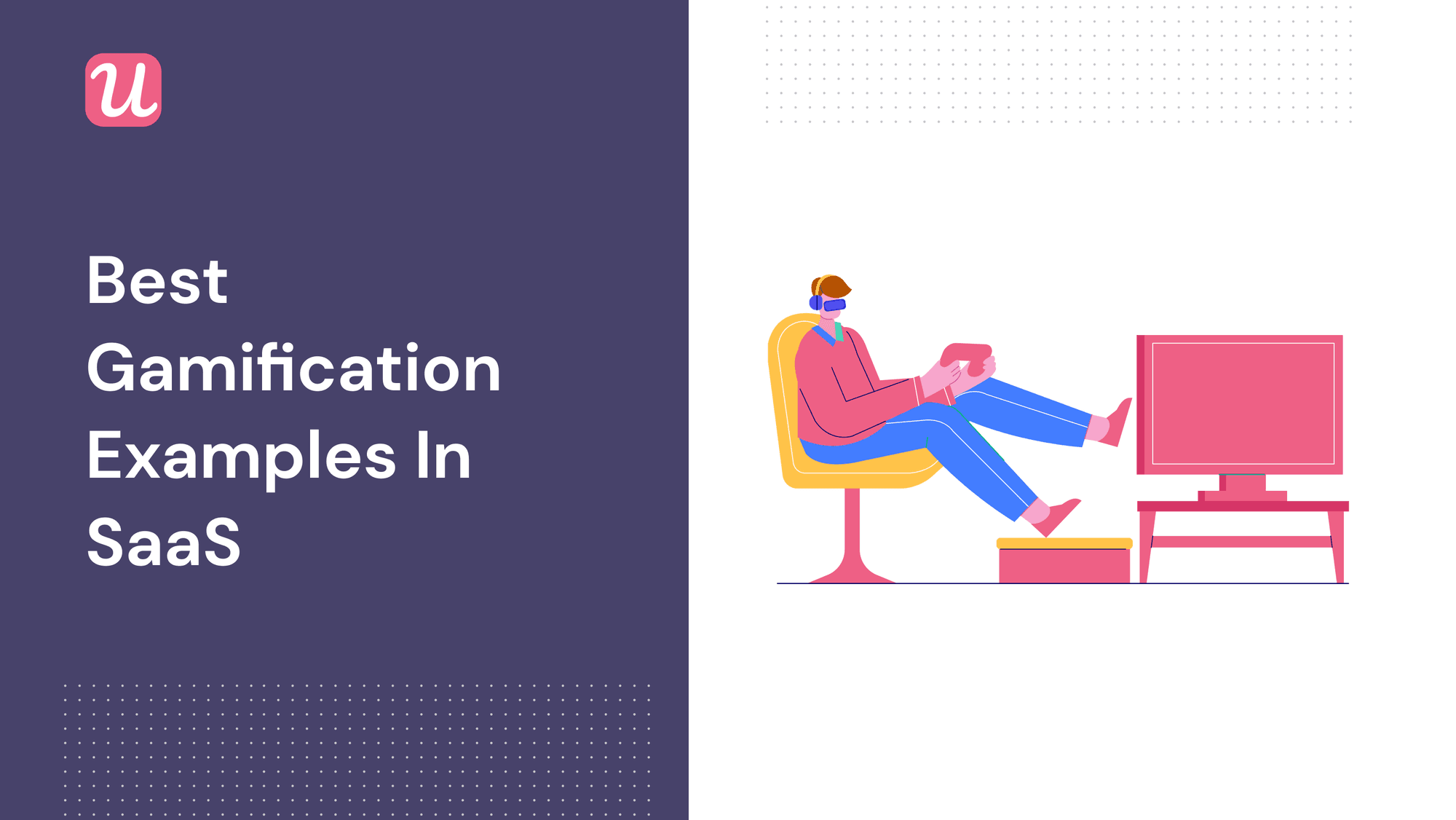 Are you looking for the best gamification examples in SaaS?
Gamification can help increase user onboarding and product adoption – when done right.
Let's look at some examples of in-app gamification elements used by top SaaS brands out there.
TL;DR
Gamification can help increase user onboarding and product adoption by adding fun elements into the SaaS application.
Gamification elements include points, badges, avatars, discount codes, status, leaderboards, or rivalries between users.
Gamification can be applied to anything – from simple to-do apps to personal finance apps.
Gamification helps users learn how to use the product and encourages them to stay in the app, complete particular tasks and achieve defined goals.
Gamification can be applied to SaaS via progress bars, milestone celebrations, badges, leaderboards, and rewards.
Companies like LinkedIn, Salesforce, Asana, and Todoist have successfully implemented elements of gamification into their products. Use these examples to inspire your own work.
What is gamification in SaaS?
Gamification is the introduction of fun, game design elements into the UX of SaaS products with the end goal of encouraging a specific desired user behavior.
Gamification usually includes a 'reward' that motivates the user to continue to use the product. These include:
progress bars
milestones and celebrations
badges
leaderboards
scores
points
rewards
Now let's see some of the most successful examples of in-app gamification in SaaS products.
Gamification example: in-app progress bars
Progress bars indicate the progress of completion of a particular task or set of tasks.
The closer the user is to completion, the bigger their motivation to finish. Use this when you want the user to complete a series of tasks in one go and you want to avoid the risk of them dropping off.
LinkedIn gamification example
LinkedIn uses progress bars to gamify the process of completing a profile. Their app shows either the percentage of completeness or the strength of the user's profile.
These factors are important for people using LinkedIn because the completeness of their profile impacts:
How many people will see their profile
How other users will perceive them
What is LinkedIn trying to achieve?
Firstly, they want people to actively use their accounts. The probability of that increases with the time users spend updating and polishing their profiles.
Secondly, LinkedIn wants users to reach the activation point, and that could mean completing the profile fully. By using the progress bar gamification element they incentivize users to add more data by showing them how close they are to a better Profile Strength.
Salesforce
Salesforce is a Customer Relationship Management (CRM) platform. They wanted to help users learn how to use their platform, so they created an engaging program called Trailhead.
Trailhead transforms onboarding into an animated journey with a finish line. It aims to encourage users to stick to the program (and the platform simultaneously) during a learning phase that might be tricky otherwise.
Users get badges along the way, and these badges give them a sense of achievement and progress so that they move forward more eagerly. They also get better at understanding how to use Salesforce.
Gamification example: in-app milestone celebrations
Milestones represent the key points along their user journey, usually reached by users at the end of each user journey stage. They are part of the onboarding process.
Milestone celebrations are a way to make users smile, feel good about using your product and increase their loyalty and commitment.
Sometimes they can be fun, too!
Asana gamification features example
Asana is a project management tool dedicated to teams.
Asana celebrates users' achievements by displaying magical celebration creatures on the screen. As you can see below, unicorns do exist! They might appear after a user completes a task in Asana.
They want to make users smile and encourage them to finish more tasks fast to check what magical creature will appear next time.
Kontentino gamification
Celebrating users' achievements is not only fun and engaging for the user, it can also give you an opportunity to direct the user's attention towards engaging with an important feature now that they've completed a task.
And that's what Kontentino did.
Kontentino is a social media management tool that allows its users to manage all their social media accounts in one place.
They show a dancing gif of Hanna (one of their employees) after the user finishes the first step of the onboarding process.
After completing each milestone during the onboarding process, Kontentino shows celebratory screens. By doing so, they want to make activated users feel like they are getting immediate value from using the Kontentino app.
Gamification example: in-app badges
Badges (and other tokens of appreciation like likes or emojis) are a key part of "social recognition." They can be a symbol of a user's social status within the community of all users. Therefore, adding badges as a part of gamification in your app is worth considering if there is a community aspect to your app.
Adding badges can also help with getting more users to adopt secondary features or reward them for spending specific periods of time in-app.
Reddit gamification example
Reddit is a website – or rather a network – full of communities based on people's interests.
Reddit did a great job implementing badges on their website. It helped them grow into a platform with millions of active users. Users receive coins for each post, and they can level up after posting comments in chat threads and groups.
Reddit wanted to achieve a high level of user engagement. Badges are not only a sign of appreciation for contributing to the community but also introduces an element of rivalry between users.
Facebook gamification example
Facebook followed the way of implementing badges. Top page commentators can receive various badges for their interactions. Such a reward is intended to encourage users to be active and helpful by contributing to the community regularly.
HubSpot gamification example
HubSpot is one of the best examples of implementing badges as a part of gamification.
They created the HubSpot Academy, with an entire certification program around their different products. Users receive badges they can show on LinkedIn (and wherever they want) after completing courses and passing quizzes.
These badges are proof of a certain level of knowledge and can boost both LinkedIn profiles and CVs.
As a result, HubSpot achieves a few goals:
Users familiarise themselves with HubSpot products.
Product adoption increases.
The word about HubSpot spreads all over social media platforms (especially on LinkedIn).
Take a moment to think – maybe you can create a mini-certification program for your product?
For example, if your tool is widely used in a certain industry, badges awarded for different proficiency levels might be a good incentive for your users to complete the program and share their achievements on social media, driving more brand awareness for you.
Gamification example: in-app leaderboards
Competition is in our blood. No matter what it is – Olympic Games or board games – we want to win. There is no difference when it comes to online rivalry, and you can take advantage of that part of human nature in your SaaS application.
How to do so? Try leaderboards.
Leaderboards quite literally are a board that shows who the leader is in a specific category of the competition.
Let's look at some examples.
Freshdesk
Freshdesk is a customer support software that empowers helpdesk support teams.
Freshdesk fuels the rivalry between team members by showing the leaderboard in the app dashboard. Depending on the score, team members receive a status alongside a badge.
You could go one step further and give companies a possibility to offer prizes for top positions at the end of the month.
Todoist
Todoist is a productivity app available not only for individuals but also for teams that want to plan and organize tasks and projects and collaborate on them.
Todoist users receive Karma points and achieve new Karma levels as they are completing tasks on time. On the other hand, if someone has tasks that are 4 days or more overdue, they lose Karma. Put simply, Karma is a measure of progress.
Todoist offers an additional reward when the user reaches Enlightened level – a mystery Todoist theme.
Todoist uses Karma to encourage users to improve their charts and, consequently – their productivity. Additionally, people don't like to lose anything – especially something they had put some work into. So it's a great motivation to complete tasks on time and retain a status or even advance.
Gamification example: in-app rewards
Who doesn't like rewards, right?
It's why in-app rewards are one of the most common elements of game design used to apply gamification. However, many companies fail to use them to encourage users to take specific actions.
ProdPad
ProdPad is a product management tool dedicated to product managers.
It's a complex tool created for demanding customers, so ProdPad wanted to shorten the time to conversion. Another thing they aimed for was to make the app customizable to the user's needs.
In the beginning, they offered a 30-day trial. However, they discovered later that users need an average of 9 days to decide whether to stay and pay or not. So they made a few decisions based on that discovery.
They changed a 30-day trial to a 7-day trial. Then they used a checklist with multiple tasks that rewarded users with more free trial days once they completed a task.
It's a win-win situation. ProdPad doesn't waste time and resources with users that might now be a good fit for their product, and users get to experience the product and use it for free for longer when they engage with it.
As a result, the time to conversion was shortened by four weeks.
However, they don't rest on their laurels, and they continue to tweak their gamification every now and then to provide even more value to the users.
Wrapping things up
Gamification implements a bit of fun into the onboarding process and product adoption.
But it's not just all fun and games – gamification makes users feel like they are getting immediate value from using the product. It also encourages them to try particular features which may bring them closer to conversion.
If you want to apply gamification to your product, consider progress bars, milestone celebrations, badges, leaderboards, and rewards.
If you're looking to engage with your users in-app, Userpilot can help. Book a Userpilot demo to see how.