Guide to Building a B2B SaaS Customer Journey Map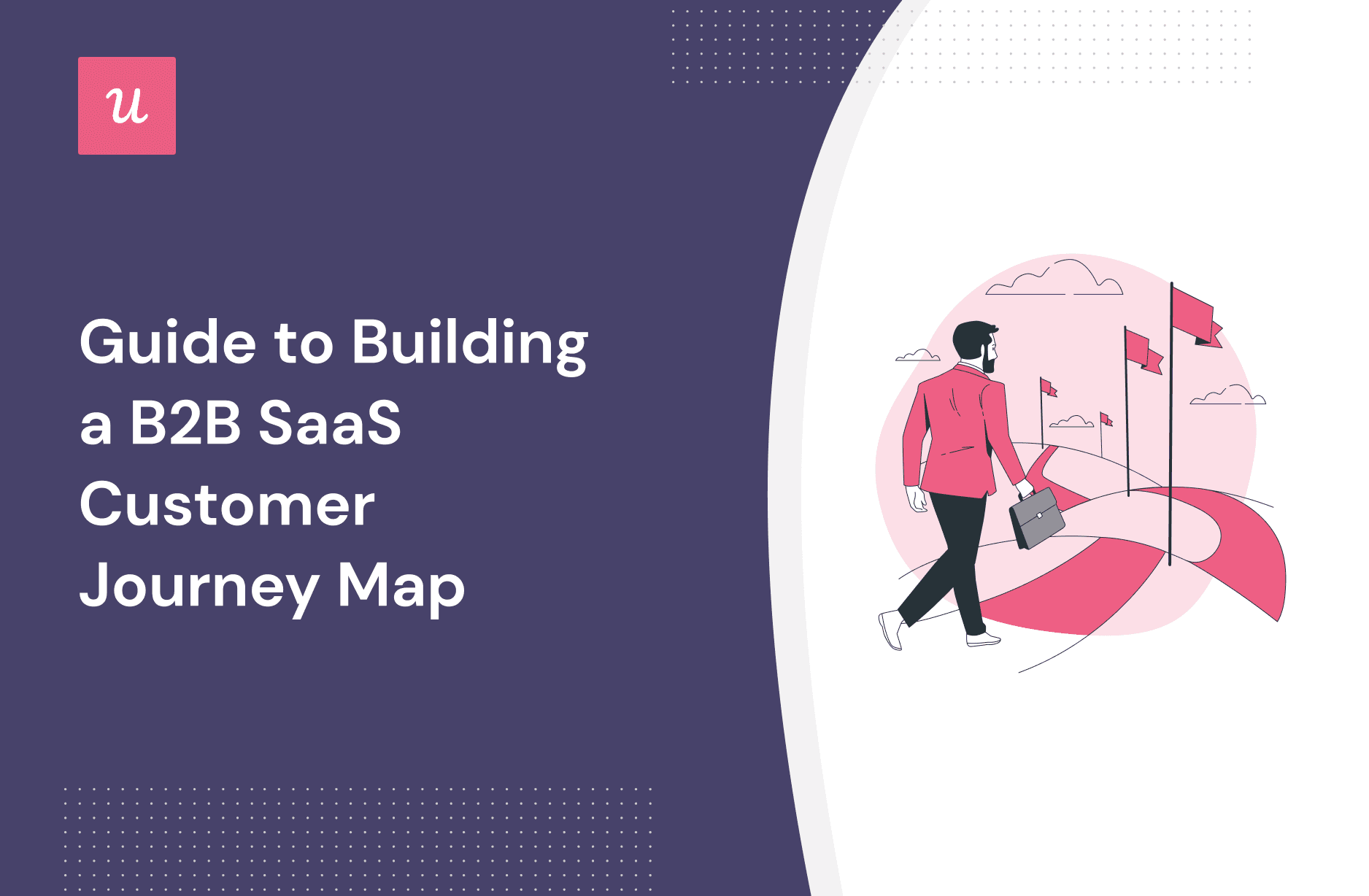 A B2B SaaS customer journey map is key to creating a wholesome product experience for your customers.
To get it right, SaaS companies must step back and see the product from the customer's viewpoint. Starting from their first point of contact to when they subscribe and eventually become raving fans of your product.
In this piece, we'll break down what a SaaS customer journey map is all about, its importance, and practical steps for building one that boosts product adoption.
TL;DR
A SaaS Customer Journey Map refers to the path a customer takes from the moment they discover your product till they become paid users.
The SaaS customer journey consists of six different stages: awareness, acquisition, adoption, expansion, renewal, and advocacy.
At the awareness stage, customers are searching for a solution to a problem.
The acquisition comes when your target audience begins using your tool. Impress users with a seamless onboarding process to win this stage.
The adoption stage is when users transition into paying customers.
At the renewal stage, a customer has tried a product and is satisfied enough to renew their subscription.
Expansion is the stage of upsells and feature upgrades for existing customers. Here, you're trying to upsell your customer to upgrade to a premium account.
Steps to build your B2B SaaS customer journey map:
Establish your company's goals and align them to the intended customer journey mapping.
Create your user persona to gather important information about your target audience.
Identify important customer milestones for the journey you are mapping.
Analyze existing gaps to uncover gaps that could cause friction
Continuously collect user feedback and optimize your map for a more accurate result.
What is a SaaS customer journey map?
A SaaS customer journey map is the visual storyline of every interaction a customer has with your company and software. Typically, customer journey maps include touchpoints, emotions, pain points, and actions.
It's not just about creating a timeline—it's about encouraging empathy and understanding how customers' needs and feelings fluctuate throughout their journey. Thanks to this shared understanding, teams can identify opportunities for improvement and innovation.
Why is it important to map your customer journey?
For SaaS companies, the customer journey map unravels the answers to questions about your customers. It shows you what problems they want to be solved and how you can help them.
It also helps you achieve the following:
Understand where customers get stuck and remove friction
A customer journey map helps you identify unhappy paths in the user experience.
Ask yourself: did a customer reach a milestone and get stuck there? For example, did they click on the "create an account" button but never finished the signup process? Identify the friction, and remove it.
Understanding what the next milestone is can help you pinpoint where users get stuck so you can remove friction and improve customer retention.
Enhance customer experience and prevent churn
Instead of generic in-app help, using a customer success journey map can help you anticipate your customer's next steps to achieve success with your app
This means your communication strategy can focus on micro conversions, driving users to success with in-app guidance, or 1 on 1 help, etc, that's specific and relevant to where the customer is in the journey.
By offering granular help when and where they need it, you decrease the risk of churn.
You can also monitor engagement to spot inactivity and proactively reach out to users when they show signs of churning. But first, you need to know what to monitor, and a journey map helps you understand that.
Boost customer lifetime value
Knowing where your customers are in the buying process allows you to always recommend upgrades that are contextual and relevant.
So, instead of randomly trying to upsell, with a journey map you'll know when a customer has reached the point in their journey where an upsell would bring them more value.
Types of SaaS customer journey maps
There are four main types of customer journey maps, which include:
Current State Map: this is mapped around the present state of the customer in their journey. It takes into consideration the thoughts, feelings, and behavior of the customers while interacting with your product.
Future state map: this map is developed around predictions or projections of the customer's experience with your product. It should be mapped after effecting the corrections based on insights gotten with your present state map.
Day in the life map: this map illustrates your customer's day-to-day activities outside their interaction with your product. It covers their overall lifestyle including their fun time, work time, etc.
Empathy map: an empathy map dives deep into the customer's behavior to create a personalized product experience. With an empathy map, you'll dig down to the unique actions of your target persona from their own point of view.
Service blueprint maps: this map accesses other types of maps to identify hidden elements that can disrupt the customer's journey.
Circular customer journey maps: this helps you visualize the customer journey in a loop or circle.
Stages in the SaaS customer journey maps
There are six stages involved in the SaaS customer journey, each of which comes with its own touchpoints.
Let's look at them in detail.
Awareness and Consideration
The SaaS customer journey starts at the awareness stage. Here, your customers are triggered to search for a solution to a problem. It's also when they first discover and develop an interest in your product through an ad, referral, review, or SERP results.
Think of this stage as an evaluation stage. Your customers are comparing you with competitors and evaluating their options.
Awareness and consideration stage touchpoint examples
Reviews on review sites like G2, Capterra, etc
Testimonials on your website
Search engine result page
Influencer marketing campaign
Ads e.g social media ads, Google ads, etc
Top of the funnel content on blogs
Social media content
Whitepapers
Digital billboards
Here's an example of a touchpoint of the awareness stage: a paid social media ad from PromoRepublic explaining their product benefits.
Acquisition
Acquisition comes next, after awareness and consideration. At this point in the process, your target audience signs up for a free trial.
Creating a seamless onboarding process is the ultimate way to win over your user at this stage. After all, it determines the first impression a user will have about your product.
Most times, the slightest hiccup here can make a user opt-out before they experience the 'aha' moment or reach the adoption stage. This is why SaaS companies must invest in product-led marketing to paint users a picture of what to expect with a product and how it will work for them.
Acquisition stage touchpoint examples
Free trial or freemium tier
Demo requests
Account registration and sign in
SaaS comparison pages
Middle-of-funnel blog posts
Onboarding emails
Adoption
A seamless onboarding experience can work wonders for how your users see your product, and whether they choose to become paying customers.
When users transition into paying customers, don't leave them alone to figure things out for themselves. Provide in-app guidance to drive product adoption faster.
Use checklists to help users get quick wins during the customer onboarding process. Tooltips and hotspots are great for describing product features and directing the user on the right path.
Adoption stage touchpoint examples
Video tutorials and webinars
Virtual customer communities and forums
Email sequences on more advanced usage of the product
Self-serve resources, like a knowledge base
Renewal
As many SaaS products use a subscription model to generate recurring revenue, this stage is a major determinant of whether or not a SaaS company breaks even.
This stage is especially important at the end of a free trial since this isn't a subscription renewal, but the first purchase from your user.
To hit this stage, dig into your customer data to uncover what makes customers hesitate in their customer journeys. Then implement customer retention strategies to keep them.
Renewal stage touchpoint examples
Sales calls (b2b SaaS pre-purchase)
Educational and promotional emails (pre-purchase)
In-app notifications and surveys (pre-purchase)
Subscription purchase screen (moment of purchase)
Account and billing features (post-purchase)
Expansion
Expansion is the stage of upsells and feature upgrades for current customers. At this stage, you're trying to achieve revenue growth without acquiring new customers.
An example of an upsell in SaaS is the tiered pricing model. Most SaaS companies offer multiple features—as part of different packages—to entice customers to opt for a more expensive plan.
It could also be getting them to increase the number of seats or users for products that come with a per-user charge.
To drive account expansion, start with a problem compass. Understand your users' challenges and align your expansion strategy with their journey.
Advocacy
At this stage, you've unlocked the true fans of your products.
Because of how complex the SaaS customer journey is, advocacy can happen at any point of the customer lifecycle. Someone could be an avid reader of your company's blog, fall in love with the content, and recommend your product—all without ever using it.
The probability of advocacy happening is higher with companies that have a product-led strategy. People have a first-hand experience with your product and see it in action without paying upfront.
Advocacy is better done by your customers; they act as referrals, answer prospect questions on your behalf, and eventually help you with user-generated content.
Advocacy stage touchpoint examples
Social sharing
Referral and loyalty programs
Reviews and testimonials
Steps to build your B2B SaaS customer journey map
Building a customer journey map sounds simple, but how exactly can we build one that works?
Here are five steps to creating a successful SaaS customer journey map:
Establish your company's goals and objectives.
Create and describe your target personas.
Determine customer milestones and touchpoints for the journey stages you are mapping.
Analyze gaps between existing strategies and expectations.
Constantly improve and optimize your map.
Establish your company's goals and objectives
Every product decision, campaign or strategy you come up with, should be in line with your company's overall goals.
With that in mind, consider the final results you'll like to get from the intended customer journey mapping.
In doing this, factor in the type of product you offer, the industry you play in, trends, and your customer insights. All of these will help you determine if the goals you set are realistic.
Here are some examples of objectives you may want to achieve with journey mapping:
Create and describe your target personas
Your user persona is a fictitious representation of a subset of your target audience. This is based on factors like demographics, behavior, lifestyle, and more.
There is a multitude of ways to collect the information needed to create personas, and one of them is through in-app microsurveys.
Take note of your target audience. Are they the decision-makers or end-users? This way, you'll know exactly who to design for. For instance, your end-users might be the social media team. Meanwhile, the decision-makers could be the marketing lead.
Determine customer milestones and touchpoints for the journey stages you are mapping
What are the main goals? What does the customer want to achieve, and what should they do to get to that stage?
Lincoln Murphy defines success milestones as "functional milestones within the product, but they won't just be an activity for activity's sake".
They must be the result of meaningful activity and should be tied to other inputs to ensure that the customer is achieving the "desired outcome".
For example, in a social media app, creating a new post is a functional milestone. So is reaching the activation point in SaaS. The point is, customers must engage with specific features to achieve this.
Analyze gaps between existing strategies and expectations
Finally, you need to determine what customers expect from each touchpoint, as well as how your company is currently performing.
For instance, your customers may expect advance notice and a seamless renewal process at the billing touchpoint. But what your company provides is a three-day notice, and it requires several manual steps to renew.
You can also check customer tickets and reviews for hidden clues. Likewise, you can collect feedback at multiple touchpoints with in-app surveys to listen to what your customers have to say.
Constantly improve and optimize your map
SaaS customer journey mapping is not a once-and-done deal. You need to continually update the information you've collected and iterate designs as you go. This way, your customers will have a better experience with your product.
Using product adoption tools like Userpilot can help you set specific goals. You can also add your milestones as your main goals.
Track in-app customer behavior and see where users get stuck and drop off in the journey and optimize the low-converting touchpoints.
Conclusion
By mapping the customer journey and carefully optimizing the critical touchpoints, you're setting your product up for success.
And if you need a tool to build better product experiences without coding, sign up for a Userpilot demo to get started.