Customer Advocacy: How to Turn Loyal Customers Into Advocates and Drive Product Growth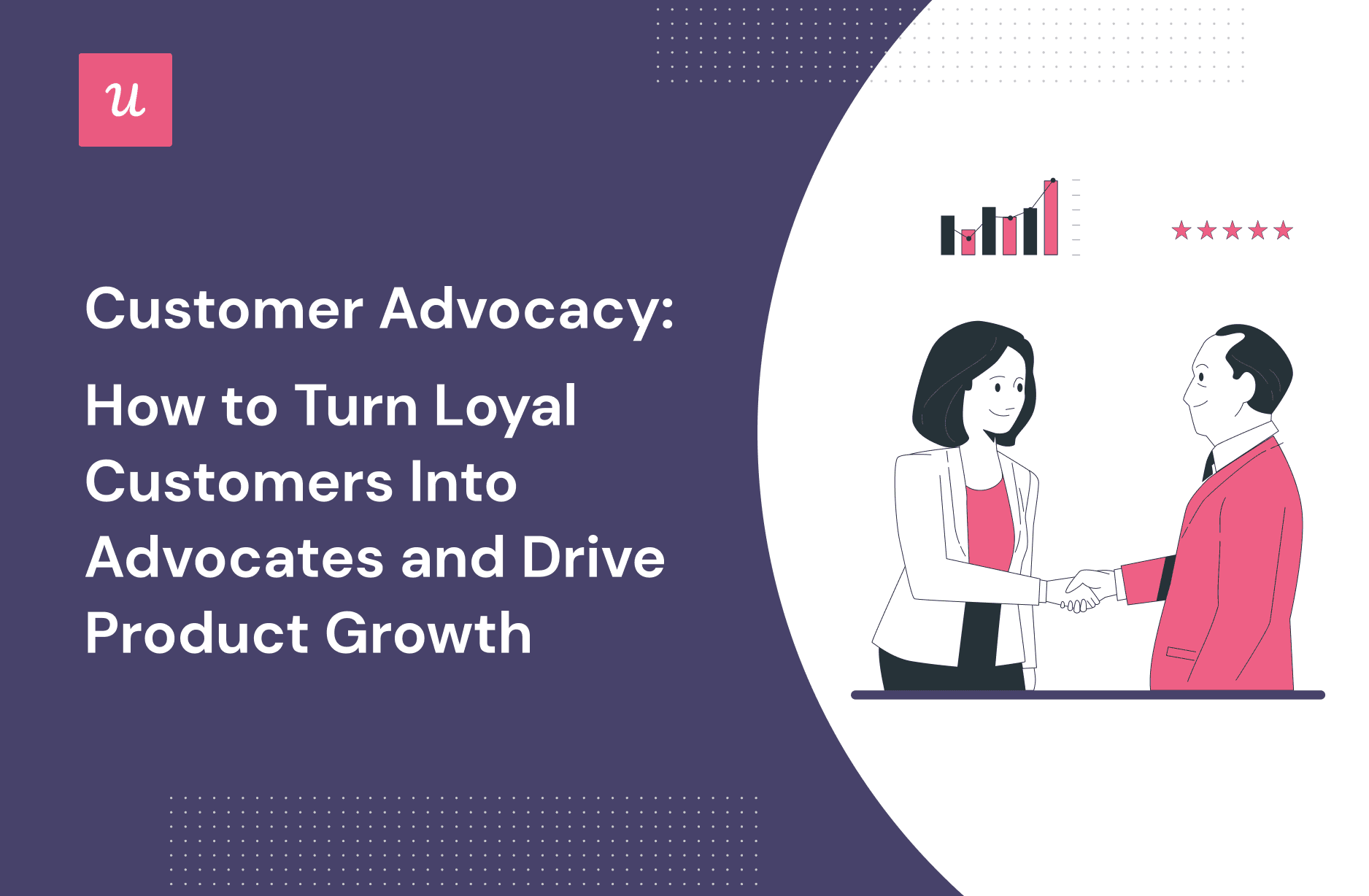 Customer advocacy is a powerful force for driving business growth without breaking the bank.
There is nothing more important to a brand than making its customers happy. Nevertheless, efforts shouldn't stop there. While customer satisfaction is essential to brand success, taking proactive measures toward turning these satisfied customers into advocates is key to business growth.
But what exactly is customer advocacy and how can you use it to your benefit? In this article, we go over how to drive customer advocacy and also include strategies to improve customer retention and loyalty.
TLDR;
Customer advocacy revolves around providing the best customer experience to get more loyal customers. Then, prompt those loyal customers to share their positive experiences with their network and attract new customers for you.
Investing in a customer advocacy program boosts brand awareness, reduces acquisition costs, and drives word-of-mouth referrals.
Customer advocacy falls under the fourth stage of the AARRR user journey – Referral.
Customer advocacy and customer loyalty are similar in some ways but overall different. Loyalty is a purchasing behavior – customers either make repeat purchases or keep their subscription in place of other options. Advocates are loyal customers who've taken it a step further by praising you publicly.
Customer advocacy is analyzed by looking at net promoter scores, a metric that measures on a scale of 1-10 how likely someone is to refer you to a friend. A score of 8+ indicates a potential customer advocate.
There are four stages to building a customer advocacy program: Exploration, Motivation, Activation, and Iteration.
Customer advocates generally fall under four personality types, each with its benefits. These include status seekers, educators, validators, and collaborators.
Get new advocates onboard with positive incentives, such as physical rewards or VIP experiences.
The first step to scaling your customer advocacy program is to improve your product onboarding experience. If new customers never experience value, they'll never become an advocate. Use checklists to drive users to activation points and interactive walkthroughs for feature adoption.
For the same reason, personalize your product for the most relevant and enjoyable experience. Segment users based on their jobs to be done to give engagement a boost.
Customer service is essential for nurturing positive customer relationships. Build a fully-loaded resource center with video tutorials, webinars, and help articles.
Use gamification, like badges or certificates, to celebrate customer milestones and make the experience fun.
Collect customer feedback regularly across all touch points and turn those insights into real product improvements.
Are some customers experiencing setbacks in your product? Turn those detractors into advocates by proactively reaching out to help them 1-on-1.
Encourage loyal customers to become brand advocates and offer incentives for their efforts.
Start a referral program that rewards existing customers for referring new customers.
What is customer advocacy?
Customer advocacy is the act of building and nurturing relationships with loyal customers, who then act as spokespeople for your brand and promote it to the rest of the world.
Customer advocacy revolves around providing an excellent customer experience. Businesses that prioritize customer advocacy build trust, deliver great customer service and provide a seamless product experience.
What are the benefits of customer advocacy?
Investing in a customer advocacy program is one of the best ways to scale revenue without spending tons of cash. It boosts brand awareness, reduces acquisition costs, and drives customer referrals.
Boosts brand awareness
Getting people to talk about your product or service naturally boosts brand awareness. If potential buyers keep seeing your company name pop up in a positive context, that's more memorable than scrolling past your ad on Facebook.
Reduces customer acquisition costs
Customer advocates who help you land new business by spreading the word will help you reduce customer acquisition costs. Instead of having to continuously spend money on marketing campaigns doing things like paid ads, content marketing, and influencer marketing, you're encouraging your top customers to promote you for free just by providing an amazing experience for them.
Drive word-of-mouth referrals
Word-of-mouth referrals are potent. A customer advocate who sings praises about your brand to their network can drive tons of referrals for your product.
Where does customer advocacy fit in the user journey?
Customer advocacy fits in the fourth stage of the AARRR funnel – also known as the Referral stage.
Acquisition – When a user visits your website or app for the first time with a perceived value of your product and signs up for a trial or freemium version.
Activation – Activation happens when someone experiences value from your product for the first time. Their expectations meet reality.
Retention – In this stage, customers make repeat purchases and keep renewing their subscriptions.
Referral – Happy customers become advocates for your brand, singing its praises either publicly or with their network.
Revenue – This stage happens when you earn actual revenue from a customer, by either converting them from free to paid plans or they buy/renewing a subscription.
Customer advocacy vs customer loyalty
Customer advocacy is the logical extension of customer loyalty. They are closely related concepts that share a lot of similarities, but also are different in some ways.
Loyalty is a purchasing behavior, while advocacy is an emotional connection.
A loyal customer will return to your brand, make repeat purchases and continue to choose your business over competitors.
A customer advocate has an emotional connection to your brand and will promote your brand on your behalf and generate word-of-mouth referrals for your business.
Another difference is that not all loyal customers will eventually become advocates, but all advocates have to become loyal customers first.
How do you measure customer advocacy?
Customer advocacy can be measured through Net Promoter Scores (NPS).
NPS is a standardized metric for measuring customer satisfaction and brand loyalty by asking how likely customers are to recommend you to a friend.
Those who give you a score of 8 and above are loyal customers and potential brand advocates.
The customer advocacy framework
The customer advocacy pyramid is a framework designed by Captivate Collective that outlines the four stages of advocacy: Exploration, Motivation, Activation, and Iteration.
1. Exploration
Before jumping in with your customer advocacy strategy, you have to start with data-driven customer research. Understand who your customers are, what challenges they face, and what they want from a product like yours.
2. Motivation
Brand advocates want something in return for their evangelism. Otherwise, what's in it for them? Turn customers into advocates by motivating them with incentives that benefit them.
Captivate Collective mentions three common motivations that push customers to advocate for your product or service: belonging, access, and status.
3. Activation
This is where your sales team, marketing team, success, support, and product teams all come together to build the best possible customer experience. Lean on your customer research from the Exploration stage to improve your product or service in a way that reflects what they truly want and need.
4. Iteration
Keep improving your advocacy program by analyzing data and collecting feedback. What can you do better? What's been working great? Customer advocacy programs aren't a set-it-and-forget-it type of task. Constantly look for ways to iterate and improve to maximize their potential.
What are the four advocate personalities?
Customer advocates don't all operate in the same way. Some share their praises publicly to a huge following, while others have more of a quiet influence. In general, there are four advocate personalities that all bring unique benefits and should be amplified in different ways. Here they are:
Status seekers: These advocates typically have a public following. They build trust with their audience by being brutally honest. They usually do well with public speaking, presenting, or appearing on camera. Amplify status seekers by inviting them to appear on podcasts and webinars or have them speak at live events.
Educators: These advocates thrive when they're helping others through teaching. They can help you acquire new customers by educating them on the use cases for your product. Amplify educators by inviting them to guest post on your blog or share a walkthrough video on how they use your product.
Validators: These are real customers who've been a fan of your product or service for months or years. They've gained tons of value from your business and are willing to go "on the record" to share their experience. Invite validators to write a testimonial, record a customer story video or feature them in a case study.
Collaborators: These advocates are focused on building long-term, mutually beneficial partnerships. They're usually influential with a growing personal network. Turn to collaborators for customer testimonials and partnership marketing opportunities.
What drives customers to become advocates?
Get new advocates onboard your customer advocacy program with some enticing rewards. Here's an example of The Hierarchy of Advocate Needs which divides a customer's wants into five core areas:
Physical Rewards: Show your appreciation to new customers with a physical reward, like a gift card. This will likely improve customer retention if you follow it up with a positive product experience.
Recognition: Say thanks to your advocates with a public shout-out on social media or a private note of appreciation.
Empowerment: Empower customers by asking them for their feedback. Celebrate moments where their input led to positive change.
VIP Experience: Recognize your most active users with exclusive perks reserved just for them, such as special features.
Influence: Allow customers to piggyback off your company recognition and build their influence. Offer opportunities to share their knowledge in podcasts, webinars, videos, or at events.
Customer advocacy strategies for SaaS
Here are the best strategies to provide customers with an outstanding experience and turn them into brand evangelists.
Provide a seamless onboarding experience to retain users first
To drive customer advocacy, you need to retain customers first and give them reasons to come back.
User onboarding is the most important part of the customer journey because it sets the stage for everything to come.
The goal of user onboarding is to guide users to activation so they can experience the value of your product or service as fast as possible.
One of the best ways to drive users to their activation points is by using onboarding checklists. They're a powerful form of motivation that push customers to complete essential actions.
On top of using checklists, remove friction with in-app guidance. Don't leave users hanging there on their own – they don't know where to go.
Use interactive walkthroughs to guide users step by step through engaging with a feature for the first time. The checklist prompts them to take action and discover relevant product functions, while the walkthrough shortens the learning path by removing friction. Both work together to increase product adoption during onboarding.
The result?
Users get to the activation stage where they experience product value. They're motivated to keep going.
Offer hyper-personalized product experiences
Customer advocacy comes down to a great customer experience.
Users have their individual needs, expectations, and goals they want to achieve with your app. To effectively address each user's need and make them experience the promised value, you should personalize product experiences.
Personalization doesn't end with addressing them by name. Segment users with similar characteristics such as jobs to be done, net promoter scores, pricing plan, stage in the user journey, etc. Personalize the product experience for each segment to keep it hyper-relevant for them.
Deliver exceptional customer service with an on-demand resource center
Customer service is another touchpoint that influences your relationship with customers.
In SaaS, exceptional customer service equals proactive support.
It means anticipating customer needs and coming up with solutions even before the problem occurs. The goal is to be fast, and not make them wait hours in line for minor problems.
You can provide proactive support by creating a resource center with a variety of self-help guides in multiple learning formats: video tutorials, knowledge base articles, interactive walkthroughs, webinars, etc.
Users will know exactly where to go if they need help.
Use gamification to celebrate customer milestones and motivate users
Gamification creates positive relationships and emotional connections with customers.
Add game elements to your app to celebrate customer success, show you acknowledge their efforts, and reinforce positive behavior.
You can reward them with badges, certificates, or mood-lifting app experiences. Check out this example from Asana – a mood-boosting magical creature appears on the screen when someone completes a task.
Routinely collect user feedback and act on it
Make customers feel important and involved. Asking your customers for feedback shows them that you value their opinion and care about what they have to say.
You should collect customer feedback across the entire customer journey. Use these customer insights to understand what loyal customers have in common, what you can do to improve customer experience, and how you can turn them into brand enthusiasts.
After you've collected and analyzed the feedback, act on it, keep users in the feedback loop and let them know when you've implemented changes.
Proactively reach out to detractors and turn them into advocates
Detractors are the opposite of advocates. They aren't happy with your product and may leave negative remarks about you on 3rd party websites.
Don't be quick to give up on or ignore detractors. There's still a chance to turn them into advocates.
The first step is to tag NPS responses by a theme or keyword and analyze the results.
Try to identify the patterns that lead to low scores. Maybe most of the users mention a bug as the reason for giving you a low score. Or maybe your UI is what's causing the most friction?
Then, reach out to detractors to learn more about their issues and offer 1-on-1 help. They'll appreciate you going the extra mile.
Encourage loyal customers to leave reviews and reward them for their efforts
Turning loyal customers into advocates is much easier than turning a detractor into an advocate.
They already like your product and continue to choose you over a competitor. Just remind them to leave you a review and offer an incentive to motivate them.
Again, segment them based on their NPS scores. Then, trigger an in-app slideout that prompts them to leave a review.
Implement customer advocacy programs
A customer advocacy program intentionally converts loyal customers into vocal brand promoters.
Referral programs are arguably the most common type of customer advocacy program. This type of rewards system focuses on rewarding customers with cash, gifts, or credits for referring their friends and family members.
For example, Dropbox's referral program rewards customers by offering an extra 500MB of storage for every person that they invite. It's been a huge success for their company, resulting in 3900% growth in just 15 months.
Wrapping it up
Driving customer advocacy is all about strengthening the relationships between you and your customers and making sure they get the most out of your product.
The first and most important lesson in driving customer advocacy is to build a product that people will love. Then invest in delivering fantastic customer experiences.
If you are looking to enhance your CX, deliver hyper-personalized product experiences, and in-app guidance without a line of code, book a demo with Userpilot, and our team will be happy to help you.