8 Tips On How To Boost Customer Engagement With Better Onboarding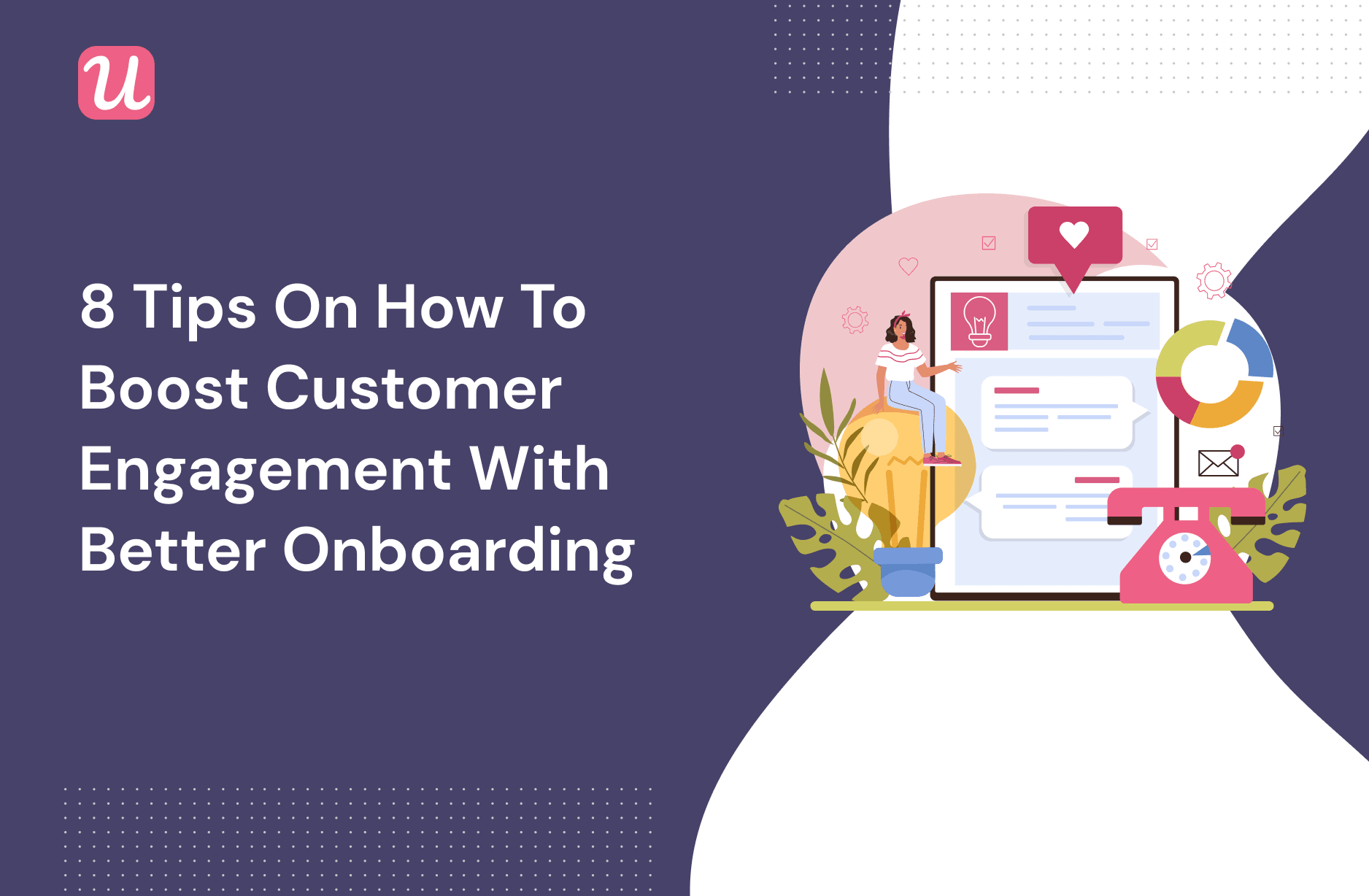 A smooth onboarding process is like the key to a puzzle. It unlocks customer engagement, starts the customer relationship on the right foot, and ensures that customers continue using the product the right way for a long time to come.
In reality, this is not always true.
To attract potential customers, marketers invest a staggering amount of resources across multiple channels. The sales team then does its part to entice the prospect to sign up.
A customer's payment is typically the finish line of a race. However, it should only be the beginning.
Onboarding customers is crucial to developing a long-term relationship with them and ensuring their loyalty to the business.
In this article we'll look over eight tips on how you can improve onboarding and boost engagement.
TL;DR
If you are in a rush and want to get the gist of the detailed article, these bullet points should help:
Onboarding a new customer is the process of getting them familiar with your product or service.
Customer onboarding helps customers realize the full value of the product.
By doing so, churn can be reduced and engagement can be improved.
Onboarding customers starts with making them aware of the problems they face and how to solve them.
Make signing up as easy as possible with a single sign-on. Utilize existing social credentials for signing up and accessing accounts.
Use data analytics to identify what works and what does not during customer onboarding.
Make customer onboarding as seamless as possible. This helps ensure that customers stay on your product.
Introduce new customers to features by using feature call-outs.
Create personalized onboarding emails with use cases that are relevant to each person's needs.
Provide FAQs and a knowledge base to help customers find solutions to their problems.
In case of problems during onboarding, always have customer support and success teams available to assist.
What is customer onboarding?
Customer onboarding refers to the process of introducing a new customer or user to your product or service. Consider a virtual guided tour that explains how to use your product the right way using its features.
Without proper customer onboarding, customers may not become aware of the true potential of the product. This increases the chances of churn, making all the marketing and sales efforts ineffective.
Customer onboarding uses welcome emails, product setup guides, feature callouts, knowledge base articles, walkthroughs, and other elements to help customers get familiar with the product.
Customer onboarding ensures that a customer engages with the product from the beginning. In doing so, it provides opportunities for the customer to use the product in various ways, allowing them to discover the real value that they paid for.
Proper customer onboarding can, in some ways, contribute to the product positioning and value propositions that sales and marketing teams advocate.
86% of people say they'd be more likely to stay loyal to a business that invests in onboarding content that welcomes and educates them after they've bought.(Oracle)
Imagine customer onboarding as a proactive measure that reduces the risk of churn.
It provides a wide range of tangible and intangible benefits, such as increasing customer loyalty, reducing customer support overheads, and enhancing customer lifetime value.
Here are eight ways to improve your onboarding.
#1 – Tweak top-funnel content for conversions
Proper customer onboarding begins with making your users aware of the actual problems that they should be solving and the right way to solve the problems.
Top-of-the-funnel content does the perfect job of creating awareness about problems, pain points, as well as possible solutions for them.
Marketers often use them to illustrate the value drivers in a product. It explains why the product/service is different from alternatives and competitors, and why it is a good fit for customers.
By doing this, they plant the idea of how a specific product can provide value in the prospect's mind.
You can use top-of-funnel content in several ways. Showing how specific features enabled customers to overcome their challenges is a helpful example.
#2 – Implement SSO based sign-up
Onboarding customers is easier when the sign-up process is quick and short. There are several ways to make your product sign-up process easier.
Implement SSO (Sign-in-Sign-on) based sign-up. Instead of requiring users to name their e-mail addresses, they would be able to authenticate with their social profiles.
#3 – Collect use-case specific data
Despite the fact that your product messaging is targeted at a target audience with similar interests and goals, no two customers are the same. It is likely that your product would be used in different ways by each customer; some will even innovate to meet the unique challenges of their businesses.
This calls for collecting use-case-specific data. Use-case-specific data means looking at how your customers use your product (e.g. heatmaps, video captures from a website, customer feedback), the particular features they use, and how frequently they do so.
"A simple way to get customer feedback is a public roadmap with the ability to vote. We realized that we get a lot more user input by making the feedback loop open and accessible." Saskia Ketz, Mojomox
Using customer feedback you can create multiple cohorts of users and identify patterns in product usage. This information will help to position the product more effectively for prospective customers.
Furthermore, it suggests how to structure the customer onboarding process to meet customer needs.
During every step of the customer onboarding journey, data can be used to identify specific user needs or friction points that need to be resolved.
Using these insights to improve your onboarding process will result in a better user experience.
#4 – Focus on UI and UX
The first time a customer actually gets any hands-on experience with the product UI is during onboarding.
Customer experience plays a crucial role in determining whether a product will become stickier in the long run. User value and, by extension, enterprise value is measured through product stickiness.
Product stickiness is an indication of a product's likelihood to become ingrained in the user's routine. A customer onboarding journey needs to be designed to maximize product stickiness.
It must show users how the product can make their lives easier.
In product design, customers' onboarding and continued usage need to be considered.
The interface and features of a product should be designed with a long-term vision of how it will be used for the first time and regularly.
#5 – Use feature callouts to drive engagement
Why do some customers fail to become active users after a few days of signing up?
Most likely, they expected the product to work a certain way, but were disappointed. This is the result of a disconnect between expectations and reality.
Is it really the case that your product lacks those features? Surely it couldn't be true, after all, the positioning and value propositions of the product are what motivated customers to sign up?
Their difficulties are due to their inability to discover the right way to interact with the product.
Many features have long workflows and require extensive handholding, making them difficult to explore.
Feature callouts can help with that. Essentially, they act as step-by-step guides that tell customers what to do next. As a result, they learn about the product and become more familiar with its features.
Here is how Slack uses feature callouts to help customers get used to the tool faster:
Create a product overview video or a feature demo video for more complicated products to help your customers get comfortable with the product quickly.
"Every game we have is accompanied by a video that shows how to play it. We found this contextual onboarding increases our games played per user by over 10%." -Assaf Cohen, Solitaire Bliss
#6 – Customize onboarding emails
A welcome email can set the tone for how users interact with your product.
Be sure to use a warm, friendly tone in the email to make your customers feel at ease when they are embarking on a journey with your product.
Sending onboarding emails can be done in text or HTML. In any case, what stands out and appeals to your customers is the content in your email.
Use your onboarding emails to learn about the user's expectations or what made them sign up for your product. It's a direct method of understanding what customers want and aligning your product to meet their needs.
Yet how do you know what your customers who do not respond to these emails are doing with your product?
For that, you can use platforms that measure feature adoption and usage and get the necessary insights into what brings value to your users.
#7 – Address objections early on
When you're not happy with the product you signed up for, what should you do?
When users can't find the solution using a Google search, or a quick search within the app or website, they consider it a lost cause.
Frequently Asked Questions (FAQs) are a simple way to solve this problem.
A FAQ can serve as a crowd-sourced repository for questions and answers that most customers seek. Customer FAQs can assist customers with their onboarding process and assist them in solving their challenges on their own, via self-service.
Here is how Userpilot does it with a 'Get started guide' that also doubles up as a FAQ section.
#8 – Keep customer support and success handy
Customer onboarding is meant to make customers' first interactions with the product easier.
Still, customers may need help with certain questions or challenges. Fast and efficient customer service is imperative.
Customer support should be easily accessible through various channels like email, phone, social media, chat, etc.
These channels will vary based on your business. To reduce the cost of support, you can implement an in-app resource center, making it easier for users to find answers quickly and not have to wait in line to chat with a support representative.
Wrapping it up
Taking customer onboarding for granted or neglecting it can be extremely costly for businesses.
The tips provided in this article are a starting point if you're looking to improve your customer onboarding and boost engagement.
How has customer onboarding worked for you so far? Are there any specific best practices that you follow that are delivering results?
________________________________________________________________________________________________________
Author Bio:
Mehdi Hussen is the Head of Marketing at ZoomShift and a freelance SaaS marketing consultant. He is passionate about driving organic growth and customer acquisition for startups through data-driven content marketing. He spends his spare time learning about startup growth strategies, sales productivity, and remote work.