How To Use Win-Back Emails To Re-Engage Users In SaaS [Examples Included]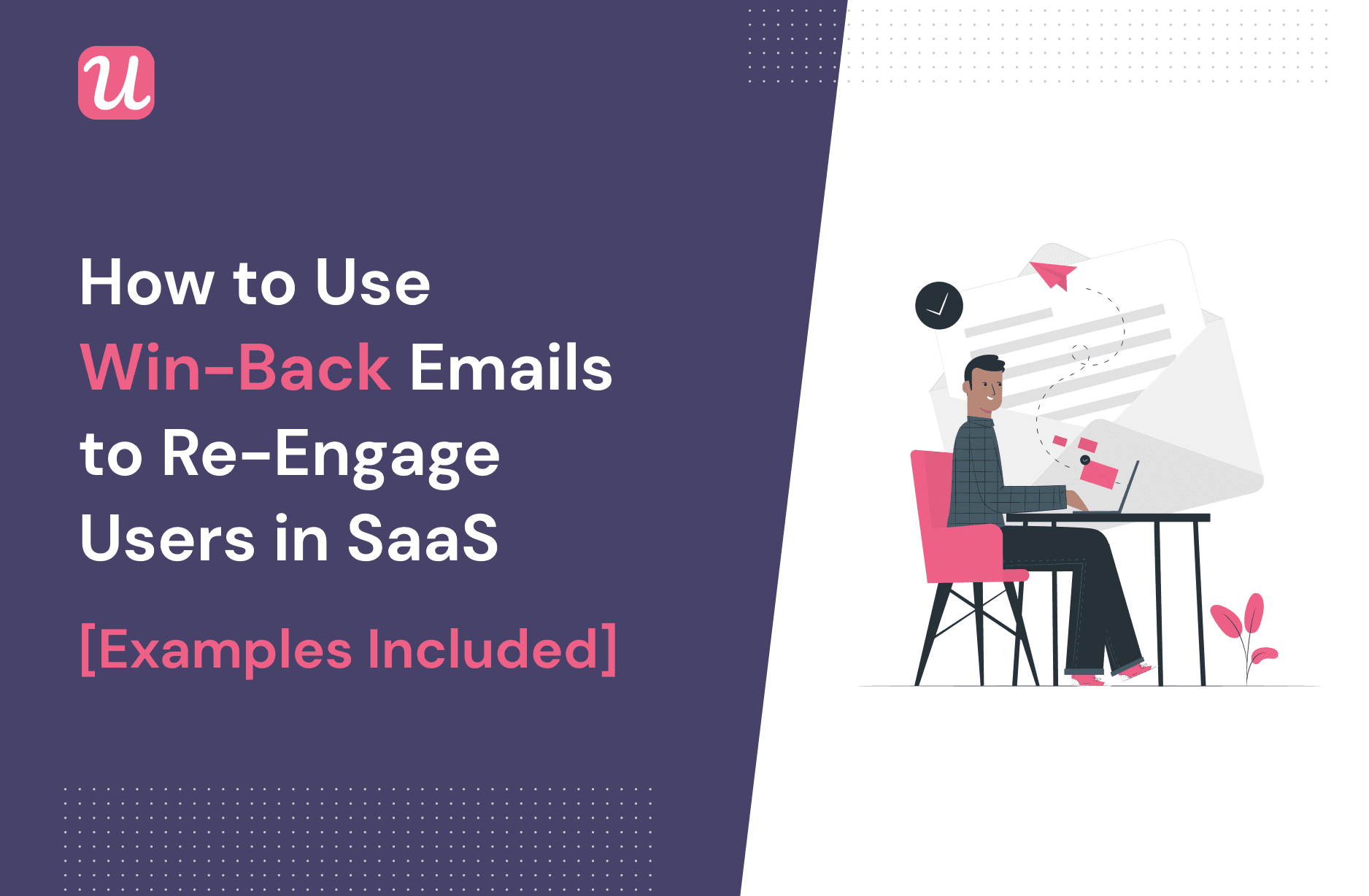 Planning your win-back email campaign?
It shouldn't be about bringing back churned customers only, it's also about engaging back inactive users and before they churn- a win back email campaign can help you with this
In this article, you can find the five types of n and some great examples.
Let's get started!
TL;DR
Win-back email campaigns are re-engagement emails sent to get inactive customers back.
The cost of getting new customers into your sales cycle is more than turning an existing one into a loyal customer. Win-back campaigns help increase the conversion rates from inactive to engaged.
There are 5 win-back email campaigns that you can try to re-engage your ex-customers. These include "remind about your product", "announce product update", "offer discounts", "collect feedback", "checking in with inactive users" email campaigns.
Win-back campaigns work well if done right using tactics like segmentation, A/B testing, and engaging subject lines that grab the reader's attention.
The 3 best tools to use for your win-back campaigns are Mailchimp, ActiveCampaign, and Aweber.
Once you get users back into the app, use product adoption tools to engage and …get a demo
What is a win-back email campaign?
These are a series of emails sent to re-engage customers who have at some point in time interacted with your product but just stopped. The customers could be those who signed up but never used it, those who left after a free trial, or former active users who went quiet.
A win-back email sequence is all about identifying why customers stop using your product or service and sending targeted emails to tempt them back into the product.
Why should you re-engage churned users with win-back emails?
Churn is the enemy of SaaS businesses, because the more people abandon your product, the sooner you'll be out of business.
Ignoring churned users is a bad business decision because not only you're letting people go without understanding the reason and fixing it to avoid repetition, you'll also have to spend a lot more to acquire new users into your sales funnel.
Win-back campaigns help you reach out to such inactive customers to discover why they churned and allow you to re-introduce your product and its value to them.
According to Klaviyo, these emails see an average open rate of 29%, and 45% of those who received them will read future emails. So if done right, a customer win-back email campaign could get you a better user optimized product and more engaged users.
When and what types of win-back emails should you send?
The type of win-back campaign you send is dependent on the particular event that has triggered it. To get the most out of your win-back strategy you need to segment the inactive subscribers into different categories such as
Users who churned due to missing features: you can send this group a win-back email about the new feature or updates.
Those who churned due to pricing: send them win-back emails with a discount code they can use to experience more of your product.
Past customers who canceled after a free trial: send a win-back email to find out why they canceled and what can be done to solve the problem. Use an impossible-to-resist offer to convince subscribers to come back.
Inactive subscribers who haven't used your product for a given period: a reminder email can be used as part of your win-back strategy to remind customers of your product and its potential value to them.
After identifying the churned customers, you should immediately take action to create a win-back email strategy. There is no "perfect" time to send a win-back email campaign.
The sooner the better. After one month it can be less effective as your ex-customers might switch to other solutions.
What are the 5 types of win-back emails?
There are several types of win-back emails that you can send to disengaged users depending on the time and purpose.
Here are 5 different types of emails that SaaS businesses use in their win-back email campaigns with some examples included.
#1 – "Remind about your product" win-back email
This is sent to inactive customers to remind them of your product and why they signed up in the first place. Start this with a compelling subject line, then show the amazing benefits of your product and make the customer feel recognized and appreciated. This way, you keep your brand fresh in the mind of a lapsed customer and also win them back.
In this reminder email example from Asana, they start with a subject line that straight-up states their goal of getting the user up to speed. The brand voice is welcoming, the body quickly mentions the benefits of using Asana, and they include a call to action for the user to 'try it now.'
#2 – "Announce product update" win-back email
This type of win-back email is sent to lapsed customers to alert them of what's new in your product or updates they could benefit from. This particular email helps customers re-engage with your product.
ActiveCampaign did this by not just informing users of the new feature, they also showed a how-to visual guide so they can easily get started.
#3 – "Offer discounts" win-back email
If a customer stopped engaging because of price, a win-back email offering discounts could entice them to give your product a further try. You could also send out special deals to get customers back.
Typeform uses this type of win-back email to offer completely disengaged customers up to 25% off if they come back.
#4 – "Collect" feedback win-back email
A feedback email lets customers know you care about their opinions and also informs you of possible reasons customers decide to stop using your product. Send this after you notice a customer loses interest in the product.
Ryte uses these feedback emails to check on a customer who hasn't started using their free trial. The brand voice lets the user know that their reasons no matter what, are valid and can be useful in product development.
#5 – "Checking in with inactive users" win-back email
Send emails of this nature after you notice a user has been inactive for a while. Use this in your win-back email campaign as a re-engagement step to win them back. This email works because it puts you top of mind and shows customers you care.
This win-back email example from Eversign starts with a personalized subject line then includes a body that shows the user that the door is open for them to always come back.
Win-back email campaign best practices
For your win-back efforts to work, there are certain things you should take into consideration. While the ROI on using win-back email campaigns is impressive, you won't achieve anything good by sending them wrong messages or to every member of your list including repeat customers.
Here are some win-back email best practices, including examples.
Use churn surveys to create personalized emails
Churn surveys are taken in-app when a user indicates that they want to cancel a free trial or subscription to your product. It collects feedback on why they may no longer be interested in your product and gives you insight on the best re-engagement offers/tactics.
For example, you may not have a feature important to their use case or your pricing is too high for them. With the information gotten from these surveys, you can then use your win-back email campaigns to reach out to such users with suitable offers like discounts or whatever other solutions to the problems they faced.
You can create these churn surveys easily with Userpilot.
Segment your contacts to send highly personalized emails
Segmentation is a powerful strategy in email marketing. Segmented emails have on average, 14% higher open rates and 101% higher click-through rates than non-segmented emails.
After identifying inactive users, using your churn survey data, you can now segment them into different categories:
Reasons: what made them churn? Are customers churning because of missing features, poor in-app support, or something else?
Monetary: what's their average order value worth to the business?
Purchases: how long were they subscribed before they became inactive?
With Userpilot's segmentation feature, you can see what your customers actually think about your product and the issues they experience.
Run experiments with A/B testing
Split your user segments into 2-3 groups and send each group a different email. You could use different subject lines, email texts, call to action, and images.
Then do A/B testing to see which has the highest open, click-through rates, and replies. Use this to adjust the future emails in your win-back campaign accordingly.
Your re-engagement campaign worked. What's next?
The work doesn't stop after you've sent the final email in your win-back campaign and gotten a successful win. There are still things you need to do to make sure those lapsed customers become loyal customers. Here are some tactics for you.
Use secondary onboarding to highlight more advanced features
Educating users through secondary onboarding drives even more value since customers won't use secondary product features if they don't understand them.
The more features of your product that your customer deems valuable to use, the less likely they are to want to stop using your product. Lower churn = more growth for you.
Using webinars and native tooltips in your product are some good ways to introduce new features to customers. With native tooltips, you can easily alert users of new important features, show them how to use them, and get customers to adopt them.
Use in-app guides to educate your users
The faster customers can find support and answers, the lower their chances of getting frustrated out of your product. In-app self-service support such as tooltips and resource centers helps users get support significantly faster.
Self-service support takes the pressure off your support team by providing easy and quick solutions to repetitive issues. This also reduces your support cost without harming support quality.
Collect and act on user feedback to improve product features
There are several types of customer feedback surveys such as the customer satisfaction survey, customer effort score, churn survey, and also the Net Promoter Score.
NPS surveys are the most popular type to measure customer satisfaction. It's a survey that asks users how likely they are to recommend your product to others. These all give insight into how customers truly feel about your product and help you measure customer loyalty and satisfaction.
By using these surveys with a follow-up question after the initial quantitative question, you'll be able to get insight into why the customer gave a certain score and then act on it.
3 best tools to create win-back email campaigns
Any successful email win-back campaign relies on you using a good email service provider – one that lets you adopt the best practices we touched on earlier. While there are a lot of options out there, these are the best 3 that email marketers use in creating these win-back email series.
Mailchimp
ActiveCampaign
Aweber
Mailchimp
Mailchimp is a good option for early-stage startups as it's free for up to 2,000 customers. However, most automation you can perform is restricted and is not available in the free plan.
ActiveCampaign
ActiveCampaign is best if you have multiple lists and want advanced segmentation, triggers by events, and integrations. However, it has a steeper learning curve and may not be a good fit for you if you're looking for a simple tool.
Aweber
Aweber is an affordable option especially for small startups because of their free plan which gives you access to the necessary features you'll need to send out campaigns and build good customer relationships with up to 500 subscribers.
On the other side, it has basic marketing automation and cannot integrate multiple website data seamlessly.
Conclusion
It's never enough for your product to keep acquiring more customers if they keep leaving after a while. That's why you need to use win-back campaigns to get such customers back.
These win-back campaigns serve as a follow-up with such users and also provide the little nudge they need to try your product again and increase your conversion rate.
Getting customers to the point of retrying your product isn't the end of the journey. You should constantly engage them with the product and make them loyal customers.
Want to build product experiences code-free to complement your win-back campaigns? Book a demo call with our team and get started!