How to Build Customer Loyalty – Actionable Guide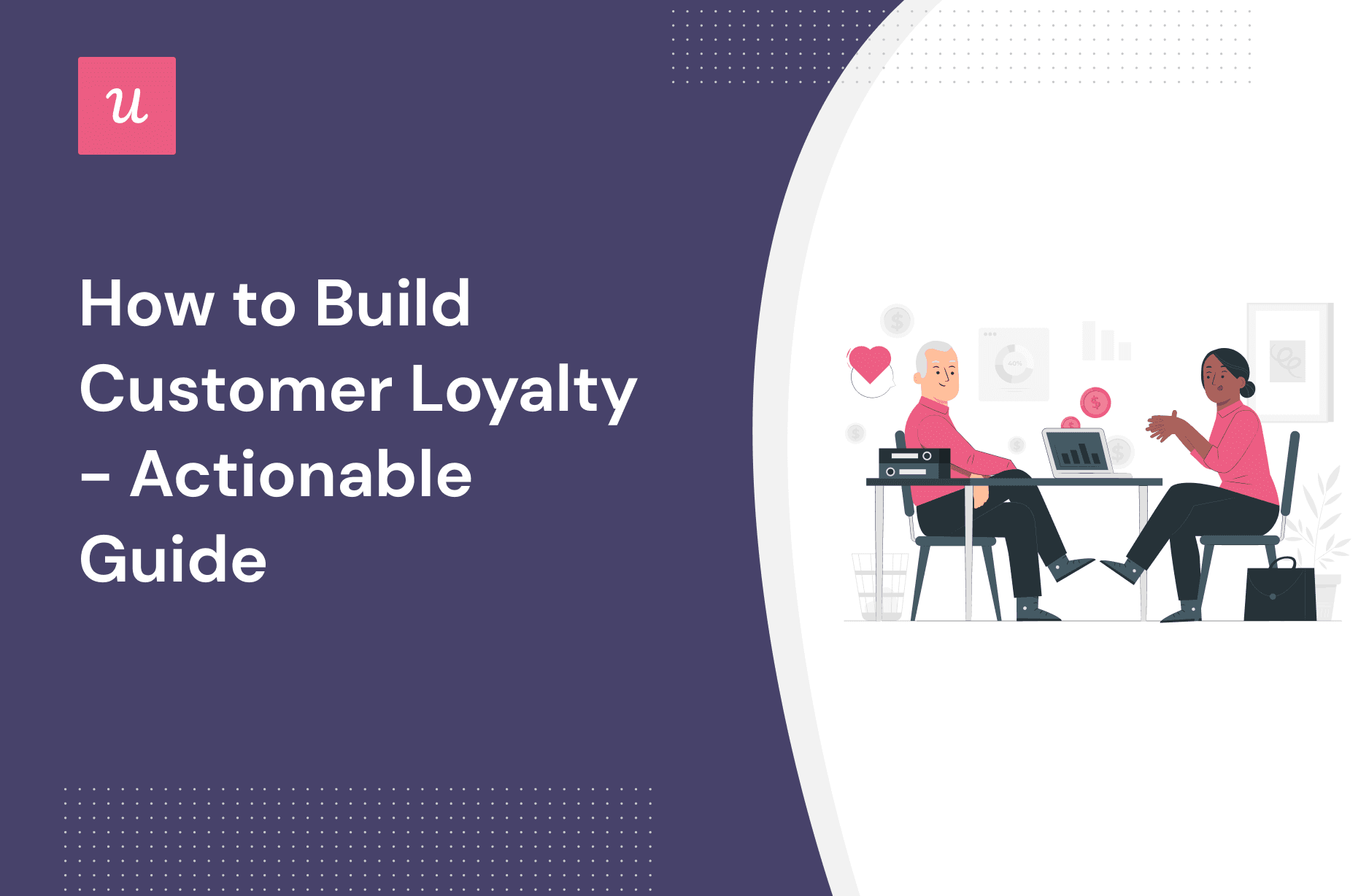 Every successful product manager understands the importance of learning how to build customer loyalty.
Improving your customer retention rate and boosting customer loyalty is key to the success and growth of any business – in both good times and bad.
In this article, we explore what customer loyalty is, why it's important, and how you can build customer loyalty in your SaaS business.
TL;DR
There are many ways to increase customer loyalty, including:
Book a demo today to learn how Userpilot helps you create and nurture the right customer experience that builds loyalty.
What is customer loyalty?
Customer loyalty is the measure of a customer's connection to your brand. Loyal customers are eager to do business with a specific brand, even when it may be a little inconvenient to do so.
For SaaS businesses, we can define customer loyalty as the customers' willingness to repeatedly renew their subscriptions.
Why is customer loyalty important?
Loyal customers are die-hard fans of your brand. They are not easily swayed by the antics of competitors and are a great source of predictable repeat business.
As a result, increasing the number of loyal customers you have is key to improving your customer retention rate. As customer retention improves, the customer lifetime value (LTV) also increases.
Perhaps more importantly, loyal customers are happy to spend on your brand. Repeat customers typically spend more than new customers and present more opportunities for account expansion.
Because they already trust you, they're more likely to try out new products or services you offer and more responsive to upselling opportunities than new customers.
Loyal customers also grow your word-of-mouth referrals. They happily talk about your brand to friends and colleagues who trust them, expanding your word-of-mouth marketing channels in the process.
Put simply, building customer loyalty can drag your business through tough times and help it boom in the best of times.
How to build customer loyalty: 15 practical tactics
Customer loyalty doesn't happen by itself. It takes proper strategizing and intentional effort to get it to work. Consider 15 actions you could take today to increase customer loyalty.
1. Match user journey to their JTBD from the first sign-up
The JTBD tells you what job a user hopes to accomplish with your product. It helps you create unique, personalized user journeys to help each user get value from the product in the shortest possible time.
As you personalize the customer experience, you show your customers that you care and you value their time. This will help your customers feel valued while building long-term customer loyalty.
To get started, design a welcome survey that identifies the user's JTBD. Then, personalize their onboarding and user experience accordingly.
2. Use user behavior segmentation to personalize in-app communication
Go beyond primary onboarding to provide repeated guidance to users through the customer lifecycle. Segment customers based on their in-app activities, product usage and engagement data, and JTBD.
Then, trigger helpful, relevant in-app messages at different stages of the user journey to guide them to engage with the right parts of the product.
When done properly, secondary onboarding provides users with continued guidance, improves the customer experience, and builds customer loyalty.
3. Guide users to value realization with interactive walkthroughs
Interactive walkthroughs adopt the learn-by-doing principle to help you guide users through your product. These step-by-step guides prompt users to complete each step and move to the next.
As they do, users quickly get acquainted with your product, discovering new features and learning how to get value from the product.
You can use interactive walkthroughs for your primary onboarding or trigger it later on. As part of your secondary onboarding, interactive walkthroughs drive feature adoption by guiding users through unused features.
As users get more value from your product, their attachment to your brand improves, and customer loyalty grows.
4. Shorten time to value with onboarding checklists
Onboarding checklists make your onboarding more effective, helping you build customer loyalty as a result. The checklist shows users the actions they must complete to achieve activation.
Checklists prompt relevant engagement and actions that drive value. The goal is to shorten the time to value by guiding new customers to the right milestones in their journey.
When used correctly, a checklist prevents confusion, showing users exactly what's needed to gain repeated value. It also keeps you from overwhelming users with every piece of information simultaneously.
To make your checklists more effective, Userpilot enables you to create different checklists for different user groups. This ensures that each user receives a checklist that fits their unique product needs.
5. Remove friction and drive loyalty with self-service support
Cultivate customer loyalty by providing instant on-demand customer support to guide users past friction points. Thankfully, chatbots and resource centers make that an easy fit to achieve.
Chatbots are programmed to provide instant responses to user queries. They're often loaded with predefined responses to set questions.
Resource centers, on the other hand, are more robust. Your resource center should include various self-help guides, like webinars, tutorial videos, knowledge-base articles, etc.
Both tools help relieve your customer service representative while reducing the wait time for user queries. Such excellent customer service reduces customer frustration while building customer loyalty.
6. Personalize self-service resources based on the user journey
Ensure your in-app resource center is more effective by creating different modules for different user segments. The modules a user sees should match their specific needs in the user journey.
This way, each user only sees what's important to them, thus improving the customer's experience.
7. Provide contextual help with tooltips and modals
Tooltips and modals enable you to provide users with help that matches their context. For instance, a user may try out a feature but fail to adopt it.
This is a good time to present a tooltip or modal that tells them more about the feature and how it works. Users are more likely to stick with you when they know how to properly use your product.
To provide contextual support, Userpilot enables you to track users' in-app behavior, identify friction points, and trigger support accordingly.
8. Collect feedback throughout the customer journey to understand customer needs
Constantly collect customer feedback to learn what problems or challenges users are facing with your product. Trigger in-app surveys at different stages of the customer journey to help you identify kinks in the journey.
Finally, ensure you analyze user responses, identify the most common challenges, and work to fix them as soon as possible. Doing that will boost the customer experience, reduce churn, and improve loyalty.
9. Conduct NPS surveys to improve customer satisfaction
The NPS survey helps you identify users who would love to promote your product (known as your promoters) and those who trash-talk it (known as detractors).
Needless to say, the more promoters you have, the better. Regularly conducting NPS surveys will reveal how satisfied your customers are and how many promoters you have.
It also reveals who your detractors are and the issues they face with your product. As you work on fixing the issues, you improve their experience and turn them into promoters.
10. Provide repeated value with webinars
Webinars are a handy tool when looking to deliver more than a simple walkthrough. They enable you to educate users on industry knowledge, varied product use cases, etc.
Used effectively, webinars offer extra value to users. It shortens the distance between the company and the user, nudges users towards activation, and drives retention.
11. Identify customer loyalty drivers and leverage them to cultivate loyalty among existing customers
Product usage data tells you how and when your customers are using your product. By isolating this data for your most successful customers, you'll identify where they spend time and what brings them value.
Replicate this pathway for your least engaged users to ensure they find value in your product.
12. Consider customers' opinions when developing your features
Ask for feature requests to better understand users' needs. When dealing with responses to feature requests, look out for the underlying need driving the request.
Analyze the data to identify the user problem and how to solve it. It may be that the feature already exists but isn't visible enough. Or, that an existing feature can be enhanced.
Regardless, feature requests help factor users' needs into your development process.
13. Build a customer loyalty program that celebrates loyal customers
Carefully curate customer loyalty programs that reward customers for sticking around. This may be through point systems, referral programs, or even community programs.
It's important to note that a rewards program doesn't replace the need for a good product or service. Instead, you want to constantly deliver value, while rewarding your most loyal customers.
A good loyalty program is thoughtful. It provides value for your customers, incentivizes key user actions, and keeps you on track to meet your business goals.
14. Engage your loyal customers to spread positive word of mouth
Encourage happy customers to spread the word about your business. To get more users on board, you can incentivize existing customers to leave public reviews or bring in new customers.
Start by identifying loyal customers based on their NPS ratings. Then, reach out to these customers and request a referral on a website of your choosing.
Good word-of-mouth marketing improves your brand visibility. It also increases brand loyalty by turning existing customers into passionate brand advocates.
15. Build relationships with your customers on social media
Social media platforms are great for building a brand identity that resonates with your audience. It enables you to speak directly with them and cultivate lasting customer relationships.
You may also choose to build a community where users can have discussions concerning your product or the industry at large.
For example, we'll be delighted to have you join the Userpilot-powered Product Marketing and Growth Facebook group – a community of product managers, marketers, and customer success managers discussing the latest trends in product marketing.
Conclusion
There are many ways to build customer loyalty. The tactics highlighted above will help you build a loyal customer base that sticks with you in good times and bad.
Whether you're designing an in-app survey, putting together a targeted walkthrough, or segmenting users for personalized marketing or support, Userpilot provides you with the tools you need. Book a demo today to speak with a representative and learn more.