How to Collect and Manage Feature Requests in SaaS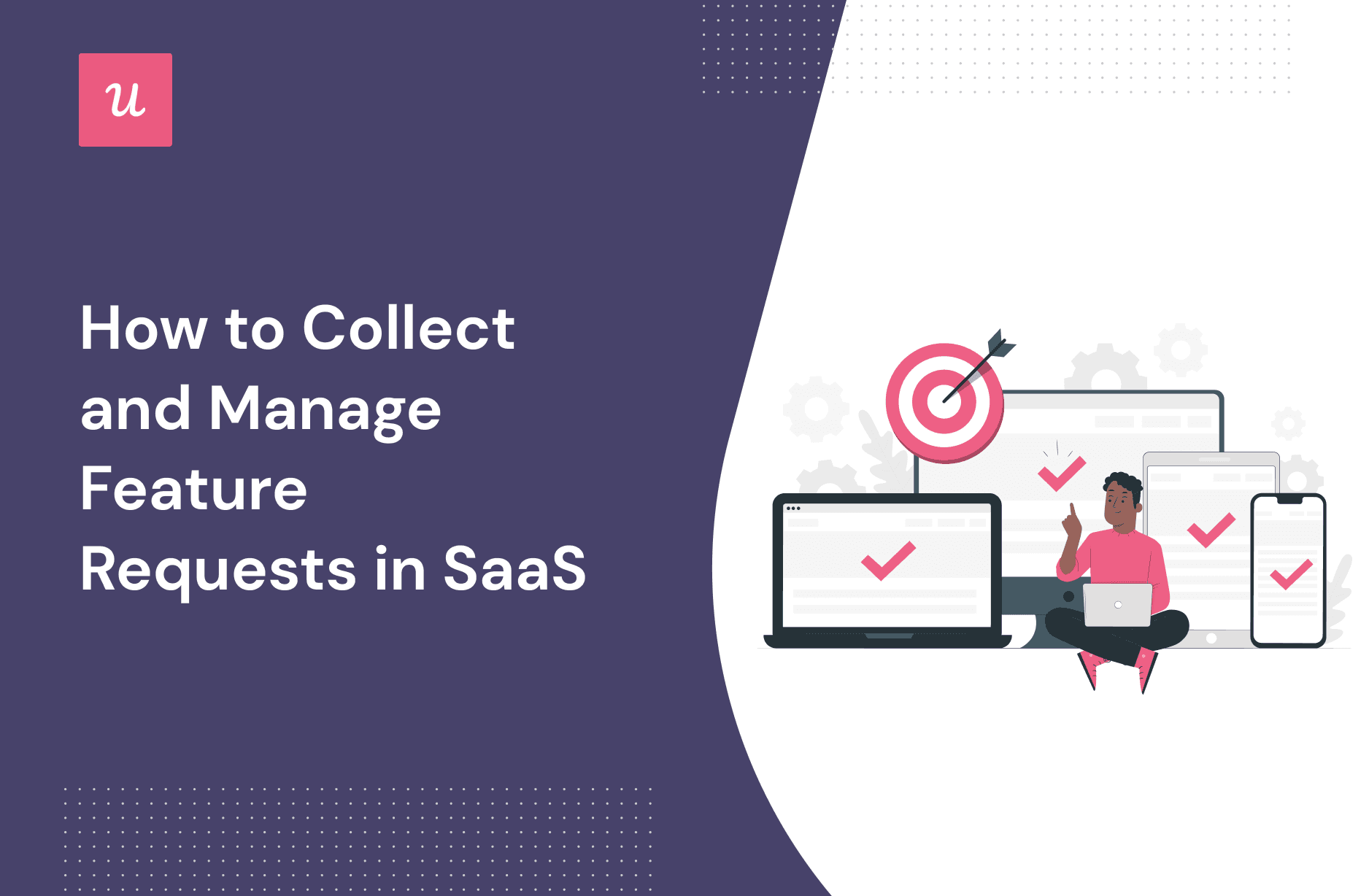 As a product manager, you're probably struggling with collecting and managing feature requests for your product.
The fact that this type of customer feedback can come from multiple customers through multiple channels at the same time, puts a lot of pressure on the task.
In this article, we'll cover several methods for collecting and managing feature requests to meet customer expectations.
Let's get started.
TL; DR
A feature request is a user's suggestion to implement a product change that's likely to improve their product experience.
There are three types of feature requests:
Bug fix requests – users send bug fix requests when they encounter an error while using your product.
Feature updates – the purpose is to help users get more value out of existing features.
New feature requests -users can request an entirely new functionality in your product.
To collect feature requests, you should:
Add a feedback widget in your resource center or send in-app surveys.
Use a Miro board to gather insights from your customer-facing team members.
Make your product roadmap public so users can add and vote for their preferred ideas.
Here's how to manage product feature requests:
gather all feedback from your various channels in one platform.
classify the product ideas based on the type of feature request and impacted audience.
identify which requests you can tackle first using product analytics and segmentation.
notify customers of newly launched features and explain to them why you can't develop the other requested features.
The best feature request management tools for SaaS are Userpilot and Trello.
What is a feature request?
A feature request is a form of feedback, presented as a suggestion for product improvement. Your user base or customer-facing teams typically provide feature suggestions.
The requests can range from suggesting modifications to your UI, to integrating your product with other products your customers use, or asking for completely new functionality.
What are the 3 main types of feature requests?
All your feature requests can be split into three categories based on your users' product experience and their motive for sending the feature request.
Bug fixes requests
Users send bug reports when they're using your product and it suddenly stops functioning as it should.
So a bug fix request is a form of feedback that allows product managers to enhance existing functionality for a better user experience.
Bug reports require immediate attention because if left unchecked they will lead to a negative user experience and increase your churn rates.
Feature updates and enhancements
Feature update requests are often users' suggestions that show the product manager how to improve existing features and product functionality to deliver maximum value.
Feature update requests could include improving the user interface, upgrading existing workflows, incorporating interactive walkthroughs for specific features, etc.
These seemingly minor tweaks collectively make a massive impact on the user journey.
Brand new feature requests
In some cases, users want more than what you offer because the resources you've allocated do not meet their needs. Such cases usually lead to the users asking for new features.
However, developing a new feature can be both expensive and time-consuming for product teams.
On the other hand, you're bound to see an increase in customer satisfaction and retention when you add the requested features.
How can you collect feature requests?
There are multiple ways to collect product feature requests. Following are the three essential channels you should be using.
In-app real-time feedback from users
Collecting in-app feedback from users is an avenue for you to get different types of feature suggestions because users are more likely to spot loopholes while they use the product.
With in-app feature surveys, users can provide contextual feedback that the product management team can use to implement product improvements.
Using the widget, users can provide immediate feedback when they deem it appropriate and you can uncover missing features by analyzing their open-ended responses.
When analyzing the responses, add tags and group them. This will help the entire team to prioritize the most requested and relevant features in the next stages.
You can also proactively collect user feedback by embedding an 'always-on' feedback widget in the resource center.
Then when a user wants to submit an idea, they have the form available on demand.
A Miro board with insights from customer-facing teams
Customers-facing teams have the most extensive interaction with users, whether it's during critical issues, onboarding, training, or even at the prospect level.
Since the relationship has already been established, users are more comfortable sharing their challenges, requests, and woes with these teams.
For this reason, you should ensure your team has a system in place so that feature requests collected directly from customers are centralized and shared across teams.
Public product roadmap
Users can submit feature requests to your public roadmap, and you can share your progress in developing new features.
Taking feature requests through this channel is advantageous in that users can easily leave comments on what they want to see or what requirements they have.
The benefits and drawbacks of feature requests
Feature requests give you insights into improving your product for a better user experience. Even if you don't fulfill every request, the fact that you encouraged users to submit their suggestions can strengthen your customer relationship, provided you communicate appropriately.
However, one major drawback of feature requests is that they're specific to the user.
And when it comes to SaaS, what's good for one, may not be beneficial to the majority of your customers.
In addition, some product enhancement requests may not align with your company's strategy and objectives.
How To Manage Product Feature Requests
If you're constantly receiving feature requests, you need a feedback management system to handle them efficiently. Here are four basic steps to managing your customer feedback.
Collect feedback from multiple channels in one place
Customers will submit feedback through various channels, including email, in-app surveys, and social media platforms.
Consequently, feature requests will come from a wide range of sources, which makes managing them quite challenging.
The solution is to collate all requests from your feedback channels under one umbrella.
Create an idea portal or use a project management tool to organize the feature requests from socials, internal, and all other channels.
Tag and categorize feature requests
The next step is to categorize the requested features through response tagging. There are three types of response tags you can use in this situation:
Feature request tags: you can classify the software feature requests based on what part of your product they relate to. Tag and separate product tips relating to the UI, notifications, onboarding, resource center, etc.
Thematic request tags: thematic tagging hinges on the type of product enhancement requested. Determine whether they are bug reports, existing feature improvement suggestions, or brand new feature requests.
Audience tags: you can classify feature requests by pinpointing who submitted what request. You want to determine which requests come from your internal teams and which are from your end-users. Then, go further to tag the responses by user persona and identify which are most urgent to each segment.
Prioritize feature requests using product usage analytics data and customer segmentation
When making product decisions, it's important to stick to data instead of going with your gut feeling.
As you evaluate product usage analytics, you can understand how users engage with your product and which requests are the most critical to their product experience.
Here's a quick example you can work with when trying to prioritize feature requests:
For example, bug fixes require urgent attention because bugs frustrate users and may cause them to churn.
Next, product improvements: tag the feature that users suggest you improve and track the usage 0f that feature to see how many users are engaging with it.
The next thing you should do is segment users and contact those who use the feature frequently for follow-up questions.
Based on the data you have collected, you would be able to determine how important it is for your business and whether the changes are worth implementing. You can easily track feature usage when using Userpilot by tagging any UI element and tracking the user interaction with it.
New feature requests: there are many questions to ask yourself before introducing a new feature to your product.
Does it align with the product vision? Is it a core feature or a complementary one? Is it really worth building, or can you simply integrate it with another tool?
If the feature request passes through these questions and still shows potential, test its market demand. Conduct a fake door test to assess market demand for a feature before investing in its development.
Provide updates on feature development and close the feedback loop
After collecting and prioritizing product feature requests, make sure to get back to them and close the feedback loop.
Even if you aren't going to implement their suggestions, reach out and share with your customers the reason you're not launching a requested feature.
If you decide to move forward with the idea, contact them as soon as you make any changes.
Announce beta launches to specific customer segments, especially to the customers who requested that particular feature, and invite them to become beta testers.
With beta testing, you can uncover any usability or performance issues the feature may have and figure out if it really adds value to your users.
Want your customers to start engaging with the feature right away? Notify them once the feature or update goes live! New feature announcements can hasten feature discovery and increase adoption rates.
Take a cue from Miro. The Miro product team uses an in-app modal to alert users of the new Miro Academy course and reactions feature.
Software for collecting and managing feature requests
It's very unlikely that you'll be able to manage feature requests manually. Furthermore, even if you can, why would you want to stress yourself out when there is functional and affordable software on the market to simplify your team's job?
Userpilot – best customer feedback tool for in-app surveys
With Userpilot, you can build a fully customized in-app resource center, code-free. Then, embed the "Submit an Idea" or "report a bug" widget for continuous feedback collection.
Userpilot also offers a simple-yet-powerful way of collecting explicit qualitative and quantitative feedback from your customers, through feature surveys and CSAT surveys.
You can also customize each survey design to adopt the look and feel of your brand, with zero code required.
With Userpilot's advanced segmentation, you can segment your customer base and trigger surveys for specific user cohorts.
For example, if you want your most active users to see the in-app surveys, you can create an audience, and only the selected users will see them.
Userpilot also helps product teams spot potential feature needs based on qualitative NPS survey data. Once you've started collecting your customers' feedback with NPS surveys, you can see all their responses in one dashboard.
After that, use the response tagging functionality to categorize the requests by keyword or theme.
This way, you can easily pinpoint which features make your customers happy, which ones frustrate them and decide how to respond to their requests.
Trello – best project management for creating public product roadmaps
Trello is a project management software designed to track team projects using cards and lists.
If you want your customers to weigh in on your product roadmap, have your team create a public board naming every feature request you have received.
Encourage your users to log in and vote for their favorite features by commenting or liking the cards. Users can also suggest new features by creating new cards on the board.
Although Trello is a key tool for feature request management, it has its drawbacks.
First, you can't segment feature requests in Trello. Every product suggestion is lumped together, and there's no way to figure out which ones are critical except you go through the cards individually.
This can be both confusing and time-consuming for the product management team.
Conclusion
Feature requests are new product ideas or suggestions from your customers or team members. These requests come from diverse sources and come in different formats, such as bug fix requests, product improvement suggestions, and new functionality requests. Implementing feature requests will improve your user experience and, as a result, retain and grow your user base.
To keep track of product ideas, you should have a feature request management system in place. All responses from multiple channels should be collected in one place and the requests should be prioritized based on several factors.
Want to get started with efficient feature request management? Get a Userpilot Demo and see how you can make the most of users' feedback.