Product Management Resources: All you need in your first 90 Days as a Product Manager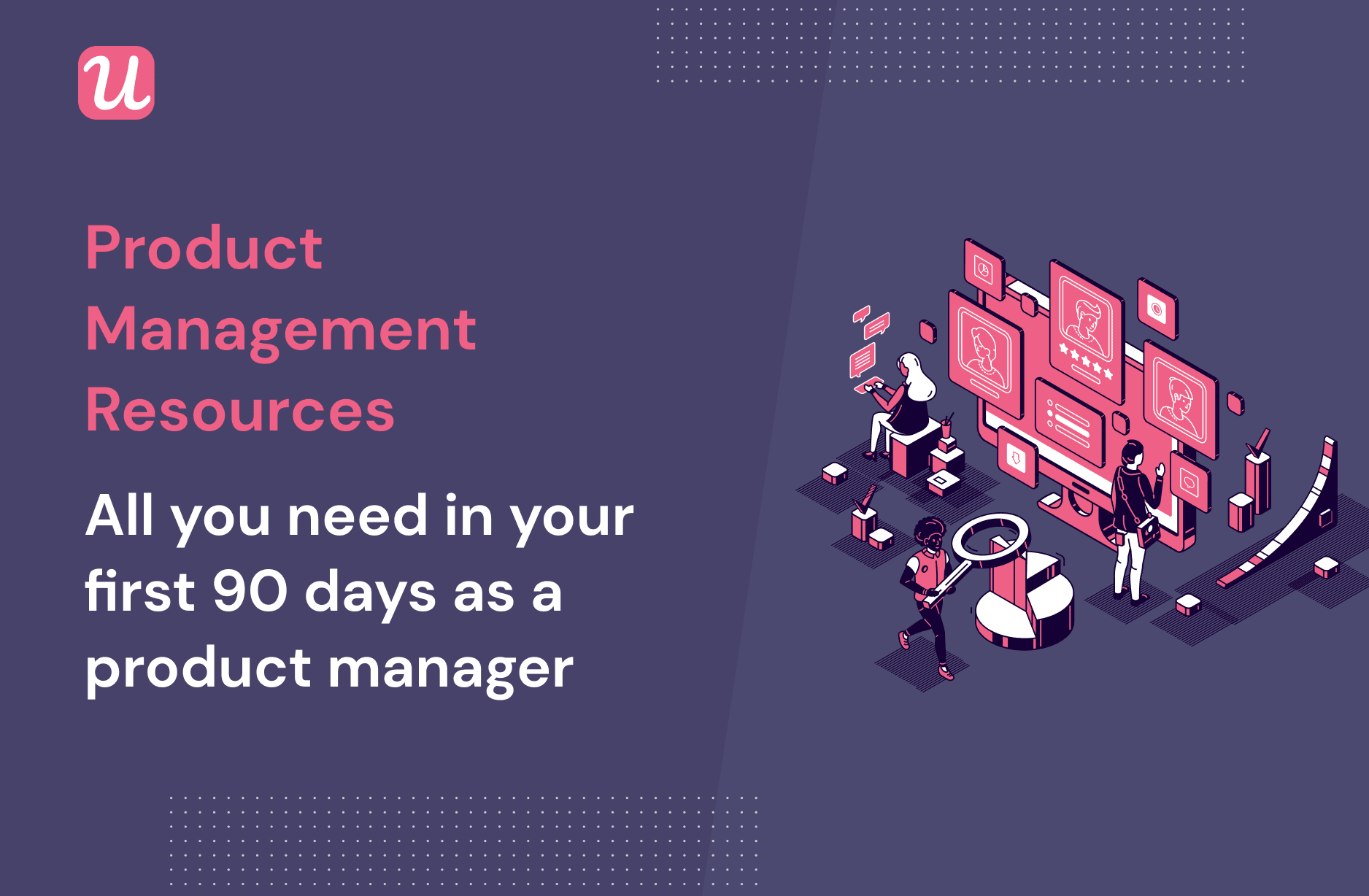 To help you in your first 90 days on the job, we've compiled a collection of some of the best product management resources.
The collection includes our favorite conferences, podcasts, blogs, books, newsletters, courses, and Slack groups for product managers.
o get the sponge mode on and dive in!
TL;DR
Product management is a cross-functional role responsible for all stages of product development.
Must have product management tools: Userpilot for product adoption, Hotjar for heatmaps and recordings on how users engage with your product, Airfocus for prioritization and road mapping, Cord for collaboration, and UXPressia for story mapping.
Reports, statistics, and product benchmarks give you hard data on trends in the product world.
We're taking a look at The State of SaaS Onboarding, Mixpanel Product Benchmark Report, Satmetrix 2021 NPS Benchmarks, and Openview Benchmarks and Research.
Conferences and events help you keep up with the latest industry trends and develop your network. We find the Product Drive Conference, the Product Folks events, and ProductCon particularly worthwhile.
podcasts are a great way to expand your knowledge on the go or when the time is scarce.
Listen to Userpilot's Product Heroes, the Product for Product podcast, This is Product Management, The Product Experience, The Why And The What Product Management Podcast, and Roadmunk's Product to Product.
Blogs will give you insight into all aspects of product management in easy-to-digest bites. We recommend the blogs from Userpilot, ProductLed Growth, Product Manager HQ, and The Product Folks
books for product managers give you more context and more exhaustive analyses. Our top pics are Continous Discovery Habits Product-Led Onboarding, Escaping The Build Trap, Inspired, and Build
Signing up for product newsletters helps you ensure that you get all the latest industry news straight to your mailbox. We've chosen Product Rantz, I Manage Products, Growth.Design, The Beautiful Mess and Product & People
Product management training and courses can help you develop skills crucial for your career growth. Check out the Product Adoption School, User onboarding on-demand webinars (both powered by Userpilot), Product School Online Courses, Learn ProductLed Growth, and Bart Jaworski's course on Udemy
Slack groups for product managers offer you a chance to exchange ideas, seek career advice, and develop contacts with other product managers. Groups set up by ProductLed Growth, Product School, Mind the Product, Product Collective, and Women in Product Management are our recommendations.
What does product management include?
Product management is responsible for all aspects of product development throughout the product lifecycle.
Product managers need to identify needs and opportunities, evaluate ideas, set a long-term strategy, develop product roadmaps, prioritize features, define product releases, analyze progress and report on it, manage stakeholder expectations, and ultimately deliver a product that brings value to customers.
That's a lot, right?
So what are the best resources to help you get the job done?
This article is divided into sections to cover a curated list of different types of resources:
Best product management tools to add to your toolkit
Let's start with five must-have tools that you will need during your first 90 days as a product manager.
Product usage and adoption tools – Userpilot
Often overlooked, tracking product usage data and driving adoption is an essential part of the product management process.
You're not building a product just for the sake of building it. You need to build something users want to use.
An adoption tool like Userpilot will help you understand how users engage with your product through product usage analytics, then use the data to:
User survey tool – Hotjar
Collecting user feedback in-app using micro-surveys will get you instant feedback on how users feel about a feature or entire product.
Add more data with heatmaps and user session recordings to uncover UX problems and improve user experience in product.
Have you tried Hotjar?
Prioritization and Roadmapping tool – airfocus
Not many tools offer prioritization and road mapping altogether. That's why airfocus should definitely be on your list.
With a wide range of prioritization templates that you can customize with your own cost and value drivers, airfocus will calculate your priorities so you can get started right away.
Once prioritization is in place, you can create your roadmap in just a few minutes using their simple drag and drop UI.
Collaboration tool – Cord
Product managers are familiar with the benefits of adding collaboration (e.g. the success of collaboration-first products like Figma, Notion, Canva and Airtable) but struggle to deliver an experience that aligns with the standards they hold for their core experience.
That's where Cord comes in.
PMs save their teams months of research, design, development, testing, and iterating by using Cord's APIs to add features like live chat, multiple cursors, annotations, and more.
Story Mapping tools – UXPressia
No product can be properly built with a good understanding of the customer journey. Combine that with user story mapping and user personas and that's where the iteration of the product begins.
With multiple templates to get you started, UXPressia is just the tool.
Reports, statistics, and product benchmarks
Reports, statistics, and product benchmarks are valuable sources of raw data about the trends in the industry.
The State of SaaS Onboarding
The State of SaaS Onboarding is a comprehensive report on current trends in the field.
Having used and analyzed 1200 SaaS products, we produced an in-depth analysis of how onboarding practices are implemented across the industry.
Mixpanel Product Benchmark Report
In their report, Mixpanel uses the data from users to analyze product performance in reach, activation, engagement, and retention across four industries (Finance, Media, eCommerce, and SaaS).
The aim is to identify the trends and practices that distinguish average products from excellent ones.
2021 NPS Benchmarks (Satmetrix)
The 2021 NPS Benchmarks report compiled by Satmetrix gives you insights into Net Promoter Scores across 23 industries.
It is based on responses from 65,000 users and over 220 brands and lets you see how your SaaS compares to your competitors.
Openview Benchmarks and Research
Openview is a US-based market capital company specializing in product-led growth and supporting SaaS companies during the expansion stage.
The Expansion Saas Benchmarks 2020 "was designed specifically to enable operators to compare themselves against their exact peers across the metrics that matter most in a SaaS business."
Apart from this report, their website is a host to other useful reports which can help you make informed product development decisions.
Best product management conferences and events
Attending conferences and events, be it virtual or in real life, is one of the best ways to catch up on the latest trends and develop your network.
Produt Drive Conference
Powered by Userpilot, the Product Drive Conference is a great opportunity to learn about product marketing, growth, analytics, operations, and leadership.
The two-day event is a chance to listen to 20+ speakers from industry-leading organizations. The event is free to attend!
The Product Folks events
The hugely popular free Product Folks events cover a range of subjects from marketing, through analytics, through product growth, through product strategy.
The workshops and masterclasses are delivered and facilitated by some of the best product leaders, so you are sure to pick up a thing or two.
ProductCon
ProductCon organizes some of the largest product management conferences. They take place four times a year, and host speakers from industry giants like Google, Slack, Mets, or AirBnB.
You can register to view the live stream and access the presentations online for free. If you'd rather attend in person, the ticket prices start at $149.
Best podcasts for product people
Podcasts are a great way of developing your product management knowledge while on the go and without having to dedicate specific time for learning.
Product Heroes – Live interviews with Leaders in the Product Space
Product Heroes is a series of interviews with product entrepreneurs and leaders delivered by Userpilot.
The events are live so you can ask questions, or listen to the recordings to catch up in your free time.
Product for Product podcast – Hosted by Moshe Mikanovsky and Matt Greene
In their Product for Product podcast, Moshe and Matt, both accomplished product managers, focus on product management tools.
The podcast offers insights into solutions that will help you with road mapping, analytics, productivity, and many more.
This is Product Management—Hosted by Mike Fishbein
This is Product Management, hosted by Mike Fishbein, a digital marketing guru, covers a range of topics related to product growth.
It can help develop both hard and soft skills needed as a product manager.
The Product Experience — Hosted by Lily Smith and Randy Silver
The podcasts from the Product Experience host speakers from across the product industry and deals with all the subjects a product manager (or a product owner) may find useful.
The Why And The What Product Management Podcast —Hosted by Daniel Kahn
The podcast is based on interviews with product professionals like product managers, product owners, development team leaders, and other stakeholders involved in product development, and gives you a chance to look at the processes from different vantage points.
Product to Product—Various Hosts
This Product to Product podcast is powered by Roadmunk.
It hosts product experts from some big-name companies like Amazon or Uber. The podcast is in its 8th season, each of them devoted to a different aspect of product growth.
Best blogs for Product Managers
When it comes to product management resources, blogs are high up there. They cover pretty much every aspect of the role and offer a wealth of knowledge in easily digestible chunks.
Userpilot Blog
Userpilot releases high-quality articles with actionable content. They cover topics such as onboarding, product marketing, analytics, tools to name just a few.
You will find pretty much everything you need, not only in your first 90 days on the job but way beyond that.
Must-read articles
ProductLed Growth Blog
ProductLed is a global community of SaaS professionals.
Their blog is one of the ways to realize their mission, which is sharing best practices and supporting entrepreneurs in their pursuit of product-led growth.
Must-read articles
Product Manager HQ blog
The community supports Product Managers with training, certification, networking opportunities, and job opportunities.
The blog contains a lot of PM-related content which is going to benefit both aspiring PMs and old guns.
Must-read articles
The Product Folks
The Product Folks is a repository of various product management-related resources hosted by other services.
What is great about it is that it's curated, and contains some of the best and most useful content.
Must-read articles
Best books for Product Managers
If you have time for a bit more extensive reading, there are great books on product management.
Here's a selection of a few classics.
Continuous Discovery Habits by Teresa Torres
This best-seller by Teresa Torres is a very practical guide on how to set your product teams on a path of continuous product discovery.
No self-respecting product manager can afford to miss it!
Product-Led Onboarding by Ramli John and Wes Bush
The main focus of the book by Ramli John and Wes Bush, the execs at ProductLed Growth, is on user retention strategies.
It demonstrates how to win your users' attention, help them adopt the product quickly and keep them engaged, and ultimately – increase your revenue.
Escaping The Build Trap by Melissa Perri
The key message of Escaping the Trap is that what really matters is not the features that you develop but the value that you deliver to your customers.
The book will help you refine your strategy, processes, and culture so that you are in a better position to deliver value to your users.
Inspired by Marty Cagan
Marty Cagan is considered a product management guru, and Inspired has the status of the bible of product management.
The book shows how the best tech companies design, develop and deliver superb products. It can help structure product organization and build strong product culture to deliver outstanding products.
Build by OpenView
The book consists of product-led founder stories, how-to guides, and case studies on how to successfully implement product-led growth.
It is based on experiences from companies like Calendly, Hubspot and Stripe.
Other must-read books
The Lean Product
The Product book
Launch: The Roadmap to Product management success
Best product newsletters to subscribe to
Signing up for a newsletter is effortless, and if you choose the right ones, you will be getting the most current product content right to your mailbox.
Product Rantz- Userpilot
Product Rantz comes out every Wednesday and is an easy and quick way to keep up to date with all things product.
Just sign up and wait for your first delivery of product-related goodness.
I Manage Products
I Manage Products is one of two newsletters produced by Jock Busuttil, a freelance head of product and conference speaker.
It is released at irregular intervals but consists of original articles providing in-depth insights into the world of product growth.
Growth.Design
The Growth.Design newsletter's main strength is its case studies, which cover retention, onboarding and revenue – and it's format. The product tips are presented in a comic book format which is fun to read.
The Beautiful Mess
Have you come across John Cutler's Twitter feed? If not, definitely check it out. And if that's not enough, his newsletter offers more thorough content and insights into product development content.
People & Product
Adam Wintle's newsletter focuses on the soft skills needed to manage and lead teams and collaborate with others. These are essential for your success as a product manager.
Best product management training and courses
Product management courses can help you develop skills and expand knowledge of various aspects of your work.
Product Adoption School – Free
Userpilot's Product Adoption School offers 5 unique lessons a week. They will help you learn everything you need to know about onboarding to smoothly guide your users through all stages of user journey. They are free, just sign up and wait for the delivery to your mailbox.
User onboarding on-demand webinars
Userpilot offers a number of on-demand webinars on MVP onboarding, analytics, secondary onboarding, driving WOM & account expansion, all delivered by their product experts with years of experience in the industry.
Product School Live Online Courses
Product School offers a range of courses for product professionals. Apart from their certifications classes, there are lots of free online resources available on their website.
Learn Product Led Growth – Free
The Learn Product Led Growth course is free and covers everything your need to know to grow your SaaS product. It has modules on activation, engagement, retention, analytics, and launches to name just a few.
Great Product manager: Product Management by Microsoft's PM.
The course developed by Bart Jaworksi, the Senior PM at Microsoft, is one of the most popular and most highly rated courses on Udemy, and there's a good reason for that.
It offers 14 hours of videos, over 100 downloadable resources, and almost 50 articles prepared by one of the most accomplished PMs in the industry. And it's a steal if you manage to get it on one of the numerous Udemy sales.
Slack groups for product managers
Slack communities are yet another great way of expanding your horizons and developing your network.
ProductLed Growth
Joining the ProductLed Growth Slack group will benefit budding product managers and the veterans in the industry alike. It gives you access to the best content from ProductLed Growth as well as exclusive templates, guides, and research.
Product School
With over 100,000 members, the Product School Slack community is one of the largest around. Whatever you are after, there's a big chance you will find it there. There are even regional channels out there, so it's a great place to develop your local PM network.
Mind The Product
The Mind the Product Slack community is another large group, with over 20,000 members. Just like Product School, it has local channels to help with networking. It is a great venue to seek feedback on your product or ask for advice on product-related issues.
Product Collective
The Product Collective Slack community is accessible to all those who sign up for their newsletter, and it's aimed at software product managers. It has over 13,000 members who are ready to share their expertise and experience.
Women in Product Management
There are some brilliant women product managers but product management is still very male-dominated. Women in Product Management is a community created by Merci Grace, a former Head of Growth at Slack, to offer ladies a space to share experiences. To join, fill in the Google form.
Conclusion
The internet offers superb educational resources that will help you develop your product management skills and help you grow as a well-rounded product manager.
If you would like to learn how Userpilot can help your career as a product manager, get a demo!