The 9 Best Product Tour Software of 2021 [with In-Depth Guide]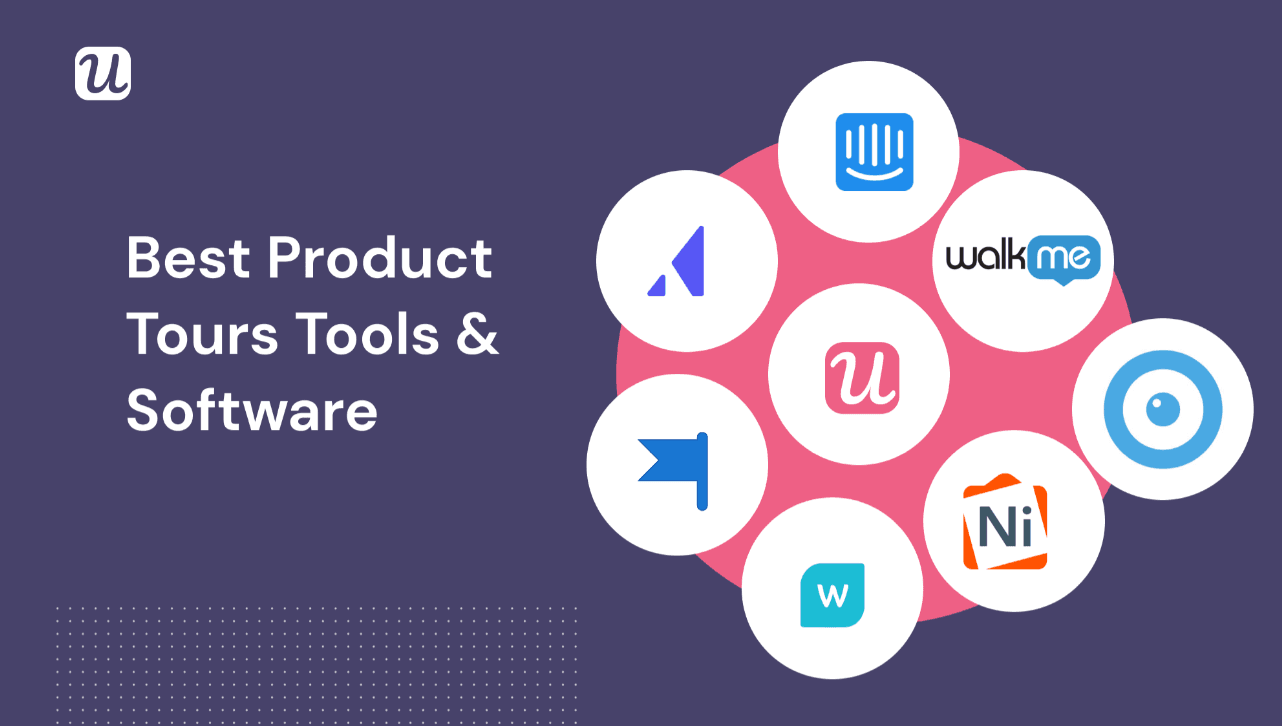 Today, we're going to take you through the best product tour software and tools in 2021.
So here's what we're looking for:
Product tour software that allows you to produce effective onboarding and activation experiences quickly and without coding resources.
We're going to look at nine options (in no particular order…) of product tours software before finishing up with what we've learned about designing effective, interactive product tours – no matter what software you choose.
Let's dive in!
Product Tour Software #1: Userpilot
Well, we covered quite a lot of the positives about Userpilot in an earlier blog, but let's summarize them quickly here, as well as acknowledging some limitations.
Source: userpilot.com
Pros of Userpilot
Supports branched and fully interactive walkthroughs and product tours.Using the unique Driven Actions system (pictured above) you can set action triggers for different elements of the tour. For example, you can require a user to complete a text field, or go to another page in your app before moving on. This turns a passive tour into something much more conducive to learning, which minimizes Time To First Value. In this way, Userpilot is highly focused on driving user activation.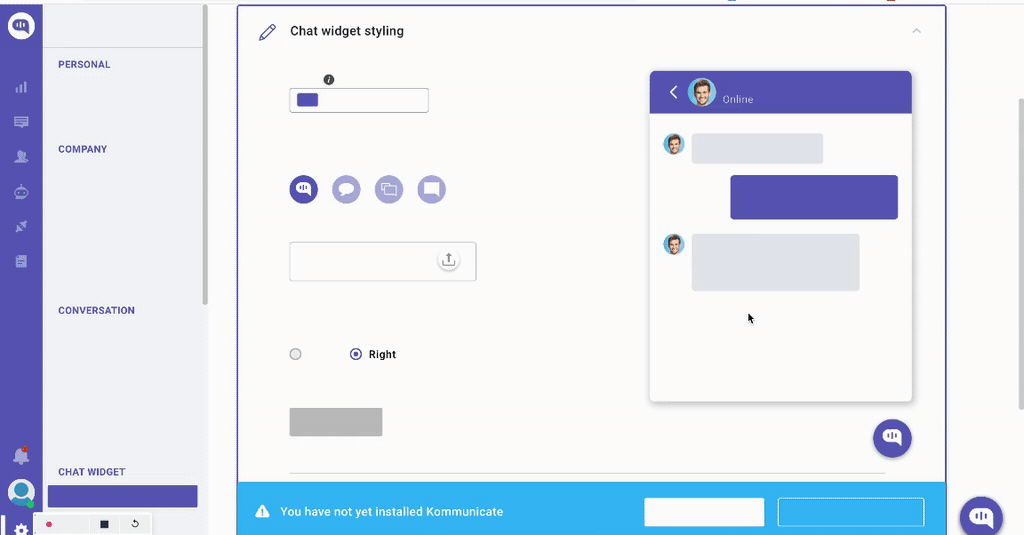 Comprehensive range of UX elements, including native tooltips, hotspots, checklists, modals, slideouts, video and more.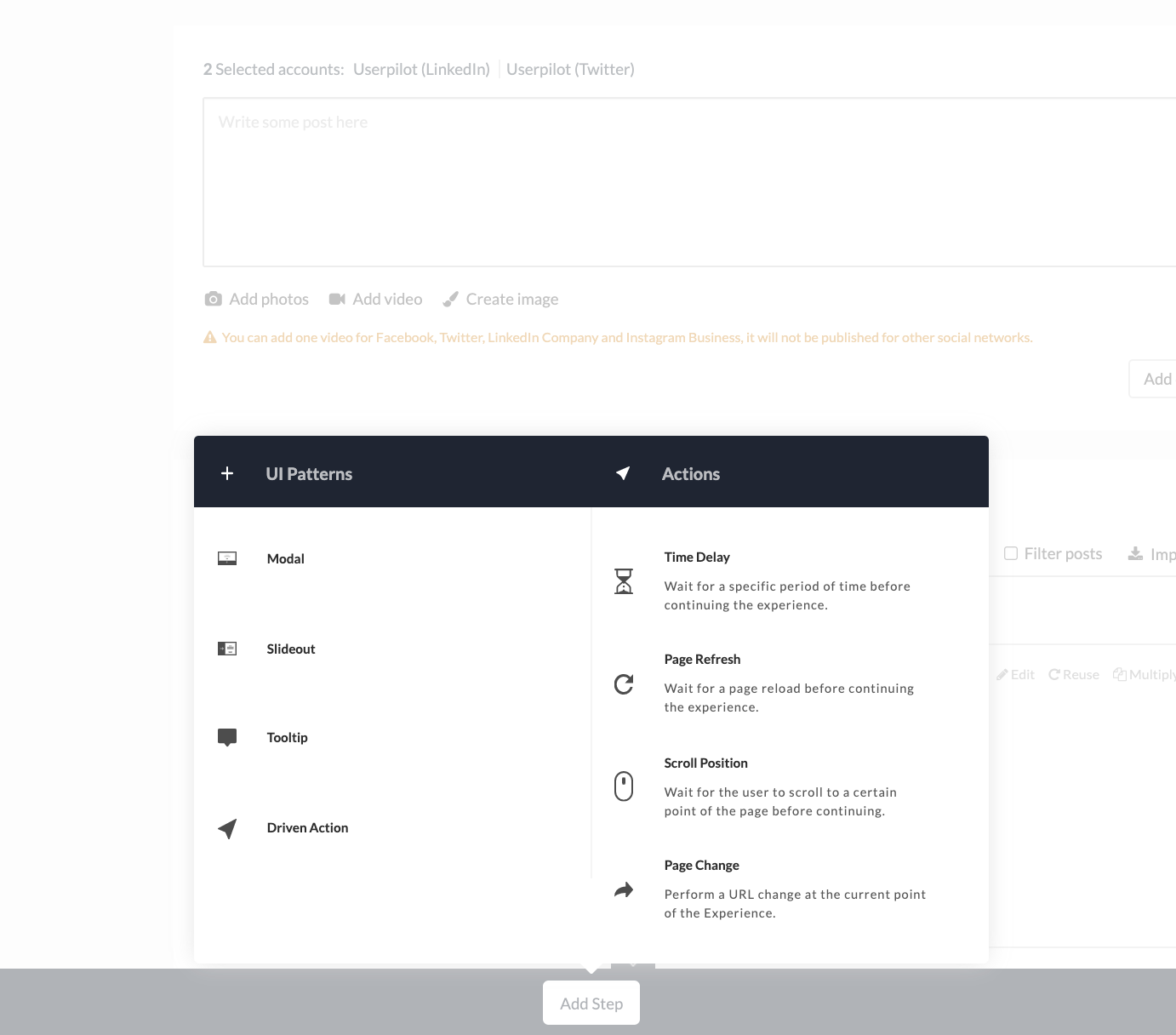 A range of segmentation and personalization options: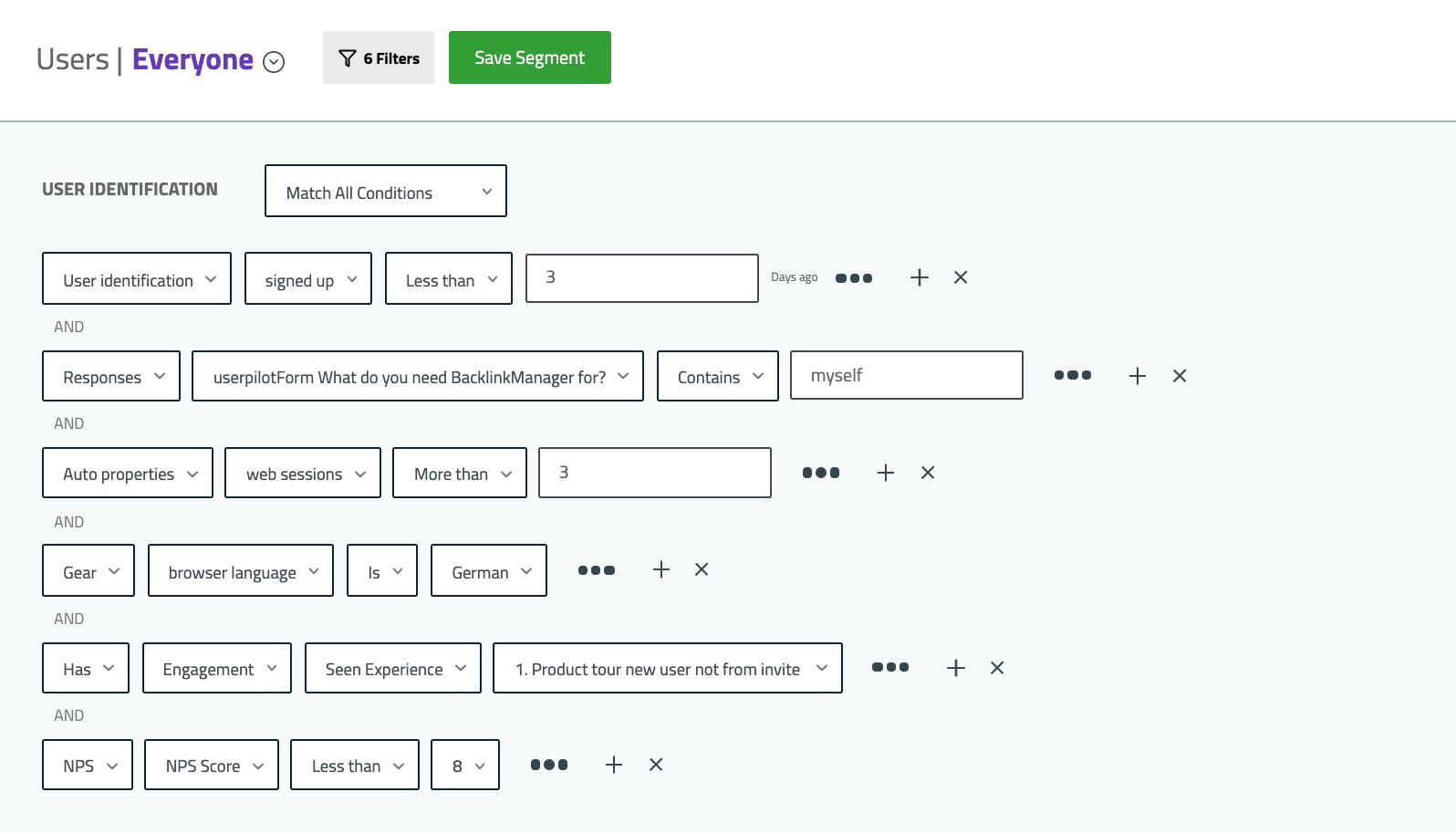 Advanced analytics allowing you to set goals and track their completion (actually see how your experiences affect feature adoption!)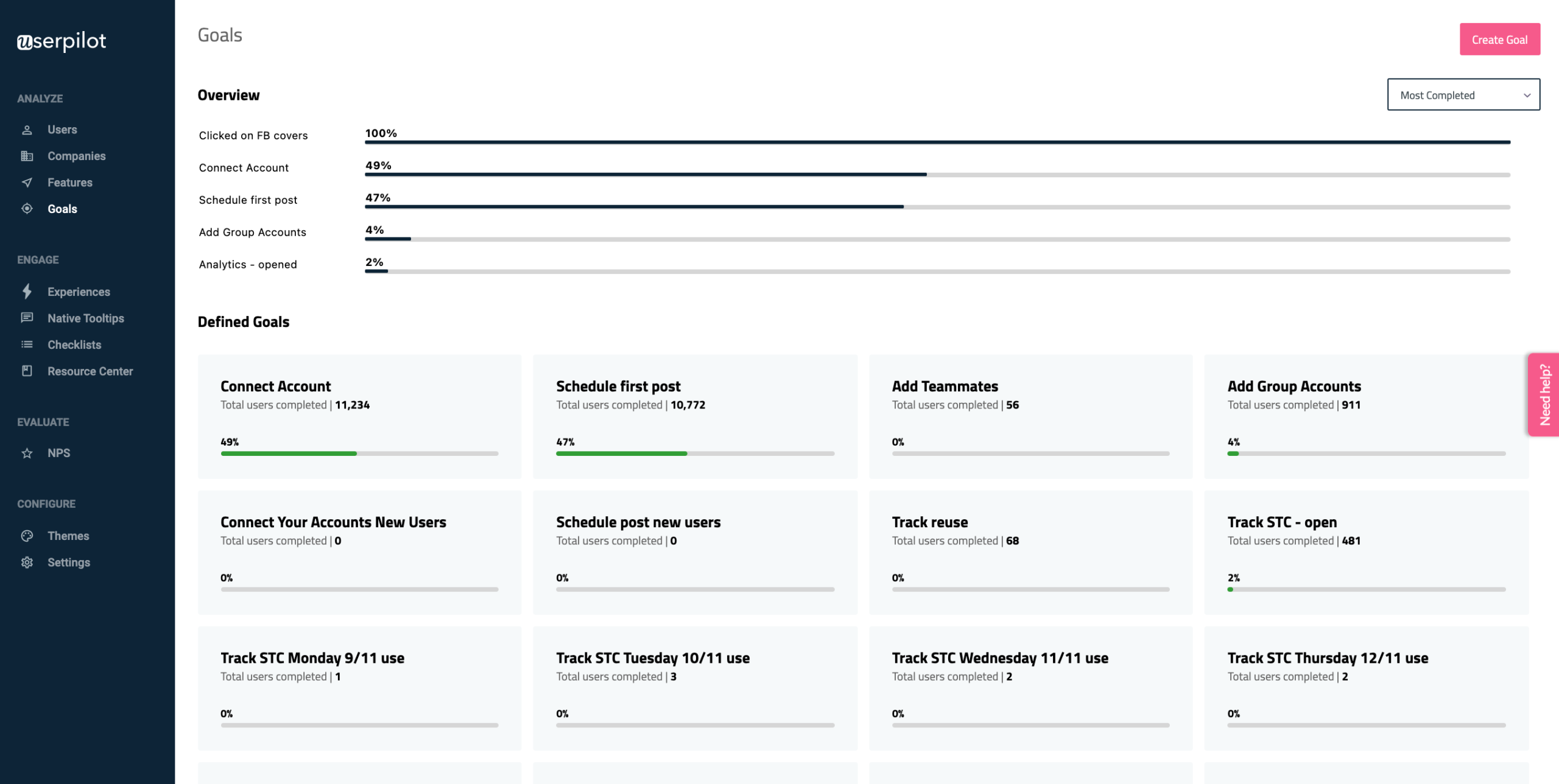 You can create microsurveys (e.g. in welcome screen) to help you with user segmentation and feedback collection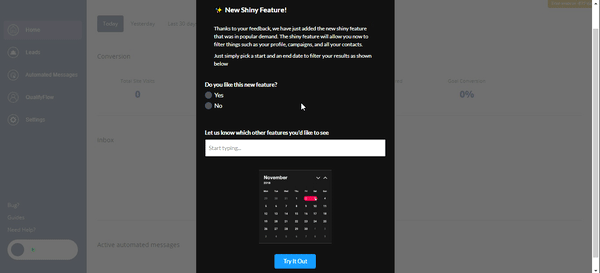 Easy to use use, visual interface allowing you to build any experience or UI pattern in minutes: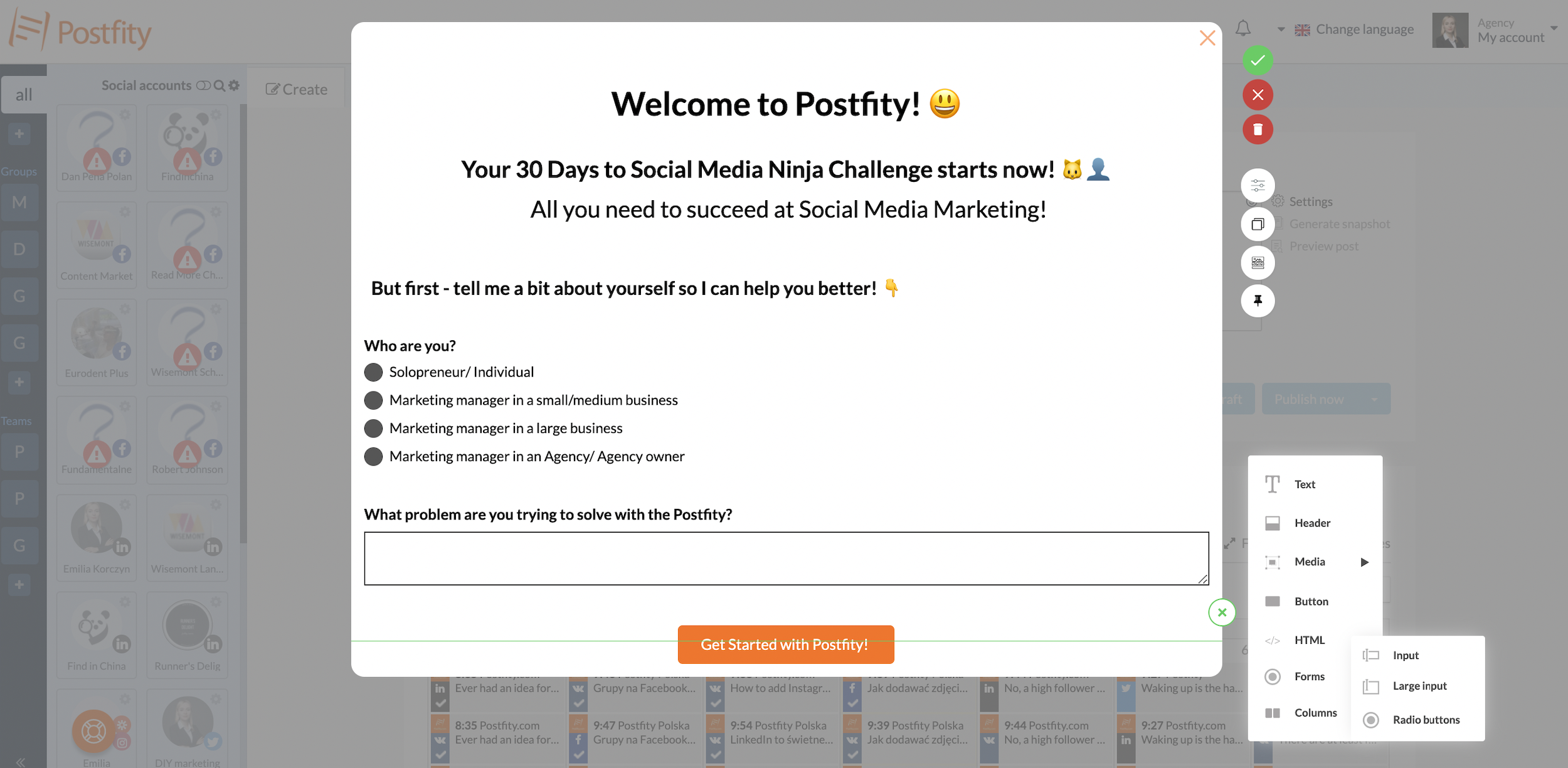 Get a free demo of Userpilot to see how it can contribute to your SaaS product growth.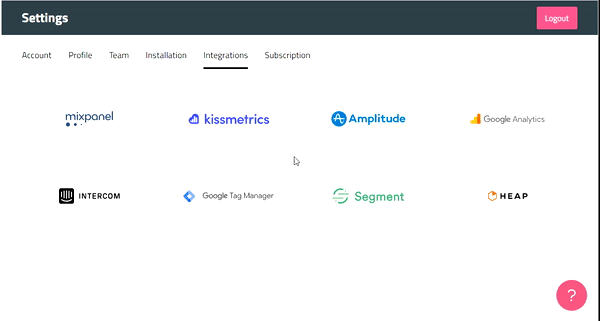 Source: userpilot.com
Limitations
It doesn't work on mobile apps. Yet. Keep an eye out!
It's not suitable for employee onboarding on third party apps such as Salesforce or Hubspot.
RELATED: In our last blog, we showed you what you need to do and to avoid to make awesome product tours and walkthroughs. Check it out if you're looking for more tips on creating your next product tour!
Product Tour Software #2: Intercom
You're probably already familiar with Intercom, the conversational marketing and engagement platform.
Well, they also have an add-on called Intercom Product Tours.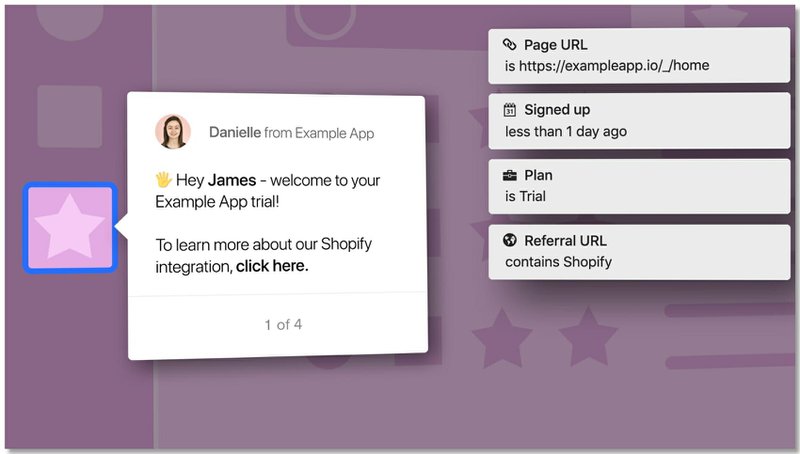 Source: intercom.com
Don't get me wrong. The Intercom product is great. But Intercom Product Tours is only really suitable for really basic product tours, as we've discussed in an earlier blog.
It only supports linear onboarding – that is, a series of non-interactive information panels like in the picture above.
The UX is quite basic, which limits how contextual the cues given can be. There are no modals, slideouts ,checklists or hotspots, for example. If you are supporting multiple use cases and multiple audience segments, or if your product has a lot of different functionality, this one-size-fits-all approach is problematic.
Intercom Product Tours doesn't support A/B testing. So how will you work out whether your onboarding can be improved?
Although it claims to be no-code, in fact the styling you can employ without CSS coding is pretty limited. If you want complete control over the look and feel, you're doing to need a web developer on the case.
Finally, Intercom Product Tours is only available as an add-on to the main Intercom product.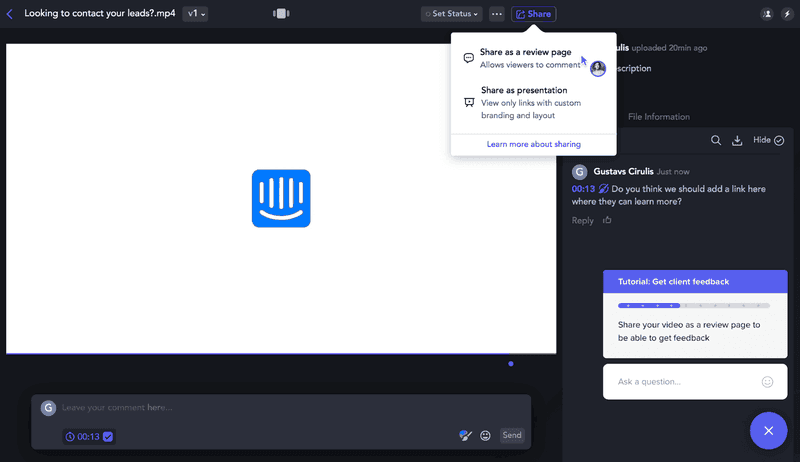 Source: intercom.com
That is, you can't buy it separately – you have to spend at least $149 per month extra on top of your Intercom subscription.
Pros of Intercom
If you're a diehard Intercom user and your onboarding needs are simple, it integrates seamlessly with the rest of their tools
The frameless videos look great!
Cons of Intercom
Linear tours only, no real interactivity
Restricted range of user experiences
Styling requires coding
More pricey than some of the alternatives, even leaving out the price of the main product suite
Product Tour Software #3: Appcues
Appcues has been around for years in the product onboarding space, and their service offers a comprehensive range of product tour features.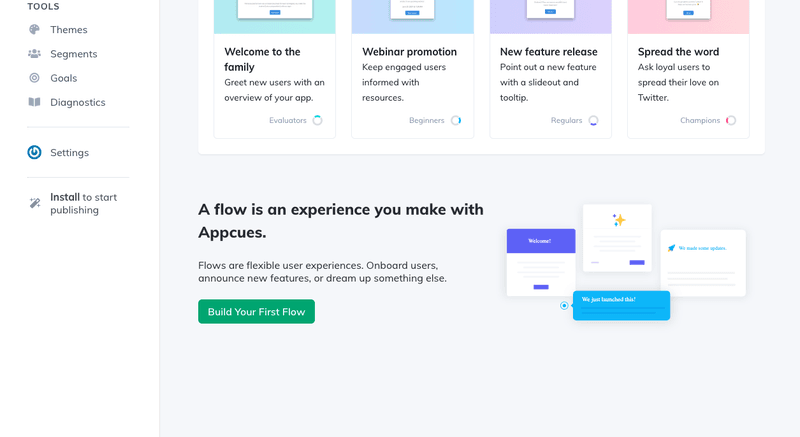 Source: appcues.com
It supports the full range of different UX elements we talked about in the last blog, giving you lots of design options.
But, Appcues still only supports linear onboarding.
Their "Flows" don't drive users to complete tasks – they are passive.
That's ok for onboarding materials in a help center, perhaps. Linear onboarding of this sort is good for very basic introductory steps.
But when a user is actively engaged in a task, they want the help available right then and there – contextually. This is called reactive onboarding – because you're reacting to your user's behaviour in-app in real time.
Conversely, linear tours used as a form of proactive onboarding are just annoying for users who aren't interested in the feature at the time you've decided to train them on it.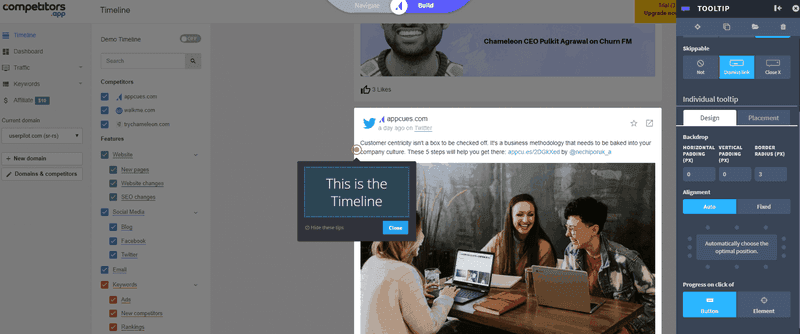 Source: appcues.com
I also find Appcues a bit difficult to use. Perhaps that's because they've added so many bits and pieces to the service over the years.
But I don't like having to switch between pages when I'm designing a Flow.
Pros of Appcues
Lots of UX options mean that you can be really imaginative with your tours
Appcues produces loads of great content, on their own blog and on Really Good UX
Cons of Appcues
User interface will not be to everyone's taste
Native styling options are limited – full control again depends on CSS coding
Linear onboarding really limits its ability to drive user activation
At $249 per month minimum (and $879 per month for the full range of features on their "Growth Plan") Appcues is going to be outside many companies' price range
Product Tour Software #4: WalkMe
If anything, WalkMe is even better known that Appcues. It has massive brand recognition and so if the first name that comes to mind when many people are looking for product tour software.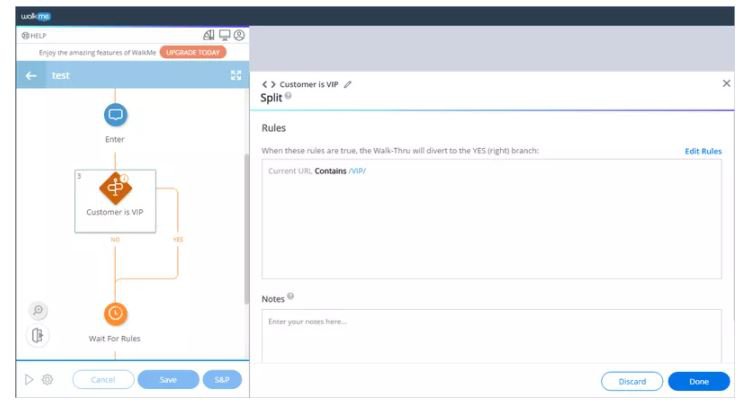 Source: walkme.com
WalkMe used to be on-premise software that you had to install locally, but now it is pure SaaS – which is a great improvement.
One really interesting feature is WalkMe's context-intelligent algorithm, which attempts to work out user needs and intentions and then serve up the most appropriate tours and onboarding flows.
That's pretty amazing when it works well, but it comes at a price. WalkMe pricing is bespoke, but it tends to range from anywhere between $9,000 and $50,000.
WalkMe is popular with enterprise-level businesses, who appreciate its massive range of features (which go way beyond product tours – it's an entire Digital Adoption Platform) and very high security spec.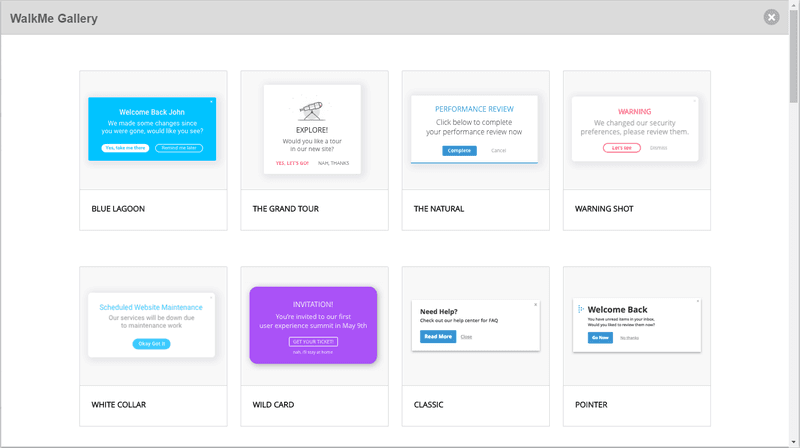 Source: walkme.com
But that number of features can be intimidating and hard to get to grips with. A wide variety of templates (pictured above) helps with that, but WalkMe really delivers best when you have a LOT of time (and development support) to dedicate to it.
Pros of WalkMe
Lots of name recognition and strong brand reputation
Loads of features – it aims to provide a complete Digital Adoption Platform, including analytics, A/B testing and task automation
Product tours don't have to be completely linear, but reviews suggest that not all use cases can be accommodated
Cons of WalkMe
One of the most expensive product tour software options out there
May go a long way beyond what many smaller firms actually need or can use in practice
RELATED: [Case Study] How Touchright Software saved hours of dev time after switching from Walkme to Userpilot
Product Tour Software #5: Helphero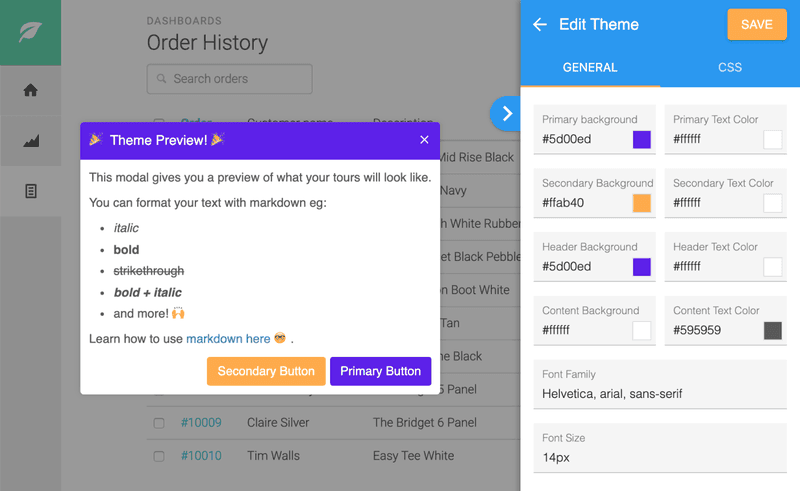 Source: helphero.com
If you're looking for really inexpensive product tours software, Helphero is one of the best. It starts at just $55 per month for up to 1,000 users, making it affordable for even really small businesses.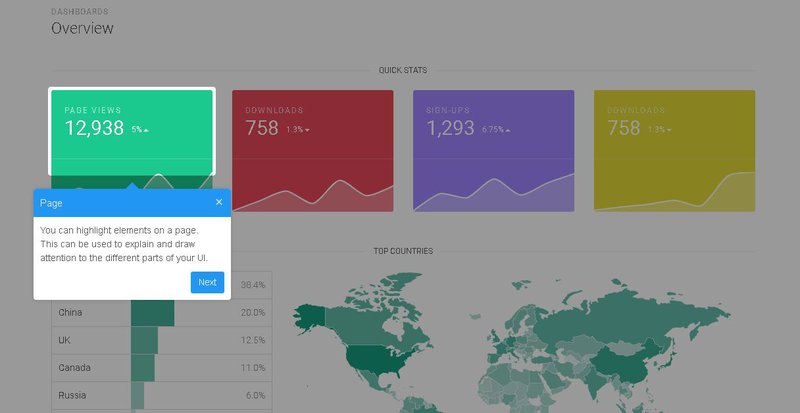 Source: helphero.com
And even though – again – it only supports linear onboarding, they have some creative ways of letting you use the available UX elements in a contextual way. For example, to highlight certain parts of a page (above) or to make the walkthrough seem interactive (below).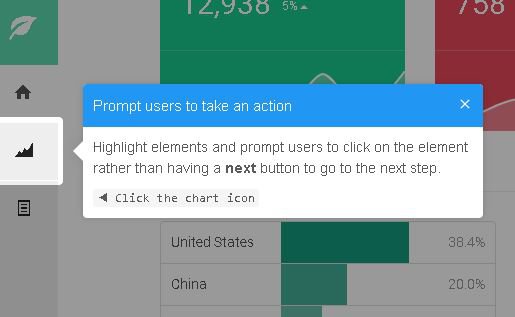 Source: helphero.com
Of course, this is not true interactivity of the sort Userpilot enables because it only depends on a click input. As the tooltip itself says, the click is just a substitute for a "Next" button in a linear flow – but nevertheless, it's a smart way of using the functionality.
Pros of Helphero
The price makes it accessible to even the smallest companies.
A surprisingly wide range of UX elements, including checklists.
A/B testing, event and user-based triggers help provide contextual cues.
Simple integration with Intercom, making it a real competitor to Intercom Product Tours
Cons of Helphero
At the end of the day, it's still restricted to linear and branching onboarding.
Styling options are limited, unless you're able to use CSS.
If you have a lot of users per month, Helphero's competitive advantage on price quickly disappears. For up to 10,000 users, for example, it costs $249 per month.
Product Tour Software #6: WhatFix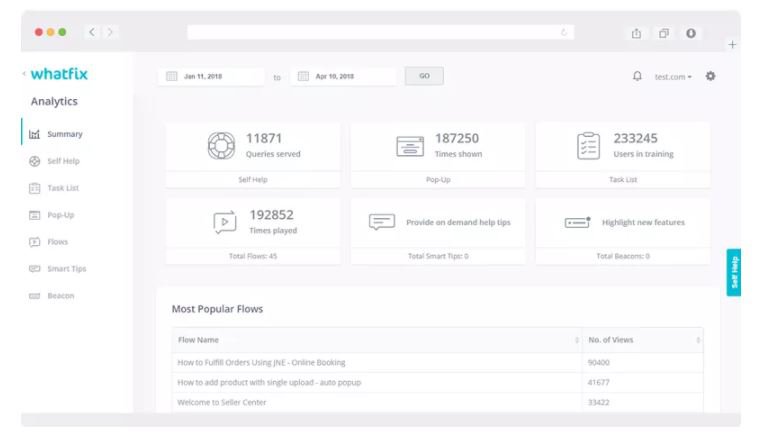 Source: whatfix.com
WhatFix has a lot of great functionality – including proper interactive walkthroughs of the sort we believe are essential to driving user activation.
Here's an example of an interactive tour created using WhatFix.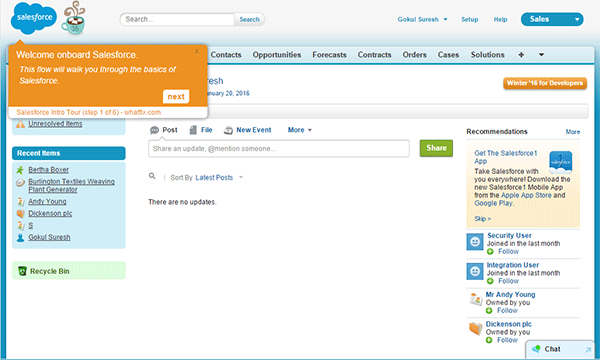 Source: whatfix.com
That makes WhatFix a real competitor, but there are some important caveats to be aware of.
Firstly, in-app styling is pretty basic – which means, once again, you'll need CSS skills or resources to get your onboarding experiences aligned with the look and feel of the rest of your app.
Secondly, WhatFix is very cagey on pricing. No bands are given on-site – it's by quote only. Having said that, there is a free trial option.
Finally, WhatFix's customer support seems to not be the best. Check out the review sites and you'll see a lot of grumbles.
Pros of WhatFix
Offers interactive walkthroughs.
Lots of different UX options.
Easy to install via Chrome extension and JS snippet.
Cons of WhatFix
Only has basic in-app styling options.
No A/B testing in app or built-in analytics. It does, however, support Google Analytics integration.
Bespoke pricing makes it hard to know who to recommend WhatFix to…
Product Tour Software #7: Nickelled
Nickelled prides itself on being "100% code-free" – a USP they really do stick to. Guides are created externally, meaning you don't even need a browser extension or JS installation to create and run them. That's a big plus for non-technical users.
They also offer a wide range of UX elements. Here's an example onboarding experience built on Airtable.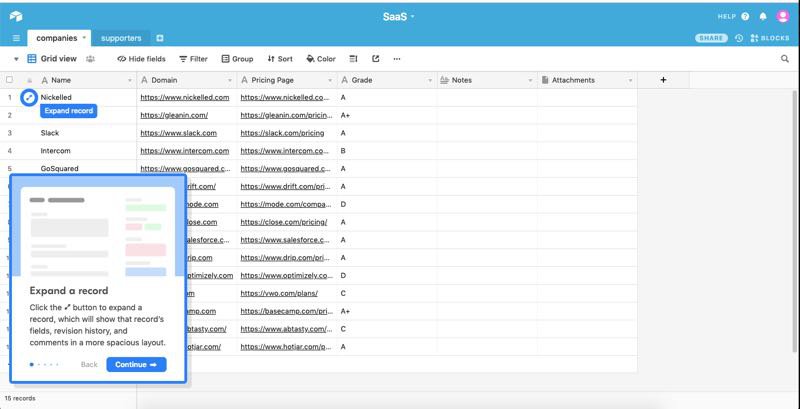 Source: nickelled.com
Pricing is based on the number of guides you produce – up to 10 costs $99 per month.
This may be a good solution if you're looking for an affordable tool to build a few product tours.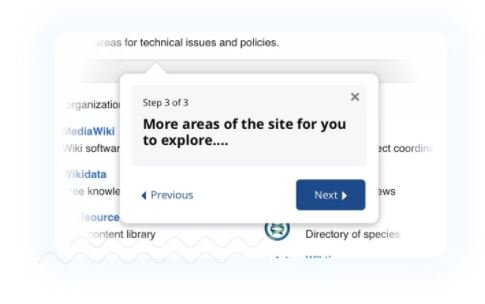 Source: nickelled.com
However – if you want to create interactive, non-linear product walkthroughs or reactive experience flows – Nickelled doesn't offer branched product tours.
Pros of Nickelled
Inexpensive entry-level pricing.
Faster to set up and deploy than any of the alternatives here.
Cons of Nickelled
You can create step-by-step guides, but there is no real interactivity or branching, which limits effective use cases and activation focus still further.
Product Tour Software #8: Chameleon
This is another onboarding and product tour software service that we talked about in an earlier blog.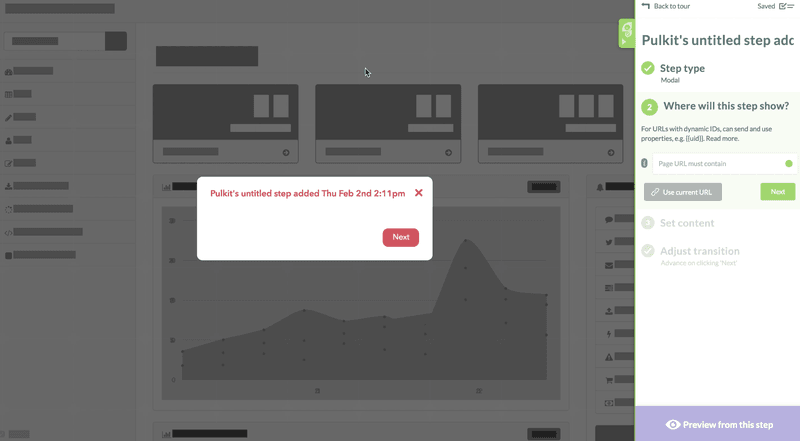 Source: trychameleon.com
Chameleon has a lot of good features and can definitely hold its own against rivals like Appcues.
It offers a wide variety of UX elements (tooltips, hotspots, beacons etc) and can be used to build complicated walkthroughs with. It also has an innovative "launcher" functions which you can use to deploy checklists and other widget elements.
It has advanced user segmentation and personalization (which it did not until recently), and event-based triggers – although these are not as customizable as, say, Userpilot offers.
Personally, I find the UI fairly hard to use – maybe because it has so many elements.
Chameleon's main differentiator is that they will do the styling coding for you. This is great if you have very specific look and feel needs for your product tours but lack the resources in-house to execute it.
Pros of Chameleon
Highly competitive range of UX and tools.
Extensive range of integrations, with tools like Mixpanel, Amplitude, Heap, Intercom, Zapier, Slack etc.
Bespoke coding makes it perhaps the most suitable option for services with really distinctive look and feel needs.
Cons of Chameleon
Entry level pricing is $279 per month for 2000 users, which makes it one of the more expensive options.
Bespoke coding, of course, will slow down the speed at which it can be deployed.
Access to a lot of the best features are restricted on the lower pricing tiers (eg the Startup package offers only 5 microsurveys and 1 launcher, and it omits A/B testing entirely).
Product Tour Software #9: Upscope
This is pretty different from the other product tours software we've looked at. It's not aimed at self-serve onboarding, but assisted onboarding.
That is, Upscope offers what they call "co-browsing".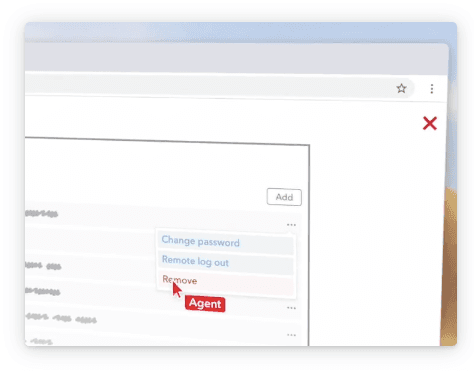 Source: upscope.com
As we said in the first part of this blog, agent-led onboarding is not usually cost-effective for the majority of low APRU SaaS services.
It's certainly not economical as a replacement for self-serve onboarding and product tours of the sort we've been talking about.
But as a complement, to work alongside your walkthroughs, it can have a part to play.
If you have some very complex use cases and very specific user needs, then it might be a good idea to build functionality like this into your Help Center.
Pros of Upscope
If you have really complex user needs, being able to walk them through solutions one-on-one is really helpful.
Cons of Upscope
One-on-one onboarding is not efficient or cost-effective for the majority of SaaS businesses, so Upscope is not really an alternative to self-serve options.
---
That concludes our review of the best product tours software options. We hope it has given you some useful guidance. We can't speak for any of the other tools, but if you'd like a free demo of Userpilot, just click here.
Beyond the Product Tour Software – How to Get the Best Results
When it comes to selecting the best product tour software, there is some general advice that is very relevant:
It's not how much you've got – it's how you use it that counts.
Badly-designed, badly-targeted product tours don't achieve the desired results, interactive or not. And good design is all about knowing your audience and knowing your user journey.
In this final section, we'll share our thoughts on the things you should be doing to make sure your product tours and interactive walkthroughs can soar.
#1 Segment and Personalize as Much as You Can
Contextual microsurveys are brilliant for collecting information that allows you to customize onboarding without boring the user.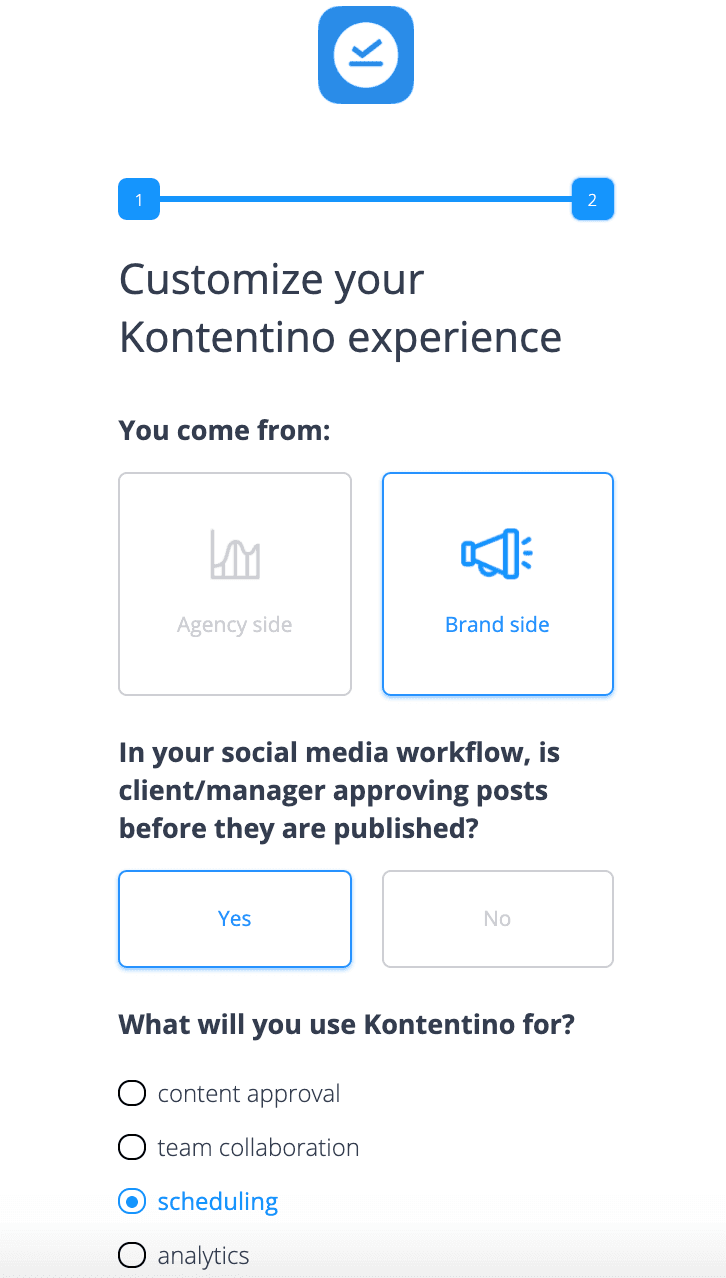 Source: kontentino.com
Just a few simple questions at strategic moments, can give you essential insight into what is important to a user – what value means to them and what they're hoping to achieve.
Motivation and Ability are both dependent on giving people the right information at the time they need it – so the more you can segment users by these criteria, the more relevant you can make their bespoke tours.
#2 Before or After Sign-Up?
Have you thought about onboarding people before they're even signed-up users?
If you're involved in Product-Led Marketing, then a product tour can be one of the best marketing tools imaginable!
This is something that SalesFlare actually did – basically using their entire walkthrough as a product demo (9:30).
Ask yourself: will this get users to Aha quicker than making them sign-up first?
#3 Help Center is Vital
Your product tours will get users a long way, but there will always be some question or some problem you haven't anticipated.
So you're going to need to complement your walkthroughs with:
FAQs and Document Centers: when users to proactively get into the weeds, it's important that you cater for their more advanced needs.
Live Chat: sometimes, self-serve will only get you so far. Occasionally, a user will come across a problem than needs human help to solve.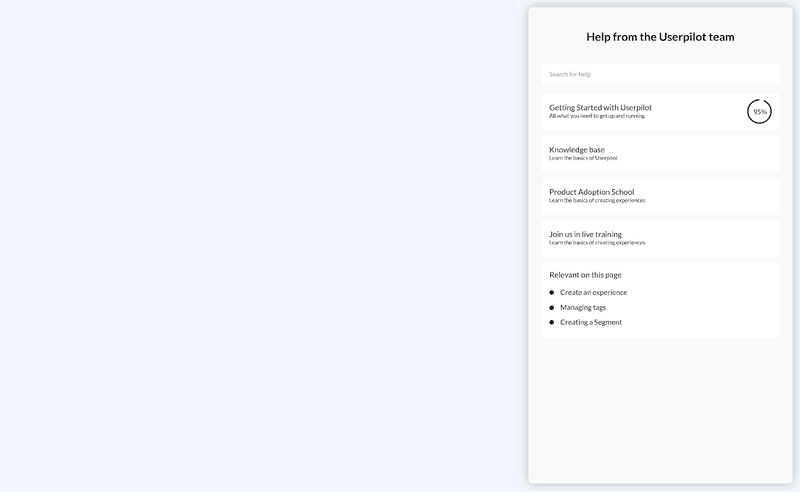 Source: userpilot.com
Even if you have thought of everything, there will always be some users who need hand-holding and reassurance and who can't get to grips with a tutorial.
Your activation strategy needs a comprehensive help center just as much as it needs product tours. Fortunately, that's part of the Userpilot offering as well…
#4 Iterate Using Analytics
One of the main problems we see again and again with product tours is that they are treated as "one and done" features.
Which is crazy.
A marketer would never just say "well, that's the landing page sorted" and simply walk away. They look at the performance data and optimize over time!
So why would a product manager set up all his or her onboarding flows and just move on?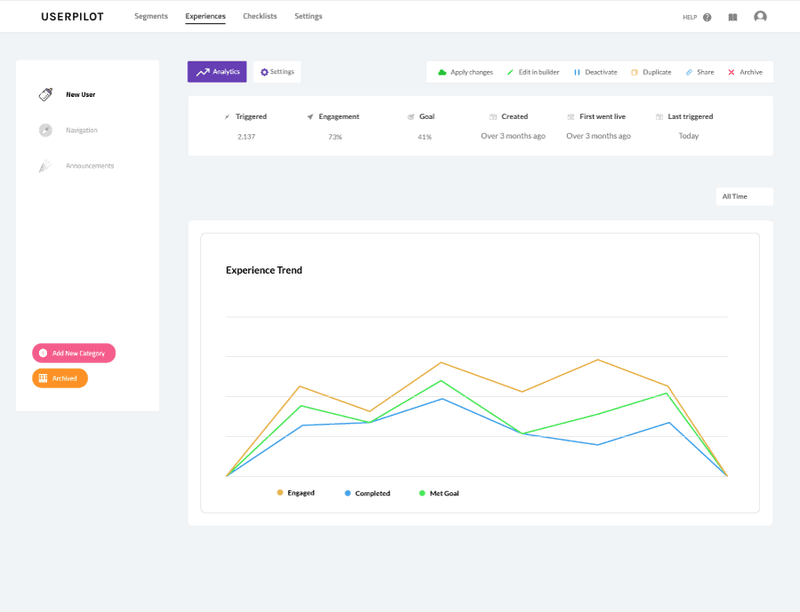 Source: userpilot.com (coming soon!)
You need to be tying your product tours to activation or other KPIs and tracking the impact they have. If you're not able to correlate interaction with your tours to users' engagement or success metrics, you're missing out on important opportunities to improve.
So, it's vital to integrate whatever walkthrough software you are using with event-based analytics (we have a one-click integration with Amplitude, for example), so that you can put that feedback-optimization loop into effect.
#5 Know Your User Journey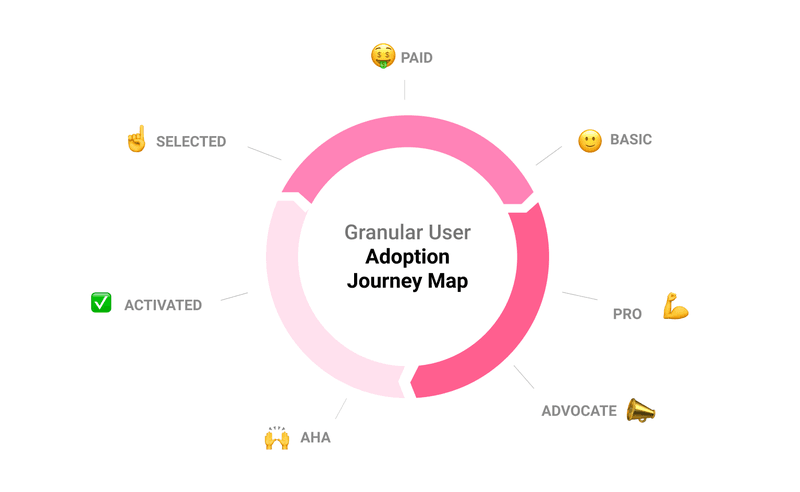 Source: userpilot.com
If you're going to produce a comprehensive onboarding system comprised of short, segmented, contextually-triggered interactive walkthroughs you're going to need to know your product, your audience and their use cases inside and out.
To be able to hand-hold users through every step of the journey in detail… that's a lot of work! No wonder so many people just avoid it and put a one-size-fits-all linear product tour in place instead.
This is where you just need to be an awesome product manager who can put themselves into every user scenario imaginable (and some that aren't…) and plan out the right solution to each problem. Software can only take you so far with that.
Want to Learn More About Our Product Tour Software?