10 Whatfix Alternatives for User Onboarding, Digital Adoption and Other Use Cases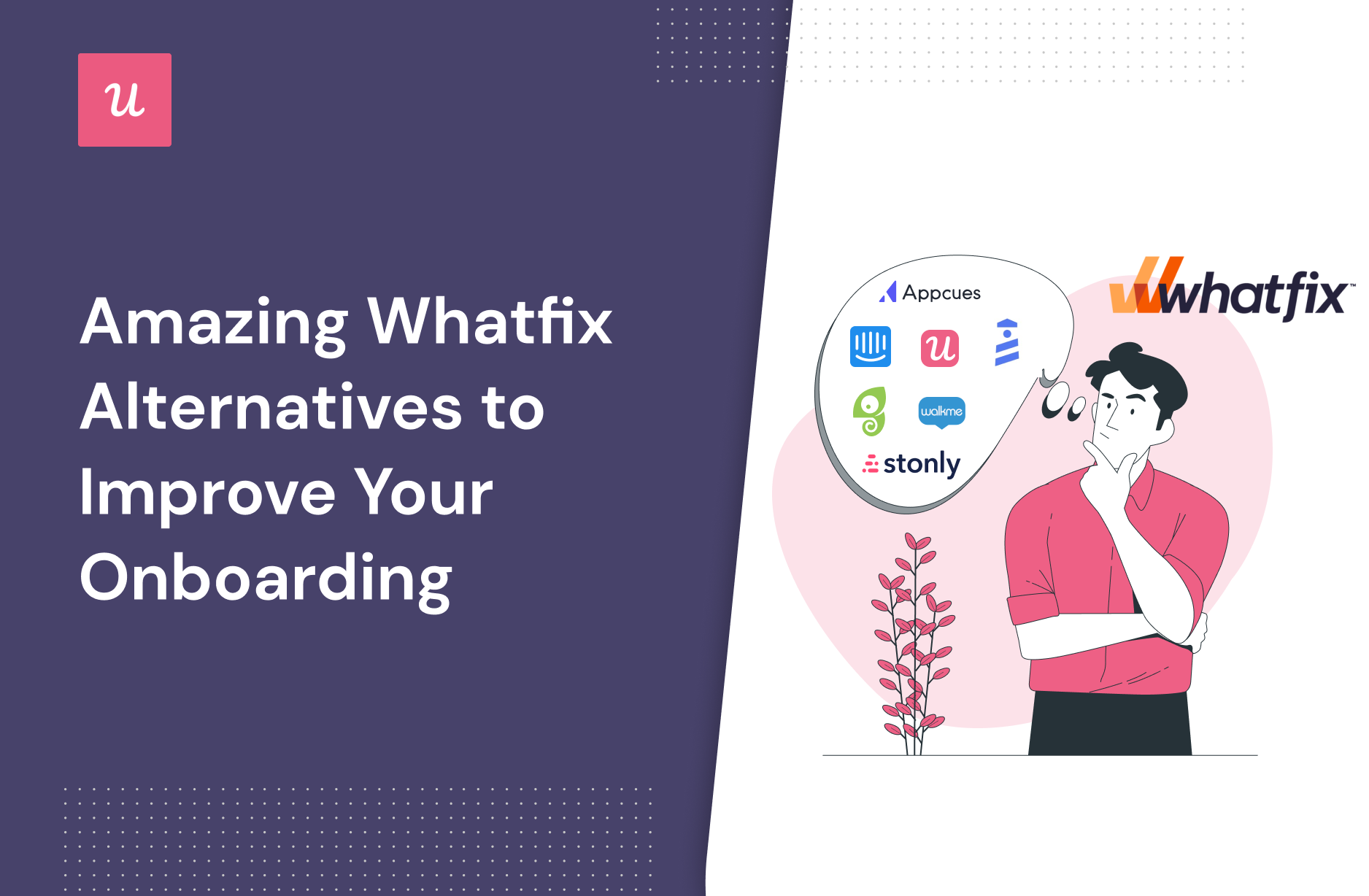 Confused by all the Whatfix alternatives for user onboarding you've found on review sites like G2 and Capterra?
In this post, we grouped the popular Whatfix competitors by various use cases, so you can choose the best one for your needs. We'll look at companies like Userpilot, Appcues, Pendo, Walkme, Userguiding – and many more – to see which one is best for customer onboarding in SaaS. 
But before we take a look at these Whatfix alternatives, we will look at the strengths and weaknesses of Whatfix itself. It's one of the oldest and most popular digital adoption platforms after all! 
TL;DR
Whatfix is a digital adoption platform for enterprises. It covers both the employee onboarding use case (for 3rd party tools such as Salesforce, Hubspot etc.) as well new user onboarding use case for SaaS applications. It allows you to build interactive walkthroughs without much technical knowledge.
Whatfix does not have a free plan and its pricing is custom only. Users report to be paying north of $2000 per month.
Whatfix has a number of competitors which can be good alternatives for smaller companies, or SaaS companies that want to focus only on the employee onboarding use case.
Best Whatfix alternatives and competitors include, i.a.:  1) Walkme, 2) Userlane, 3) Appcues, 4) Userpilot, 5)  Pendo, 6) Userguiding, 7) Stonly, 8) Userflow, 9) Gainsight and 10) Intercom.
The best Whatfix competitors for enterprise companies looking for a digital adoption platform are Walkme and Userlane.
For user onboarding and product adoption in SaaS, Userpilot and Appcues are better Whatfix alternatives.
When it comes to product analytics, Pendo offers a better solution than Whatfix.
Smaller companies (SMBs, startups) may want to check our Userguiding,  Stonly, and Userflow.
When customer success and customer service is your priority, Gainsight and Intercom provide better alternatives to Whatfix.
What is Whatfix?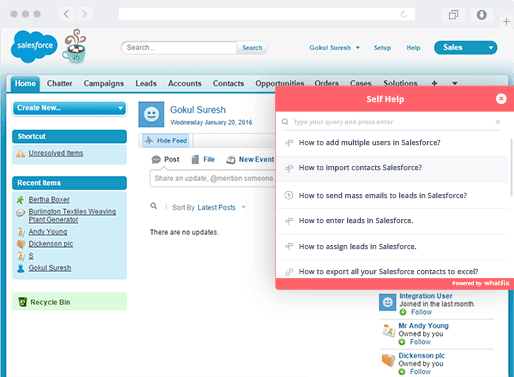 Let's start off by pointing out that Whatfix targets itself at larger Enterprise companies. It's used by the likes of Experian and Sophos.
When it comes to creating onboarding flows, Whatfix offers some good functionality. You can create product tours, checklists, and even add a certain degree of contextual onboarding. But it's worth keeping in mind that other Whatfix alternatives have more functionality.
Larger companies are likely to have different support channels. That risks confusing users further. That's why Whatfix enables you to connect them all together, providing help and guidance to users as and when they need it.
Employee onboarding is also an important aspect for Enterprise companies to consider. Your employees need to be expertly knowledgeable about your own product, but it can be time-consuming to train every new employee.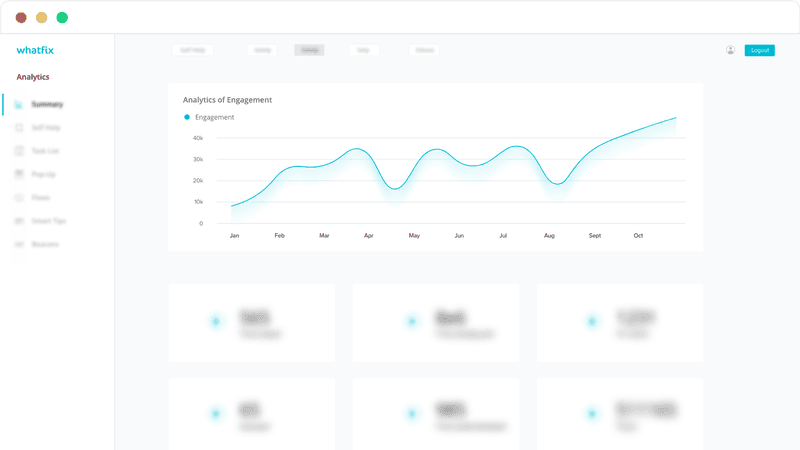 Whatfix offers real-time in-app training programs for employees. This makes employee onboarding far more effective, and reduces the time for them to master your company's product.
The pros:
You can create onboarding flows with zero coding required. This saves you valuable dev time.
Connecting different support channels together means you provide users with the exact help they need.
Whatfix integrates with many different tools, including analytics, LMSs, and support tools. This helps Enterprise companies see the bigger picture.
The cons:
If you want to fully customize your onboarding flows to match your branding, then you'll need to know CSS. If you don't, then you'll have to find someone who does.
The analytics in Whatfix are very basic. If you want more in-depth analytics you'll have to purchase another product and integrate them.
Some Whatfix users claim that it doesn't always recognize elements within their product. This might make it more difficult to add the onboarding.
Pricing
Whatfix doesn't provide pricing details on the website. Instead, you have to contact the team for a bespoke quote.
Reviewers of the product have stated that it is relatively costly compared to other Whatfix alternatives. Estimates suggest their minimum package starts at around $2000 per month.
Final thoughts:
"Whatfix allows us to create in-system guidance flows and self help segments that give our customers the help they need clearly and fast. Creating content with Whatfix is easy and if you happen to need advice or help, Whatfix customer service is excellent. Since our products vary in content and scale, it is great that Whatfix fits all needs." — Sami S.
Whatfix combines user onboarding with employee training. If you want both of those in one tool, then Whatfix is a great place to start.
However, chances are you're looking for greater functionality and customization. In that case you'll be better off purchasing a two different tools, using one for users and one for employees. Not to mention the fact that Whatfix costs a great deal more than the other tools we're going to cover.
That's why we're going to take a look at some Whatfix alternatives that focus on one or the other…
Best Whatfix alternatives for User Onboarding in SaaS 
#1 Userpilot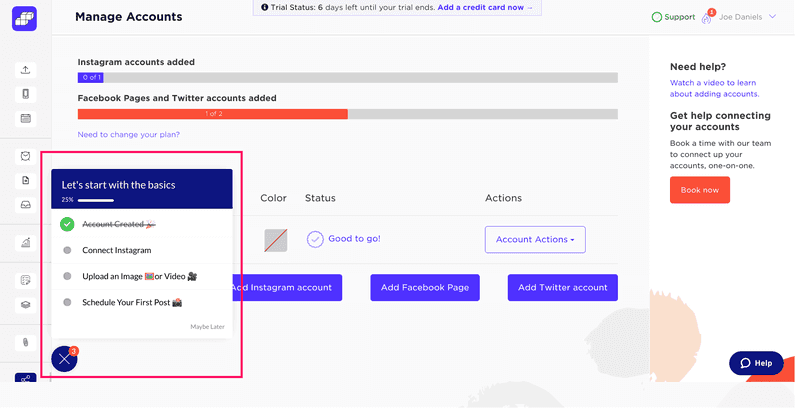 Userpilot is one of the leading products when it comes to SaaS user onboarding.
You can use Userpilot to add a product experience layer to your product. This layer essentially consists of various different onboarding elements that help deliver Aha! Moments and reduce time-to-value.
With Userpilot, you can add checklists, tooltips, product tours, and driven actions. That last one is a Userpilot exclusive, that enables users to learn by doing.
All of the onboarding elements are fully customizable, so you can achieve exactly the design you want.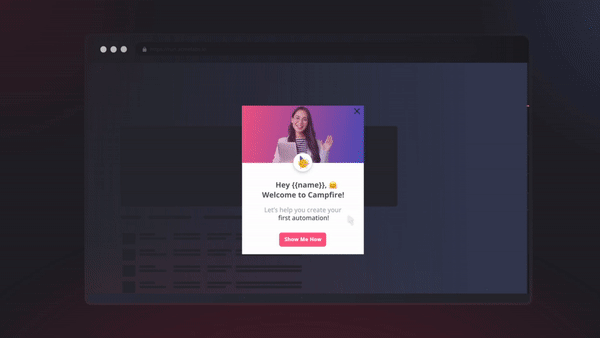 Where Userpilot truly shines when it comes to Whatfix alternatives is its contextual onboarding approach. This works by setting triggers, such as scroll % or clicking on an element. These triggers, when fired, will activate relevant onboarding flows.
This enables users to explore the product on their own, receiving guidance at the right time for them. This personal onboarding approach is far more effective than a one-size-fits-all.
Userpilot also offers NPS surveys which you can build in to your product. This enables you to collect valuable feedback. It also features a feedback widget so you can collect more qualitative data as well.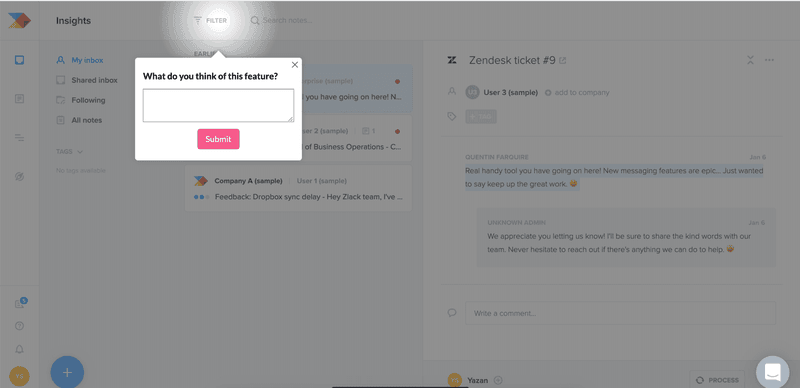 Finally, Userpilot has detailed analytics. It shows you a step-by-step overview of how users are engaging with your product. You can identify any holes in your product adoption and then patch them with better onboarding.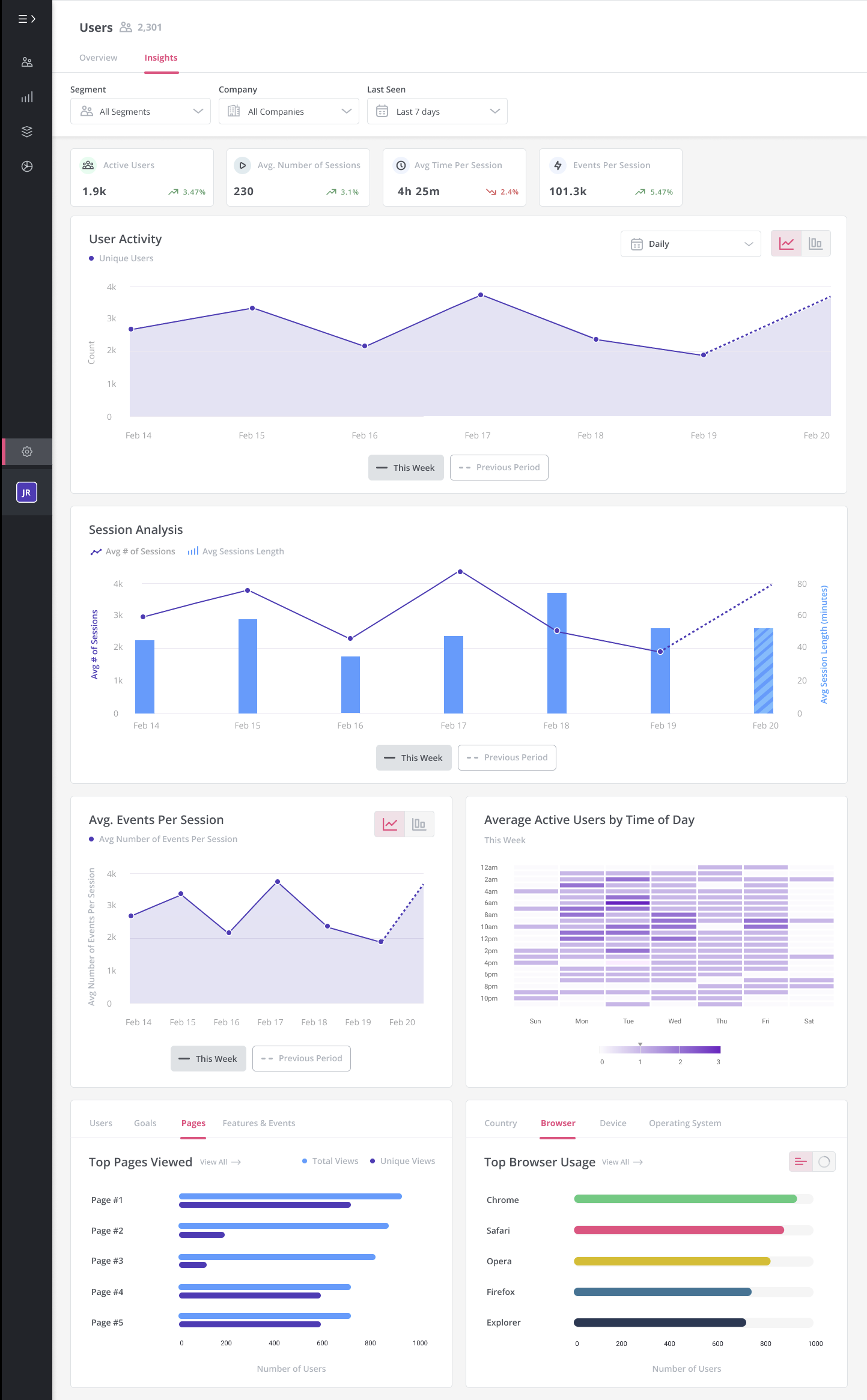 Userpilot > Whatfix 
Zero coding. Unlike Whatfix, Userpilot allows you to set up and style all your in-app experiences without any code. You can add any type of onboarding flow you need, and design it however you want, without typing a single line of code.
Significantly cheaper. Userpilot's pricing starts at $299 per month and includes all the features available. 
Contextual onboarding. With Userpilot, you can show the right message to the right user at the right time by event-based triggering. You can personalize onboarding for each user, driving activation and encouraging feature adoption.
Quick setup. All you need to do is install a Javascript snippet and a Chrome extension. Then you're all set up to start building your onboarding flows.
Whatfix > Userpilot 
Mobile apps. Userpilot doesn't currently offer support for mobile apps.
No Salesforce or Hubspot native integrations. Unlike Whatfix, which is a typically enterprise solution, Userpilot lacks some enterprise-level native integrations you may need. 

Unlike Whatfix, Userpilot doesn't work on third-party tools.

This means you can't use it to onboard your employees on Salesforce or guide your users through your Shopify store. 
Is Userpilot the best Whatfix alternative for User Onboarding in SaaS?
Well, we certainly think so 😉 but don't take our word for it – ask our users:
"Userpilot is a must-have for any SaaS business. It's easy to use and have a clean UI. But more importantly, the features like personalized user onboarding, segmentation, checklists will definitely help any product increase their conversions and reduce their churn. Great customer support is also a plus!" — Waqar A.
When it comes to SaaS user onboarding, you really can't do much better than Userpilot. The vast range of onboarding elements (some of which are unique to Userpilot) and the fact that it requires zero coding knowledge make it a must-use product.
If, however, you're looking for a tool that helps you to onboard or train your employees, then you'll need one of the other Whatfix alternatives.
#2 Appcues
Appcues has one of the most popular products out there for user onboarding and product adoption.
It's simple to use and pre-loads a lot of information for you. But if you're a more advanced user who wants to build more sophisticated flows while at the same time enjoying the freedom and flexibility of a code-free tool – you will miss a lot of critical features in Appcues.
As mentioned, Appcues has its own set of pros and cons. Let's start with what's good about Appcues.
Really good UX and UI – Appcues UI looks really polished, and their experiences are easy to build and work mostly as you'd expect them to.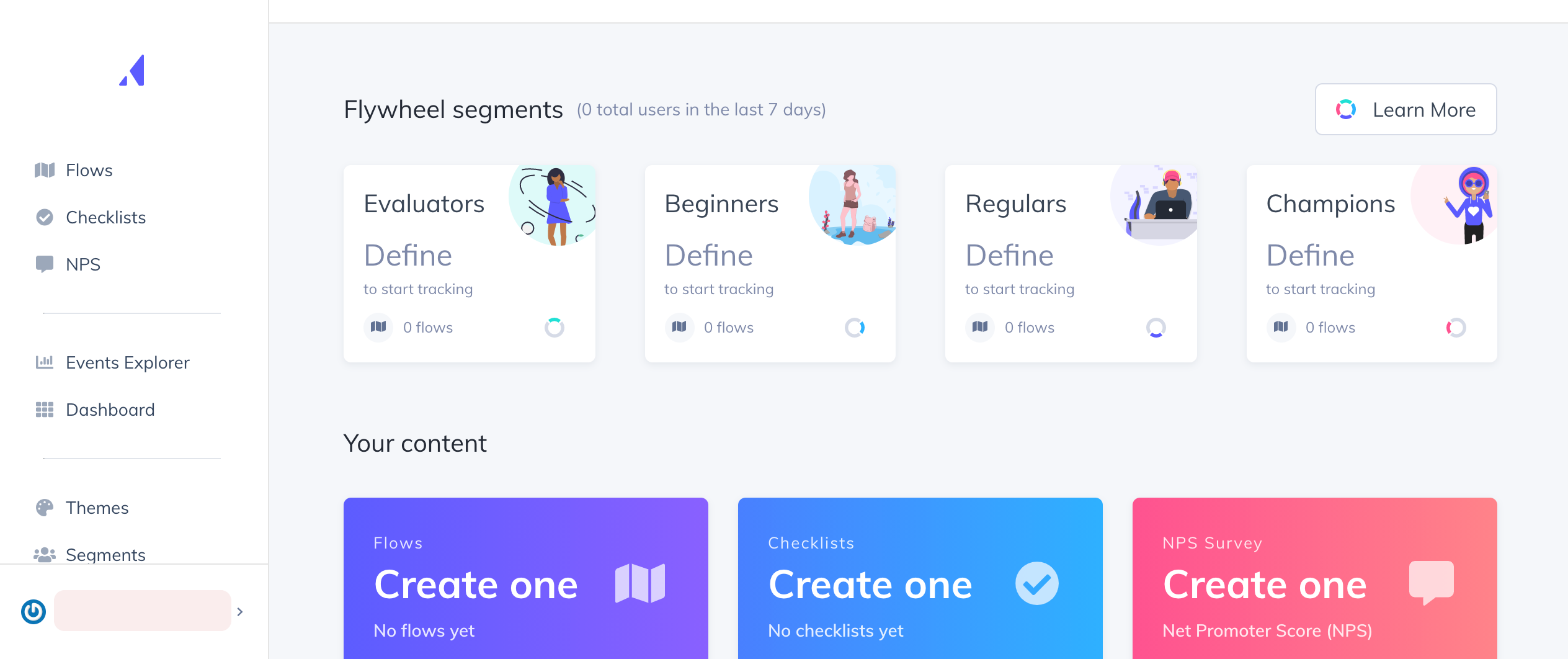 Different of UI elements – Appcues introduced the SaaS market to a whole new world of user onboarding. Besides walkthroughs and product tours, Appcues has a big variety of different UI elements you can use inside your user onboarding. You can create checklists, modals, slideouts, tooltips, hotspots, and many more. But there's a catch – some of them, like the checklist, are not available in the lower pricing plans. 
Can create a variety of user flows and also link them – Users often take a non-linear journey through your product, exploring it on their own. Your user experiences should follow users wherever they go. Appcues, lets you trigger a subsequent flow once a user completes a flow and take that user through a new experience (even if the subsequent flow's targeting was not matched by the user)
A robust digital adoption platform for user experiences – Appcues has been on the market for more than six years now. They have an amazing product with lots of great features. You can track entire user journeys and create different user onboarding processes for different segments of user personas.
Comes with some pre-defined user segments – (the 'flywheel segments you can see above) which can be a mixed blessing, really. If you're new to customer onboarding and really have no clue where to start – having some pre-defined scaffolding may help. But it can also drive you into a groove that will prevent you from building more sophisticated user segments that a right for your company. This may bias you to see what *you* want to see, rather than what is really happening.
Great education – Appcues provides an inexhaustible source of information for SaaS and Cloud-based companies. It has a great blog with a lot of educational material. Everyone in the SaaS world has benefited from Appcues's Onboarding Academy and reallygoodux.io content.
Appcues > Whatfix
Appcues is significantly easier to set up and use than Whatfix.
Appcues is also much cheaper than Whatfix – with plans starting from $249 (although the plan that is actually relatively comparable to Whatfix in terms of features starts at $879 per month, paid annually.)
 Whatfix vs Appcues
Again, compared to Whatfix, Appcues doesn't allow you to create employee onboarding experiences on third party sites.
Appcues users' complain about a poor element detection algorithm.
Switching between building and navigating can be frustrating:
Best Whatfix alternatives for Digital Adoption in Enterprise Companies 
#3 Walkme vs. Whatfix 
At its core, WalkMe is an enterprise digital adoption platform for employee onboarding. The platform lets you create customizable, in-depth product walkthroughs to help users learn your software and track their progress as they go. Hence, Walkme is usually cited among the top alternatives to Whatfix.
WalkMe can also be used for SaaS user onboarding and product adoption, but it's just not their focus. Instead, they lean more toward servicing large companies that want to reduce IT support tickets by training users to navigate their software more effectively.
So how does WalkMe accomplish this? Let's take a look at some of their product's key features:
WalkMe's has the following key features – product walkthroughs and user analytics. They are quite powerful and versatile for customer onboarding.
Having some programming knowledge and technical ability will allow you to make these features even more sophisticated. But for those without coding expertise, WalkMe offers an editor tool that makes its basic functions easy and quick to set up.
With WalkMe, you'll be able to:
Coding knowledge will allow you to customize UI elements, onboarding flows, and analytics even further. Or you can hire a WalkMe technician to help you with that.
Either way, WalkMe has considerable depth for user onboarding, particularly in the case of employee training.
WalkMe > Whatfix 
Walkme appears to be a cheaper digital adoption platform. Neither WalkMe nor Whatfix publishing their exact pricing information. However, based on user reviews, it appears that WalkMe's Basic plan starts at around $9,000 per year, while Whatfix starts at $24,000 per year.
Walkme generally has better user reviews than Whatfix:

Whatfix > WalkMe 
Reliability of the product – some users complain about Walkme's reliability
Inability to identify inactive accounts in Walkme 
The SalesForce integration is not very well thought out or scalable.
Userlane
Userlane is code-free digital adoption platform that works as an overlay on top of your application. The software allows you to create in-app, interactive onboarding guides for user onboarding processes as well as learning experiences for employee onboarding on third-party apps.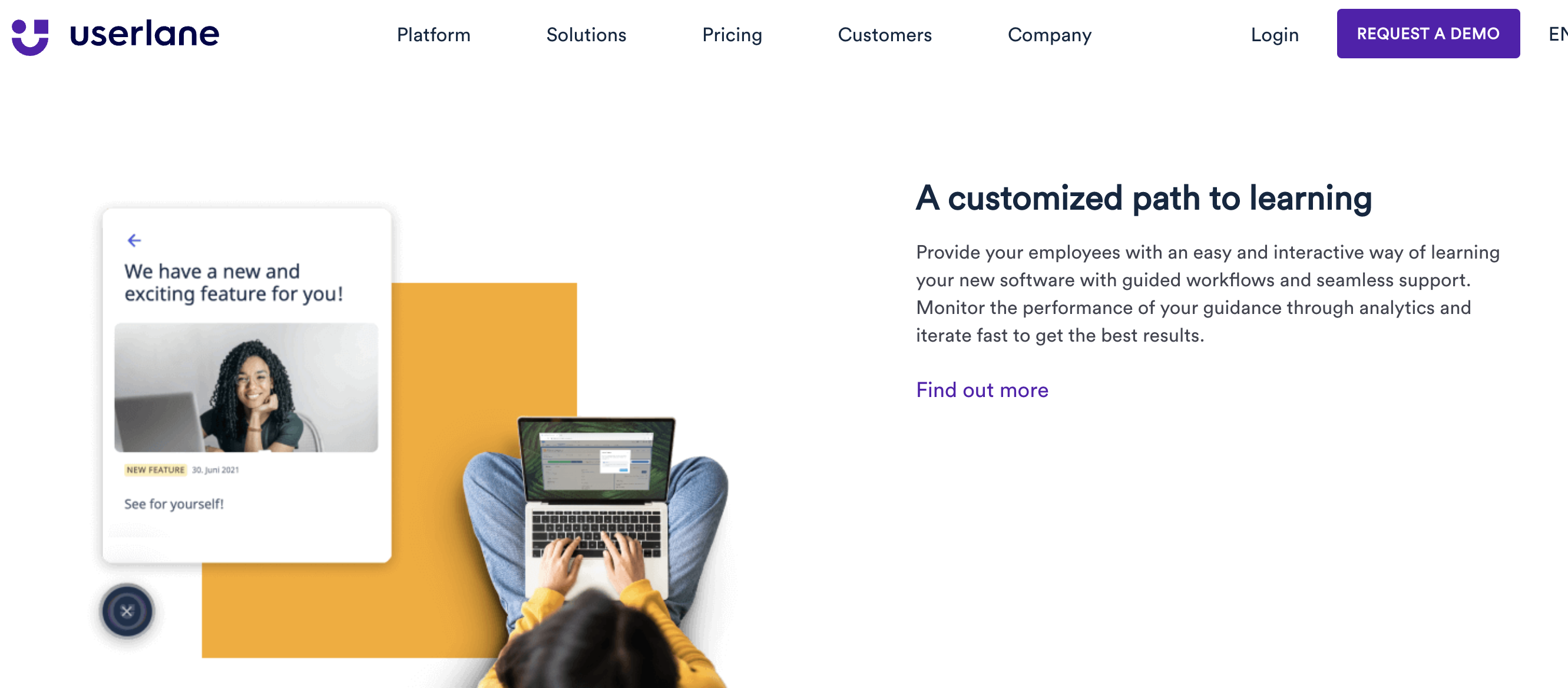 Userlane analytics dashboard provides insights into feature and process adoption within the software application, and it assists in making content creation decisions based on actual user behavior and needs. Userlane's digital adoption solution can also be integrated with your organization's collaboration tools or knowledge bases, making onboarding, training, support, and sharing internal knowledge more effective.
Userlane helps accelerate digital transformation and drive productivity from day one by giving every software user exactly the information they need.
You will also save precious time and costs, while gaining valuable visibility into user behaviour and engagement trends.
Userlane Reviews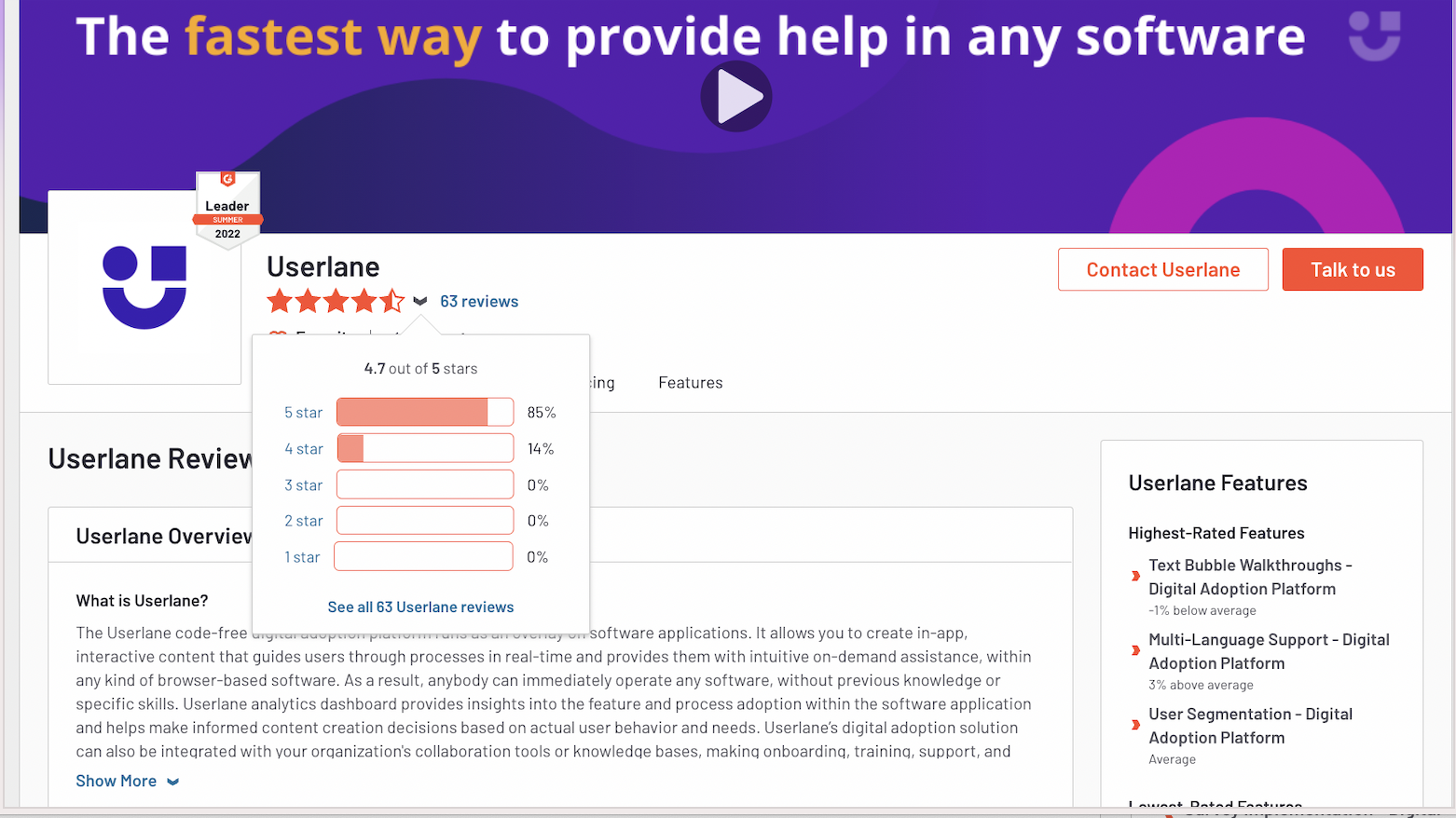 Userlane has on average 4.7 out of 5 star reviews on G2.
Userlane > Whatfix
Compared to Whatfix, Userlane is easier to integrate into any product on web platforms.
Unsurprisingly, Userlane is also cheaper than Whatfix: although neither of them publishes their pricing plans openly on their websites, Userlane has an SMB plan which reportedly costs less than $1000 per month:

Whatfix vs Userlane
Whatfix provides better data analytics than Userlane.
For employee onboarding and product development, Whatfix has more robust features and analytics than Userlane.
Whatfix alternatives for Product Analytics

Pendo
Pendo is a product-experience platform for helping your customers learn and use your product. It is one of the top alternatives to Whatfix when it comes to product analytics. This platform allows you to collect customer feedback as customers use your application, and it provides insight into how customers are engaging with your product. By gathering this kind of information, you can prioritize updates and features based on the needs of your customers.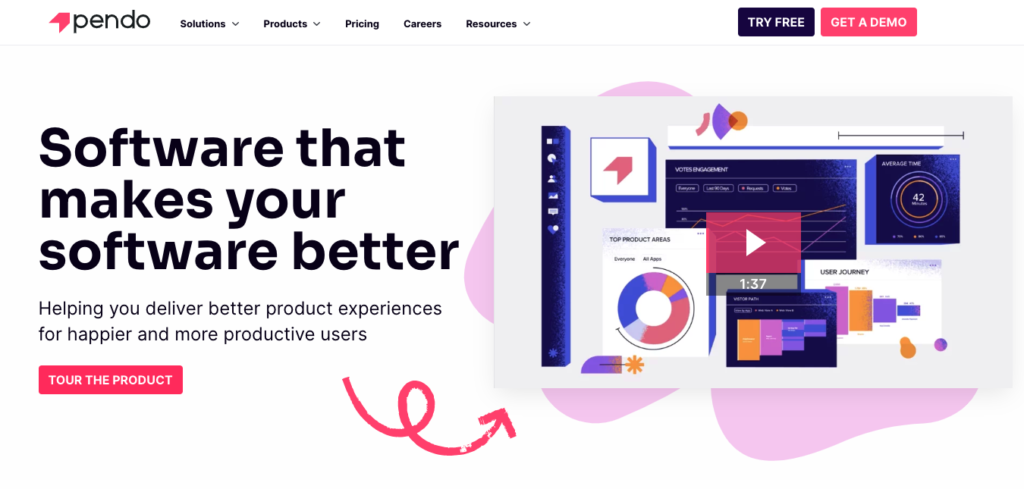 Through its in-app analytics and feedback options, Pendo is mostly focused on showing you how your customers use and feel about your product. In addition to training and guidance features, Pendo also offers features that will help you teach your customers how to use your product effectively.
The main features of Pendo are as follows: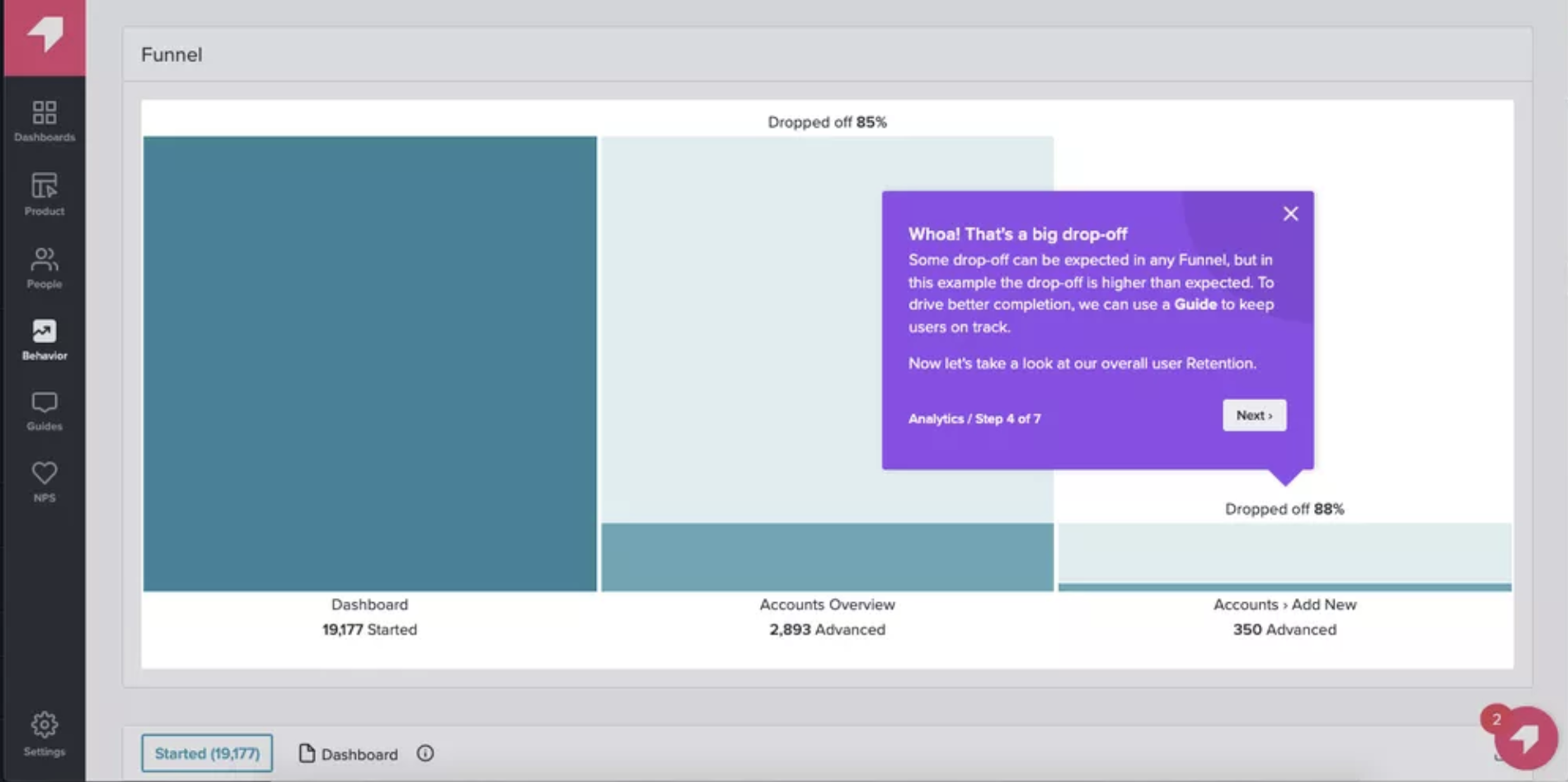 Analyzing how customers navigate through your product, what features they interact with, as well as what features they miss or ignore, is one of the most helpful things you can do. The Pendo platform collects information from both the mobile version and the web version of your application.
Using an in-app survey, you can find out what your customers think about your company, product, or specific features. An in-app survey has a higher response rate than an email survey, according to Pendo.
Provide in-app guidance and messaging: Create interactive product tours and walkthroughs to explain how certain features work. Offer tips or new features in pop-up messages. To help users find answers to their questions, embed documentation or tutorial links within the pop-ups.
Build a product road map using Pendo's shareable product-planning tool. Keep teams aligned with the shared feature-planning guide.
Pendo's features help your customers learn more about your product. Training employees and increasing internal adoption of software aren't well supported by the platform.
So, how does it stack against Whatfix?
Pendo > Whatfix
Pendo has a stronger product analytics suite than Whatfix, with paths, funnels and cohorts.
Pendo offers a startup plan starting at around $12,500 per year.
Whatfix vs Pendo
Due to its main focus on analytics, Pendo's offerings are limited in other areas.

Whatfix offers more self-help and self-paced training options than Pendo.

While Pendo has useful features for onboarding customers, it offers very little in the way of employee training.

Whatfix has a number of 

unique features

that make it more versatile and widely applicable than Pendo, including:

Whatfix offers SCORM- and xAPI-compliant packages for integration with learning management systems. Using your LMS, you can create interactive courses and import existing walk-throughs.
Integration with enterprise platforms: Whatfix works seamlessly with top platforms like Salesforce, Workday, and ServiceNow.
When you create training content like walkthroughs, Whatfix can automatically generate the content in multiple formats, such as slideshows, videos, or articles. As soon as the original is updated, all other formats are also updated.
Whatfix displays the most relevant resources based on the user's role and location within the application when they open the in-app self-help menu. Organize your existing content and make it accessible from the self-help menu with Whatfix's content aggregation capabilities.
You can choose between cloud-based and self-hosted deployment models with Whatfix.
Cheaper Whatfix alternatives for Startups – User Onboarding Use Case

As you have seen from the descriptions above: Whatfix is not a solution for startups on a budget. And neither are really Walkme, Pendo, Appcues or Userpilot.
So what can you do when you have a budget of under $300 per month?
If you're looking for a simple user onboarding solution, there are some really affordable solutions on the market: such as Userguiding,  Stonly, and Userflow.
Of course, none of the following solutions is suitable for employee onboarding use case, sophisticated analytics, or enterprise integrations.
Userguiding vs. Whatfix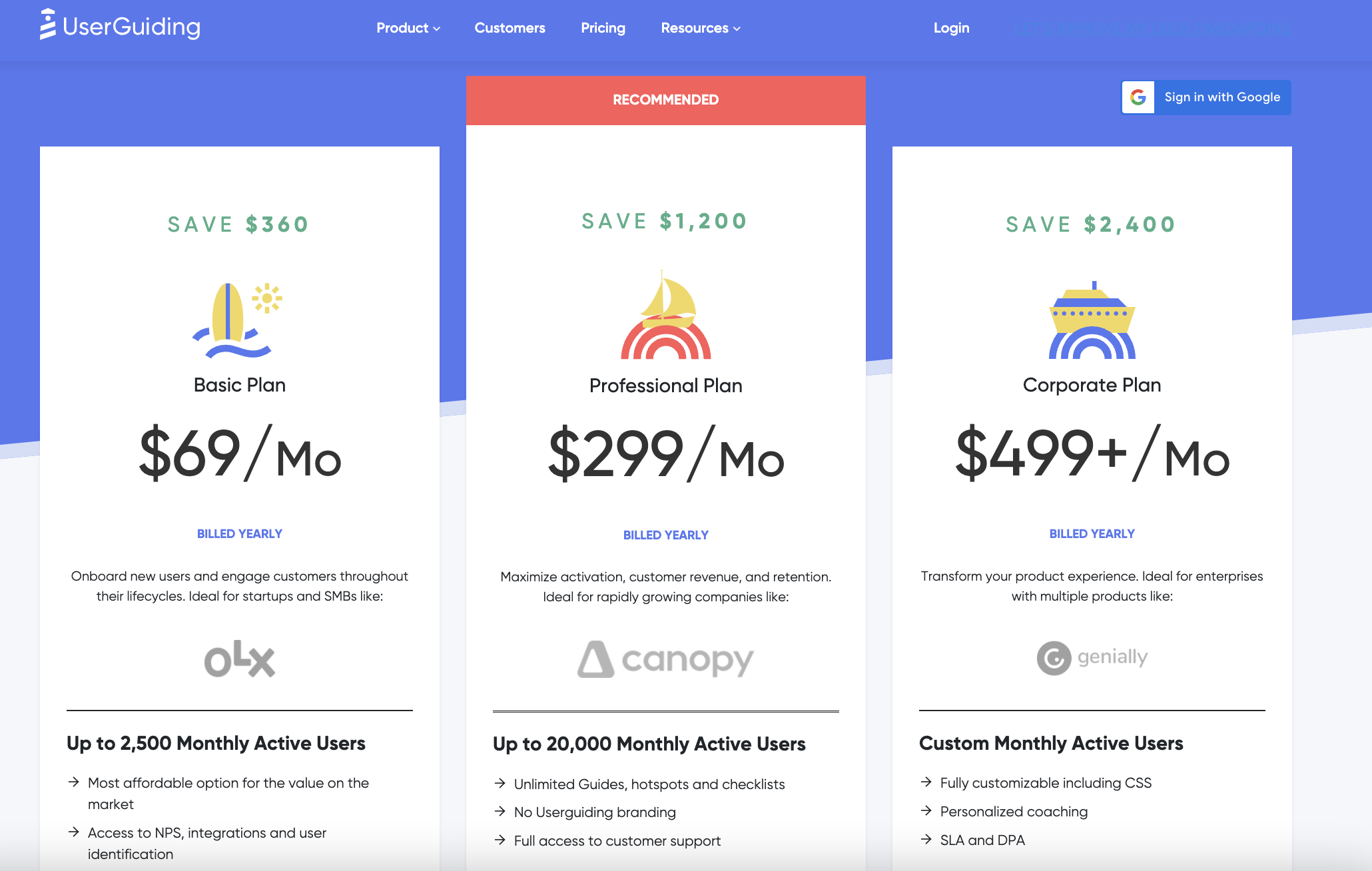 Userguiding is one of the cheapest user onboarding solutions on the market. It doesn't have event-based triggering or sophisticated integrations, but it allows you to build simple linear onboarding flows with a handy chrome extension.
The Chrome extension can be a bit buggy and the element detection algorithm is a bit questionable, though.
Stonly vs. Whatfix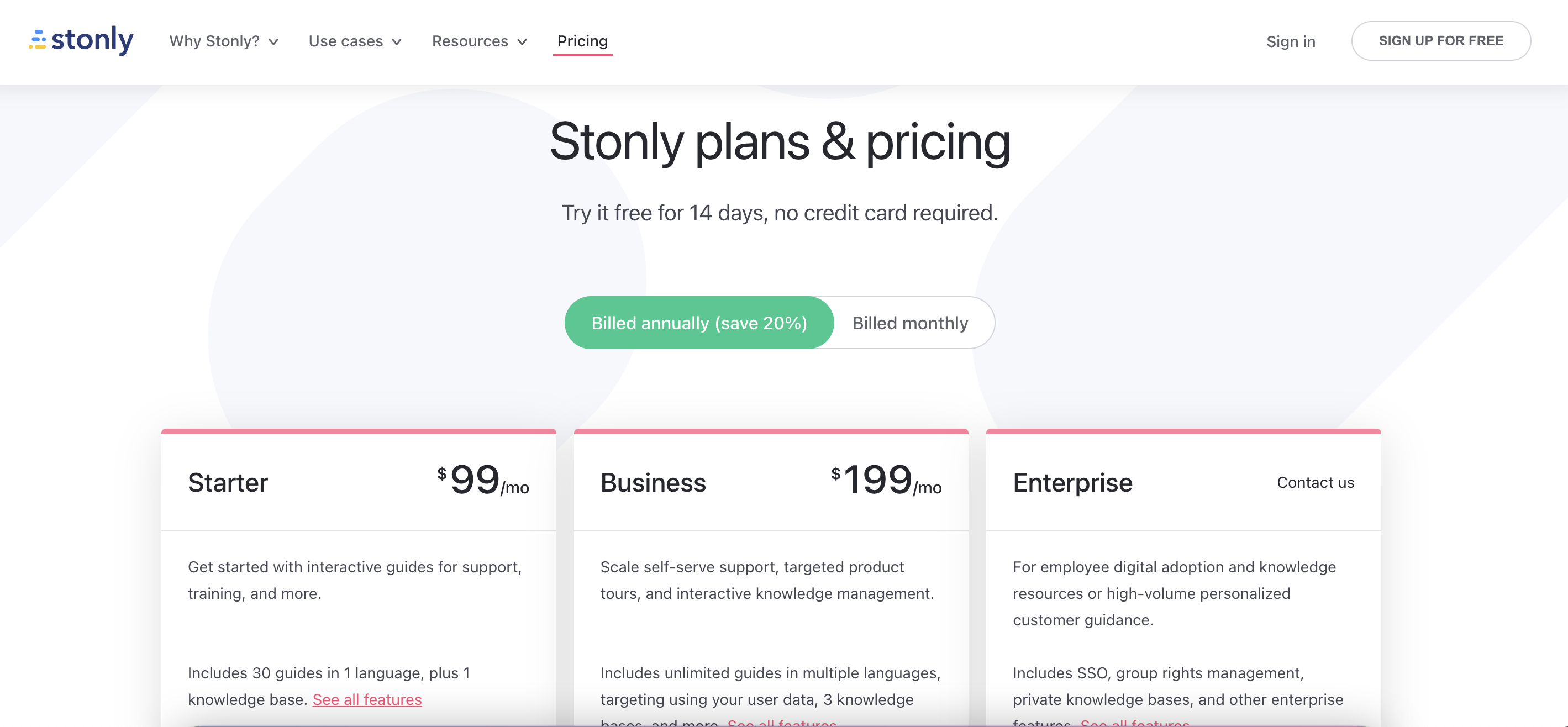 Stonly, in addition to product tours, offers a knowledge base.
It's Chrome extension is more difficult to use though. You will need some CSS knowledge to style some of the elements.
Userflow vs. Whatfix
Userflow is the most expensive, but also the most reliable of the above startup alternatives to Whatfix. It has a different onboarding guide builder (in the dashboard rather than in the CE though)

Whatfix alternatives for Customer Success/Support – Gainsight and Intercom
Finally – Whatfix is not really designed as a tool for customer success or support.
So if you're looking for user onboarding specifically for your CSMs, or support functionality such as live chat and ticketing solutions, Whatifx won't be the best choice for you.
If you're primarily interested in these features – check out our description of Gainsight and Intercom here.
Which of these Whatfix alternatives is best for you?
The choice between Whatfix and its alternatives depends on a number of factors:
your budget
whether you're more interested in the user onboarding or employee education use case
your technical resources
how important product analytics are for you
how much enterprise integrations (e.g. with Salesforce) matter to you
…in a nutshell: it depends 🙂
But we hope this blog at least helped you make the differences between the myriad of different Walkme competitors more clear!