Userpilot Features: The Best Product Growth and User Onboarding Tool For Driving User Adoption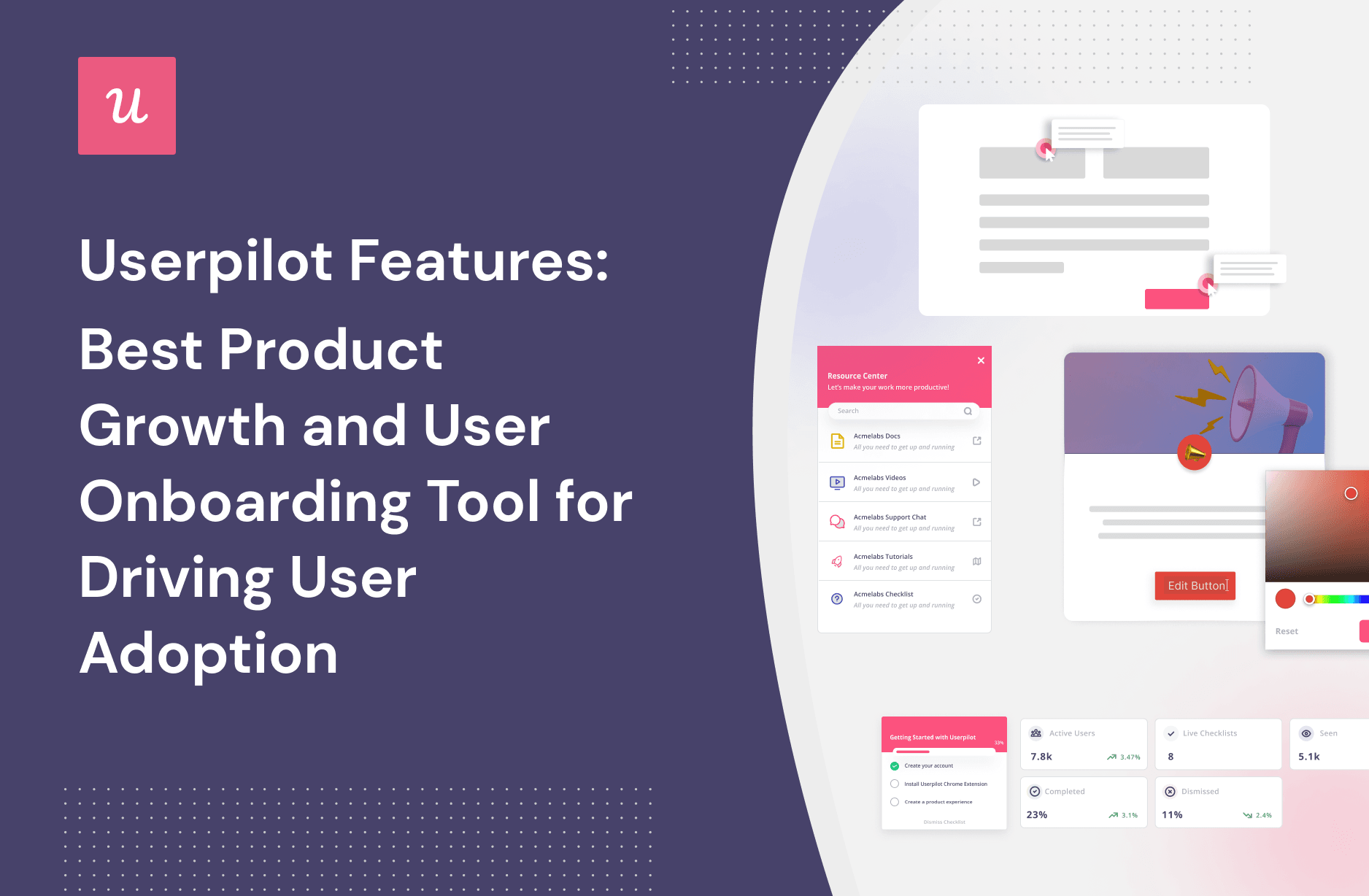 Looking to drive adoption with contextual user onboarding? As any savvy product manager will know, picking the right tool is essential to the success of your SaaS – so it's worth taking the time to choose carefully.
If you're considering if Userpilot can help you, keep reading.
We'll explore all the core Userpilot features & capabilities… but most importantly how you can make the most out of it.
Let's get into it!
TL;DR
Userpilot is a powerful tool that enables you to quickly build personalized, flexible, contextually relevant in-app experiences targeted to different user segments.
With Userpilot's features, you get access to everything you need to create bespoke onboarding experiences, by triggering contextual in-app flows to specific user segments created based on product usage and in-app behavior.
You'll get an extensive range of functionality with Userpilot's features (and through various integrations), which includes: understanding user behavior and building user segments, an effective engagement layer, unpacking growth insights with advanced analytics features, launching NPS surveys, and more.
Another impressive dimension of Userpilot's software is event tracking and feature tagging. You can easily create and track combinations of distinct in-app events (including subtle actions like hovers or forms, not just clicks).
Another key part of Userpilot's value proposition is the ability to create custom flows based on the needs of your customers. You can easily create engaging interactive product tours, drive feature discovery and adoption with tooltips and hotspots, or announce new features and updates.
Checklists are a perfect mechanism for driving user activation: you can build bespoke checklists complete with dummy tasks, insert them into appropriate parts of your product, and even include a visual progress tracker.
Onboarding is never going to be completely plain sailing: tackle your customers' problems with Userpilot's in-built Resource Center capabilities.
Another important aspect for product managers to consider is customer loyalty. With Userpilot you can quickly create, customize and launch NPS surveys that fit the look and feel of your brand.
But Userpilot also offers more than just onboarding features: you'll also have access to powerful analytics that helps you understand how the onboarding tactics you're deploying are performing.
Want to see Userpilot's features in action? Book a personalized demo now.
What is Userpilot?
Userpilot is a powerful product adoption platform that enables you to quickly build personalized, flexible, contextually relevant in-app experiences targeted to different user segments – all without writing a line of code.
Userpilot features: The main platform functionality
Userpilot offers an extensive range of functionality within the platform itself, particularly when considering the price compared to competitors.
Importantly, the vast bulk of major functionality on other adoption platforms (like Appcues or Pendo) is available even on entry-level starter plans.
Let's explore some of the main functionality of Userpilot in more detail.
People and users
Userpilot helps you build a more comprehensive understanding of your user base.
It's simple to gather and compile extensive data about your users – and importantly create custom segments to provide a more bespoke, effective onboarding experience.
Growth insights
You can utilize feature tagging to tag UI elements and track custom events and even take it a step further by tracking performance toward distinct product goals.
Engagement layer
So, you've got a solid understanding of your users. What next?
Well, you want to quickly put together flows (drawing from a range of UI patterns) to engage and delight your users. Get it right, and you'll drive feature discovery and adoption.
You might also want to set up a comprehensive in-app resource center to help users solve their own problems – and reduce the burden on your support team.
The best thing about Userpilot's engagement layer? You can forget about writing complex code that breaks at every turn.
Userpilot is a no-code solution – by running a single line of javascript inside your app and downloading a powerful chrome extension, you'll be greeted by a visual builder. That makes it easy to get started right away.
Net Promoter Score (NPS) survey builder and analytics
You can't stand still in the competitive SaaS market. You need to understand how customers are responding to using your application or service and build up an idea of their loyalty over time.
NPS is the perfect metric for doing just that.
Userpilot makes it simple to build and launch integrated NPS surveys. You can customize these so they fit the tone and aesthetics of your overall brand, and even better configure custom triggers and frequency settings to launch them exactly when you need them.
The real beauty of the NPS survey is analyzing responses over time. You can use tagging and compare with key releases to understand the impact you're making and tweak your approach accordingly (more on this later).
Userpilot features: Users and company data
Understanding your users (and the organizations they work for) is one of Userpilot's key areas of functionality. The tool will allow you to easily pass custom data from various analytics platforms such as:
Mixpanel
Segment
Amplitude
Coming soon: Hubspot, Zapier
Leveraging these tools – combined with the wealth of your users' product usage data collected by Userpilot – make it easy to look at and understand customer engagement.
Based on the attributes you define, you can target events, feature usage, NPS, or various other survey responses. This allows you to create a bespoke and custom onboarding experience for different user segments.
Userpilot features: User segmentation
Personalization is proven to make (or break) the onboarding experience. So if you want the shortest possible route to increasing engagement, boosting feature adoption, and increasing user retention, you need to work on segmentation.
Better user data is key to making more effective product decisions and delivering an incredibly personal service.
"Without big data, you are blind and deaf and in the middle of a freeway."— Geoffrey Moore
And Userpilot features you get access to the data you need:
Create bespoke experiences with smarter segmentation: you can slice and dice specific user groups based on a whopping six different criteria: user data (including name, id, plan, device type, signup date, and a huge array of others), company data, individual feature usage, pre-existing segments, engagement profiles (including UI-patter specific, like 'in progress' checklists), and user feedback (e.g. you'll now be able to instantly target a segment of users that might have complained about a specific bug via a survey, and directly inform them when it's fixed).
Understand user behavior with real-time data: the new 'Insights' tab lets you filter user activity by Segment, Company, and Time Period. You can even dive deeper into daily, weekly, and monthly active user segments for a more granular view.
Trigger real-time events based on the context: trigger flows not only when specific events occur, but also how many times an event occurs within a specific time frame (by using 'event count'). The possibilities here are endless: for example, it makes it far simpler to reward your most loyal customers (i.e. those who've made X number of purchases in Y time frame).
Userpilot features: Event tracking and feature tagging
Another impressive dimension of Userpilot's software is event tracking and feature tagging. It's truly one of the most effective ways to gain a better understanding of your users, identify how they're using your product, and target ways to improve their experience.
Userpilot has really improved in terms of its analytics functionality in recent years, and now offers the most robust functionality from all the product adoption platforms (including Pendo, which has always taken prime in user analytics).
You can easily create and track combinations of distinct in-app events (with a no-code, point-and-tag editor on top of your product), track behavior, and analyze all your custom events from the new dashboard.
Let's explore each of these areas:
Powerful tagging: your users' interactions with your UI aren't limited to clicks – but for most tools, that's all you can track. Userpilot lets you track form fills and even hovers (a perfect way of understanding where a user directs their attention).
Use custom events to figure out what's really going on: feature tagging is great. But combining distinct in-app events helps give you a much better understanding: with Userpilot, you can easily group events into one larger 'custom' event and use that data to help you understand how users are adopting your tool.
Understand trends and patterns in the data: the final piece of the puzzle is understanding exactly how your users are behaving over time. The Features & Events dashboard lets you view trends, with powerful filtering options (either segments, time periods, or organization).
Paths, funnels, and heatmaps: analyze your user paths from up to 4 pages at a time at a glance, and track feature usage by user segments with heatmaps, directly on the different pages of your product. Then create 'user funnels' made up of feature tags and tracked events, and see where your users are dropping out of the funnel – and act on these drop-off points instantly with in-app experiences.
Userpilot features: Flows
Userpilot was designed specifically with SaaS product teams, who want to enhance their user onboarding, in mind.
A key part of the value proposition is the ability to create custom flows based on the needs of your customers. It means your customer success teams (and even the product marketing manager) can get involved in driving adoption.
Let's explore exactly how flows work in Userpilot.
Build interactive product tours with flows
You need to show your customers exactly how to get value from your product: interactive product tours are a proven way of doing that.
Quickly build in-app flows using a huge array of UI patterns (including modals, tooltips, slideouts, banners, and more) and in-app onboarding experiences.
String a few of these together, and pretty quickly you'll have a comprehensive interactive product tour, with different components triggering as a user takes key actions.
You can read more about a fantastic application of this technique here – Rocketbots has created an engaging, highly effective tour using exactly these techniques.
Drive feature discovery with tooltips and hotspots
You can't expect your customers to stumble across new features as they progress through their user journey.
Tooltips and hotspots are two powerful tools in your arsenal to help draw your users' attention exactly where it needs to be and stimulate feature discovery.
Importantly, tooltips should prompt your users to take a specific action. Ultimately, that's the way they'll start to realize value.
Announce new features and updates with banners and modals
Legendary marketer Seth Godin famously said:
"Don't find customers for your product. Find products for your customers."
Bear that in mind when you think about in-app communications. It's not enough to assume users will just happen on new features: you need to let specific segments know about functionality that's relevant to them and their experience.
You can easily include targeted banners, modals, or slideouts as part of a range of customized in-app flows.
Userpilot features: Checklists
A pivotal part of onboarding is engagement: encouraging users to take the next tangible steps in the process to help them unlock value.
Checklists are a perfect mechanism for driving user activation and encouraging them – one step at a time – closer to feature discovery.
With Userpilot, checklists are simple to set up. You can even trigger targeted interactive tips, guides and flows directly from a checklist.
One potential barrier to checklists is a sense of user trepidation: lots on the to-do list can feel overwhelming.
Creating dummy tasks you can tick off is a great way of overcoming that fear. Another idea is to include a kind of visual progress tracker to incentivize users to keep going.
And you can do all that with Userpilot.
They're even effective for secondary onboarding: checklists can also help prompt advanced feature discovery, delivering even more value to users.
Userpilot features: Resource center for self-service support in-app
Onboarding is never going to be completely plain sailing.
Your customers will inevitably run into challenges and issues as they use your product. Userpilot has a powerful array of self-service support options to help you provide a meaningful support system exactly when your users need it.
A recent update has made Userpilot's Resource Center even more impressive. Here's what it'll offer you:
Multiple modules. The ability to thematically link and group content according to key themes enables more effective support.
Targeted support. Display relevant content to specific user segments – don't bombard them with information they don't need.
A huge range of content types. Go beyond simple FAQ documents: launch interactive guides, play videos in-app, release notes, knowledge base articles, and more.
Analytics capabilities. Understand how users engage with each module with detailed analytics. It'll help you to build a picture of the types of support people use in different circumstances.
Userpilot features: Net Promoter Score (NPS)
To launch and maintain a product that continues to thrive in an increasingly competitive market, it's important for you to have a solid understanding of customer loyalty.
With Userpilot, you can quickly create, customize and launch NPS surveys that fit the look and feel of your brand. You can ask open-ended questions to build a more robust understanding of the 'why' behind decisions, tag and analyze responses, and monitor at specific intervals over time to see how your NPS score changes.
Take it a step further by laying over a lens of the exact words associated with a good or bad score. That'll enable you to analyze what influences specific scores going up or down: a powerful tool in your arsenal for informing more effective decisions.
Userpilot features: Microsurveys for contextual customer feedback
While NPS is powerful, it's really a specialist tool to understand loyalty. What about more tactical, directly actionable insights to help you make UX and design decisions?
Maybe you want to understand more about the specific 'jobs to be done' (i.e. what user segment they fit into) to personalize their experience. Or perhaps you want feedback on a specific feature.
Choose when and where in your application it makes sense to launch surveys: that might mean embedding a modal on the welcome screen, a slideout just after a user engages with a new feature, or anywhere else that makes sense.
Userpilot also lets you embed Typeform surveys: a powerful integration to boost your customer insight-gathering ability.
Userpilot features: Product growth monitoring platform
The features we've described above are all fantastic options for boosting engagement, activation, and improving the onboarding experience.
But Userpilot also offers more: powerful analytics that helps you understand how the onboarding tactics you're deploying are performing.
What analytics Userpilot tracks
Userpilot has a range of in-built analytics capabilities and collects the following data:
Feature usage: you can set and monitor the usage of specific features.
Engagement with in-app experiences: understand how users are interacting with flows, NPS engagement, checklists, elements of your Resource Center, and more.
Custom events: trigger in-app experiences based on event occurrence (including a specific number of events in a given time frame).
What analytics you can track with Userpilot's integrations
Part of what makes Userpilot great is the wealth of integrations easily available. That means you have a huge amount of leverage to make the most of other powerful tools.
Some of the analytics-focused integrations available are:
Google Tag Manager
Kissmetrics
Mixpanel
This list continues to grow, with Zapier, Slack, and Hubspot on the horizon.
Webhooks are a key enabler for releasing the value of integrations, firing off notifications to external apps, and enabling real-time responses.
How customers use the Userpilot digital adoption platform
So far, we've walked through a comprehensive overview of the range of capabilities Userpilot offers. But as Albert Einstein famously said:
"The only source of knowledge is experience."
The best way of learning how to apply these lessons yourself is to look at how customers are using some of these capabilities themselves. In this section of the blog, we'll explore a few case studies to bring these features to life.
Customer success teams drive growth with contextual in-app guidance
Getcraft is a creative marketplace, aiming to connect freelance creatives with people looking for their services in South-East Asia. They utilized Userpilot to help drive impressive growth – all without a heavy reliance on coders.
Contextually launched, in-app guidance built with Userpilot had a huge impact, more than doubling the activation rate.
Some of the onboarding elements they included were:
Welcome screen highlighting the main features of the app
Interactive walkthrough and tooltip
Checklist of steps in the onboarding progress
Hotspots to highlight some of the more complex elements of the app (i.e. settings for updating the user profile)
You can read more on how Getcraft uses Userpilot here.
Product marketing managers drive user retention with interactive tips and guides
One of the most important metrics for a savvy product manager to track is retention. Why? If you can't keep paying customers, your SaaS has very little chance of survival.
Troi used Userpilot to create a bespoke guided tour, savings thousands of dollars of development effort and simplifying the job of the customer success team.
Importantly, it vastly improved the onboarding experience for end customers – a surefire way of ratcheting up retention rates.
Read more about how Userpilot helped Troi here.
Product managers drive adoption with new feature announcements and product usage analytics
New feature adoption is one of the trickiest parts of the product management process to get right.
Kontentino – a social media management tool for collaboration, content approval, and scheduling – saw a massive 10% boost in user activation in the first month of installing Userpilot.
Not only did Userpilot enhance the onboarding experience, but it enabled them to direct users' attention toward specific activation points and encourage them to adopt primary features (for Kontentino, linking accounts, and scheduling posts).
Read the full Kontentino use case here.
Userpilot pros and cons: Is this the right product growth platform for you?
When it comes to product adoption tools, there's no silver bullet. It's very rare you'll find a tool that hits all your criteria, so it warrants careful consideration.
To help you make your decision, let's start by looking at some of the common scenarios where Userpilot might not be the best choice for your user onboarding needs:
You are on a budget: Userpilot offers fantastic value for money – particularly given the range of unlimited feature usage, advanced analytics, interactive elements, product walkthroughs, surveys, and more. However, if you're just starting out and on a very tight budget (let's say $100 or less a month), you should explore other options.
You're focusing on employee onboarding: Userpilot works only on your own product, not third-party apps. So if you are only looking to onboard your internal teams, a tool like Walkme could be a better fit.
You're prioritizing mobile app onboarding: Userpilot only works on responsive web apps. If you need onboarding for mobile apps, check out Appcues or Pendo.
Userpilot pros
Works out of the box: comes with an easy-to-use Chrome Extension builder.
Get multiple UI patterns: choose from a range of UI patterns to build customized flows: modals, slideouts, banners, tooltips, hotspots, checklists, and more.
Get more value for money: access to all of them on every single plan, meaning you get value even with a more basic package.
Create engaging walkthroughs: Userpilot makes it simple to build interactive walkthroughs.
Offer in-app help: build a resource center offering self-service support to your users and select from a range of help options to boost user satisfaction (i.e. videos, in-app flows, chat, and more).
Launch product experimentation: built-in A/B testing for flows lets you explore and quickly iterate based on user behavior.
Powerful feedback options: integrated NPS surveys with analytics and response tagging unlock insight into how your users feel.
Track analytics and build segments: advanced analytics and user segmentation capabilities.
Build value with integrations: built-in integrations help leverage external applications to unlock value faster.
Userpilot cons
Browser/web app only: Userpilot won't run on mobile devices/applications.
Now suitable for employee onboarding: the tool is far better suited to consumer onboarding than for employee onboarding, as you can't build in-app guides on third-party tools.
Integrations are limited: Hubspot and Zapier are coming soon, so if you need those integrations immediately you'll have to wait.
Price: Userpilot is a powerful, enterprise-level tool, and $249 a month might be too much of an expense for small companies.
Userpilot pricing
Userpilot offers a range of pricing options:
Traction plan: For up to 2500 users, this plan is $249/ mo.
Growth plan: For up to 10,000 users, this plan is $499/ mo.
Enterprise plan: For large-scale businesses, these plans begin from $1000/ mo.
Userpilot reviews
Users have an overwhelmingly favorable view of Userpilot, citing usability, flexibility, and feature options.
"Userpilot is an incredible, user-friendly software that allows us to create unforgettable experiences for our clients! From basic to complex experiences, we have been able to do them all with ease! I would highly recommend this software to anyone who wants to provide their clients or users with the best product tour experience. The possibilities of what you can create are endless!"– Tayla G
Not to mention to support Userpilot offers in comparison to other tools.
"For the things I didn't know how to do, I got the best support. Their support is always available if you need it. A fast response time, and informative training webinar sessions. I'm a fan."– Jose I
Userpilot is simple to set up and use and does not require any dev – which means instant publishing. This is critical for us as a SaaS company that releases new features frequently; we need the ability to inform our customers of changes quickly, and doing this in our platform through Userpilot allows us to reach the right audience, at the right time, in the right place. There have been many awesome extra features we've discovered since coming on board, and it's been great to see new features released frequently. The tool itself is intuitive and reliable. Having used similar products previously that were clunky and buggy this has really made us happy with our decision to move to Userpilot. – Melina K
Conclusion
That concludes our comprehensive overview of Userpilot. Hopefully, you now have a much better sense of:
What the tool is
The powerful range of capabilities it offers
Specific examples you might use them
Pros, cons, pricing, and other options
That'll leave you extremely well-equipped to make the right decision about whether Userpilot is the right tool for you.
If you want to get started with building incredible onboarding experiences, why not get a Userpilot Demo – and see how you can start driving impressive growth today?