The 14 Best Event Tracking Tools for SaaS Companies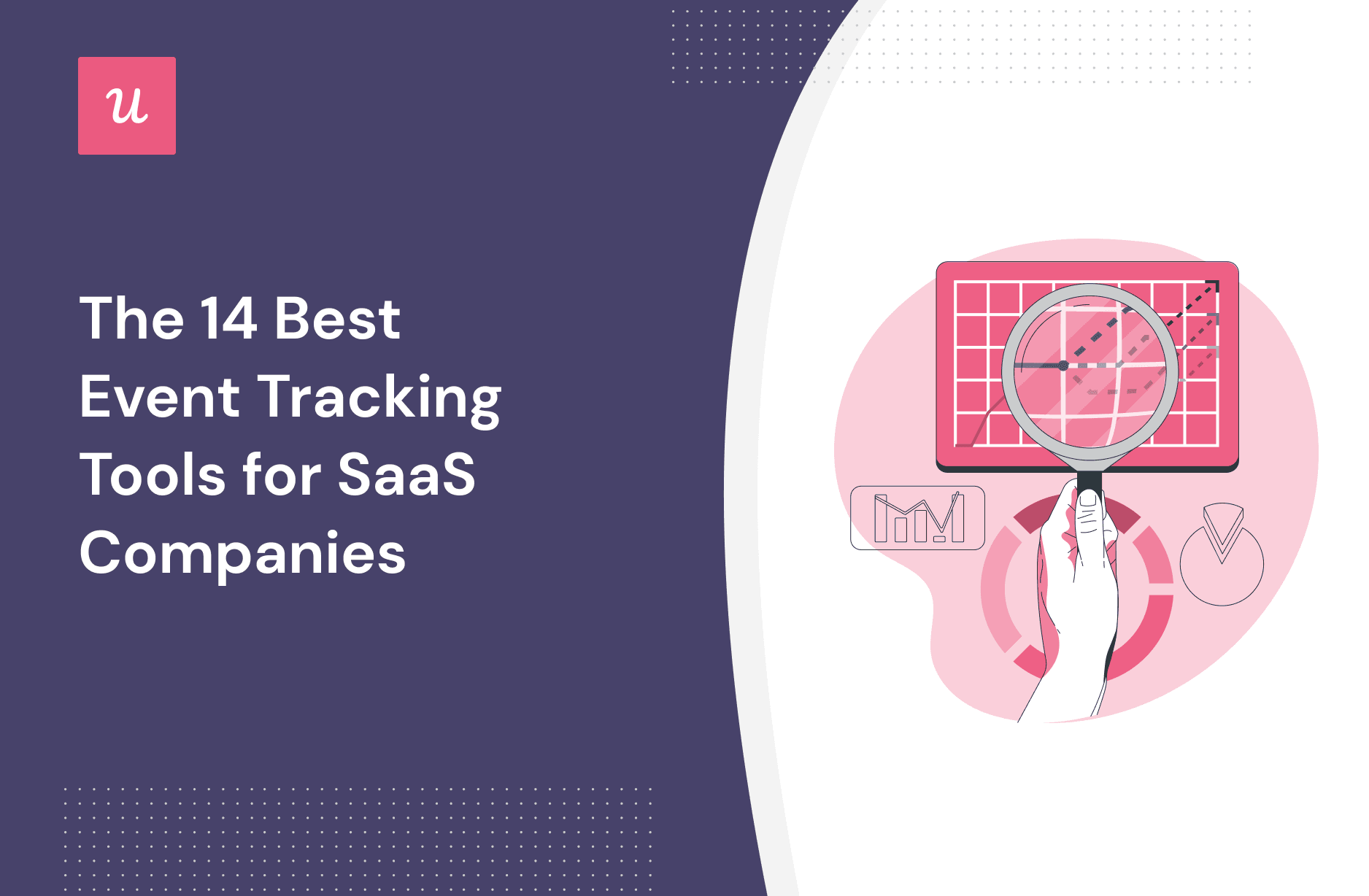 Choosing the best event-tracking tool for your business is not easy. Many options are available, and the information online is not always complete or objective.
To make the choice a bit easier for you, we've created a list of the best tools for tracking events available for SaaS teams in 2023.
Let's get right to it!
TL;DR
An event-tracking system is an application for recording and analyzing user interactions with your product or website.
Event tracking provides teams with insights into user behavior so that they can improve the product, its UI, and key metrics like conversion rates.
When choosing an event-tracking tool, first decide if you need to track user behavior inside a digital product or on a website.
If you need an in-app tracking tool, your options include dedicated analytics tools or product adoption solutions.
Standalone analytics products like Amplitude, Mixpanel, and Heap normally offer more advanced features for tracking and analyzing user interactions but don't give you the tools necessary to act on the insights.
If you go for a digital adoption platform, like Userpilot, Appcues, Pendo, or Chameleon, their analytics functionality may be limited.
Pendo has the most advanced analytics features but it's quite pricey and doesn't track events in real time.
Userpilot offers the best value balance between functionality and price but supports only web apps.
Chameleon has the least advanced analytics in the roundup, while Appcues is useful to a limited extent because of usage caps.
Google Analytics is a free web analytics tool that allows you to receive detailed analysis reports about your visitors and their behavior. Adobe Analytics offers similar functionality but no free plans.
Matomo is the only solution that you can install on your own servers and it offers the most features for both web traffic analysis and granular analysis of user behavior.
FullStory, Hotjar, Clicky, and Plerdy all support heatmaps and session recordings for optimization of your UI to remove friction and drive conversions. However, only Hotjar offers them in their free plan.
To get a taste of Userpilot's event tracking features, book the demo.
What is an event tracking system?
An event-tracking system is a software application that allows you to track and analyze user interactions with your website or application.
What do we mean by interactions?
That's everything that the user does in the app or on the website. Clicking, completing a form, viewing a page, closing a pop-up window – you name it.
What is the use of event tracking?
Event tracking can provide valuable insights into user behavior and preferences.
Product teams can use it to identify the most popular features and those that users don't engage with enough, or identify friction at different touchpoints in the user journey.
Marketing teams can use the insights to optimize the website content to reduce bounce rates and help users progress through conversion funnels.
What are the must-have features of an event-tracking tool?
Here are a few key features that you should be looking out for when you're choosing the event-tracking solution for your organization.
These include:
Code-free event tagging or automatic capture
Custom events
Funnel analytics
Goal tracking
Real-time tracking
Data visualization
Custom dashboards with fundamental event-tracking metrics
Custom reports
Integrations with analytics tools
Best analytics tools for web application event tracking
To help you make an informed decision, we look at the functionality each of the tools supports as well as the details of their pricing plans.
1. Userpilot
Userpilot is a growth platform for web-based digital products. It allows you to collect user feedback, track user behavior in-app, and design personalized onboarding experiences to drive product engagement and adoption.
The analytics features include:
Feature tagging (tracks user clicks, hovers, and form infills)
Event tracking (either code-free from the Chrome extension or through API)
Funnel analysis (coming soon)
Goal tracking
Real-time reporting
Integrations with Mixpanel, Heap, Amplitude, Segment, and Google Analytics.
Userpilot pricing
Userpilot offers 3 pricing plans: Traction, Growth, and Enterprise.
The event tracking feature is available even in the lowest Traction plan which starts from $249/month. This is a very generous offer when compared to competitors.
If you're interested in what Userpilot has to offer, book a demo today.
2. Amplitude
Amplitude is a powerful standalone product analytics platform with second-to-none analytics functionality.
The key Amplitude analytics features include:
Cohort analysis/user segmentation
Milestone analysis for goal tracking
Funnel analysis and conversion drivers
Impact analysis for testing the effects of changes that you introduce
Root cause analysis
Pathfinder to map out the paths leading up to events
Real-time data reporting
Amplitude pricing
Amplitude offers three pricing plans, including a generous free Starter plan which gives you access to its core event-tracking features.
However, please note that Amplitude gives you no tools to act on the insights. To improve user activation or feature engagement you will need a 3rd party solution.
3. Mixpanel
Mixpanel is another dedicated analytics solution, just like Amplitude.
It also offers very similar features to track user behavior:
User segmentation and cohort analysis
Group analytics for a wholistic account or company-level analysis
Custom events
Funnel and drop-off analysis
Interactive real-time reporting through Live events
Impact analysis
Custom dashboards
Mixpanel pricing
Mixpanel offers three pricing plans:
Starter, free
Growth, from $20/month
Enterprise, from $833/month
The free Starter plan offers access to all reporting features.
4. Heap
Heap joins the line-up of specialized analytics tools that you can use to track events.
Heap's analytics features include:
User segmentation
Data Autocapture for automatic code-free event tracking
Custom events
Funnel analysis and goal-tracking
Cross-platform tracking as users move between devices
Illuminate for identifying friction points
Custom dashboards and graphs for data visualization
Apart from the standard set of event tracking features, Heap also offers session replays so that you can analyze user engagement with your product UI in detail.
Heap pricing
Heap offers four pricing plans: Free, Growth, Pro, and Premier.
Most of its key analytics features are available in the Free plan and the Growth plan comes with a free trial. The two highest plans, Pro and Premier, have custom pricing.
5. Pendo
Pendo is a digital adoption platform (DAP) with a reputation for its advanced analytics functionality.
Here's what it offers:
User segmentation
Funnel analysis
Event tracking, including custom events.
Paths (map out all sequences of user actions leading up to or following an event)
Custom reports to track page views, feature clicks, events, or guide views
On top of these, you can also use Pendo Polls to collect and analyze user feedback and Pendo Guides for in-app messaging.
However, when it comes to triggering contextual surveys or guidance, your options are limited because Pendo shows data with a one-hour delay.
Pendo pricing
Pendo has 4 pricing plans.
The first two 'plans to get started' are Free and Starter, which are most suitable for early-stage companies. Subscribing to the latter will charge you $7000/year.
The two 'plans to scale', Growth and Portfolio, come with custom pricing. According to Pendo users, they're not cheap.
6. Appcues
Appcues, like Userpilot and Pendo, is a product adoption tool offering user feedback, in-app guidance, and analytics functionality.
What analytics features does it offer?
User segmentation
Code-free event tracking with Click-to-Track events
Flow analytics to track engagements with in-app guidance
Goal tracking
Two-way integrations with Amplitude, Mixpanel, and Heap, as well as Kissmetrics and Fullstory.
Appcues shares some of Pendo's flaws: it doesn't display data in real-time, so you can't trigger events contextually.
Appcues pricing
Appcues pricing is built around 3 plans:
Essentials, starting from $249/month
Growth, starting from $879/month
Enterprise, with custom pricing
Most of the analytics features are available in the Essentials plan but they come with usage caps that limit their usefulness. You can only track 10 events and 5 segments.
7. Chameleon
Chameleon is a digital adoption platform (DAP). You can use it to collect user feedback and design highly customized user onboarding experiences. The latter is definitely its biggest strength. Its analytics features may not be though.
Its limited analytics functionality allows you to:
Track engagement with in-app onboarding flows
Monitor events in real-time and trigger event-based experiences
Track goals
Chameleon pricing
Chameleon offers three plans: Startup, Growth, and Enterprise.
When you first look at it, the price of the lowest plan looks competitive. That's until you start playing with the slider. Moving it from 2000 MAUs to 2500 brings the price from $279 to $349.
And you have no control over the cost. If you exceed the limit, Chamaleon charges you more, even if you're still on the Startup plan.
Best tracking tools for website analytics
What options do you have when it comes to tracking events on websites? Here are a few products worth considering.
8. Google Analytics
Google Analytics is probably the best-known website analytics tool. While Google's Universal Analytics is limited to tracking website traffic, its new reincarnation, Google Analytics 4 can track app events too.
Some important GA features include:
Real-time web activity tracking
Code-free event tracking with Google Tag Manager
Event filtering by category, action, and label
Audience reports – data on your website visitors, including demographics
Acquisition reports – breakdown of acquisition channels, like, organic vs direct vs referral
Behavior reports – insights into visitor interactions with your website (e.g. pageviews or events)
Goal/Conversion tracking
Custom dashboards
Integration with Google Ads for campaign performance tracking
Google Analytics pricing
One of the key advantages of Google Analytics is that it's free for most users.
Unless you need advanced features like attribution modeling. If so, you have the option of upgrading to Analytics 360, which costs $12,500 a month.
9. Adobe Analytics
Adobe Analytics is a web analytics suite that helps organizations track and analyze website user behavior. It uses machine learning for customer data analysis.
Some of the features of the platform include:
Real-time tracking
Multi-channel tracking for tracking user behavior on the website as well as mobile apps and social media
Advanced segmentation
AI-powered predictive analytics
Adobe Analytics pricing
There are 3 Adobe Analytics plans available: Select, Prime, and Ultimate. Their pricing is not available on the website, however.
10. FullStory
FullStory is a digital experience intelligence platform that allows organizations to capture, analyze and understand user interactions with their websites.
Its features include:
Advanced behavior-based segmentation
Auto capture for tagless tracking of all your events using a patented dx data engine
Frustration signals recognition to identify UI issues
Session replays to see exactly what users do on the website or inside the app
Heatmaps for user behavior visualization
Retention data analysis
Journey mapping
Custom dashboards
Funnel analysis
FullStory pricing
There are three FullStory plans available: Enterprise, Advanced, and Business.
The website has no pricing, but FullStory offers a free 14-day trial of the lowest Business plan.
11. Hotjar
Hotjar is an all-in-one analytics and feedback platform that helps businesses understand how users interact with their websites.
What features does it offer?
User segmentation
Automatic data capture
Custom event tracking
Session recordings
Funnel analytics tool
User behavior pattern visualization with Trends
A comprehensive dashboard with all the relevant metrics
Hotjar pricing
How much does Hotjar cost?
The lowest plan, which gives you access to unlimited heatmaps and 35 daily session recordings, is free.
However, to use the more advanced features, you need to use one of the paid plans:
Plus, from $32/month
Business, from $80/month
Scale, from $171/month
12. Matomo
Matomo, formerly known as Piwik, is an open-source web analytics platform that provides detailed insights into website traffic.
Some of the features of Matomo include:
Real-time event tracking
User segmentation and cohort analysis
Goal tracking
Custom dimensions
Funnel analysis
Heatmaps and session recordings
Custom reports
WooCommerce analytics
Matomo pricing
As an open-source platform, Matomo offers a free On-Premise plan as long as you're able to host it on your own servers.
If not, you can use the Cloud plan for £17/month. The advantage of the Cloud plan is that it includes functionality that costs extra with the On-Premise plan like heatmaps or custom reports.
13. Clicky
Clicky is a web analytics service that provides real-time website tracking.
And it comes with loads of features:
User segmentation
Highly customizable tracking
Live data updates
Detailed visitor reports
Heatmaps
Backlink analysis
Goal and conversion tracking
Funnel and path analysis
Campaign tracking
Video, email, and social media analytics.
Clicky pricing
Clicky is available in 5 different plans:
Free
Pro, from $9.99/month
Pro Plus, from $14.99/month
Platinum, from $19.99/month
Custom
All the paid plans, apart from Pro, get access to all the premium features, including heatmaps and uptime monitoring.
14. Plerdy
Plerdy is a web analytics and conversion optimization tool that helps website owners and marketing managers improve their website performance by tracking events and providing actionable insights.
Its functionality includes
Event-tracking
Funnel analysis and goal-tracking
Session replays
E-commerce analytics
Scroll depth reports
Plerdy pricing
Plerdy has the most complicated pricing structure of all the tools in our roundup.
First, there are the All-in-One plans giving you access to all features. There are 6 of them, and they start from $98/month.
If you're interested in tracking only some of the events, you can choose a UX&CRO plan (heatmaps, session replays, etc), a Pop-Up plan, an SEO plan, or an E-commerce plan.
Within each of them, there are 3 different pricing tiers. That's 15 different paid plans! And the free one.
Conclusion
The variety of available event-tracking tools is truly mind-boggling.
To choose your tool, first, decide if you need an app or website tracking tool. Then, find a tool with a pricing plan within your budget.
Finally, pick the one that offers the features you need. Or start with the features, and then look at the cost, depending on your priorities.
If you want to have a close look at Userpilot's event tracking features, book the demo!