10 Real-Time Customer Engagement Techniques That Drive Loyalty and Retention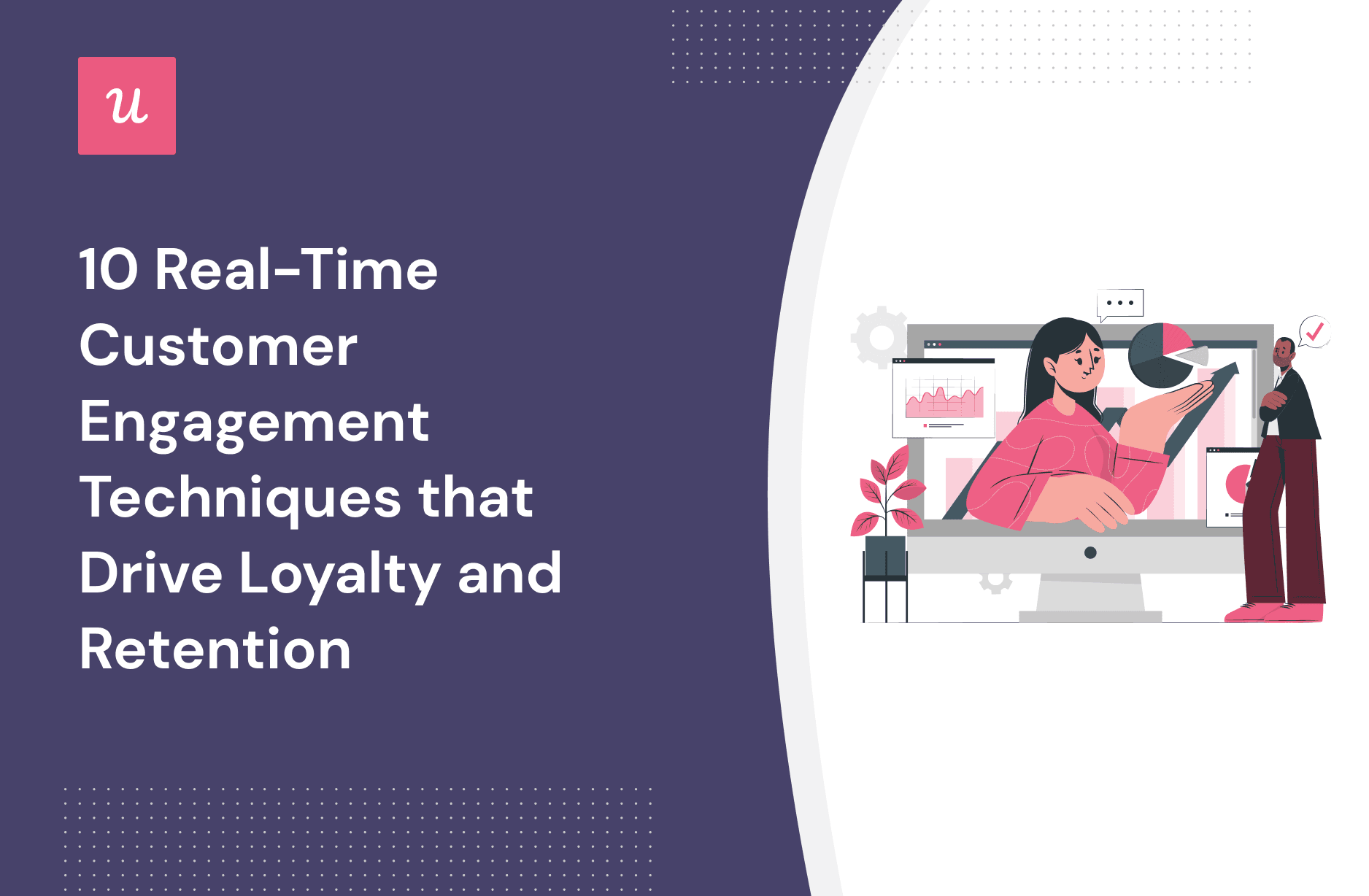 In today's world, real-time customer engagement is one of the most important ways to ensure continued business growth and customer success.
Real-time customer engagement refers to the ability to provide contextually relevant interactions at the speed the customer wants you to.
This usually comes in different forms of adapted content, like recommendations based on previous searches, in-app guidance based on user behavior, responses to social media comments, etc.
In this article, we'll discuss how to deliver personalized, timely, and connected real-time interactions that bring value to the customer.
TL;DR
Real-time customer engagement is when a customer interacts with your brand actively with back-and-forth feedback.
Engaging customers in real time has many benefits, including competitive advantage, better marketing performance, improved brand loyalty, customer retention, and easier time closing sales.
Here are some effective techniques to engage customers in real-time:
Track user behavior and trigger automated flows to further engage your customers.
Send personalized and timely messages such as upgrade prompts when a user reaches the free usage limit, or special offers to convert free trial users who declined the initial offer.
Celebrate customer success with celebratory modals or gamification elements like badges. Gamification triggers a dopamine rush that makes users come back to those actions to experience the same positive emotions again.
Provide in-app guidance in the form of subtle hints, tooltips, or other in-app messages where users need it.
Leverage AI-generated video tutorials to engage users inside your app without spending a lot of resources.
Offer self-service support with an in-app resource center to allow customers to find instant help.
Use the live chat to offer real-time communication and quickly provide answers to customers.
Establish a social media presence and directly interact with customers by responding to their social media comments, acting on feedback, etc.
Build a digital community where customers can have meaningful discussions and engage with other like-minded people.
Organize events and meetups to connect with customers in-person and engage them with your brand.
Userpilot is the best tool to make customer interactions easier and automate these time-consuming tasks. So why not get a Userpilot demo to learn to engage customers in real-time without coding?
What is real-time customer engagement?
Real-time customer engagement refers to the process of recognizing a customer's action and quickly responding with a message or delivering the next best action for each interaction to further engage the customer.
These could be contextually specific, real-time automated responses to customer queries and comments (think chatbots, automated email follow-ups, taking a survey at the end of this call after your interaction with an associate).
Benefits of real-time customer engagement
Engaging customers in real-time builds loyalty and cultivates relationships. Here are some more benefits of engaging customers in real-time:
Real-time customer engagement enhances the efficiency of your marketing efforts by increasing communication with customers and building trust
Conversion rates increase when you make yourself more available to your customers
Establishes your credibility: real-time customer engagement sets you apart as a communicative, accessible, and understanding organization.
Improve customer satisfaction by promptly responding to customer queries
Real-time experience gives a company a competitive edge
10 real-time customer engagement examples and strategies for SaaS
Here, we'll cover 11 examples of real-time engagement tactics you can implement to drive customer retention and loyalty.
Automatically triggered in-app experiences based on user behavior
In-product is where most of the customer interactions take place, so it's important to have systems and strategies for fostering real-time engagement across the product experience.
One of the best ways to drive real-time engagement inside your app is event triggering.
Event triggering enables you to construct flows that launch automatically when a specific event occurs. The critical thing here is that you can define the event, so it's completely tailored to your needs.
Let's look at examples of how you can use event-triggering to deliver contextual customer experiences.
Send personalized in-app messages
With event triggering, you can send personalized in-app messages that retain the customer.
For example, Loom tracks customer engagement with a specific feature, and when the customer reaches that feature's free usage limit, a modal is automatically triggered to prompt them to upgrade.
Another relevant example from Postfity. When a free trial user declines to upgrade or hits the "cancel" button, a personalized offer is sent to them to add a sense of urgency and convince them to take the chance.
Celebrate customer success
Celebrating milestones is subtle but a great way to drive real-time engagement. People tend to repeat actions that brought they joy.
Besides, those positive customer experiences result in building emotional bonds with your company and turning everyday customers into raving fans.
You can acknowledge customer success by rewarding them with badges and certificates, or simply triggering gamified celebratory modals once the user hits a key milestone.
For example, here's how Calendly celebrates your first scheduled event:
Provide in-app guidance
Unlike you, users don't know how to use each of your product's features.
That's why you must do your best to guide them around your app without them having to read a guide on another tab.
For that purpose, when a user hovers over or clicks on a feature, you can trigger a tooltip that explains how to use and get the most value from that functionality.
Drive real-time customer engagement with video marketing
To create a truly engaging experience, we need shared context. Sharing the same space, hearing the same sounds, and seeing the same sights make bonds possible. Since consumers are more comfortable with video, they crave this shared context and expect video engagement directly within the apps they already use.
Luckily, we're in an age where you can automatically generate contextual videos by simply typing text.
Synthesia is an AI video creation tool that can generate video tutorials with AI, and improve your onboarding or quickly repurpose product guides into videos.
Plus, Synthesia integrates with Userpilot, so you can embed AI-generated video tutorials inside your UI patterns (tooltips, checklists, etc.) and engage users with video content right inside your app.
Offer self-service options
Self-service resources enable customers to troubleshoot their issues in real-time without having to contact support agents back and forth and awaiting their response.
The best way of offering self-service options is by creating an easily accessible and searchable knowledge base with multiple formats of resources. Those resources include interactive walkthroughs, video tutorials, documentation articles, webinars, and many more.
To streamline the self-service experience, you can go even further and integrate your resource center with another support channel. For example, you can leverage AI-powered chatbots that recognize when the user is stuck on the page and reach out to direct users to relevant resources in the knowledge base.
Utilize live chat to communicate with customers in real-time
No experience is as real-time as a live chat (except for calls, but no one enjoys calling a business). As it offers immediate communication and can quickly provide answers to customers.
So, it's never too late to implement live chat options inside your app if you haven't done it yet. Make sure to keep it visible and allow users to continue the conversation on other channels like email or even Whatsapp:
Engage with customers on social media
Social media is a great way to interact with customers in real-time.
You can engage with your customers by liking their tweets, sharing their Linkedin posts, and responding to customer comments on your IG posts.
Without mentioning, you can also offer support through the DMs, have chats with potential leads, and connect with influencers that can help you expand.
So if you're underutilizing social media channels, start leveraging the platforms to interact with more customers and increase their engagement with your brand.
Create digital communities for customers
In digital spaces, customers can ask questions, discuss the best use cases of your product, and get help from real people when they need it.
And what's better: you don't need much tech or personnel for this.
Something as simple as a Facebook group and a responsible manager can do wonders when following solid guidelines and processes, and promoting it enough—take Userpilot's Facebook group as an example:
Organize in-person customer events and meetups
Technology is great and all. But it will never beat in-person experiences.
Humans are pre-wired to bond with one another. Personal connections drive our actions. And without them, there is no impetus to take action.
Depending on the size of your customer base, you can host in-person events and meetups to gather them, provide value, engage them, and build a community of loyal customers.
Friendships formed at these events are a great way to have customers feel closer to your business and get engaged.
Best real-time customer engagement software on the market
With all the automation needed to apply these tactics, you need to use the right software to make sure everything goes smoothly.
Userpilot – best platform for creating real-time in-app experiences
Userpilot is a customer success platform that enables you to target users with contextual in-product experiences based on their persona or in-app behavior.
You can choose from a wide range of UI patterns to build your flows such as modals, tooltips, slideouts, and banners.
You can also collect user data with in-app surveys and product usage analytics, then segment users based on it and engage them at the right time to optimize for product adoption.
Plus, it's also possible to enhance your real-time customer engagement by tracking in-app user behavior to trigger contextual flows based on user action.
LiveAgent – best customer engagement solution for omnichannel support for small businesses
LiveAgent is an excellent complement to offer instant customer service.
It allows customers to open support tickets on one or more channels, such as live chat, phone, and even social media.
You can also build knowledge bases and help desks so users can find information when needed. Plus, it collects your user data to add it to the built-in CRM.
Wrapping up
Customers increasingly expect businesses to provide personalized and frictionless customer experiences across all channels. Real-time customer engagement strategies and technologies make that possible.
Brands of all sizes should examine their goals and objectives closely to determine how real-time thinking and modern technology can benefit their engagement efforts.
If you are interested in creating contextual customer experiences and engaging driving in-app engagement, book a Userpilot demo and we will be happy to show you how!