Users Behavior in SaaS: How To Track & Analyze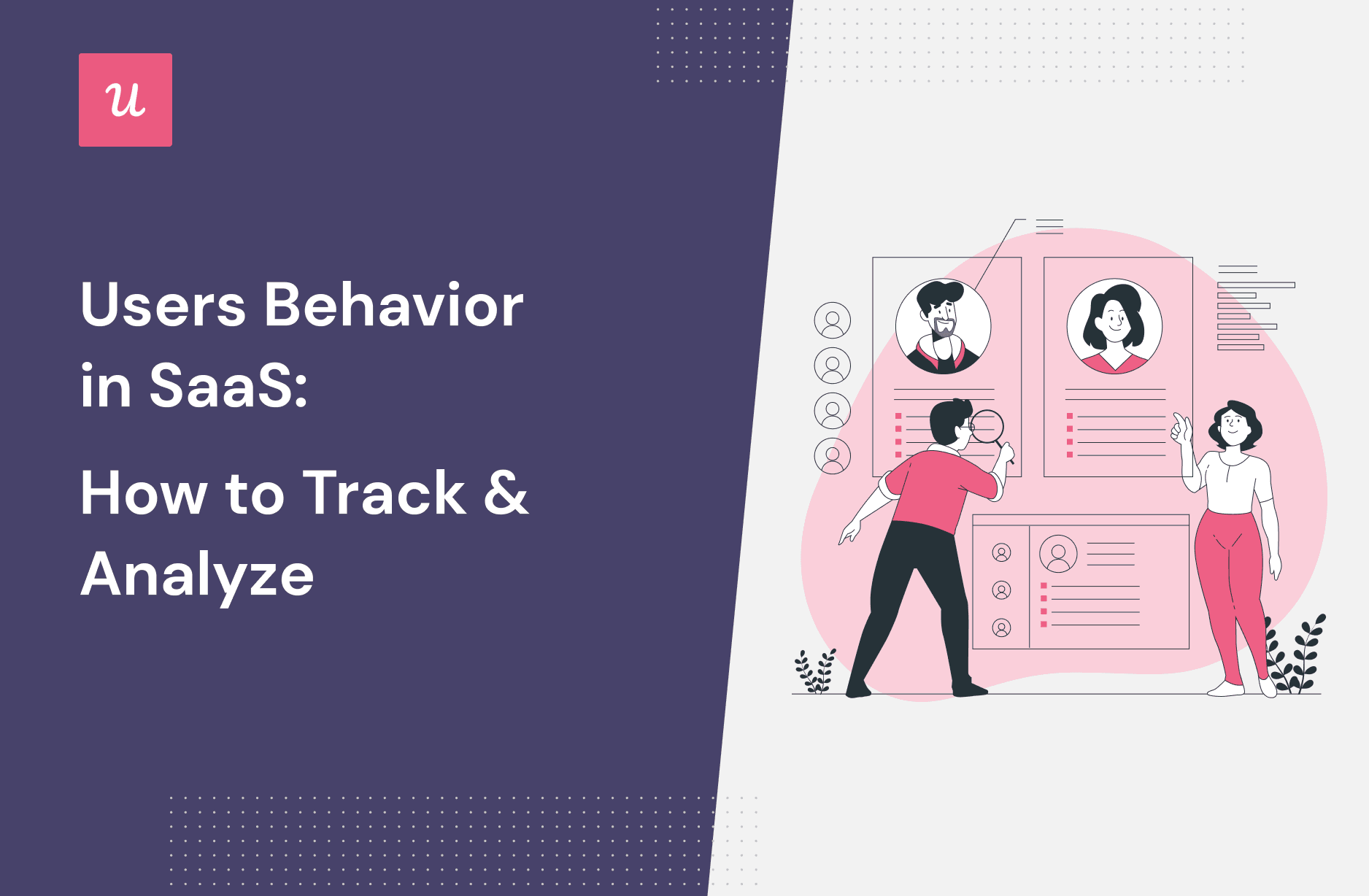 How can you analyze user behavior from behind the window of your screen?
Unlike physical stores, where you can observe how customers interact inside the shop, SaaS consumers are much more elusive. This is where user behavior analytics comes in.
It lets you track and analyze how users interact with your product so that you can offer superior customer experiences and achieve product growth.
So let's dive in!
TL;DR
Userpilot for tracking in-product usage and collecting feedback
Amplitude – for user behavior analytics
Hotjar – for session recordings and heat maps
What is user behavior?
User behavior refers to all the actions and patterns users exhibit when interacting with your product. These activities include what pages they visit, what they click on, where they get stuck, and where they leave your site.
Thus, tracking and analyzing user behavior allows you to find areas of improvement and enhance in-app experiences to provide the highest value to customers.
Why is understanding user behavior important for SaaS companies?
Just collecting data on users isn't enough. You need to analyze them to generate valuable insights that you can use to craft different business strategies.
Now let's see why you need to track your SaaS and understand your users' behavior.
Get the complete picture of your customers and detect habitual patterns
User behavior analytics helps you gain a deep understanding of your customers' in-app behavior and their needs. Analyzing the trends and patterns in their behavior allows you to optimize the customer experience.
Furthermore, it prevents you from investing in the wrong features and other product initiatives. Instead, you can make product updates and launch new features faster.
Develop personalized in-app messaging campaigns based on customers' preferences
Tracking user behavior can help you create hyper-personalized marketing campaigns and in-app messages for specific user segments. This will drive more value for users and thus, increase customer engagement and retention.
For example, when it comes to website visitors, you can analyze their behavior to know why some of them are not signing up so that you can make the required improvements.
Identify friction points that block the customer journey
Behavior analytics looks at the different stages of the customer journey and the various communication channels you use with customers.
You can identify friction points and remove them so that users don't get frustrated with too many obstacles inside your product.
Key user behavior metrics to measure users' behavior
Here are 12 metrics you can use to measure your users' behavior. Note that none of these behavioral metrics overlap with marketing metrics since the latter focus more on converting to paying customers.
Activation rate
This is the rate at which new users complete the first key actions inside your product and reach the activation point. It measures the success of your primary onboarding efforts.
Stickiness ratio
This ratio measures the proportion of customers who are returning to your product or a particular feature on a regular basis. It's equal to the ratio of the number of daily active users to the number of monthly active users.
Feature usage
A low feature usage means either your customers are not getting value from the feature or they're not aware of it in the first place. Thus, knowing this usage rate can help you determine what features to add, improve, or remove.
Funnel drop-off during activation
This metric gives you a clear picture of new users leaving your product before converting to paying customers. It can help you understand the reason behind the drop-offs and make improvements accordingly.
Adoption rate
The product adoption rate is the percentage of individuals who convert from prospects to users, while the feature adoption rate gives the percentage of users who start using a particular feature.
Element interactions and clicks
Customers need to click on and interact with in-app elements, such as buttons, to gain more value from your product. For example, users can click on an upgrade button and avail of a more valuable feature.
Sessions per user
This measures the number of times a customer used your product. Thus, it can also act as one of the indicators of engagement.
Retention rate
It measures the percentage of customers who choose to keep investing in your product. Thus, collecting and analyzing the right behavioral data helps you know why a user wants to stick to your product.
Monthly Recurring Revenue (MRR)
It's the monthly revenue you earn from your subscriptions to your product. The greater your retention, the higher your MRR.
Annual Recurring Revenue (ARR)
It's the total amount you earn from subscriptions in a year.
Referral rate
This metric reveals who your brand advocates are. It measures how well your product or its features can motivate customers to recommend it to their friends and colleagues. The more loyal your customers are, the more likely they are to refer your product to others.
Customer churn rate
This is the percentage of customers who abandon your product during a specific period. There will always be customers who churn, but you need to minimize this rate to retain as many customers as possible.
4 Ways to collect user behavior data
How can you collect data for tracking user behavior? Here are 4 ways you can do that.
Track feature usage and in-product interactions
Not all customers will benefit from a particular feature. This makes it all the more important to monitor what customers are doing inside the app and understand their interactions with different features.
Userpilot offers the feature tagging functionality without any coding. You can tag any UI element to track feature usage among various customer segments across the user journey.
Identify the features that are the most used and analyze user behavior to know what drives feature adoption.
Userpilot allows you to not only tag features, but also track clicks, hovers, and text inputs to collect user data from different interactions.
Create custom events and trigger event occurrences
You can set up custom goals and track their completion rates. These custom goals are in-app events, classified as touchpoints, that users need to complete.
These goals could be simple such as a customer using a certain feature. Or, it could be a complex one involving a user segment engaging with the feature that leads to event Y.
With Userpilot, you can set up custom events, if needed, and track progress toward these goals. The image below shows the percentage rate of progress for each event.
Low rates indicate the presence of friction points, so you need to collect user feedback to know what to improve.
In the analytics section, you can measure the effectiveness of events and get other valuable information like the number of unique users, average event occurrence per user, etc. You can use this data to trigger in-app experiences that are relevant to customers' use cases thus increasing engagement and retention.
Use heatmaps to visualize user behavior and see how users behave in real-time
Heat maps are a great means of visualizing users' behavior in real-time. You can observe where customers click and how they use your website/app as well as identify the areas of friction.
The insights become even more powerful when you combine them with those from session recordings. These recordings provide more in-depth information, such as why X number of clicks on a given UI element.
Using the collected data you can analyze user behavior and act accordingly.
Send microsurveys to collect feedback and measure user sentiment
User behavior insights are incomplete unless you collect feedback directly from your customers. Send microsurveys at different stages of the user journey and gather feedback to understand user sentiment about your product.
There are several kinds of microsurveys, such as the Net Promoter Score (NPS) survey, Customer Satisfaction (CSAT) survey, Customer Effort Score (CES) survey, and more.
We recommend you add a follow-up question to these surveys to get qualitative data on user behavior. These questions are open-ended, thus allowing customers to explain why they gave a particular score.
Userpilot lets you build these surveys code-free and analyze the user feedback to understand customer pain points and improve your product and customer experience accordingly.
Analyzing user behavior: Different ways to do it
Now let's see how you can analyze user behavior.
Map out all touchpoints in the customer journey
Develop a customer journey map to join together all the touchpoints that a user interacts with across several channels and over time. It helps you gain deeper insights into your users' behavior.
This will help you detect where customers get stuck so you can act and improve customer experience across all touchpoints. According to Forbes, 84% of businesses that enhance their customer experience see a rise in revenue.
Below is a general template for the customer journey.
Identifying the stages your customers need to go through and thus predicting their behavior is crucial to analyzing user behavior.
Segment customers into behavioral cohorts
You should segment users based on their behavior and group them into cohorts. Analyze the data generated from each cohort to identify trends in behavior and why some cohorts are more engaged than others.
You can then use the insights to offer personalized onboarding flows to each cohort to drive user engagement.
Moreover, segmentation helps you identify your power users and analyze their behavior to learn more about your product's strong points and how you can replicate that for other, less-engaged customer segments.
Userpilot lets you segment customers based on user, company data, user feedback, feature and events usage, and content engagement.
Analyze user behavior through feedback
NPS surveys give you three customer segments by simply asking users how likely they are to recommend your product to others on a scale from 1 to 10.
Passives: Users who give you a score of 9 or 10.
Passives: Users who score you 7 or 8.
Detractors: Users who rate you 6 or less.
Finally, your net promoter score is the difference between the percentage of detractors and the percentage of promoters. This gives you an NPS metric range from -100 to 100.
You can then tag the NPS responses to understand the main causes of the scores. For instance, you may score 100 on customer service, but you may see your average score is -5 because some users are not satisfied with your product's usability.
Attending to the customer's pain points and reaching out to them with solutions can not only convert passives but even detractors into promoters. This can greatly reduce churn.
Best tools to track user behavior in depth
To track user behavior, you need to have a solid tool in your stack.
So, let's look at the three best behavior analytics tools out there.
Userpilot – for tracking in-product usage and collecting feedback
Userpilot is a product growth platform. It lets you track in-app behavior by adding feature tags, creating custom goals, and setting event triggers without having to code.
You can also use its powerful microsurveys functionality. Be it NPS, CES, CSAT, or other kinds of microsurveys, you can create them all using Userpilot and get actionable insights by analyzing the data.
Furthermore, you can create multiple types of customer segments, from inactive users to power users, to get in-depth insights into each of them.
For example, if you want to study a particular segment's interaction with a specific feature, you can create custom events and see the results of the analyses in one graphic.
Userpilot has a 14-day free trial, after which the basic Traction plan starts at $249/month, billed annually.
Amplitude – for user behavior analytics
Amplitude is a product analytics tool that is great for mapping customer journeys.
Its Funnel Analysis chart shows how customers navigate defined paths within your product's funnel. The in-product analytics allows on-site tracking in real-time.
Amplitude's free plan lets you track 10 million events per month and provides unlimited user seats. It hasn't publicly disclosed the prices for the paid subscription plans.
Hotjar – for session recordings and heat maps
Hotjar is great for visualizing user behavior through session recordings and heat maps.
The heat maps let you record users' behavior on a selected URL, like hovers, mouse movements, scrolls, and taps.
Hotjar offers a forever free plan with up to 1,050 sessions per month. Its basic or Plus plan starts at $32/month.
Conclusion
Customers form the biggest asset of your company. Thus, user behavior analysis is a must to develop effective strategies and provide a competitive customer experience.
Want to start analyzing your users' behavior and collect invaluable insights code-free? Get a Userpilot demo and see how you can do it.