How to Analyze Customer Behavior and Improve In-app Experience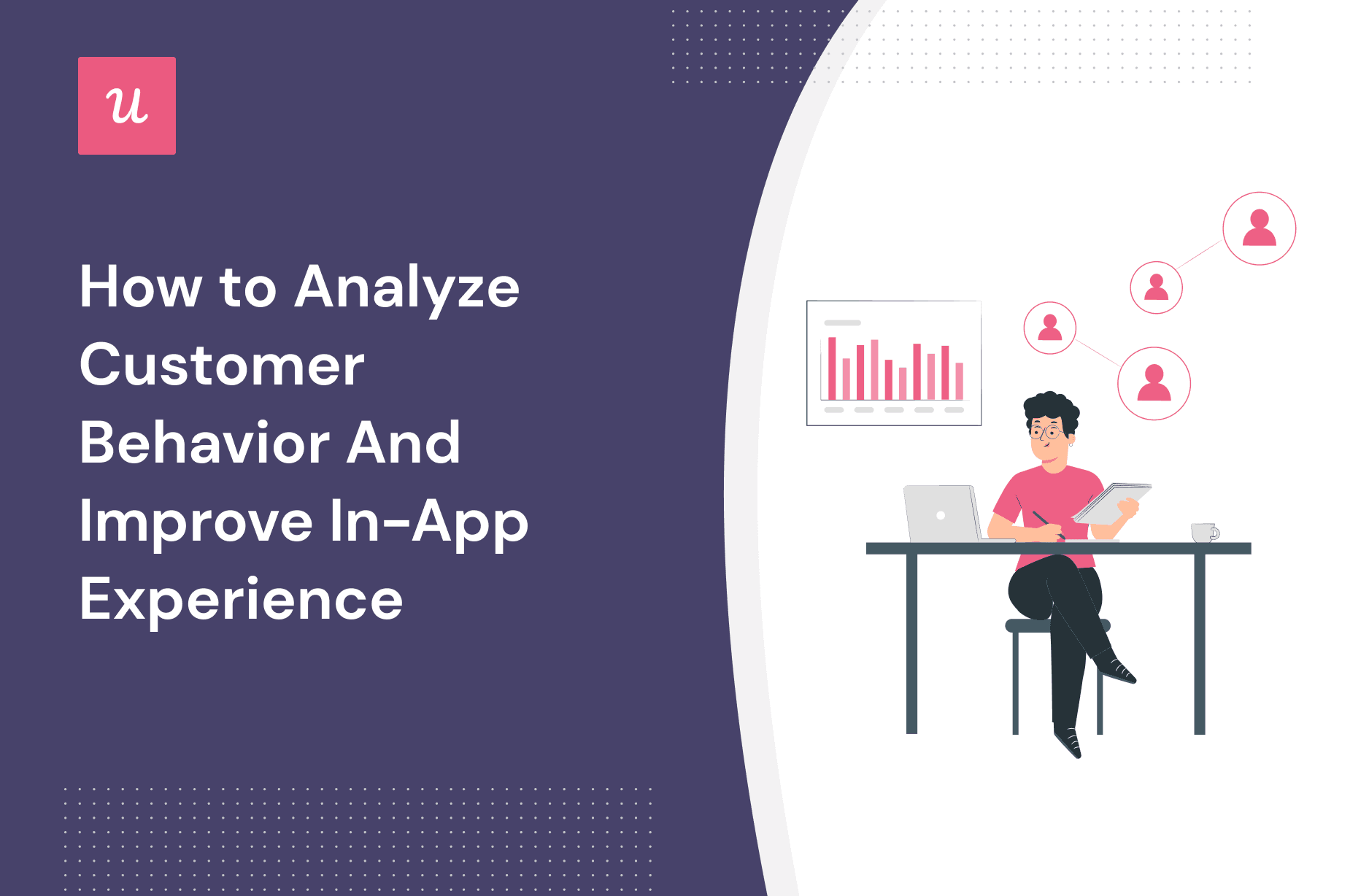 How can you analyze customer behavior in-app to deliver unparalleled in-app experiences? What customer data can you collect to derive valuable insights and improve retention?
In this piece, we'll cover everything you need to know about customer behavior analysis.
Read on to unlock product growth opportunities!
TL;DR
Customer behavior data refers to any customers' interactions inside the product across the different stages of the customer journey: from engaging with the onboarding checklist, to clicking on a particular feature, and more.
Customer behavior analysis aims to track, gauge and analyze the behavior of existing customers. It gives insights into customers' buying behaviors and engagement data.
Customer behavior analysis helps you identify the most valuable users and personalize your marketing strategy to reach them. Spot account expansion opportunities, and locate friction points to prevent churn.
Here are six steps to performing customer behavior analysis to boost customer retention:
1. Group your user base into granular customer segments by shared characteristics—jobs to be done, in-app engagement, or user feedback.
2. Examine each segment to identify trends and create a customer persona.
3. Analyze customer data from user feedback to find out the "why's" behind consumer behavior and test out hypotheses.
4. Compare quantitative and qualitative data to gain a more in-depth understanding of customer behavior.
5. Discover user segments with the highest revenue and customer lifetime value to replicate their journey with similar users.
6. Design in-app strategies to improve retention based on the collected data.
Best behavioral analytics tools: Userpilot — for collecting customer data and building in-app experiences to drive retention. Hotjar — for recording user behavior in-app.
What is customer behavior data?
Customer behavior data refers to any customers' interactions within the product across the different stages of the customer journey.
These interactions include engaging with the onboarding checklist, clicking, hovering over a particular feature, canceling a subscription, and more.
Product teams collect and measure such customers' activities to understand and act on customers' behavior patterns.
What is customer behavior analysis?
Customer behavior analysis aims to track, gauge, and analyze the behavior of existing customers. It gives insights into customers' buying behaviors and product engagement.
You analyze customer behavior to investigate how your customers interact with your product at each step of their journey.
This analysis helps to detect and address product friction and minor roadblocks, so you can take action. Moreover, consumer behavior analysis helps to identify positive behavioral trends and enhance in-app experiences.
What influences customer behavior?
In B2B SaaS, many factors influence customer behavior — from psychological to marketing factors to the overall satisfaction with a product or service.
Here are three factors that impact in-app customer behavior the most:
Bad UI (user interface) — leads to friction and drop-offs.
Bugs — result in dissatisfaction as users can no longer receive the value.
Poor customer service — leads to negative word-of-mouth, dissatisfaction, and churn.
What are the 4 types of customer buying patterns?
These four types translate into motivations and customer behavior. Understanding them allows you to tailor the marketing strategies and in-app experiences, which then leads to improved activation rates and increased revenue.
Let's take a quick look at all four:
Habitual buying behavior: Refers to repeatable payments for the services users found valuable in the past. For instance, subscriptions to Ahrefs or Netflix.
Variety-seeking behavior: Customers can drop off because they want to try your competitors. That's it. Such customer behavior may signify poor marketing positioning, substandard customer service, or ineffective or lack of an onboarding flow.
Dissonance-reducing buying behavior: Customers select one product among two or three that appear identical to reduce dissonance. Help your customers to choose your product with outstanding experiences and crystal-clear marketing messaging.
Trends prediction or complex buying behavior: This occurs when you choose an expensive product or service, like selecting a vendor or buying a CRM to connect teams in one place. Such buyers demand frictionless products with best-in-class customer support.
Why conducting customer behavior analysis is so important
In a nutshell, customer behavior analysis informs marketing strategies, customer purchase decisions, and product roadmaps.
The data you get affects every aspect of the customer journey. Let's study it in detail.
It helps you identify the most valuable customers
Analyzing your power users' in-app behavior can help you understand what audience you should target with marketing activities.
You can also study user activity trends to spot upticks and their reasons. What user segments were highly engaged? What caused such positive anomalies?
It helps you optimize and personalize your marketing strategy
Conduct customer behavior analysis to derive valuable information about customers' preferences, hidden needs, and pain points for developing highly personalized in-app marketing campaigns.
Dig down and create customer segments that exhibit similarities based on customer behavioral analysis, and tailor onsite upselling and cross-selling offers accordingly.
With Userpilot's advanced user segmentation, you can group users by in-app events, content engagement (e.g., who engaged with checklists or NPS surveys), user attributes, etc.
That'll help you neatly organize all the data you gather and pinpoint behavioral patterns within different user segments.
You can use the insights to improve the customer retention rate
We could write a manuscript about the importance of customer behavior analytics for driving customer retention. But let's now learn how to apply customer data to reduce churn and improve customer satisfaction.
Analyze user behavior to find out where your product is causing friction. Fix it by improving user experience to prevent churn and thereby improve customer retention.
For example, one possible reason for customer churn can be the price.
Asking customers to pay top dollar for a product, especially if they haven't reached the activation point, will lead to a low retention rate.
To fix this, build a personalized customer experience (e.g., a personalized welcome flow), use trial periods to enable customers to experience full product value and remove any barriers they might have. This is one proactive engagement tactic.
How to perform a customer behavior analysis in six steps
In this part, we'll guide you through the six essential steps of customer behavior analysis.
In the end, you'll learn how to act on qualitative and quantitative data and gain insights into customer behaviors.
Step #1: Turn your customer base into granular customer segments
So you've collected plenty of customers' data points across different user journey stages, and now it's time to brush up on the data.
Although each user is different, they all share common characteristics. Thus, you can group customers by:
Jobs to be done: Different roles have different needs. For instance, the onboarding flow of your SaaS will vary for product managers and customer support representatives. They both use the same product, but their tasks are different.
In-app engagement: Some user segments will be super active, while others can visit the app several times per month. Learn the patterns of your power users and extrapolate their experiences to activate the stalled ones.
User feedback: By collecting user feedback and analyzing what different customers think about your product, you can find improvement points and inform your product roadmap.
Use Userpilot's advanced customer segmentation feature to create these user segments analyze data at a granular level.
Step #2: Examine each segment to identify trends
Once you've created segments, then focus on how each uses the product, what their roles are, jobs to be done and challenges. What does their workflow look like?
Using this knowledge, build the personas of your most valuable customers. Then, create modals, tooltips, and other relatable in-app experiences based on the collected data to prompt in-app engagement for stalled users in the same segment.
Here's an example of a customer persona.
Step #3: Analyze customer data from user feedback
Collecting user feedback is vital for customer behavior analysis. Run user surveys to gain insights into:
What do customers value the most in your product/service?
Which features are used the most/least?
What additional features do your customers need?
Do your users require additional training or a demo?
What do users not like about your product or brand?
What can be improved to better meet your users' needs?
In a nutshell, user feedback explains the "whys" behind consumer behavior and enables you to test out hypotheses.
To run contextual in-app microsurveys, use Userpilot. You'll get a detailed report on what areas of your product make customers happy or upset.
For example, by collecting NPS qualitative responses, you can use response tagging and group customer feedback into different themes to discover what motivates customers' loyalty and deters it.
This way, you make the quantitative data "speak."
Step #4: Compare quantitative and qualitative data
Let's understand what insights can quantitative and qualitative data give you on their own.
You can use qualitative data to understand customer behavior. And use quantitative data if you want to confirm or test something.
Say you would like to know whether your onboarding flow is helpful and indeed compels new signups to reach the "aha" moment. To do so, you can run an NPS survey and ask users to rate their onboarding experience.
Next, add a follow-up question to prompt users to elaborate on their scores.
Thus, you'll conduct customer feedback analysis and gain a more in-depth understanding of customer behavior.
You can go even further and segment people not only by the NPS score but also by the tags you've assigned to the qualitative answers that we have discussed in the previous section.
Step #5: Increase customer lifetime value by attracting the right users
You can discover user segments with the highest revenue and customer lifetime value with customer behavior analysis.
Analyze their behavior, feature usage, and firmographic data to leverage customer fit and bring success by:
Having a precise product positioning with an accurate value proposition
Tailoring your pricing plans and building premium tiers
Developing personalized in-app experiences from the welcome flow to the secondary onboarding
Implementing in-app messaging to inform users about product updates and guide them in feature discovery.
For example, Miro knows exactly who its customers are and what they are trying to achieve and uses this data to attract users with a straightforward value proposition.
Step #6: Use customer behavior analysis data to improve retention
Finally, use customer behavior analytics to develop personalized in-app strategies to improve retention.
Target the right user segment with the right experience and at the right time to contextually promote upgrades or prompt users to discover new features.
For example, if a trial customer has clicked your purchase button but didn't upgrade, you can reach out to them with modals and try to understand what's stopping them. Or incentivize them with a personal discount before the trial ends.
Use the same approach for disengaged users — group them and reach out to learn why they abandoned the product.
Customer Behavior Analytics Tools
Product managers use different product analytics tools to conduct customer behavior analysis. We recommend using the Userpilot and Hotjar bundle. Let's learn what's in each tool.
Userpilot
Userpilot is a code-free product growth platform that allows you to instantly act upon behavioral analytics by building in-app experiences.
With robust functionality for collecting customer behavioral data you can:
Combine different user attributes and in-app events to build user segments.
Use microsurveys to gauge customer satisfaction and collect user sentiment data.
Track feature usage and UI engagements and build custom events to understand how users engage.
Use welcome screens to collect information about your customers right after sign up.
For instance, you might want to study a customer segment interacting with certain features. In doing so, create custom events to record them and see their distribution in one graphic.
Hotjar
Hotjar is a behavioral analytics platform recognized for heatmaps and session recordings.
Heatmaps analyze and record customers' behavior on a selected URL—mouse movements, hovers, taps, scrolls, etc.
Then, Hotjar paints a snapshot of a URL in different colors. The most-interacted areas of a page are colored in red and orange. Likewise, the blue color indicates areas with a lack of interest.
Session recordings enable you to spy on how your customers interact with the product in real-time. The tool literally records what users do in the app. You can then replay sessions and study customer behavior. This feature helps significantly in locating friction points.
Conclusion
Understanding customer behavior unlocks many possibilities for designing and testing customer retention strategies. With the right toolkit, it's a piece of cake.
Want to get started with analyzing user behavior? Get a Userpilot Demo and see what data you can collect and how to act on it.