13 User Feedback Best Practices For Collecting In-app Feedback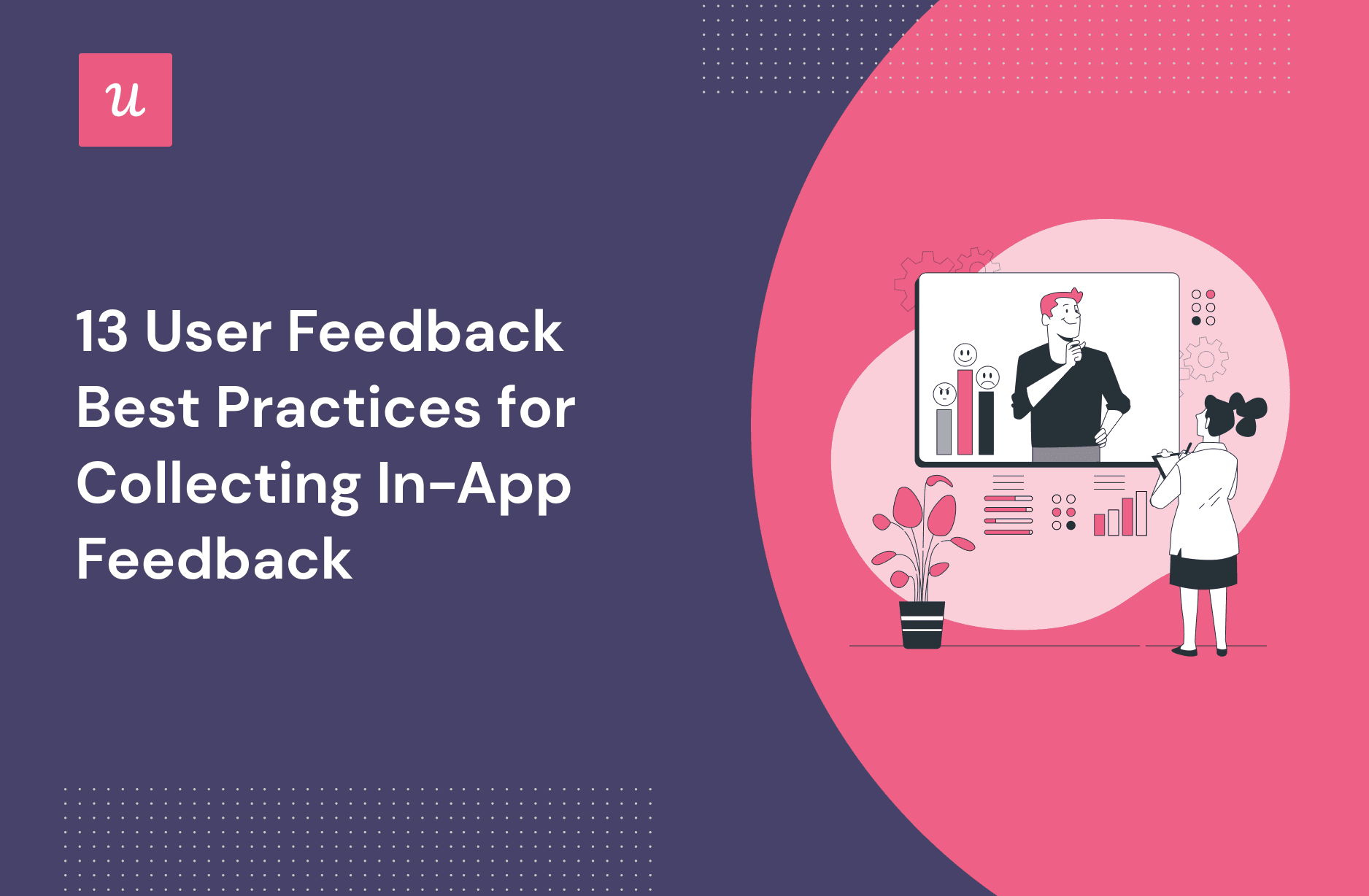 Are you familiar with user feedback best practices?
If not, you're probably finding a hard time getting responses from your customers.
In this article, we'll be explaining the value of user feedback and how to gather user sentiment, with a strategy in place.
Let's get started!
TL;DR
User feedback is quantitative and qualitative data provided by customers about what they think about a product and how many of them feel the same way.
User feedback enables you to collect responses from users who can provide unique insights on how to improve your product.
Show your surveys to the most appropriate segments during the right times to get highly contextual feedback.
Use different feedback surveys to collect a variety of customer experience scores like customer satisfaction, customer effort, and Net Promoter Score.
Collect quantitative and qualitative data to cross-reference responses from both and see if their answers align with each other.
Ask customers for feedback (active) or let them come to you with their thoughts (passive) to get more users to participate.
Create different variations of the same survey and run A/B tests for them to determine which version got the most engagement. Use the winning variant to improve the conversion rates of your surveys.
You can use a variety of tools to collect in-app feedback and analyze the data:
Userpilot and Usersnap are one of the best tools in the market.
What is user feedback?
User feedback is quantitative and qualitative data provided by customers about what they think about a product and how many of them feel the same way.
Why is collecting user feedback important
Collecting user feedback is critical for the following reasons:
Eliminates guesswork – Instead of guessing, ask what users like and dislike about your product to improve it. Use this information to determine the direction of your product's growth by accentuating what customers like about it and hiding what they don't.
Provides real data – A user feedback strategy enables you to regularly collect customer insights on autopilot. This supplies your SaaS with fresh data you can refer to when iterating your product.
Improves more than just your product – User feedback helps you learn more about your website's user interface, customer satisfaction and support, and other facets of your business. So you can make changes for the better based on their responses.
13 User feedback best practices to keep in mind when collecting user feedback
Now that you know why you must collect user feedback, it's time to know the right ways to gather them. Below is a summary round-up of the best user feedback practices below:
You must know why you're collecting user feedback in the first place.
Give your user feedback proper direction with the right strategy.
Target the most relevant segments from your surveys to get the most accurate feedback.
Set when the surveys appear to grab users' attention for increased responses.
Collect qualitative data to gather insights into their survey feedback.
Use different survey feedback types on your product to get varied responses.
Allow customers to leave feedback of their own accord.
Use micro feedback forms to gather contextual feedback about your product features.
Utilize tools enabling you to tag responses and uncover recurring patterns.
Run A/B experiments to improve your surveys' conversion rates.
Ask unbiased survey questions to give customers the freedom to speak their minds.
Close the feedback loop in the most professional way possible despite negative feedback.
Verify the insights from initial user feedback using user experience data.
1. Gathering user feedback should always have a purpose
Collecting user feedback is never done in vain. There should always be a goal in mind when gathering customer survey responses.
Below are objectives you can target when running a user feedback campaign:
Improve conversion rate – Ask users why they aren't clicking on buttons or filling out the sign-up forms on the page and how you can get them to.
Improve UX process – If users don't know how to visit a specific page on your app, you must find out if their problem stems from poor user experience (UX).
Improve a feature or product functionality – Let's say you launched a brand new product feature or have an existing feature that users don't use often. Get feedback from customers about what they think of it and find ways to encourage them to use it more.
Benchmarks and continuous feedback loop – Collecting your app's net promoter score (NPS) regularly, for example, enables you to keep track of the changes you've made and see if they produced better results.
You can use customer feedback software that lets you create feedback cycle intervals for users who responded to the NPS survey.
2. Have a user feedback strategy before you gather feedback
Next, use your "why" as the foundation of your user feedback strategy.
Even if you have a customer feedback goal, not fully realizing it into a strategy won't enable you to collect relevant data jam-packed with actionable insights.
To develop a strategy, you must determine the survey and automation flow type to achieve your goal. This will also help you decide which channels you'll get answers from.
Let's say you have an automated in-app onboarding flow for new members. You want to launch an in-app feedback survey (since this is where active new users will be) asking this segment how your onboarding flow is. Based on their answers, you know what improvements you must make.
3. Segment your users before asking for any feedback
When setting the wheels on your customer feedback strategy in motion, you must factor UX into the equation.
You want to ask the right questions to the appropriate user segment to get relevant and accurate feedback.
When collecting feedback about a feature, you can make the survey appear right after users engage with the feature.
You can also show the right feedback survey to the most relevant users With proper customer segmentation, you will show the right survey to the most relevant users.
4. Trigger user feedback surveys contextually
Reaching out to the right users with your survey is not enough. You also have to consider when the survey will appear on their screen.
Making your surveys show up just in time enables you to generate more responses from users.
If you want to get user feedback hassle-free, deploy in-app microsurveys for higher response rates. You can trigger microsurveys to only appear to selected user segments as well as the duration and frequency when they'll show up.
5. Don't forget about qualitative feedback
While getting lots of user feedback is good, getting users' thoughts about your product in their own words is even better.
This is why qualitative data is arguably the most vital user feedback data. It helps you collect customer insights that you can't measure in numbers.
Qualitative data gives you the reason why customers gave a specific score or chose an answer in your user feedback surveys.
When setting up an NPS survey, ask a follow-up question that will appear after users give their NPS score.
6. Mix user feedback survey types for the best results
We've already discussed Net Promoter Score (NPS) as qualitative data for your user feedback strategy.
As helpful as this dataset is, it's just one of many data types you can collect from your user feedback.
Customer experience surveys like customer satisfaction (CSAT) and customer effort score (CES) measure how happy users are with your product.
While these surveys share similarities with the data they gather, that doesn't mean you should stick with just one type.
Using multiple feedback survey types gives you the entire picture of what your customers truly feel about your business.
For example, you can run a CSAT and NPS survey on the same page on your page. But to get varied responses, change when and how they'd appear on the screen for the users to answer.
7. Let users provide feedback on demand
Surveys usually fall under the active feedback category as you're asking users for their opinion. But there is also passive feedback.
Active feedback happens when customers reach out to you with their input.
It's easy to pit both feedback types against each other to determine which is better. But you need both to get the full low-down about how your customers feel about your product.
Complementing your feedback surveys with always-on feedback widgets (live chat, chatbots, ticketing systems) lets you receive genuine responses from them without you even asking.
Slack greatly uses passive feedback by allowing users to leave feedback from any chat box they're in.
8. Collect user feedback in-app with short micro feedback forms
We've mentioned the power of the in-app feedback survey, and it bears repeating—it provides you with the most contextual responses compared to other survey types.
Let us paint an example here:
Suppose you want to collect user information about the latest product feature you launched.
Let's say you sent users an email asking their thoughts about the feature. By the time the users see your message (if they ever see it in the first place), they will have forgotten about the feature!
Now, compare this to an in-app feedback survey that appears immediately after users play around with the feature.
With in-app micro feedback forms, you can address concerns or issues with your product that need your utmost attention.
9. Tag responses and identify recurring patterns
Getting quantitative data is great but it won't tell you much if you don't understand what exactly your customers think of you, or what complaints they have.
This is where response tagging becomes handy. You may have to tag feedback and cross-reference them with additional datasets to determine recurring issues that groups of customers point out.
In the image below, you can see what specifically customers didn't like in the product and would like to make improvements. For example, 2 respondents think that there are missing features.
10. A/B test different feedback forms
If you're using different feedback forms and surveys on your product, you want to know how many customers engage with your surveys and whether they produce your desired results.
One of the best ways to stay on top of your feedback survey's performance is to run A/B tests.
By creating a different variant of a survey and running it against your existing one, you can see which one generates more helpful feedback. You can then run another test until you have maximized the engagement rates of your surveys.
Userpilot allows you to set up an A/B experiment by creating a microsurvey inside a modal or a tooltip and testing it against a goal.
11. Avoid adding bias in your questions when you ask for feedback
How you frame your survey questions makes all the difference.
Take the question below for example:
The question presupposes that the users were happy with your product. But what if they aren't? By asking them a question leaning towards an angle that doesn't apply to them, there's no chance they'll answer your survey.
Compare the question above to the one below:
The question here poses no assumption on whether the customer is happy or unhappy.
By eliminating bias from your line of questioning, you allow users to speak their minds freely about your product, which is what you want in the first place.
12. User feedback is a two-way process: close the feedback loop
The feedback loop refers to the process of acting upon the feedback received from customers. The goal is to acknowledge the feedback, thus closing the feedback loop.
Replying to their feedback makes customers feel their voices are heard and increases customer satisfaction.
On the other hand, one of the biggest challenges of closing the loop is acting upon negative customer feedback.
It's easy to get carried away by negative criticism, valid or not. But it presents a golden opportunity to show the world what your company is about.
Professionally addressing the situation and finding solutions will help you gain the respect of users and audiences alike.
Customers may not ultimately be happy with the resolution or compromise you provide to their issues. But you get to close the loop and meet your goal, which is all that matters now.
13. Pair user feedback with other UX analytics
Taking the gathered customer responses at face value may not tell you the entire story.
Let's say you received negative feedback from customers. Instead of making changes based on feedback, get to the bottom of it first via UX analytics.
Use a tool that enables you to implement heat mapping and session recordings on the pages in question and see how they interact with it.
Even better, interview these users via phone call to share each other's sides of the stories.
By collecting additional data that will help you piece together the entire picture, you can better understand where they're coming from and make more informed decisions to improve your product.
Best user feedback tools to collect feedback in-app
To help you implement the best practices above, below are the best tools you'll need:
Userpilot- for contextual in-app feedback requests
As a growth platform, Userpilot lets you create in-app feedback surveys to actively reach out to customers for questions about your product and its features.
Its advanced segmentation enables you to target the right customers at the right time, or based on product usage, to get as many relevant responses as possible. Other features include various survey responses and scores, user identification, and more.
Designing and setting up in-app survey feedback on Userpilot is easy, even without coding experience.
After entering the survey questions, select the design, color and layout. Choose when and how the feedback will appear, embed the code, and you're off to the races!
If you want them to participate in longer surveys from apps like Typeform, embed the survey in a modal that will appear in the app.
Usersnap – for always-on feedback widget
For collecting passive data, you can't go wrong with Usersnap. It helps complement your in-app surveys to get more responses and insights to improve your product.
You can also create multiple survey types to get various user feedback.
The feature request forms allow users to suggest what features they want your product to have. The tool also lets customers take screenshots and video recordings of their browsers with annotations to elaborate on the issue fully.
Conclusion
The process of gathering customer feedback begins by obtaining active as well as passive feedback using a variety of forms and asking the right questions.
You should also consider when and how you collect customer feedback. These methods help you collect user feedback that allows you to improve your product.
Want to collect in-app user feedback code-free? Get a Userpilot Demo and see how you can use in-app surveys to get more relevant customer responses.