New Feature's Success: How To Measure It and Increase the Chances of Your New Feature's Success?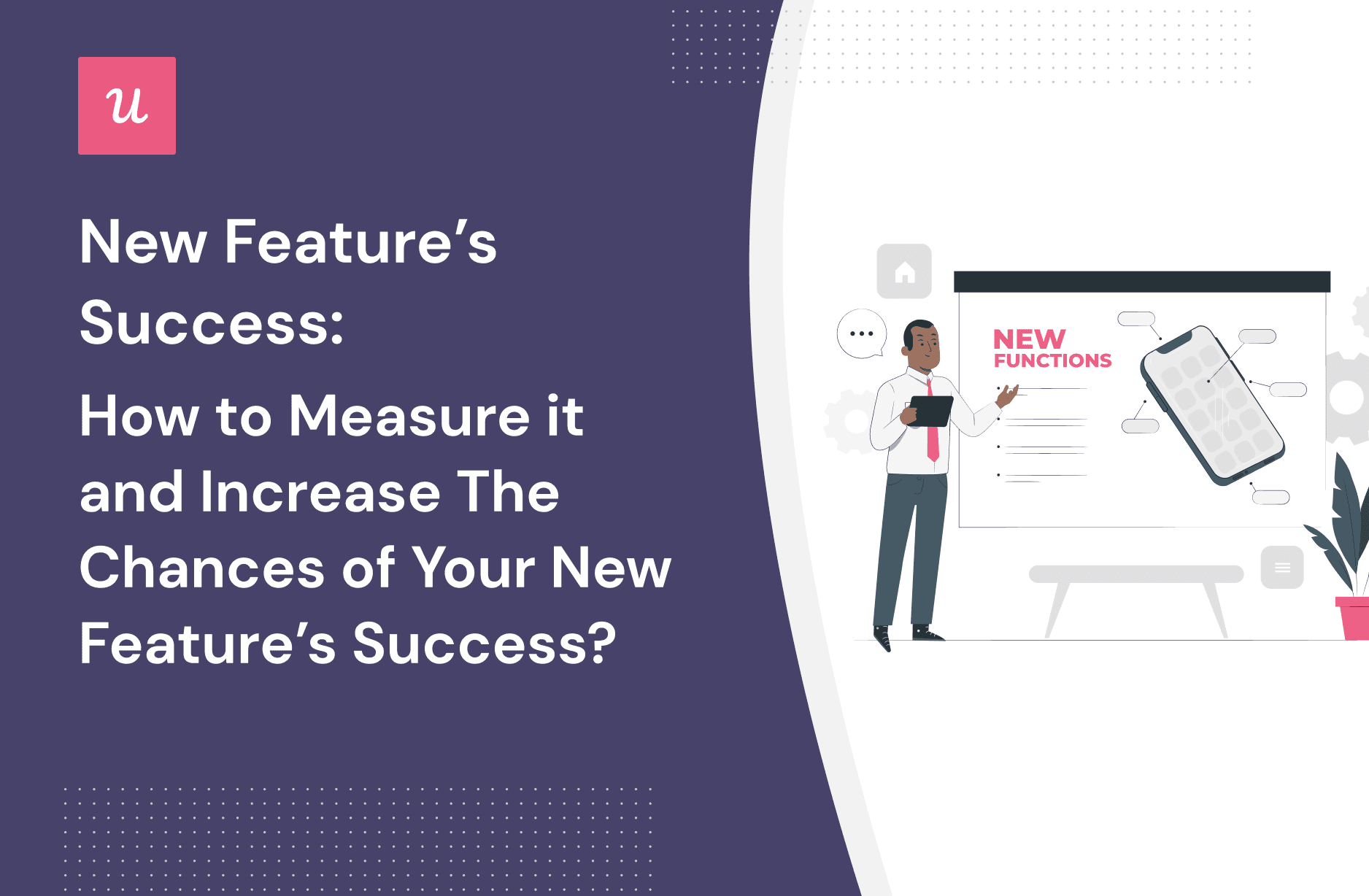 Wondering how to measure new feature success effectively?
Upgrading your product features and introducing new ones is a key part of a successful SaaS product strategy. But how do you measure the success of a new feature? Are the active users aware of the new update? How many users are finding value here? Is it improving the user experience and increasing your monthly recurring revenue?
Today's article is all about introducing new features. Additionally, you will know how to design an effective strategy to measure new feature success and five key metrics and KPIs that illustrate its performance.
Let's jump in!
TLDR
A successful feature delivers value to its users and achieves a high user adoption rate.
Feature success is defined by feature usage, customer feedback, as well as whether customers find value in it, and how it affects user retention.
Measuring new feature success lets you understand if customers are using the feature, whether they find it useful or if there are friction points that hurt the user experience.
Creating a new feature success strategy involves setting a goal for the feature, defining its success, choosing success metrics and KPIs, and monitoring progress.
To analyze the impact of the new feature, use feature tagging to monitor feature usage, use heatmaps to visualize interactions, establish custom events and track progress, and segment users by feature engagement.
The 5 key metrics for tracking new feature success are total active users of the feature, the frequency of feature usage per day, retention rate, net promoter score, and customer satisfaction score.
Here are some effective strategies to announce new features to customers and make them aware of the updates.
Use modals and tooltips to make new feature announcements
Arrange webinars to educate users
Send microsurveys to collect their feedback.
Userpilot allows you to create tooltips, modals, and other UI patterns to drive feature discovery and adoption. Get a free demo to learn more about the solution.
How do you define a new feature's success?
The definition of a new feature's success is not dependent on a single factor. Instead, you'll usually have multiple factors defining it.
Feature usage: The more users adopt a new feature, the greater its feature usage will be. You should track feature usage and learn which user persona utilizes this feature the most. You can then figure out how to improve user experience and feature adoption.
Customer feedback: Collect and analyze customer feedback using metrics like the net promoter score or customer satisfaction score. This will help you gauge user sentiment about the feature and identify areas of improvement.
Whether customers see value in it or not: Your users won't adopt a new feature unless they experience value from it. So make sure the feature is delivering value to the target user base.
How it affects retention: At the end of the day, each of your features should significantly contribute to a high retention rate. Once users find value in a feature, they become more likely to make repeat purchases in the future.
Why is measuring new feature success important?
Spending so much time and money on a feature that's not bringing in the desired results is pretty wasteful. Therefore, you should always measure the success of a new feature to know whether it can be improved or needs to be removed altogether.
Understand if customers are actually using the newly added feature
The most basic question you need to know is whether your customers are using the new feature. If your feature isn't engaging and useful enough, customers will lose interest in it quickly and won't bother to come back to it a second time.
Find friction points and make improvements
Your feature might be too complex for users to navigate or have more steps that users find unnecessary. Measuring the success of new features helps you identify friction points, bugs, or some other issues that users get stuck at.
Address these issues to show customers you care and offer them maximum value. This will increase the customer lifetime value and reduce customer churn.
How do you measure the success of the new feature?
You can measure feature success by multiplying user adoption with value.
Finding value within the feature is about how the user interaction will benefit your customers. A measure of value could be profit, revenue, NPS (Net Promoter Score), or some other metric, especially a core business metric.
There are 2 assumptions regarding user adoption:
Your product feature reaches a base audience who might be motivated to use it. It's essential to determine the right size of this audience to check whether the feature is viable. For instance, it won't be feasible to employ your product development team to work on a solution that only 2 people want.
Customers need to understand your feature's functionality, perceive its value, and engage with it. A customer doing all three suggests that your marketing communication is good at selling.
How to create a new feature success measuring strategy?
To measure a new feature's success, you need to formulate a strategy for measurement. Let's have a look at that.
Determine what the goal of the new feature is
You should create and launch a new feature with a specific goal in mind. It will not only attract the right users but also help you track its success.
Do you want to acquire new users? Retain more customers? Whatever your objective is, once you pin it down, it will be easier to select the success metrics and key performance indicators.
Define what success looks like
For each feature, your company will have its definition of success. This depends on the goal of the new feature. You may also have some specific objectives under an overarching goal. You need to figure out what particular outcomes will satisfy you the most.
Select the metrics and key performance indicators (KPIs)
Don't go measuring any metric just because others are doing so or because there are several confusing options to choose from.
Choose relevant feature success metrics and KPIs based on your goal and desired outcomes. You can track several metrics at the same time. Track and analyze the findings regularly to see if the feature has been a hit among your target customers.
Set up a tracking plan to monitor progress
Monitoring progress towards your goal is an ongoing process. Thus, you should set up a tracking plan to check the progress of your new features efficiently. If the feature is underperforming in any user segment, you should reach out to customers to know their pain points and address them promptly.
How to collect data to analyze the impact of the new feature
Here are 4 tactics you can use to analyze the effectiveness of a feature.
Use feature tagging to understand how customers are interacting with product features
Feature tagging is a perfect way to feature usage, as well as measure new feature success.
With Userpilot, you can tag any UI pattern that can get triggered any time users click on it, without having to code. You can track not only the clicks but also hovers and text inputs. This will give you a much better overview of what customers are doing in the app.
Use heatmaps to visualize customer's interactions with specific features
A heatmap depicts a graphical representation of user behavior. You can visualize behavioral data as hot and cold spots on the map and use a warm-to-cool color scheme.
Here, the warm colors identify the areas with the greater user interactions, whereas the cool colors highlight areas with fewer cases of interaction. The red zones are areas with the most interaction.
Your product team can employ heatmaps to observe user interactions with your new features and the usage frequency. This can help discover friction points that you can remove to make the feature easier to use and improve customer satisfaction.
Set up custom goals and track progress
Userpilot lets you establish custom goals and track their progress. You can pre-define the paths that users have to follow and even see the percentage of customers who have completed a specific goal.
Suppose you have a music streaming app where you've recently introduced a feature that allows users to share music with others. You can set up a custom goal – "Use the sharing feature" – and track progress over time.
Furthermore, you can trigger in-app experiences according to events, such as a customer signing up for a higher-priced plan containing the new feature. Then, you can offer an interactive walkthrough to guide them in its usage.
Userpilot allows you to combine goal-setting with feature tagging to make it a lot easier to track user behavior. You simply need to look at who is doing what based on your metrics and KPIs.
Segment customers by feature engagement
Create engagement cohorts based on user activity. You can set up feature engagement thresholds to segment customers into these cohorts. This allows you to collect actionable customer feedback.
For example, you could have a cohort of customers who engaged with the new feature only once, a cohort that read the new feature announcement but never interacted with it, a cohort that actively uses the feature, and more. This lets you identify passive users, active users, and power users.
In addition, Userpilot's advanced segmentation allows you to segment users based on characteristics like user behavior, usage pattern, and user persona.
You can also collect actionable feedback from each cohort across different stages of the lifecycle. This will give you a more in-depth understanding of how a new feature is being adopted by different cohorts and how you can iterate to produce better results.
Key metrics & KPIs to measure new feature's success
Out of the wide range of possible metrics out there, we have curated a collection of 5 key metrics and KPIs that will measure your new feature's success.
Total active users using the feature
The average number of times per day users are using the feature
Customer retention rate
Net Promoter Score
Customer satisfaction score
Total active users who are using the feature
Active users are the ones who engage with your platform frequently over a given period of time. You can categorize your total active users into 3 main groups:
Daily active users (DAUs)
Weekly active users (WAUs)
Monthly active users (MAUs).
The group you choose depends on the nature of your business and the particular feature. Not all features are built to attract a large number of daily active users. In that case, you can use WAUs or MAUs to find the percentage of total active users who are using the feature.
On the other hand, it might be important for you to have a high number of DAUs, but the results show a lower number. You can still observe how these early adopters are using the feature to find ways of improving their experience and your DAUs.
The average number of times per day users are using the feature
Some active users will use your feature more than once every day. Track this frequency to check whether your feature is capable of delivering this much to customers.
You can use segmentation to separate these customers and collect their feedback to know what particular thing they love about your feature. This can help you maintain the positive aspects of your feature.
Customer retention rate
Customer retention rate is the percentage of the customer base you retain within a specific period.
Measuring the retention rate in combination with feature usage analytics can help you see whether introducing the new feature helped to improve retention. High retention leads to greater average revenue per user and lower churn.
Net Promoter Score
The Net Promoter Score (NPS) measures customer satisfaction and loyalty. An NPS survey simply asks users how likely they are to recommend your product to others on a scale of 1-10. This separates users into 3 groups:
Promoters: give a score of 9 or 10
Passives: give a score of 7 or 8
Detractors: give a score of 6 or below
The NPS metric is the difference between the percentages of promoters and detractors. Moreover, you should add a qualitative follow-up question to learn the reasons behind each score.
Tagging NPS responses can reveal what customers like or dislike about a new feature or whether they are still unaware of it.
Customer satisfaction score
The customer satisfaction score (CSAT) measures user sentiment about a specific feature or user interaction. A CSAT survey directly asks users to rate their experience with a new feature.
Measuring CSAT helps you nurture strong customer relationships and optimize features to ensure repeat businesses. You can follow up on low CSAT scores by reaching out to customers with personalized solutions to their problems.
3 Super helpful tactics to ensure new feature success
Lastly, let's look at 3 very effective ways of improving feature success.
Use tooltips and modals new announce new features in-app
First, you should make sure your customers are aware of the new features. You can do so by making in-app feature announcements contextually so that users don't miss out on them.
You can use in-app UI elements such as modals, tooltips, and slideouts to send feature announcements and releases to customers.
Userpilot allows you to create these UI patterns code-free. You can also set up triggers based on pre-defined events so that customers can see the messages in the right place at the right time.
Organize webinars to educate customers on new features
Webinars are very useful in introducing customers to new features. They let you have one-on-one interactions about the feature, know their needs and opinions better, and give first-hand education on the features.
Use slideouts to advertise an upcoming webinar date and invite users to join the session.
Use microsurveys to collect customer feedback on new features
Microsurveys are an effective way to collect feedback on features. Send in-app microsurveys to collect customers' opinions on the new features contextually and uncover the aspects you should improve.
Apart from the NPS and CSAT surveys, you can use customer effort score (CES) surveys to know how much effort customers need to give to use the features.
Here's an example of a microsurvey that not only solicits user feedback but also provides a CTA for users to contact the support team if needed.
Wrapping it up
Measuring the success of new features is the key to customer satisfaction and retention. You should constantly search for areas of improvement and market each feature to the relevant user segments instead of trying to sell it to everyone.
Want to collect user feedback, and track how customers are interacting with your features code-free? Get a Userpilot demo to see how you can increase feature adoption and customer retention effectively.