UX Analytics 101: How to Collect and Use User Data in SaaS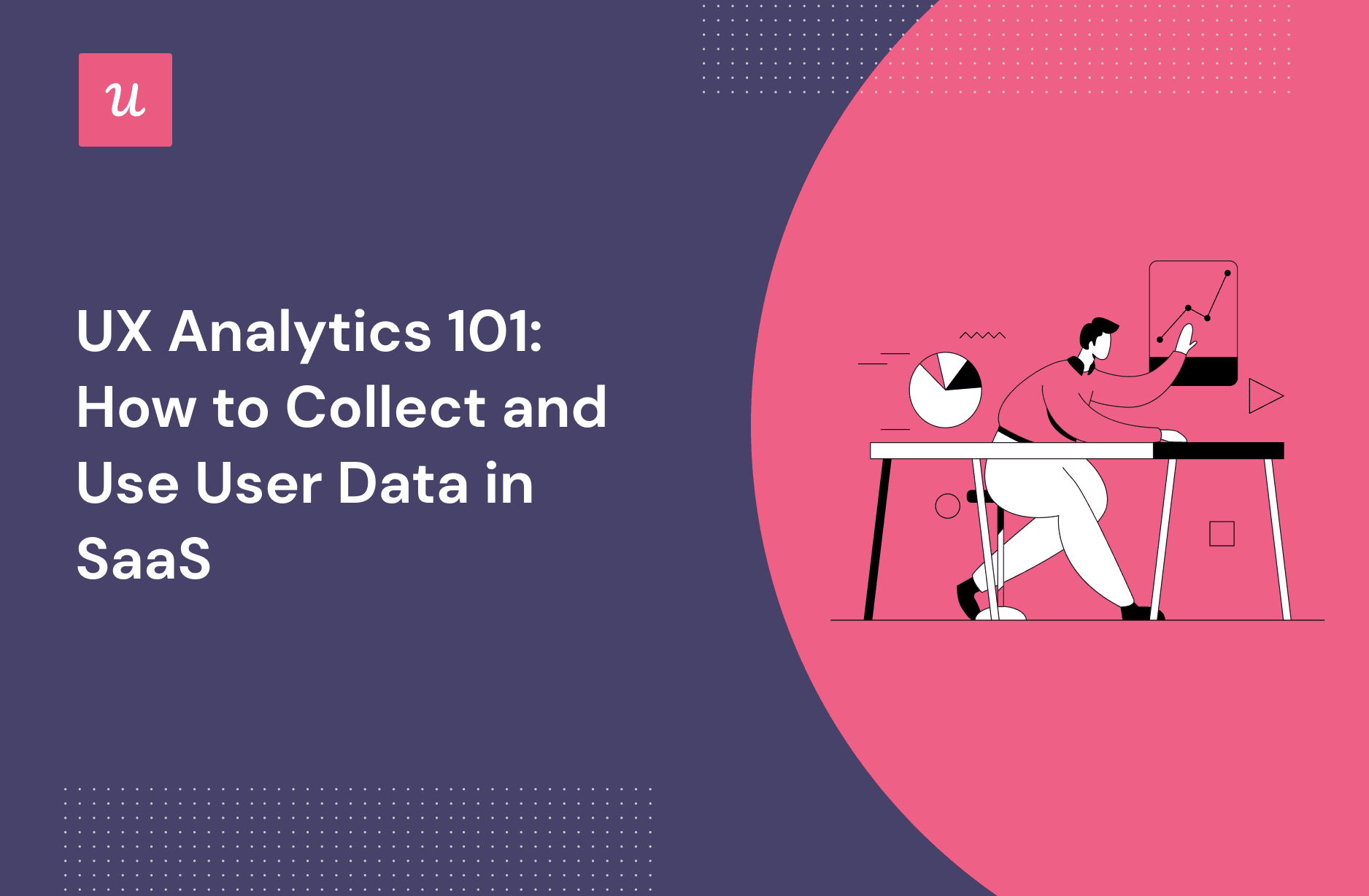 What does the term UX analytics stand for? How do you perform UX analysis for SaaS and make data-driven decisions?
This article will guide you through every important aspect of collecting and utilizing user behavior data to drive product growth.
You will learn how to spy on users' experiences in real-time and turn insights into a data-driven design that will help to improve activation and customer retention rate.
TL;DR
UX analytics refers to analyzing how the users engage with your product UI and how is their overall experience while using the product.
Always use both UX analytics quantitative and qualitative data for better insights.
In-page UX analytics data tracks click data and tell you exactly which features your users are engaging with.
Use heatmaps to identify what's dragging customer attention on the UI and what's ignored.
Session replays let you fully understand the way users engage with your product and capture friction points.
User journey and funnel analytics tools show you at which steps in the user flow friction and churn happens.
For effective UX analysis, categorize and tag all data points to turn qualitative data into quantitative data and uncover patterns.
Prioritize bug fixing and updates based on what will lead to the biggest outcomes. Break down all problems into four categories: blocker, critical, medium, and low.
Use story mapping before designing and coding the final solution to visualize potential user flow and put brainstormed ideas on paper.
After updating the product, run A/B-tests and NPS surveys to catch and refine minor drawbacks.
What is UX analytics?
UX analytics stands for user experience data and it's all about gathering and interpreting data about user's behavior on a website or in-app by tracking actions like:
moves of a cursor(mouse) within web pages
how many times the user clicks on the button
how fast do users get to an "Aha!" moment
how much time customers need to complete specific tasks, etc.
It enables you to spot friction points in the customer journey and make it seamless to optimize conversion rates and customer experience with your product.
Qualitative data analytics vs. Quantitative data analytics
There are two methods of user research — qualitative and quantitative. They compliment each other and can not be substituted.
Quantitative UX analytics is all about quantifying the experience in numbers. Good or bad, neutral, very bad, etc. But it doesn't tell you the why behind it.
Qualitative UX data analytics tells the logic of the user experience with a web app. If simplified, qualitative UX research data help product managers figure out the answer to why some users interact with your product in a particular way.
There are three popular methods of doing qualitative UX analysis:
One-on-one customer interview
Customers' observation (session replays)
Open-ended surveys
All together, UX analysis using both types of data enables you to make data-driven design decisions to reduce churn and create an unforgettable user experience.
Is Google Analytics data visualization enough?
Google Analytics (GA) is one of the real-time web analytics tools. It tracks new visitors to the website and maps their behavior.
Although GA lets you set up custom events to track down the user flow. It's built to track traffic data and how users navigate. Eventually, you will see a series of actions like new sessions, new signups, etc.
Good for marketing but almost useless for product UX analysis where you need to also see what the users do on a specific page.
Why is it important to track UX analytics data?
If you want to make product updates that matter to users and lead to revenue growth, you must remove friction in the user flow and built the best experience.
Therefore, you need the data to rely on —quantitative (to spot how frequently and where customers encounter issues) and qualitative (to get answers to why users find it difficult to interact with concrete product features).
Below we'll go through three common use cases where UX analytics data helps.
Identify issues in the user journey and reduce exit rates
Product bugs and hard-to-navigate UI's are one of the main reasons customers abandon your app.
UX analysis helps you to anticipate and reduce friction points in your product.
By implementing heatmaps, session replay, or open-ended surveys, you understand where the users get stuck and why. Act on those insights and you will reduce exit rates.
Inform design decisions and improve the product based on insights
If you don't understand where friction happens, how do you know what should be fixed?
There's a saying, "what gets measured gets managed."
Use quantitative data visualization to find actionable insights on problematic areas and prioritize the next sprints accordingly.
Identify bugs with "rage clicking" tracking
In short, rage clicking is when a user desperately clicks in the same spot on the website (or in-app), expecting something to happen that isn't happening. It's a straight indicator for a bug or bad UI.
Seize such moments and fix the nature of rage clicking to prevent users abandon your product.
UX analytics tools and what type of data analytics you collect with them
The good news is that there are digital products for UX analysis.
Here's how to find repetitive problems in UX, how to map user behavior and unravel pain points, and how to perform usability testing.
In-page web analytics UX tools (click tracking):
Having measured and compared how many times users click on some UI elements in a product, such as filters or specific buttons, we grasp the level of likability of one or the other feature.
"Okay, but how to actually track that?" — you may ask me.
Use Userpilot feature tagging. This allows you to select any UI element on a website or web app without writing any code and then track the number of clicks, directly inside the dashboard.
User feedback widget tools
There's a category of widgets designed for continuous user feedback collection. We call them the "always-on" widget.
Usually, it's a small icon floating on the UI and letting users give feedback on specific features or experiences whenever they feel like that.
What's cool is that you can bond unique one-question surveys with different product pages and receive very precise feedback.
Using tools like Hotjar, you can embed these into your product without the need to code them from scratch.
User journey and funnel analytics tools
If customers run into bugs, misleading UX, broken links, or other obstacles that slow down their progress, they're likely to churn. As product managers, we must be aware of such issues in-real time to fix them ASAP.
That's when funnel analytics tools come into play.
They gather the number of users who completed important steps in the user flow day in, and day out and highlight potential gaps.
Thanks to Mixpanel, an analytics platform, you can set up custom events to monitor different types of user interactions and figure out what steps cause friction.
Heatmaps analytics tools
I love heatmaps a lot. Let me explain why.
When designing a site, we anticipate user experience and try to adjust color patterns, the place of every element, illustration, etc., to deliver value to the end-user. But how do we know what UI elements on our website are indeed drawing attention?
To figure it out, you can use Hotjar's heatmaps.
Hotjar collects data on users' clicks, cursor movements, u-turns (return to previous pages), and scrolls.
Next, the tool highlights elements of a site where users click regularly.
Thus, you can analyze ignored places and make changes to improve conversion rate optimization.
Session recordings analytics tools
Then there are the session replays you can use.
Record user sessions in real-time to replay them and analyze how customers are engaging with your product at different steps through their journey.
You can spot "rage clicking," broken links, misleading marketing messages or insufficient product hints, etc.
These help to understand the why.
Usability testing tools
Usability testing is more about in-person interactions with a group of customers or individuals.
Use this to get in-depth insights on how customers experience a product and what should be changed to accelerate activation or facilitate product adoption.
Literally, product managers watch how a user is engaging with their product, ask leading questions, and document every little detail.
Although it sounds time-consuming, there's a bright side. Jason Nielson, Nielsen Group — UX training and consulting company—said that you need to hold up to five interviews only and still gather relevant data.
Questions that UX analysis help answer
Before we move further and find out how product managers utilize collected data, let's double-check our findings. An effective UX analysis will unlock insights into:
How do users expect to interact with your site or app?
How easy is it for users to switch between the most used features?
What's the shortest path to value?
What are the friction points in the user journey?
What's the most used part of the product, and how do users engage with it?
Are there any bugs deteriorating the user experience?
Which user behavior is correlated with power users?
If we're all set and have answers to all these questions, let's jump to the next chapter.
Steps to performing a UX analysis after collecting UX data
Once you've collected the user behavior data, how do you act on those insights?
Here are six essential steps to get from unstructured data points to an updated roadmap and feature release plan, using the data.
Organize and tag issues
Check for recurring issues using qualitative data
Prioritize fixes
Brainstorm solutions using story mapping
Implement and test
Identify main issues using qualitative user research data
Although it sounds simple and obvious, it's hard to apply. Imagine how many data sets you will gather by recording sessions and analyzing heatmaps and answers from the "always-on" widget.
Not to drown in the ocean of data, identify big issues using quantitative data, and then get insights from qualitative analysis data to understand the main reasons for churn. Check important milestones in the journey and:
Organize and tag issues
Let's say that our goal is to optimize the conversion rate to signups. To this moment, once a user clicks on "Create an account," we ask them some qualification questions like company name, headcount, industry, role, etc.
For some reason, new registrations have been dropping for a week.
Our first step to cracking it is to identify the issue. Next, look at session recordings or heatmaps to understand customers' flow.
Plus, launch in-app surveys when a user moves the mouse to close the tab. Ask them why are they abandoning the page and offer help.
As soon as we have completed the qualitative analysis, let's turn it into a quantitative one. To do that, create categories and tags so we can calculate and prioritize issues:
Category: signups, activation, upgrading
Tag 1 (what's wrong): link, button, content
Tag 2 (outcomes): hesitation, exit, anger
Hotjar lets you tag recordings to keep track of what's important. If you want to identify patterns and also anticipate churn, try using NPS surveys and tag recurring themes in responses.
Check for recurring issues using qualitative data
NPS survey report above is not only for identifying an issue at the moment but also for recognizing recurring or more complex issues that are causing friction.
As illustrated, users are complaining about Instagram's direct posting feature. If something was fixed before and complaints are still piling up, we need to get another round of watching session recordings or conduct in-person usability testing.
Prioritize fixes
This is the most tricky point for product managers. Would you add bug fixes for 100 user requests to the next sprint or 123 requests for a new feature, or maybe three different bug fixing requests with lower numbers?
Remember one thing: bugs appear every time in different features. Sure thing, we have to fix them all but prioritizing goes a long wait to save your resources.
I recommend dividing all bugs into four categories:
Blockers: a problem that blocks the full functionality of the product — it must be solved instantly.
Critical: the issue makes it impossible to use a decent part of a feature. For instance, we can create a report but cannot filter.
Medium: inconveniences that will irritate users long term and cause them to churn.
Low: customers are annoyed by minor issues that don't expose experience.
Brainstorm solutions using story mapping
Story mapping is a way of visualizing a potential user path. Once we combine quantitative and qualitative data, we pinpoint the problem.
The next step is to look at the whole picture and how exactly a new feature or bug fix will affect the product experience. Story mapping helps us glimpse into the future and anticipate a user path, breaking it down into activities.
Eventually, we create a skeleton (draft) for UX design and development that will fix the problems we uncovered.
Implement and test
It's time to build a new feature and test it in the wild. There're three essential steps for seamless product updates:
Code the solution users are waiting for.
Launch in-app surveys to measure customer satisfaction.
Analyze collected data and refine launched features in the next sprints.
Why not start now?
Conclusion
Don't neglect to conduct UX analysis if you aim to build a product that customers will love.
Want to get started with UX analytics? Get a Userpilot Demo and see how you track feature usage using feature tagging and launch in-app surveys to collect feedback data.