Customer Feedback Collection Methods and Best Practices for SaaS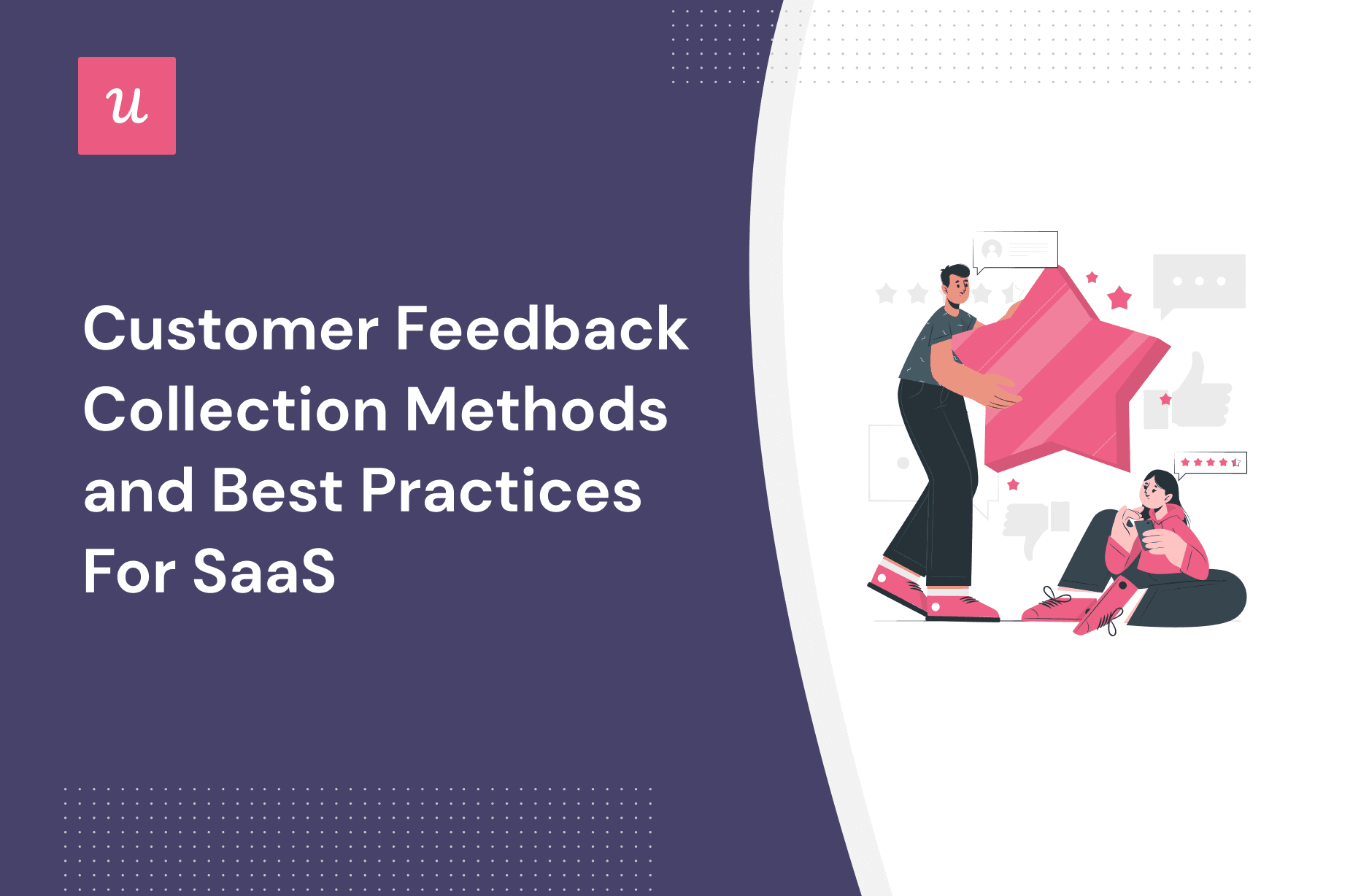 Customer feedback collection is the lifeblood of any successful SaaS company.
Understanding how users feel about your brand, finding areas for improvement, and implementing the necessary changes to meet customer expectations are what give you a competitive advantage.
Let's explore some customer feedback collection methods and best practices for scaling up your efforts.
TL;DR
Customer feedback is the process of gathering feedback from customers after they have used your product or service.
Customer feedback surveys help you identify points of friction with the user experience and enhance the customer experience.
Here are some effective customer feedback methods for SaaS:
Trigger a feature survey after a user interacts with a specific feature for the first time. Ask valuable questions about their experience, and use the data gathered to improve the feature.
Display an exit survey every time a customer churns to collect feedback.
Gauge customer satisfaction at multiple touchpoints with customer satisfaction surveys.
Measure customer satisfaction and advocacy by triggering an NPS survey at various touchpoints.
Use an automated email survey to collect feedback from inactive customers.
Collect customer thoughts with always-on feedback widgets that blend in with the UI.
Use a public roadmap to collect and prioritize feature requests.
Collect positive and negative feedback from review sites. Reply to customers in each case, and implement necessary changes.
Create fake door tests to validate a new idea for a feature that doesn't exist yet.
Interview actual users to gain in-depth feedback about their needs. Ask specific, open-ended questions that will allow the user to give answers beyond "yes" or "no".
Set up screen recording to observe users while interacting with your product and see where they're lingering or ignoring.
Use heatmaps to perform qualitative research and monitor user interaction on screen while they work in their natural state.
Customer feedback collection best practices:
What is customer feedback?
Customer feedback is the information and insights customers give you about their experience with your product. It can come from a variety of sources — a customer survey, comments on forums, social media, e.t.c.
Why is it important to collect customer feedback?
Customer feedback is important for a variety of reasons. It can help you understand your customers' needs better and improve the quality of your product and user experience.
Here's why collecting customer feedback is also important:
Customer feedback uncovers product improvement opportunities
Your customers are the best people to suggest where your product needs improvement.
For example, they can suggest whether to add a new feature or improve an existing one. Getting feedback will save you a lot of time, but it will also enable you to build a product that people really want.
Identify points of friction with user insights and enhance the customer experience
Customer feedback strategy reveals areas where customers are having problems in their user journey. Taking note of this feedback will help you simplify your user experience, improve user satisfaction, and, in the long run, reduce churn rate.
Collecting and acting on feedback boosts customer retention and loyalty
Listening to your customer's voices and implementing their suggested feedback makes them feel heard. This, in turn, will boost your customer retention and loyalty.
Customer feedback collection methods and strategies for SaaS
Now that we've covered what customer feedback is and why it's important, let's take a look at how to collect feedback from your customers without irritating them.
Here are some ways:
Trigger in-app surveys based on user behavior
Use the active feedback collection method to collect customer feedback while they're using your product. The best time to trigger this feedback is when a customer reaches a milestone or completes a predefined action.
In-app surveys are probably the best way of collecting feedback. They are contextual, less distracting, and timely, and the experience is still fresh in the user's mind. Plus, they come in different types for different situations. Here are some below:
Trigger feature surveys after the user have interacted with a feature
Trigger a feature survey if a user interacts with a specific feature for the first time and you want to learn about their experience with it. Or if you have just launched a new feature and want to collect insights to improve it.
Ask specific questions that will provide valuable insight into your product. Keep survey questions short (open-ended or close-ended will do) and straight to the point.
See how Postfity does it.
Understand the reasons behind churn with exit surveys
It's sad when a customer churns. However, don't let them go off without finding out why. Hence, the need for exit surveys.
Trigger churn surveys to gather feedback from users when they decide to cancel or downgrade their subscriptions. Use the collected feedback to improve your product to retain the rest of the users and reduce churn in the future.
Here's an example from Asana:
Gauge customer satisfaction scores at multiple touchpoints across the customer journey
Customer satisfaction surveys are simple UX surveys that companies trigger at multiple touchpoints to get a sense of the overall user experience. They're short, straight to the point, and often contain a single close-ended question, rated on a 10-point scale. Sometimes, they're displayed as emojis.
Measure customer loyalty with Net Promoter Score (NPS) surveys
An NPS survey is a customer satisfaction survey with a 10-point scale, used to ask users how they're likely to recommend the product.
Ideally, an NPS contains two important questions: first, a scale to ask about their satisfaction; and second, a qualitative follow-up question to understand the reason for their score.
Measure NPS after your users have been with you for a while and see if you managed to turn them into loyal customers, and decide on your further actions.
Use automated email surveys to collect customer feedback at milestones
Reaching out via email is another active feedback collection method. However, when compared to in-app surveys, email surveys are less effective and have a lower response rate.
Email surveys work well for customers who don't log in often enough to see the in-app surveys. Or simply, if you don't want to interrupt the user experience.
Collect passive feedback with always-on feedback widgets
Collecting customer thoughts with an always-on feedback widget that blends in with the UI has become one of the UX trends of 2022.
The great thing about passive feedback is that it doesn't interrupt the user experience; nor does it force the user to give feedback before they can proceed with their actions. Users can instead submit feedback at their convenience.
For example, Miro collects feedback at different touchpoints by inserting a "send feedback" button at the bottom right of each screen.
When users click on this button, they can give their feedback response by clicking on any emoji representing how their experience has been so far.
Likewise, Userpilot's feedback fidgets integrated into its resource center allow users to leave their feedback as they explore the resource center.
Users can also suggest ideas for features they hope to see on Userpilot.
Use public roadmaps to collect feature requests
A public roadmap is a snapshot of a company's work-in-progress, recent releases, and future releases. They communicate your company's mission, vision, and future plans. They're also a great place for users to leave feature requests or vote for their favorite feature ideas suggested by others.
As the name implies, public roadmaps are public. Meaning anyone can view it and leave feedback about each new feature or suggest new features, not on the list. This way, SaaS companies can know the minds of their users and create features they like.
Get valuable customer insights from reviews and brand mentions
What people say voluntarily about your product and brand matters. The most sincere feedback is found on review sites. This type of feedback is usually extreme, either very positive or very negative.
Think about it: no one mentions a brand unless they are really happy or very angry with them. Either way, both feedback types are highly relevant. Good feedback tells you what to double down on.
Thank users who give you a positive response. It makes them feel listened to and drives customer loyalty in the long run.
Negative feedback, on the other hand, reveals areas for improvement. If any, respond quickly to unhappy customers and show that you care. Neglecting it for too long makes your user feel alone and devalued.
Invite customers to give feedback on a beta feature with fake door testing
Fake door tests are a great method of collecting feedback for beta products. As the name implies, it means a way to quickly test the viability of a new idea. Only this time, the feature doesn't actually exist… yet!
How to run fake door tests? Simple! Just create an in-app notification announcing a new feature to users and inviting them to try it out. When the user clicks on it, let them know that the feature isn't ready yet
If the feature sparks their interest, invite them to test it and give beta feedback on it.
Here's an example of a fake door test we created with Userpilot:
Gather in-depth feedback and build trust with user interviews
One-on-one user interviews are one of the oldest feedback collection methods. You get to empathize with the users, ask them specific questions, and gain in-depth feedback on their needs.
Unlike other methods of feedback collection, interviews require more time and energy. Plus, finding the right customers can make the entire process more tedious and slow.
Collect user sentiment data through observation
Feedback doesn't always have to be direct. The whole idea is to understand how your users respond to your product, and this can be captured through screen recordings. You can observe your users while in action and see where they are struggling.
Because users have no idea they are being watched, they work in their natural state. Screen recordings are easy to use and easy to set up.
Perform qualitative research and spot friction using heatmaps
Another form of indirect feedback is through heatmaps. This type of UX analytics works great in addition to satisfaction and effort surveys and gives you more details about where users are looking and lingering.
For instance, you can monitor user interaction on a screen, like how far down a user scrolls on a screen, areas where they hover their mouse, and where they click. You can get these details without sending out a customer survey.
Customer Feedback Collection Best Practices
To ensure that your feedback collection process meets your own standards and expectations, consider these best practices:
Segment your users before you gather customer feedback
Asking the same questions to all users will not help collect relevant data. You need to segment users based on certain characteristics they share.
For example, you can segment users based on their in-app behavior and engagement, user attributes, and even previous feedback.
Mix and gather both qualitative and quantitative feedback
To get accurate feedback in your surveys, combine qualitative and quantitative research. Both are necessary, and bringing them together gives you a holistic picture of your research.
Ask quantitative questions first, then follow up with an open-ended qualitative question to back up your findings and get actionable insights.
For example, you can start a new feature feedback survey by asking a multiple-choice question.
Keep surveys short and contextual to avoid survey fatigue
Don't bombard users with too many questions. That will cause survey fatigue, meaning they'll just leave your survey.
Instead, break questions into bits and trigger multiple microsurveys at intervals so that questions don't get overwhelming.
Offer loyal customers incentives for more in-depth feedback
Loyal customers are more likely to invest in the development of your product, especially if you show appreciation for their efforts and reward them.
This is not to say that you have to reward the customer every time they answer 2-3 short questions. However, if you know filling out your survey is gonna take a lot of time and effort from their side, it would be nice to acknowledge their efforts and give them a small gift.
Don't forget to close the customer feedback loop
Collecting feedback isn't enough. Don't forget to thank them for their thoughts and keep customers updated afterward.
The customer reported a bug and you fixed it? Cool, follow up and tell them that you listened to them, took action, and thank them for their patience. This is what closing the feedback loop means.
Best software for collecting customer feedback
Using customer feedback software helps you collect customer feedback from various sources and allows you to analyze the data you receive.
Here are some of the best tools for collecting customer feedback.
Userpilot- best for collecting feedback with in-app surveys
Userpilot offers a range of features that make it easy to collect and analyze feedback.
With the advanced segmentation feature, you can group users based on different characteristics such as payment plans, their stage in the customer journey, location, and so on.
Then you can trigger tailored feedback surveys for each user segment at the right time to ensure that users fill them out.
In Userpilot, you can also customize the in-app survey design using themes to stay consistent with your branding. You can design feedback forms that easily blend in with your UI.
Userpilot also automatically calculates your NPS score and lets you follow up after the initial rating to collect qualitative responses and understand the reasoning behind the score.
Then, you can tag qualitative responses and identify recurring patterns.
For passive feedback, Userpilot's feature tagging functionality helps you understand how users interact with each feature in your product.
Simply tag your features and then start tracking how users are using your product and how often.
Watch the product usage data and choose when to keep, make improvements, or sunset a feature.
Hotjar- for indirect feedback collection with heatmaps and session recordings
Hotjar is a web analytics tool that uses heatmaps and session recordings to collect customer feedback. It allows you to capture your customers' thoughts, opinions, and feelings about your website.
Use it to measure visitor engagement and how users interact with your website by recording their mouse movements, clicks, and long presses.
Conclusion
It's undeniable that customers are the lifeline of your business. Collecting feedback from them helps you understand them better and build valuable products they enjoy using.
You can collect feedback through surveys, support tickets, one-on-one interviews, and more. The most important thing is to collect feedback contextually and close the feedback loop after you've implemented the feedback.
Want to collect customer feedback with in-app surveys code-free? Book a demo call with our team and get started!