Active vs Passive Customer Feedback: Which is Better for SaaS?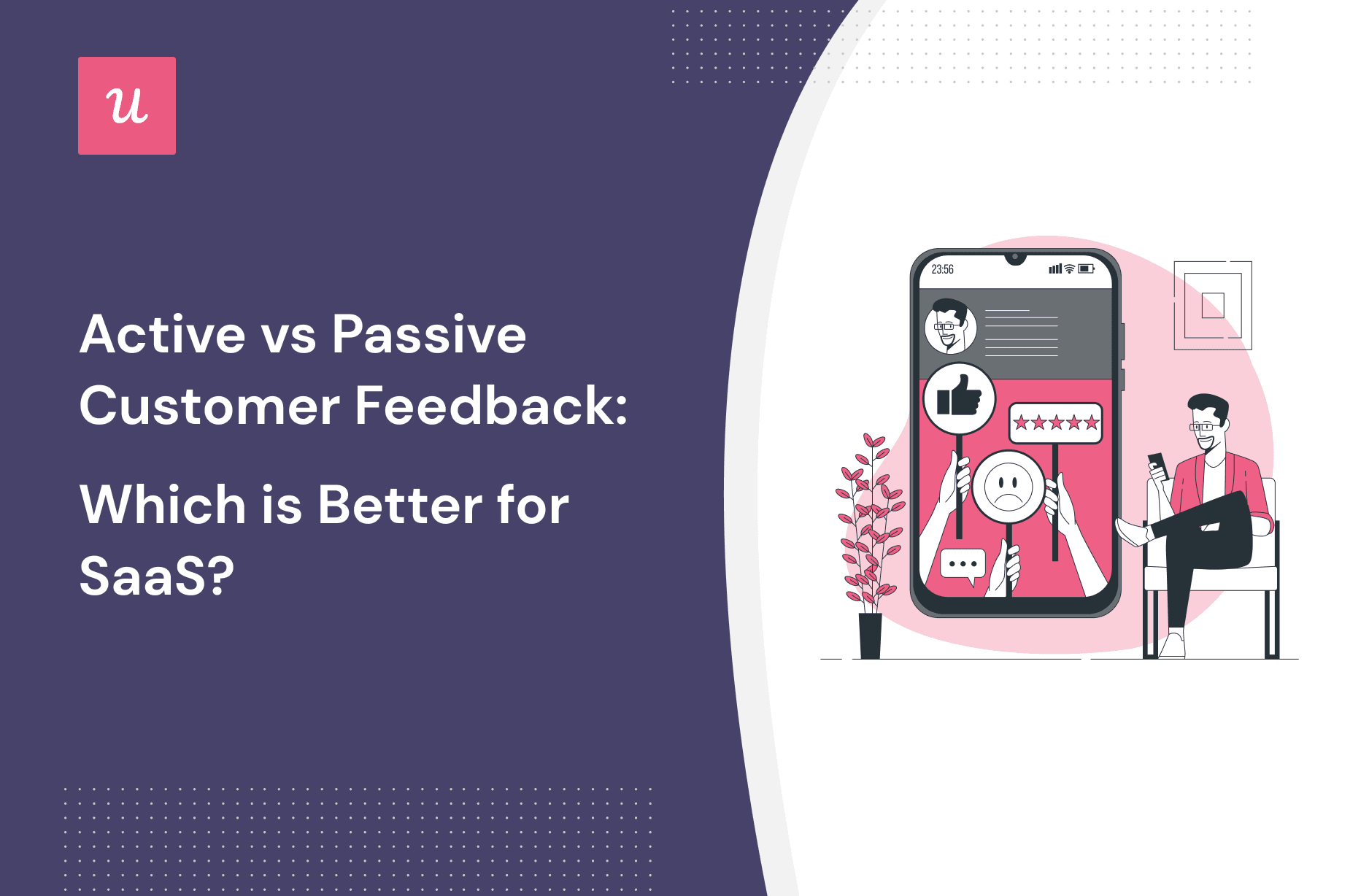 In this article, I'll show you which feedback approach is better for your SaaS and the right tools for collecting it.
Let's jump right in.
TL;DR
Customer feedback is the data you collect on customers' evaluation of your product/services.
Feedback is essential for SaaS companies because it helps product teams improve the user experience.
Both active and passive approaches give you valuable insights, and you need them to balance your customer feedback strategy.
Active feedback is when a company contacts customers directly to seek their opinion.
Product managers prefer active feedback because it's targeted, contextual and specific.
There are four primary ways of collecting active feedback: in-app surveys, email feedback surveys, usability testing, and user interviews.
In comparison, passive feedback is the one initiated by the user.
The passive approach is beneficial because it doesn't disrupt the UX and shows users that you're dedicated to meeting their needs.
Here are five ways of gathering insights passively:
Use blended feedback forms in different parts of your product to get granular insights.
Study product usage data for a better understanding of users' in-app behavior.
Use a brand monitoring tool to track social media mentions.
Check what customers are saying about your product on third-party sites.
Uncover customers' pain points by analyzing support tickets.
Start collecting feedback in-app with Userpilot.
What is customer feedback?
Customer feedback is all the data you collect on a customer's experience and expectations of your product and services.
Understanding what your customers have been through with your product and what they require makes it easier for product and customer success teams to fix any loopholes causing friction.
Why is customer feedback important for a SaaS business?
Both positive and negative feedback factors into the growth of your SaaS company.
Here's how you can benefit from regular feedback collection:
Understand what users need –be it new features, integrations, and other product functionality
Uncover customer pain points and eliminate friction from the product, resulting in a better user experience
By implementing customers' suggestions, you can boost customer satisfaction and as a result, retention
What is active feedback?
Active feedback is a company-initiated approach to feedback collection. It involves directly asking customers to provide feedback.
This can be achieved through in-app feedback forms or emails triggered for the customer once they reach a milestone or use a specific feature.
Benefits of collecting active feedback
Active customer feedback is the number one method of collecting user insights and comes with valuable benefits:
It is contextual, timely, and specific since you decide when to trigger a survey and to which customer segment
Active feedback lets you collect data about specific parts of your product through targeted microsurveys
you can use multiple types of surveys or methods that will help you understand the overall satisfaction
How to collect active feedback
You can ask customers for feedback whether in-app or outside of your app. Here are some methods you can try.
In-app surveys
In-app surveys are highly targeted, timely, and contextual.
In fact, pushing a survey directly in-app guarantees a higher response rate if triggered at the right moment.
Emails can easily be missed or ignored and even when the user engages with them their experience may not be fresh in their memory so that they can provide relevant insights.
Here are five great in-app surveys you can use.
Net Promoter Score [NPS]
An NPS survey measures customer loyalty with one question: "How likely is it that you would recommend [product] to a friend?"
Give users some time to engage with your product before asking them about their loyalty and make sure to trigger this survey at different points across the customer journey.
Customer Effort Score [CES] surveys
CES surveys track the perceived effort in using your product, such as:
engaging with a feature
contacting support
or achieving intended value from a product
With insights from this survey, you can uncover friction points in your product and work on eliminating them so as to reduce the influx of support tickets and time to value.
Customer Satisfaction [CSAT]
CSAT surveys measure how satisfied your users are with your product or service. Post-survey, you can incorporate customers' useful feedback to enhance product features or improve your customer service for a better customer experience.
Using emoji instead of a numerical scale is an easy way to assess how users feel.
You can also add an open-text field that encourages users to submit feedback on what could be improved about the product. This way you can collect qualitative and quantitative feedback in one survey.
Feature feedback survey
Feature surveys are another excellent way to gather customer feedback on specific parts of your product.
They can help you determine:
how valuable your new feature is
how easy it is to use
and what needs to be improved
Asides from tracking specific data about certain features, feature feedback surveys are also a good way to collect feature requests.
Churn survey
Churn surveys are typically triggered after customers decide to cancel or downgrade their subscription plan. With churn surveys, you can understand why customers decide to leave and implement actions to reduce your SaaS churn rate.
Deploying in-app churn surveys instead of email gives you a chance to change the customer's mind by offering personalized alternatives based on their initial response.
Email feedback surveys
Not all customers will be regular users of your application. That's why collecting active feedback through emails is a great way to reach your infrequent users and still get actionable data from them.
Whether you're sending long or short-form email surveys, remember to keep them personalized and engaging.
Usability tests
Usability testing is a UX research method used to identify design problems and areas of improvement. You can test your product or certain parts of it with a group of participants under the supervision of the product designer.
Asking users to partake in such tests helps you understand their interaction with the product and where they struggle.
User interviews and focus groups
This final active approach to feedback collection requires you to talk directly to customers.
Based on the type of data you want to gather, map out focus groups from your customer base, and invite them to have a one-on-one session with you. This allows them to express themselves outside the limits of traditional feedback forms.
These interviews will help you gain a deeper insight into their needs and push your team to create a better product.
What is passive feedback?
Passive feedback is the one initiated by the users. It refers to insights a customer provides without being prompted by the company in question, through on-demand surveys or other channels.
Some passive approaches for collecting customer feedback are:
always-on feedback widgets
social media comments
product reviews
forums
brand mentions
It's within your company's interest to track and even encourage passive customer feedback as it's going to be the most honest insights you can get.
Benefits of collecting passive feedback
Over time, passive feedback has grown to become a UX trend because:
Passive approaches don't disrupt the product experience. Instead, users can provide feedback in their own time.
Gathering passive customer feedback signals to your users that your company is open to it and is dedicated to meeting users' needs.
How to collect passive feedback
Here are five methods you can follow to gather customer data using the passive approach. Let's break them down so you can see how each works.
Always on UI feedback forms that blend across the UX
Add small widgets in different parts of your product or site to get granular feedback.
This feedback collection technique is fast becoming a trend because it helps product managers gather relevant product intel without the risk of inducing survey fatigue.
Miro collects granular feedback at micro touchpoints using quick satisfaction forms embedded in multiple parts of their product.
Don't stop at customer satisfaction surveys.
Userpilot contextually collects feedback on integrations that users want to see in the app.
Social media mentions
People are hooked to social media and often prefer to share their questions or comments on social networks instead of contacting you or filling out surveys.
Although this type of feedback is unstructured and difficult to categorize, you can use an efficient brand monitoring tool to gather valuable information you wouldn't have gotten otherwise.
Third-party review websites
A report from ReviewTrackers shows that 92% of online consumers use reviews to guide their purchasing decisions. Most people find the reviews on a third-party site more credible because:
the platforms are unrelated to the brand in review
and reviewers are not restricted by typical survey questions
Although tracking and organizing these independent reviews can be a bit daunting, you can still extract key insights from the reviews. In turn, channel the data towards product improvement.
Support ticket data
If you've always overlooked support tickets when fishing for customer feedback, this is your sign to pay close attention.
Analyze support tickets created by specific user segments, for example, the ones with low NPS scores, and get more insights into what's causing them dissatisfaction.
Active vs passive customer feedback: Which gives better insights?
While the active approach is more structured since your team initiates the process, passive customer feedback is equally valuable and authentic since it also captures implicit feedback.
That's because customers are not constrained by specific survey questions or numerical ratings in the passive approach. They have free reign to express themselves when evaluating the quality of your product.
Gathering active and passive feedback will give you a complete picture of the customer journey so far and what they expect going forward.
Best tools for collecting active and passive customer feedback
Because capturing and analyzing data can be a time-consuming task, using specific feedback tools will make your job much easier
Here are two of the best tools you can use.
Userpilot – best for collecting both active and passive feedback
You can easily start building surveys without having to code and trigger them to specific user segments, using Userpilot.
With the advanced segmentation feature, you can create various user segments according to your users' in-app behavior and other attributes.
You can tailor your survey design using themes and stay consistent with your branding and make feedback forms blend in with your UI.
You can also:
ask for follow-up qualitative responses after NPS
tag response by keyword or theme
and analyze user sentiment data
Once you've collected the data the response tagging functionality lets you tag group-specific responses so you can start identifying patterns.
As for passive feedback, Userpilot's feature tagging functionality is everything you need to understand how users interact with your product features. Once you start tagging features you can track how many customers interact with specific parts of your product and how often.
Tracking product usage data this way will show you when it's time to sunset a feature or, better still, push a contextual survey that lets you understand why your users aren't interacting with that feature.
Mixpanel – best for collecting passive feedback
Mixpanel is a user analytics tool that helps product teams understand how users interact with the product.
With Mixpanel, you can:
pinpoint which features users use the most and least
perform funnel analysis to understand where users drop off in the customer journey
It's best for collecting passive feedback through user behavior analytics but you'll also need a tool to trigger active feedback forms.
Conclusion
Not all feedback is created equal– but all forms of feedback are critical to your SaaS product quality and brand perception.
By capturing active and passive feedback as I've outlined in this article, you can keep up with customers' demands and retain their loyalty.
Want to start getting a clearer picture of the customer experience? Get a Userpilot demo to see how you can capture insightful data using the active and passive approaches.