Product User Segmentation: What Is It and How To Implement Segmentation in Your SaaS Product?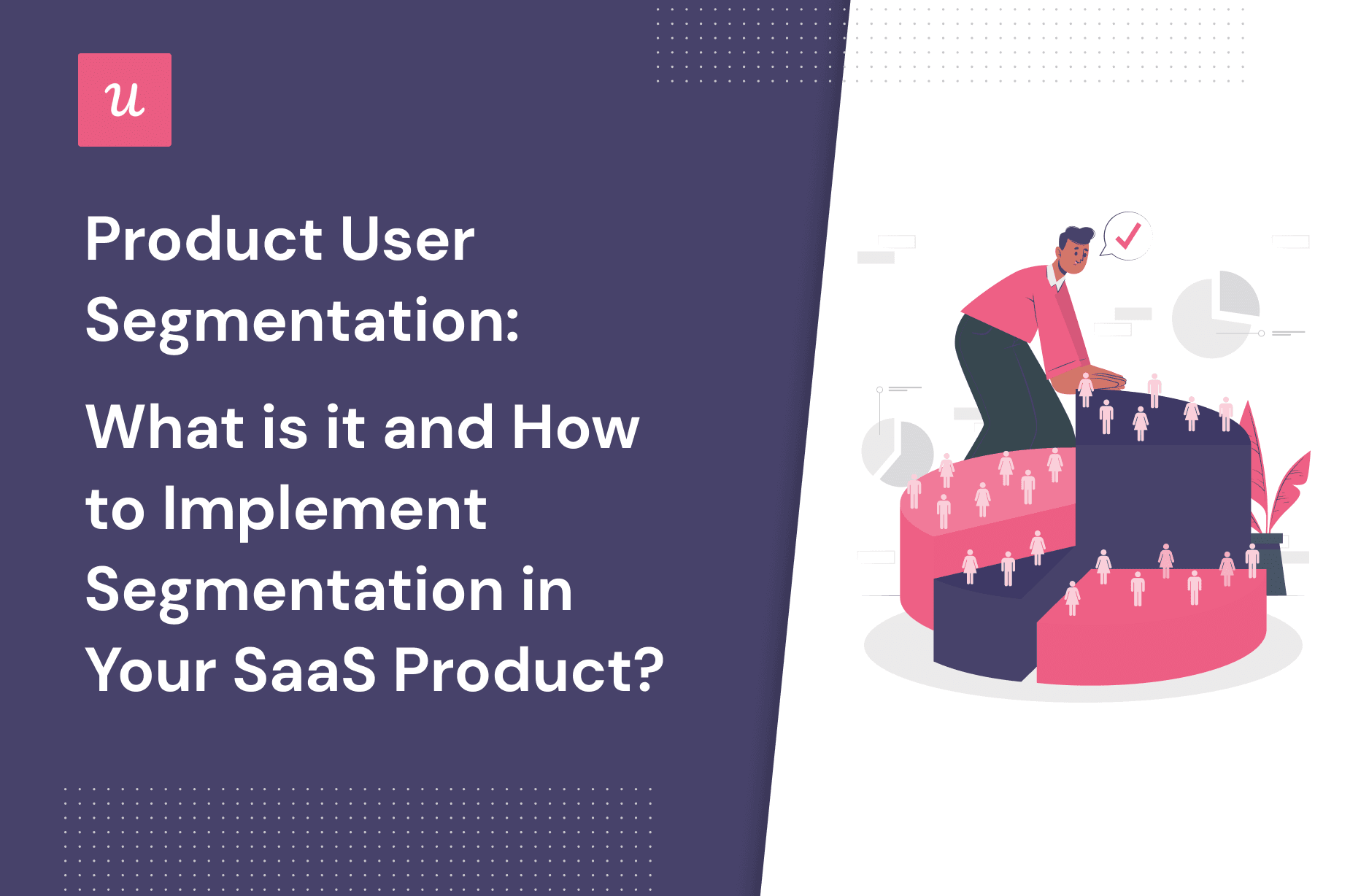 Are you aware that product user segmentation affects all stages of the user journey and the overall growth of a business?
You can use product usage data to develop an effective marketing strategy, improve products, retain customers, as well as to accelerate customer adoption.
But what is more important is that without customer segmentation, you simply cannot build a sought-after product with high user loyalty.
Curious to get more details?
This article will walk you through each essential step of implementing user segmentation in SaaS products.
Let's roll!
TL;DR
User segmentation is a process of grouping customers by specific criteria such as low NPS score, web session duration, product usage segmentation, uncompleted goals in the user journey, etc.
Customer segmentation allows you to understand users on a deeper level and analyze their behavior more precisely to tailor marketing positioning and product experiences.
Customer segmentation also affects retaining users and boosting their loyalty. You can also learn why different segments churn more often and fix the issue.
The most common types of user segmentation are demographic, geographic, technographic, firmographic, and behavioral.
Utilize firmographic data for creating personalized onboarding processes.
Behavioral segmentation divides customers based on their in-app engagement to unlock and fix product friction.
There're eight key product user segments to focus on: new users and existing users, free trial vs. lifetime free vs. paying users, and users that haven't engaged with a core feature. Also, users by persona, users with low MRR, loyal users, inactive users, and users by NPS score.
To implement user segmentation for SaaS products, start with utilizing microsurveys in the welcome flow to create personalized onboarding. Second, use a product analytics tool like Userpilot to track in-app engagement.
Ultimately, find patterns endangering product adoption, customer satisfaction, and user stickiness. Fix detected flaws in product experiences based on insights you have received after user segmentation.
Want to implement user segmentation to your SaaS? Request a personal demo with the Userpilot team, and see how one tool can provide all the data you need for successful customer segmentation.
What is product user segmentation?
User segmentation is a process of grouping customers by specific shared criteria. For example, low NPS score, web session duration, un/completed goals in the user journey, company's industry, users that haven't engaged with a core feature, etc.
Different user segments can be analyzed in great detail to understand what caused them to use our product, what value they receive from the product, why they became power users or brand advocates, and so on.
What are the benefits of customer segmentation?
Customer segmentation has a lot of benefits that you can utilize for your SaaS. It helps you receive valuable insights, and detect common behavioral patterns that you can use to improve your product retention rate.
Now let's dig deep into the benefits that customer segmentation can offer you.
Understand users better
Segmentation helps you understand users on a deeper level. It allows you to see certain behavioral patterns within segments so you can take action according to their behavior.
For example, you can create user segments based on jobs to be done and specific needs. All you need to do is use different micro surveys across the user journey and collect data. Using a welcome screen can not only help you greet users but also understand what are they looking to achieve while using your tool.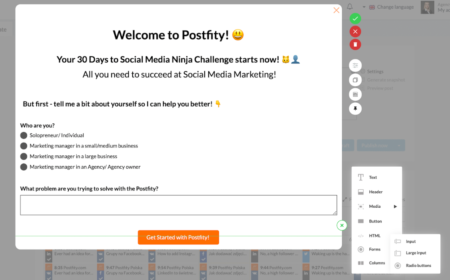 Deliver a personalized user onboarding
You can personalize the onboarding process by segmenting users, which will allow you to boost product engagement and improve feature usage and product adoption rates.
Personalization will help you show only the most relevant features to your users thus allowing them to reach the "Aha" moment a lot faster. For example, create a segment of users who engaged with your welcome screen micro surveys and provided a specific answer, and haven't engaged with an important product feature.

Improve customer retention rate
Customer segmentation can help you improve retention rate and reduce churn as you can easily identify disengaged users who are at high risk.
Simply segment users based on low NPS scores and proactively reach them out to understand the reason behind their low rating.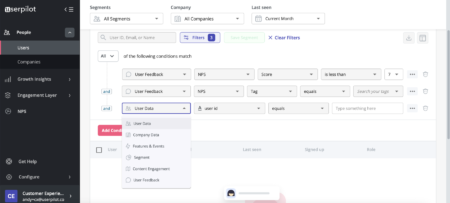 Boost customer loyalty
Behavioral segmentation is a key to understanding why one group of customers turns into power users when another stays in a core user segment or even worse, cancels the subscription.
You can increase customer loyalty and product stickiness by figuring out what drives the user segments with the highest engagement.
Offer product upgrades at the right time
Thoughtful user segmentation enables you to timely detect which customers are the right fit for upsells and account upgrades.
For example, when you notice that some users are running out of resources on their current account you can showcase the benefits of a premium account and offer them to upgrade contextually.
Win back churned customers
By segmenting churned users and identifying the reasons for their cancellation you can improve your product, fix the errors, and try to win back a customer with a new offer.
You can use churn surveys to collect insights and then send them an email to retry your product.
Most common types of user segmentation
What product usage data should we capture to segment customers? What are the most important segments that we should pay attention to?
What types of segmentation matter most for SaaS? Let's find out. Most common types of user segmentation
Demographic segmentation
A cluster of customers with shared traits such as their age, education, language preferences, occupation, or religion.
Commonly used to design highly tailored marketing campaigns for both new and current users.
Firmographic segmentation
As a product manager, you can utilize firmographic information for creating personalized onboarding. For instance, build different checklists for small and large companies as they probably try to solve different tasks.
The firmographic information may contain the following entities:
Industry
Headcount
Job Titles
Business Model
Annual Revenue or LTV (lifetime value)
Decision maker's Title
Experience (junior, middle, senior, or newbie)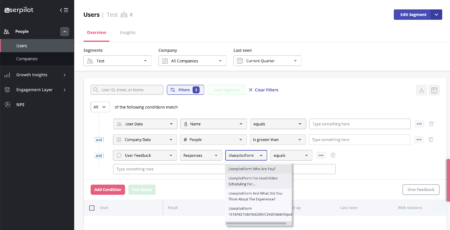 Geographic segmentation
Geographic segmentation is used for running targeted ad campaigns or analyzing which location, country, city, or area performs better in terms of driving revenue growth and ARR. When it comes to in-app, use this if you are launching a new feature only in specific countries and want to reach those users only.
Behavioral user segmentation
User segmentation based on behavioral factors is a goldmine for product teams. You can determine user groups based on their experiences with your product:
What features do they engage with seldom/often?
How often do they interact with your core features?
Where they are in the customer journey stage?
In what step of the user journey do we lose customers the most?
Time spent inside the product, etc.
Capturing product usage data helps you unlock and fix product friction and fine-tune your in-app communication with customers, aka providing more contextual and timely help.
Psychographic user segmentation
Psychographic segmentation is more about looking into customers' attitudes. What lifestyle do they follow and encourage, and how do their value and beliefs vary?
This customer data helps marketers find a correlation between purchasing decisions and users' socioeconomic status.
For product teams, you may want to digitalize product sentiment (which is also related to psychographic data) by implementing customer satisfaction or NPS surveys.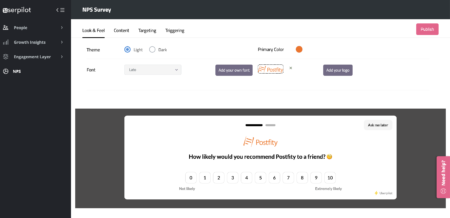 Technographic segmentation
Information about the tech side of the user like their devices (a laptop or mobile), browser type, or what software they use to get their job done.
Gathering technographic information will help you make informed decisions when it comes to tailoring your product to a specific segment first.
For instance, if you want to make a quick update for mobile or desktop product versions, you'd better check which one brings more revenue.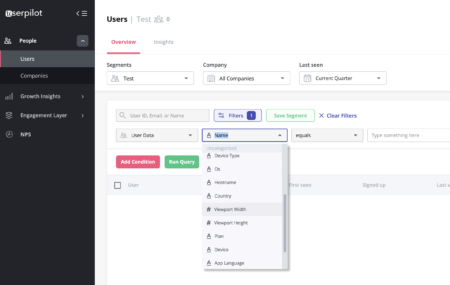 8 key product user segments to focus on
Now that we have gone through the general types of user segmentation let's narrow down our focus on specific product user segments.
Thus, we will define what product user behaviors track and act on in the first place.
New users vs. existing users are entirely different user segments to analyze. New users may be misguided by poor onboarding or lack of it. In contrast, paid users may encounter product friction points with particular features.
Free trial vs. lifetime free vs. paying users: When the former group may need additional support to get them to the product activation faster, resulting in their first purchase, the latter wants you to deliver the additional value and first-class customer care, which result in upgrades or upsells.
Users that haven't engaged with a core feature: Spot and fix the issues on why some customer segments avoid interactions with a core product feature.
Users by persona: Address the user persona when you are lost in feature requests or bug fixing end users are asking for. Thus, you will be able to prioritize your tasks accordingly to the user persona as this segment drive money.
Users with low MRR can be those who don't entirely understand product value, so you should proactively reach out to them and offer a personal demo/help.
Loyal users: This is the segment that you should embrace. You're here to find out what made them love your product and what should be improved. Loyal customers are likely to give you honest feedback you can capitalize on.
Inactive users: Try to figure out what caused them to stop using your product by looking at your product analytics.
Users by NPS score: User segmentation by NPS score is crucial because it allows you to catch problems customers deal with in real-time mode.
How can Userpilot help you implement user segmentation in your SaaS?
Ready to see what tools will help you gather all this data and create a segmented user base?
In this chapter, I will guide you through a step-by-step process for user segmentation, so you can easily replicate it.
Use micro surveys in your welcome flow
Welcome screens are an excellent way to not only greet customers but also collect information about them so that a personalized onboarding experience can be provided later.
Here's how Postify uses a welcome screen to collect data about their new users.
To start your trial period, you need to complete a short survey and tell them your occupation, business model, and company size.
Next, they will adjust their onboarding and make it aligned with your specific use case.
As a product analytics tool to track in-app engagement
With Userpilot, you can track users' in-app engagement and monitor their behavior. It will help you see factors like time on page, the number of pages visited, how people interact with different features, and also friction they encountered while using the product, etc.
Keep an eye on DAU (daily active users) and WAU (weekly active users) to detect new troubles. If you spot unusual behavioral gaps/spikes or flatlines, it's a cause for concern.
Collect product usage data for each user
Userpilot is an excellent tool for tracking usage data for each user.
It will allow you to see the growth insights and analyze user activity across your product.
The platform can also show you which users have performed specific pre-defined actions—based on pre-defined segments, goals, and custom events. Using the collected data, you can track feature engagement and see when users reach certain milestones, by segmenting based on in-app engagement of specific features.
Using the collected data, you can track feature engagement and see when users reach certain milestones, by segmenting based on in-app engagement of specific features.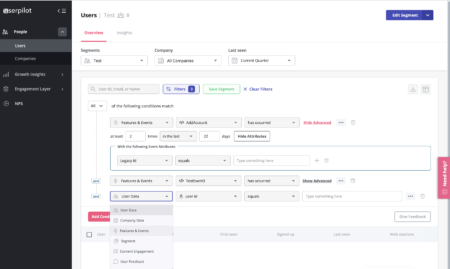 Split users into segments and compare
Userpilot allows you not only to segment users based on multiple attributes but also to compare those segments with an A/B testing feature.
By comparing segments to each other you can spot the differences and common patterns that will help you make roadmap changes to improve your SaaS product.
Create a strategy based on segments
In the last step, you should create a strategy based on the patterns that endanger product adoption, customer satisfaction, and user stickiness. Fix detected flaws in product experiences based on insights for different user segments.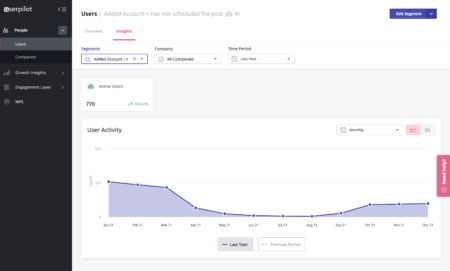 By doing so, you should stick to the main goal — to help your company recognize each group's needs and wants and prioritize them according to the impact on the business objectives.
Conclusion
User segmentation is the right way to build a sought-after SaaS with incredible user stickiness. Always understand your users on a deeper level and try to fulfill all the expectations that you set for your product.
If you want to understand better how your users behave inside the app, collect feedback in a contextual way, and reach out to your customers to improve engagement and boost customer success, get a Userpilot Demo and get started right away.