[Editor's note: If you're looking for a more introductory resource on NPS and how to use it – check out our earlier Guide to NPS here.]
If you're looking for the best NPS tools, you've come to the right place.
In this blog, we'll not only discuss the features you need to look for in NPS tools, but also how to use them to make most out of your survey.

Source: userpilot.com
Net Promoter Score is one of the best known and most widely-used ways of measuring customer experience in the world.
And no wonder: it was developed on the basis of studies from 1999 to 2002, Fred Reicheld and his team found a strong correlation between company growth rates and Net Promoter Scores in a variety of sectors.
So since Reicheld published his seminal Harvard Business Review article "The One Number You Need to Grow" in 2003 – NPS rapidly grew to prominence. Today, 55% of businesses say that they depend on it.
And since it's such a popular metric – it's easy to check how your company is doing compared to other companies in your sector.
If used the right way, it can be also helpful with combatting churn and boosting retention. In this blog, Christian Sculthorp of Agency Analytics says that his company cut churn by 30% when they started collecting and acting upon their NPS survey data.
In this post – we are going to show you how to make the most out of it – with the right tools. First, we're going to analyze what you should do with your NPS scores after collecting them to make sure it is more than just a vanity metric – to help you boost retention and reduce churn. Then, we're going to recommend the right tools for that, plus what to look for in the tools so you're not disappointed with them.
What to Look For in NPS Tools
There are many different NPS tools on the market.
Some are standalone products (for example, Wootric and Satismeter), while others include this functionality as part of a wider suite of services (e.g. Userpilot).
In this section, we'll look at the features you want to be sure your chosen NPS tools have:
1. Customization

Source: userpilot.com
One way to reduce the "intrusion" aspect of your survey pop-ups, slide-ins, modals etc. is to ensure that they are visually consistent with the rest of your app.
That means you need control over how the survey is going to look.
In particular, you must ensure it features your own branding and not that of the service provider. Otherwise, some users will be confused and could mistake the UI elements for malware.
As you can see above, Userpilot's NPS tools allow you to control these features.
Some of the cheaper NPS software out there forces you to compromise on customization for a lower price.
That's not advisable unless your budget won't allow you to opt for a more versatile solution.
If you have a multilingual user base, you may also want to look for NPS software that allows you to deploy surveys in different languages. Userpilot allows automatic but at the same time customizable translation to all your experiences.
2. Trigger Conditions
If you're going to use your NPS software to develop insights into particular aspects of your in-app user experience, you need the ability to determine WHEN the question appears.
The more granular this control, the more specific your data can be.

Source: userpilot.com
You should make sure that your NPS tool gives you page-level and action-level granularity so you can pick the precise aspect of customer experience respondents will be reacting to.
For example:
If you want to collect feedback on a specific feature, enable the NPS survey for that page or section of your app only
Don't trigger it too early! For content-based features make sure the question appears only after a certain, appropriate dwell time. For task-based features, wait until the task is completed for the best quality data
Don't leave it too late… Obviously, don't show the survey once the user has moved on to something else. Unwanted out-of-context interruption kills response rate and user experience!
3. Follow Up Options
As we mentioned earlier, many NPS tools give you the chance to follow up with more qualitative questions.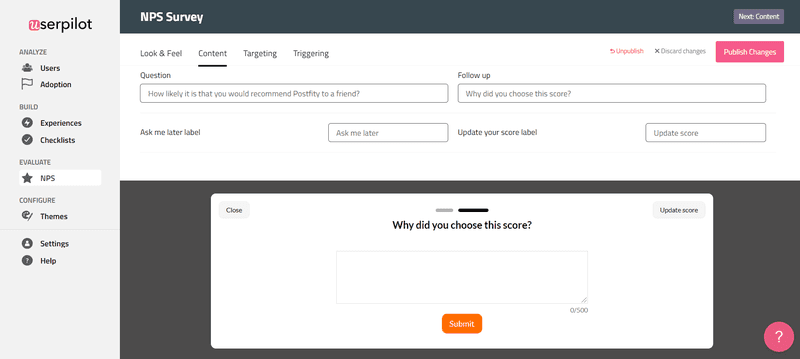 Source: userpilot.com
This is really powerful because you can begin to build solutions to user problems once you understand WHY they react negatively or positively to a feature or experience.
Remember, as we said in this recent blog, your picture of your users can be very wrong indeed. What you think their problems are and what you think they love needs to be validated by experiments, not taken as unchallenged assumptions.
Your follow-up option doesn't have to be an in-app supplementary question, of course.
Other options that may be more appropriate for your SaaS include direct email or telephone outreach to detractors. By making one-to-one contact with people who have had a negative experience and solving their problems, you may be able to turn them into promoters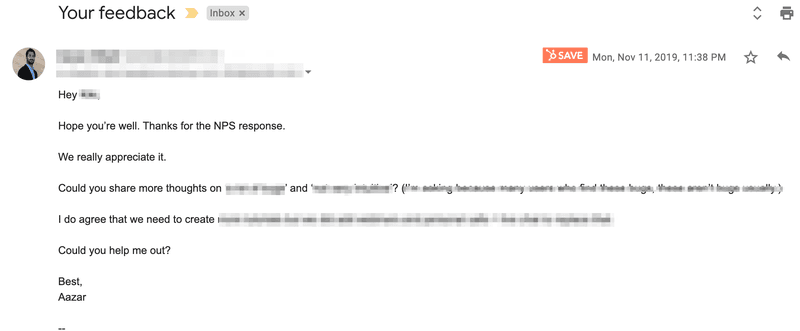 Source: userpilot.com
A word of warning though.
If you're thinking of automating this kind of outreach, you need to be very careful to make it authentic.
Detractors – especially those who have felt undervalued – do not like talking to robots!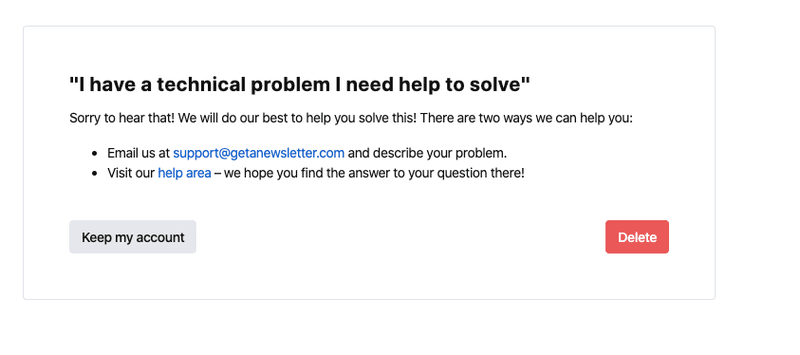 Source: getanewsletter.com
On the flip side, don't miss the opportunity to ask your promoters for referrals, reviews and to check out your other products when you follow up with them.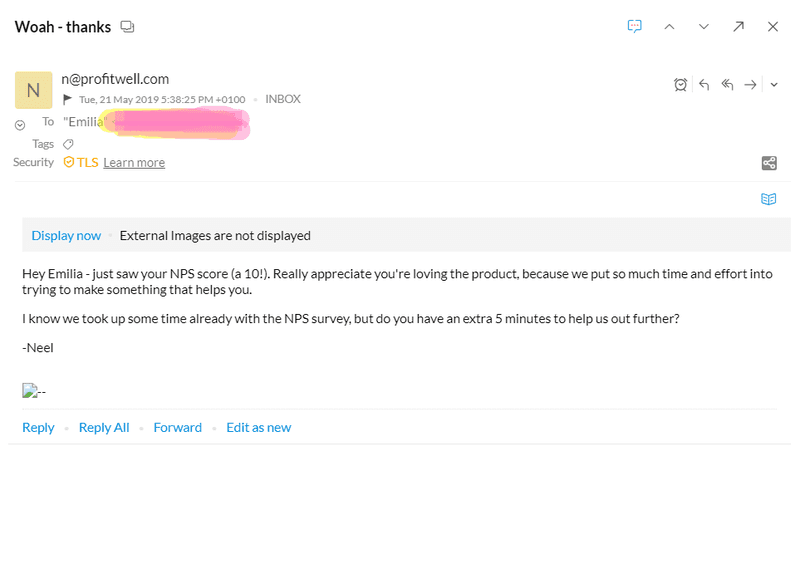 Source: userpilot.com
We'll cover this more in the next section.
4. Segmentation
There are few things in life more annoying than being asked to give feedback you've already given…
So one critical requirement in selecting NPS tools is making sure they enable you to exclude users who have already been polled.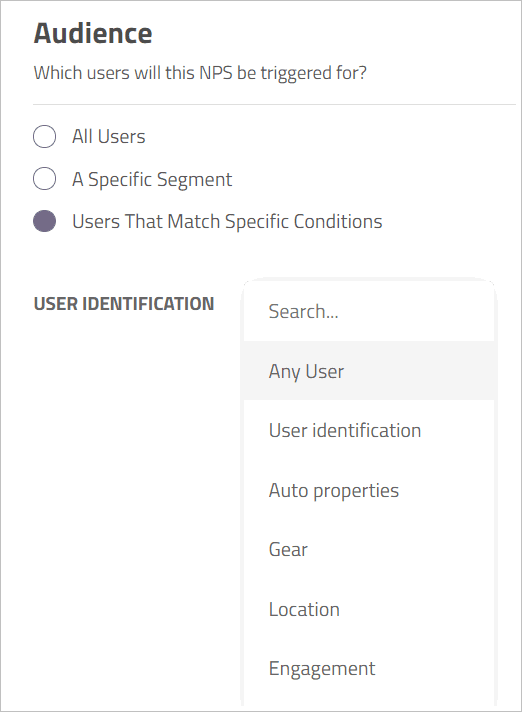 Source: userpilot.com
But that's certainly not the only way you should be segmenting your audience.
To make the most of NPS data, you need to get really specific, segmenting:
Users by their stage in the user journey. The needs of brand new users and seasoned pros are very different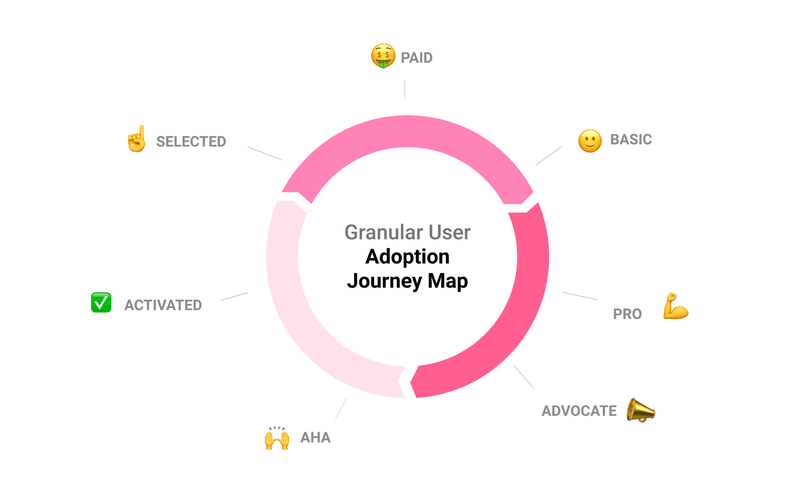 Source: userpilot.com
Cohort – that is, the time period they became a user in. This helps you see how user evaluations are changing over time. We've written about cohort analysis in earlier blogs, like this one.
Geographical location
Pricing tier – your premium customers may feel very different about value for money than the free ones!
Feature adoption – a useful proxy for engagement level, but also…
Btw. – if you want to increase feature adoption – sign up for our product adoption school!
For best results, you should aim to reverse-engineer things, and segment experiences by NPS score as well!
This is something social media scheduling service Postfity did:
They noticed a group of users giving low NPS ratings
Then they spotted that these ratings correlated with the follow-up answer that suggested those users were too busy to come up with content ideas
Using Userpilot, they created a tooltip triggered by low-scoring users to highlight their Social Tips Calendar of content inspiration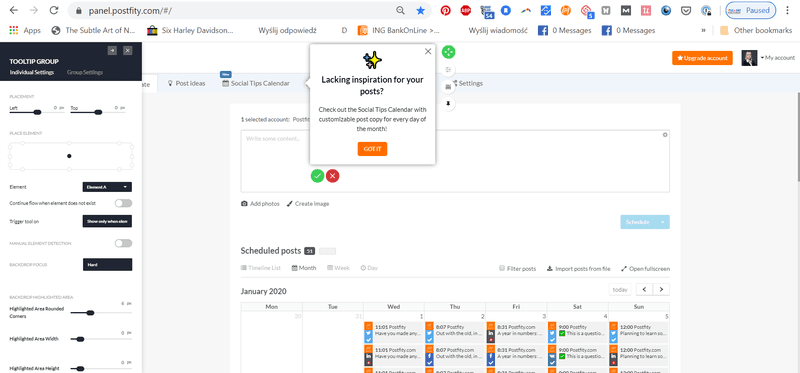 Source: postfity.com
Also – Postfity is also targeting users who have not discovered this feature and are not using the tool to post regularly – to make sure the Postfity team can 'catch them before they fall' – and become the detractors.
So, as you can see – with the right tools – you can use your NPS data itself to improve user experiences.
5. Dashboards and Analysis
It goes without saying that you're busy.
You're a product manager!
So why should you waste your time messing around with spreadsheets to compile and present your survey data?
Make sure you pick a tool that allows you to customize your dashboard to show the metrics that are important to your business.
6. Analytics Integration

Source: userpilot.com
This is one of the most important factors to take into account.
Indeed, it lies behind being able to trigger experiences in response to certain actions and behavior-based segmentation.
If you want to run the sort of highly-targeted, feature, or task-specific surveys we've been talking about in this blog, you're going to need to integrate your NPS tools with in-app, event-based analytics.
In the Postfity case above, for example, it will have been important to compare the NPS rating and reason against actual in-app behavior before recommending the Social Calendar link.
Postfity would have needed to know that these users had NOT ALREADY TRIED IT and yet STILL found themselves unable to produce the content necessary.
Why?
Because it's probably going to be counterproductive to suggest a solution somebody has already tried out to a problem! It runs the risk of annoying them or being seen as patronizing.
Once you can tie specific behaviors (or lack of behaviors) to satisfaction ratings, you're in an incredibly strong position to start optimizing user experiences.
But what's the benefit of choosing NPS tools that incorporate analytics capabilities?
Why not just use a dedicated analytics package?
It's a fair question – and we've discussed the best analytics packages out there in previous blogs.
The answer is "convenience and accuracy".
If your analytics are not pre-integrated with other tools, then you need to do that work yourself.
Depending on the tools in question, that may involve bespoke coding, API work, or bridging the gap with third-party applications.
If you're lucky, services like Zapier or Segment will do the job.
But when your NPS tools are already integrated with other functionality – like analytics – then you can start using them right away, safe in the knowledge that the setup is properly calibrated.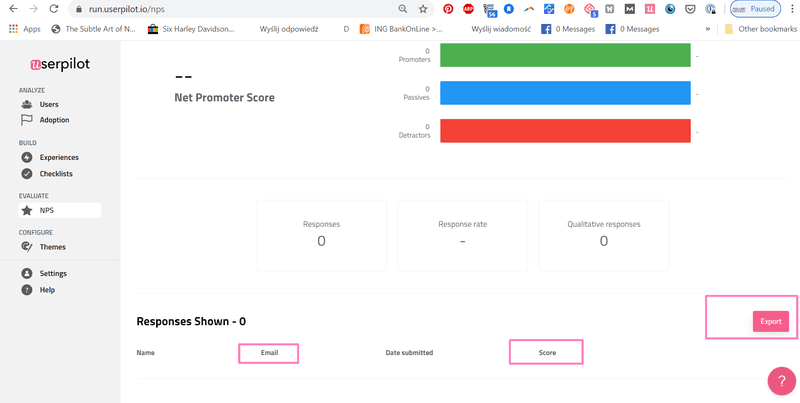 Source: userpilot.com
Userpilot NPS

Userpilot includes all of the features we've been urging you to look out for when choosing NPS tools – it's already integrated with in-app behavioral analytics, so you can target your audience by the exactly right segments: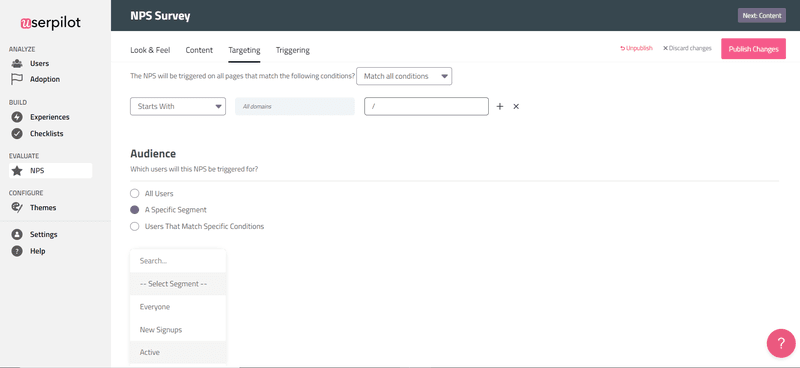 It allows you to target users by the specific pages or even features they have interacted with: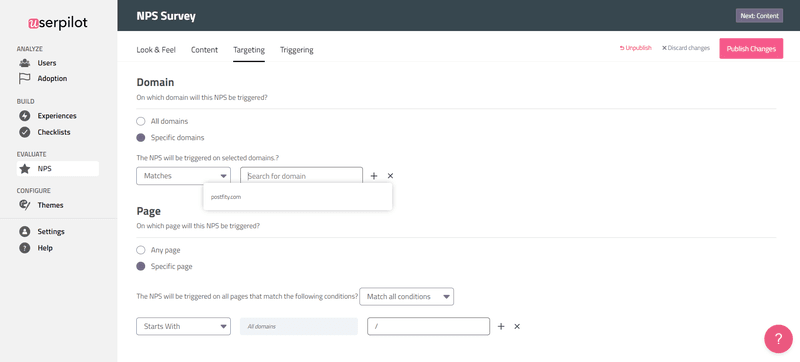 …or by user behavior: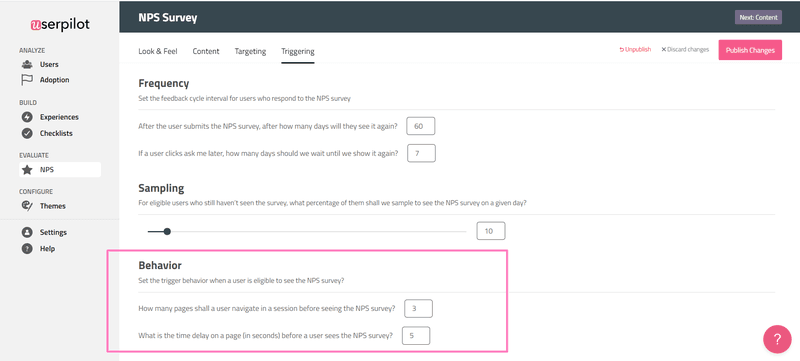 Userpilot allows you to build follow-up experiences in your product (without coding) and automatically show them to the right user segment (based on the NPS).
And everything is 100% customizable to match your UI and branding. Why not give us a call to get a free demo? 😉
Alternative NPS Tools
But if you have different needs, other tools may suit you better.
Userpilot doesn't include any email or SMS capabilities, as our focus is exclusively in-app.
We've already mentioned Wootric, and their service includes email.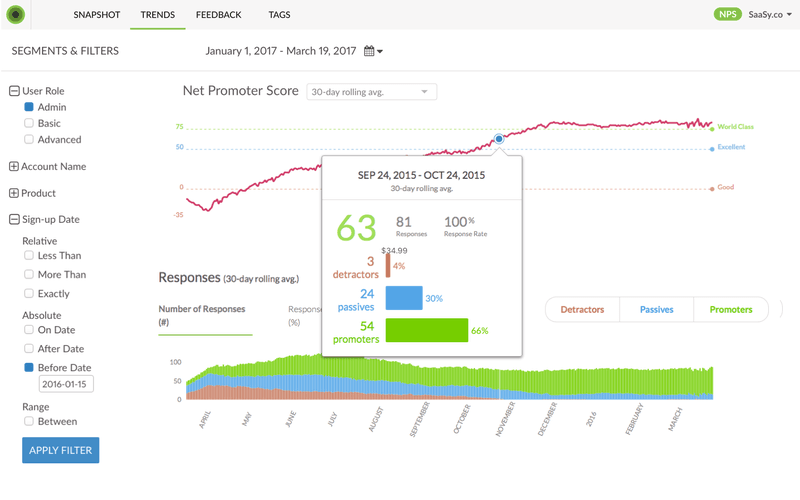 Source: wootric.com
But of course, Wootric is different from Userpilot and focuses on different problems.
With Wootric, you can run different survey types other than NPS (e.g. CSAT and CES metrics) across all channels including SMS. In the highest plan, you can also auto-categorize feedback themes, and integrate with Salesforce and Segment Source.
This comes at a price though: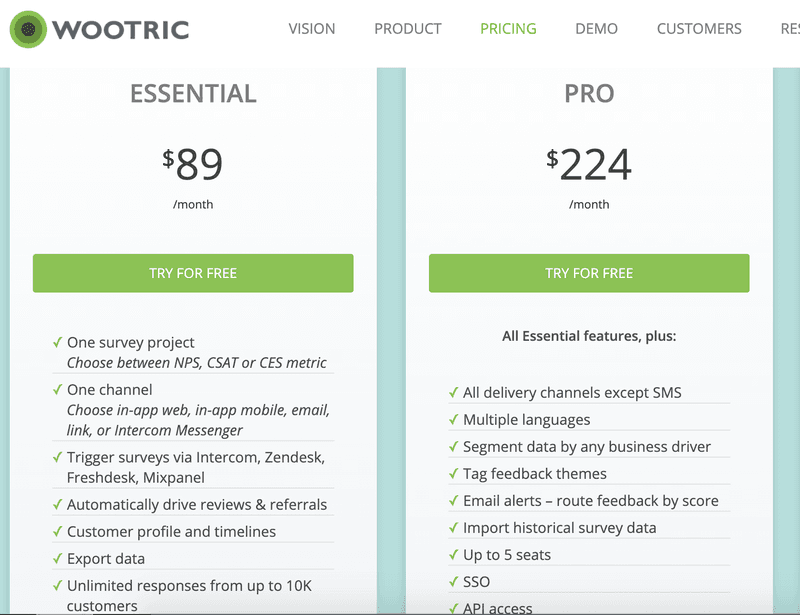 SaatisMeter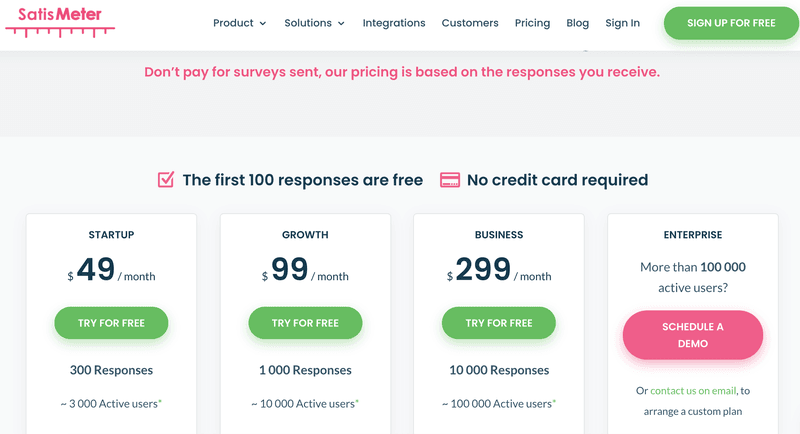 Unlike the other tools mentioned in this roundup, SaatisMeter allows you to send the feedback from your NPS survey (or other surveys) to your product roadmap tools like EnjoyHQ and ProductBoard.
You can also automatically invite certain segments of users to interviews with it. It will also allow you to see how your NPS scores are changing over time. This can help you see how certain new features or product updates have impacted your user satisfaction.
While cheaper then Wootric, you will still need to pay for another tool to take any action on the survey results.
If you're on a budget and are looking for a small standalone solution (albeit with a lot of integrations) – you may want to have a look at Refiner.io: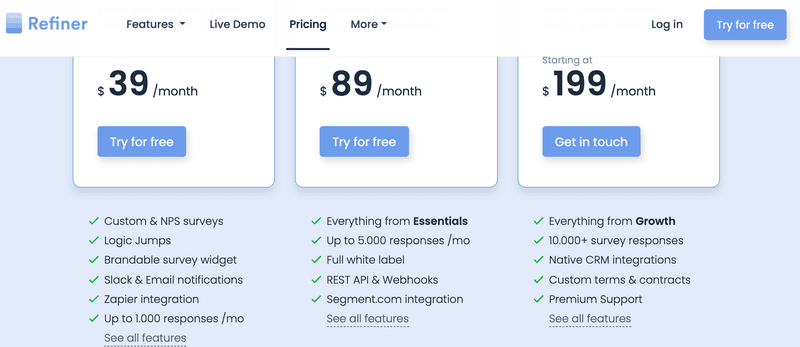 Conclusions
Choosing the best NPS tools for you depends on identifying the problems you and your users are dealing with.
Then, take all the points we've discussed here into consideration when you make your choice.
So… How likely is it that you'd recommend this blog to a friend? 😁 Stay in the loop: