The Best NPS Software of 2023 + How to Slash Churn by 30%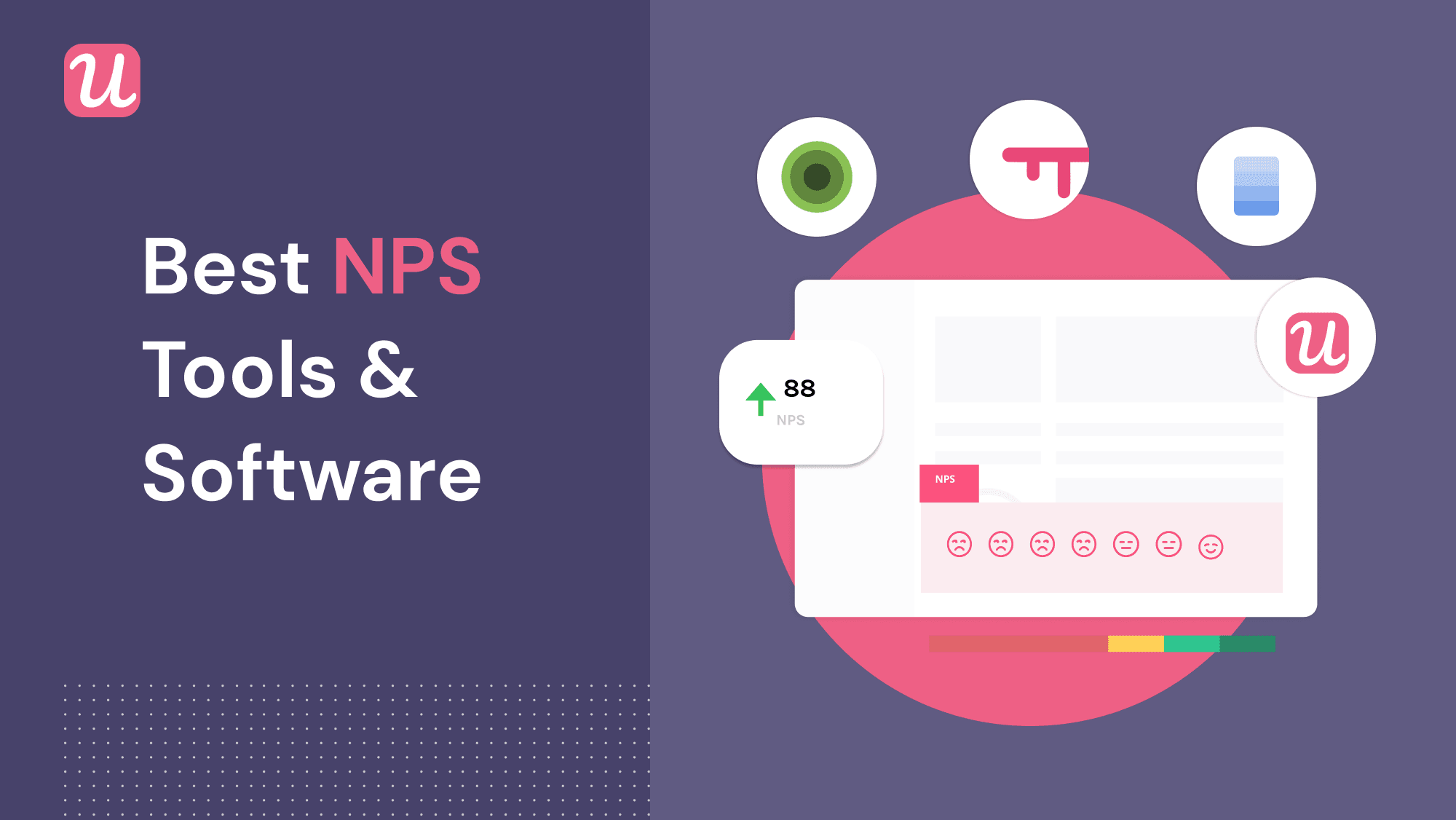 In this post, we will compare Userpilot to a whole host of other NPS software.
Source: Userpilot
No doubt, you're already familiar with the Net Promoter Score metric. If not, get up to speed with our complete guide to NPS for SaaS businesses here.
That choice makes a big difference when you consider:
There is huge scope to improve your offering and to stand out from the competition if you can get NPS right.
Looking for ways to proactively collect and categorize user feedback – including NPS feedback? Talk to our Product Expert at Userpilot and try our AI-powered feedback collection and categorization tool out!
TLDR? Here are our takeaways for this NPS Software article:
Why you need to consider customization, follow-up, triggering and segmentation options, analytics capabilities and third-party integrations.
Userpilot's NPS functionality is integrated with our comprehensive range of product adoption tools – and they've just been completed updated!
Speaking of product adoption: don't miss our *FREE* Product Adoption School email course:
The widest range of survey types and channels available and powerful AI add-ons, but Wootric isn't cheap and full customization requires CSS.
Multi-lingual and with built-in feedback management tools, Promoter.io has been in this space for 7 years. But a shortage of direct integrations with other services limits its value.
Lesser known best NPS survey contender Satismeter integrates with product roadmap tools, helps you interview promoters and detractors and starts at a very affordable price point.
Another standalone feedback tool with a lot of different options to recommend it, Delighted, nevertheless has a big gap between its free plan and its high entry price – making it unsuitable for those left in the middle.
Your software will only deliver when your strategy is right. Find out what to do here.
How to Choose the Best NPS Software this Year
Alongside price, we think that these are the key things to be looking out for when you make your mind up about what is the best NPS software:
Customization Options
One way to reduce the "intrusion" aspect of your survey pop-ups, slide-ins, modals, etc. is to ensure that they are visually consistent with the rest of your app.
Here's how we do it in Userpilot:
Source: Userpilot
In particular, you must ensure it features your own branding and not that of the service provider. Otherwise, some users will be confused and could mistake the UI elements for malware.
It's also very important to provide NPS surveys in users' native languages.
Follow-Up Options
The best NPS software will let you ask follow-up questions to the basic NPS query. This is really powerful because you can begin to build solutions to user problems once you understand why they react negatively or positively to a feature or experience.
Source: Userpilot
As we said in this recent blog about product experiments, your idea of who your users are can be very wrong indeed. What you think their problems are and what you think they love needs to be validated by experiments, not taken for granted.
You should also look for ways to integrate your responses with survey returns. Don't miss the opportunity to ask your promoters for referrals, reviews and to check out your other products when you follow up with them.
Triggering Options
The best time to ask for feedback is immediately after a user has completed a task or experience. You'll get an unfiltered opinion and better response rates, while the issue is front of mind.
For example:
If you want to collect feedback on a specific feature, enable the NPS survey for that page or section of your app only
Don't trigger it too early! For content-based features and blogs make sure the question appears only after a certain, appropriate dwell time. For task-based features, wait until the task is completed for the best quality data
Don't leave it too late… Obviously, don't show the survey once the user has moved on to something else. Unwanted out-of-context interruption kills response rate and user experience!
The best NPS software will give you this level of control. Want to see it in action? Book a demo with Userpilot today!
Segmentation Options
Be sure that you can break your user list down into distinct segments so that you can collect NPS feedback from:
Different types of users – from triallists to new customers, through to departing users and even power users
Users on different pricing tiers
Users by the level of feature adoption, onboarding flow completion, etc
The more options you have in segmenting users, the more actionable the data you gather from your surveys will be.
Analytics and Dashboards
In 2023, nobody should be expected to export feedback data into spreadsheets…
Thankfully, the best NPS software today provides many tools for analyzing data and tracking trends over time.
This is particularly critical if you're using advanced segmentation and targeting strategies.
Integrations
Many NPS tools are standalone products, which means you will need to integrate them into your product stack.
If direct integration options are limited, you'll need developer resources (or a spreadsheet…) to extract and operationalize the data you collect.
This point goes to the heart of the trade-off involved in choosing a standalone option against using an NPS tool that is part of a wider suite of functions – e.g. product experiences, or audience analytics.
Looking for easy-to-use NPS surveys? Talk to our specialists now!
Contender #1 Userpilot
Userpilot NPS Software
Userpilot is a comprehensive product adoption software suite with built-in NPS, product experiences builder, and user analytics.
Why is Userpilot such a good choice for finding and improving your NPS?
Because it allows you to immediately launch NPS surveys based on the segments of your user base. Like here in this example of a micro-survey only for activated users.
You can also send users a survey according to the specific pages or even features they have interacted with.
To make it even more personal (and less spammy) you can decide when a survey will appear based on a user segment's behavior.
Launching surveys with specific frequencies and only after a user has reached a certain amount of pages will make it much easier to collect your NPS scores because you won't be interrupting a user's product experience.
And everything is 100% customizable to match your UI and branding. Why not give us a call to get a free walkthrough?
Instead of following up tediously through email with each user about why they chose a specific score, qualitative follow-up questions can easily be added to your in-app micro-surveys.
You are getting qualitative insights on your overall product experience all within the appropriate context for each user.
This is saving you time and creating less friction for your users, so they can answer candidly.
Making NPS more than just a vanity metric
NPS in the SaaS world is often collected, discussed in a meeting, and then not acted upon at all. Maybe moment for proverbial high-fives but never used to influence product strategy.
However, NPS can be so much more than a vanity metric. With a tool like Userpilot you can easily see the breakdown of different responses by score, and then drill even deeper into the qualitative answers.
You can tag and organize the individual responses based on common themes, and sort them by relevant keywords in your tags. Or you can sort them by company email if you are interested in what a particular company account thinks about your product. This will let you know what the common themes are that are coming up in your follow-up questions.
You can also organize between your promotors, passives, and detractors and see what the common user behavior patterns and responses are between each group.
The game-changer in Userpilot is the tagging option. This allows you to tag responses of your detractors by keywords e.g. a specific bug or a missing feature – and act upon it instantly.
By creating a segment out of a specific tag (e.g. 'missing LinkedIn video' like in the Postfity example below) you can target this very segment of your audience by showing them the features they may have missed in their onboarding – or by assuring them that these fixes are already planned on your roadmap.
This will add an extra layer of personal touch that will literally delight your users – e.g. you can add user personalization in an email like:
"Hey, Alan! We saw that you gave us a low NPS score recently because you were unhappy there is no video scheduling in Postfity for Linkedin. Good news! You can actually find the video schedule here! Let me know if it solves your problem 😊 Best wishes, Anna from Postfity".
…or target the user with the right in-app experience:
Finally, you are able to see what are the topics and the features that are contributing the most negatively and positively to your NPS score and take specific actions to fix or amplify the issues.
By tracking your NPS score over time, in real-time, you will know which feature releases have the most impact on customer satisfaction and which updates might be tanking your score.
What's not so good about it?
At the moment, we don't support multiple languages – just English. But watch this space!
We only support NPS surveys – not CSAT, CES, or some of the other types discussed in the rest of this blog
You still need to tag the responses manually (but we will be using AI for that soon!)
Want to find out more about whether Userpilot fits your NPS needs? Have a no-strings attached chat with our Product Expert today!
Contender #2 Wootric
Source: wootric.com
What is Wootric?
Wootric's business is CX feedback.
They offer a standalone survey software solution, which crosses multiple channels and survey types:
In-app, SMS, email, Intercom messenger, and even QR codes
As well as NPS, Wootric offers CSAT/PSAT and CES surveys
It's highly customizable, with extensive options for segmenting, targeting, and excluding, making it simple to ask the right questions at the right time.
Wootric also supports surveys in a wide range of different languages.
And as you would expect from a standalone product, Wootric supports many off-the-peg integrations with other services – notably Intercom, Segment, Hubspot (which includes its own survey functionality), Mixpanel, Salesforce, and Gainsight.
Why is Wootric one of the best NPS software choices?
Wootric probably offers the widest range of microsurvey options by channel and type of any product
Easy to use dashboards and powerful analytics capabilities, which deliver NPS insights instantly
The survey product has a bolt-on AI-powered text sentiment analysis tool called CXInsight – although pricing is only available after taking a demo
What's not so good about it?
Customization options for surveys are limited with Wootric's visual UI. To get Wootric's surveys looking exactly how you want them, you're likely to need a developer with CSS skills
As a standalone, Wootric is losing ground to other services that include survey tools as part of a wider offering – such as Hubspot and Userpilot
Wootric has raised its entry price point from $89 to $224 per month. This is quite pricey – and while they offer a free version, it is very limited in the volume of use
That $224 per month only gets you NPS, CSAT or CES – if you want to combine them, you're looking at custom pricing
Source: wootric.com
Contender #3 Promoter.io
Source: promoter.io
What is Promoter.io?
Promoter.io is another standalone tool for NPS surveys, which regularly ranks very highly with users and is widely considered one of the best NPS software packages.
In particular, it gains points for its easy-to-use UI and clear dashboards.
If you operate in multiple countries, Promoter.io is one to consider because it supports 27 different languages by default.
Established in 2013, Promoter.io has been doing this longer than most and has been through multiple product iterations.
Why is Promoter.io one of the best NPS software choices?
Promoter.io's dashboard makes it really easy to separate different campaigns and keep track of your different segments
Wide range of languages supported
Managing feedback and responding to promoters and detractors is a built-in part of the Promoter.io package. This is really important for getting the most out of an NPS program, and having it in the same tool as surveys means that handling can be seamless
What's not so good about it?
It's not cheap. The entry price point is $199 per month, but reviews frequently mention the usage limits on this scheme (just 10 campaigns and 10,000 monthly surveys)
Promoter.io has one of the fewest direct integrations of any of the services listed here – and the Salesforce and Segment integrations are restricted to higher-paying customers. While there is an API available, using it requires developer resource
Trigger options for surveys are limited, and do not include transactional campaigns
Source: promoter.io
Contender #4 Satismeter
Source: satismeter.com
What is Satismeter?
Probably less well-known than the others on this list, Satismeter nevertheless deserves a mention among the best NPS software tools out there this year.
Satismeter is an advanced feedback platform for generating real-time insights into customer satisfaction.
It lets users provide NPS, CSAT, and CES surveys in web apps and mobile apps, as well as via email.
Pricing is based on the number of users and responses, giving a very affordable entry price of $49 per month for up to 3,000 users and 300 responses.
Why is Satismeter one of the best NPS software choices?
Our favorite feature about Satismeter is the way it allows you to send feedback data straight to your product roadmap tools like EnjoyHQ and ProductBoard. This is a really nice touch!
Satismeter also lets you define user segments and invite them to take part in interviews, which is great for complementing quantitative feedback with qualitative
A wide range of direct integrations with other services, plus customizable integrations using Zapier and webhooks
Unlike some of the other tools, the low entry price means Satismeter is accessible to very small startups
What's not so good about it?
As with the other standalone products on our list, you need to export the data Satismeter collects to other tools to take action on it
Customization options are limited
Satismeter claims "all the targeting is handled by us", which makes it hard to compare segmentation capabilities transparently
Source: satismeter.com
Contender #5 Delighted
Source: delighted.com
What is Delighted?
Another standalone dedicated feedback tool, Delighted competes directly with market leaders Wootric and Promoter.io.
It also gives Wootric a run for its money in terms of comprehensive coverage, offering:
NPS, CSAT, and CES surveys, as well as five-star, emoji and thumbs-up rating options for feedback
As well as web, SMS, email, and QR link-based channels, Delighted offers an iOS SDK for Apple developers
Unlike Wootric, it's much less restrictive on what you get for your money. Premium customers ($224 per month) can use all the different channels and five of the seven survey types.
Why is Delighted one of the best NPS software choices?
The range of options is comprehensive
Absolutely loads of third party service integrations – including open source API libraries to help you integrate it with your own stack
There is a free trial option, which can help you assess Delighted's capabilities without a financial commitment
What's not so good about it?
$224 per month is a fairly high starting price, putting Delighted out of the reach of businesses that need more volume than the free package offers
No 24/7 support
It's not possible to remove Delighted's "Powered by Delighted" branding from your surveys
Source: delighted.com
So You've Picked the Best NPS Software… Now What?
When it comes to NPS surveys, it's not just about the software. It's what you do with it that counts.
To get the most out of the best NPS software you'll need a strategy:
Luckily for you, these are all topics we've covered before on the Userpilot blog!