Pendo NPS Surveys – Review+ better NPS Software Alternatives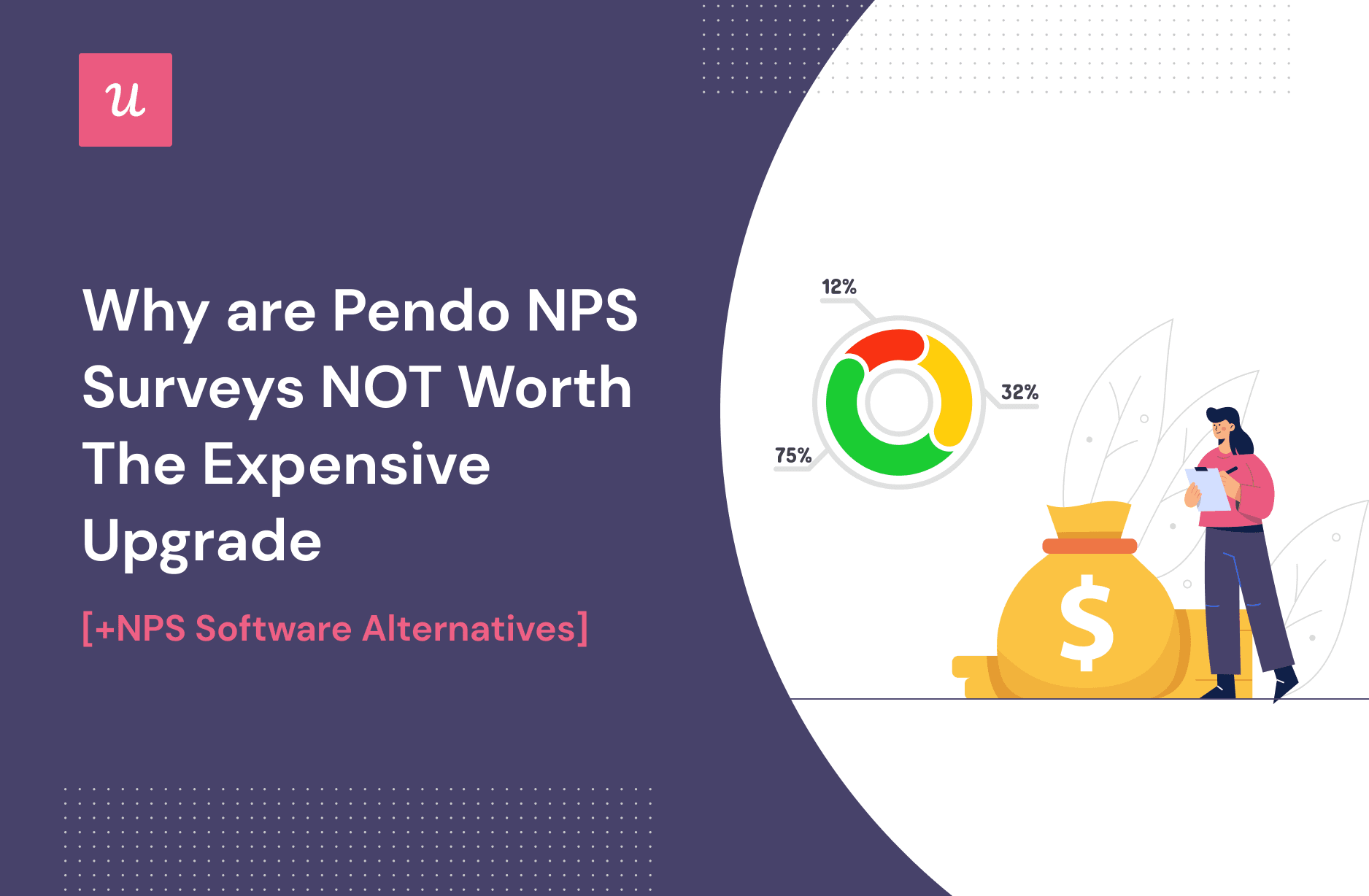 If you're looking to create user surveys to examine sentiment and customer loyalty, then chances are you've considered using a Pendo NPS survey.
Like every other B2B buyer, it's important to research a product before committing to it, especially in this case that you can't try out Pendo NPS for free.
This article provides the answers you need to make a good buying decision. You'll see the different functionalities that Pendo offers, the cost implications, feature limitations, and the best alternative solutions.
TL;DR
Net Promoter Score (NPS) surveys provide a good metric to gauge customer loyalty and product performance.
Only Pendo customers on the Pro and Enterprise plans have access to the NPS feature.
Pendo's paid plans are upwards of $2,000-$5,000 per annum based on online reviews. Some reviews suggest it can be way more. Pendo for mobile is available on these paid plans only.
Pendo allows users to create both in-app and email surveys. Email surveys are sent to users who couldn't complete the survey in-app after 14 days.
It's possible to integrate third-party apps to transfer your NPS results to a different platform in real-time however, Pendo product integrations are limited based on price. The Pro plan allows only one integration, but you can have up to three integrations on the Enterprise plan.
Having an "Ask me later" option when you prompt your surveys is a good way to show respect for customers' time. Sadly, Pendo doesn't offer this feature. You can, however, get it done with Userpilot.
Userpilot offers better segmentation and targeting options for your NPS survey compared to Pendo.
Tagging Net Promoter Scores qualitative response data is a quick way to spot patterns in what's driving customer satisfaction and loyalty of your users.
Pendo doesn't offer NPS survey response tagging.
Want to start collecting NPS responses in-app without having to upgrade to Pendo's most expensive plans? Userpilot offers more value for money than Pendo when it comes to collecting NPS survey responses and is available in all plans.
What is the Net Promoter Score (NPS)?
The Net Promoter Score (NPS) is a specific user engagement metric used to measure customer loyalty and overall user satisfaction. It typically consists of an eleven-point (0-10) scale and a single sentence that asks users how likely they are to recommend a product or service to a friend or co-worker.
The NPS scores are calculated by subtracting the percentage of detractors (those least likely to promote your product) from the percentage of promoters (those most likely to promote it).
What does Pendo do?
Pendo is a product experience and digital adoption tool founded in 2013. In short, the tool helps SaaS businesses create in-app guides, provide on-demand support, and discover product insights and analytics.
Pendo has an extensive list of features to help companies cater to customers at every stage of the user journey, but this article focuses on its NPS surveys.
Is Pendo NPS feature free?
The short answer is NO.
NPS survey and feedback are part of the Voice of the Customer module in Pendo. But these are not included in the free plan.
You won't find them on the Team plan either. Only Pendo's Pro and Enterprise customers have access to these features. And this is where Pendo gets expensive and not worth it for the value it offers, compared to other tools.
How much does Pendo NPS cost?
Now that you know the Net Promoter Score feature is not free on Pendo, the next question is, how much exactly do you need to spend to get it?
We don't have a precise figure because Pendo's pricing is not listed on their website—custom quotes are given to businesses based on their product and needs.
However, online reviews show the pricing for Pro and Enterprise plans can start from $2,000 to $5,000 and can even get as high as $15,000. These prices are based on reviews, so they might not be accurate.
What we know for sure is that it's expensive.
Pendo NPS functionality overview
Pendo allows you to deliver your NPS survey in-app or in-app + emails.
If you choose to send surveys both in-app and via email, then targeted users who didn't complete the survey in-app within a 14-day window will receive it in their emails afterward.
Both in-app and email surveys are typically accompanied by a qualitative question for better data collection.
Once the NPS survey is live, results will be collected in the NPS responses tab. Depending on your situation, you might want the survey results sent to a third-party app like Slack where team members can view and react collectively.
Pendo has a feature for that, but the number of possible integrations varies based on your plan. Users on the Pro plan can only add one integration, but Enterprise subscribers can add up to three. Integration helps you automate repeatable tasks, but it means additional costs if your workflow requires more of it.
Launching an in-app NPS survey with Pendo
As mentioned in the previous section, Pendo allows its customers to send surveys via emails to those who didn't complete them in-app. However, if people miss your in-app survey, they will likely ignore your emails.
That's why it's best to set a frequency and continuously collect NPS response data instead.
That said, let's get into setting up your in-app surveys with Pendo!
Pendo NPS content
Users can create a new NPS on Pendo by replacing the questions in the template (as shown below) with their preferred choice of words. They can also add the usual follow-up qualitative question to close the survey loop.
These are pretty standard and work well.
However, you can take it a notch higher to create more personalized experiences for users. Userpilot has two features to facilitate this.
The first feature is brand colors. Why have your NPS in black and white when you can customize them to fit the colors your customers are already used to? With Userpilot, you can make your surveys assume the color(s) of your brand. This makes users feel like they're having a more native experience.
The second feature is the "Ask me later" button. Seriously, people don't log into your app hoping to be asked what they feel about your product. Users hop on your tool to get tasks done, and your survey prompts can sometimes be a distraction. Adding an "Ask me later" option makes it less intrusive and the user feels that you value their time, not just the response you can get out of them. This has a win-win effect because you can segment users who clicked that option and target them later.
Pendo NPS segmentation and targeting
So many things can go wrong when your NPS survey is sent without proper segmentation.
For instance, you don't want to send surveys for features that customers haven't used or ask trial users what they think about your product before they even get to use it.
Segmentation helps you solve this problem. And the good part is that Pendo lets you segment users based on any parameter you have in mind.
The default setting on Pendo is for your surveys to target all users. So to segment, you have to choose from the segmentation options provided. Click "Add Rule" to create new rules that match what you're trying to achieve.
This looks great, but note how rigid the segmentation options are. For example, how does segmenting with OS help when collecting Net Promoter Scores data?
Targeting NPS to the right users is what will get you good product insights and analytics without annoying users with random NPS surveys based on how many days they were active only.
This is why you need richer segmentation options to enable you to categorize users properly.
Pendo NPS frequency
You can select how often you want to survey users, which is pretty standard.
However, more frequency settings let you get contextual and really granular.
Because in the end, the Net Promoter Score is not just about data collection. The way you collect the data matters as it plays a huge role in how accurate your interpretation will be.
Analyzing NPS in Pendo
The NPS survey results are known as Poll Summary in Pendo. You can find this by moving to the Guide tab and selecting the specific guide that contains your NPS.
The report is updated in real-time as more responses come in. At any point in time, you can view the number of people who have seen the survey, the number that responded, and the NPS score.
The above is just what the result summary is like.
You will see full details by clicking "View Poll Details." This will take you to a page showing the information provided by each respondent. You get to see the NPS rating provided by each person and their response to the qualitative question.
It's sad that you can only see the results, and that's about it.
What if you want to group these results and make better sense of them? There are no options provided for such in Pendo. You may have to improvise manual methods…or turn to Userpilot.
After conducting a Net Promoter Score survey with Userpilot, you can analyze the responses and add tags.
Userpilot also lets you view how common issues impact customer loyalty based on your applied tags. This will give you a clearer picture of what's really going on with your product, and it will help you come up with a good action step.
Because in the end, an NPS score without corresponding action is simply a vanity metric.
Pendo NPS survey alternatives
There are so many options for creating and analyzing Net Promoter Scores. You could custom code it or use no-code software for it. The first option takes time and requires coding expertise, so many people don't go with it.
When choosing software to do the job, you can go for a dedicated NPS software or a product adoption tool that also has NPS survey features.
Dedicated NPS tools are great, but it will mean getting different tools for different purposes. Imagine paying for an NPS tool and still buying other tools when you want to create product experiences. Apart from the financial implications, jumping between tools can also drain you.
The best option is to use a product adoption software with features for everything you'll need to do at every stage of the customer journey.
Userpilot NPS offers more value for money
We've already covered why Userpilot NPS offers more value for money, so here's a recap.
Better personalization—you can customize the look and feel of the survey to your brand colors, for example. In addition to that, Userpilot also lets you add the "Ask me later" button, which shows respect for the user's time.
Richer segmentation and targeting options compared to Pendo.
Detailed frequency settings to enable you to get accurate data.
Tagging the survey responses will help you observe common threads and see how they affect customer loyalty. This can't be done with Pendo.
NPS is not available on the free or Team plan for Pendo, which means you can't give the feature a try before paying the high subscription fee.
Userpilot is different. Because we understand how important NPS is to increasing customer satisfaction, you can use launch NPS surveys without limitations on any Userpilot pricing plan.
Conclusion: Is Pendo NPS worth the expensive upgrade?
Now you know what setting up a new NPS survey on Pendo looks like and you didn't have to subscribe to any of the expensive plans to find out.
As seen in this article, the Pendo NPS survey solution meets many well-known industry standards.
But aside from that, the feature is pretty rigid, not giving enough room for creativity. If you're the type that likes to tweak and personalize your product experiences, then Userpilot might be the best option for you.