Pendo Competitors: Top 5 of 2023 [In-Depth Comparison]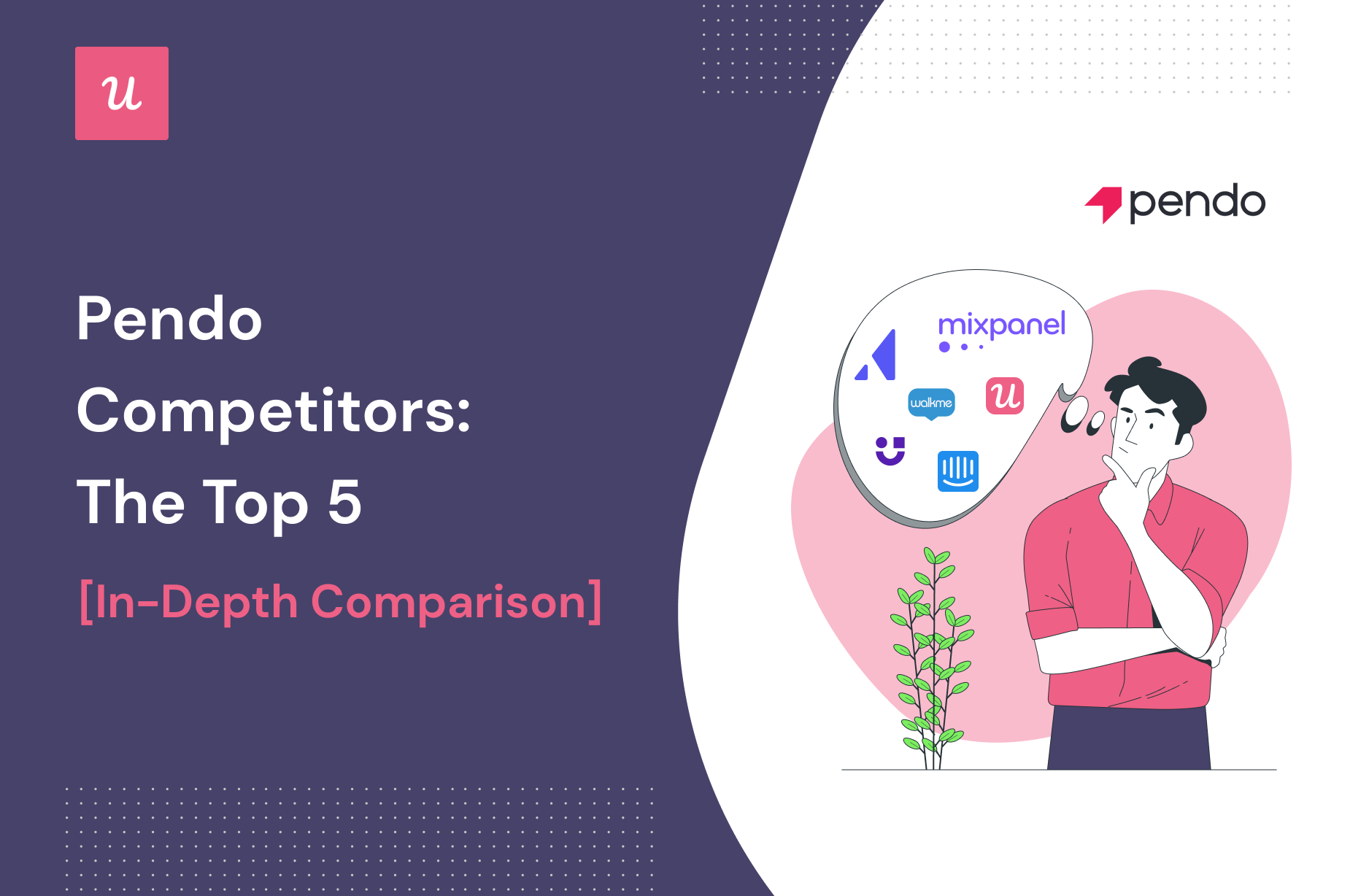 Pendo is a popular solution for improving product experience, user onboarding, getting product analytics, and in-app feedback. But if you're looking for the best (and more affordable) Pendo competitors and Pendo alternatives out there, keep on reading!
(Or if you'd rather skip to the reading part and chat with us, book a demo now!)
TL;DR:
Pendo is a popular product analytic, digital adoption platform, and user onboarding tool in one for mid-market to enterprise companies. The main Pendo competitors include Userpilot, Appcues, Walkme, and to some extent: Gainsight (on CS front) and Mixpanel (for product analytics.)
The biggest value prop Pendo offers is combining a no-code in-app engagement builder with easy to use out-of-the-box analytics features (paths, funnels and cohorts.) Its analytics are still top of class, but are bound to be overtaken by Userpilot in 2023.
The biggest issue with Pendo analytics is that they are not very actionable – the dashboard updates only every hour, and you cannot target users segmented by custom events with in-app experiences, nor trigger experiences based on user actions in-app. It doesn't offer web analytics like Google analytics either.
Pendo allows to collect customer feedback with in app surveys called "polls". Pendo offers polls through their guides which collect user feedback and gauge sentiment at different points in the user journey.
Polls come with basic functionality and are available on the free plan. However, if you want to collect user sentiment with NPS surveys, you'll need a paid custom plan that doesn't come cheap at all
Pendo is one of the most expensive business tools a SaaS company may need – with a startup plan starting from $7000 per year (paid annually) and contracts between $ 25,000 and 50,000, it may not be affordable for many small to mid-market SaaS companies.
Pendo's best alternatives include Userpilot, Walkme, Mixpanel, Appcues and Gainsight. Since Pendo caters to different use cases, the choice of the Pendo alternative will depend on your priorities.
Pendo's best alternative for user onboarding and in-app engagement use case is Userpilot. For product analytics and tracking user behaviour – Mixpanel may be the best Pendo competitor. For Digital Adoption and Employee Onboarding  – Walkme might be best, while for Mobile Onboarding – Appcues.
Get better value for your money with Userpilot – one of the top alternatives to Pendo, combining product tour builder, digital adoption, analytics and an engagement solution all-in-one.

Try a better Pendo Analytics alternative!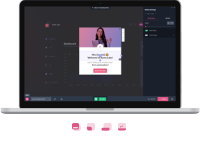 Before we dive into Pendo alternatives and competitors, let's look at its strengths and weaknesses…
Pendo Advantages
Here's what Pendo gets right:
In-Depth Product Analytics software
Pendo prides itself on providing you with in-depth and yet easy-to-use analytics (at least for a Product Adoption and Digital Adoption platform, compared to other analytics tools.). The analytics center allows you to find out exactly what your users think about your product, and how they use it. It enables you to track your users' journeys through your product (from mobile and web-based versions of your application).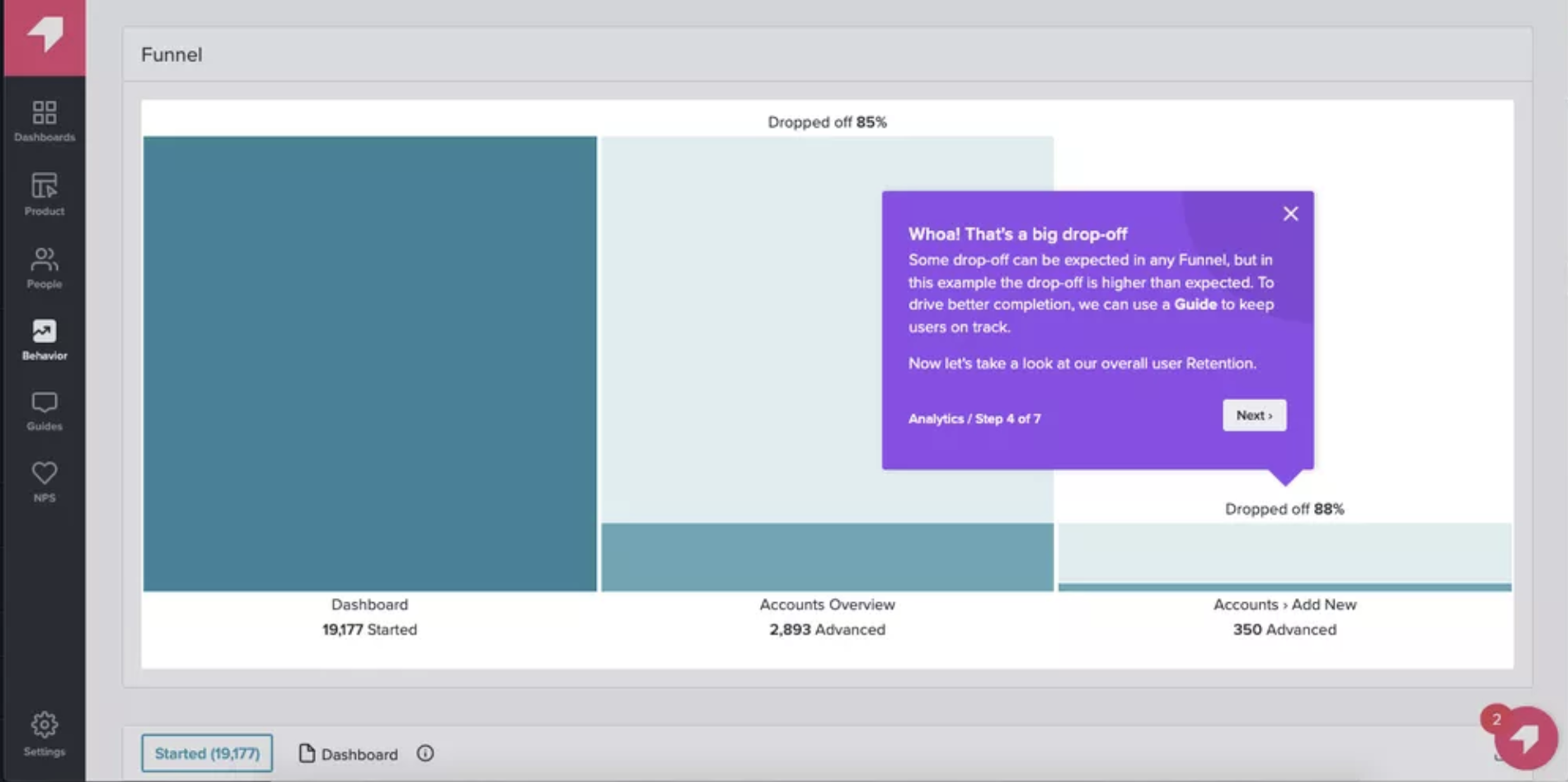 Pendo's analytics center around three main features: Paths, Funnels, and Cohorts:
Paths show you all the actions taken by users before or after a specific event. Using paths, you can discover what users are doing before or after using a specific page, feature, or tracked event. You can only compare 2 paths at a time in Pendo. Userpilot's new user analytics will give you 5 paths at the same time.
Funnels show you how many users completed each stage of a specific funnel that you pre-determined. Userpilot's Goals feature is comparable, but shows a higher number of goals at once and requires fewer clicks to do so.
Cohorts allow you to track user retention over time.
Reports allow you to track page views, clicks, events, or guide views related to whichever feature you want. Compared to Pendo's other analytics features, this feels like vanity data. Product teams don't find them time-consuming to set up, but typically less useful than other tools in understanding user actions.
Retention shows you the percentage of customers who stick around relative to the first time they used your product. The graph is visually impressive but lacks a qualitative explanation about why users are retained. Other analytics tools, like Amplitude, Userpilot or even Protwell's Retain, have that functionality.Read more about Pendo analytics here.
User Segmentation
As part of the analytics, Pendo enables you to segment your users in a variety of ways. This to segment users means you can see how different groups of users interact differently with your product. You can use segmentation to provide relevant onboarding to different sets of users.
Product Road Mapping
Pendo has a shareable product-planning tool to organize customer feedback and prioritize high-value features. It helps keep teams aligned with the shared feature-planning guide. Product managers can invite other team members to Pendo's product roadmapping tool only in the higher plans.
The disadvantages of Pendo
Despite many advantages, there are still plenty of ways how Pendo falls short.
Pendo Analytics are not actionable
Surprisingly – perhaps even shockingly for a product engagement tool that claims to be "all in one" – you can't act directly on the user analytics from Pendo in Pendo. That's because Pendo doesn't allow you to target users segmented by in-app events with the in-app experiences you've built in it (e.g. onboarding guides). It doesn't allow you to trigger experiences based on in-app events either. This is probably because of tech debt (Pendo is also really slow at releasing new features) – but makes Pendo's analytics pretty much not actionable. This, combined with the 1-hour data lag, doesn't let product managers make truly data driven decisions based on Pendo's solution alone.
Moreover, Pendo's user dashboard updates only once per hour.
If you're looking for a tool that shows you user analytics in real-time, and allows you to trigger in-app experiences based on in-app events and user behavior in real time – Userpilot offers these features (and at a lower price tag too…)
Confusing in-app flow builder 
In 2018, Pendo made the controversial decision to scrap its Chrome extension builder. How does that affect the usability of its user onboarding tool?
Compared to Chrome-extension based in-app guide builders for user onboarding such as Appcues and Userpilot, Pendo's makes you build the guides inside their dashboard rather than on top of your product. Many users find this more difficult and confusing. A product experience platform with a builder that lets you create product tours directly on top of your product may be a better solution.
Limited Onboarding Elements
When it comes to creating a great onboarding experience, you need to use a mixture of different UI elements. These include tooltips, checklists, slideouts, and more. Pendo offers limited onboarding elements, so you can't always create the best user engagement experience.
Basic Styling Options
It's important to ensure your onboarding matches the look and feel of your product. Any clashes will decrease user engagement. Pendo's onboarding elements can't be fully customized unless you use CSS. For those wanting to create onboarding experiences with no code, this could be a problem.
It's Confusing
Pendo does a lot of things. While that can be considered a strength, it also means that it's a fairly confusing product. Pendo's mixture of analytics, user feedback, and onboarding may be more than you need.
Pendo Pricing
Pendo's pricing is only available to you if you ask for a quote. The company doesn't list pricing on its site for the higher tiers. However, some reviews say they have prices starting at $20,000-$25,000 per year for a single product, and around $50,000 per year for the mid-tier package.
But bear in mind that they aim their product at Enterprise companies, it's safe to say it's on the expensive side – we've heard of 3-year $50,000 per annum contracts.
So for smaller companies and startups, it might not be the best possible solution.
Now let's take a look at the top 5 Pendo competitors to see which is the best fit for you.
Pendo Competitors For User Onboarding #1: Userpilot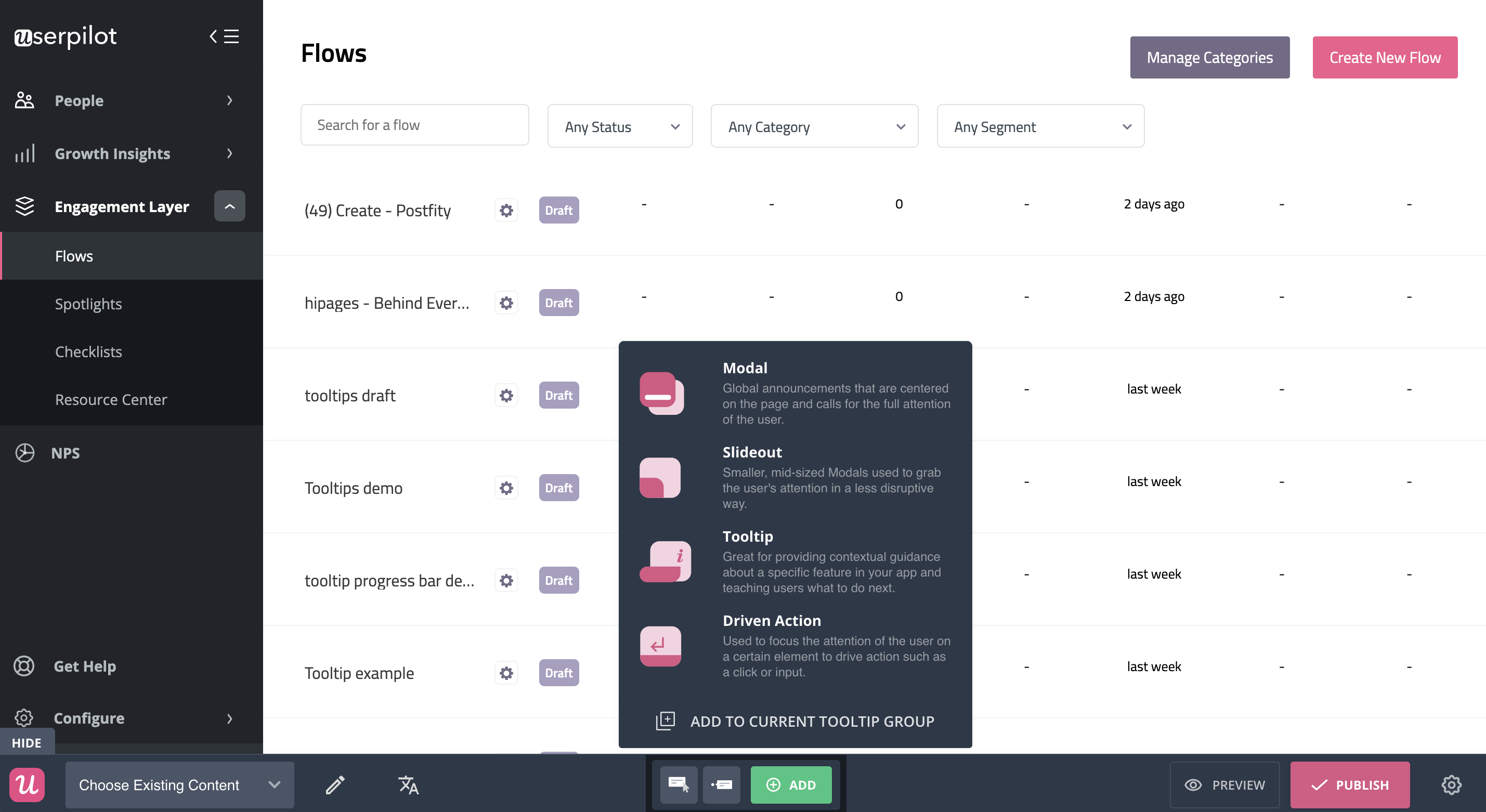 Userpilot is built for SaaS product growth. Apart from helping you provide a great onboarding experience for your users, we also have robust user analytics and in-app feedback tools – including micro surveys and NPS.
Pendo vs Userpilot: Features
The best part about Userpilot's platform is that we offer contextual onboarding. No more one size fits all walkthroughs, you can choose to show the right message to the right user at the right moment.
You can tailor your onboarding to each individual user, triggering onboarding elements when they need them – based on user behavior in-app: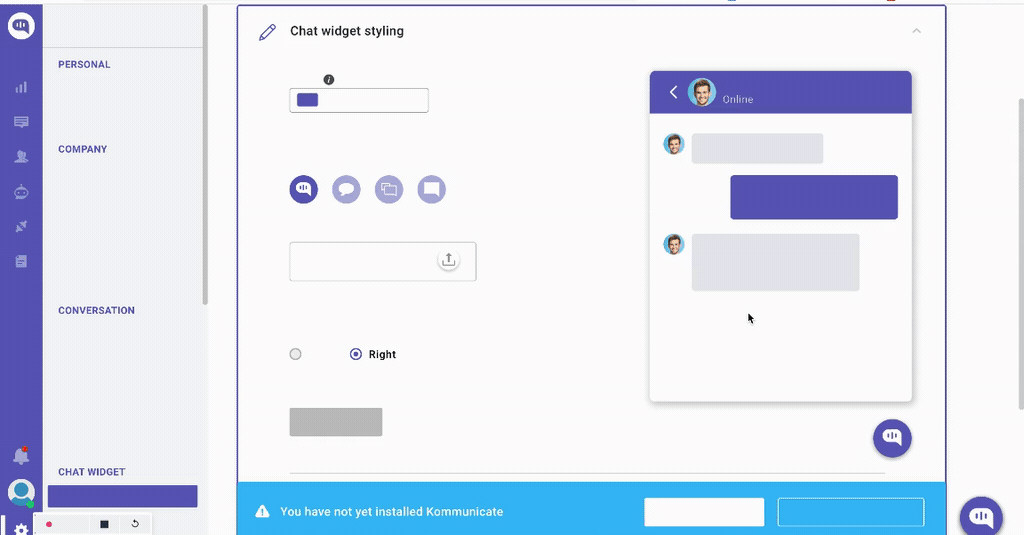 Userpilot also offers complete control over the styling of your onboarding elements. There's absolutely NO coding required, just style your theme in the builder.
Currently, Userpilot caters to the needs of SaaS companies who want to focus on building a great onboarding experience for their users based on how their users engage with different elements of their app:
In Userpilot, to see what your users do inside your app, you can either pass custom events, user attributes and event attributes, or "tag" certain UI elements on the frontend using a simple UI selector and mark them as "features" whose usage you want to track: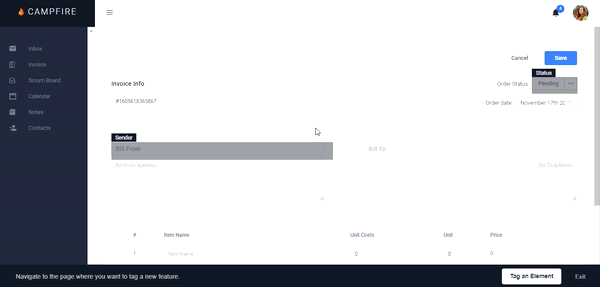 All this makes Userpilot's analytics easy to set up and use. You can segment users easily too.
Userpilot is one of the few Pendo alternatives that also offer in-app feedback options – NPS surveys and microsurveys:

Finally – Userpilot is the only one of the Pendo alternatives that offers a Resource Center – a self-serve help hub where the user can search for in-app experiences, onboarding videos, help docs and knowledge base articles in-app, on-demand: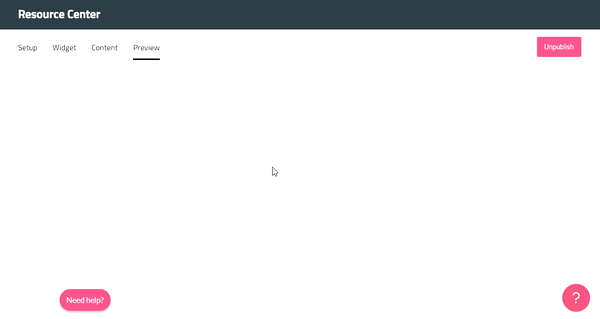 Do you like what you see so far? Jump on a free demo with us!
Pendo vs Userpilot: Analytics
Compared to Pendo's 1-hour update window, Userpilot's user analytics dashboard updates in real-time.
While currently still under development, Userpilot is working on an analytics suite that will offer more flexibility than Pendo, while keeping its simplicity of paths, funnels and cohorts: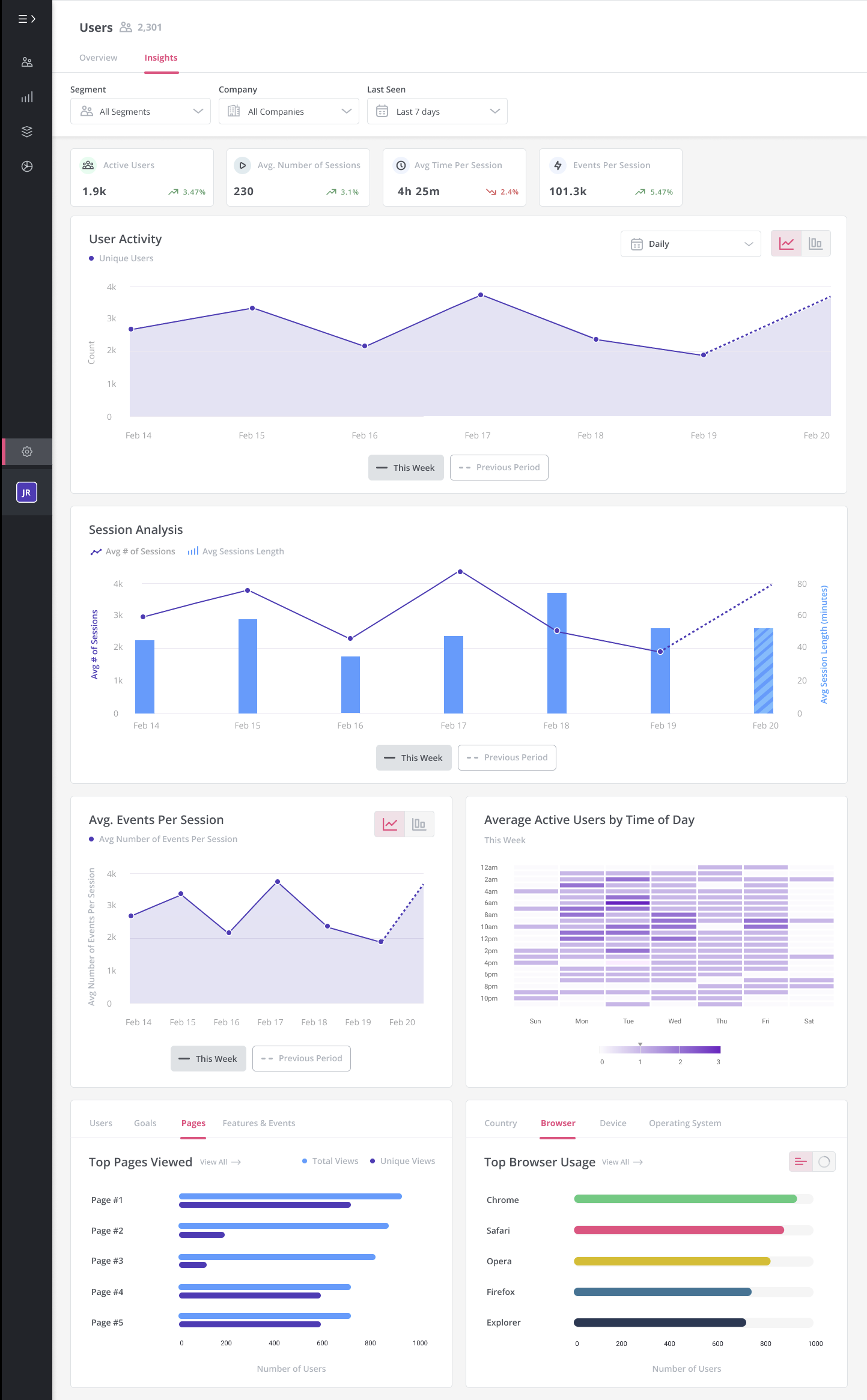 Pendo vs Userpilot: Pricing 
For 2500 monthly active users or less, Userpilot only charges you $299 per month (this is less than half the price of Pendo). The pricing is based only based on MAUs, with all features included in all plans without any limits, regardless of how much you are paying.
All Userpilot pricing plans include: 
– All of our features without any limitations
– Free on-demand live chat performance support (average response time: 8 minutes!)
– 3 onboarding calls with our Customer Success team
– Access to user Live Webinars
Userpilot Installation 
Userpilot is a no-code solution and the installation takes minutes.
All you need to do is to install the chrome extension and put one snippet of JavaScript code inside your application (you may need your developer for this).
Creating user onboarding flows from there is easy. You can create in-app experiences with our simple visual drag and drop editor: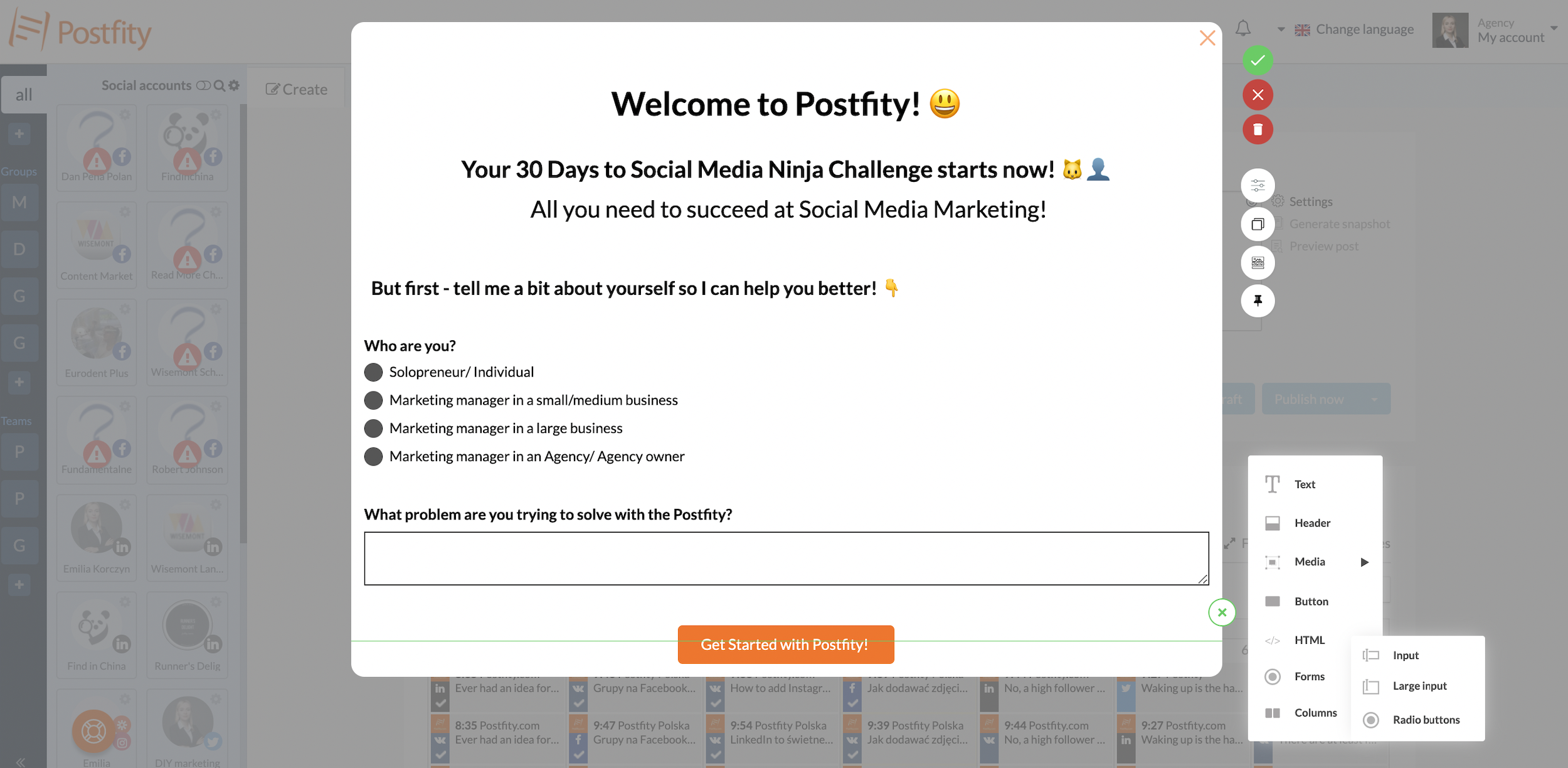 It takes minutes to build product tours with Userpilot's builder – no tech skills required!
Pendo vs Userpilot Conclusion
Userpilot is a great choice for SaaS companies wanting to focus on providing the best possible onboarding experience in order to level up their adoption rates. Contextual onboarding and branded styling options help ensure that your users will be more likely to engage with your product.
Pendo on the other hand, has less onboarding elements and branding options and can be on the more pricier side. However, it does currently offer more in-depth analytics than Userpilot.
Get better value for your money with Userpilot:

Try a better Pendo Analytics alternative!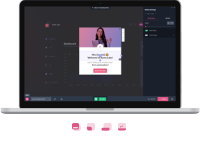 Pendo Competitors For Employee Onboarding: WalkMe
WalkMe was one of the first onboarding products on the scene. It's been providing companies with onboarding tools for years now.
Pendo vs. WalkMe: Features
As you can probably tell from the name, WalkMe was a pioneer when it comes to product walkthroughs. These days, WalkMe focuses more on the digital adoption, employee onboarding and third-party app (e.g. Salesforce) adoption for enterprises.
WalkMe boasts impressive customers, such as Microsoft and Paypal, so it's a great choice for large organizations.
Like Pendo, WalkMe also offers analytics, so you can use data to back up your decisions, and see which areas of your onboarding need improvement.
However, with WalkMe limits you when it comes to onboarding elements. WalkMe also lacks other features that products geared to SaaS offer: e.g. NPS, Resource Center or Native Tooltips.  (Btw. read out Pendo vs Walkme post here)
Pendo vs WalkMe: Pricing
WalkMe can be very expensive ($ 9,000 – $50,000 per year). It's also worth noting that it's on-premise software and so can be difficult to install, and requires developer support whenever you need to make any changes to your UI:
WalkMe has been an amazing tool for delivering training to our staff and our clients at an expedited pace – letting us tailor parts of our software as needed in a way that can be delivered on demand. Our staff can now experience training tailored to their individual roles and our clients can receive guided help round the clock! – Vicky K
Pendo Competitors: Pendo vs WalkMe Summary
WalkMe is among the best Pendo competitors if all you need are third-party app walkthroughs for employee onboarding. The WalkMe team practically invented them, so you know their software works. It also rivals Pendo's analytics.
However, it can cost you as much as Pendo, if not more, and so is one of the more expensive Pendo competitors.
[Incidentally, we compared some WalkMe competitors here.]
Pendo Competitors for Mobile #3: Appcues 
Appcues introduced the world to a wide range of new onboarding elements. Tooltips, checklists, and slideouts, to name but a few.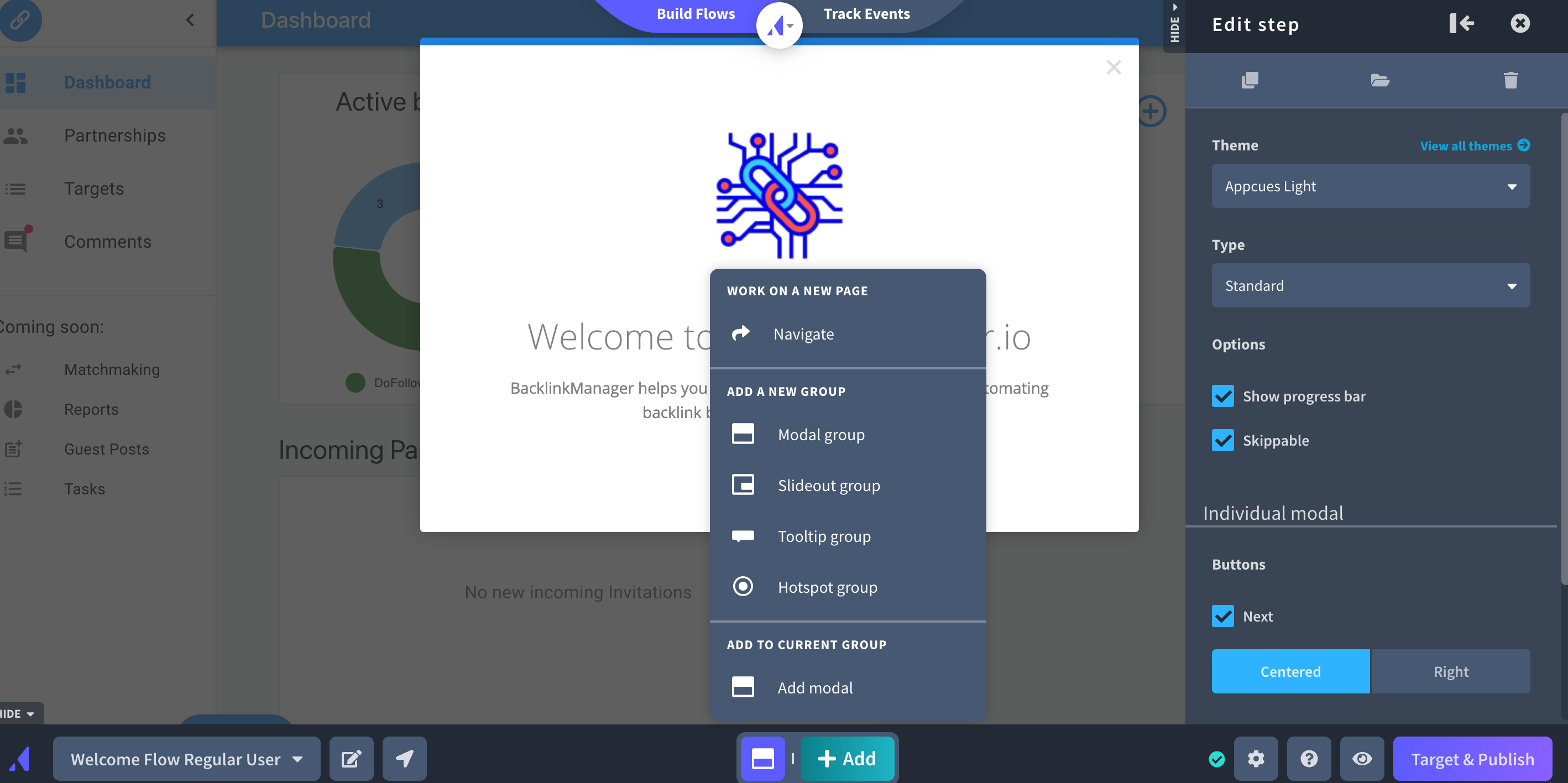 Like Userpilot you're able to craft the exact onboarding experience you want by combining a range of different UI elements.
However, compared to the newer and more affordable Userpilot, Appcues offers fewer UI elements and only 1 action, while Userpilot offers 4.
Also, like a lot of Pendo competitors (and Pendo itself), the only way to completely style your onboarding elements is through CSS. In-app styling customization is limited.
The fact that Appcues has been around for so long, and developed their product so much, is also reflected in their pricing.
Pendo vs Appcues: Analytics 
Compared to Pendo, Appcues offers limited analytics options. Moreover – its analytics dashboard updates only every 12 hours, which makes it significantly less than actionable insights.
Pendo vs Appcues: Pricing 
Appcues is definitely a more affordable Pendo alternative, and also lots of integration options, but here's the catch: while their cheapest plan (up to 2,500 MAUs) starts at $299, Appcues limits the functionality in its 'Essentials' plan so much that if you need to build additional onboarding flows or create more than 5 audience segments, you will soon need to upgrade to the Growth Plan, which costs $879 per month. There's also only email support with their Essentials plan.
Pendo vs Appcues Summary
Appcues offers a range of onboarding elements, helping you to create the exact product experience you want.
Despite this, it's fairly costly if you need more customer segments, UI patterns or even additional support with using their tool.
[We actually compared some Appcues competitors here.]
Pendo Competitors For Customer Success #4: Gainsight PX 
Gainsight is well-revered in the world of Customer Success. Their primary product offering enables you to track customer health scores and product usage.
Gainsight, however, recently made move into onboarding software, with Gainsight PX. This gives you with the ability to create in-app onboarding experiences for your users.
The Gainsight product suite provides a potent mix of data, analytics, and onboarding tools. You can also use Gainsight PX to send out automated emails to users that help to drive product adoption and engagement.
However, if you want to make the most out of Gainsight PX, then you also need Gainsight. This can get costly pretty quickly.
Not only that, but you need to install Gainsight via Salesforce. This isn't a problem if you already use it. If you don't use it, then you'll need to create a Salesforce account too.
GPX flips this market on its head, in my opinion. Many of in-app engagement solutions do not also offer analytics – or they offer analytics about the engagements only, not the actual product. GPX flips that paradigm by basing the engagements off of the product analytics. Rather than shooting off engagements into the dark, you can ensure that what users see is timely and relevant to them. – Julie P
Pendo vs Gainsight PX Summary
Gainsight PX is one of the best Pendo competitors, in that it offers comparable analytics and product insights. You can then use the data to improve your product experience.
To summarize the main couple of drawbacks to Gainsight PX: firstly, you need to also purchase Gainsight to make the most of PX. This can be costly. Secondly, you'll need to integrate Gainsight PX via Salesforce, so you'll need a Salesforce account if you don't have one already too.
Pendo Competitors For In-depth Product Analytics – #5: Mixpanel 
When it comes to learning how and why your users are engaging with your product, then it's hard to find a better analytics tool than Mixpanel.
Thousands of top companies, such as Samsung and Expedia, used Mixpanel for its in-depth analytics.
Mixpanel uses data science techniques, such as "look-alike modeling". These provide you with insights into your users' behavior. Combined with big data analytics, this will give you all you need to know about how your users behave.
These invaluable insights are what make Mixpanel one of the most useful alternatives to Pendo for competitors. If you wanted to use Pendo for its analytical tools, then Mixpanel is the alternative for you.
When it comes to acting on the insights you gather, however, Mixpanel falls short. You'll have to pair it with an onboarding tool like Userpilot.
If you have a smaller user base, you might not also need the level of detail that Mixpanel provides. Smaller companies might also struggle to justify purchasing two products (one for product growth, one for product analytics).
"We use Mixpanel to keep track of our funnel and make sure we've got nailed each element (acquisition, activation, retention). With Mixpanel, you can follow different cohorts of users and create funnels to see where your users fall off; this helps you identify your bottlenecks and fix them quickly. Being able to send your customers messages from the tool is also a huge plus!" – Cherie Foo, Content Team at UpLead
Pendo vs Mixpanel Summary
Mixpanel is indisputably the best software when it comes to tracking product usage. It lets you understand why your users behave the way they do. It surpasses Pendo's analytics, and the insights you collect could transform your product for the better.
However, Mixpanel doesn't offer much in the way of acting on those insights. Chances are, you'll need to combine Mixpanel with one of the other Pendo competitors to create the best product experience for your users.
So Which Of These Pendo Competitors Is Right For You?
Each SaaS company will have different needs. The products we covered in this article are among the best Pendo competitors, but it's more important you choose the best fit for your needs.
Get Userpilot For Better Onboarding Experiences:
Userpilot's contextual onboarding means you can adapt onboarding flows to specific user segments. You can trigger elements at the exact moments when they're needed. This provides the best possible product experience for your users and can help increase user activation, feature adoption and engagement.
Get WalkMe For Employee Onboarding:
WalkMe focuses more on employee onboarding and third-party app (e.g. Salesforce) adoption for enterprises. They have pretty impressive customers, such as Microsoft and Paypal, so it's a great choice for large organizations.
Like Pendo, WalkMe also offers analytics, so you can use data to back up your decisions, and see which areas of your onboarding need improvement.
Appcues:
Appcues offers more UI elements than Pendo, including tooltips, hotspots, and slideouts. This enables you to craft the exact onboarding experience you require. However, Appcues is more costly than Userpilot with less features and support on their Essentials plan.
Gainsight PX:
Gainsight is mainly known for its Customer Success product. Their new product, Gainsight PX, is very effective when used in conjunction with their primary product. For Customer Success, this is super valuable.
Get Mixpanel For Product Analytics:
You can't beat Mixpanel when it comes to product analytics. The insights that Mixpanel provides will help you understand not only how users engage with your product, but why.
And that's it!
We hope this guide has helped you understand the key differences between the top Pendo+ alternatives and competitors below. Now you have a better idea of which is right for your company.
If you're considering Userpilot, we'd love to show you around!