Is Pendo for Startups Worth It for Early-Stage Companies? [+ Alternatives]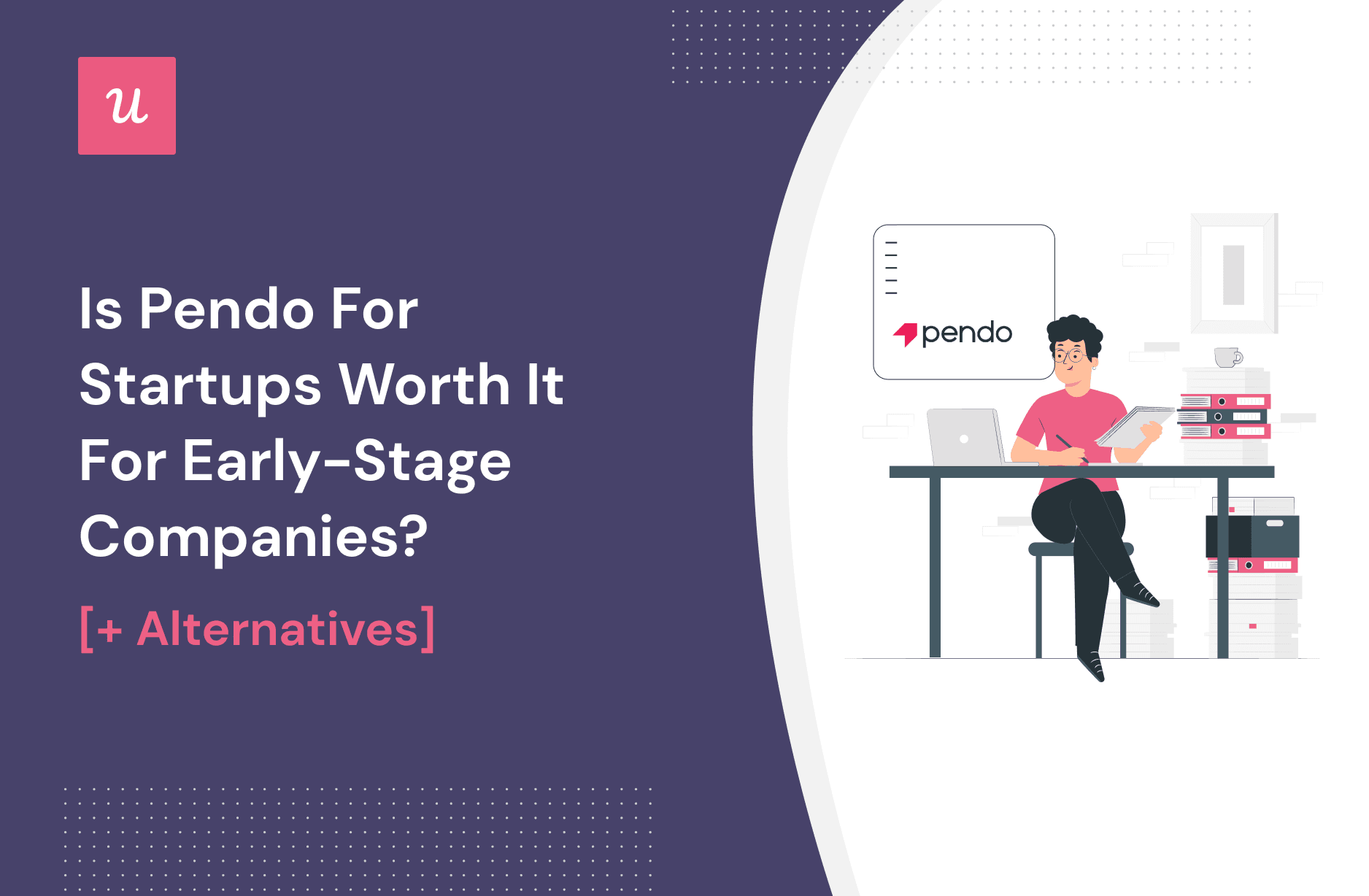 What is Pendo for Startups?
This is the key question that the article explores. We look at the functionality it offers, its strengths and limitations, and a couple of alternatives that product managers of early-stage companies could use instead to drive growth.
Ready to dive in? Let's do it!
TL;DR
Pendo for Startups was a discounted Pendo package that was designed to help early-stage companies overcome common causes of failure, like poor use of data to verify market need.
The package offered 3 core capabilities that could save venture-backed Pendo customers from product-market fit failure: analytics, user sentiment tools, and in-app guidance.
While Pendo for startups doesn't exist anymore, the company offers some of its functionality in its two lowest plans, Free and Starter.
Pendo analytics are very advanced and allow users to collect key qualitative usage data. Most of the features, like Retention, Paths, and Funnel analysis, are available in the lowest two plans.
Such data is important not only to make informed product decisions but also for stakeholders. Early-stage investors pay attention not only to business metrics but also to product usage data.
Polls enable startups to collect user feedback but the user sentiment and NPS tools are only available in the paid plans. Pendo Feedback is a separate product.
Pendo enables its seed-funded customers to drive product engagement and adoption with in-app guides. These are fairly basic though, like their linear product tours.
The resource center and the checklist functionality are not available in the two plans.
When it comes to the lowest plans, both of them offer limited functionality and the Starter plan is more expensive than those of competing products.
Appcues is a recommended alternative to Pendo for mobile apps. Its Essentials plan offers more UI onboarding patterns, all analytics features and NPS tools, integrations, and A/B testing.
Userpilot's lowest Traction plan offers more robust functionality than Pendo or Appcues. For example, it offers more UX patterns (6), checklists and resource center features, qualitative NPS analysis, and higher usage limits.
What is Pendo for Startups?
Pendo is a product cloud company that offers one of the most popular digital adoption platforms out there. It's probably best known for its analytics.
The company introduced Pendo for Startups in 2020. The idea behind it was to offer venture-backed startups (not private equity-funded startups) a tool whose functionality would enable them to achieve product-market fit sooner.
It's very difficult to secure a new round of funding without PMF and that's the key reason startups fail.
This plan is no longer available. Pendo has replaced it with two plans offering early-stage companies similar functionality: Free and Starter.
What can you do with Pendo for Startups new plans?
Pendo for Startups offered three core Pendo capabilities:
The two lowest Pendo plans, Free and Starter, offer functionality in all three areas, except for Pendo Sentiment which isn't available in the Free plan.
Pendo Analytics
When it comes to Pendo analytics, both of the plans offer the same features. These are:
Retroactive data analytics – capturing product usage data from the moment you install it.
Unlimited page and feature tagging.
Behavioral analytics – including Retention, Paths, and Funnels for user journey analysis.
Neither of the two plans gives you access to:
Customizable reports (Data Explorer)
Product Engagement Score (PES) or NPS
Cross-app journey reports
Cross-app executive dashboards
Pendo Sentiment (NPS, surveys)
The Pendo tool has a couple of ways to collect user feedback.
Sentiment (NPS, surveys)
Feedback – a standalone application with complex analytics features that requires a different subscription.
Pendo Polls
To start with, you have Pendo Polls, which fall under Guides. They can help you create surveys that contain multiple-choice, yes/no, open-ended questions, and rating scale questions.
You can then use the results to segment your users for more in-depth analysis or for targeted messaging.
Pendo NPS
You can use also use Pendo to create NPS surveys.
This gives you insights into customer loyalty and breaks down your users into promoters, passives, and detractors. What's more, you can deliver the surveys both in-app and via email.
However, the NPS functionality is not included in the free plan.
Pendo In-app Guides
Pendo Guides are the UX patterns that you can use to communicate with your users in-app. That's what teams use for primary and secondary onboarding.
The types of patterns you can create with Pendo include:
All of them are available in both of the basic plans. The checklists and resource center features are not though.
To create basic Guides, you can use one of the templates. This doesn't require any coding skills as Pendo's Visual Design Studio supports a WYSIWYG editor. However, the customization is basic so you will need your devs to give them a native-like look.
Localization and accessibility features are included in the two plans which allow you to reach a wider user base and most importantly, they work both in web and mobile products.
You can trigger them individually or in sequences and target specific user segments. However, as Pendo displays analytics data with a delay, it's difficult to fire them contextually, for example when users complete an event, so you have to schedule them in advance.
Pendo allows you to analyze the performance of your guides but the functionality is seriously limited in the Free & Starter plan. Experiments are not included either.
What are the pros and cons of using Pendo as a startup?
While Pendo is a powerful tool from one of the world's leading software companies, it might not be the most suitable tool for startups.
Pros of using Pendo
Free demo and plan to help you evaluate the tool's suitability for your use case.
Supports web and mobile apps.
Cons of using Pendo
Price is still on the higher end for startups.
Limited onboarding elements – for example, checklists can only be accessed from the resource center which defeats the purpose of having them in the first place (and that's not included in the lower plans anyway).
User behavior data is displayed with a 1-hour delay.
Pendo sentiment is not offered in the free plan.
No integrations in the two lowest plans.
What do users say about Pendo?
Pendo customers give it an average rating of 4.4 , which is pretty solid.
Users value Pendo mostly for its intuitive interface, ease of set up, and code-free functionality:
For me, the best thing is that I don't have to consume any dev resources when I want to find data and analytics. Working in a start up in growth mode, dev resource is precious, so the fact that I can simply open the Pendo Designer, and tag any features that I want to measure, is of great benefit. – Richard F.
However, users mention Pendo pricing and limited Guides functionality as some of the drawbacks:
It's a bit pricey, especially for start-ups. Regarding the Pendo guides: there is not a lot of freedom for creativity, so they don't 100% match our product design. – M.H
Users also bring up the lack of pricing transparency and aggressive sales tactics as some of the areas for improvement:
Pendo is expensive and the larger you become, the more expensive the solution is for your organization. Our interaction with their sales team wasn't my favorite and compared to a previous organization where we bought Pendo, rather aggressive. Their startup package only includes the resource center for one year and then they charge you for it. Lots of costs associated with other integrations (SalesForce, Zendesk, etc.) which is a barrier to entry for smaller startups who are very cost conscious. – Stephanie H.
How much is Pendo for startups?
Pendo is not the cheapest product out there. For example, Pendo customers report paying $2000 for just the tour functionality!
The two Pendo for startups plans are:
Free
Up to 500 monthly active users
Product Analytics
In-App Guides
The functionality offered in the Free plan may be enough to get a taste of what Pendo has to offer, but it's definitely not enough to make informed product decisions.
Starter – from $7000/year
Up to 2,000 monthly active users
Product Analytics
In-App Guides
Sentiment (NPS, surveys)
The addition of the NPS feature and increasing the number of MAUs make this plan a bit more usable. However, it's still not very competitive when compared to other similar products.
Are there better alternatives for startups than Pendo?
If the pricing of the Starter plan seems excessive for the functionality it offers, there are a few solid options out there that you may want to consider instead of Pendo.
Let's look at a couple of them: Userpilot and Appcues.
Userpilot vs Pendo for startups
Userpilot is a digital adoption platform. It enables startup product, marketing, and customer success managers to track product usage and user behavior, collect user feedback, and design onboarding experiences. Just like in Pendo, no coding is required.
What advantages does Userpilot have over Pendo for startups?
It's more affordable – the lowest Traction plan starts at $249/month.
Usepilot relays all the usage data in real-time which means you can use it to trigger contextual in-app guidance.
It offers more advanced segmentation for detailed analytics and personalized in-app messages.
You can build more interactive onboarding flows than Pendo Tours which are linear and tooltip-dependent.
You can trigger checklists anywhere in the product, not just from the resource center.
The resource center functionality is available in all plans.
NPS tools are included in all plans and allow you to tag and analyze qualitative responses.
A/B testing for in-app flows.
Integrations with Heap, Segment, and more.
It's recommended for web applications.
Userpilot pricing
Userpilot offers three different plans: Traction, Growth, and Enterprise. Each of them is more competitively priced than the Pendo equivalents.
The lowest Traction plan, which is the counterpart of the Pendo Starter plan starts at $249/month and includes:
Up to 2,500 monthly active users
People & Tracking
Engagement Layer (In-app guides)
User Sentiment (NPS surveys)
Reporting, Targeting & Customization
Integrations
Localization of up to 5 Languages
20 Feature Tags
1 Application
Userpilot reviews
The competitive pricing doesn't mean any corner-cutting though. Userpilot's functionality, user-friendly UI, and ease of use are recognized by G2 reviewers.
They praise Userpilot's engagement functionality:
Amazing tool does all that we need! A must have for a startup!… I love how you can create user adoption nudges, popups, modals, all without code!
Apart from the engagement layer, also the analytics, reliability, and quality of support are highly rated.
There are a few core reasons we're fans of Userpilot:
1. At its core, it's a well-designed product that is easy to grow quickly.
2. Great support and account management. We quickly reached someone and received detailed information to help us level up.
3. It does the job reliably! I've never encountered an issue with it bugging out in any way.
4. Pricing is unbeatable for capabilities in the space.
Appcues vs Pendo for startups
Appcues is another product onboarding tool and a solid alternative to Pendo. Product and marketing teams use it mostly to analyze product usage, collect user feedback, enhance their user onboarding, and drive product adoption.
Why is it better value for money than Pendo for startups?
Here are a few reasons:
Better in-app guidance features – 4 UX patterns + Pins vs Pendo's 3.
All analytics features and NPS tools are included in the lowest plan.
Integrations with analytics tools (two-way integrations with Amplitude, Mixpanel, and Heap, as well as Kissmetrics and Fullstory).
A/B testing for onboarding flows.
Recommended for mobile applications.
Appcues pricing
Appcues offers three different plans: Essential, Growth, and Enterprise.
The lowest, Essential plan, starts at $249/month just like Userpilot's Traction plan and it offers:
3 user licenses
Standard pattern library, including NPS surveys and Pins
Unlimited Insights
10 Track Events (click-to-track)
Send data to analytics tools
Email support
The functionality is fairly limited compared to what you get with Userpilot but is still more attractive than Pendo's Starter plan.
Appcues reviews
The product gets excellent reviews from its users as well.
G2 reviewers praise how easy it is to design in-app flows without the developer's help. They also praise its user behavior analytics.
For the most part, Appcues is pretty easy to implement. Once installed, it takes no time to use their templates to create your first flow and publish it for customers. They've also just released a few features called click to track that now allows you to track clicks and hovers on anything on your site. This is super helpful if you're trying to understand if the flow you created actually worked or not.
Appcues has been an excellent tool for us here at Pixelz in communicating major feature announcements, facilitating customer onboardings, and analyzing user behavior on the platform.
Conclusion
The rationale behind Pendo for startups was sound. It was meant to be a tool that helps digital product teams to analyze user behavior and collect feedback in order to make more informed decisions. This was to help them secure further funding.
However, the reality is that the lowest plans don't offer enough functionality while being unaffordable for early-stage companies. There are products out there that outcompete it hands down.
If you want to see how Userpilot can drive the growth of your SaaS startup in its early days, book the demo!