Best Software Localization Tool For Implementing a Localization Strategy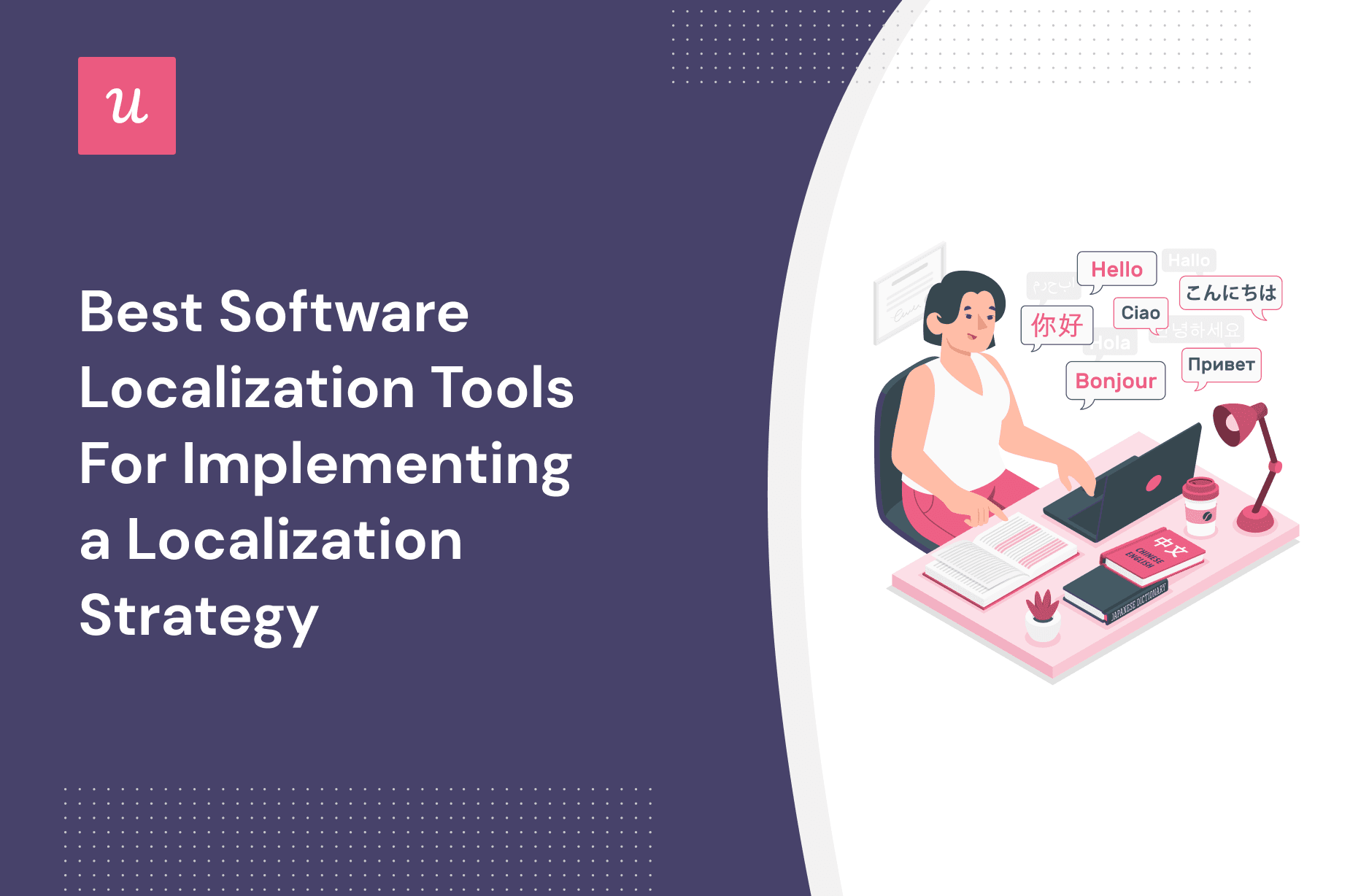 What is the best software localization tool available at the moment?
There is no simple answer to this question, as it all depends on your product and your goals.
The article explores what product managers need to consider when choosing the localization tool for their SaaS product. We also look at a few well-known options that you could leverage to successfully localize your mobile and web apps or websites.
Are you ready to dive in? Let's do it!
TL;DR
Software localization adapts your products so that it feels natural to users who speak a different language.
Localization is much more than translation. For example, it requires cultural adjustments to make the desired impact on the target user.
In addition to linguistic and cultural changes, localization often requires changes to the pricing plans, payment systems, functionality, in-app experiences, or software/hardware customization.
Different localization projects require different tools. In order to choose the right one, analyze the user journey and all user interactions with the product. Next, look for the best tool to localize these interactions.
Userpilot is a product adoption platform that supports automatic AI-powered localization of in-app messaging and support center modules.
memeQ is a complete translation management system (TMS) with an asset repository that supports the centralized tracking of translation projects.
Phrase is an enterprise-level TMS that uses AI and machine learning to automate the translation process.
Software developers are the target users of Localazy, which supports automatic web and mobile app translation into over 80 languages.
Lokalise is a comprehensive translation and localization platform with a number of solutions. These include localization workflow management, which allows teams to automate and streamline their processes.
Weglot is a complete tool that takes care of every aspect of website translation and localization.
MotionPoint provides bespoke turnkey software translation services. It doesn't use AI, so it takes longer and is pricier, but the translation quality is better, especially, in niche areas.
Want to see Userpilot localization in action? Book the demo!
What is software localization?
Software localization is about modifying and adjusting the product to the needs of target users who speak other languages and come from different cultural backgrounds.
The objective of localization projects is to make the product feel as if it was originally designed for the target audience.
Localization process vs translation process
Localization and translation are often confused, and there's a reason for that.
Translation is usually part of localization. This is a no-brainer if you're entering a new market where users speak a different language. This is what Google translate or similar translation software can do for you.
However, there's much more to localization than simply translating your website and UI copy or manuals into another language.
Miruna Parchirie, the Localization Manager at Kudo, believes that a successful localization project requires more substantial changes to the UX to have the desired impact on target users:
Localization is like storytelling: you have a message to convey, and you want it to be impactful, to strike the right chord. Speaking the language of your audience is helpful, but not enough. You need to understand your audience. This is only achievable through research. Work with your UX team to build a research program/initiative that taps into your global audience.
Main types of software localization
What aspects of UI should you consider while localizing your product?
We distinguish different types of localization based on their focus:
linguistic localization – this involves not only translation but also UI changes necessary to accommodate different scripts or string lengths
price localization – apart from displaying prices in the currency used by the target users, it may also require changes to the pricing structure to make your product competitive
payment system localization – it's about choosing a payment system that target users are confident using to make the payment process as frictionless as possible
cultural adaptation – this requires making the product match the cultural norms and expectations of the target country, so it's probably the most challenging type of localization
functionality localization – this means adding new features to meet the needs of the users and compete with products that already exist in the target market
in-app experience localization – these are the changes to the user onboarding process and in-app communication
software and hardware customization – this involves modifying the product to make it compatible with other systems available in the target market, like power plugs or operating systems.
Which software localization tool is best for you?
There is no simple answer to the question as it all depends on your needs.
To help you plan the localization process of your digital product, it's a good idea to look at the customer journey map.
Going through all the touchpoints where users interact with the product will help you identify all the aspects of product UX that you need to localize.
Once you have them ready, you can start looking for the best tools to do the job.
Best software localization tools
Let's now have a list of best-in-class software localization tools that can help you achieve your localization and internationalization goals:
In-app messaging localization tool: Userpilot
Userpilot is a product adoption platform that allows product and customer success teams to design personalized onboarding flows.
Userpilot consists of three layers:
Userpilot leverages an AI-powered language translation service for the automatic translation of in-app messages like tooltips, modals, slideouts, and so on.
Apart from that, you can also export your content as CSV or XLIFF file and have it manually translated, and import it all back to Userpilot.
Pricing
The localization functionality is available in all Userpilot pricing plans:
Traction from $249/month
Growth from $499/month
Enterprise from $1000/month
In-app self-service support localization tool: Userpilot
Apart from in-app messaging, Userpilot offers also the Resource Center functionality.
This part of UX is particularly valued by customers who expect access to help whenever and wherever they need it. And it reduces support costs too!
Like in the case of other in-app experiences, Userpilot enables an automatic translation of the self-support modules so that users can access them in their own languages.
Translation management software: memoQ
memoQ offers businesses of all sizes a range of translation and localization tools, including memoQ server.
memoQ server is a comprehensive translation management system (TMS) that allows users to oversee all translation projects from one place.
Key features include:
Collaboration tools
Localization Automation
Machine Translation
Project Tracking
Terminology Management
Version Control
Workflow Management
memeQ can be used to localize both software and websites.
Pricing
The tool offers three main pricing tiers:
Cloud, from €160/month
Cloud+, from €360/month
Private cloud, from €460/month
Translation management system for enterprise: Phrase
Phrase is another translation management system that offers a range of machine learning/AI-powered translation tools.
It is best suited for enterprise clients and it supports the whole translation supply chain links, like translation departments, translation service providers, and freelance translators.
The main features include:
Support for 500+ languages
Advanced workflow automation
Translation vendor management
Computer-Assisted Translation (CAT) tool for translators
Collaboration Tools
Localization Automation
Machine Translation
Memory Management
Project Tracking
Terminology Management
Just like memeQ, you can use Phrase to translate both software and websites.
There are four pricing plans available for the Phrase TMS:
Team Start – £21/month per project manager
Team – £149/month per project manager
Ultimate – £269/month per project manager
Enterprise – custom pricing
Software localization platform for developers: Localazy
Localazy is a cloud-based application for software developers who want to make their applications available globally.
Like many of the other products in our lists, it allows you to automatically translate your website and software into 80+ languages.
It also includes such features as:
Visual Context
Collaboration Tools
Language Detection
Localization Automation
Memory Management
Project Management and Tracking
Terminology Management
Version Control
Workflow Management
Android Library with automatic recommendations for improvements
Pricing
There are four main pricing tiers available for Localazy customers:
Professional – $19
Autopilot – $49
Agency – $99
Enterprise – custom pricing
Localazy offers a free plan too, so you can try it out before you part with your money.
Software localization workflow management: Lokalise
Lokalize is a full-fledged localization tool for teams who are developing their own or 3rd party mobile apps. But not only. You can also use it to translate websites, marketing assets, or support documents.
Lokalise offers a range of solutions, including localization workflow management tools. What are these?
Chained tasks (when one finishes, the other automatically starts)
Branching/version control (automatic updates to previous versions)
Translation project dashboard with real-time data
Webhooks for 3rd party integrations
Automatic status management and custom statuses
Pricing
Lokalise offers a four-tier pricing plan.
Start – $120/month
Essential – $230/month (inc.. chained tasks, and stats & reports)
Pro – $825/month (inc. custom statuses or branching)
Enterprise – custom pricing
Automatic website localization tools: Weglot
Weglot is a comprehensive no-code cloud-based website translation and localization software.
It is compatible with the most popular CMS and website platforms like WordPress or Webflow, and once you link it up to your website, you can manage your translations centrally from its dashboard.
Weglot uses machine learning translation for instant high-quality translations of your website content. You also have the option to order professional translations to fine-tune your copy.
Key features:
Workflow automation
Editing tools, including directly inside the website
Multilingual SEO
Automatic subdomain creation in different languages and visitor auto-direction
Central dashboard
Customer journey localization (not just web content but forms, pop-ups, etc.)
Pricing
Weglot has the most complex pricing structure of all the tools we're looking at. There are 6 different plans:
Starter – € 15
Business – €29
Pro – €79
Advanced – €299
Extended – €699
Enterprise – custom
All the plans offer the same functionality, the only difference is the number of translated words and languages.
You can also try Weglot for free to translate up to 2000 words into one language.
Content localization tools: MotionPoint
MotionPoint is different from all the above tools in that it doesn't provide an automatic translation service. Instead, it relies exclusively on the services of professional translators who do all the work in the background.
This means a higher quality of translation, especially in niche areas where AI doesn't have enough language clusters to work with. The downside is its longer turnaround times (about 24 hours). You also need to allow time for the one-time set-up of the service.
How does it work?
In short, the software crawls your website to identify translatable content from code. It breaks it down into processable chunks and passes them on to the translators.
MotionPoint supports the translation memory functionality. This means you can reuse and repurpose your translations easily, for example for social media.
Pricing
MotionPoint charges their customers a flat rate subscription fee that covers access to translation memory, support, and automatic new content detection. On top of that, their customers are charged per word translated. How much?
The information is not available on their website. However, some customers have pointed out in their G2 reviews that it works out quite expensive compared to AI-powered tools:
it is very pricey. For many businesses, the price point may not make sense compared to other options which are 90% cheaper using AI translation tools.

Conclusion
As there are plenty of localization platforms available, choosing the best software localization tool is not easy.
Before you commit to any particular tool, map out the user journey with all its touchpoints. This will help you identify which aspects of your product you need to localize. Only when you have these, look for the right tools.
If you would like to see how Userpilot can help you localize your in-app experiences and support center resources, book the demo!