8 Help Center Examples To Inspire You To Create One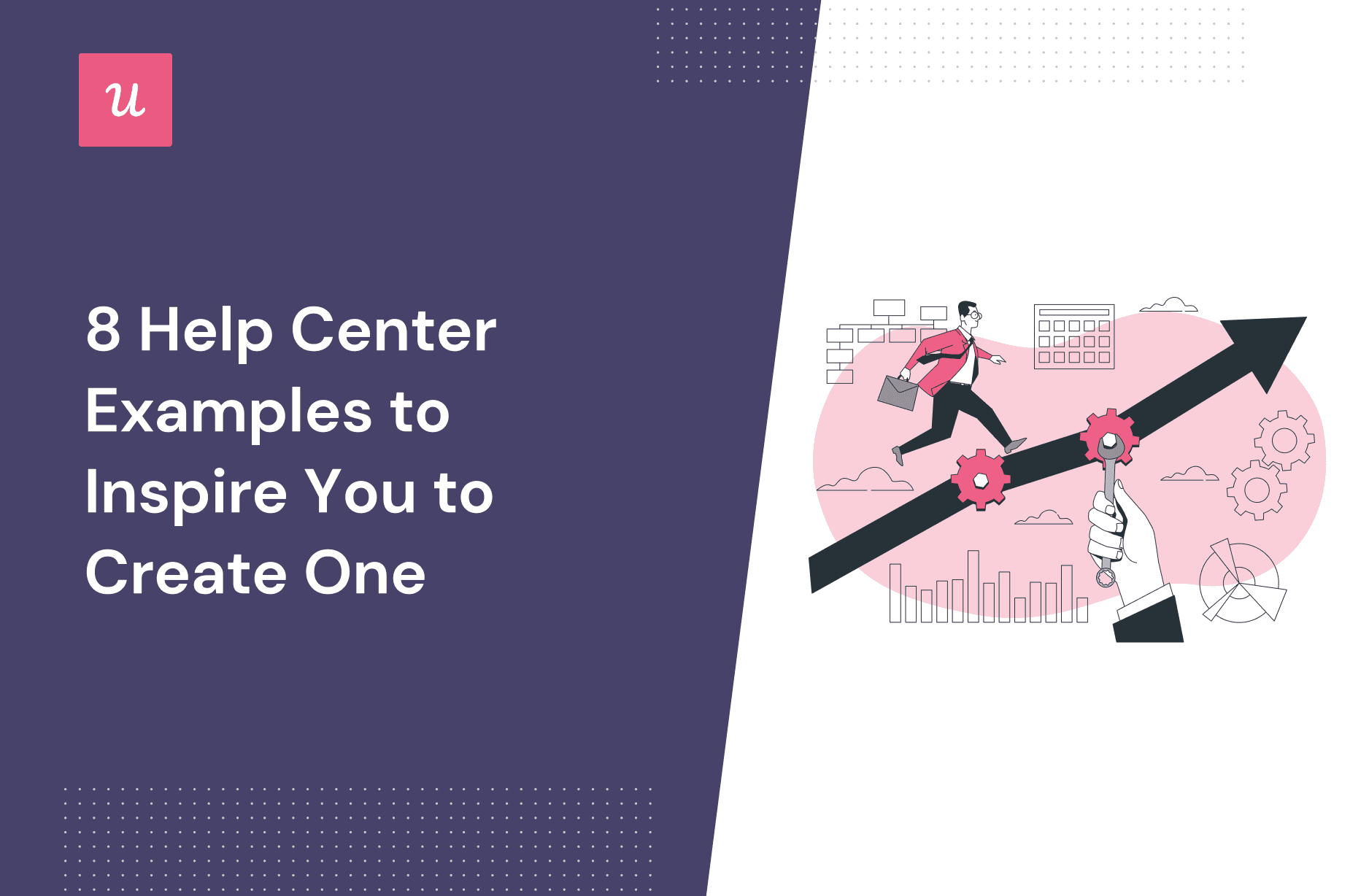 What are some help center examples that can inspire you to create yours?
Designing help centers can be a tricky task. What elements should you include? How much information is enough? Where do you even begin with the self-service support model?
In this article, we'll be talking about the importance of help centers. You will also know how different it is from a knowledge base, as well as some of the best examples that can help you create one.
Let's get started!
TL;DR
A help center is an in-app self-serve support system designed to help customers solve their problems inside the product.
Having an in-app help center enhances customer satisfaction since customers don't have to rush to contact customer support.
The ease of problem-solving with in-app help centers also reduces the customer's time-to-value, thus reducing churn.
The primary difference between a knowledge base and a help center is that help centers serve as an in-app resource, whereas knowledge bases are found on the website.
A well-designed help center may contain should contain more than one resource, including product documentation, live chat support, in-app tutorials, webinars, search bar, case studies, etc.
Some of the best in-app help center design examples in the SaaS market belong to Userpilot, Slack, Miro, Jira, Asana, Loom, FullStory, and Mural.
Userpilot is a no-code tool that can help you build and manage code-free help centers for your product. To learn how to use this tool, book a demo right away!
What is a help center in SaaS?
A help center is a self-service support system designed to assist customers and help them find solutions to their problems within a product.
Why do you need a help center for your product?
Providing on-demand education for your users is critical to the success of a SaaS product. Regardless of how simple your product journey may appear, there are bound to be users who struggle with it.
A help center, thus, supports customers when they're stranded. In-app help centers serve as self-service support systems, making it easy for a user to resolve issues faced while navigating your product.
Providing a help center within your product eliminates the friction associated with finding help. Rather than having to "google" the solutions to their problems, users easily find solutions within the app and return to applying them to your product.
By eliminating friction, accessible self-service support improves the user experience and satisfaction. With enough resources to guide customers around the product, you reduce the customer's time to value, which reduces churn.
Ultimately, an excellent help center helps reduce your cost of operations by allowing you to maintain a small support staff.
Help center vs. knowledge base articles
Although help centers and knowledge bases tend to be used interchangeably, they aren't the same. A knowledge base is designed as a self-serve support center where customers can find solutions to queries without the help of agents.
Note that a knowledge base can be a part of your in-app help center or a standalone section on your website. On the other hand, a help center is always located in-app and boasts multiple resource types.
For a well-structured knowledge base example, look at Userpilot's knowledge base. It contains a bunch of useful sections that can help you find whatever you're finding.
What should a help center have?
Your help center should be a treasure trove of helpful resources for your customers. You could include the following types of resources:
Product Documentation
Product documentation is a technical document that tells you everything you need to know about your product or software. Its goal is to help users get maximum value out of the product by giving them a complete user guide for the product.
To achieve this goal, the typical product document may contain product specifications, features, and functions; setup and configuration instructions; API and SDK documentation; use case instructions, and even troubleshooting information.
Live Chat Support
Live chat support eliminates the need for a support ticket by providing users with immediate responses to queries.
Live chat support allows customers to have real-time conversations with support agents. This keeps the conversation window small, enabling the user to return to using your product in no time. Live chat support also makes it easier for agents to ascertain the root cause of problems.
FAQ
FAQ pages are used to collate answers to the most popular topics and most requested questions from your users. It holds a list of frequently asked questions to help your users solve problems quickly.
FAQ questions and answers save time for both the product user and owner. They provide clarification to frequent questions from users, thus, improving their overall experience. Be sure to structure your FAQs by topic to enable easier access.
In-app Tutorials
In-app tutorials provide app users with immediate support when they encounter new features. They provide step-by-step directions to users on how to get the most value from key features of the product.
These tutorials are an integral part of the SaaS onboarding process and can be in the form of app hints, video tutorials, or interactive product walkthroughs. Whichever form they take, in-app tutorials provide value and drive product adoption.
Webinars
Webinars are video presentations or workshops held virtually. SaaS businesses can take advantage of webinars to teach customers to gain full value from your software, discuss industry trends, problems and solutions, or relate industry pain points to your SaaS offering.
Ultimately, interactive, business-related webinars help businesses build relationships and authority. From a help center perspective, they are a great way to ensure users get full training to make the most of your products or services.
Search Bar
The search bar is one of the most important parts of the self-service support model. As part of your help center, the search bar prevents the user from navigating through multiple pages before finding relevant articles.
Search results should be well-refined, providing users with quick links to relevant articles for their search terms.
Changelog with release notes
After any major, minor or micro updates to your SaaS product, you must inform users about the changes made. Are there any new features or updates to existing features? A changelog in your release notes carefully outlines the fixes and additions made, such as the one below:
Collect feedback widget
The fastest way to know what help to provide your customers is to ask them. SaaS businesses looking to achieve product-led growth need to listen to their customers to identify issues and bottlenecks in the product quickly.
Use animations and images to make your feedback survey more engaging. Also, make sure to keep it short and sweet. Consider this simple feedback widget that assesses what customers think of the product:
Case studies
As part of the help center, a case study helps customers identify clients who have faced similar challenges as them and how your product provided them with a solution.
SaaS case studies are stories that showcase how real users overcame challenges and/or improved their business using your product or service. A good case study should be relatable to your customer, helping them visualize how they can achieve their own goals while using your product.
8 Help Center Examples to Inspire You
Now for the best part. Many factors help you create a great help center design. Let us now go over some of the best help centers around the web.
Userpilot's help center example
Userpilot's help center is a robust center with multiple resources. This resource center contains all of the elements of a great help center.
In addition to having content grouped by themes, the help center has a search bar to help you quickly find the solution to your problem. It also contains video guides and webinars to help you make the most of product features. And a case studies section brings successful users to your attention.
You can also create an in-app help center for your product code-free. Take advantage of Userpilot's free 14-day trial period to begin or book a demo to see how Userpilot helps you.
Slack's help center example
Slack is a robust workspace that enables secure, organized communication with your teammates. Next to your Slack profile icon is a question mark icon that launches Slack's in-app help center.
Upon launching the help center, you're greeted by a search bar for quickly finding topics. A "What's new in Slack" banner quickly introduces the latest Slack features by release date. You also have suggestions for the most asked questions and an arrangement of help topics by theme.
As seen below, the design is simple, user-friendly, and intuitive.
Miro's help center example
A visual collaboration software, Miro allows teams to brainstorm and collaborate despite being in different locations. To ensure users get the most out of the tool, Miro presents its help center as a learning center.
The learning center is populated with tutorials grouped into separate categories. One group gives you a general overview of the tool, the other helps you navigate it, another teaches collaboration, and the final group is focused on content creation.
One impressive feature of the learning center is the impossible-to-miss feedback collection area. There's also a search button for quickly finding your way.
Jira's help center example
Originally designed as a "simple" bug and issue tracker for development teams, Jira has grown into a complex work management software for multiple use cases in the software development process.
Given its complexity, Jira's in-app help center sets out to help users make the most of the tool. Featured issues include the most common questions users have about the app.
In addition to the knowledge base articles, there's also a community forum that serves as a crowdsourced support team, a technical product documentation center, and search functionality. Jira's help center design, though, could do with some reorganization to reduce clutter.
Asana's help center example
Built to help you better organize and manage your projects, it would be a shame if Asana's help center lacked organization. Thankfully, it doesn't!
Asana's help center is beautiful and straightforward. It provides a combination of video guides, use cases, and help articles that can easily be searched.
Asana also differs from many with its provision of a live training center where you can receive direct training from a support agent for your specific challenges.
Loom's help center example
If in need of inspiration for a tidy, visually appealing help center, look no further than Loom. Loom reduces clutter by hosting its support center on its main website and linking it from the app. While this may take users out of the app, it isn't hard to find or use.
In addition to the quick link to the help center, there are also links to a troubleshooting area and a customer support page. Customers can also receive live support using the chat feature.
FullStory's help center example
A B2B customer experience software, FullStory is designed to help businesses track and monitor customer activity, to improve business decision-making.
For its help center, FullStory goes with a simple layout that includes a knowledge base with help articles and videos, and a training area with a library of tutorial videos to help you make the most of the tool. Both of these, though, redirect to their website.
An interesting touch is the integration of email support directly in the app. It allows customers to craft and send emails to the support team without leaving the app, which is very nice.
Mural's help center example
Much like Miro, Mural is a visual collaboration software that allows teammates to collaborate in real-time or asynchronously from different locations. App users collaborate with sticky notes, images, drawings, etc.
To ensure every customer makes the most of the tool, Mural's help center features a knowledge base with search functionality and a chat feature.
The chat feature is prominent when you seek help, letting you know that you can always reach out if you need something urgent. Unfortunately, the knowledge base isn't as organized and you may have to scroll endlessly before finding your desired article.
Conclusion
Help centers are an invaluable part of any SaaS product. A good help center offers direct human support in addition to the self-service option. This makes for an exceptional service that keeps users engaged and reduces churn.
Remember that multiple elements can form a part of your help center design. Consider your users when deciding which of these elements will best help them
Do you want to create well-designed in-app help centers without writing a single line of code? Book a demo with Userpilot and get started right away.