How to Build a Knowledge Base: A Step-by-Step Guide for SaaS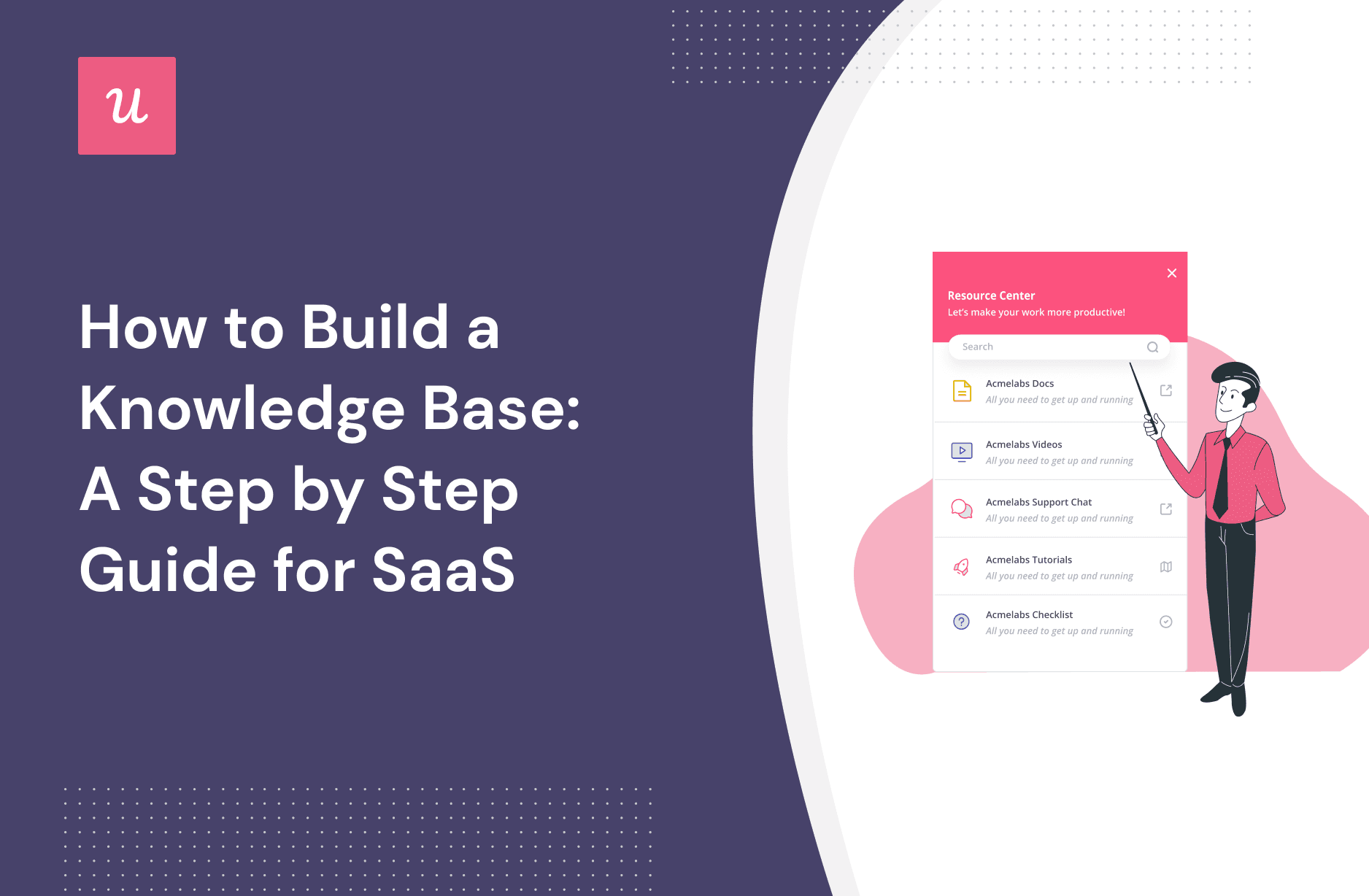 Wondering how to build a knowledge base in-app for your SaaS product? Then, you've come to the right place!
A knowledge base is a central hub of resources that helps your customers solve problems and learn more about your product. It saves time and resources and improves customer satisfaction by providing self-service support to customers.
In this article, we'll explore why you need a knowledge base, its core elements, how to build a knowledge base for your product, and the best knowledge base tool.
Let's dive in!
TL; DR
A knowledge base helps your customers access product guides and find answers to their various queries about your product.
Knowledge base enhances the user onboarding experience, reduces the customer support team's workload, and improves customer satisfaction and retention.
Product documentation helps your customers understand how your product works.
The product announcements inform your customers about the latest features or updates.
You can streamline your support process by integrating customer support functions.
Feedback options like feature requests offer insight into customers' needs.
Educational resources in multiple formats, like recorded webinars, interactive walkthrough replays, etc., let customers learn at their own pace and preference.
Search functionality saves customers' time since they won't need to search through pages manually.
Help articles enable customers to find answers to their questions on their own.
Your FAQ section should have answers to the most comment questions of customers.
Conduct thorough research to determine your knowledge base structure.
Building your knowledge base with different formats is critical for catering to different customer preferences.
Organize your knowledge base categorically or chronologically to make it coherent.
Publish your knowledge base on your website or app to keep users on your site or app longer.
Track and analyze your knowledge base performance to understand what works.
After publishing your knowledge base, you need to work further on updating and improving it.
With its many features, Userpilot is the best knowledge base tool to help you create an in-app SaaS knowledge base for your customers.
What is a knowledge base?
A knowledge base is a valuable tool that lets you offer your customers quick and easy access to product guides and answer to their support questions.
Why should you have a knowledge base?
A knowledge base can benefit both your customers and customer support team by:
Enhancing user onboarding experience with a comprehensive and user-friendly guide, helping them understand and leverage your product's full potential.
Reducing the workload of your customer support team as customers will solve issues by themselves and open fewer support tickets for support agents to deal with.
Improving customer satisfaction and retention by letting customers find the answers they need quickly and easily and satisfying them to stick around with your product for the long haul.
Serving as a source of insights and feedback into the user needs and wants and areas requiring improvement.
What to include in self-service knowledge bases?
While you learn how to build a knowledge base, you should also learn about the musts in a self-service knowledge base. Let's take a look at them.
Product documentation
Including product documentation in your knowledge base allows you to offer your customers a comprehensive guide about your product. As a result, your customers understand how your product works and how they can get the most out of it.
You should include different types of product documentation in your knowledge base.
Product function guides: Useful to provide an overview of every feature and function of your product and how to use them.
Configuration guides: Help you provide detailed instructions on installing, setting up, or integrating the app into the users' existing software with technical guides.
Product announcement
Your knowledge base can serve as a central hub for users to check the status of your product, including updates and maintenance that may affect their experience. It is important to provide timely, clear communication to your customers regarding any issues they might face and inform them about the latest status of your product.
The product updates include describing the updates or maintenance details to ensure effective communication with your product. By informing customers with product announcements, you can build trust and customer loyalty while keeping your customers informed and up-to-date.
Customer support function
When you create a knowledge base, you should include customer support functions to ensure a seamless customer experience. Customers should find it easy to send support tickets or initiate a chatbot conversation directly from the knowledge base.
Moreover, if you have an existing support ticketing system, you should ensure your knowledge base integrates with it. It'll streamline the support process and enable your customer service team to better track and manage customer inquiries.
Feedback options
Including feedback options to maximize your knowledge base's potential is critical. Feedback options, like feature requests, bug reports, and improvement suggestions, give your customers a voice to share their thoughts and opinions about your product.
The feedback options help you collect valuable information about your customers' needs and preferences. It enables you to identify trends and patterns in customer experience and what areas require improvement.
Another benefit of feedback options is that they provide a passive way to collect feedback. They allow customers to provide feedback whenever they want and bring feedback from a broad range of customers.
Product and new features announcements
You must consider core elements when announcing products and new features and offering educational resources for such releases while creating a knowledge base. These announcements can include feature releases, updates on the product roadmap, or developments for an app in the product development stage.
As you regularly announce new features, you demonstrate that your product is evolving and improving to meet customer needs. They inform customers about the potential benefits of your products and highlight how new developments will solve specific problems or improve workflows.
Here is how Gleap, an app in the product development stage, announces new products and features.
Educational resources
Offering educational resources helps your new customers learn about your product and existing users who want to expand their knowledge and skills.
You should offer different educational resources like recorded webinars, product videos, and interactive walkthrough replays. As a result, your customers learn more about your product at their own pace and in a way they prefer among the multiple options.
Search functionality
The search functionality is one of the main functions you should consider while you ponder how to build a knowledge base. A search bar helps customers save a lot of time by not manually searching through various pages or sections of the knowledge base.
Another useful search functionality you should include is search engines, such as Google. Integrating it with your internal knowledge base lets you provide more comprehensive search results from your content and external resources.
Help articles
The help articles are essential to any knowledge base as they empower customers to find answers to their questions independently. Any knowledge base article should provide customers with information on resolving common issues or achieving specific tasks using the product.
Additionally, help articles may include tips and best practices for using the product. You can include articles on specific feature usage that provides tips on optimizing the features. It helps customers get the most out of your product and improves the overall customer experience.
This is how Asana links to its help articles.
FAQs with most common questions
Having FAQs with answers to the most common questions is a must that comes to your mind when you start with how to build a knowledge base. The FAQ section offers a convenient way for users to find answers to common questions without contacting customer support or searching through lengthy product documentation.
Firstly, you should identify users' most common questions and prepare quick, clear, and concise answers. You also need to ensure that your FAQ section is up-to-date and relevant to trends in your product. Regularly reviewing and updating the FAQ section is crucial as your product evolves and new features emerge.
6 Steps to build a knowledge base in app for SaaS
Here are six steps you should follow to create a knowledge base for your SaaS product.
Research to determine your knowledge base structure
The first step of building a knowledge base is to research and determine its structure, as it is the backbone of the content you'll create. A well-structured knowledge base will help customers find the information they need conveniently.
Identify the most asked queries and understand the questions, topics, and categories your knowledge base should cover. You should put yourself in customers' shoes to create a knowledge base that meets customers' needs.
In addition to customer research, you should consider the perspective of your support and marketing team. They can provide valuable insights into customers' most common issues and wants.
Build your knowledge base content in different formats
You need to keep in mind that not everyone learns the same way. While some people prefer written articles, others may find watching a video or following an app walkthrough helpful. As a result, building your knowledge base content in different formats is necessary to cater to all learning needs.
Written articles are a great way to provide detailed information and step-by-step instructions for using your product. Videos can be an engaging way to convey information and help your customers see your product in action.
You can also create app walkthroughs to help guide your users through the different parts of your product. They show how to use each feature and what benefits the product offers.
Miros' interactive tutorials look like this.
Organize your knowledge base articles
Organizing your knowledge base articles is essential to building a thriving knowledge base. The proper organization ensures that customers easily find the information they seek, improving customer satisfaction and experience.
One way to approach it is by creating categories and grouping articles into topics. For example, if you're a SaaS company, you might create categories such as
Getting Started
Troubleshooting
Billing
Tips and Tricks for Features
Another way to organize your knowledge base is by chronological order. If you're publishing a series of articles, organize them in the order in which customers should read them. It'll help your customers follow along and understand the knowledge base's content in a logical sequence.
Publish your knowledge base
We've gone through some of the best knowledge management practices. Now, it's time to publish your knowledge base and make it live for your users. While publishing the knowledge base, you should ensure it is easy to navigate, visually appealing, and informative.
Embedding your knowledge base onto your website or app will allow you to keep users on your site or app. Not having to navigate to a separate knowledge base site will bring a strong brand identity to your customers' views. Moreover, this approach allows you to easily track user behavior and gather analytics data.
Track and analyze your knowledge base performance
Simply creating and publishing the knowledge base is not enough. You must track and analyze its performance to ensure it serves its purpose. So it's important to implement the right analytics tools and analyze search queries.
Another crucial step is to monitor customer and support team feedback to understand what works and what doesn't. Then as you regularly check feedback, you identify gaps in your content and understand your customers' pain points.
In addition, you should also measure customer satisfaction and collect feedback through surveys such as Net Promoter Score (NPS) and Customer Effort Score (CES). This data will help you create new content or update existing ones, thus improving the overall quality of your knowledge base.
Work on updating and improving your knowledge base
The work isn't all complete when you are done with the content and publishing it. In fact, ongoing updates and improvements are vital to keeping your knowledge base relevant and helpful to users.
You can update your content based on the knowledge base analytics we have discussed. Using analytics and understanding user interaction makes identifying and acting on what needs improvement easier.
Another way to improve the knowledge base is by staying updated with any changes or updates to your product. When new features or changes occur, you should update corresponding help articles to let your users access the most accurate and helpful information.
Userpilot – Best knowledge base software to build one
Doing so much for a comprehensive and engaging knowledge base is overwhelming. But the right knowledge-base software (like Userpilot) can help you by offering an effective knowledge-base solution and streamlining the whole process.
Add different help modules for different user segments
Userpilot enables you to create unique help modules for various user segments. You can manage the visibility of these modules in the Resource Center based on page and audience settings. Modules' appearing or disappearing at the right time ensures that users only see the content most relevant to their needs.
It enables you to identify your customer segments and their respective goals with your product. Then, you should design help modules by addressing each segment's specific requirements.
Add different content formats to your knowledge base
Userpilot offers a wide range of content formats to add to your knowledge base, including links, videos, articles, and chats. You can save these formats as standalone content or group them to build different help categories. As a result, your customers will easily find the information they need and save time.
Furthermore, Userpilot also lets you import an existing checklist to create a step-by-step guide for your customers. This feature is handy for software products that require users to complete specific tasks to achieve their goals. Creating a checklist helps you guide your customers through the process and ensure they are successful with your product.
Customize your existing knowledge base to match your brand
You should utilize Userpilot's customization abilities to match your existing knowledge base to your brand. Userpilot allows you to customize the colors, text, logo, and button and preview your changes to see how they look.
As the customers get more hooked on your product with a maintained brand identity, your customer retention rate improves.
Conclusion
A knowledge base is valuable for your SaaS product to enhance customer satisfaction by aligning your content to their needs. We hope you're now well-equipped to create a knowledge base that brings in substantial results for your business.
Want to get started on how to build a knowledge base? Get a Userpilot demo and see how you can have an effective and engaging knowledge base.