Customer Education Examples to Ensure User Growth in SaaS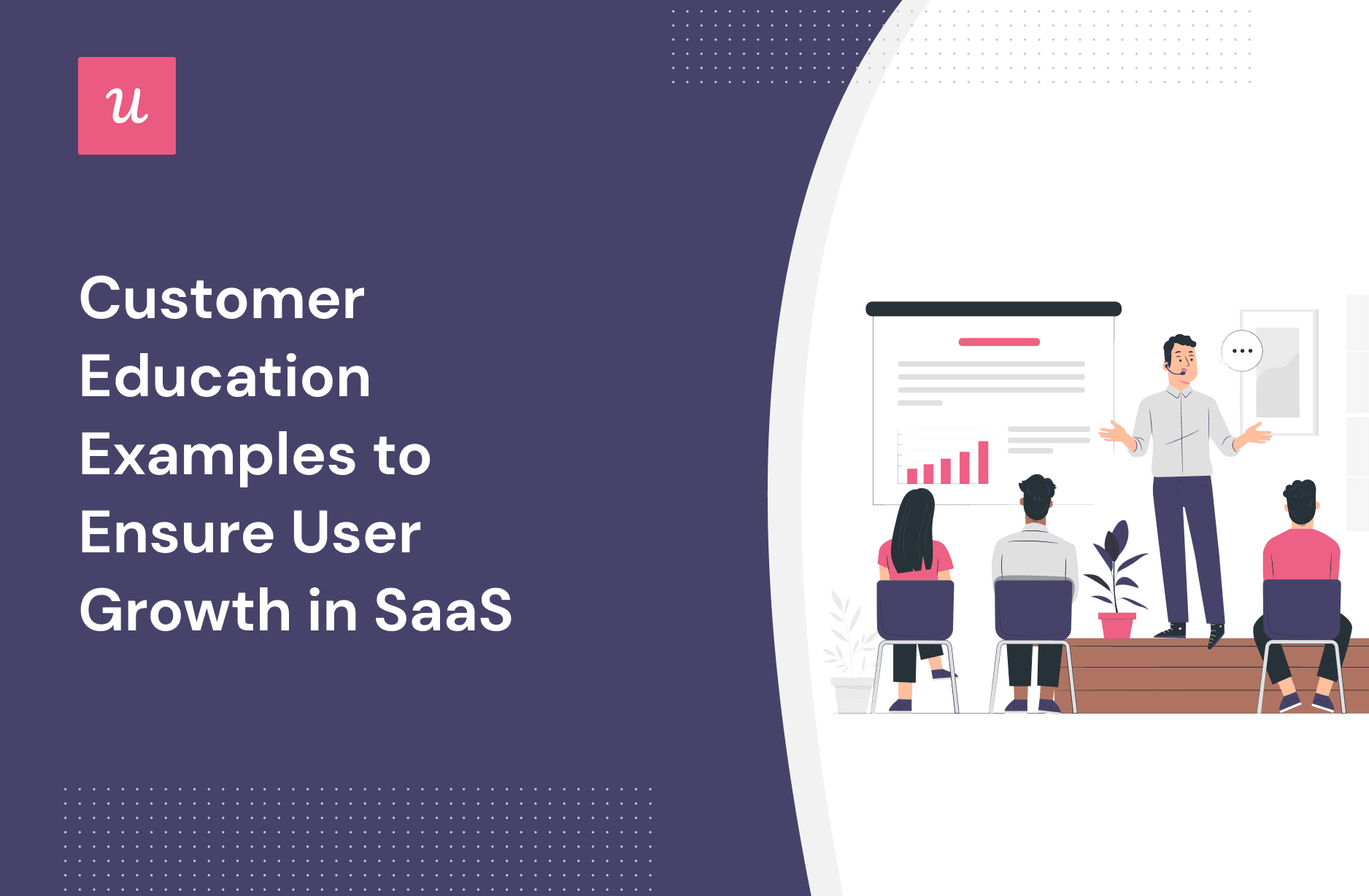 Examining the right customer education examples can help you improve your customer education program and the overall customer experience.
As customer expectations continue to soar, a solid customer education program helps you stand out from the competition. It provides educational content which leads to increased engagement, conversions, and sales.
This article examines what customer education is and why it's important. It also highlights successful customer education programs to guide your customer education strategy. Ready?
TL; DR
Customer education combines direct and indirect efforts to onboard, train, or retain new/existing customers.
Successful customer education improves customer satisfaction, drives customer success and retention, reduces customer churn, and lowers support costs.
Successful customer education programs to consider:
Using tailored contextual tooltips and onboarding checklists to show new users around your product and help them get the most out of it.
Creating step-by-step guides and knowledge base content of different formats to guide users around specific tasks and problems.
Announcing new features and product updates to let your users know what changed (if any) and guide them to use the new features.
Creating webinars and offering live training demos to help users tackle specific problems or use cases.
Sharing industry-specific knowledge and offering support via active digital communities.
Userpilot helps you segment users, create your desired educational content, and embed them in-app to support new and existing customers.
What is a customer education program?
Customer education is the process of training your customers (directly or indirectly) to get the most out of your product or service. Also known as customer training, it involves providing resources to help you onboard, train, and retain existing or new customers.
Why is customer education important?
An effective customer education program can be the catalyst you need to attain your business goals.
Customer training helps improve customer satisfaction. When you educate customers, you help them realize the full potential of your product or service and set reasonable expectations for the product.
Good customer education drives customer success. The provided training content helps the customer success team guide new users while helping existing users navigate challenges.
A good training program eliminates the need for users to bombard the customer support team with requests. This means lower support costs without compromising customer success.
Most importantly, customer education reduces customer churn. You increase customer loyalty by improving customer engagement and satisfaction, which drives up customer retention and reduces churn.
Successful customer education program examples in SaaS
Customer education should be at the center of all your business systems. A successful customer education program can be woven into your product marketing efforts. Consider some examples:
Guide new users with an onboarding checklist to adopt the product or service
Onboarding checklists are a great way to drive customer adoption by ensuring new users discover important product features early on. It shortens the time to value by helping users to discover core features early while tracking their onboarding progress.
Begin the process with a welcome survey for new users. The survey should answer the question: Who is the user, and what is their JTBD (job to be done) with your product?
Next, create customer segments for different user JTBDs and create custom checklists for each user segment. The checklist items should help users explore the features necessary to complete their unique goals.
You can encourage users to complete the onboarding program by using a progress bar and automatically ticking off list items.
Show new customers around with contextual tooltips
New users need guidance to understand how your product functions and how to make the most of each feature. Interactive walkthroughs help you achieve this goal.
Interactive walkthroughs, like the one below, take advantage of contextual tooltips to showcase product features and offer guidance to users. These tooltips feature simple texts that explain what the feature is and what benefits it holds.
You can also use tooltips outside the primary onboarding session for different purposes. For instance, a tooltip may appear when a user first interacts with a feature by clicking or hovering over it.
Step-by-step guides
Step-by-step guides are resources designed to help customers execute required tasks. They outline and describe every step required for users to successfully fulfill a process.
As part of your customer education program, step-by-step guides can take on multiple forms. You can make them into interactive guides, like the walkthrough above, with each step of the guide outlined by a tooltip.
On the other hand, you can create helpful, concise guides accessible to users who need on-demand direction to complete a task.
These guides, like the Asana example below, combine numbered steps and product screenshots to ensure users receive proper guidance.
Announce what's new and drive engagement using slideouts
Deep down, we all are afraid of change. This means a majority of users may be slow to adopt new features or go on with feature changes except you make them. And this is where product announcements come in.
Product announcements communicate product updates and new feature releases to customers. When triggered to announce new features, they:
Ensure users are aware of the new feature.
Help users find value in the feature by highlighting how it benefits them.
Drive users to try out the feature and adopt it.
The goal of your customer education initiatives should be to help users get the most out of new features.
Build training content and certification programs
An online academy contains a course(s) that helps customers study and become experts in the industry. Each course contains training content that dives deeper into your product (and the industry knowledge required to use it) than typical knowledge base articles.
Academy content should be free to encourage customers to take advantage of it. Turning courses into certification programs can also incentive more customers to complete them.
The Userpilot Product Adoption School is a good example of an academy course. The course teaches product managers how to boost adoption levels for their products. And, while we chose to deliver its content via mail, you may prefer a learning platform.
Share industry-specific knowledge
One way to ensure users get the most out of your product is to provide them with the industry-specific knowledge they need to become successful customers. Regardless of where you create the content, emails are an excellent tool for sharing them.
At Userpilot, we tap into this power of email with our industry newsletter – 'Product Rantz.' The newsletter highlights product growth and management trends through news sharing, industry subject discourse, and use case presentations.
You can subscribe directly to this newsletter on the Userpilot blog and begin receiving the lighthearted, easy-to-read content delivered weekly to your email.
Build educational content templates
Create practical templates that your user personas can use as a checklist while solving real-world problems.
For example, one of our user personas at Userpilot is the product manager looking to nail their onboarding. To help them find success, we put together the New Customer Onboarding Checklist.
The checklist provides product managers with itemized steps they can follow to successfully onboard new users and get them to the Aha! moment.
Create a knowledge base with different modules
Your knowledge base is the biggest customer education investment you can make. The majority of millennials prefer to find help online over picking up a phone to discuss with your support team.
A knowledge base helps you provide on-demand guidance for these customers. It should contain useful educational materials, be well-organized, and be easy to understand. This means ensuring different available categories and subcategories are not overwhelming.
Combine a variety of content formats (help articles, tutorial videos, case studies, etc.) for maximum effect. With content that's easy to understand for newbies and experts alike, you can drastically reduce customer support costs.
Improve customer onboarding with in-app video tutorials
Visuals capture attention much better than text does making video tutorials very captivating. They allow you to show instead of tell, helping customers see what should be done directly on-screen.
Use in-app video tutorials to provide extensive support to your users. Each tutorial series can contain multiple use-case and how-to videos that explain how a feature works and how to use it. Users can then select their learning path according to their needs.
For more efficiency, embed the micro-videos into your resource center. This is what Tolstoy did with their video library, making it an available in-app resource that users can turn to when faced with challenges.
Create webinars for specific use cases
Create webinars for every stage of the customer journey. Good webinars shorten the distance between you and the user, giving you a chance to engage them in real-time conversations and educate them about your product (or about industry matters).
What are your customers' needs at this stage of their journey? Understand that customer needs can be different. Your webinar should also be specific to each customer's needs to be effective.
Finally, send out in-app webinar invites to only affected customer segments. Note that your invite modals should be captivating without being distracting.
Implement in-person training with live demos
Although webinars are great for reaching customer segments with similar needs, sometimes individual customers may have very unique needs. Perhaps they're struggling to make the most of a specific feature despite the available tutorials.
You can invite these customers to a one-on-one demo call. This hands-on customer training model presents an opportunity to directly showcase the feature (and how it's used) to the customer. You can also learn about their challenges and help ease any friction.
Provide extensive support with a digital community
A digital community allows customers to interact with others like them. They can ask questions, discuss your product's best use cases, and receive help from real people who may have faced similar challenges.
Your choice of where to host your community will depend on your brand and its demographic. Userpilot chose to use a Facebook group (seen below) as these are still widely used by its target demographic.
Whatever your chosen platform, you need a responsible manager that helps enforce guidelines and manage processes. You also need to promote the community so your users are aware of its existence.
How to ensure the success of your customer training program?
At this point, you already have some idea of what your customer education program should look like. But, how can you make sure your efforts are successful?
Collect customer feedback throughout the customer journey
The easiest way to determine the effectiveness of your chosen customer education method is to ask your customers directly. Use in-app surveys to collect customer feedback.
Trigger the survey after users have engaged with an educational resource. This ensures you receive honest insights into the performance of your resource. You can also make a simple "was this helpful?" survey available after each resource.
Increase awareness around educational resources by directing users' attention to relevant materials they may have missed when they complain (or ask questions) about a feature.
Build an effective customer education strategy
The key to an effective customer education program is strategy. Your courses should help customers get the most value from your product or service. They should also help customers solve the challenges they face with your product.
To this end, your strategy must begin by understanding the customer. Engage with your customer support team, as well as your customer success, and sales teams to understand who your customers are and their different JTBDs.
Build advanced in-app flows with Userpilot user persona to achieve their objectives. Then, set micro and macro conversion goals to track your success across the customer lifecycle.
How Userpilot can help you drive engagement with customer education programs in-app
Userpilot is an all-in-one no-code product growth platform for SaaS companies. Some of its features which enable you to deliver dynamic, robust educational content, include:
Build different types of educational content
Userpilot lets you include different content formats as part of your onboarding flow or your knowledge base. You can also create customized onboarding flows for your users and trigger contextual in-app experiences.
Make your onboarding walkthrough as interactive as possible by including any combination of UI patterns (e.g. checklists, tooltips, modals, etc.).
Embed educational content in-app
Take customer education to the next level with an in-app resource center. When creating an in-app resource center with Userpilot, you'll be able to embed multiple content formats. This includes help articles, FAQs, and videos.
Your users will be able to play embedded videos from within the resource center, without leaving your app. You can even localize the content and auto-translate it into more than 32 supported languages.
Reach new and existing customers with segmentation
Most importantly, Userpilot lets you segment your users so you can provide a more personalized experience to each one of them. Our advanced segmentation feature allows you to segment on a wide variety of features, from demographic to in-app behaviors.
Reach each segment with onboarding flows, webinars, and contextual experiences designed to help them navigate unique challenges.
Conclusion
As your customer training program grows, so too will your product adoption and customer retention. Good customer education aids your customer acquisition and marketing efforts and eases the burden on your customer success managers.
Learn how you can get started building your customer education program by booking a demo with a Userpilot representative.