How to Create a Customer Service Knowledge Base: Examples and Best Practices for SaaS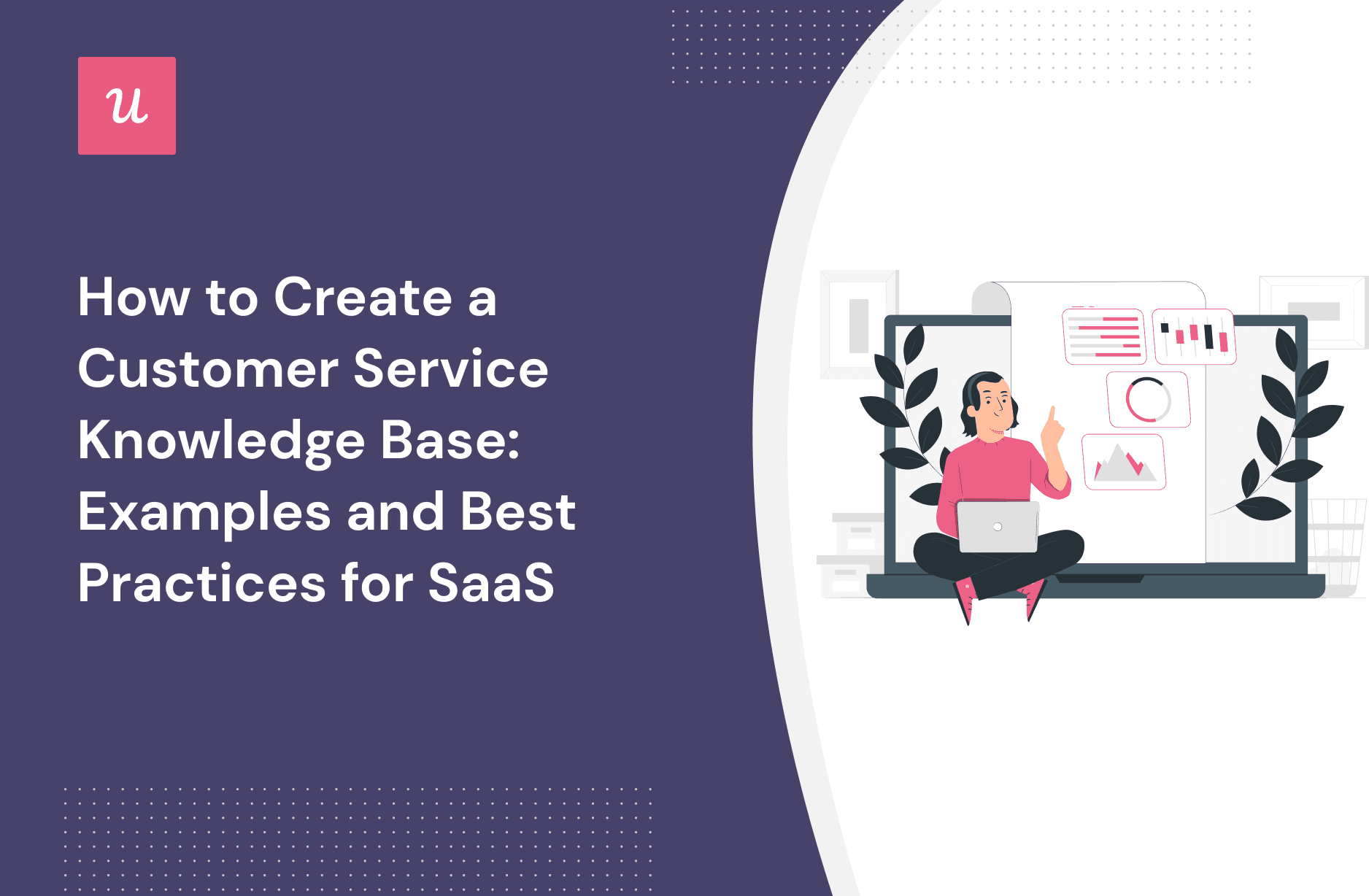 Have you ever wondered why companies invest so much time and effort into their customer service knowledge base? Well, it's actually a pinnacle of user retention and customer experience!
In this article, we're going to go over all the benefits, best practices, and software that you need to make a world-class self-serve knowledge base!
TL;DR
Here are some of the best practices to keep in mind when designing a customer service knowledge base:
Make sure your knowledge base is discoverable by placing links pointing to it on your website and product's user interface.
Group resources into modules for easy navigation. You can categorize your content depending on the jobs to be done, the part of your product it covers, or the resource type.
Add an internal search bar to your help center and allow the users to find what they are looking for in a matter of seconds.
Offer personalized support through your knowledge base. To do this, show and hide modules based on user segment. For example, you can create a module on advanced use cases of your product and show it only to users who have already mastered the basics.
Regularly update your resources and monitor its analytics to continuously optimize its performance.
Embed and play video tutorials from within your knowledge base. Videos make the experience much more engaging and playing them inside the app makes the experience frictionless as opposed to taking users to a third-party platform.
Localize the knowledge base content and adapt it to the language and culture of your target users. Userpilot's got you covered here. With a simple click, you can auto-translate your content into more than 32 languages.
Collect customer feedback on your self-help resources and improve them upon it. Use either in-app surveys or enable passive feedback through widgets.
Use the right knowledge base tool to get the most bang for your buck when creating self-service guides.
Userpilot is the best value-for-money knowledge base tool on the market. It offers robust features, icons, and a completely customizable structure and layout.
Integrate solutions like Zendesk to help fill the gap while you build up your knowledge base.
What is a customer service knowledge base?
A customer service knowledge base is a help center (either external or in-app) that provides resources for users such as articles, guides, FAQs, and video tutorials. It contains all the information needed to figure out how the product works and solve any problems that may occur.
What are the benefits of creating a customer service knowledge base?
Creating a customer service knowledge base for your SaaS product is a tenet of good customer service. In addition to reducing the number of tickets your team has to deal with, self-service knowledge bases can also:
Increase first-contact resolution rates
Build customer loyalty
Drive feature adoption
Let's dive deeper into the benefits of creating a knowledge base for your users!
Higher resolution rates at first contact
With a good knowledge base, there's no need to put customers on hold, transfer them between agents, or call them back later.  Answers are right in front of them and most of the time, they can resolve issues on their own at first contact.
Increased customer confidence and loyalty
A low-friction customer experience is the best way to build customer loyalty and confidence in your SaaS product. As a result, creating a customer service knowledge base could be a great way to reduce churn and hit your user retention metrics.
Drive new feature adoption
Developing new features is a key part of ensuring that your SaaS product remains competitive in the market. That said, new feature launches are usually a nightmare for your support team since there'll be countless tickets and queries as users initially figure out how the feature works.
If you can prophylactically add a knowledge base of resources going over how the new feature works and what it can be used for then you'll encourage customers to resolve their own queries and adopt the new features faster.
Boost organic traffic
Whenever you create knowledge base content, the goal should always be to bolster your self-service resources and help customers learn more about the product.
That said, every time you create content for either internal knowledge base software or external knowledge base software, you're giving your website an extra boost in organic traffic.
Search engines have steadily been shifting their focus away from keywords and more toward search intent. If your self-service knowledge base has the answer to questions people are searching for on Google, you're bound to get more traffic as a result.
Types of resources you should offer through your knowledge base
If you want to improve the entire customer experience rather than just specific aspects of it, it's essential that you diversify the type of content you're releasing on your own knowledge base.
Here are a few types of resources that you should consider adding to your customer service knowledge base:
Product documentation articles
Tutorial videos and pre-recorded webinars
Interactive walkthroughs for specific features
Glossary to help new users figure out what all the terms in your software mean
Buttons to open a ticket, report a bug or request a live chat (for instance when knowledge bases aren't enough to solve the problem)
Customer service knowledge base best practices for SaaS
It's important to remember that having the right customer service tool stack or uploading dozens of articles to your customer service knowledge base isn't all it takes to get the most out of your efforts.
If you really want to optimize the self-service experience, there are a few best practices that you should implement:
Make your customer service knowledge base easy to find
Even the best customer service knowledge base is totally useless if your users aren't able to find it easily. You should be linking to your resource center in the header, footer, and various areas inside your SaaS UI.
The more places you add knowledge base buttons to, the higher the likelihood that a user will be able to easily access it when they need help with a problem.
Organize your knowledge base content into categories for easy navigation
Finding your knowledge base is only the first step in helping users solve their problems. The next challenge is helping them navigate through dozens or even hundreds of resources to find the exact piece of information they need.
If users spend too much time browsing your knowledge base but are unable to find an answer to their problem, they're likely going to give up and reach out to your customer service team instead — wasting all the effort that went into creating those guides.
To avoid this, be sure to categorize your content into specific groups depending on which aspect of your product they cover or what the user's job-to-be-done would be when searching for that resource.
For example, you could have an entire section dedicated to interactive walkthroughs for specific features. Another category could be written resources for new users that teach them how to set up their accounts, link key integrations, and add their first project.
Add search functionality to your help center
A very actionable and tactical improvement that you can make to help your users navigate your knowledge base is to add the search functionality.
Whether you custom-code a search feature or use a plugin, the important thing is that your customers will be able to find relevant resources by typing in a few keywords instead of scrolling through the entire library.
Personalize knowledge base content based on user needs
Personalizing your knowledge base to different user personas can be a great way to make the entire customer experience feel more relevant.
Hiding or showing different resources depending on which user segment is viewing the knowledge base can filter out the noise and ensure you're only showing the most relevant resources for their use case.
After all, solo users don't want to read enterprise SSO guides and vice-versa.
Play video tutorials from within your resource center
What's the point of constantly training your knowledgeable employees if they only get to interact with a fraction of your user base? By having them pre-record these self-service resources, you'll be better able to leverage their product expertise.
It also favors the employee since every video they record could reduce dozens of tickets that they would've otherwise had to deal with manually in the future. Lastly, videos are the best way to go through step-by-step instructions that can shorten the learning curve for users.
Be sure to incorporate in-app video tutorials instead of sending users to a third-party platform like YouTube as well since this will help them follow along.
Localize the knowledge base content for a better user experience
In addition to segmenting which resources show up, localizing your entire knowledge base is a crucial step for SaaS companies with a global audience.
Offering content in local languages will make the resources feel more engaging and also show your users that you care enough about them to create localized versions of every guide.
Eliminating the language barrier also reduces frustration and cuts down on the time-to-value significantly. Userpilot's SaaS localization features let you auto-translate all the content on your platform across 32 different languages (in a single click!).
Collect customer feedback and improve your content based on it
Regularly collecting and analyzing user feedback will help you find out which guides are serving their purpose versus which questions are still unanswered by the existing content on your knowledge base.
This way, you'll have a clear-cut path on which resources to publish next or how to improve the existing ones.
Whenever a user interacts with one of your resources, trigger a microsurvey to give them a chance to evaluate the resource.
Also, allow users to give feedback on their own terms. You can encourage passive feedback by placing widgets in your resource center and inviting them to submit their suggestions.
Keep the help center up-to-date
There's nothing worse for the customer experience than an outdated knowledge base. As such, be sure to update your tutorial content and feature guides whenever you make changes to the product to ensure that all the information is still relevant.
If you remove a feature or patch a bug, be sure to delete (or at least hide) related resources to avoid confusion amongst new users.
Track knowledge base performance and draw insights
Tracking the performance of your knowledge base is paramount to improving it over time. As such, incorporating an analytics system that tells you which resources get the most views, what the most popular user queries are, and what the average engagement rate for the knowledge base as a whole is should be a top priority.
If your analytics show that the video tutorials are getting a lot more engagement than your text-based articles then at least you'll know to double down on video production. Similarly, seeing high search volumes for a specific feature will tell you that additional in-app guidance measures should be implemented.
Here are two key metrics you should be tracking:
Temporal analytics enables you to compare usage over specific periods
Live changes that allow you to see how users are interacting with your help center in real time.
Inspiring customer service knowledge base examples from SaaS companies
In this section, we've outlined some of the most impressive knowledge base examples. Stay tuned as we discuss each design, highlighting what makes it unique and giving you some inspiration to create yours.
Miro's in-app customer service knowledge base
Miro has a pretty robust knowledge base with a really good structure and navigation.
Resources are grouped based on different categories such as content type, specific parts of the product, or the user journey stage where they potentially can be needed.
All the resources are also quite easy to find and access within the app itself.
Jira's help center design example
Jira is a very popular and quite complex software with several use cases.
We particularly liked how they listed solutions to the most common customer issues at the top of the page. Users can get immediate answers to common questions this way.
Best customer-facing knowledge base tools on the market
If this is your first time building out a SaaS knowledge base then there are two tools you should strongly consider adding to your tech stack:
#1 Userpilot – for creating an in-app knowledge base
Userpilot provides some seriously powerful knowledge base software that's both highly customizable and very easy to use thanks to its 100% no-code system.
Even with zero programming knowledge, you'll be able to create an in-app resource center that feels like a native part of your software.
Userpilot has a custom icon feature that lets you pick iconography that fits your brand. Icons provide visual cues that help users identify the right resource before even reading the title or conducting a manual search.
With Userpilot, you'll be able to publish multiple resource types that help your users find support in the best medium for their specific needs. After all, relying solely on written documentation simply doesn't cut it anymore.
You'll also be able to choose which modules to show to each user segment, localize resources, track engagement, and integrate in-app surveys to gather feedback on how helpful your knowledge base is.
#2 Zendesk – for integrating chat and support
If you don't want to create an entire knowledge base from scratch then another option would be to integrate Zendesk into your product instead. This will help your users access live chats and open support tickets in the meantime while you don't have a well-built knowledge base.
Conclusion
As you can see, knowledge bases are incredibly effective at:
Building a loyal and satisfied community of customers
Helping users figure out how to get the most out of old and new features
Reducing churn, support costs, and employee burnout
If you're ready to implement these best practices for yourself, it's time to request a free Userpilot demo today and we'll teach you how!