SaaS Product Announcement Examples [+ How To Create Them]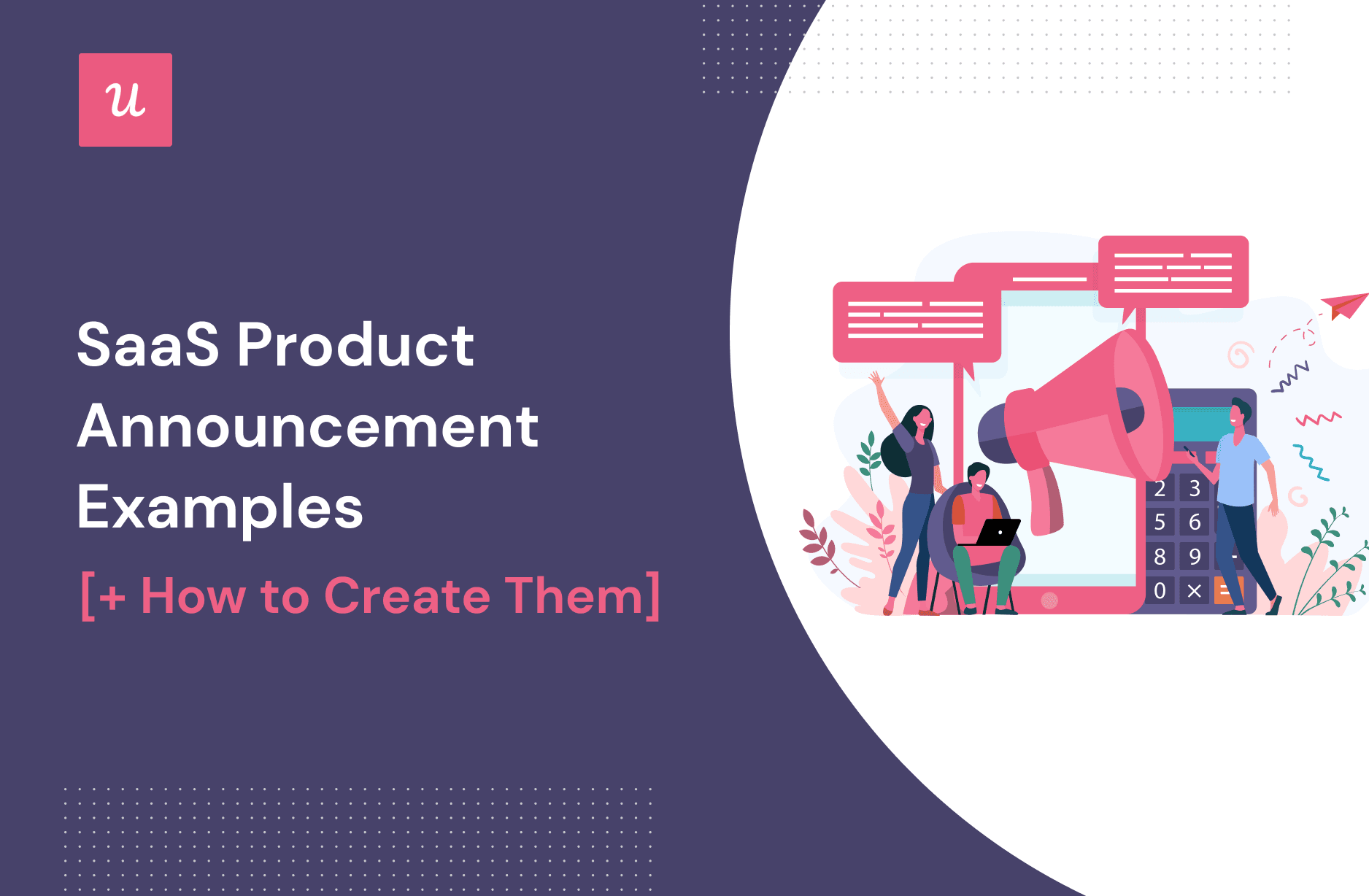 Looking for product announcement examples to help inspire your next successful launch?
You're in the right place
This article covers all you'll need to know as a product marketer or product manager about crafting great product announcements:
What are they?
What are the best channels to announce new products: in-app communication, email, social media, etc?
How do you create one?
Let's get started!
TL;DR
A product announcement is a message used to communicate an update to both existing and potential customers on a product launch or new feature.
Launch announcements are an integral part of any SaaS product release strategy because it helps create desire by preparing the market for your launch.
They can also be used as part of your marketing tactics to attract new customers to your brand.
Use different messaging formats and channels for your announcements:
Email campaign strategy includes several types of emails: teaser emails, beta announcement emails, product launch emails, features announcement emails, product launch announcement emails, and pre-order announcement emails.
Any of these can be used as part of a product launch email sequence to update both existing and inactive/churned customers of new products.
Other product launch promotional channels include social media, press releases, in-app announcements, and launch events.
To write a good product launch announcement, there are several things you must do:
First, identify your target audience and how your product launch will be of any benefit to them.
Next, highlight your competitive advantage and describe your product/new feature.
How are you different from existing options? What is your product about? Tell readers all about your product range.
The other parts of this process require you to create supporting assets, pick the best promotional channels, and then close with a compelling CTA.
You'll also need to set SMART goals to help you measure the success of your product release launch.
While product announcements are good for attracting new customers, they're also great for retaining existing ones and driving product stickiness.
Product announcements best practices to keep in mind:
Segmentation. This ensures every announcement goes out to only those who need it.
Use in-app announcements to engage users and drive them to feature adoption.
A/B test your announcements to determine what works best for activation and conversion.
Get a Userpilot demo and build in-app launch messages without having to code.
What is a product announcement?
Product announcements are messages used to inform users about new and upcoming updates in your product/brand. These can be done in-app and also outside of the product. Use them to to reach both existing and potential customers.
They ensure that the work you put into developing a new product or feature doesn't go unnoticed.
How to write a product announcement?
It's not just about writing one product announcement message. A good product launch campaign must be well written for it to produce good results.
You need to cover all the essential information about the product and address your customer's needs.
These are the steps to take when writing a product launch announcement:
Identify your audience
Every good marketing message including product announcements starts with identifying your audience.
You need to know who they are, where they spend their time, what problems they face, and how they will benefit from your product.
This step ensures that your announcement reaches, engages, and converts the right audience. It also makes every other part of the process more effective.
Consider starting from the jobs to be done and then map the pains and challenges. Once you have these, think of what are the gains of using your product.
And make sure to point these things out in your communication.
Know your competitors
Have a look at existing solutions in the market. How do they work? How are you different? Why should anyone care about your product over your competitors?
Performing a competitor analysis or study will help you create a good product launch template or announcement.
It also gives you insight into what they've used in the past and how it worked for them. With this knowledge, you can write and promote an effective announcement.
Choose the best channel for your product announcement
It's advisable to use a mix of channels to reach both existing users when you are launching a product enhancement and to attract new ones.
For product enhancements, always communicate these launches with in-app messages.
For new products where you want to attract new customers, consider where they spend most of their time.
Some examples of promotional channels include email campaigns, social media, video marketing, and blogs.
Add a compelling CTA to your announcement
What's the point of researching, writing, and designing a product launch announcement if in the end readers are left confused about what to do next?
Prompt users to perform a goal using a strong and clear call to action. You could require them to signup for early access or simply learn more about the product. Whatever your CTA, it should be compelling and relevant to the customer's journey.
Set goals and KPIs to track success
Goals and KPIs are important to help you track the success of your launch campaigns.
Are you looking to drive engagement after a feature enhancement you've launched? Track feature usage and maybe new user adoption of the feature.
Are you launching a new product and want to attract beta testers? That's right. The number of beta testers should be your primary KPI to measure.
But you are here for examples, right?
After crossing all your t's and dotting all your i's, you should be ready to write and design your messages.
From email marketing and in-app messages to webinar invitations, here are some channels to use and some of the best examples to inspire you.
Email product launch announcement examples
There are several types of product launch emails to include in your email campaign. You can use a product launch email sequence with the different email types to introduce your product. It could include a pre-order announcement email, a teaser email to give customers a sneak peek into the product and a beta announcement email to give early access.
Product launch emails are a great channel for reaching not only your existing customers but also those who have become inactive or even churned out.
Miro and Zoom integration email announcement
This email shows that only one short message is not enough – you need a strategy and a sequence of messages across different channels to effectively announce new features.
Their email subject line conveys the value of the new feature (integrating Zoom).
Willo's product email announcement example
This is one of the good product launch email examples for several reasons.
Firstly, it gives customers a definite official launch date so they know when to expect the product.
It then goes further to give them details about the launch so they know what to expect – 1,000 units available and delivery available to only US residents.
They place continuous emphasis on the exclusivity to make the reader feel special and compel them to purchase.
Lastly, it includes an additional introduction video to give customers more information on the launch.
Deel's product announcement email example
Deel's product launch announcement email is a good example of using personalization to draw customers in. This email starts with a mention of the reader's name and constantly uses 'you' to make the reader feel like the newly launched product was truly created to improve their personal experience.
They also use a list to give the customer a quick rundown of what they can expect in the updated product version. As well as how it benefits them.
Canva's product announcement email example
Canva's example is a simple pre-launch announcement to update customers about an upcoming product. And also collect early sign-ups. Early product launch announcement emails are used to build desire amongst customers while retaining existing ones with plans of additional value to come.
This product announcement uses simple design and straightforward messaging to inform users of what's coming. They also use a bold call-to-action asking users to 'register for early access'.
Figjam's product announcement email example
Figjam starts with an attention-grabbing subject line that piques interest and convinces the customer to open it. They then go further to tell you what Figjam is and its benefits. The email body breaks down some important features and how you can use them to make work better. At the end of this product launch email, they include a linked blog article where readers can go to get more information.
Another interesting thing with this launch email is how it's broken into three different sections. All using CTAs relevant to the preceding content to convert the reader. For example, the last CTA encourages users to catch up on other product announcements. This particularly helps with feature discovery and provides increased value.
Blissfully's product announcement email example
This last example is a favorite because it uses personalization, storytelling, and design to engage readers.
It starts with the customer's name, followed by a short story behind why Blissfully exists. This then leads them to explain how the updated product version is a better solution "to help growing companies manage SaaS". There's also a list of new features in the update and the email design is on par with the company's goal.
Blissfully also includes other assets like a linked blog post and a video to give customers more details.
Social media product launch announcement examples
Social media announcements are good for reaching and attracting new members of your target audience. You can also try out different content formats with this channel to create awareness for the new product/feature and even show how it works.
The best way to use a social media feature announcement is to create an engaging campaign suitable for the platform you've chosen. Your chosen platform will rely on where you can easily reach your market.
Asana product announcement example
When you have a B2B audience, Linkedin might be your first choice.
Notice the friendly voice and engaging message, while describing the benefits of the new feature.
The short video illustrating it in action will help set the right expectations and prompt users to check it out.
Product Hunt product launch announcement examples
Product Hunt is a platform for new product discovery. A lot of SaaS brands share their companies and products here during a major product announcement or new release.
Sharing your product launch announcement on Product Hunt can help your reach and get discovered by new customers.
To ensure your product release performs well on PH, read and follow the rules in this "How to Launch on Product Hunt" guide.
In-app product announcement launch examples
In-app announcements are used to reach members of your existing customer base. This complements your feature announcement emails by reaching users already in the product and quickly driving them to adoption.
There are several ways to do this. You can use slideouts, tooltips, modals, banners- the list goes on.
Asana in-app product announcement example
The thing is, you should always use multiple channels for each announcement. It should never be only one.
But when it comes to product enhancements, in-app is always first. Check out how Asana launched a major product update with an in-app modal.
Is this update relevant to existing users only? No.
But getting them excited and talking about it can bring in new users too.
Invision in-app banner product announcement example
Short and on point, Invision used an in-app banner to announce their new product, Freehand.
This is a secondary product meant to drive more value since it adds more value to the same audience but with a different product.
In one sentence, they managed to describe what the product does and prompt the user to take action and try it out.
Slack uses tooltips to announce feature updates
A short embedded video may be enough to demonstrate the benefits of a new feature enhancement.
Slack introduced its users to a new way of formatting their messages through tooltips that explained how it worked. In addition to the text, videos are an effective way to visually show how easy it is to use the updated features.
Podcasts product announcement
Podcasts are a great way to engage your audience with storytelling and also answer their questions. If your target audience benefits from podcast content then this is a good way to reach them. Whether via your channel or as a guest on another, you can use this medium to announce your new product launches.
However, before going on air there are certain things you must have prepared. Things like the story behind your product, the problem it solves, and for who. Provide all necessary details including how to get it.
Podcasts give you a direct opportunity to sell your product to listeners. And because podcasts don't give listeners a chance to directly communicate with you, prepare an empathetic presentation that anticipates the questions and doubts they may have.
Events product announcements
As a product marketer, you know the importance of marketing that shows rather than just tells about the product. This is where launch events shine. Event announcement is common in most industries to reach a larger audience of customers and also to build hype.
It is an excellent way to showcase your new product, educate customers on how it works, and even acquire some sales and signups. But to ensure your launch event brings you the desired results, there are some things you should do.
Encourage attendees to share about the event on their social media accounts using selected hashtags.
Have a post-event plan to keep the hype running longer. This could be through follow-up emails, social media contests, or creating a limited exclusive access for some users.
Your event should introduce your product and also provide attendees with useful content and information. A good example of events for product announcements is Apple's yearly launches.
Newsletter product announcement example
Newsletters are another form of email announcement. The major difference is that while a product launch email is mostly used for churned customers, newsletters are for only those still subscribed to receive updates from your brand.
This medium can be used to announce minor updates and also to acquire early birds or early users to test the product before the official release date. You can also use this to send out special offers like discount codes to increase the chances of customers purchasing.
How to announce new products and updates to the existing customers?
As we've already established, a product announcement is useful for more than just attracting new customers. They are also useful for getting existing customers to achieve more value from your SaaS.
Here's how to promote your product announcements to existing customers, in-app:
Segment your existing customers
Segmentation ensures that the right group of customers get the product announcements useful to them.
To ensure you aren't sending non-relevant information to all users and providing an overwhelming experience, segment them. The best way to do this will be according to their jobs-to-be-done or use cases. This way, you'll be able to provide personalized experiences and launch announcements relevant to each user's journey.
Send in-app product announcements
Sending product announcements in-app is a good way to drive product engagement and adoption. This is because with in-app announcements, not only can you show users how the new feature or product works, but you also stand a higher chance of getting them to try it out compared to if it were an email announcement.
To do this right you can use a mix of product UI prompts to pass your message along. You can use tooltips, product tours, or popup notifications. For best results make sure these experiences are noninvasive and straight to the point.
In the example below, Surfer uses an in-app modal to announce a new feature. The announcement uses both straightforward words and a clear graphic to update users. It also allows them to easily close the popup or learn more about it.
A/B test your in-app product announcements
This step is important to discover which in-app announcement format, timing, and message works best in engaging users. Different things work for your different segments of users, testing is how you discover what works best.
When you know what works best you'll know how to get more users aware of new product updates. And also how to engage them with these updates so they get more value and achieve product adoption.
With Userpilot you can create these split tests to discover what combination works best.
Conclusion
It's one thing to build a product, and another thing to get it into the hands of your users. Product announcements, especially when done before launch, can bridge the gap between you and your target market while also building desire.
With it you can reach new customers, reactivate churned ones, and also keep existing users engaged.
Want to build product experiences code-free? Book a demo call with our team and get started!